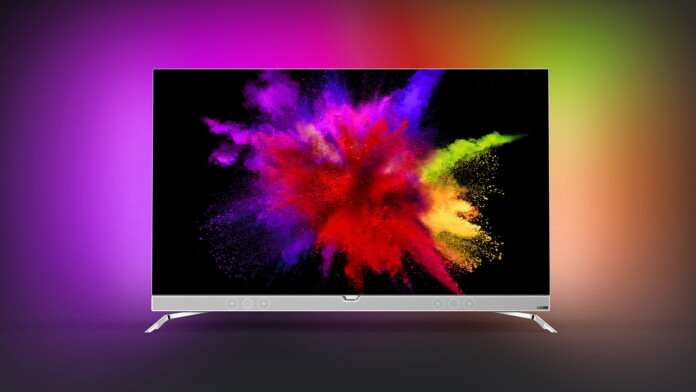 A couple of years back, you had to really make an effort to find 4K movies. However, this is no longer the case. Almost every newly released movie comes in both HD and 4K format as well. Still, there are many doubts about this technology which we hope to clear in this article. In case you didn't know, TechNadu's editorial team is dedicated to presenting overviews of the best Kodi addons you can possibly find. This is why we will be dealing with the very best 4K Kodi addons in this article – but we'll also go much further than that.
Aside from sharing fully-working 4K Kodi addons and their ways of installation, we'll try to help you understand what 4K actually means. Not every device is capable of playing high-resolution media files, which is why we'll try to resolve any doubts. Let's jump right in, shall we?
Before getting started, we strictly recommend you to be safe while using Kodi. Therefore, we want you to read the We will be talking about software developed for Kodi – which is based on open-source code. However, the following software comes from unofficial third-parties. In addition, it is publicly available and free of charge. TechNadu doesn't claim any responsibility for how our readers decide to utilize the following software. Please note that we don't condone sharing pirated content and copyright infringement. TechNadu is not affiliated with the software mentioned in this article in no way. Make sure to carefully read the above-said disclaimer and ensure the proper use of the software.
disclaimer and WARNING notice found below.
Warning: Why you should ALWAYS USE a VPN with Kodi?
Here are the reasons that you should consider looking at it without SKIPPING.
Using ILLEGAL Kodi Addons are Dangerous without a VPN: Most of the Kodi users are installing the ILLEGAL Kodi addons on their system to access all the latest movies, TV shows, sports, music, and much more for FREE, than a legal Kodi addon where it has the least content in it. But do you know what? The video content on illegal addons is scraped and copyrighted material. If you are accessing them on Kodi, then your activities will be monitored by your ISP by tracking your IP and gives all the information to the government or companies if they request for it. This will land you in trouble. To stay away from this, you will have to connect to a VPN where it hides your identity by rotating your IP address while streaming Kodi content. This is how you will be safe from the prying eyes.
Bypass Geo-Restriction: As you probably know, some official addons like BBC iPlayer, NBC Sports, Hulu, IceFilms have geo-location restrictions. This also applies to other addons like Acestream which fetches the data from torrents. To unblock these restrictions, you will have to DEFINITELY use a VPN no matter what.
The above are the 2 reasons that forcing us to recommend a VPN to the Kodi users for safer streaming. In fact, after testing several VPNs for Kodi, we finally came up with a one non-stop solution and that is ExpressVPN, the top-rated Kodi VPN so far.
Limited Time Offer: For our TechNadu readers, there is a 49% OFF on ExpressVPN which includes 3 FREE Months in it.
Lucky for us, there is an excellent selection of 4K Kodi addons. With the popularity of 4K movies and TV shows on the rise, it is no wonder that we're seeing so many addons that support this feature. As you can imagine, the majority of 4K Kodi addons bring HD content as well. This is because the Full HD resolution is still the golden standard for live TV broadcasting around the world and TV shows as well.
Important Note: By default, Kodi doesn't work with add-ons installed from third-party sources. However, you can change that by visiting the application's Settings and making a few simple tweaks. Everything you need to know can be found in our article on enabling unknown sources on Kodi.
Finally, let's take a look at the 10 best Kodi addons that offer 4K content in 2019.
1. Nole Cinema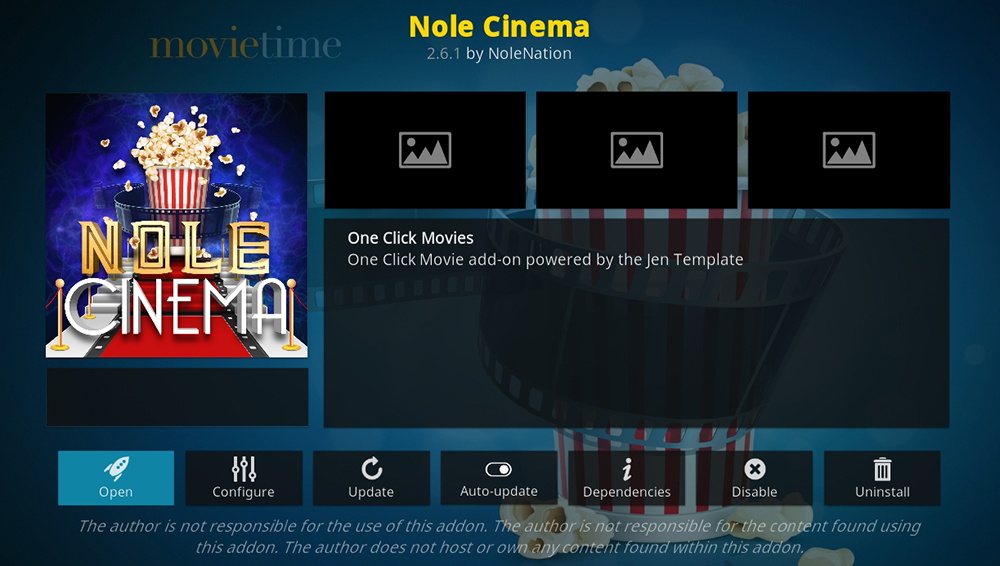 If you like to watch movies, we strongly believe you'll hardly find a better addon than Nole Cinema. This one has been around for several months ago, and it already managed to attract plenty of Kodi users. Once you decide to try this addon on your own, you'll see the reason why.
Nole Cinema comes with 30+ different movie categories, accessible from its home screen. As you can imagine, there's a dedicated section for 4K movies as well, called '4K Community'. At the moment, there are 200+ titles here. However, please note that you'll need a Real Debrid account to stream those.
To install Nole Cinema, you first need to install the newly launched Nole Dunasty repository, found using the following URL: http://repo.noledynasty.xyz.
2. ReleaseBB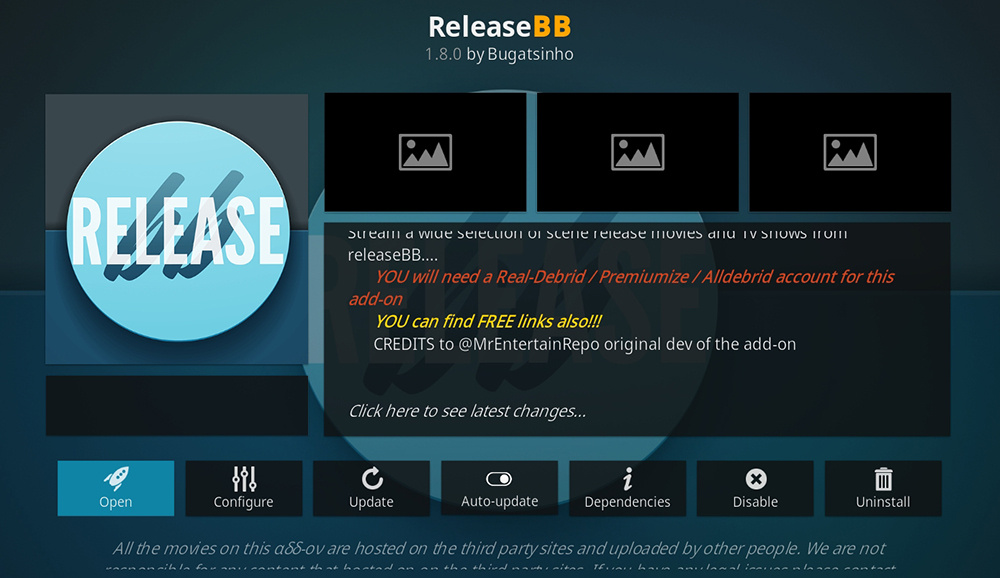 ReleaseBB is a freshly released addon that's about movies and TV shows. It comes from an up-and-coming developer whose name we now start to see mentioned quite often. His latest gift to the Kodi community is ReleaseBB, which gives you an easy way to expand your library.
Once you open the movies section, you'll find around 14 categories right now. These classify movies based on their video quality, which means that '4K UHD' is on the list as well. Depending on the strength of your Web connection, you can also watch 1080p and 720p movies.
If you're willing to give ReleaseBB a try, make sure to install it via the following URL: http://bugatsinho.github.io/repo/.
3. IT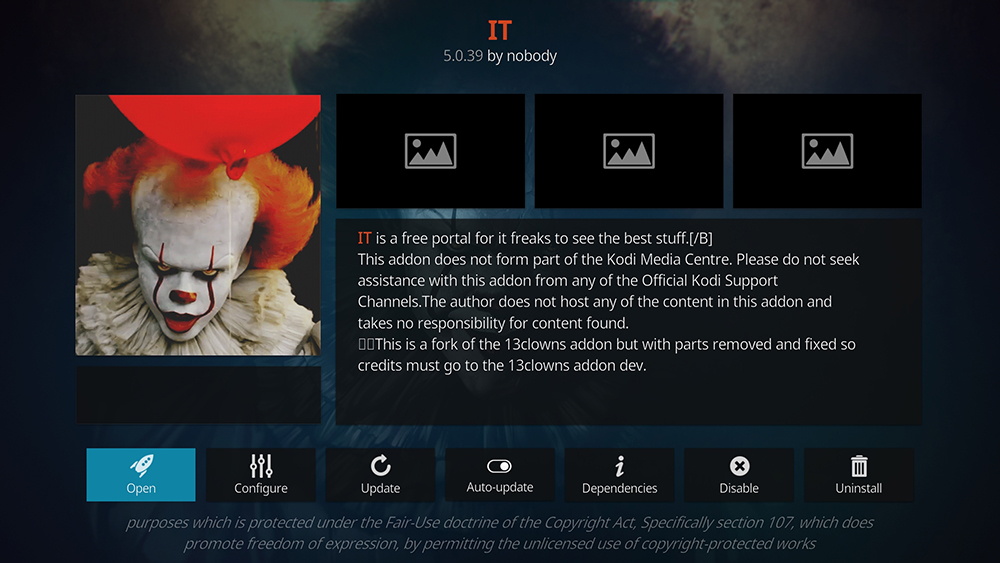 IT is one of the newest movie addons for Kodi, as well as one of the trending ones right now. It's a direct successor to 13Clowns Video, which is no longer available. You can use it to watch movies, TV shows, documentaries, cartoons, YouTube videos, and more.
Considering that we're talking about 4K content in this article, you should know that IT comes with a dedicated 4K category. At the moment, you'll find around 200 titles in there. Many of these can be played without scraping if you have a Real Debrid account (in other words, these are one-click movies).
To try this addon out, make sure to use the following URL to install its repository first: https://t2k-cloud.co.uk/Repo.
4. WatchDogs Video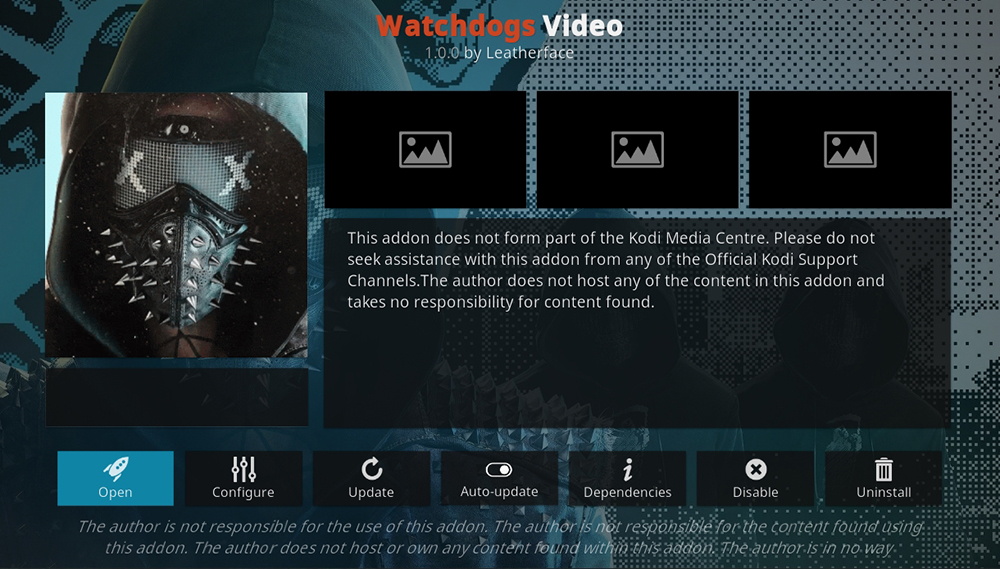 In many ways, WatchDogs is similar to our previously mentioned recommendations. However, we all know how Kodi addons can disappear overnight. This is why we want to show you a number of viable alternatives, so you can never run out of interesting content to watch.
WatchDogs is about movies, TV shows, cartoons, and documentaries. However, make sure to check out this addon's 'WatchDogs Extras' category, where you'll find a list of curated titles. Among those, you'll find a selection of 4K UHD movies as well.
You can find the WatchDogs Video addon in the Golden Gun Repository, found here: https://goldengunrepo.github.io/install/me/.
5. Limitless
Next, we have a freshly released addon named Limitless. This one comes from a repository called Luxury, which is relatively new. Even though its focus is on providing live TV channels, there's a very comprehensive movie section as well.
Once you open the category containing movies, you'll see a nice list of sub-categories. This allows you to narrow down your search to specific movie genres, dates of release, actors, and more. This is also where you'll find a dedicated 4K segment that can be used by Real Debrid users. At the moment, there are 90+ 4K movies here, so there's definitely plenty to watch.
To install Limitless, you need to use the provided URL by adding it to Kodi and installing this repo first: http://luxurywizard.space/luxury/.
6. Scrubs v2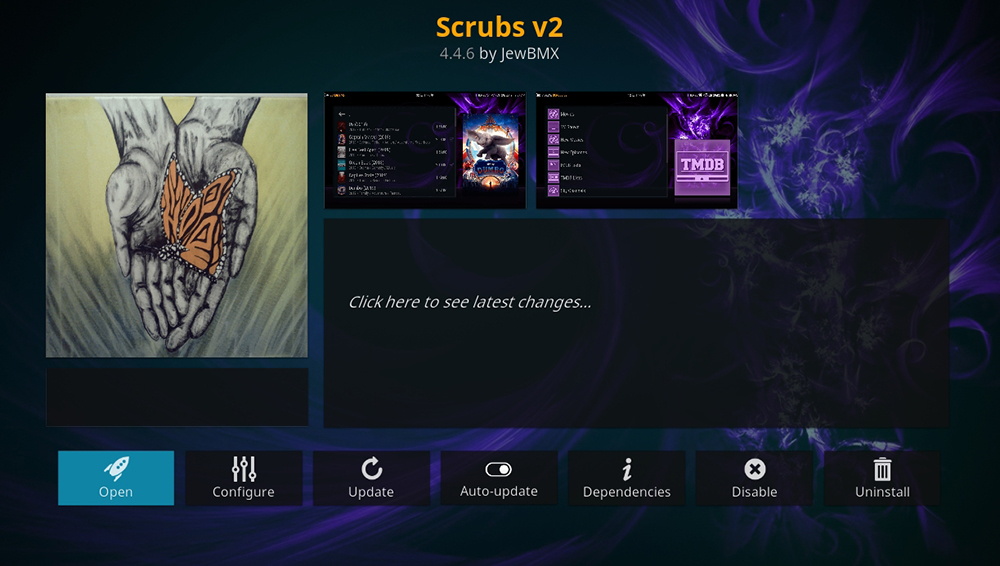 We needed to include Scrubs v2 on our list of the best 4K Kodi addons since it's one of the hottest AIO (all in one) addons right now. It brings movies, TV shows, IPTV, cartoons, documentaries, and plenty more.
In terms of movies, you won't find a dedicated 4K library. However, you click on any movie title, Scrubs will start to scan the Web for available sources. So, if there's a 4K stream available, you'll see one before you start streaming the movie.
Want to try out Scrubs v2? If that's so, install it from here: https://jewbmx.github.io/.
7. The Magic Dragon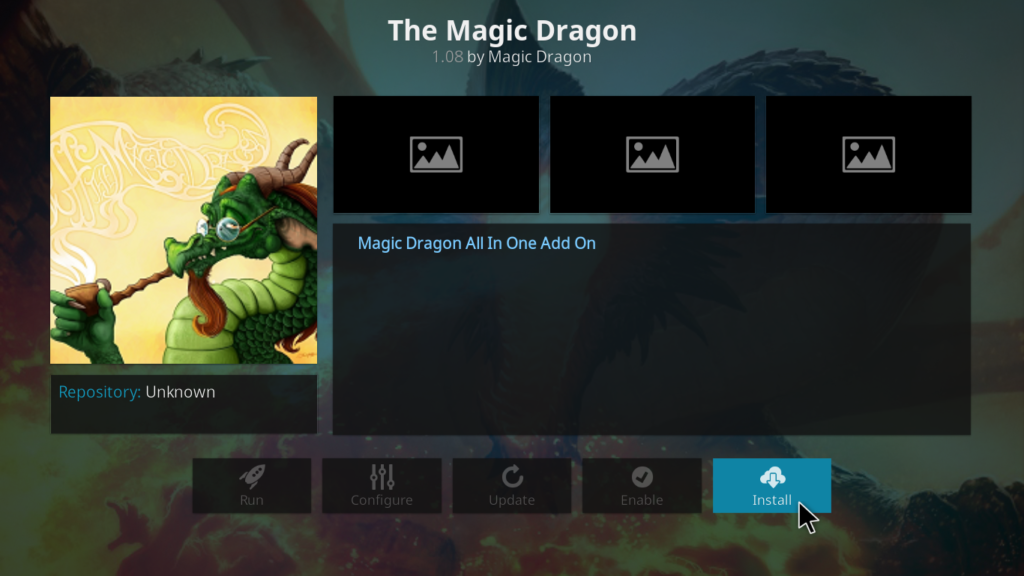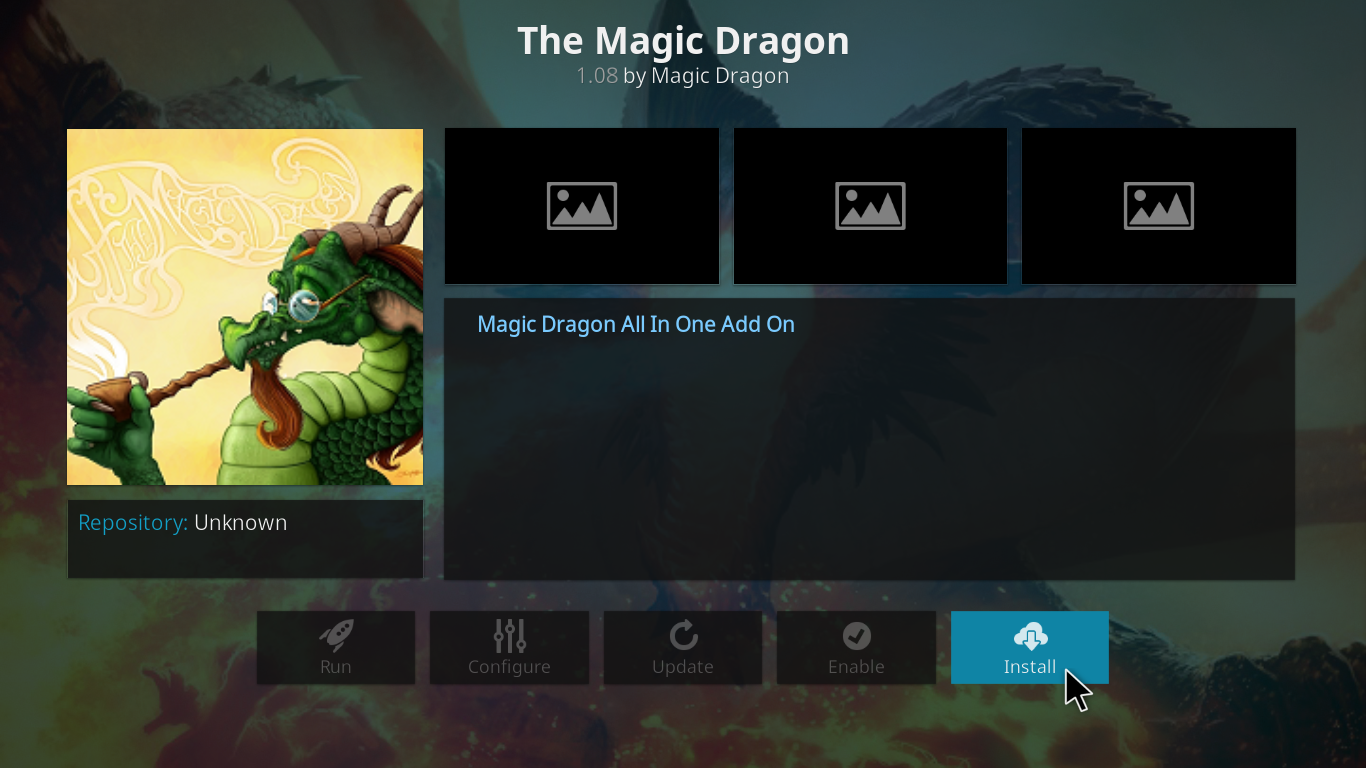 We are sure that some of you have been using The Pyramid. This was one of the most popular Kodi addons a while back, offering just about any type of content imaginable. Still, it disappeared overnight. However, the good news is that now we have the next best thing.
The Magic Dragon is using the same code as The Pyramid – which is why these two look alike. Even the categories present on the home screen are pretty much the same. There are movies, TV shows, documentaries, music, radio, and so on. Once you open the 'Movies' section, you'll see a dedicated section for 4K movies. At the moment, more than 200 titles await – making it one of the latest libraries of high-resolution films.
To learn more about this addon as well as how to install it, here's our guide for The Magic Dragon.
8. Deceit
We always like to see all-in-one addons that combine entertaining types of content. And that's exactly what Deceit presents. You can use this addon to watch movies, TV shows, sports, cartoons, listen to podcasts and radio, and plenty more.
Deceit comes with a 4K library – but only for those who use Real Debrid. With an active subscription, you first need to pair your RD account from the application's home screen. Then, you can go to Movies > 4K Movies to load up the list. With this said, we recommend this option to those who wish to take full advantage of Real Debrid.
Deceit comes from the One Nation Repo – http://onenation.info/Repo/. So, use this URL and add it to Kodi, and proceed to install the addon.
9. Exodus Redux
Next, we have yet another suggestion for you – and this one's highly popular. We're talking about an addon called Exodus Redux. This is the latest and currently the most popular Exodus fork, and we think you're going to love it.
Just like other recommendations found in this article, Exodus Redux comes without a 4K section. However, as you click on any movie or TV show, the addon will scan for 4K, 1080p, and 720p links. If there's a 4K title available, you'll see one soon enough. All there's left is is to install Exodus Redux.
10. Voodoo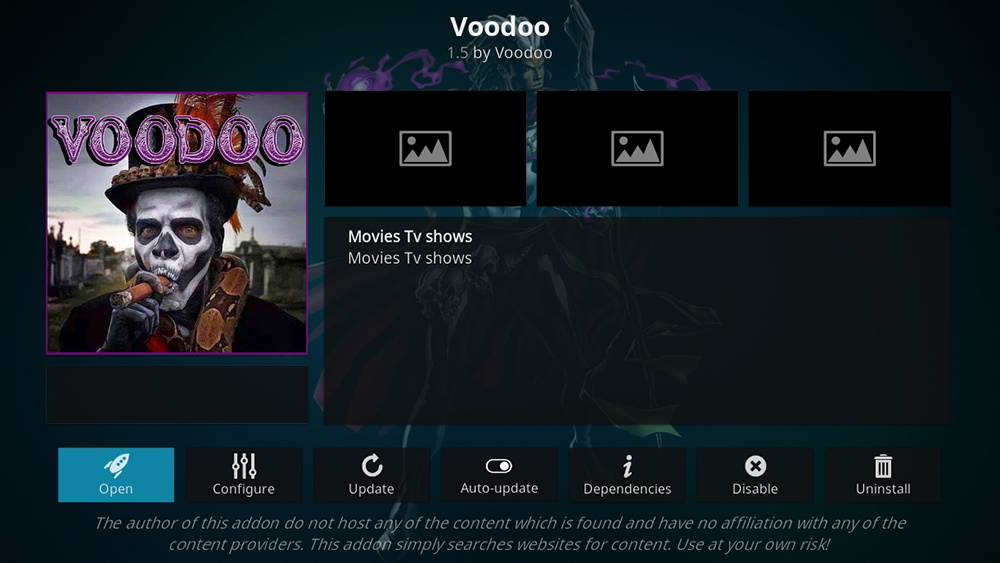 Voodoo is a recently released addon that combines many different types of content. You will find plenty of movies and TV shows here, in addition to IPTV and cartoons. And since we're talking about the best 4K Kodi addons in this article, you can also expect a dedicated category of 4K content.
At the moment, there are around 200 high-definition (4K) movies offered by Voodoo right now. However, this number rises to around 350 if you have a Real Debrid account. So, it's safe to say that you'll be getting a sizeable library of movies. And finally, make sure to use the following URL (http://ezzer-mac.com/repo) to install the Voodoo addon on your Kodi.
So, we hope that we helped you to find amazing 4K addons for Kodi. With a bit of effort, you can unlock hundreds of hours of content related to high-resolution movies on Kodi. If there's something you'd like to add, use the comments section below.
Lastly, we'd appreciate if you could share this article online and help us to reach more Kodi users. Also, don't forget to follow TechNadu on Facebook and Twitter. Thank you!