When watching TV shows, you want access to entire seasons - letting you watch everything in one go. With that said, know that Kodi can meet your needs easily, but you'll need to find truly the best TV show Kodi addons in 2022. As you can already guess, that's precisely what we'll help you find.
Know that we've done the hard work of testing countless Kodi addons, checking their content - and their functionality as well. With that said, we have found a group of addons that we believe will meet your needs. And yes, all of those are dedicated to hosting and streaming a huge number of both newly-released and classic TV shows.
We'd also like to say that most of the following addons come free of charge, which is another benefit that Kodi offers. And also, by integrating third-party services with Kodi, you can build a sizeable library of TV shows – without taking any space on your device's storage.
Why a VPN Is a Must When Using TV Show Kodi Addons?
As you're about to find out, many Kodi addons that bring TV shows are geo-locked - which means you can access them only by using a VPN.
In other words, Kodi addons can be available in a single country (or region) only. They will check your IP address when you install and open them via Kodi, which is how your access can be blocked. So, if you wish to use those, you need to use a VPN, as that's how you can change your IP address.
Aside from unblocking any Kodi addon out there, VPNs also hide your Kodi-related traffic, secure your Web connection, and make sure no one follows you on the Internet. It even stops your ISP (Internet Service Provider) from seeing your traffic, which is how you can avoid having your Web connection throttled.
To learn more, don't forget to check our list of the best VPNs for Kodi. You will also want to learn how to use a Kodi VPN.
Best Kodi Addons for TV Shows in 2022
After plenty of testing and binge-watching, we've found the following 8 addons to be the best addons for watching TV shows on Kodi:
1. Netflix
Without any doubt, Netflix is among the most popular media streaming services in the world. It comes with a vast and ever-growing library of movies and TV shows – and all of those can be accessed via Kodi as well.
If you're a subscriber to this streaming service, you'll most definitely want to integrate it with Kodi, accessing a treasure trove of content. As such, this addon provides the easiest way to access thousands of TV shows directly via Kodi's interface. Sounds amazing, right?
Also, keep in mind that you need to have Netflix credentials ready before using this addon. In other words, this isn't an official Netflix addon for Kodi (it's unofficial, but it works without a hitch), and you can't subscribe from this application.
2. HBO Max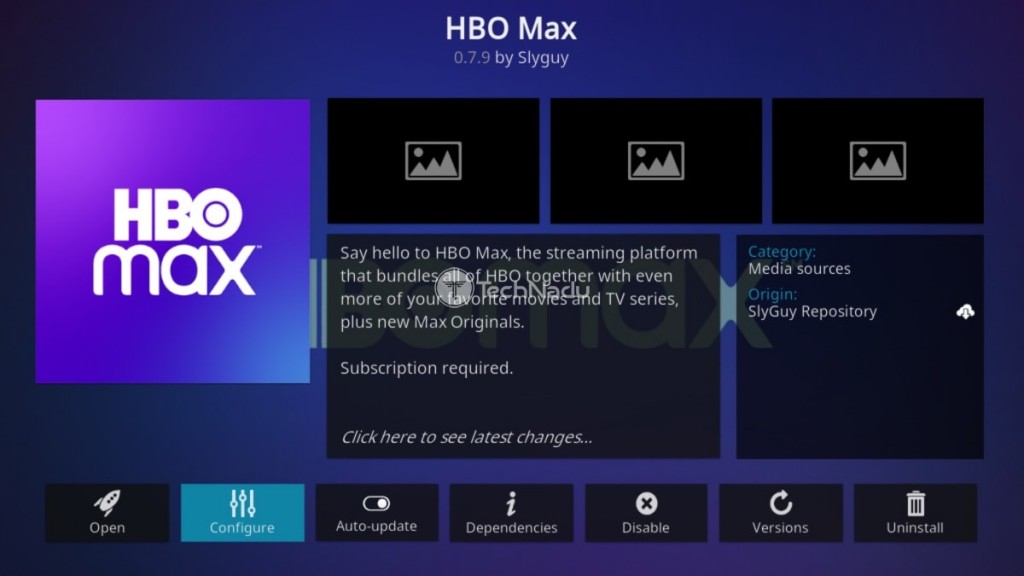 HBO Max is home to titles such as The Sopranos, Succession, The White Lotus, Sex and the City, Game of Thrones, and countless other TV shows and movies. We're sure you already know about this streaming service, and if you're not already a subscriber, perhaps it would be an excellent time to subscribe now.
That's because HBO Max can be used via Kodi. We're not talking about an official addon here, though, which means you need to rely on the SlyGuy repository. However, don't make a mistake thinking that we're recommending something illegal. The HBO Max addon requires valid credentials, which means you need to be a paying subscriber.
So, if you've been looking to add a bunch of high-quality TV shows to your Kodi, HBO Max comes as a solution. The addon works great, giving you full access with no restrictions.
3. Disney+
Want to access the latest Star Wars or Marvel TV shows on your Kodi? Interested in family-friendly classics, or you're perhaps looking for documentary TV shows? Well, Disney+ offers access to all those types of content - and then some more!
Thanks to the SlyGuy repository, we now have an unofficial Disney Plus addon for Kodi. To use the addon, you need valid credentials. That means that we're not talking about piracy here. Instead, we're talking about a legal way to watch Disney+ on your Kodi, on pretty much any device supported by this software.
As you can imagine, Disney+ brings an endless library of content to Kodi. The addon doesn't impose any limitations, giving you access to your account, watch history, syncing, and plenty more. Try it out, and you'll see why Disney+ is one of the best TV shows Kodi addons.
4. iPlayer WWW
Next, we have an addon that serves content produced by the BBC. In case you didn't know, we're talking about numerous movies and TV shows that populate IMDb's 'Top 100' Lists.
However, what's interesting to mention is the fact that this broadcaster has decided to offer plenty of its content completely free of charge – and this is where BBC's iPlayer comes into play. And the best thing is that you can use it on Kodi as well!
You must be wondering what you can find here? Well, you'll find Doctor Who, EastEnders, Call the Midwife, Death in Paradise, MasterChef, and plenty more.
Besides award-winning shows, iPlayer comes with many documentaries and movies (including plenty of Hollywood blockbusters). With that said, this isn't just one of the best TV show Kodi addons - but one of the best Kodi addons overall.
5. Comedy Central
Next, we have another free-of-charge Kodi addon. Don't worry; we understand that many of you want to keep your budget under control, and Kodi can help you with this.
There are plenty of addons that come from various TV networks, serving the latest seasons of their TV shows. One such addon comes from Comedy Central – and it's one of the most content-rich ones.
This addon pulls its content from the Comedy Central website, where you can find clips, individual episodes, and full seasons of TV shows. We're talking about titles such as Broad City, Awkwafina is Nora From Queens, The Daily Show with Trevor Noah, Inside Amy Schumer, and plenty more.
You can watch episodes as they come, and there's an option to watch entire past seasons of some TV shows as well.
6. Crackle
Crackle is among the most popular free streaming platforms ou there. As you can guess, we're not exactly talking about the latest titles (as Crackle still comes free of charge, after all), but this streaming service has managed to create a library of many must-watch TV shows.
In terms of the available TV shows, you can watch NewsRadio, Happy Endings, Firefly, Mad About You, The Tick, The Shield, and plenty more. Many of these are high-rated TV shows, and you won't make a mistake if you decide to watch them.
All you need to use Crackle on Kodi is the platform's official addon. So, go ahead and visit Kodi's official repository (by going to Add-Ons > Downloads) or search for the addon from Kodi's home screen. Either way, you can install and start using Crackle in a matter of minutes.
7. Popcornflix
Here we have another popular streaming service, also available for free. Popcornflix has been around for close to a decade, and it managed to grow into a highly popular platform.
However, we have to admit – this one puts movies first. Nevertheless, that doesn't mean you won't find plenty of TV shows. Titles such as Animal Tales, Kitchen Nightmares, Hell's Kitchen, Queer as Folk, Hunter, and Penance give you a taste of what to expect.
The Popcornflix addon on Kodi works like a charm. Download the addon from Kodi's official repository, and you can use it even without having an account. It allows you to check numerous categories, the latest titles, the most popular titles, and plenty more.
8. YouTube
The final option on our list is none other than YouTube. Yes, this media streaming service comes with a fully-working Kodi addon where you can use your account as well.
That means you can transfer your lists of YouTube favorites to Kodi and then keep track of everything that's new on those channels. You can even watch live streams.
It's a known fact that several TV networks use YouTube to host their TV shows and individual episodes. Besides, you can always count on an endless array of videos by numerous YouTube creators, many of which have produced interesting Web-hosted TV shows.
How to Find & Install TV Shows Addons on Kodi?
Adding new addons to Kodi is easy - especially if you have someone to guide you. Check below for our step-by-step installation guide.
Open Kodi and navigate to 'Add-ons' (using the main menu).
Click on 'Download' and make sure to select 'Video Add-ons.'
Then, select the add-on you want to install (such as Netflix, HBO Max, Disney+, iPlayer WWW, Comedy Central, Crackle, Popcornflix, or YouTube). This will open the addon's overview.
Finalize the procedure by clicking on 'Install' (in the bottom-right corner).
Lastly, return to Kodi's 'Add-ons' section and open the newly installed addon. That's it!
We made sure to give you a quick and helpful guide to installing addons from Kodi's official repository. To take a much deeper look, make sure to click on the provided link - and you'll find more in-depth information along with screenshots.
Also, know that you can install Kodi addons from GitHub (like the Netflix addon), and there's a way to install addons for Kodi from ZIP files (for addons like HBO Max and Disney+).
TV Show Kodi Addons Not Working? Here's What to Do!
Kodi is a complex application, so it doesn't come as a surprise that something can go wrong on occasion. With that said, if you see any errors when trying to install Kodi addons for watching TV shows, try the following.
For additional solutions, turn to our hands-on guide to troubleshooting Kodi. And in case you encounter performance-related issues, check how to stop Kodi's buffering issues.
Which Kodi Addons for TV Shows No Longer Work - or Have Shut Down Permanently?
Like it often happens with "unofficial" Kodi addons, many previously popular Kodi addons for TV shows are no longer operational. Here are the names of those addons.
Incursion
Exodus (the original version)
Ghost
Chronos
Maverick
Deceit
13 Clowns
Phoenix
Phoenix Rising
Entertainment Time
Entertain Me
Watch Dogs
Which Illegal TV Show Kodi Addons You Must Avoid?
Other websites are happy to recommend addons like The Crew, The Oath, The Magic Dragon, Asgard, Seren, Venom, and Exodus Redux. However, all those addons are illegal.
They're illegal because they're based on piracy. They use illegal sources to distribute their content, which constitutes copyright infringement. That's against the law in most countries, so we strongly recommend avoiding those Kodi addons.
If you wish to be on the safe side, make sure to stick to our recommendations, all of which are legal and safe to use. And, of course, use a VPN to unblock more content via Kodi and secure your Web connection.
This is where we conclude our list of the best TV shows Kodi addons in 2022. If you think we missed something, make sure to drop us a comment below. And if you'd like to keep exploring more about Kodi, the provided link will take you to our freshest articles. Thanks for reading - and enjoy using Kodi!