Even though it comes free of charge, Crackle has truly plenty to offer. If you're not annoyed by a few ads here and there, you should definitely check this media streaming service. However, there's one obstacle to that, as you'll need to learn how to watch American Crackle outside the US - and yes, we're here to help!
By using a VPN service, you can "trick" Crackle into thinking you're in the US, giving you access to its entire media library. So, let's show you how that's done.
Where Is Crackle Available?
Crackle used to be available in multiple countries, but it looks like it only works in the United States right now. If you check the FAQ page for this on their site, you'll see Crackle says their service is only available "in the United States and territories."
The "territories" part is confusing, but it probably refers to permanently inhabited territories that belong to the US – like Puerto Rico and Guam. So, unless you're in the US or its territories, you'll most likely encounter the following message:

Of course, this isn't where you should stop trying to access Crackle. After all, there is a way to watch American Crackle outside the US, so make sure to keep on reading.
How to Watch American Crackle Outside the US
So, to unblock Crackle from anywhere, make sure to go through the following steps:
Step #1: Pick the Best-Working VPN for Unblocking Crackle
It's true that Crackle isn't that hard to unblock outside the US. However, since we're talking about media streaming here, you do need a capable VPN. More precisely, you need a VPN with plenty of servers in the US, capable of providing fast speeds.
After spending quite some time testing over 60 VPNs, we know which one to recommend. That would be - ExpressVPN. This is perhaps the only VPN that checks all the right box, while also being able to unblock Crackle with ease.
3,000+ VPN servers in 160 VPN server locations in 94 countries, 5 Simultaneous connections, Fast and stable connection, No activity logs or connection logs, No bandwidth limits, Strong encryption, 24/7 live chat support, and 30-day money-back guarantee.
With ExpressVPN, you get thousands of servers (many of which are in the USA), several VPN protocols, nicely designed apps, and the ability to unblock a range of media streaming services. However, you do have other options as well - as you'll see in our segment on the best VPNs for Crackle.
Step #2: Get Your VPN Subscription
Before you proceed to any other steps, you need to have an active VPN subscription. With that said, we'll once again recommend ExpressVPN - especially since you're after watching Crackle outside the US. Let's see how to subscribe.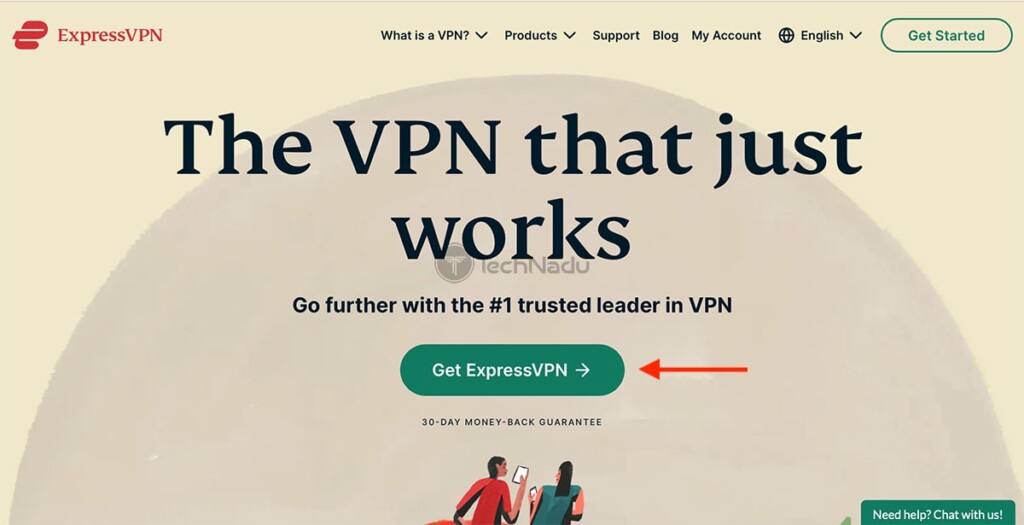 Once you visit ExpressVPN's website, select 'Get ExpressVPN' to begin signing up. First, pick a subscription plan. At the moment, there are three plans to choose from - but keep in mind that long-term ones come with significant savings.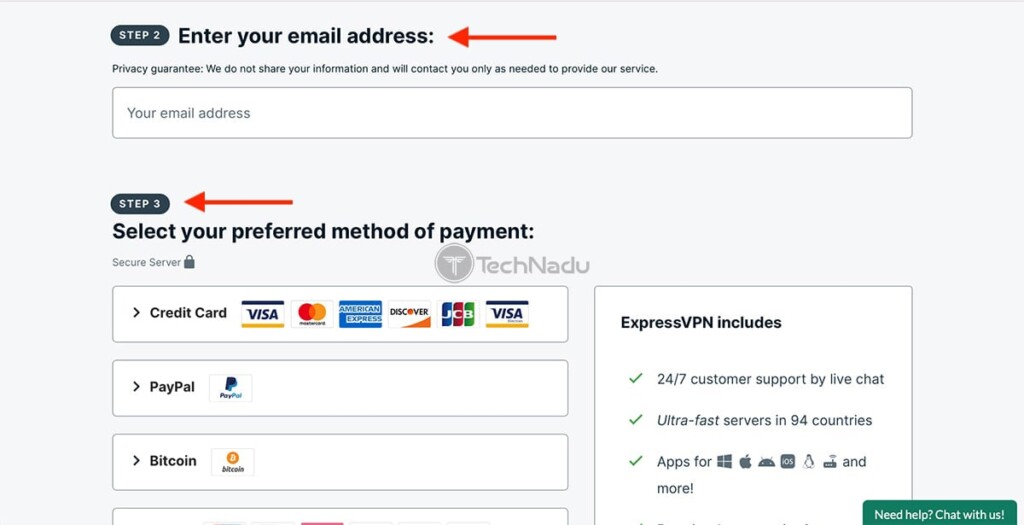 Then, provide your email address and pay for the chosen subscription plan. Once you're done, expect a confirmation email from ExpressVPN's team indicating that your subscription is now active. Feel free to proceed with the next step.
Step #3: Download & Set Up the VPN on Your Device(s)
You can access Crackle on a variety of devices. However, to unblock it from outside the US, you first need to have ExpressVPN running on that device. This is one of the reasons why we're recommending ExpressVPN in this guide, as it has apps for any of the currently popular platforms and devices.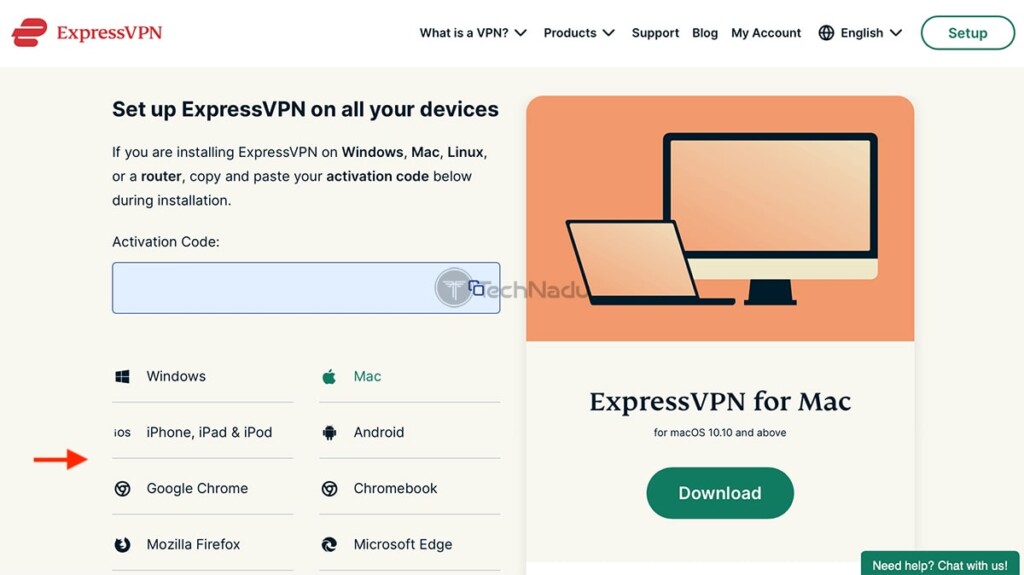 With that said, your next Web destination should be our guide to downloading, installing, and using ExpressVPN. So, make sure to use the provided link and follow the instructions you'll see there, depending on the platform(s) you'll use to run ExpressVPN.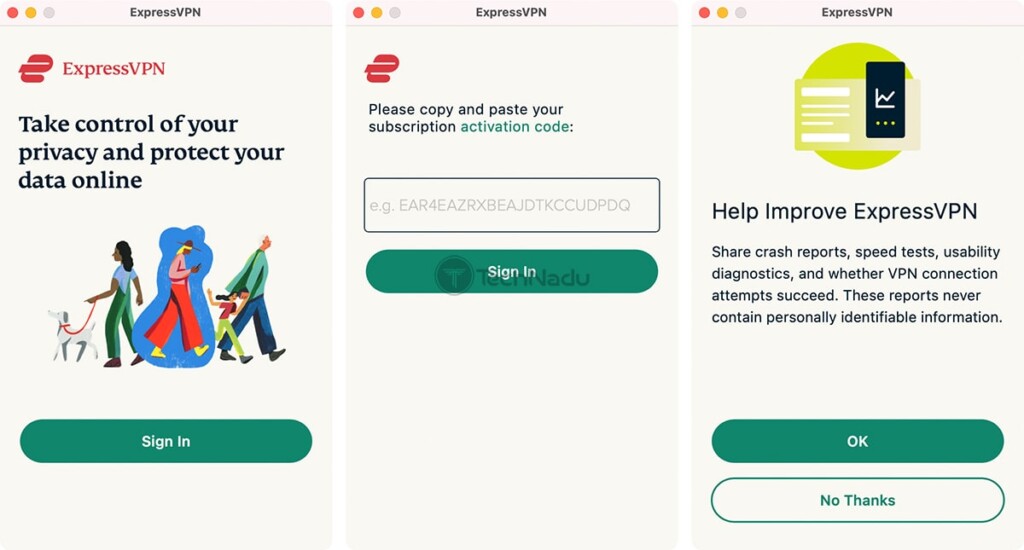 Let's not forget to mention that you need to prepare ExpressVPN for use. So, once you install its app, make sure to launch the VPN. Log in to your account and finalize the initial setup. Once you get to ExpressVPN's home screen, jump to the next step.
Step #4: Connect to a VPN Server in the USA
Finally, it's time to take full advantage of your VPN subscription. As you're about to see, connecting to a US server takes only a few seconds of your time. However, know that you'll need to repeat that step each time you wish to watch American Crackle outside the US.
Launch ExpressVPN and wait until you see its home screen. Then, press the button you'll see just below the ON/OFF switch. A new window will appear, showing you ExpressVPN's entire selection of servers.
Go with 'United States,' and then double-click on any server you'll see there. Wait a few moments until ExpressVPN's interface turns green - which means your VPN session is now active.
Step #5: Unblock & Access Crackle
That's basically it! You can now visit Crackle's website without seeing any error message. Instead, you will get to select any title (movie or TV show), and the video will start playing after a couple of ads.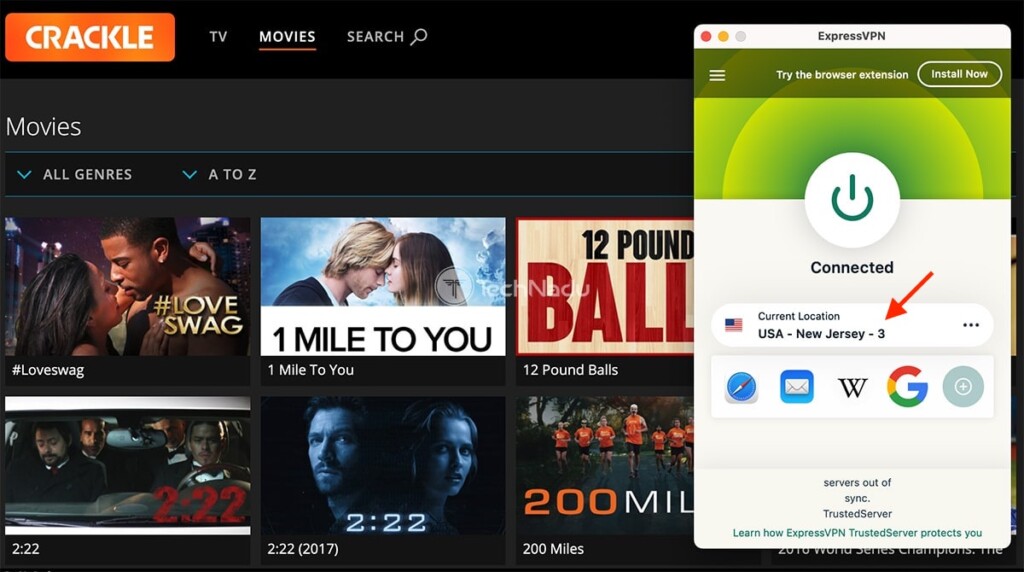 If you plan on using multiple devices to stream Crackle, it would be a good idea to get a free account. That way, you can create your lists of favorites and keep track of your Crackle-related activities across any of its supported platforms.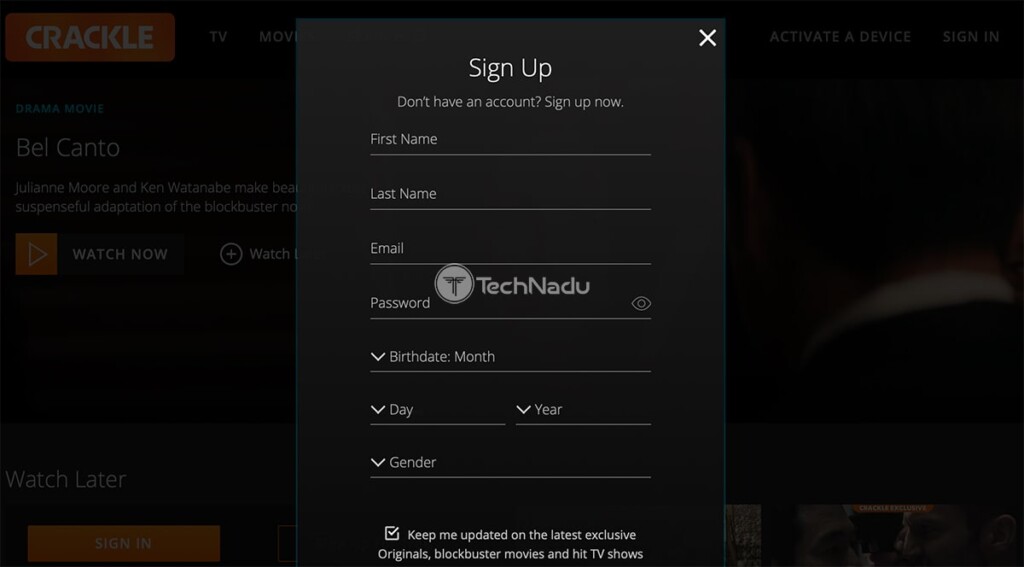 To get a Crackle account, select 'Sign Up for Free' on the website's home page. Provide the information required there, and click on 'Create Account.' That's it!
Step #6: Get Crackle on Other Devices (Optional)
So, you now know how to watch American Crackle outside the US. However, we'll also show you how to download Crackle's apps for Android and iOS - letting you access those from anywhere in the world.
For that purpose, you'll need a Google/Apple account associated with an address in the US. If you don't have one, proceed to get a new Google account or a new Apple ID. Make sure to have the VPN active in the background and pick the United States as your country or region.
If you need help with getting a US address, the provided link will take you to an online tool that will generate an address for you. Also, keep in mind that Google won't ask for your country, which is why it's imperative to be connected to a VPN server while signing up.
Once done, log in to your new account on your smartphone or tablet (done via the Settings app). Lastly, visit Google's Play Store or Apple's iOS App Store and download Crackle from there. You should have no problem getting the app.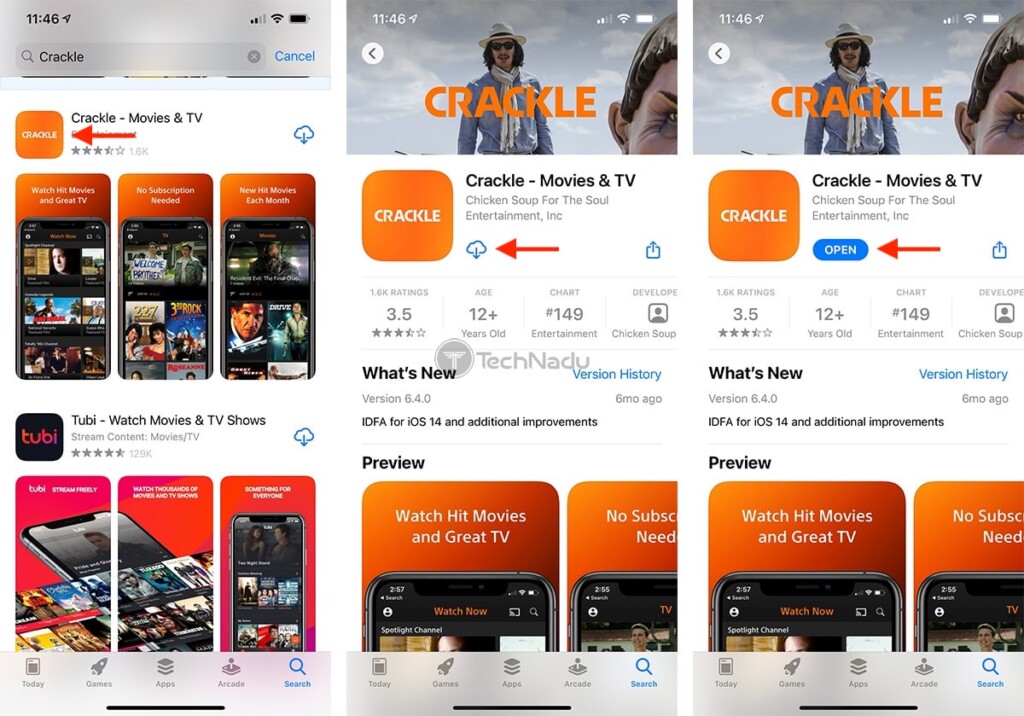 Finally, as soon as you launch Crackle, you will see that you have access to its entire media library. Feel free to log in using your account - even though you can also stream without registering. That's it!
What's the Best VPN to Unblock Crackle?
We checked out 60+ VPNs and tested each one to see if they're able to bypass Crackle's geo-blocks. According to our results, these are the best 4 VPNs that can unblock Crackle outside the US.
1. ExpressVPN - All-Around Best VPN for Crackle
ExpressVPN is usually at the top of any article about unblocking streaming sites, and for a good reason - you get tons of perks: unlimited bandwidth, really fast servers (we had no problem regularly getting stable 100+ Mbps speeds), and powerful encryption.
Plus, ExpressVPN offers very intuitive apps that work on the most popular platforms. Also, you can simultaneously use the VPN on up to five devices. You get split tunneling as well, which is perfect whenever you need to fine-tune your VPN speeds even more.
If you ever have any issues unblocking Crackle outside the US (you shouldn't), you can always rely on ExpressVPN's support reps for help. They're very helpful and always available through live chat (24/7).
And don't worry - you buy with no risk when you pick ExpressVPN. They have a very generous no-questions-asked 30-day refund policy. If you're not happy with the service, just ask for your money back within 30 days through live chat, and you'll get a refund in a few business days.
Finally, if you need more information on ExpressVPN, make sure to read our full review.
With CyberGhost, you have everything you need to unblock Crackle outside the US: unmetered bandwidth and a huge number of servers (6,300+), up to seven parallel connections, a very clean and user-friendly design, apps that work on most devices, dedicated IPs ("truly anonymous dedicated IPs," according to CyberGhost VPN), and 24/7 live chat support.
So what makes CyberGhost VPN the most risk-free unblocking method for Crackle?
Well, the fact that you get a free 24-hour trial, for one. So you can test out the service before signing up to see if it's right for you. Also, unlike most providers, CyberGhost VPN offers a 45-day money-back guarantee (unless you pick the monthly plan - in that case, it's a 14-day refund).
All in all, CyberGhost VPN is a perfect choice if you want to unblock Crackle but want to make sure the VPN gets the job done before paying anything. For more info, read our review.
3. Surfshark - Best Multi-Device VPN
With a large server fleet (3,000+), unlimited bandwidth, user-friendly, and cross-platform compatible apps, what's not to love about Surfshark?
While it's a pretty new VPN, it quickly climbed the ranks and became one of the best streaming site unblockers on the market. It's easy to see why - besides all we mentioned above, you also get split tunneling, decent protocols (including WireGuard), very smooth speeds, and 24/7 support through live chat.
And, best of all, you get unlimited parallel connections. So you (and everyone in your household) can unblock Crackle with Surfshark on as many devices as you want.
And you can do all that for a very generous price - not to mention a no-questions-asked 30-day refund policy too! For more info, read our review.
4. NordVPN - Best If You Need Total Privacy
Some of you don't just want to unblock Crackle - you also want to be 110% sure you're securing your data and privacy at the same time. While all VPNs on this list can offer you that kind of peace of mind, NordVPN has a little something for those of you who want more.
Let's start with the Crackle unblocking perks - unlimited bandwidth, really fast servers (and tons of them), very intuitive UI, cross-platform compatible apps, dedicated IPs, and up to six parallel connections.
But NordVPN really shines when it comes to security. They offer powerful encryption, offer obfuscation, and actually own some of their servers (they don't just rent them). Also, they have their own implementation of WireGuard called NordLynx, which they made more secure by using a double NAT system to prevent potential IP logs.
And to top it all off, you can bundle their really budget-friendly subscriptions with additional security services - NordPass (secure password manager) and NordLocker (secure storage).
And all that comes with professional 24/7 support through live chat and a decent 30-day refund policy. For more info, read our review.
How Does a VPN Unblock Crackle?
Well, it's nothing too fancy. To keep it simple, a VPN bypasses geo-blocks by routing your traffic through a VPN server that sits between you and Crackle.
So instead of looking like this:
Device --> ISP Network --> Crackle
Your connection will look like this:
Device --> ISP Network --> VPN Server --> Crackle
Because your traffic takes that route, Crackle will think it's coming from the VPN server, not your device. So it'll only see the VPN's IP address.
FAQ
What Is Crackle?
Originally founded by Grouper, Sony Pictures Entertainment bought and rebranded the service to Crackle in 2007, only to change into Sony Crackle in early 2018. Despite that, people continue to call the site "Crackle."
A multi-platform on-demand video service, studio, and distributor, Crackle lets you stream full-length, uncut movies, TV shows, and original programming. You'll find content in your favorite genres, including (but not limited to) comedy, action, crime, horror, sci-fi, and thriller.
Crackle is completely free to use, but you will have to put up with ads.
What Devices Is Crackle Available On?
Crackle works on many platforms. Here's the full list from their FAQ page:
Android (phone and tablet)
Android TV
iOS
Apple TV
Amazon Fire TV
Amazon Fire TV Stick
Windows
macOS
Chromecast
Roku
Samsung TV
LG TV
Vizio TV
Xbox
PlayStation
What Kind of Content Can You Find on Crackle?
Since Sony owns Crackle, you'll mostly find Sony-licensed TV shows and movies. You can watch all sorts of genres - comedy, horror, thriller, drama, action, adventure, documentaries, fantasy, etc.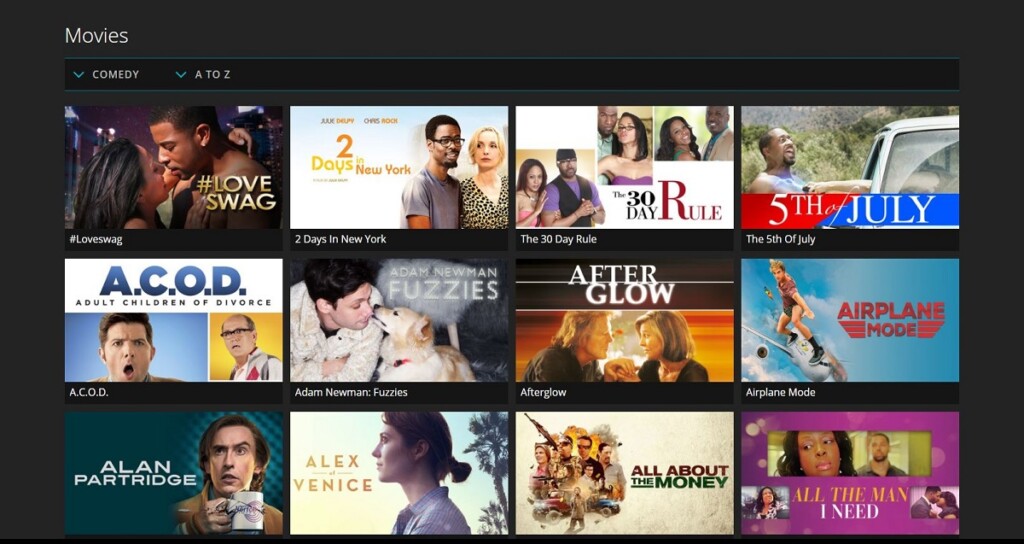 To list off a few example, you can enjoy the following titles on Crackle: Kitchen Nightmares, Hell's Kitchen, Pacific Rim, Minority Report, Nacho Libre, The Ring, and Elysium.
Why Is Crackle Only Available in the US?
It's hard to say, but it's likely because it used an unsustainable business model. According to various online articles, Sony ceased Crackle operations in various regions (like the UK or Latin America) because the site couldn't keep up with competitors (like Netflix).
As for why Crackle doesn't just stream all content worldwide and get rid of geo-blocks, it's simple - it legally can't do that. Sony signed licensing agreements to stream all the movies and shows on the site, and those contracts state that Crackle can only do that in the US.
Can You Unblock Crackle on Streaming Devices?
While Crackle might work on platforms like gaming consoles(Xbox, PlayStation) and Roku, VPNs aren't normally available on those devices since there's no native support for them.
The only way to unblock Crackle and such platforms is to set up the VPN on your router. Those devices use the router to communicate with the Web, so they'll automatically use the VPN connection.
You can also try getting a VPN router, though keep in mind they can be a bit expensive.
Can a VPN Unblock Other Sites?
Yes, of course. VPNs hide your IP address, so they stop sites from seeing your geo-location. You can definitely use one to unblock other platforms - like Netflix and Hulu.
Just make sure you stick to the top providers, though. They refresh their IPs very often, meaning streaming sites can't detect and block them.
Will Crackle Ban You If You Use a VPN?
No, that shouldn't happen. We haven't heard of this happening to anyone. We even checked Crackle's ToS and couldn't find any reference to VPNs, proxies, unblockers, or bypassing geo-blocks.
The worst that can happen if Crackle detects you're using a VPN is that you'll end up on the geo-restriction landing page.
Can You Continue Watching Crackle After Disconnecting From the VPN?
Yes, but only sometimes. We loaded up Pacific Rim and then disconnected from ExpressVPN's US server. The movie kept playing, and we were able to keep watching it or skip through it.
However, when we tried playing a different movie, we ended up on the geo-blocking landing page. The same thing happened when we watched the first episode of 21 Jump Street - we were able to finish it after disconnecting from ExpressVPN, but we couldn't load the next one.
And once we closed the browser and opened it again, we were greeted with the geo-restriction error message.
Also, we noticed that if we left the Crackle tabs open for over an hour after disconnecting from the VPN and didn't interact with them, they'd stop responding. After refreshing them, we were redirected to the geo-restriction message.
Will Using a VPN Affect Crackle's Video Quality?
This shouldn't really happen. Yes, VPNs can lower your speeds, but Crackle doesn't require high speeds to begin with (just a minimum of 9 Mbps).
If you do experience slowdowns, check out our VPN speed guide. If those tips don't work or you don't want to bother with them, check out our list of the fastest VPNs on the market.
There you have it - you now know how to watch American Crackle outside the US. In case you have any questions or doubts, make sure to post your comment below. Lastly, thanks for reading!