Kodi users have plenty of options when it comes to live-sports addons. The same applies to baseball, as there are still a couple of reliable options to watch MLB on Kodi. So, we'll help you get the best possible experience by listing the best baseball Kodi addons in 2022.
Before we proceed, know that we'll offer the full guide to watching baseball on Kodi. That means explaining what it takes to stream this kind of content, in addition to where you can find the most up-to-date baseball-related games and replays.
And finally, know that we've tested the following addons ourselves to ensure that they work properly while being safe and legal to use. So, let's jump right in.
Do You Need a VPN for Watching MLB on Kodi?
You absolutely need to use a VPN when watching MLB on Kodi - if you want to bypass geo-blocks imposed by MLB-focused Kodi addons.
It doesn't come as a surprise that Kodi addons are restricted to individual countries, which is especially true for addons that let you watch sports live. So, if you want to unblock new addons and bypass MLB blackouts, using a VPN is your best option right now.
By hiding your Web traffic and changing your IP address, VPNs help you access any content via Kodi - by helping you unblock any addon. It takes just a second to connect to a VPN server, giving you full access to the Internet - with no restrictions.
Aside from that, a VPN helps stabilize your Web connection, improves your media streaming experience, blocks digital trackers, and more.
Interesting in knowing more about your options? If that's so, here are the best Kodi VPNs (hand-picked by our team). Also, learn how to use a VPN with Kodi.
The Best MLB Kodi Addons in 2022
Finally, let's talk about the addons that let you watch baseball - on any device, as long as you have Kodi installed. These are the 3 best MLB Kodi addons right now:
MLB.TV (Compatible with Kodi v19)
1. MLB.TV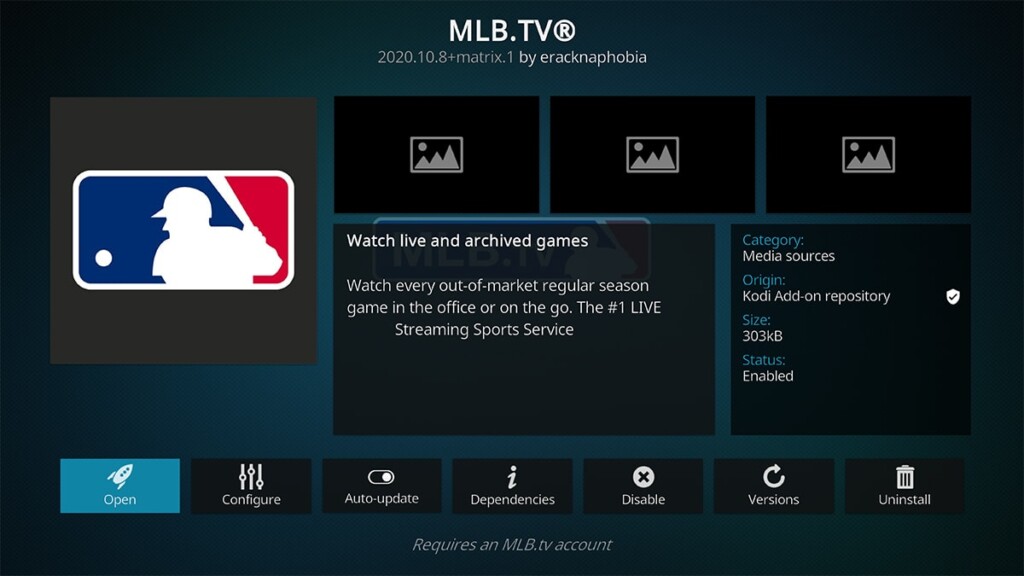 The most popular way of watching MBL games is by using a streaming service called MLB.TV. In case you don't know about this streaming service, you should check our review of MLB.TV.
We are sure that those of you who are baseball fans already know a lot about this streaming service. However, what you don't know is that this service comes with the official Kodi addon and plenty of useful content.
Before using this addon to watch MLB on Kodi, you need to have an active subscription. So, right-click on the addon's icon and make sure to enter your credentials. Your data will be automatically synced with the addon.
That means you'll get to see your favorite teams on the addon's home screen. What you also need to know is that you can purchase a yearly pass for all games or for a single team. There is also a 'Free Game of the Day' – available to all Kodi users.
2. Sportsnet Now
Sportsnet is a popular sports streaming website based in Canada. Therefore, it is focused on a single team – the Toronto Blue Jays. However, you'll occasionally find other teams as well.
Even though this isn't the most extensive streaming service, it still has a lot of great content – especially if you're from Canada. And more importantly, it's updated daily with new content that goes well beyond baseball.
What is also important to note is that Sportsnet has access to the World Series baseball games as well. Therefore, you'll get your money's worth - especially considering this streaming service's low price. If you're still not a subscriber, try it free for seven days.
3. FOX Sports GO
As many of you probably know, FOX has exclusive rights to a number of games. Therefore, you can access a wide range of sports content using the company's Sports GO service.
However, you can also be a user of other (cable and OTT) services that have FOX's sports channels in their offer. In other words, you can use the FOX Sports GO for Kodi if you have a subscription to FuboTV, Sling TV, and similar subscription services.
We often like to recommend this addon to anyone who's a hardcore sports fan. It's easy to use and covers numerous sports disciplines. This is definitely one of the best ways to watch MLB on Kodi in 2022, especially if you're in the USA.
How to Find & Install MLB Addons?
It's incredibly easy to get started with Kodi addons, and you can install them in a matter of seconds. With that said, here's how to install any Kodi addon.
Once you open Kodi, select 'Add-ons' using its main menu.
Then, pick 'Download' and select 'Video Add-ons.'
Now, pick the addon you'd like to install (like MLB.TV, Sportsnet Now, or Fox Sports GO).
You should see the addon's overview. Go ahead and click on 'Install.'
Once the addon installs, return to the 'Add-ons' section and open it. That's it!
If you're a first-time Kodi user, we would like to recommend our guide on installing Kodi addons from its official repository. That's where you'll find more detailed instructions along with helpful screenshots to guide you through.
We'd also like to add that some addons can come from other sources. So, you'll want to learn how to install addons from GitHub or from ZIP files. Check those two articles as well and learn how to install just about any Kodi addon out there.
MLB Kodi Addons Not Working? Try This!
Don't expect to encounter any major problems when installing Kodi. However, some issues may arise on occasion, which is why we've decided to offer a set of possible solutions. So, if you're having a hard time with MLB addons for Kodi, try the following.
Before you do anything else, we advise you to clear Kodi's cache. Even though those are harmless files, they can still cause technical and performance issues with Kodi. This solution comes in handy if you see the "Something went wrong" error message.
Then, our strong recommendation is to keep Kodi up-to-date. However, keep in mind that Kodi v19 still doesn't work with many addons, so you might want to limit yourself to Kodi v18.9 instead.
When installing Kodi addons, you're also asked to install dependencies. If there's a problem with those, you will be prevented from completing the installation process. The trick here would be to install the required dependencies manually, so click on the provided link to learn how that's done.
If you need extra solutions, know that we've prepared a hugely helpful article on resolving numerous Kodi-related errors and issues. So, make sure to take a look.
Which MLB Addons for Kodi No Longer Work - Or Have Went Offline?
Today, we have a narrower selection of MLB addons than we used to have a year ago. That's because many previously popular addons have gone offline, so we'd like to highlight some of the most notable examples.
Project Mayhem
SportsDevil (often broken)
Made In Canada (often broken)
Pro Sport
Goodfellas 2.0
Joker Sports
Sports World
Keep in mind that all of the addons listed above used to be "unofficial" Kodi addons. They really aren't the way to watch MLB on Kodi as they lead to one thing - and that would be copyright infringement. In fact, our recommendation is to stay away from such Kodi addons.
Stay Away from These Illegal MLB Kodi Addons!
Other sites will recommend you to use TV Tap, Sportowa, and Rising Tides to watch MLB on Kodi. However, know that those addons are illegal - so, let's see why.
It's not a secret that unofficial Kodi addons have questionable sources of content. They enable piracy, which is how they bring premium content for free. So, that's precisely what makes those addons illegal - and very dangerous to use (even if you "hide" behind a VPN).
Once again, we urge you to stay away from unofficial and illegal Kodi addons. Be responsible when using Kodi and stick to proven options only - as highlighted in this article.
That would be all on how to watch MLB on Kodi in 2022, in addition to our carefully picked selection of the best MLB Kodi addons. In case you'd like to explore more about Kodi, the provided link will take you to our freshly-published articles. Thanks for reading!