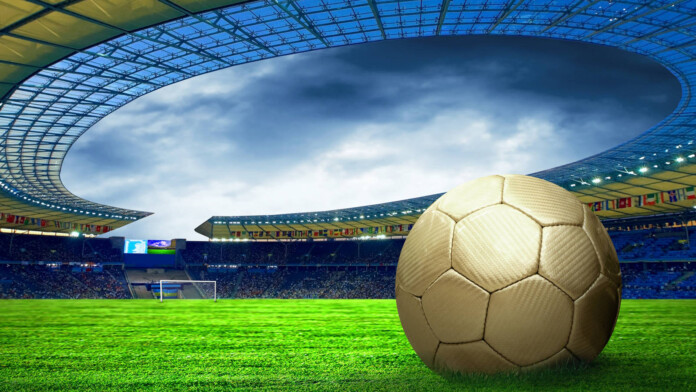 Needless to say, there are millions of hardcore football fans out there. The popularity of this sport can be seen in massive investments in acquiring broadcasting rights by major tech companies. As you can imagine, these investments typically come from Europe, where football is the most popular sport. Still, staying on top of the latest games isn't as easy as it used to be. This is why a combination of live TV and on-demand video streaming is the bulletproof combination. As you know, this is where Kodi comes into play. Let's take a look at the best football Kodi addons.
What needs to be mentioned is that we'll deal with legal Kodi addons only. Actually, we strongly advise you to stay away from questionable addons that offer 'free' ways to watch high-profile games. In case you don't know, UEFA is actively blocking illegal streams, and can even identify digital pirates using those streams. This is why using legal addons is the only way to ensure smooth performance and high-quality video streaming.
Before we proceed further, we have a word of caution for you. Our strong advice is to make sure you're using Kodi safely and legally. With this said, we want you to read our In this article, we are talking about Kodi and this application's official and unofficial addons – all of which are based on open-source code. Addons for Kodi can come from the official source (you can install them via Kodi itself), or they can be hosted by third-party sources (such as GitHub, for example). In addition, Kodi and its addons are publicly available and free of charge.

TechNadu doesn't claim any responsibility for how our readers decide to utilize the following software. Please note that we don't condone sharing pirated content and copyright infringement. TechNadu is not affiliated with the software mentioned in this article in no way.

Make sure to carefully read everything said in this disclaimer and ensure the proper use of the software.
disclaimer as well as the following warning message.
WARNING: When Using Kodi, Make Sure to Always Use a VPN!
Without a VPN, you will be facing many obstacles when using Kodi. Aside from encountering blocked content, you're also putting your privacy at risk. With this said, here's why you MUST use a VPN while using Kodi:
Kodi Imposes Geo-Restrictions: Numerous Kodi addons are restricted to certain countries only. By checking your IP address, these addons can block access to their content, which means that you're missing out on a vast media library. A VPN resolves this problem by giving you a virtual IP address associated with a different country. For this purpose, we recommend getting a US IP or a UK IP address – as the majority of Kodi addons are restricted to these two countries.
Your ISP is Watching Your Every Move: Without a VPN, your ISP collects all your Web data. This includes your Web search history, any websites you visit, and any media streaming services you use. Kodi is a media streaming application, which means that many of you will face ISP-imposed throttling, as a result. By hiding your Web traffic via a VPN service, you can make sure that your ISP doesn't know what you're doing online – and enjoy the full speed of your Web connection.
You're Putting Your Device's Safety at Risk: Be very careful about which Kodi addons you install. Third-party sources can often lead to malware and cryptocurrency trojans, exploiting your private data and your device's resources. With this said, know that VPNs reduce the risk of you getting infected with malware by implementing website blacklists. They don't completely stop malware, but they can block access to malicious websites by using often-updated lists of dangerous websites (supplied by antivirus vendors). This is especially handy in the world of unofficial Kodi addons.
Once again, be very careful while using Kodi – and think about your privacy and digital security. A reliable VPN helps you secure and improve your Web connection, unblocks everything that Kodi offers, and takes care of your privacy. And per our extensive hands-on tests, we highly recommend you use ExpressVPN – the best VPN for Kodi at the moment.
LIMITED TIME OFFER: For our readers, we've prepared an exceptional deal. You can now save 49% on ExpressVPN – and get three additional months for free!
How to Watch Football on Kodi?
On its own, Kodi is a capable home theater software. However, playing locally stored media is just one part of its functionality. Thanks to third-party addons, we can transform Kodi into a capable media streaming service.
This application is especially powerful when it comes to watching sports. As our article about live sports addons shows, the choice is huge. This is why we've prepared five of the best football Kodi addons that you can download today. Let's take a look.
Best Football Kodi Addons: Top Recommendations
Finally, let's take a look at some of the most popular Kodi addons for football (soccer). What you need to know is that we've tested each of the following recommendations – to make sure they are up to date and working. Let's jump right in.
iPlayer WWW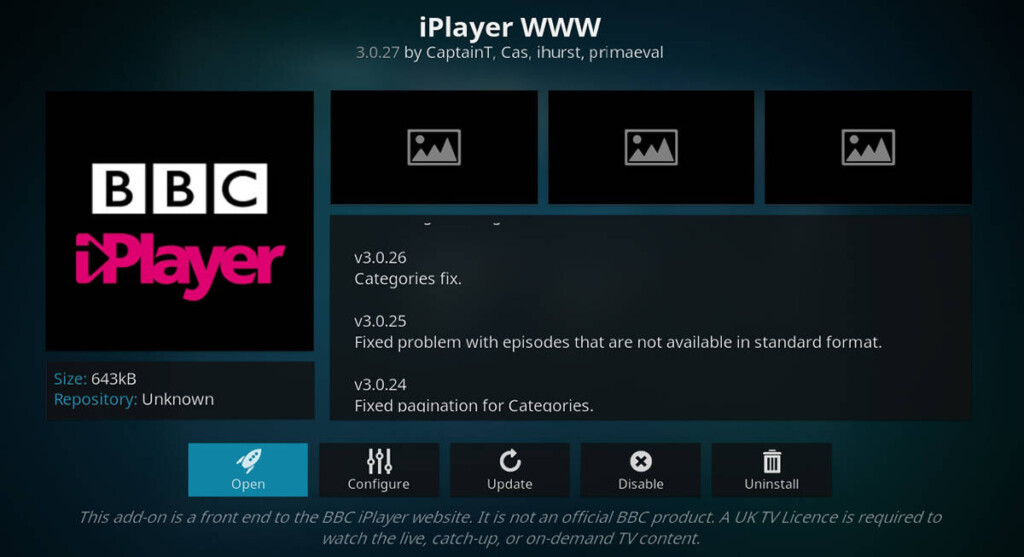 What hides under this addon's name is actually one of the world's most popular streaming services. Called BBC iPlayer, this service provides content supplied by BBC, the world's oldest broadcaster. In case you didn't know, this media company has produced some of the highest-ranked documentaries, TV shows, and movies. The best thing is that you can find all of these, free of charge, on BBC iPlayer – or iPlayer WWW if you're a Kodi user.
We think this is one of the best football Kodi addons since BBC holds exclusive rights to some of the world's best football leagues. In case you're into the Premier League, this is where you'll find live-streams and on-demand content as well. Unfortunately, there's one catch here. You have to reside in the United Kingdom to get to use this service. Don't worry, this is nothing that a good VPN for BBC iPlayer can't resolve. And finally, here's our dedicated article on how to install iPlayer WWW on Kodi.
Fox Sports GO
If you live in the United States, you've probably heard about Fox Sports' new streaming service. It's called 'Fox Sports GO' and the chances are that you probably have access to it already. That's because this sports streaming service is already included in numerous plans by cable providers and on-demand streaming services. In general, if you have one of the Fox Sports channels on your TV, you can use its app as well.
Lucky for you, Fox Sports GO can be natively installed on Kodi. You will get to watch plenty of on-demand content as well as live streams. When it comes to football (soccer), you should know that Fox Sports has exclusive rights to the world's best football leagues for the US. Also, you can follow other sports like NFL, NBA, MLB, and numerous others. Here's how to install Fox Sports GO on Kodi, and here are the best VPNs for Fox Sports GO (if you're not in the USA).
ESPN 3 (Play)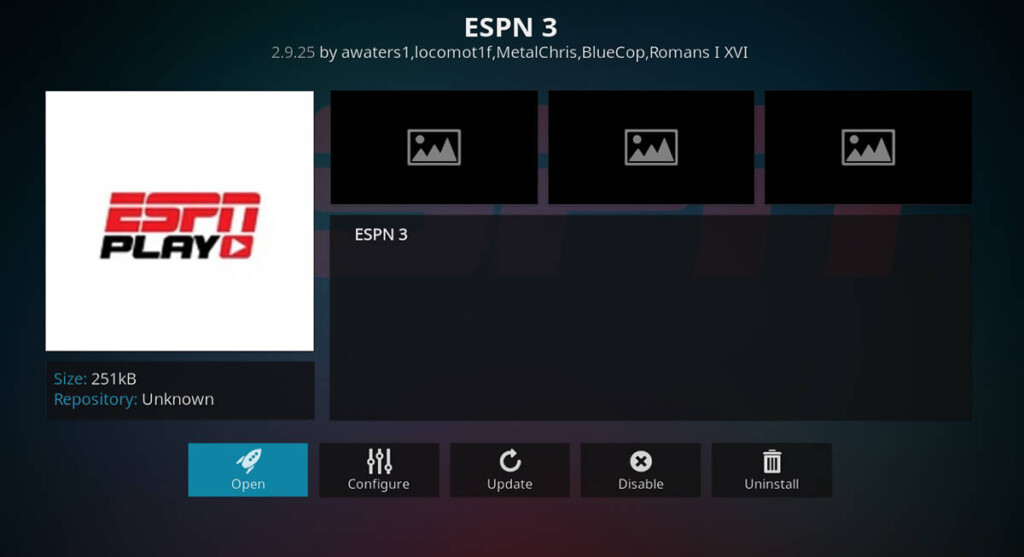 We'll be honest here – ESPN 3 isn't the most polished Kodi addons out there. It's been around since 2014 and has received a few updates since then. However, this is your best way to follow ESPN on Kodi – at least until ESPN+ find its way to this platform. This is why we think this addon is still one of the best football Kodi addons right now.
Just like our previous suggestion, ESPN 3 (Play) can be used only if you have a valid subscription. Almost all cable operations and cord-cutting services enable this option. So, if you can watch ESPN on your TV, you'll be able to activate it via Kodi. The welcome screen allows you to authenticate your account in a simple manner. Then, you'll get to watch premium content that extends to football, baseball, cricket, basketball, and more.
DAZN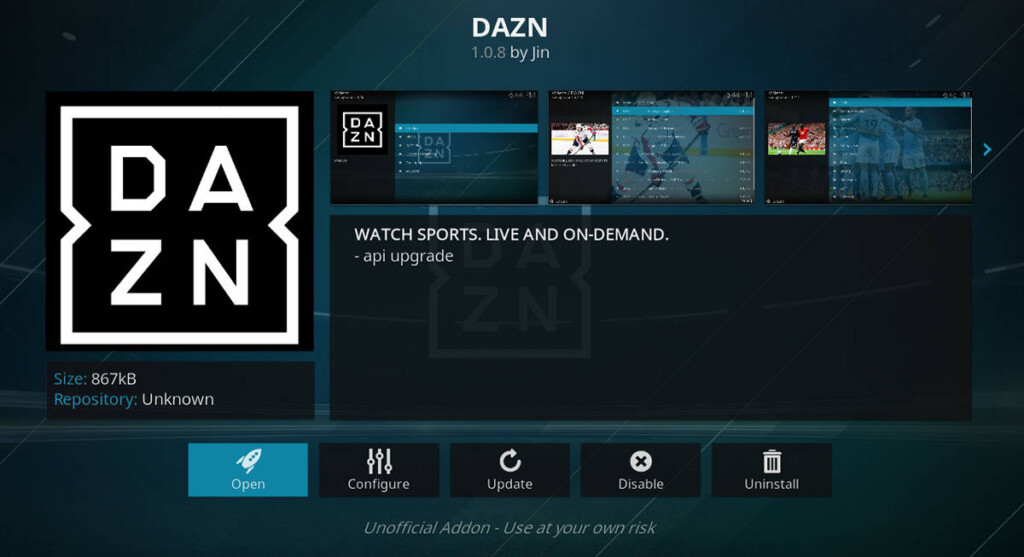 When it comes to soccer, one of the best OTT services is DAZN. It holds exclusive rights for broadcasting famous leagues such as the UEFA Champions League, UEFA Europa League, La Liga, Premier League, Bundesliga, Argentine Superliga, Coupe de France, and numerous more. On top of all of this, it offers live and on-demand content.
What you need to know is that DAZN is a subscription-based service. Also, it's currently available in Canada, Japan, Germany, Austria, and Switzerland. However, a reliable VPN should do the job of making this service available even if you don't live in one of these countries. To help you with this, here's our article on how to watch DAZN from anywhere. Once you have a valid subscription and a VPN installed, you can use DAZN for Kodi without any limitations.
Sportsnet NOW
If you live in Canada, you already know that Sportsnet is one of the most popular sports channels over there. Aside from offering exclusive football (soccer) matches, this broadcaster is also dedicated to bringing sports and events like NHL, NBA, WWE RAW, IndyCar, Rogers Cup, and even eSports. So, there's a bit of everything here. In terms of soccer, Sportsnet offers 190 Premier League games.
Before you can use Sportsnet for Kodi, you first need to be a subscriber to this TV channel. In case you live in Canada and if you're using one of the popular cable or OTT service, you can already use this addon, free of charge. However, there are also ways to watch Sportsnet outside Canada, so take a look.
Final Thoughts
There you have it, dear football fans. We hope that you know that Kodi can be a powerful ally when it comes to watching football. All you need to know which are the best football Kodi addons, and which ones you need to avoid.
If there's anything you'd like to add, feel free to a post a comment below. In addition, we'd like to ask you to share this article online, as well as to follow us on Facebook and Twitter. Thanks!