Popcornflix is a hugely popular media streaming service, offering its entire content library free of charge. However, it's also true that we're talking about a geo-restricted streaming service here. So, the question is - can you watch Popcornflix outside the US? Yes, you can, and we'll show you how!
If you're in a country where Popcornflix isn't available, you'll see the following message when trying it access it: "Service Not Available / Error Code: 152." No matter how many times you click on the 'Try Again' button, your access to the website will be blocked.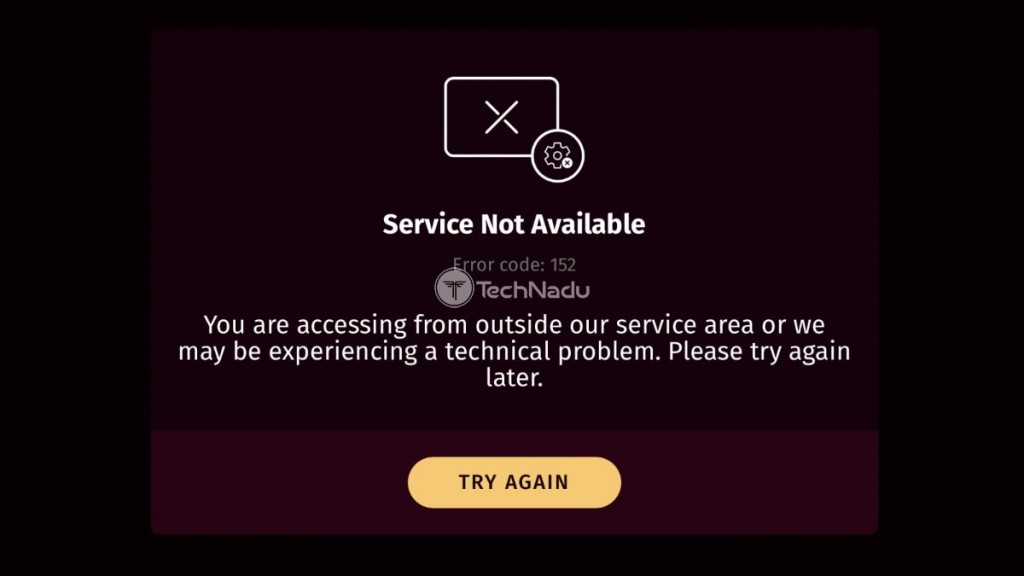 To trick Popcornflix into thinking you're in the US, you need to use a VPN. With that said, you'll find the full guide to unblocking this media streaming service from anywhere - if you keep on reading. So, let's jump right in.
Where Is Popcornflix Available?
Popcornflix used to be available in the United States only. However, a couple of years back, this media streaming service started reaching new countries. Today, you can watch Popcornflix in 50+ countries across the world, listed just below.
Argentina
Australia
Austria
Bahrain
Belize
Bolivia
British Virgin Islands
Canada
Chile
Columbia
Costa Rica
Denmark
Ecuador
Egypt
El Salvador
Finland
France
Germany
Guatemala
Hong Kong
India
Ireland
Israel
Jordan
Korea
Kuwait
Lebanon
Malaysia
Mexico
Micronesia
New Zealand
Nicaragua
Norway
Oman
Palau
Panama
Paraguay
Peru
Philippines
Poland
Qatar
Saudi Arabia
Singapore
South Africa
Sweden
Switzerland
Turkey
Turks and Caicos
UK
United Arab Emirates
Uruguay
US
Venezuela
Yemen
With that said, even though Popcornflix has become widely available, the situation isn't that simple. Each country has access to its own version of Popcornflix, so you might encounter a very limited library of content. That's precisely why you'll want to access the US version of this media streaming service.
How to Watch Popcornflix Outside the US?
To access and watch Popcornflix outside the US, you need to do the following:
Step #1: Pick the Best-Working VPN for Unblocking Popcornflix
We have some good news for you. Popcornflix isn't that hard to unblock. However, not every VPN will bring you the experience you seek. When it comes to media streaming, you need a VPN with plenty of servers, fast performance, and the ability to protect your personal data.
And yes, we have just the VPN you need. After spending quite some time with over 60 VPN services, we don't have a doubt about which one to recommend. If you want the best, you should subscribe to ExpressVPN.
3,000+ VPN servers in 160 VPN server locations in 94 countries, 5 Simultaneous connections, Fast and stable connection, No activity logs or connection logs, No bandwidth limits, Strong encryption, 24/7 live chat support, and 30-day money-back guarantee.
With ExpressVPN, you can access and watch Popcornflix outside the US in an instant. Also, you can use it to unblock Disney+, Prime Video, Discovery Plus, Netflix, Paramount Plus, and plenty more. Still, if you need additional options, here are other VPNs suitable for Popcornflix.
Step #2: Get Your VPN Subscription
Next, you need to subscribe to your chosen VPN. If you want to listen to our advice, go ahead and subscribe to ExpressVPN. The process of signing up for that VPN begins by clicking on 'Get ExpressVPN' on its landing page.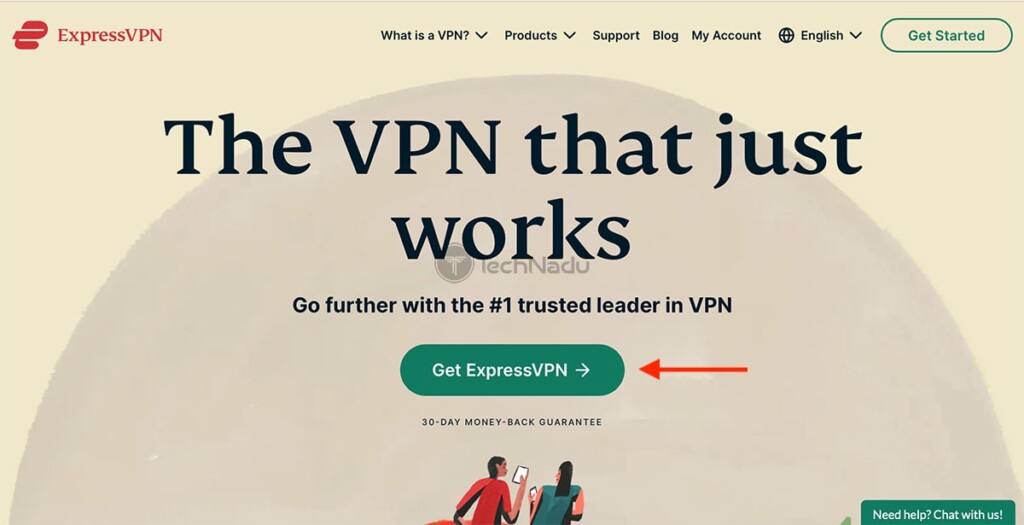 First, pick a subscription. You can choose from several available plans, but know that long-term ones come with significant savings. Once you pick a plan, proceed to select your preferred payment method and fill out your payment information.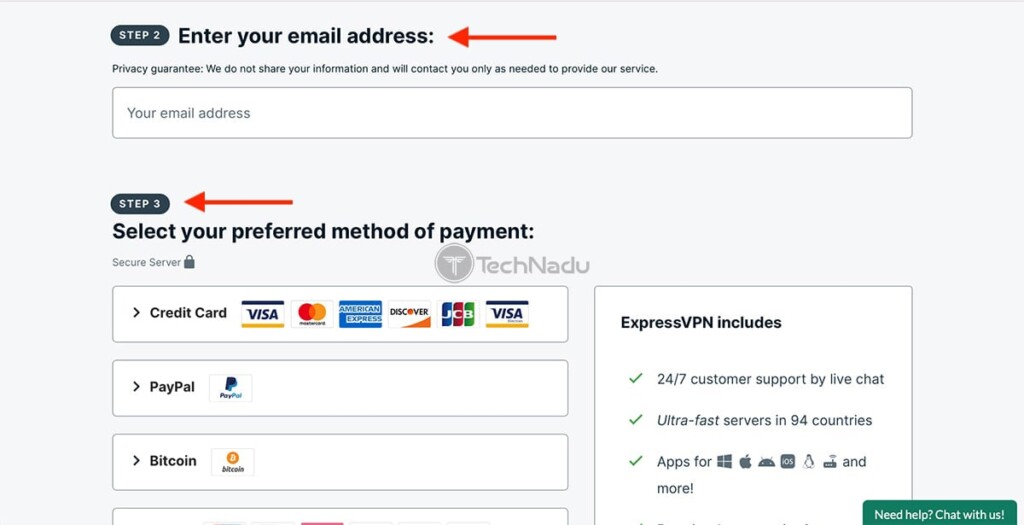 As soon as you're done signing up, expect to receive an email from ExpressVPN. So, don't forget to check your inbox. That is when you can proceed to the next step.
Step #3: Download & Set Up the VPN on Your Device(s)
Each time you want to watch Popcornflix outside the US (or unblock its US library), you'll need to launch ExpressVPN and connect to its server. With that said, you need to have ExpressVPN installed on every device you'll use to access Popcornflix.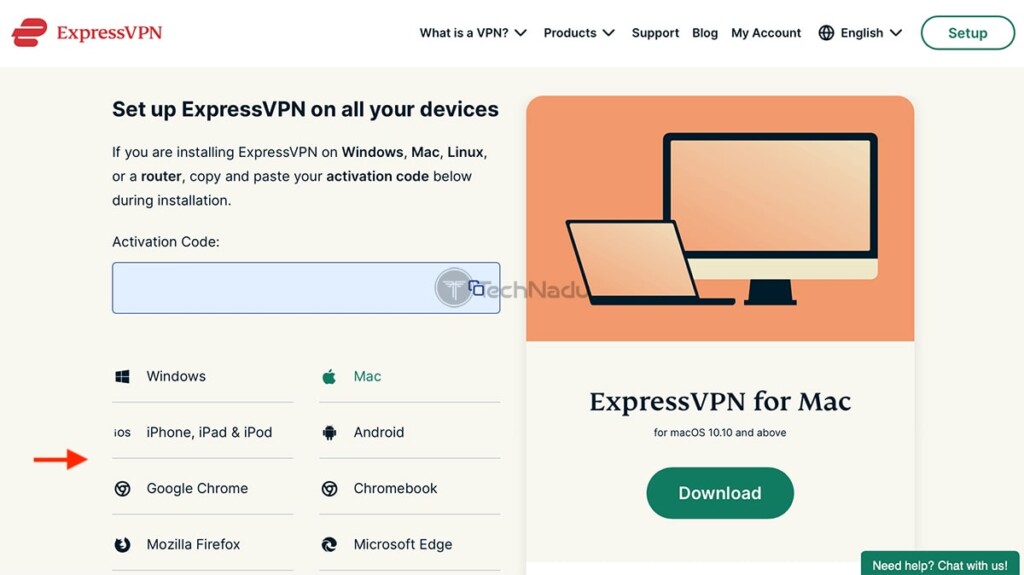 To help you with that, we've produced an in-depth guide on how to download, install, and use ExpressVPN - covering all of the VPN's supported devices (computers, smartphones, tablets, media streaming devices, and plenty more).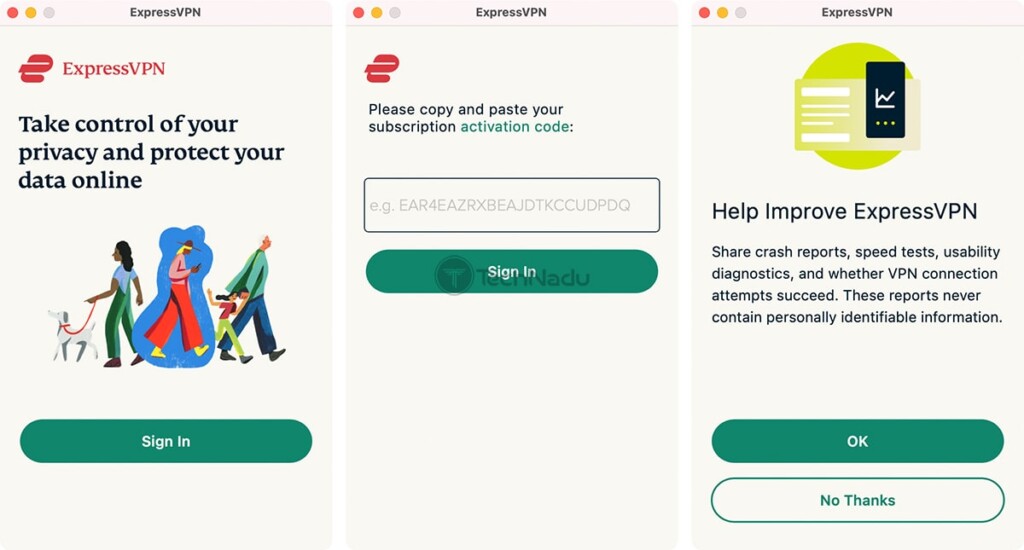 When you install the VPN, don't forget to launch it by clicking (or tapping) on its icon. Then, proceed to log in to your account and finalize the initial setup procedure. Next, let's show you how to connect to a VPN server.
Step #4: Connect to a US Server
There are many benefits to using ExpressVPN to watch Popcornflix outside the US. However, its highly polished interface is something that we frequently mention. No matter if you're a complete newbie when it comes to VPNs, connecting to a server is done in a matter of seconds.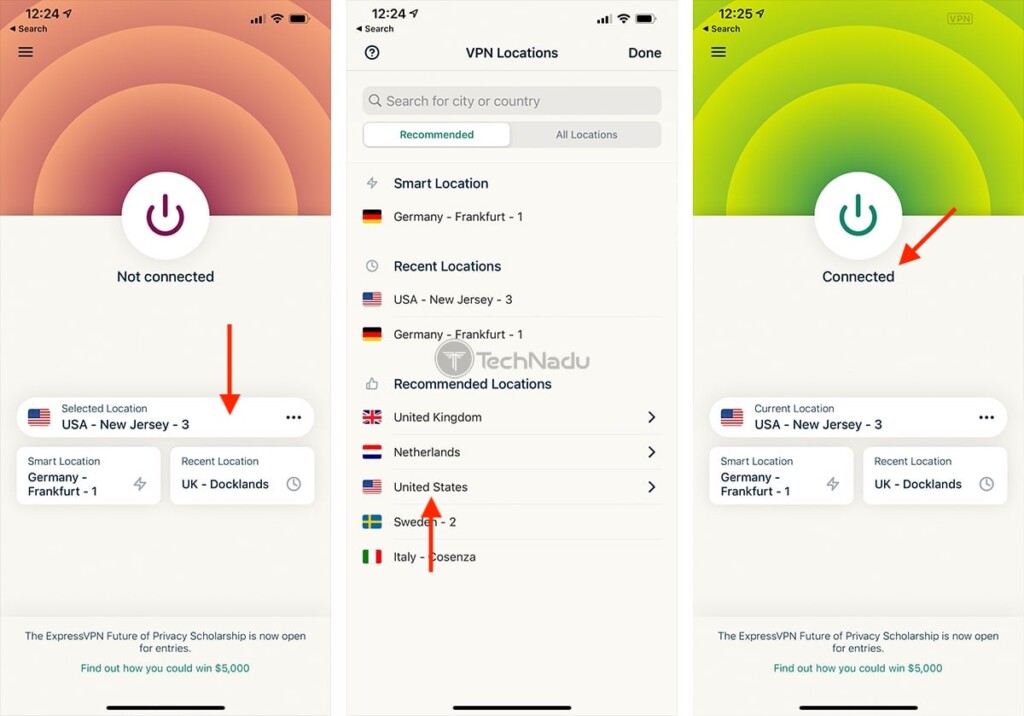 Once you launch ExpressVPN, select the button you see underneath the prominent ON/OFF switch. Once you reveal all ExpressVPN's servers, go ahead with 'United States.' As soon as you double-click on any server in that country, ExpressVPN will connect you.
To be on the safe side, wait a couple of moments. That's when ExpressVPN's interface should turn green - letting you know that your VPN session is now active.
Step #5: Download & Install Popcornflix on Your Device(s)
You're now free to access Popcornflix via its website, which is the easiest way to unblock it using a VPN app. However, you can also use its Android and iOS/iPadOS apps.
With that said, if you're already in a country where Popcornflix is available, feel free to visit Google's Play Store or Apple's App Store and download the app from there.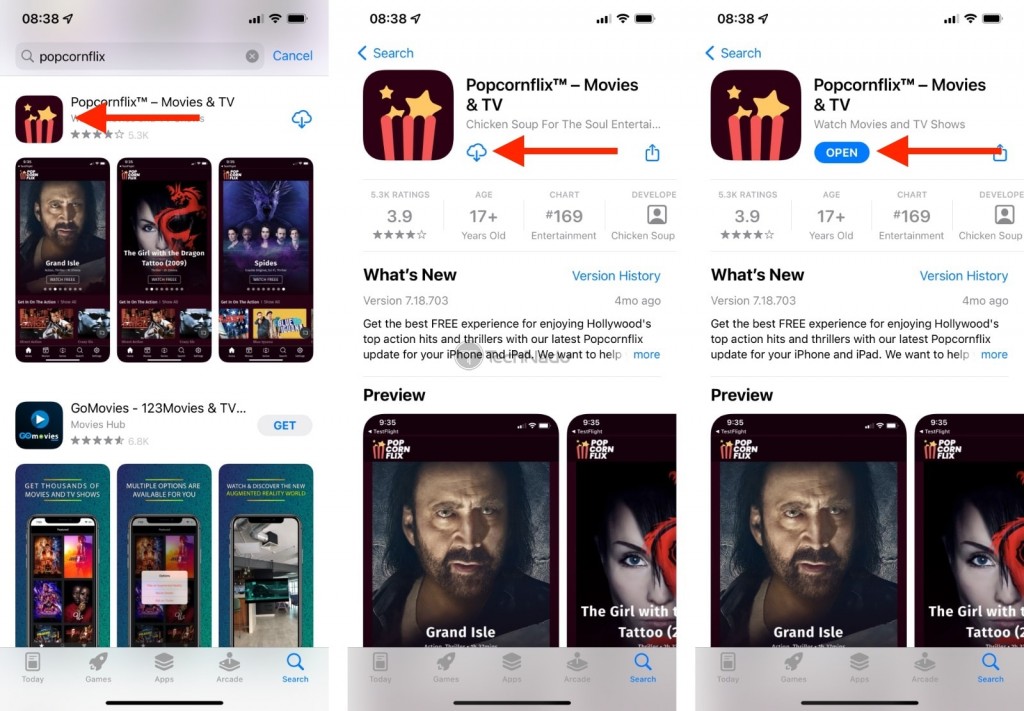 If you're not in a country where Popcornflix is available, you need to get a new Google account or a new Apple ID. However, make sure to sign up using the VPN active in the background. And also, make sure to select 'United States' and input any US address (here's a useful random address generator for that).
Once you create a new account, it's crucial to log in to that account on your Android, iPhone, or iPad (done via the Settings app). So, log out of your existing account and log in using the newly created account (associated with a US address).
Step #6: Launch Popcornflix & Access Its Content Library
That's basically it! Before you launch Popcornflix on your smartphone or tablet, make sure to connect to a US server. Then, launch the media streaming app. As soon as you do that, you'll get unlimited access to any movie or TV show you have in front of you.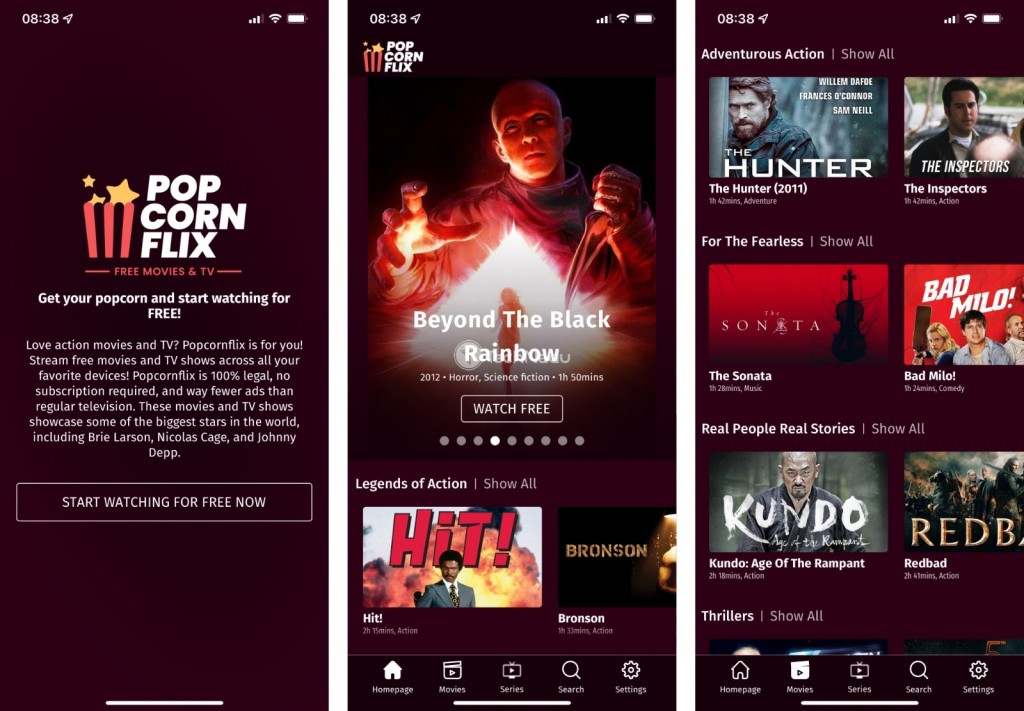 You can use the concept explained above to watch Popcornflix outside the US - on any of its supported devices. Just remember that you need a US IP address before accessing the streaming service, done by connecting to a US server.
What's the Best VPN to Unblock Popcornflix Outside the US?
We stress-tested over 60 VPNs and came to the conclusion that these are the 4 best VPNs that can unblock Popcornflix outside the US:
1. ExpressVPN - Best Popcornflix VPN
ExpressVPN has everything to offer you a smooth streaming experience on Popcornflix - speedy servers (and tons of them - well over 3,000), unmetered bandwidth, and support for up to five simultaneous connections.
You also get apps for pretty much any platform, and they come with an incredibly user-friendly UI, too. You should have no problem getting the hang of it, even if you never used a VPN.
Oh, and here's a really cool perk - with ExpressVPN, you get split tunneling. That way, you can force the VPN to only route Popcornflix traffic and ignore other data. That's really useful if you want to optimize your speeds or watch or interact with other content that's not available in the US while also watching videos on Popcornflix.
Other than that, you get very helpful support if you ever encounter any issues (yes, live chat is available 24/7).
Also, you buy with no risk since ExpressVPN has a very generous no-questions-asked 30-day refund policy. Just ask for your money back over live chat, and you'll see it back in your account in a few business days. Though, we're sure it won't come to that (yes, ExpressVPN is that good!). For more info, check out our review.
2. CyberGhost VPN - Best If You're a Streaming Junkie
If ExpressVPN isn't what you're looking for, CyberGhost VPN should meet your needs. It offers similar perks - very smooth speeds, unlimited bandwidth, and cross-platform compatible apps with a very clean design.
But CyberGhost VPN really shines when it comes to streaming. They offer 7,500+ servers in 90+ countries. So, you can easily unblock pretty much any streaming site in the world. What's more, CyberGhost VPN actually has dedicated streaming servers. They're optimized for different sites, meaning you'll get a smoother streaming experience.
And that's not all - with CyberGhost, you can also get dedicated IPs (which are truly private). With them, websites like Popcornflix will be less likely to detect that your traffic is coming from a VPN. Oh, and you can use the VPN on up to seven devices at the same time.
Finally, the support is outstanding (extremely helpful reps + 24/7 availability through live chat). You get a free 1-day trial and a very decent 45-day money-back guarantee (14-day if you pick the monthly plan). To learn more, please read our review.
3. NordVPN - Best If You Need Extra Security
Let's get one thing out of the way - NordVPN is great for streaming. It offers tons of servers (5,200+), unlimited bandwidth, dedicated IPs, lighting-fast speeds, up to six simultaneous connections, and apps with intuitive design (which work on tons of platforms, by the way).
But besides that, this provider excels at security. It uses powerful encryption like most VPNs (AES-256). Still, you also get other perks: obfuscation, support for Tor over VPN traffic, and a recent shift towards a colocated network that's completely owned and operated by them.
And that's not all. When you pick a subscription plan, you can bundle it with two more services: NordLocker (powerful file encryption) and NordPass (a very capable password manager).
On top of all that, you also get decent pricing, professional 24/7 support (live chat available), and a consumer-friendly 30-day money-back guarantee.
So if you were looking for a way to better protect your Internet privacy while also unblocking Popcornflix outside the US, you can't go wrong with NordVPN. If you want a more in-depth look at the provider, please read our review.
4. Surfshark - Best for Sharing a VPN Subscription
Surfshark is a relatively new VPN, but that doesn't stop it from being among the top providers. It's not surprising why - you get unmetered bandwidth, high-speed servers, user-friendly apps on most platforms, and split tunneling.
This service is really ideal if you want a really cheap way to unblock Popcornflix (and other sites). The long-term plan is dirt-cheap, really, and you can easily share the subscription with as many people as you want.
Why?
Because Surfshark offers unlimited parallel connections. That's right - you and your friends, coworkers, or family can use the VPN on as many devices as you want.
Other than that, you also get decent live chat support and a no-questions-asked 30-day refund policy. Find out more about Surfshark by reading our review.
How Does a VPN Unblock Popcornflix?
Popcornflix displays the geo-error message according to your IP address. If your IP is not from one of the supported countries, your access will be blocked.
Well, that's where a VPN comes into play. It prevents Popcornflix from seeing your actual IP address. It does that by intercepting your connection requests (which contain your IP) and forwarding them to the site on your behalf.
Because of that, Popcornflix thinks your requests are coming from the VPN server, not your device. So, it only sees the VPN's IP address. If it's a US IP, the site's geo-blocking scripts won't trigger, meaning it won't display the geo-error message.
FAQ
What Is Popcornflix?
Popcornflix is an online streaming website that lets you watch movies and TV shows for free. The catch is that the platform is ad-supported, so you will see occasional ads while watching its content.
Is Popcornflix Legal?
Yes, of course. The site doesn't stream illegally downloaded movies. It licenses them instead. Plus, it has a legitimate business model since it's ad-supported.
Is Popcornflix Really Free?
Yes - the site is 100% free to use. There are no hidden fees or subscriptions. You just have to deal with ads while watching movies (a lot of them, but it's tolerable).
What Devices Can You Use Popcornflix On?
Popcornflix works on most desktop platforms through Web browsers. The site also has apps for the following platforms:
iOS
Apple TV
Android
Android TV
Xbox
Roku
Amazon Firestick
What Can You Watch on Popcornflix?
All sorts of movies and TV shows. The service's app descriptions claim there are over 700 titles on the site.
At a glance, you can enjoy all sorts of genres: drama, action, horror, thriller, comedy, sci-fi, mystery, documentaries, and plenty more.
Can You Continue Watching Popcornflix After Disconnecting From the VPN?
Maybe you want to boost your speeds, or the VPN just disconnects. Either way, yes, you can continue watching content on Popcornflix after that happens.
However, that only works until the current video finishes. If you load up a new movie, episode, video, or close and reopen the tab, you'll see the geo-blocking error message.
Are VPN Speeds Too Slow for Popcornflix?
No, that's not the case at all here. Even if you get huge slowdowns, you should still be able to watch Popcornfix outside the US and enjoy it. As far as we know, the site requires a minimum of 1 Mbps.
Still, if you'd like to optimize your VPN speeds, we have just what you need - a guide containing the most efficient VPN speed-up tips (all tested by us). Alternatively, check out this list of the fastest VPNs on the market, and pick a service from there.
Why Isn't My VPN Working With Popcornflix?
If you keep seeing the geo-block error message even with a VPN, session cookies might be the problem. Basically, Popcornflix sees that you have a US IP address, but your browser's cookies tell Popcornflix that you're from a different country.
We also experienced that issue (even with ExpressVPN), and this is the solution that worked for us - clear your cookies before connecting to the VPN and visiting Popcornflix. Also, use incognito/private mode.
To watch and unblock Popcornflix outside the US, you need to use a US VPN server. It's as simple as that! Please let us know which provider you prefer to use in the comments below. And lastly, thanks for reading!