Who doesn't love watching movies and TV shows for free, right? Well, Popcornflix is here to cover all the bases. Unfortunately, the service is only available for viewers within the United States and Canada, but that can easily be bypassed with the help of a small VPN. Don't worry, that is why we're here to help. In this article, we will teach you how to watch Popcornflix outside the US.
5 Best VPNs That 100% Unblock Popcornflix Outside US
We test a lot of VPNs at TechNadu, so we think we can make a few recommendations. We'll present positive and negative arguments for all of them so you can make an informed decision. By the time you're done reading this article, you'll know about 5 of the best VPNs that can unblock Popcornflix no matter where in the world you are.
1. ExpressVPN
The first recommendation we make is ExpressVPN. This is a great tool for any user, especially if you're just starting out using VPNs. That's because it has an extremely intuitive interface that's easy to navigate by everyone. This, however, may not be the best for advanced users, since the number of power features isn't that high.
The tool also uses military-grade encryption, so all your connections are safe and your data remains private. This is always desirable, so it's a great feature. ExpressVPN works on multiple platforms – Windows, Mac, Linux, Apple TV, Kindle Fire, as well as iOS and Android. You can check out our ExpressVPN review for more details.
2. NordVPN
NordVPN is up next, and it's a tool that offers a very large number of servers to connect to. How many, you wonder? Well, some 5,100+ of them. You're certainly going to find one to suit your needs, not just for Popcornflix, but for any other service.
Customer support seems to be the downside of this VPN. Users are complaining that it sometimes takes too long to get a response from the company about their problems, or a fix for whatever technical difficulties they encounter. If that's not something that will deter you, then we have a full review of NordVPN which you can check out.
3. IPVanish
IPVanish is next up on our list, a great tool that is, however, a bit pricey. The price goes down considerably once you pay for the whole year, so that's a great advantage.
The VPN also offers plenty of security options and will completely anonymize your connection, holding your data secure. Users have been complaining about the fact that their Internet speeds are all over the place when they use IPVanish, going up and down. That, however, is not something that's completely uncommon with this sort of tools. We have an in-depth review of IPVanish if you want to check it out.
4. SaferVPN
The fourth VPN on our list is SaferVPN. This is a tool that hasn't been around for a very long time, but it has already made an impression on VPN fans. The servers that SaferVPN offers are from 34 countries, so you should be more than able to find the one you need for Popcornflix. Another great thing about this VPN is the fact that it supports up to five devices at the same time, and there is also a Chrome extension to make your browsing easier when that's all you need.
All connections going through SaferVPN's servers are completely encrypted, and the company even has a zero-logs policy, so even they don't know what you're doing online. TechNadu has an in-depth review of SaferVPN so you can get all the details you need.
5. VyprVPN
Last on our list is VyprVPN. This VPN uses some of the best encryption protocols there are to secure your data while you're browsing and watching content all over the Internet. VyprVPN also provides users with a lot of servers to pick from, namely about 700 in 64 countries, the United States and Canada included.
If you want to use VyprVPN you only have one payment option – a yearly plan worth $60. It might seem like a lot to pay at once, but it's going to save you time over the year. TechNadu has a full review of VyprVPN if you're interested in more details.
FAQ about Popcornflix
To make sure you fully understand how to watch Popcornflix outside the US, we are going to answer some commonly asked questions. So, keep on reading.
What is Popcornflix?
The website and over-the-top service offering free streaming videos were launched back in 2011, although it had been in the works for a year beforehand. The cool thing about Popcornflix is that it doesn't require any kind of subscription and its entire content is free. The platform is, however, supported by ads, so your viewing experience will sometimes be interrupted. If you have an ad-blocker installed, you're going to have to disable it for the Popcornflix page or the streaming won't work.
Where is Popcornflix Available?
The service is only available for people within the United States or Canada. The rest of the world is left out, as it often happens with US-based services like Popcornflix. Thankfully, this is easy to overcome using a capable VPN.
Via What Devices Can You Access Popcornflix?
Not only does the service work via the browser, but there are also plenty of apps to work with. More specifically, Popcornflix works on Apple TV, Roku, Fire TV, Xbox, as well as iOS and Android smartphones. This means it's pretty much impossible not to have a way to watch the many movies and shows that you can find on Popcornflix.
To learn how to install Popcornflix on its supported devices, turn to the company's About Us page where you'll find the needed information.
What Can You Watch on Popcornflix?
Well, the content on Popcornflix is divided into many, many categories. You can check out dramas, action flicks, horror movies, thrillers, comedies, romantic films, and so on. There's a section for recommended content, too, if you don't know what to watch.
The content is also divided into movies and shows so you can view whatever you want more easily. There are plenty of things to watch here, although many of the films are on the older side. For instance, you can watch Shutter Island with Leonardo DiCaprio, or Frozen Ground with Nicolas Cage and John Cusack, as well as Sweeney Todd with Johnny Depp and Helena Bonham Carter.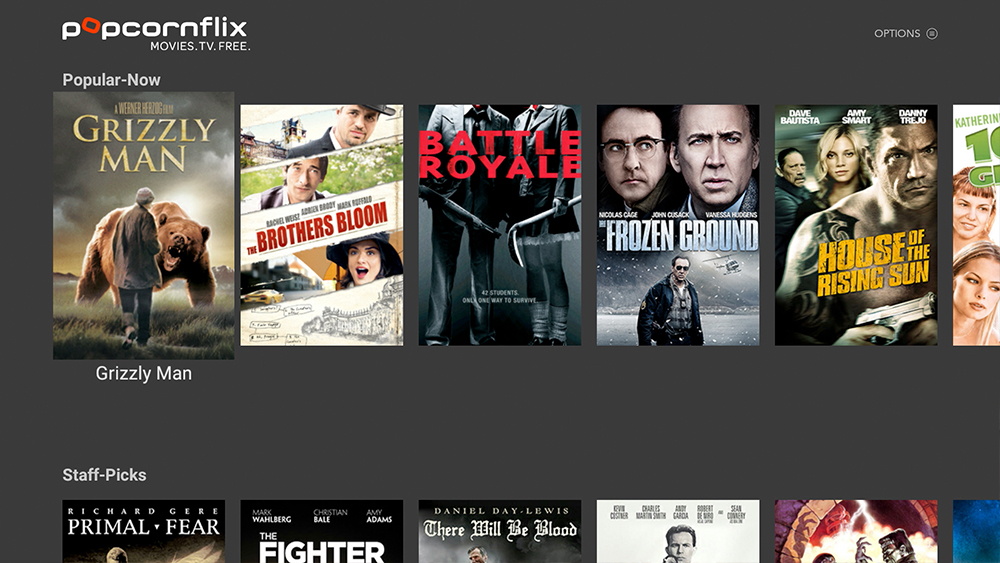 As far as TV shows go, the selection isn't that wide. You can check out some stand up videos, reality shows like the Alaska State Troopers, or America's Dumbest Criminals. The list of movies and shows isn't anywhere near the size of what Netflix offers, but this is a free service that gets its cash from ads, so your expectations should adjust accordingly.
How to Watch Popcornflix Outside the US and Canada?
In order to watch Popcornflix from all corners of the world, all you need is a VPN. But first, let's see what these VPNs actually are, and how they work.
Virtual Private Networks, or VPNs in short, allow you to connect to the Internet anonymously from anywhere in the world. While they are generally used to make it easier for people to bypass geographic blockades so they can access content that's restricted to them, VPNs are also extremely useful for privacy protection. What we mean by that is that even if someone lives in the United States and can access all Popcornflix content, for instance, they might still want to use an ExpressVPN simply for the anonymity it provides.
It's also worth noting that there are a lot of free VPNs out there. Those, however, we advise against because they have limited bandwidth, they're usually slow, and the security features they offer aren't always top-notch.
Popcornflix has some really cool movies and shows to watch, but the best part is that it's completely free to use. The fact that it's only available in the United States and Canada should not deter anyone abroad since VPNs are so easy to use.
If you enjoyed our article, feel free to share it with everyone you know who may want to watch free content too. And don't forget to follow us on Facebook and Twitter. Thanks!