Many forks of the original Genesis Kodi addon have appeared over time. However, there's only one fork that's hugely popular right now – and yes, we're talking about the Genesis Resurrected addon. It's unique in many ways, and we're sure you'll want to know more about it. 
Before we proceed, an essential piece of information. Keep in mind that Genesis Resurrected relies on premium services to operate, such as Real-Debrid and Premiumize.
In other words, you'll need to pay to access the content this addon brings. So, does that make Genesis Resurrected legal? And also, is this addon safe to install and use? Let's find out!
Is the Genesis Resurrected Addon LEGAL to Use? 
No, Genesis Resurrected isn't legal to use. Let's see why. 
It is true that you pay to access this addon's content. So, it's not available free of charge. Still, as you know from other areas of everyday life, just because you pay for something doesn't make that product/service legal. That's because it's essential to know where Genesis Resurrected sources its content.
Must-Read: Official vs. Unofficial Kodi Addons – Which Ones Should You Use?
The addon doesn't have the necessary rights to offer any of its content – as it's sourced illegally, mainly from piracy-related websites and P2P repositories. You pay for services like Real-Debrid and Premiumize to access those sources and make streaming as smooth as possible.
Therefore, if you live in a country where copyright infringement is illegal, using addons such as Genesis Resurrected is considered illegal as well. The same could be said for a large number of other "unofficial" Kodi addons, some of which we've listed below.
Is the Genesis Resurrected Addon SAFE to Use? 
No, Genesis Resurrected isn't safe to use. 
In this case, we're talking here about an unofficial Kodi addon. It comes from outside of Kodi's official repository, which means that there's no way to verify its code's safety. And on top of that, Genesis Resurrected is a fork/clone of the original Genesis, which could cause concern.
Read More: Why Are "Unofficial" Addons for Kodi Not Safe to Use?
In the past, forks of Kodi addons have proven to be problematic. That's because they present an easy way for malicious actors to reach a large number of victims. This often happens simply by publishing a malicious update, which Kodi automatically downloads and installs.
That's precisely how crypto-miners plagued Kodi for a while. Other types of malware can take advantage of your personal data as well, and they might even take your device's resources. With that said, here's how malicious Kodi addons operate. 
There are many reasons why you must use a VPN if you're a Kodi user. In short, this is the only way to protect yourself and your data. Also, the only way to take full advantage of Kodi is by subscribing to a VPN. 
The primary purpose of VPNs is to encrypt your Web data. This means you'll be anonymous online, which minimizes the risks associated with using unofficial Kodi addons. Also, you'll get to unblock geo-restricted content, unleashing Kodi's full power.
Lastly, know that every VPN is different. You need to use one suitable for Kodi and streaming in general, such as ExpressVPN. 
What Content Can You Stream via Genesis Resurrected?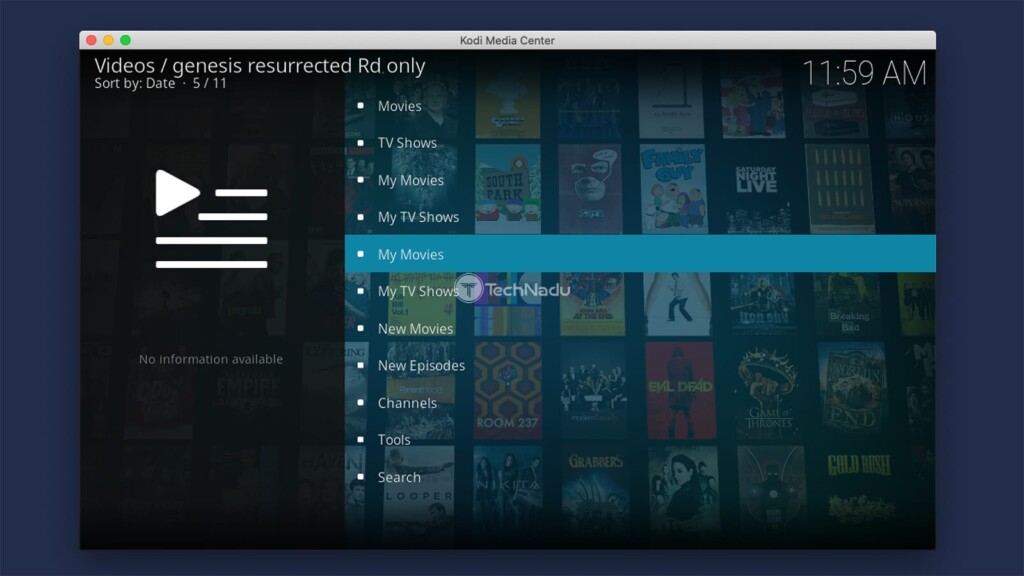 Built upon the original Genesis, Genesis Resurrected brings movies and TV shows.
As you know, this doesn't sound overly impressive in the world of Kodi addons. However, there's a good reason why the original Genesis was so popular, which applies to this latest fork as well. Genesis Resurrected brings a whole slate of filtering options and sub-categories that genuinely transform the addon into a true media streaming platform.
For example, when you open the 'Movies' category, you'll get to narrow down your selection. This is done by checking what's popular, what's trending, and you can also browse movies by actors, languages, genres, and their year of release. A similar set of options is available in the 'TV Shows' category as well. 
Explore the World of Kodi Addons: Movies, Live TV, Live Sports, Cartoons, Adult (XXX), TV Shows, Gaming, Music, Anime, Documentaries, Korean, and Bollywood.
Do We Recommend Installing Genesis Resurrected? 
No, we don't recommend installing Genesis Resurrected.
As you can see above, there are several good reasons to stay away from addons such as this one. The most important one is related to the addon's legality. As it acts as a gateway to pirated content, using this addon is considered illegal in most countries.
Essential Reading: How to Use Kodi Legally? – All Your Questions Answered!
Then, we have to note that Genesis Resurrected hasn't been tied to malware yet. However, this can change overnight. If malware gets distributed via this addon, it can quickly reach many systems worldwide and inflict massive damage.
How to Protect Yourself If You're Using (or Plan to Use) Genesis Resurrected? 
The only reliable way to protect yourself is by using a VPN application. We're sure you'll want to know why, so let's explain. 
It's crucial to pick a VPN that plays nice with Kodi (and media streaming, in general). Our strong recommendation would be ExpressVPN. 
The primary goal of any VPN is to safeguard your private information. This is done by routing your Web traffic through secure servers. In other words, everything goes through a leak-free tunnel, hiding what you do online. 
Learn More: 7 Reasons Why You Must Use a VPN to Keep You Safe While Using Kodi
In terms of Kodi, you get added benefits as well. Since you can connect to a VPN server in a different country, that means you'll get a different IP. That's how you can access blocked Kodi addons and stream their content. 
If you'd like to dive into the world of Kodi addons, make sure to check out the best VPNs for Kodi. Then, you'll also want to know how to install and configure a Kodi VPN. 
Genesis Resurrected Not Working? Try These Fixes!
In case you're experiencing problems with Genesis Resurrected, we're here to offer quick solutions. Click below on a problem you're experiencing to learn more. 
Genesis Resurrected Freezes/Crashes During Use
If the addon behaves unexpectedly (like freezing or crashing during use), you'll want to get rid of 'junk' files. Here's what you need to do. 
Launch Genesis Resurrected and select 'Tools.'
Scroll down and select 'Clear Cache.' 
When asked, confirm your decision. 
Feel free to repeat the procedure by clicking on 'Clear Providers' and 'Clear Search History' if you want to delete additional types of junk files.
Genesis Resurrected Showing the 'No Stream Availableu' Error
As mentioned above, Genesis Resurrected works only with premium services such as Real-Debrid and similar. You'll get to interact with the addon even if you don't configure those services. However, you won't be able to stream any movies and TV shows. 
Therefore, to resolve the 'No Stream Available' message, you need to authenticate Real-Debrid in Kodi, as explained below. 
How to Authenticate Real-Debrid in Genesis Resurrected?
Here's how to configure and authenticate "debrid" services in Genesis Resurrected. 
Right-click on the addon's icon and select 'Information.'
Then, click on the 'Configure' button. A pop-up will appear. 
Using the left-placed sidebar, select 'Accounts.'
Scroll down and click on 'BonesResolver Settings.'
Once again, select 'Universal Resolvers' from the left-placed sidebar. 
Scroll until you see your chosen 'debrid' service and click on 'Authorize.'
How to Update Genesis Resurrected
To make sure Genesis Resurrected works at its best at all times, you need to keep it updated. Kodi will automatically update the addon. However, you can do the same manually as well. 
Right-click on the addon's icon and pick 'Information.'
Then, use the 'Update' button that you'll see on your screen. 
You'll now see a list of available updates. Click on the latest one. 
Kodi will now download and install the required files.
How to Update Kodi
It's vital to keep Genesis Resurrected up to date at all times. It's also crucial to keep Kodi up to date as well. This can resolve a large number of technical issues while also improving the application's performance. 
With that said, here's our dedicated guide on how to update Kodi.
The Best Alternatives to the Genesis Resurrected Kodi Addon
Lastly, we know that some of you might be after alternatives to Genesis Resurrected. In that case, you'll want to try the following Kodi addons. 
BBC iPlayer: If you're after movies and TV shows, you're going to love everything about BBC's iPlayer addon. It comes free of charge and provides a wealth of content. On top of that, it's legal and safe to use. However, keep in mind that you'll need a VPN for BBC iPlayer to make the addon work outside the United Kingdom. 
Crackle: Then, we have another free-of-charge Kodi addon. Crackle brings movies and TV shows, including some interesting original programming. However, it's available in the United States only. So, here's how to access Crackle from anywhere. 
Netflix: Lastly, a premium option. Instead of paying for Real-Debrid, you could pay for a legitimate streaming platform. And yes, Netflix is the best option right now, as you can integrate it with Kodi easily. Furthermore, you can use a VPN for Netflix to get everything this OTT platform offers. 
This is where we conclude our guide on the Genesis Resurrected Kodi addon. If you have any questions for us, feel free to post a comment below. And finally, we'd like to ask you to share this article online. Thanks – and enjoy using Kodi!