One of the best things about Nvidia's Shield TV media streamers is that they run on Android TV. That gives you plenty of options when it comes to installing apps - and you guessed it, Kodi is one of those. We're sure you can't wait to get your hands on this home theater software, so let's talk about how to install Kodi on an Nvidia Shield TV.
As you're about to see, getting started with Kodi is incredibly simple. Even first-time users will feel right at home as soon as they open the app. However, if you're a complete beginner, here's our guide to learning the basics of Kodi. And now, let's jump right in.
How to Install Kodi on Your Nvidia Shield TV!
Your Nvidia Shield TV comes with Google's Play Store, which we'll use to install Kodi. Here are the steps you need to take.
Power on your Nvidia Shield TV, and you'll be greeted by its home screen. The current version of Android TV displays rows of applications and icons. So, find the 'Play Store' app.
Once you launch the Play Store, use its search feature. Navigate to the top of the screen and type in 'Kodi.' Since the Shield remote comes with a microphone, you can also use the voice search option. Say 'Kodi,' and you're ready to go.
Next, you will see the search results. Kodi should be the first thing you see. Make sure that the shown application is made by the XBMC Foundation (as there are many clones). Open it.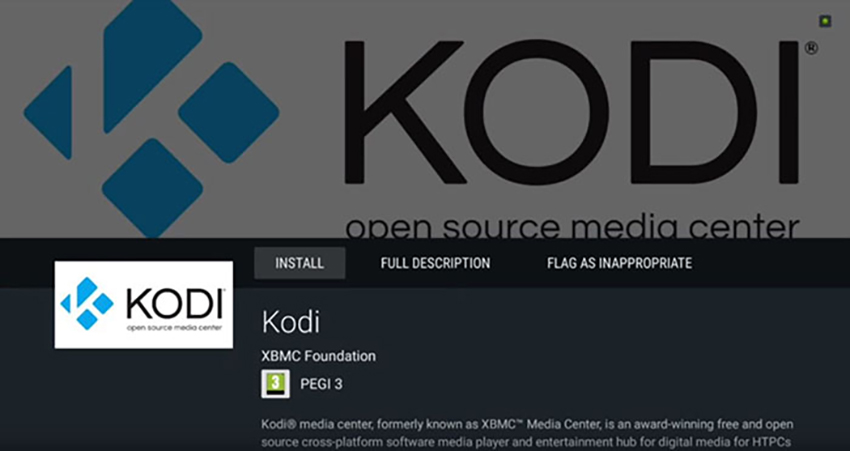 To finalize the procedure, click on 'Install.' Kodi will be downloaded and installed on your device. You can keep track of this procedure on your TV screen, which shouldn't take more than a few minutes.
Once Kodi is installed, you can open it from the Play Store or navigate to the Shield TV's Home Screen. That's it - you have just installed Kodi on your Shield TV!
Want to Learn More About Using Kodi?
Once you install Kodi on your Nvidia Shield TV, you'll want to add your media content, install add-ons, and plenty more. So, we've prepared hands-on guides that you'll surely find to be useful. Take a look just below.
With that said, we conclude our guide on setting up Kodi on Nvidia's Shield TV. If you have any questions for us, make sure to use the comments section below. Thanks for reading!