When talking about Indian cinema, most people have heard about Bollywood. It's true that Bollywood reflects all of the things typically associated with India such as colorful sceneries, catchy songs and a typical Indian dance we often see in the movies. However, this isn't where your interest in Indian cinema should stop. Have you heard about Kollywood? If not, you're missing out on highly entertaining Tamil films. In fact, Tamil cinema is one of the oldest of its kind. The first silent film was made in 1918, named Keechaka Vadham. Today, more than 350 Tamil movies are being released each year. This is the reason why we have decided to bring you an overview of the best Tamil Kodi addons.
The thing about Tamil cinema is that it lacks worldwide distribution. This makes it hard to find Tamil movies, even if you take a look at the most popular media streaming websites. However, this isn't the case with Kodi. This amazing application can be your ally in discovering international movies and streaming them in HD quality. As you are about to see, you have plenty of options. Continue reading to learn more.
Before getting started, we strictly recommend you to be safe while using Kodi. Therefore, we want you to read the We will be talking about software developed for Kodi – which is based on open-source code. However, the following software comes from unofficial third-parties. In addition, it is publicly available and free of charge. TechNadu doesn't claim any responsibility for how our readers decide to utilize the following software. Please note that we don't condone sharing pirated content and copyright infringement. TechNadu is not affiliated with the software mentioned in this article in no way. Make sure to carefully read the above-said disclaimer and ensure the proper use of the software.
disclaimer and WARNING notice found below.
Warning: Why you should ALWAYS USE a VPN with Kodi?
Here are the reasons that you should consider looking at it without SKIPPING.
Using ILLEGAL Kodi Addons are Dangerous without a VPN: Most of the Kodi users are installing the ILLEGAL Kodi addons on their system to access all the latest movies, TV shows, sports, music, and much more for FREE, than a legal Kodi addon where it has the least content in it. But do you know what? The video content on illegal addons is scraped and copyrighted material. If you are accessing them on Kodi, then your activities will be monitored by your ISP by tracking your IP and gives all the information to the government or companies if they request for it. This will land you in trouble. To stay away from this, you will have to connect to a VPN where it hides your identity by rotating your IP address while streaming Kodi content. This is how you will be safe from the prying eyes.
Bypass Geo-Restriction: As you probably know, some official addons like BBC iPlayer, NBC Sports, Hulu, IceFilms have geo-location restrictions. This also applies to other addons like Acestream which fetches the data from torrents. To unblock these restrictions, you will have to DEFINITELY use a VPN no matter what.
The above are the 2 reasons that forcing us to recommend a VPN to the Kodi users for safer streaming. In fact, after testing several VPNs for Kodi, we finally came up with a one non-stop solution and that is ExpressVPN, the top-rated Kodi VPN so far.
Limited Time Offer: For our TechNadu readers, there is a 49% OFF on ExpressVPN which includes 3 FREE Months in it.
We'll take a look at niche add-ons first. These are specialized in Bollywood cinema, or they can be all about Tamil movies. However, since they have a smaller group of users, we're not sure if they'll be available for a long time. Some of the following Tamil Kodi addons have been around for more than two years now, so we hope we'll get to use them for a long time though.
IMPORTANT NOTE: Before you begin installing and trying out the best Tamil Kodi addons, there is something important you need to do. By default, Kodi doesn't accept third-party applications. This is why you need to instruct Kodi to do that by enabling support for third-party applications. So, make sure to click on the provided link and you'll be taken to our short guide. Then, feel free to return and keep on reading this article.
Here are the 5 best Tamil addons for Kodi in January 2020:
1. Einthusan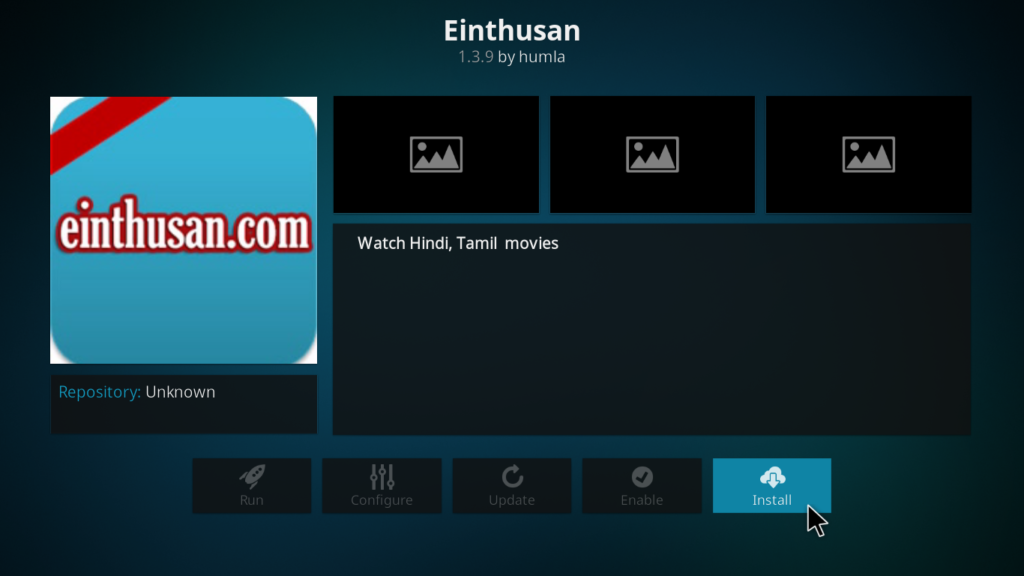 Repo URL address: Download from GitHub
What addons you can find in this repository? – Einthusan and CanadaNepal.
What you can stream via Einthusan? – Bollywood movies and TV shows.
How to access Einthusan from anywhere? – Your access to this add-on might be restricted, depending on where you live. However, you can overcome this by using a VPN. This is because VPNs change your IP address – so that it appears as you are in a different physical location. We highly recommend you to use ExpressVPN.
Read more: How to install Einthusan on Kodi
Once you install and launch Einthusan on your Kodi, you will see why this is one of the best Tamil Kodi addons. On its home screen, you can pick from several languages – where one of them is Tamil. Once inside, you'll see different ways to present the available catalog. You can browse by name, year, recently added, featured, or use the search tool.
Einthusan offers a large selection of Tamil movies, both recently released and older titles. We are sure you're going to enjoy this add-on.
2. ErosNOW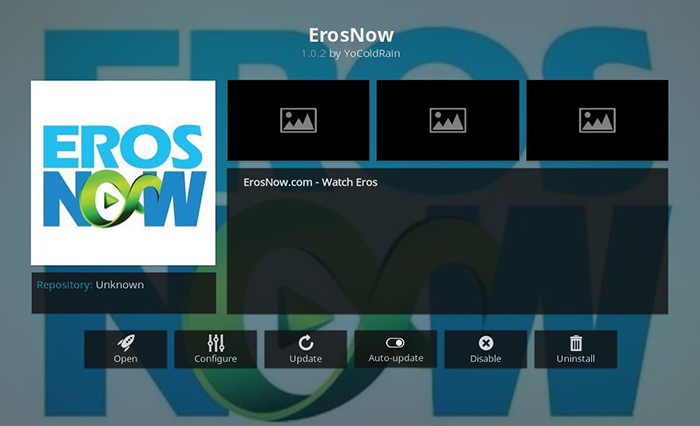 If you are truly passionate about Indian cinematography, it's not a bad idea to invest in a subscription to one of the popular streaming services. However, you shouldn't turn to Netflix or Hulu if you want an incredible and versatile collection of movies. Instead, you should search for alternative services and the best Tamil Kodi addons as well. One of those is – ErosNOW.
ErosNOW is specialized in bringing Indian cinema to the world. However, this isn't only limited to movies. This service lets you stream TV shows, music, and original programming as well. There's also an add-on for Kodi that you can install. As you'll see, there is a lot of content nicely organized into different categories. Feel free to try out the add-on on your own. If you like what you see, you won't go wrong if you pay for a monthly subscription. Enter your credentials and enjoy one of the best Tamil Kodi addons.
3. Atlas Movies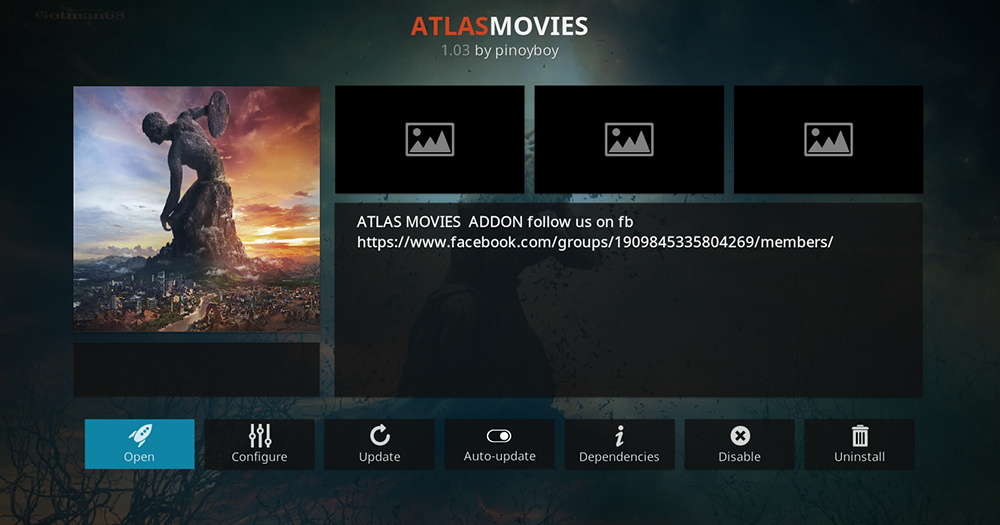 Repo URL address: http://pinoyabroad.co.uk/101/
What addons you can find in this repository? – Atlas Movies, Made in Manilla, and Simply Lovely Brotherhood.
What you can stream via Atlas Movies? – Movies from the USA, India, Thailand, China, and South Korea.
Next, we have a newly released Kodi addon in front of us. In case you like to watch movies, we're 100% sure you'll find Atlas Movies to be highly useful. It allows you to watch Hollywood movies, but it also has a dedicated and rich content library called 'India Movies'. And this is precisely why we think it's one of the best Tamil Kodi addons right now.
What should be said is that Atlas Movies is a new addon, so we expect its library to grow over time. At the moment, there are 30+ Indian movies here, coming from various regions of this country. The best thing is – all of these are freshly released movies that come in the full HD resolution (1080p). And most importantly, you can play any of these with practically no buffering.
4. FilmRise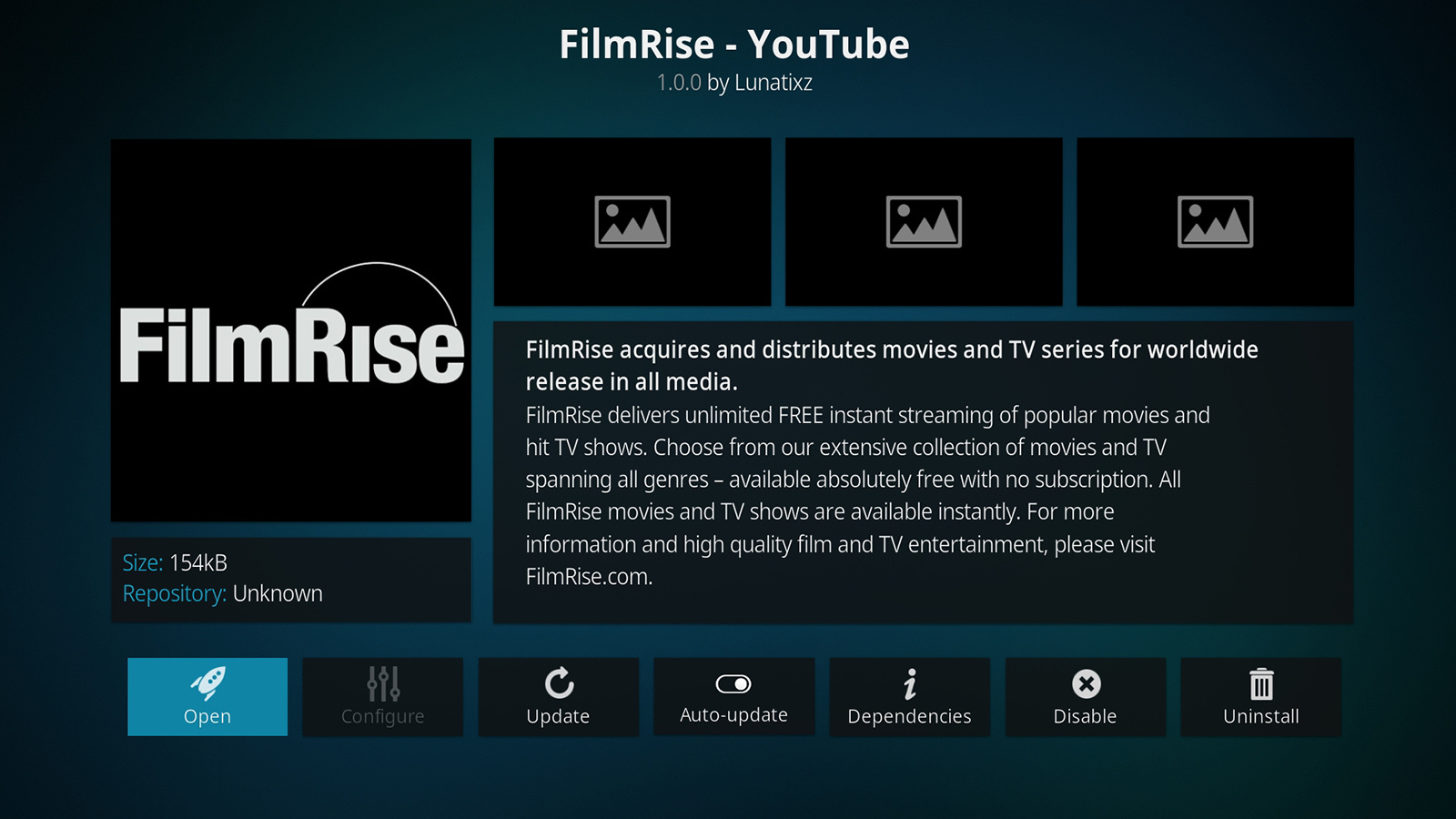 Repo URL address: Official Kodi repository.
What addons you can find in this repository? – Popcorn Flix, Movies for Action, Plex, Classic Cinema Online, and more.
What you can stream via FilmRise? – Independent movies and TV shows.
Read more: How to install FilmRise on Kodi
Next, we have an addon that's famous for presenting independent movies. Being founded in 2010, FilmRise is a repository of free movies that mostly come from YouTube. As such, this is a fully legal Kodi addon that brings free content.
In addition, FilmRise (as its name says) is a media streaming service on the rise. Just recently, it signed agreements with ITV Studios, Metro-Goldwyn-Meier, and Warner Bros. With this said, we're sure we'll be seeing plenty more interesting titles in the future. And considering that you find it in this article, FilmRise comes with an interesting section of Tamil movies.
5. YouTube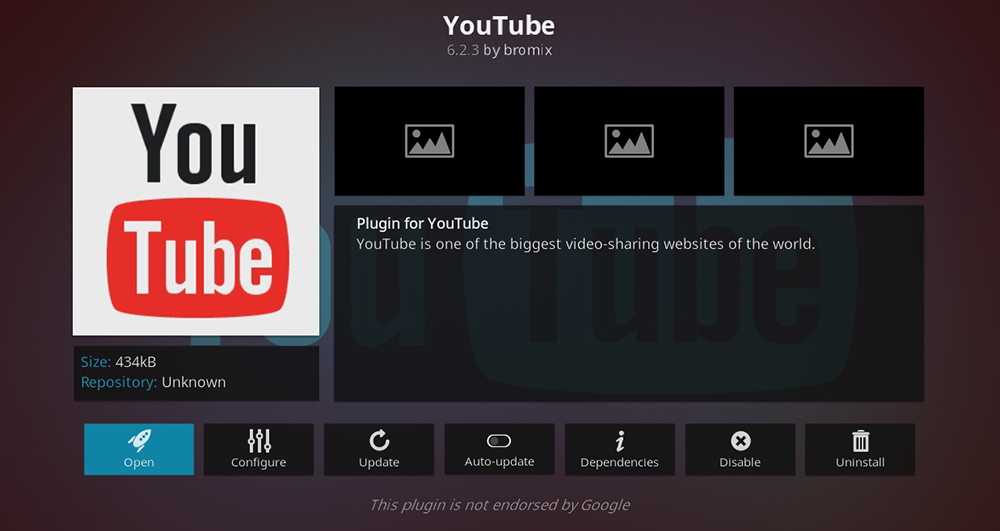 Repo URL: Official Kodi repository (accessed via Kodi > Add-ons > Download)
Additional addons found in this repository: Vimeo, DailyMotion, FilmRise, Kurzgesagt, and more.
What you can stream via YouTube: Individual video clips, movies, cartoons, TV shows, documentaries, live TV channels, and more.
Read more: How to install YouTube on Kodi
Our final suggestion for the best Tamil Kodi addons is YouTube. You might be surprised to see this service on our list, but there are several good reasons why you should use YouTube on Kodi.
As said in the introduction to this article, Tamil cinema comes with a long and rich history. Naturally, many Tamil movies can now be found on the Web, free of charge. These are mostly older movies that are copyright-free, which is where YouTube comes into play. At the moment, you can find thousands of older movies on this service.
We hope that you managed to install TechNadu's recommended Tamil Kodi addons for 2020. There are a lot of choices out there, and we hope you'll take advantage of that. In case you are facing any issues, make sure to let us know. We'll be glad to help.
Finally, why not share this article online? You can also follow TechNadu via our social networks on Twitter and Facebook if you want to stay on top of the latest Kodi-related information.