The official NBC Sports website lets you live-stream various sports-related NBC channels. It acts as a one-stop shop for watching the latest sports matches. However, it's also true that it's geo-restricted. So, we get it; you're probably wondering if it's possible to watch NBC Sports Live outside the US?
The answer is yes! To unblock NBC's website from anywhere in the world, you need a capable VPN service. We've put together a guide that explains it all, so let's jump right in.
Where Is NBC Sports Available?
You can visit the site from pretty much anywhere in the world. However, you can't watch any content you want as you'll be limited to clips and highlights, checking scores, and reading news articles. You can't watch live matches and full event replays if you're not in the US.
Why?
Because you have to sign in to verify your TV provider's account before you can do that. Most of them require you to be in the US to do that (don't worry, we offer you a workaround).
For example, if you try to watch 'Brother From Another,' NBC Sports Live will redirect you to Peacock's verification page. If you're not in the US, you'll see the following message:
How to Watch NBC Sports Live Outside the US?
Finally, here's how to watch NBC Sports Live outside the US in 2021.
Step #1: Find the Best-Working VPN for NBC Sports Live
NBC Sports Live pulls its content from its various media streaming services and TV channels. Therefore, you need a very capable VPN that unblocks all of those. So, if you need our advice, you should subscribe to ExpressVPN.
Aside from letting you watch NBC Sports Live outside the US, ExpressVPN will meet your other expectations as well. It comes with servers found across the USA, offers incredibly fast speeds, and it's suitable even for complete beginners. In other words, there's no chance you'll go wrong if you pick this VPN.
However, you do have other options available - each offering its own set of strengths and weaknesses. So, to expand your options a bit, check out the best VPNs for NBC Sports Live, where you'll find 5 VPN services hand-picked by our team.
Step #2: Get Your VPN Subscription
Now, it's time to get your VPN subscription - and if you decide to listen to our friendly advice, you will choose ExpressVPN. So, once you get to ExpressVPN's website, feel free to click on 'Get the #1 Rated VPN' to initialize the sign-up procedure.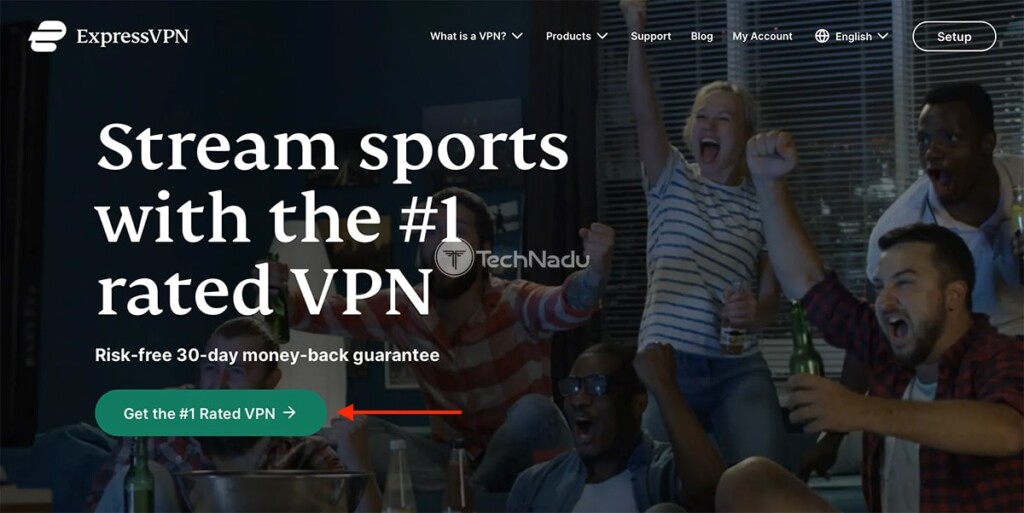 First, pick a subscription plan. You will have three options available right now, and they're all the same in terms of their features. So, their price and their renewal period are what you should keep in mind. If you want to save money, we recommend going for a long-term plan.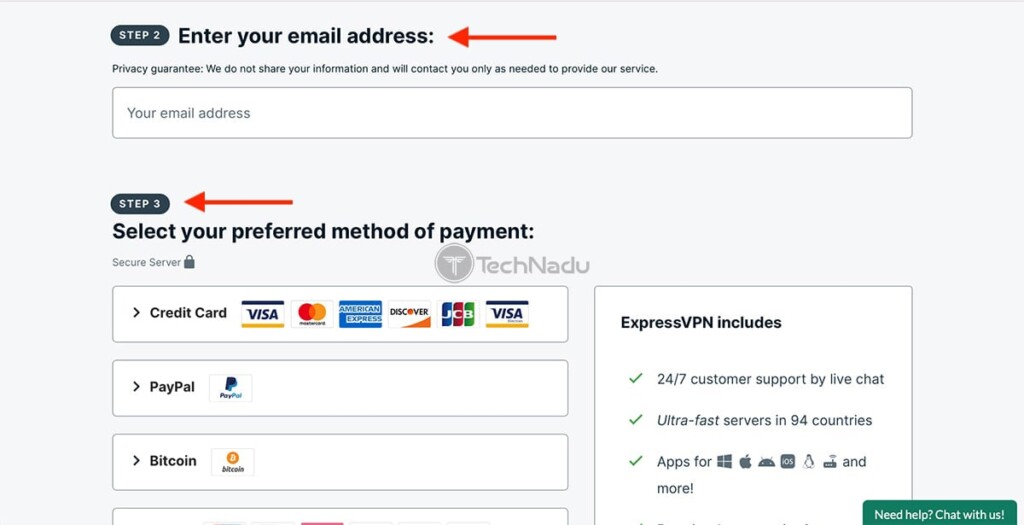 After that, provide the email address you'll use for your ExpressVPN subscription. Once you input your payment details (and pay for your new subscription), you'll get a confirmation email from this VPN's team - so don't forget to check your email inbox.
Step #3: Download & Install the VPN on Your Device(s)
ExpressVPN comes with a straightforward installation method. That's because it offers native software for various types of platforms and devices. However, keep in mind that you'll need to have ExpressVPN running on each device you'll use to stream NBC Sports Live.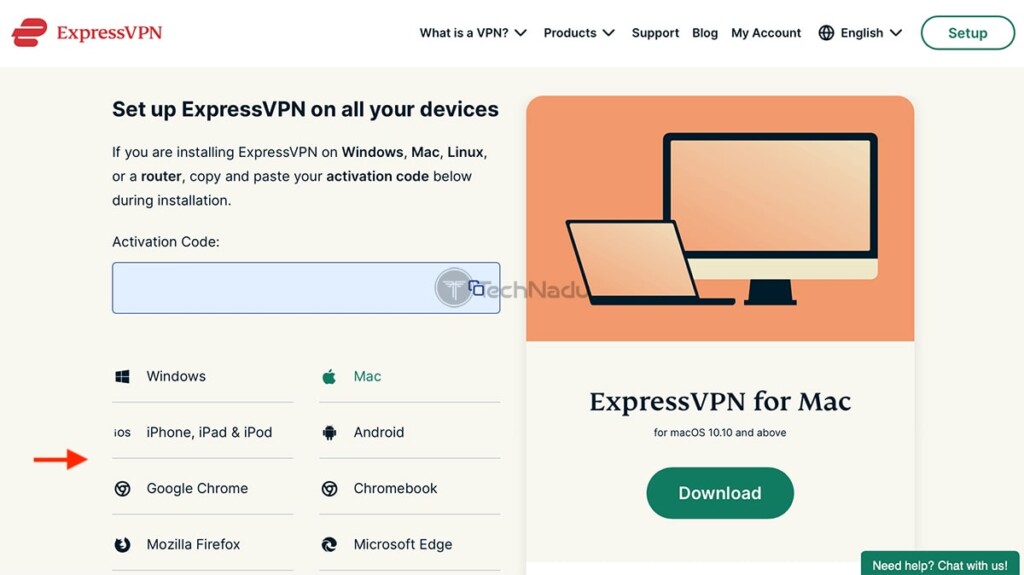 So, here's how to download, install, and use ExpressVPN. The provided link will take you to our central guide, covering pretty much all of ExpressVPN's natively supported platforms.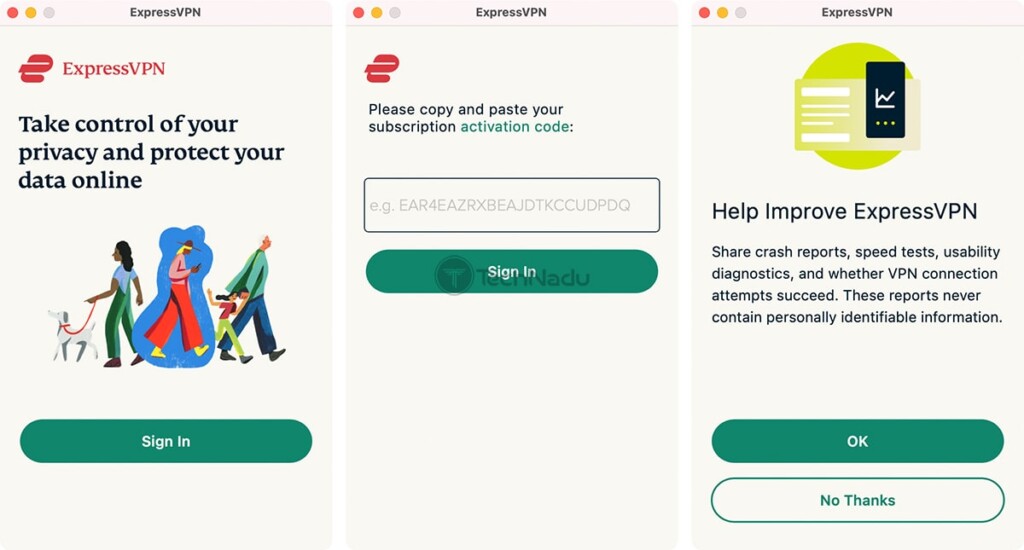 Once you install the VPN, you also need to go through its initial setup (making it ready for use). With that said, don't forget to launch the VPN for the very first time, log in to your account, and reach its home screen. That's when you can proceed with the next step.
Step #4: Connect to a VPN Server in the US
Remember that you need to have an active VPN session each time you wish to unblock and watch NBC Sports Live outside the US. Therefore, feel free to repeat this step each time you want to stream media on your computer, smartphone, or tablet.
To connect to a server in the US, launch ExpressVPN and wait until its home screen appears. Then, select the button you'll see just below the prominent ON/OFF switch. This will open a new window, showing you all of ExpressVPN's servers. Select 'United States,' and double-click on any server you'll find there.
After a couple of seconds, ExpressVPN will connect you to the chosen server. Once that happens, its interface should turn green (the upper half of its home screen). Since you now have an active VPN session, it's time to access NBC Sports Live.
Step #5: Unblock & Access NBC Sports Live From Anywhere
Finally, feel free to access NBC Sports Live via any Web browser. On the left-hand side of its interface, you'll see the current schedule, showing whether any live streams are available at the moment. You can also check upcoming live streams along with their respective websites (since NBC Sports Live pulls its content from other NBC-owned websites).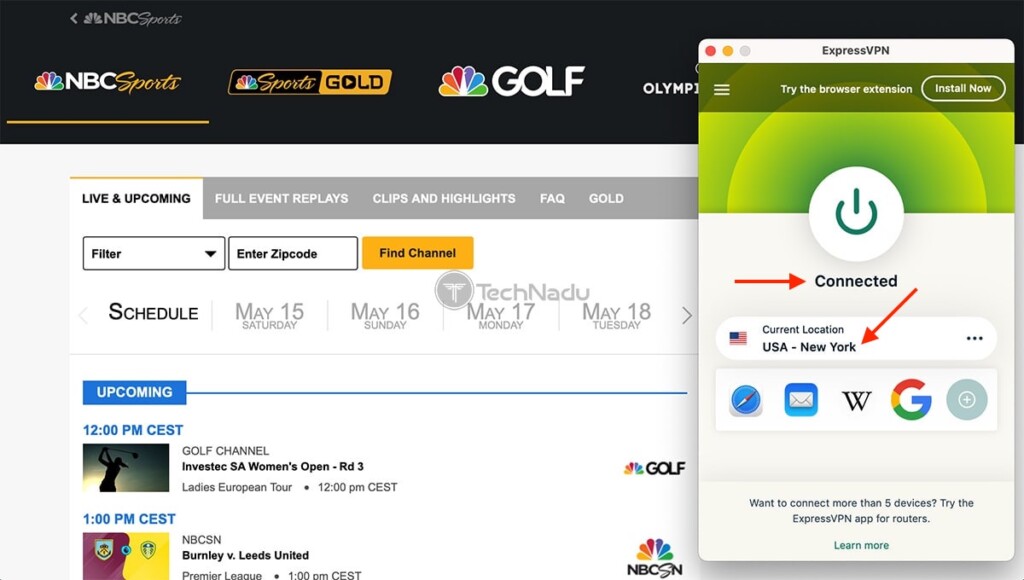 Once you start playing any live stream, you will get to watch it for 10 minutes - via a preview, without registering. However, once the trial ends, you'll be asked to select your TV provider and input your credentials.
So, if you already have a TV provider back home (in the US) that supports NBC Sports, feel free to select it, input your credentials, and continue watching NBC Sports Live as if you were in the United States. However, if you don't have a suitable subscription, there's a workaround you can use.
We're talking about OTT services here, providing live TV channels over the Web. So, to learn how to take advantage of those, here's how to sign up for NBC Sports Live from outside the United States.
Step #6: Get NBC Sports on Other Devices (Optional)
As you already know, using NBC Sports' website isn't the only way to access this media streaming service. It doesn't come as a surprise that it has apps for Android, iOS/iPadOS, and many other devices as well. With that said, know that you must have access to a user account associated with an address in the US on any of those platforms to download NBC Sports.
In other words, feel free to sign up for a new Google account or get a new Apple ID. However, don't forget to use the VPN when signing up. Apple will ask for a country and an address, so make sure to pick 'United States' and use any US address generator to supply an address. Google won't ask for an address, which is why you have to use a VPN.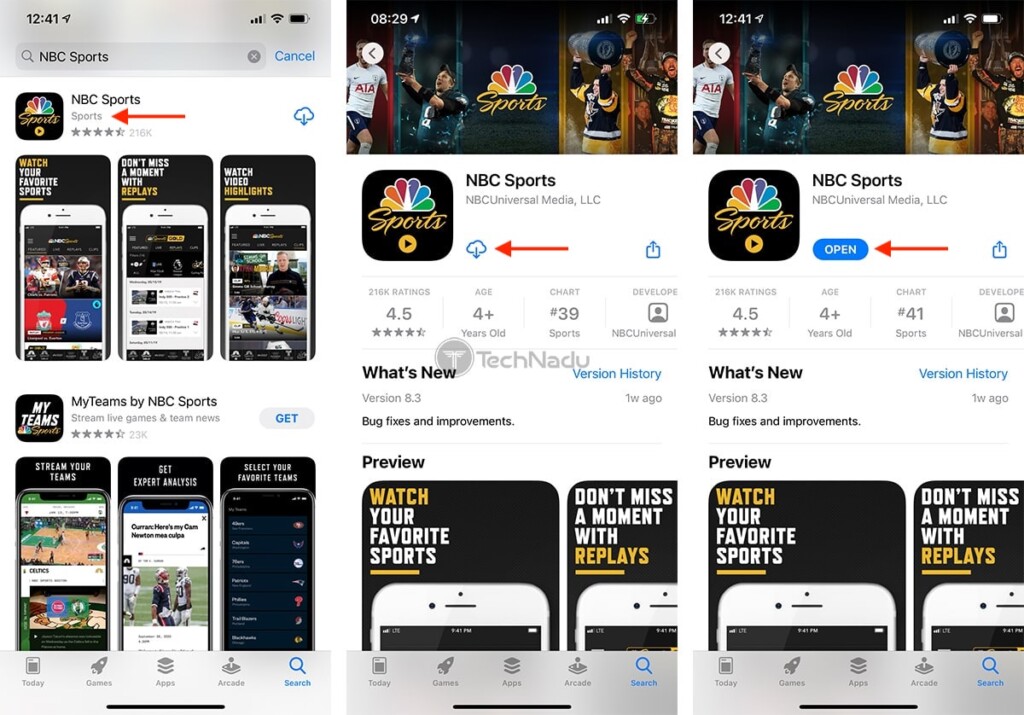 Then, log out of your existing account on your Android or iOS/iPadOS device. Once you log in using your new account, access Google's Play Store or Apple's App Store. Download the NBC Sports app from there, launch it, and try to stream anything. Once you input your TV provider's credentials, the app will unlock all of its content.
What's the Best VPN to Unblock NBC Sports Live Outside the US in 2021?
We spent dozens of hours testing over 60 VPNs to see which ones work the best with this site. Our results say that these are the 5 best VPNs that can fully unblock NBC Sports Live outside the US:
1. ExpressVPN - Best Option on the Market
If you want a VPN that's good at everything, you can't go wrong with ExpressVPN. The provider has tons of speedy servers (over 3,000), unlimited bandwidth, powerful encryption (helps you avoid bandwidth throttling), and extremely user-friendly apps which work on most platforms.
Best of all - ExpressVPN offers split tunneling. So you can fine tune your VPN speeds when watching NBC Sports Live as much as you want.
Also, you can use ExpressVPN on up to five devices at the same time. It's perfect if you want to binge sports on your PC, from the comfort of your bed, or - why not - on the toilet. Or if your brother or father-in-law wants to get in on the action too.
Other than that, we should also highlight ExpressVPN's stellar support. Their reps are available 24/7 through live chat, and are always very helpful.
Finally, with ExpressVPN, you basically buy with no risk. The provider has a very generous 30-day refund policy that has zero requirements. It's a simple deal - if you're not happy with the service, you ask for your money back within 30 days, and you get a refund in a few business days.
To learn more about ExpressVPN, read our in-depth review.
2. CyberGhost VPN - Best for Optimized Streaming
What do we mean by "optimized"?
Well, CyberGhost VPN is one of the few providers that has dedicated streaming servers for NBC. That mostly means the servers refresh their IPs more often. That way, NBC Sports and streaming/cable providers' sites won't be able to tell you're using a VPN (and prevent you from using them).
Besides that, you also get smooth speeds, unmetered data, truly private dedicated IPs, and up to seven parallel connections - not to mention you can install CyberGhost VPN on pretty much any device you want and also enjoy a very clean UI.
And if you ever encounter any issues, you can always reach them over live chat whenever you want. Also, you get a really impressive refund period: 45 days. It's 14 days if you pick a monthly plan, though, so make sure you stick to the long-term plans.
To find out more about CyberGhost VPN, read our full review right here.
3. NordVPN - Most Secure Streaming Option
Want to watch NBC Sports Live outside the US and enjoy top-notch security on top of that?
NordVPN is the right choice for you. Like most providers, it offers powerful encryption. But it goes beyond that. With this provider, you also get obfuscated servers (to hide your VPN traffic), Tor over VPN support, and dedicated IPs (only you use them). What's more, NordVPN recently made a shift towards a colocated network (meaning those servers are only owned and operated by them).
Security isn't NordVPN's only strong suit, though. They also excel at streaming! You get 5,650+ servers, very fast speeds, unlimited bandwidth, up to six parallel connections, and intuitive apps for all the popular platforms.
All in all, this is the perfect solution if you're traveling or working abroad. And don't worry - if anything goes wrong, their support reps are available 24/7 (yes, live chat is an option). Also, you get a really decent 30-day money-back guarantee.
If you'd like to read more about NordVPN, check out our review.
4. Surfshark - Best Option for Parallel Connections
Maybe you own a ton of devices (10+), maybe you have a large family, or maybe you live on campus and want to save money on a VPN subscription by sharing the costs with others.
Whichever the case, Surfshark is the right choice. This provider offers unlimited parallel connections, meaning you can install it on as many devices as you want.
And that's not all. Despite being relatively new on the market, Surfshark quickly climbed the ranks and started offering the same features as the other top providers - unlimited data, high-speed servers (3,000+), user-friendly and cross-platform compatible apps, high-end security, and even split tunneling.
Plus, their long-term plans are really cheap, and your payments are covered by a no-questions-asked 30-day refund policy. Also, they offer round-the-clock support (live chat is available, and their support reps are really friendly).
Want to take a closer look at Surfshark? No problem - here's our hands-on review.
5. Ivacy - Best Small-Scale Unblocker
If you want to use a "smaller" VPN provider, look no further than Ivacy. They offer very budget-friendly pricing, have a decently sized server network (1,000+ servers in 50+ countries), allow up to five simultaneous connections, and provide unmetered data.
What's more, their apps are available on most platforms. They're a bit rough around the edges, but nothing you can't quickly get the hang of. Plus, you can get dedicated IP addresses if you want to watch NBC Sports Live outside the US without worrying about multiple sign-ins from one IP giving your VPN traffic away.
And even though Ivacy is a small provider, they offer 24/7 support through live chat. That, and a really nice 30-day refund policy to boot.
If you want to be sure this is the right provider for you, check out our review.
Can You Sign Up for NBC Sports Live From Outside the US?
Yes, you can sign up for NBC Sports Live even from outside the US. That is done by signing up for a live TV streaming service that has access to NBC Sports.
Below, we'll give you the options you have in front of you (Sling TV, fuboTV, and YouTube TV). Once you get your subscription, make sure to launch the NBC Sports app on your smartphone, select the "hamburger" button in the top-left corner, and pick 'NBC Sports Sign In.' Finally, tap on 'Select Provider' and proceed to log in.
And now, let's give you a handy overview of the best OTT services that come with NBC channels in their "standard" lineups. More precisely, you have three options right now.
If you opt for fuboTV, know that you'll find NBC Sports across a range of its subscription plans, which start at $64.99 (the 'Starter' plan is the most affordable one). We recommend that you first check all of fuboTV's packages and prices and then check fuboTV's full channel list. And lastly, here's how to watch fuboTV outside the US.
And lastly, we have Sling TV, which comes as the most affordable option. It's priced at $35.00 per month, but keep in mind that you'll need to get its 'Blue' subscription plan. There's also 'Sling Orange,' but it does offer NBC's channels. Here's how to subscribe to Sling TV from outside the US.
YouTube TV gives you access to 85+ TV channels, and it also gives you access to a wide range of NBC's channels that focus on sports. It's priced at $64.99 per month (it often offers special deals as well), and you can use it on just about any device. So, here's how to watch YouTube outside the US.
How Do VPNs Unblock NBC Sports Live?
Most articles say they do that by "hiding your IP address." But what does that mean, exactly?
Basically, the VPN routes your connection requests (which contain your IP) through a server that sits between you and NBC Sports Live.
Because the server intercepts and forwards them for you, NBC's site thinks your requests are coming from the VPN, not your device. So, it only sees the VPN's IP while yours remains "hidden."
So, that would be all on how to watch NBC Sports Live outside the US. If you have any doubts or questions, make sure to post your comment below. Lastly, thank you for reading!