In the world of Kodi addons, there's no shortage of those that offer plenty of content. Perhaps the best example of that is the Numbers (NuMb3r5) Kodi addon. However, before you start using it, you'll want to think twice about your decision. 
The Numbers addon brings content that might be deemed illegal in many countries. On top of that, there are privacy-related concerns - something that applies to any unofficial addon. We're here to help you understand all of the potential risks, so let's jump right in. 
Before going any deeper, an important note. The Numbers addon isn't different from other popular addons, like Exodus, Exodus Redux, Covenant, Yoda, Tempest, or The Magic Dragon. Pay attention to what Kodi addons you install, especially if piracy is involved.
Now, let's jump right in. Here's everything you need to know about the Numbers Kodi addon.
Is the Numbers Addon LEGAL to Use? 
No, the Numbers addon isn't legal to use in most countries.
We're talking here about countries that have made copyright infringement illegal. And even if you live in a country that doesn't go against digital pirates, you're still in danger. That's because anti-piracy agencies rely on international and high-level laws to track down pirates.
Essential Resource: Official vs. Unofficial Kodi Addons – Which Ones Should You Use?
The Numbers addon, as well as similar unofficial addons, rely on illegal sources of content. In other words, this addon doesn't have the necessary rights to offer you those movies and TV shows (especially since they come completely free of charge).
Useful to Know: How to Use Kodi Legally? – Here's All You Need to Know!
With that said, this addon could be in a lot of trouble if anti-piracy agencies catch it distributing illegal content. And also, you could be in danger as well for consuming that content. As you can see, plenty of risks are involved.
Is the Numbers Addon SAFE to Use? 
No, the Numbers addon isn't safe to use. Here's why. 
As you can see below, using Numbers is considered illegal in most countries. However, there are also other types of risks involved – and these relate to the safety of your private data. Yes, the core of this problem is malware. 
In general, where there's piracy, there's malware. In terms of Kodi, this is also true. Unofficial Kodi addons have been involved with malware many times in the past. This especially goes for forks and clones of Kodi addons, which means that the Numbers addon is also a risky addon.
Essential Reading: Why Are Unofficial Kodi Addons Not Safe to Use?
Malware is also the reason why Kodi's own developers warn against using third-party repositories. There's really no way to check if malware is present in repositories and individual addons before you install them.
Once you encounter a malicious addon, it'll be too late to think about saving your private data.
This is where we'd like to introduce you to VPN services. More precisely, a VPN made for Kodi can keep you protected, anonymous, and away from prying eyes. And that's precisely why VPNs are essential allies to any Kodi user. 
By ensuring your Web traffic is encrypted, your Kodi-related activities will be hidden from anyone else on the Web. Malware will also have a harder time damaging your system. And on top of that, you'll get to access Kodi's geo-restricted content and addons.
However, make sure to get a reliable, reputable, and capable VPN. Based on our experience, we strongly recommend using ExpressVPN. 
What Content Can You Stream via Numbers?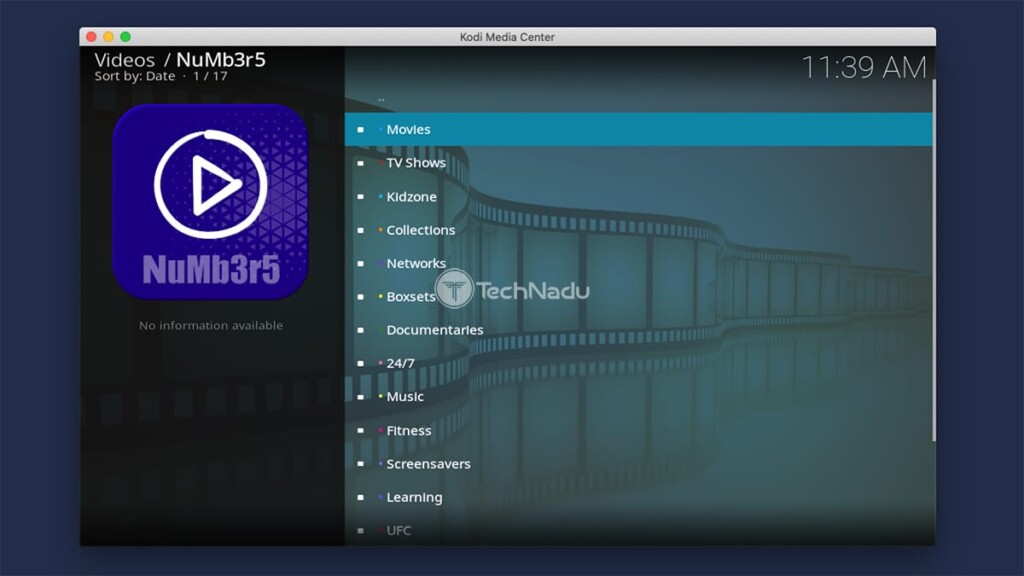 The Numbers addon brings movies, TV shows, music, cartoons, sports-related content, 24/7 live streams, documentaries, and more.
Without any doubt, we're talking about one of the most significant collections of content out there. And more precisely, we're talking about the latest commercially available movies, premium-priced PPV events, and more – available completely free of charge.
Explore the World of Kodi Addons: Movies, Live TV, Live Sports, Cartoons, Adult (XXX), TV Shows, Gaming, Music, Anime, Documentaries, Korean, and Bollywood.
All of what's said above sounds too good to be true, right? Yes, as you can already guess, there's a big catch here.
The Numbers addon is available freely and without any charge. However, all of that content is copyright-protected, which is exactly what's problematic about this addon.
Do We Recommend Installing the Numbers (NuMb3r5) Kodi Addon?
In all honesty, we can't really recommend using the Numbers addon.
The fact is that there are too many risks involved. Based on where you live, consuming pirated content can quickly get you into a lot of trouble. And even if you're not afraid of the legal consequences, you should be concerned about malware.
If something sounds too good to be true, it probably is. And with that said, the Numbers addon for Kodi is one of the best examples of that.
How to Protect Yourself If You Plan on Using Numbers on Kodi? 
There is an effective way to protect yourself – even if you're adamant about using Numbers. And yes, we are talking about VPN services here. 
Make sure to do your research and pick a VPN suitable for Kodi and media streaming. Based on our experience, the only VPN that won't let you down is ExpressVPN. 
Essential Reading: Why Are VPNs Useful for Kodi? Here Are the Reasons!
At the moment, VPNs are the only effective method of hiding your Kodi-related traffic. By using one, your Web data stays within a secure tunnel. This is done via VPN protocols based on certain types of encryption (scrambling your Web data).
In simple terms, VPNs make you invisible online. In theory, this means that no one will see whether you're using Numbers of some other Kodi addon. And since your traffic is routed through a VPN's server (based on your choice), this helps you unblock geo-restricted content.
There are many reasons why you should use a VPN. So, to check out your options, here's our list of the best Kodi VPNs. You'll also want to know how to set up and configure a VPN on Kodi. 
Numbers (NuMb3r5) Not Working? Try These Fixes!
Having issues using NuMb3r5? First, know that it's not unusual to experience problems, as Numbers has had many ups and downs in the past. After all, this isn't the most stable Kodi addon out there. 
However, also know that there's plenty you can do. So, if the Numbers addon isn't working for you, take a look at possible solutions below.
Numbers Fails to Play Movies and TV Shows
To resolve this issue, we recommend using premium-priced content hosting services (see the segment just below). And if you think that certain content is blocked due to geo-restrictions, you can resort to using a VPN. 
During the last couple of years, we've been trying out many VPNs. So, based on that experience, we recommend ExpressVPN. This is the only VPN that can unblock pretty much any Kodi addon while also keeping you safe online.
Numbers Buffers Videos for Too Long
The only solution here is to use a service like Real-Debrid. This is a premium-priced 'downloader' that helps you stream high-definition video without any buffering. Here's how to integrate Real-Debrid with Kodi.
Subscribe to Real-Debrid on its official website.
Open Numbers and click on 'System.'
No, select 'Account.'
Select 'Authorize: Real-Debrid.' 
A prompt will appear on your screen, so make sure to follow what it says. 
Numbers Not Showing Movies and TV Shows
Strangely enough, this seems to be a bug. For some reason, Numbers will show you empty categories, as if there's no content available. Restarting Kodi might help in this case. 
How to Update the Numbers Kodi Addon
Updating Numbers on Kodi is quite easy. Here's what you need to do. 
Locate Numbers and right-click on its icon. 
Select 'Information,' which will show the addon's overview. 
Click on 'Update' to check for available updates. 
Lastly, click on the latest update's name to apply it. That's it!
How to Update Kodi
To update Kodi, you need to re-install the application. Differently said, you need to follow the same procedure you went through when installing Kodi. 
To learn how this is done on various platforms, make sure to check our guide on updating Kodi.
What Are the Best Alternatives to the Numbers Addon? 
Lastly, it's time to check some alternatives to the Numbers Kodi addon. We've highlighted the top three options right now, as you can see below. 
BBC iPlayer: If you want free movies, TV shows, cartoons, and documentaries – you should go with BBC's iPlayer. You'll even find live TV channels here. However, before you get started with this addon, read our guide on the best VPNs for iPlayer (if you're not in the United Kingdom). 
Crackle: This is yet another platform that offers movies and TV shows free-of-charge. Now owned by Sony, Crackle is even venturing into original programming. If you're not in the USA, you'll want to learn how to watch Crackle from anywhere.
Netflix: We're sure that many of you have a subscription to Netflix. In that case, using this platform on Kodi is a dream come true. As you can guess, we're talking about a pretty sizeable library here, entirely legal. And lastly, don't forget to learn how to access various versions of this platform by using a VPN for Netflix.
This is where we conclude our guide to the Numbers Kodi addon. If you have any questions, feel free to drop a comment below. And also, we'd like to ask you to share this article online. Thanks – and enjoy using Kodi!