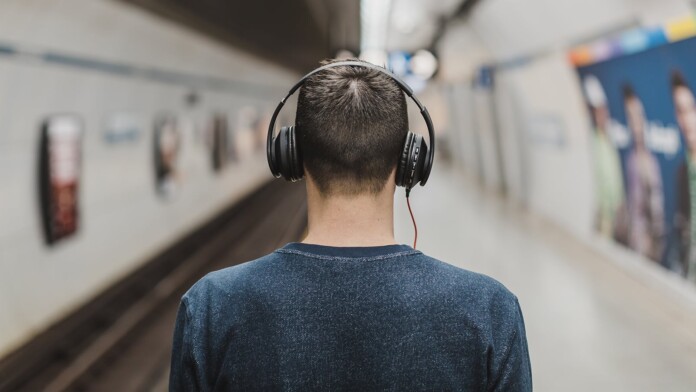 Kodi is a home theater software – which means that it's designed to act as a central entertainment hub in your living room. In other words, it allows you to watch movies, documentaries, and even live sports. However, Kodi isn't only about watching or streaming video – as it handles music as well. In fact, you'll find plenty of useful addons designed to let you stream music without leaving this application's interface. So, which addons should you use? What are the best music Kodi addons in 2020? Let's find out!
Before we jump to our list of recommendations, let's make something clear. Kodi can be used to play a bunch of different audio file types (it's a very capable music player, in fact). In other words, you're free to add your own music to Kodi – and then play those tracks locally. If you click on the provided link, you'll learn about the best method to populate your library with music. However, in this article, we'll talk about streaming and allowing you to listen to your cloud-based music, radio stations, and plenty more.
Before we proceed further, we have a word of caution for you. Our strong advice is to make sure you're using Kodi safely and legally. With this said, we want you to read our In this article, we are talking about Kodi and this application's official and unofficial addons – all of which are based on open-source code. Addons for Kodi can come from the official source (you can install them via Kodi itself), or they can be hosted by third-party sources (such as GitHub, for example). In addition, Kodi and its addons are publicly available and free of charge.

TechNadu doesn't claim any responsibility for how our readers decide to utilize the following software. Please note that we don't condone sharing pirated content and copyright infringement. TechNadu is not affiliated with the software mentioned in this article in no way.

Make sure to carefully read everything said in this disclaimer and ensure the proper use of the software.
disclaimer as well as the following warning message.
WARNING: When Using Kodi, Make Sure to Always Use a VPN!
Without a VPN, you will be facing many obstacles when using Kodi. Aside from encountering blocked content, you're also putting your privacy at risk. With this said, here's why you MUST use a VPN while using Kodi:
Kodi Imposes Geo-Restrictions: Numerous Kodi addons are restricted to certain countries only. By checking your IP address, these addons can block access to their content, which means that you're missing out on a vast media library. A VPN resolves this problem by giving you a virtual IP address associated with a different country. For this purpose, we recommend getting a US IP or a UK IP address – as the majority of Kodi addons are restricted to these two countries.
Your ISP is Watching Your Every Move: Without a VPN, your ISP collects all your Web data. This includes your Web search history, any websites you visit, and any media streaming services you use. Kodi is a media streaming application, which means that many of you will face ISP-imposed throttling, as a result. By hiding your Web traffic via a VPN service, you can make sure that your ISP doesn't know what you're doing online – and enjoy the full speed of your Web connection.
You're Putting Your Device's Safety at Risk: Be very careful about which Kodi addons you install. Third-party sources can often lead to malware and cryptocurrency trojans, exploiting your private data and your device's resources. With this said, know that VPNs reduce the risk of you getting infected with malware by implementing website blacklists. They don't completely stop malware, but they can block access to malicious websites by using often-updated lists of dangerous websites (supplied by antivirus vendors). This is especially handy in the world of unofficial Kodi addons.
Once again, be very careful while using Kodi – and think about your privacy and digital security. A reliable VPN helps you secure and improve your Web connection, unblocks everything that Kodi offers, and takes care of your privacy. And per our extensive hands-on tests, we highly recommend you use ExpressVPN – the best VPN for Kodi at the moment.
LIMITED TIME OFFER: For our readers, we've prepared an exceptional deal. You can now save 49% on ExpressVPN – and get three additional months for free!
Finally, these are the 5 best music Kodi addons in 2020.
1. Spotify
Where to Find This Addon? – Download from GitHub (Marcelveldt Repository).
From Where You Can Access This Addon? – Available in countries where Spotify operates. However, you can use this addon anywhere with the help of a VPN application.
What You Can Stream via Spotify? – This media streaming service offers more than 35 million tracks, and it's the world's most popular service of its kind.
Without any doubt, Spotify is the most popular music streaming service on the planet. In many ways, it has pioneered the music streaming industry – and it is still making tremendous progress. Considering that you can use it for free, it's easy to see why we've decided to mention Spotify first on our list of the best Kodi addons for music streaming.
Even though you can sign-up for Spotify for free, you can't do it from anywhere – so here's the list of supported countries. Of course, using a VPN will help you get a free Spotify account, so you can add millions of music files to your Kodi. The Spotify addon uses your account to stream music and it comes with plenty of useful features – normally found in Spotify's native apps. You'll get to search its database, create your own lists, check out what's trending and plenty more.
2. Tidal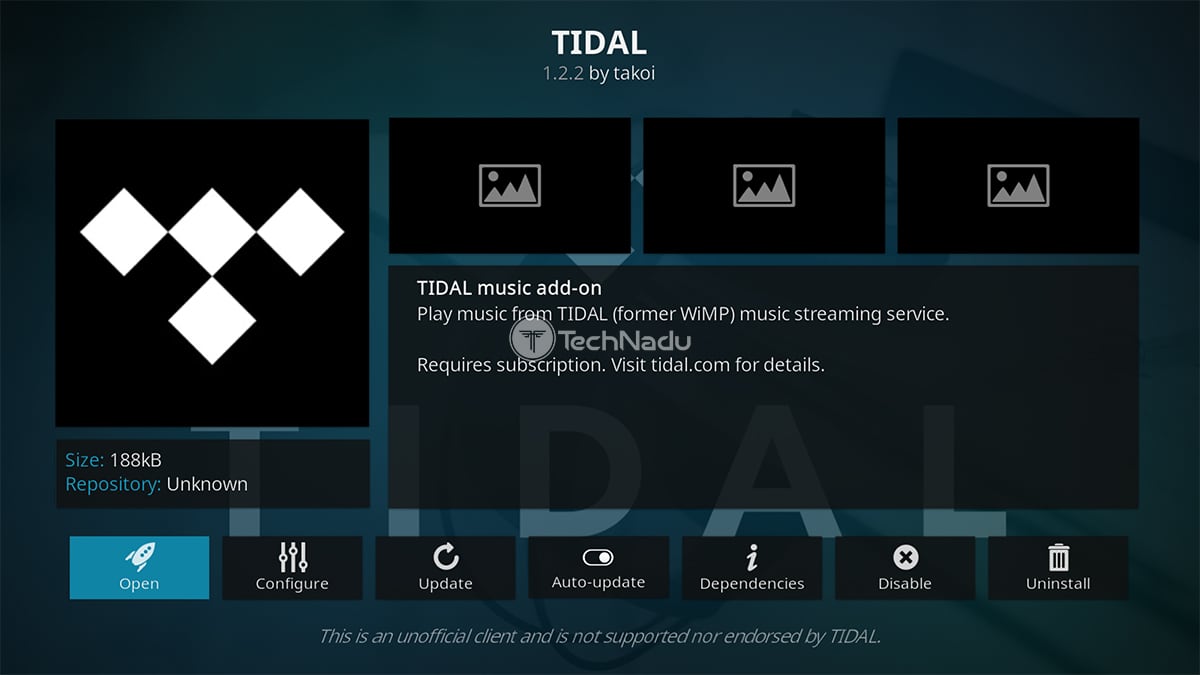 Where to Find This Addon? – The official Kodi repository.
From Where You Can Access This Addon? – Available in 54 countries – where Tidal is normally available on the Web or via its apps.
What You Can Stream via Tidal? – This streaming service is known for providing audio files with the highest bitrate of 320kbps. Millions of songs are available.
Next, we have another popular music streaming service. This one's available in 54 countries, which is a limitation you can overcome by using the best VPN for Kodi. Also, you need to know that Tidal doesn't come with a free plan. However, this music streaming service is built for those looking for truly the best music listening experience. The prices start at $10.00 and go up to $20.00 per month – if you want lossless high-fidelity sound.
To use the Tidal addon for Kodi, you need to have an account first. Download the addon from the official Kodi repository, log-in using your credentials, and that's about it. You'll get to unlock the entire Tidal library, sync your playlists, and play anything you can find with this addon.
3. SoundCloud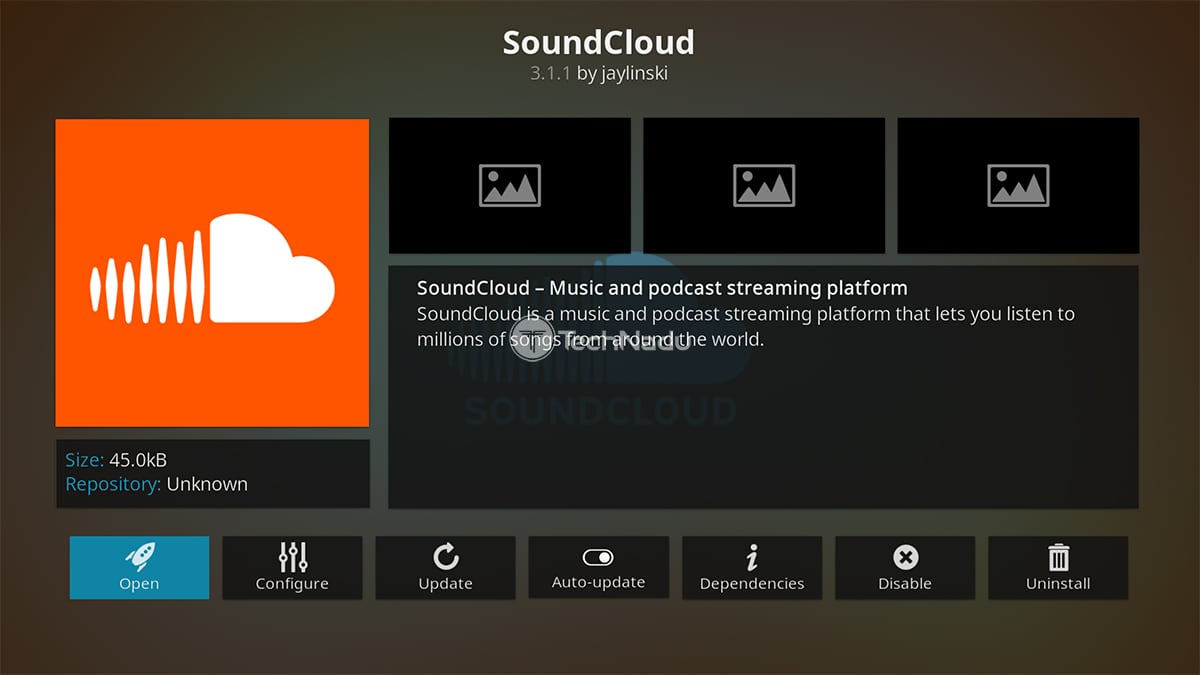 Where to Find This Addon? – The official Kodi repository.
From Where You Can Access This Addon? – Available worldwide.
What You Can Stream via SoundCloud? – This is a sizeable repository of audio files uploaded by well-known artists and independent labels.
We understand that many of you would like to limit your monthly expenses. So, if you don't want to pay for a music streaming service, there are plenty of free options. One of those is SoundCloud, being online for more than a decade. This is a media streaming service and an online community, giving you plenty of ways to find new artists. In fact, this has been the platform of choice for many independent labels and musicians.
The SoundCloud addon allows you to browse everything available on the online version of the platform. This means that you can search for individual artists and musicians, follow your favorites, check out curated playlists, see what others are listening, and more. The addon has been receiving updates on occasion, greatly improving its functionality.
4. MixCloud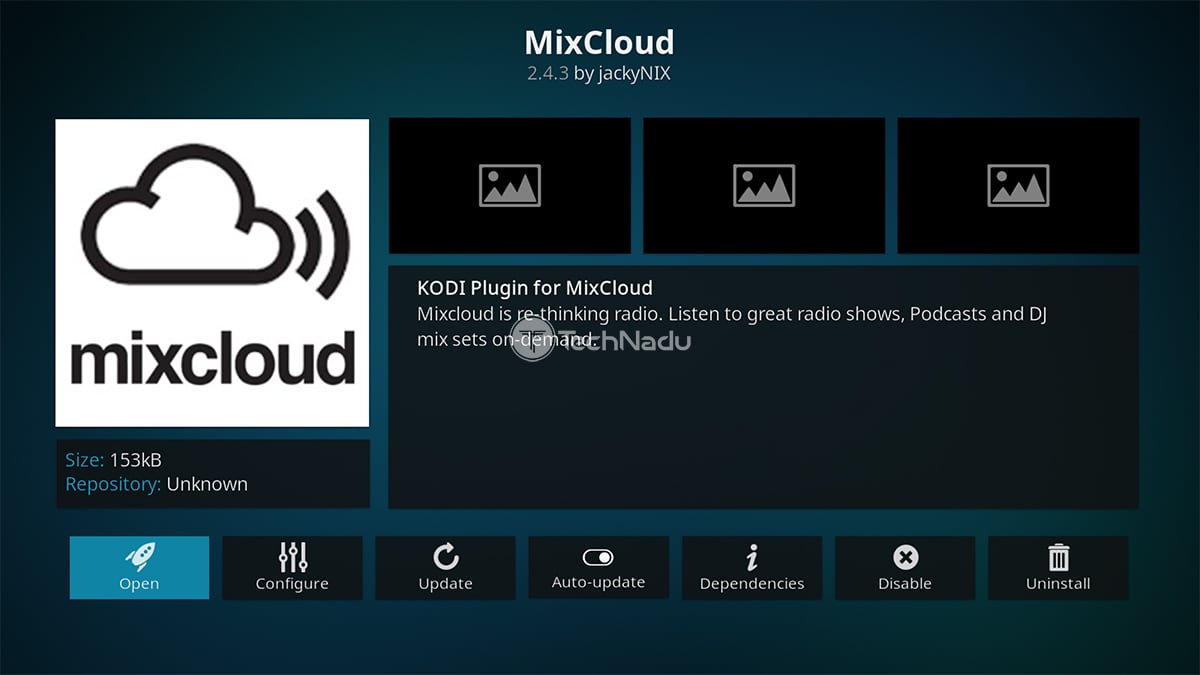 Where to Find This Addon? – The official Kodi repository.
From Where You Can Access This Addon? – Available globally.
What You Can Stream via MixCloud? – A library that includes titles by both well-known musicians and artists, as well as independent artists.
In many ways, MixCloud is similar to SoundCloud. Both of these originate from Europe, and both of these have been online for more than a decade. You can access them for free, and they come with fully-functional Kodi addons. However, MixCloud also offers radio shows, DJ mixes, and even podcasts – so it can serve as a single place for all your audio-related needs. Considering that you won't find plenty of podcast players on Kodi, this one's truly one of the best music Kodi addons right now.
To enjoy everything that MixCloud offers, we recommend signing up for an account before downloading the addon. However, even if you don't want an account, you can use the addon for free. In this case, you'll get to browse curated collections and search for individual artists (and play their tracks as well).
5. Radio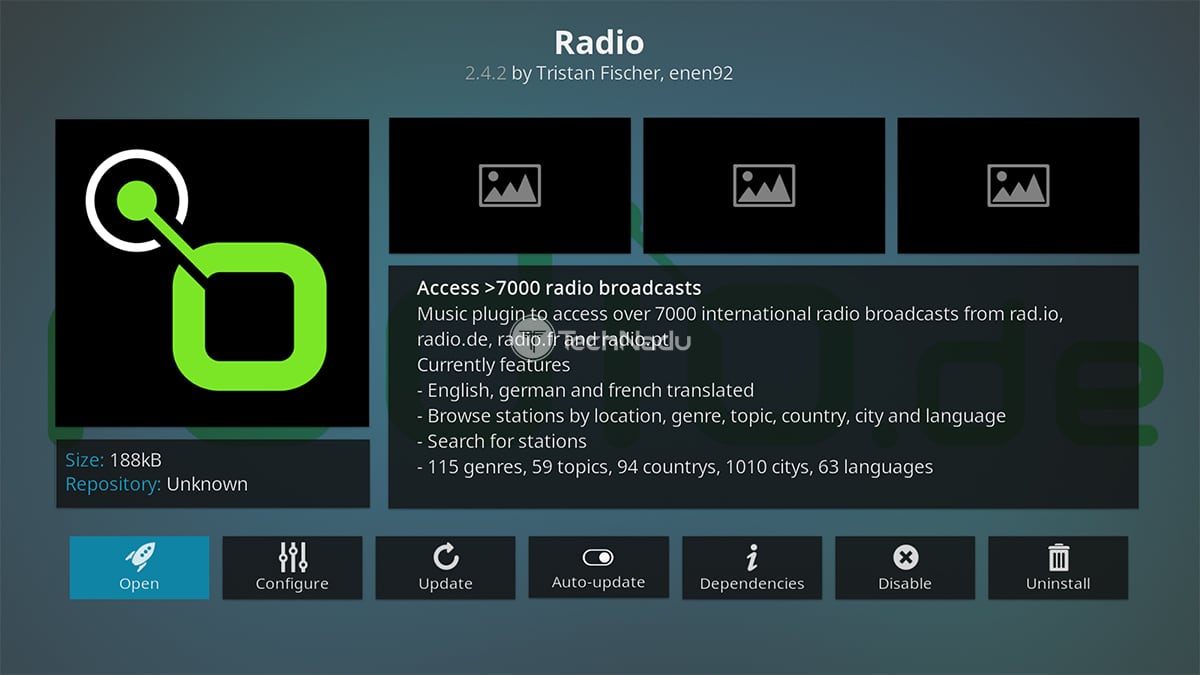 Where to Find This Addon? – The official Kodi repository.
From Where You Can Access This Addon? – Available globally.
What You Can Stream via Radio? – You'll get access to more than 7,000 radio stations from all around the planet.
We'll end our list of the music Kodi addons with something different. All of our previous recommendations were about music streaming – in different ways, of course. However, the Radio addon (as its name implies) gives you access to radio stations only. So, if you don't want to listen to music on-demand, this could be an option to consider.
The Radio addon comes with over 7,000 radio stations from various countries. You'll get to browse its database and find radio stations that belong to different genres, topics, countries, cities, and languages. There's also an easy way to find local radio stations – at least those who broadcast their program over the Web.
So, there you have it – the 5 best Kodi addons for music streaming in 2020. If you decide to try any of our recommendations, make sure to share your experience with us. You can use the comments section found below. And of course, enjoy listening to music via Kodi!