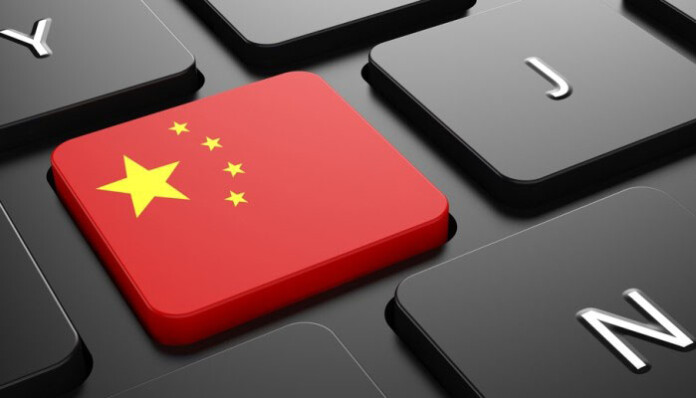 During the last couple of years, the popularity of Chinese media has spread all over the world. This has created a need for Web-based live streams of Chinese movies and TV shows. Even though services like Netflix cater to this need up to a certain point, we're still far from having a decent catalog of content. This is where Kodi comes into play. Thanks to its amazing features and easy installation method, Kodi has become the most popular source of content based on the Chinese language. This is why TechNadu has decided to bring you a list of the best Chinese Kodi addons.
The truth about Chinese Kodi addons is there are a lot of them – and all of them come from unofficial Kodi addons. However, you need to know where to look. Many of those addons don't work or have a hard time streaming media, leaving you frustrated and unwilling to continue your search. This is why articles like this one are of great help. If you continue reading, you will get to learn about fully working and updated Chinese Kodi addons that can be installed right away.
We'd like to help our readers by providing in-depth guides that go beyond a simple list of addons. This is the reason why our guide contains step-by-step installation instructions and overviews of featured offered by Kodi addons. We promise that by the end of this article, you'll have at least a couple of addons that you'll use on a daily basis – if you're craving for Chinese media, of course.
Disclaimer: The following software is designed for Kodi – which is an open-based software on its own. However, this software isn't maintained by Kodi and doesn't come through Kodi's official channels. Still, this software is publicly available and free of charge. Therefore, we don't claim any responsibility for how our readers decide to use it. Furthermore, TechNadu doesn't condone acts such as piracy or copyright infringement. Please note that we are not affiliated with the following software in any way. Please, carefully read the above-said disclaimer and ensure the proper use of the software.
Warning: Why you must NOT USE Kodi without VPN?
Here are the reasons that you should consider looking at it
without SKIPPING
.
Using ILLEGAL Kodi Addons are Dangerous without a VPN: Most of the Kodi users are installing the ILLEGAL Kodi addons on their system to access all the latest movies, TV shows, sports, music, and much more for FREE, than a legal Kodi addons where it has the least content in it. But do you know what? The video content on illegal addons are a scraped and copyrighted material. If you are accessing them on Kodi, then your activities will be monitored by your ISP by tracking your IP and gives all the information to the government or companies if they request for it. This will land you in trouble. To stay away from this, you will have to connect to a VPN where it hides your identity by rotating your IP address while streaming Kodi content. This is how you will be safe from the prying eyes.
Bypass Geo-Restriction: As you probably know, some official addons like BBC iPlayer, NBC Sports, Hulu, IceFilms have geo-location restrictions. This also applies to other addons like Acestream which fetches the data from torrents. To unblock these restrictions, you will have to DEFINITELY use a VPN no matter what.
The above are the 2 reasons that forcing us to recommend a VPN to the Kodi users for safer streaming. In fact, after testing several VPNs for Kodi, we finally came up with a one non-stop solution and that is
ExpressVPN, the top rated Kodi VPN
so far.
Limited Time Offer:
For our TechNadu readers, there is a
49% OFF on ExpressVPN
which includes
3 FREE Months
in it.
Best Chinese Kodi Addons
Finally, you've arrived to TechNadu's list of the best Chinese Kodi Addons. All of the following addons can be used to stream movies, as well as to access IPTV (Live TV channels). Some of them even go a few steps further and allow you to watch live sports channels – over the Web. Without further ado, let's jump right in.
Chinese Add-ons Repository (Multiple Addons)
You might be surprised to know that there's an unofficial repository called Chinese Add-ons that contains more than a dozen of interesting options. Even though not all of the addons offered there work, we managed to select a few interesting options. First, let's take a look at how to install this repository, and then we'll recommend few addons.
First, you need to open this GitHub page and click on the green button that says 'Clone or Download';
Once you click on the button, you will see two options. Go with 'Download ZIP';
Now open Kodi, and navigate to 'Add-ons' from the main menu;
In the upper left corner, you will see the Open Box icon. Click on it;
Select 'Install from ZIP file';
Using a newly opened pop-up, navigate to the ZIP file you've previously downloaded. Remeber that the file needs to stay in the ZIP file format. Once you find the file, click to install it;
Now, select 'Install from Repository';
Go to Chinese Add-ons > Video Add-ons. A number of different addons could be found here, so feel free to try any of those. You only need to do is to click on the addon's name and use the 'Install' button to finalize the procedure.
Next, keep on reading to discover some of our recommendations when it comes to the Chinese Add-ons repository.
CNTV Live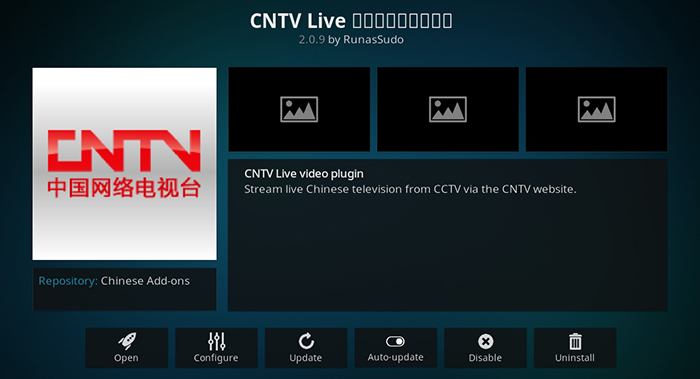 You might be wondering why CNTV Live is one of the best Chinese Kodi addons? Well, that's because it lets you watch live TV channels. There are over 100 options in there, where the majority works without any issues. Not to mention, the most popular national channels like CCTV come in full HD.
CNTV Live is a very simple addon that brings a clear and concise menu. You get to pick from four types of TV channels (National, Provincial, Digital, and City-Based). After clicking on a live-stream, it will begin playing after a few moments. It's simple as that.
Panda TV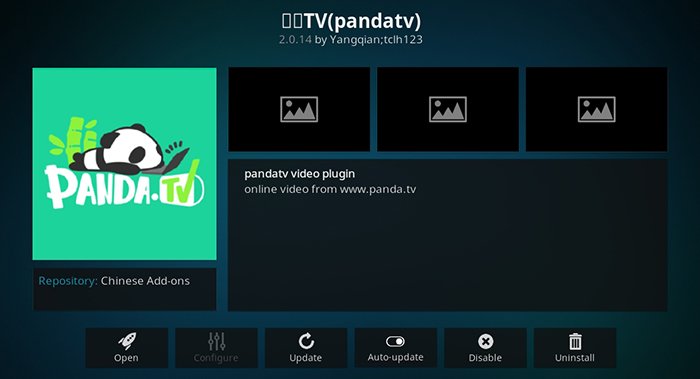 Next, we have something for those interested in social media, gaming, and entertainment in general. This addon brings plenty of on-demand content that is nicely organized as well. You will also find a few live-streams, which seem to be working most of the time.
In case you tried this addon in the past, you have probably had issues making it work. However, Panda TV has received a new update and resolved previous issues. It's definitely worth taking a look.
Douyu TV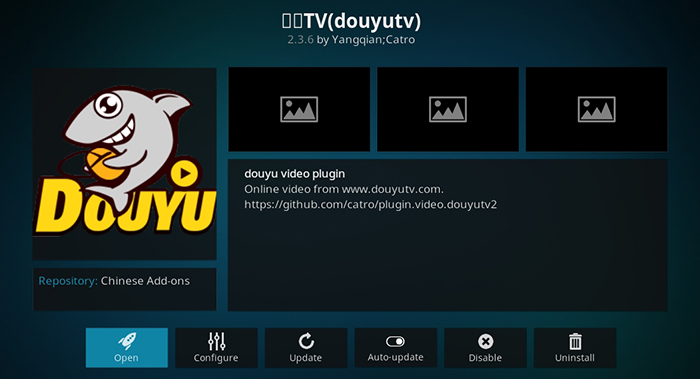 We'll end our list of recommendations (when it comes to the Chinese Add-ons repository) with Douyu TV. Once again, we have something for younger audiences, speaking in general. That's because this addon is all about gaming.
Upon opening Douyu TV, you will see a list of different games. Some of the most popular titles are PUBG and Dota 2, which isn't surprising. In there, you will find live-streams and on-demand videos. In general, there really is a lot of content and the addon works without any problems.
DramaGO
We consider DramaGO to be one of the best addons of this kind. This is because this addon doesn't only bring the latest movies to Kodi but TV shows as well. It features an intuitive navigation, fully working links, and comes with an incredible library of content. DramaGO's library of content that is unparalleled in the world of Kodi addons.
Once opened, DramaGO shows plenty of helpful options: Recently Added Movies, Recently Added TV Shows, Movies A-Z, TV Shows A-Z, Genres, and more. It also features a search functionality, so you can easily find a specific title that you'd like to watch.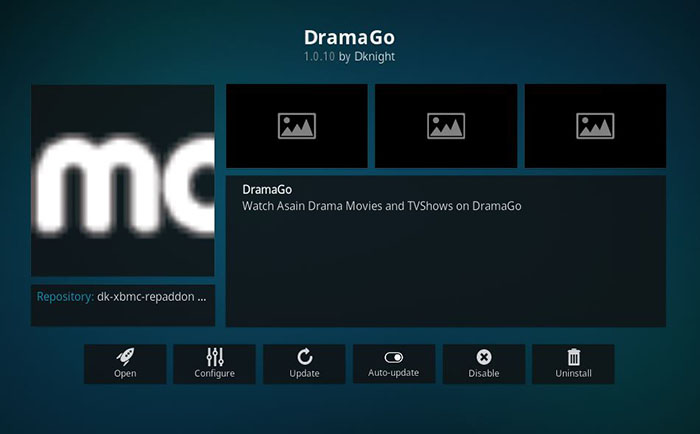 We would also like to mention that for each of the offered titles, you have several mirrors to choose from. You will hardly find a movie that comes with broken links. In addition, streams and problem-free and doesn't have any buffering issues.
DramaGO isn't only for those of you who speak Chinese. The majority of offered titles come with English subtitles. If you're interested in Chinese cinematography, this is the way go to. As said above – this is undoubtedly one of the best Chinese Kodi addons. Just imagine having such library available via Kodi on your smart TV.
Follow these steps to install DramaGO:
The first step includes downloading a ZIP file that contains a repository that you need to install. Use this link to download the ZIP file to your computer.
Now open Kodi and click on 'Add-ons' found in the main menu;
In the top-left corner, you will see the Open box icon – click on it;
Next, select 'Install from ZIP file';
A new pop-up will open. You need to use it to find the ZIP file you've downloaded. Therefore, open your hard drive and find the file. Once you find it, click to install it;
After a few moments, the new repository should install on your Kodi. Once that happens, click on 'Install from Repository';
Navigate to dk-xbmc-repaddon > Video Add-ons > DramaGo. Click on the addon's name to see its overview;
Finally, use the 'Install' button to finalize this procedure;
When you're ready to try it out, return to the Add-ons section, where you'll see its icon.
Genesis Reborn
If you're an experienced Kodi user, Genesis Reborn needs no introduction. This is a fairly old addon that has been our favorite for a very long time. Even though it doesn't specialize in Chinese content, you'll find that it has plenty to offer.
Genesis Reborn is all about movies and TV shows. It has a huge library of media files and very few non-working links. This is one of the reasons why think of it as one of the best overall addons for Kodi. In the past, it had a section for international cinematography, but that is missing now. To get to Chinese content, we recommend using the search tool found on the home page. You can type in a movie's name, or simply search for 'China' and you'll receive plenty of useful options. There are multiple choices per single link, which means that you'll hardly find a malfunctioning file.
For more information on how to install Genesis Reborn, please use the provided link. We are more than sure that you'll soon realize why this is one of the best Chinese Kodi addons.
Incursion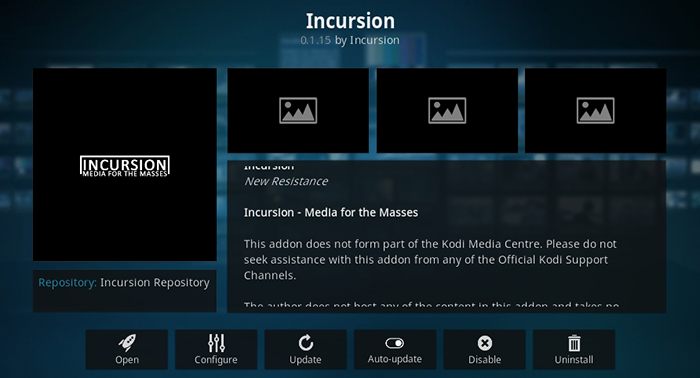 We can't mention Genesis Reborn without mentioning Incursion. These two are close to identical, which is why they share the same core code. However, they depend on different sources. This is why it's a good idea to have both of these addons installed on your Kodi.
Incursion is a fairly new addon that brings the latest movies and TV shows. It brings an intuitive UI with numerous different sorting options. Unlike our previous suggestion, this addon comes with a dedicated section for Chinese movies and TV shows. There are dozens of titles, all of which work great.
We feel that you'll enjoy using this addon since it brings a smart combination of different genres, English and non-English content, and more. Here's how to install Incursion.
Additional Resources: What's Next?
By now, you've had a chance to learn more about Chinese Kodi addons. However, that doesn't mean that you should end your search. Here are helpful articles that could help you enrich your user experience.
Final Thoughts
This is where we conclude our list of Chinese Kodi addons. We hope you found this guide useful, as well as that you've managed to install addons from our list. As you can see, Kodi is an unbelievably capable platform and its selection of Chinese Kodi addons certainly prove that. No matter if you like to watch your homeland's TV channels and movies, or if you're in love with the Chinese culture, Kodi is your ally. Additionality, if you found the above-mentioned addons too complicated, you can find some amazing Kodi builds already equipped with everything you might need.
Do you enjoy watching Chinese media? Do you have any recommendations for Chinese movies and TV shows? We'd like to hear what you think. Also, if you think we forgot to mention other useful Chinese Kodi addons, tell us in the comments section below.