In many different ways, the Seren Kodi addon is unique. While it manages to resolve a number of problems plaguing other Kodi addons, it still comes with its own set of challenges. With that said, it's crucial to know all about this addon before using it.
First of all, know that Seren relies on premium services for content discovery (such as Real-Debrid and Premiumize). Without those, the addon refuses to play any content. So, does that make a difference in terms of its legality?
That's precisely the question we'll answer in this article. And with that said, here's everything you need to know about the Seren Kodi addon.
Is the Seren Addon LEGAL to Use? 
No, Seren isn't legal to use – and here's why. 
It's true that Seren isn't a free-of-charge Kodi addon. You can download and install it for free – but you need to pay for a service like Real-Debrid or Premiumize. Therefore, this might look legal on the outside. That's why it's crucial to take a more in-depth look.
Recommended Reading: Official vs. Unofficial Kodi Addons – Which Ones Should You Use?
The catch here is that premium services like Real-Debrid or Premiumize dive into torrents and other types of piracy-related content sources. And as you know, piracy isn't something that should be taken lightly. In fact, copyright infringement is illegal in most countries.
Is the Seren Addon SAFE to Use? 
No, Seren isn't safe to use. Let's explain why. 
The biggest problem with unofficial addons is that they aren't controlled or reviewed by Kodi's developers. They exploit Kodi's open-source nature, which means nothing is standing between you and malicious code that many unofficial addons bring. We've seen numerous problems with such Kodi addons in the past.
Read More: Why Are Unofficial Kodi Addons Not Safe to Use?
It's also true that Seren was never a malicious addon. However, the addon's nature can change overnight. In that case, a malicious update will automatically download to Kodi, compromising your private data and your system's integrity. Something like this had already happened before, with forks of unofficial Kodi addons.
There's plenty you can do to improve the safety of your data. However, the crucial piece of that effort is related to VPN applications. By subscribing to a VPN, you'll elevate your Kodi user experience in more ways than one.
A reliable VPN will encrypt (scramble) your Web data, making sure no one sees how you use Kodi. Also, you will get an additional security layer protecting you against malicious attempts. And lastly, you'll get to unblock geo-restricted content. 
Still, keep in mind that not every VPN is the same. If you truly want the best one available now, you should go for ExpressVPN.
What Content Can You Stream via Seren?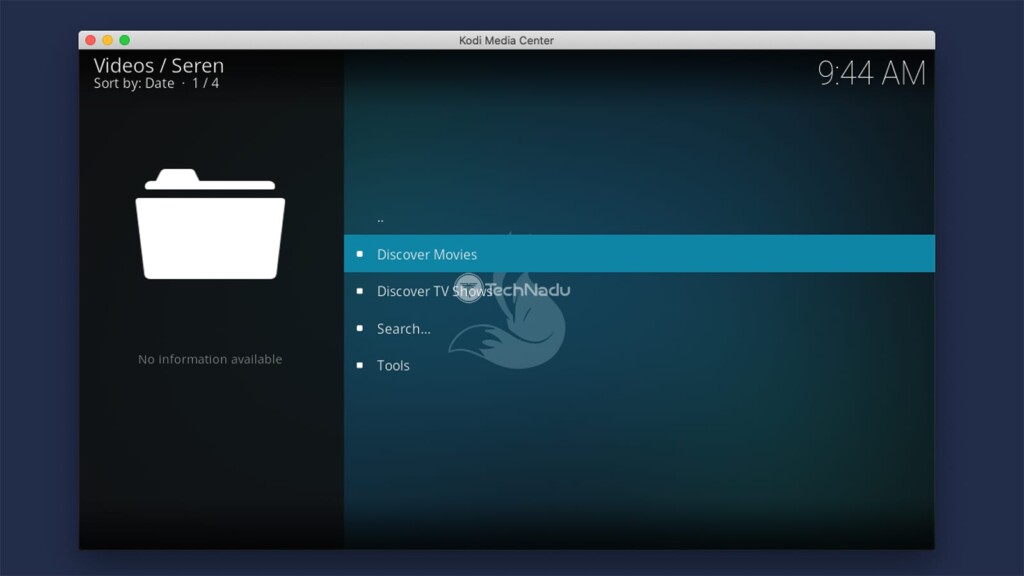 Seren brings two types of content - movies and TV shows. Even though this might not look like much, there's a reason why this addon is so popular. 
By relying on premium content discovery services, Seren can guarantee that you'll only find the best of files. Therefore, movies and TV shows that you'll find here typically come in HD. And on top of that, there's no buffering involved. 
Besides, Seren also takes a deep dive into content curation. For example, when it comes to movies, you'll find many sub-categories. This allows you to check what's popular, what's trending, or you can search movies by genres, actors, and years.
Discover More Kodi Addons: Movies, Live TV, Live Sports, Cartoons, Adult (XXX), TV Shows, Gaming, Music, Anime, Documentaries, Korean, and Bollywood.
Do We Recommend Installing the Seren Kodi Addon? 
No, we don't recommend installing Seren. 
As you know now, there are two big problems with this addon. First, we're talking about piracy and copyright infringement here. Second, there's always a risk of being exposed to malware, which could have grave consequences.
Essential Reading: How to Use Kodi Legally? – All You Need to Know!
Of course, we understand that some of you might be "seduced" by what Seren brings. If you still plan to go against our friendly advice, make sure to read the following segment carefully.
How to Protect Yourself If You're Using (or Plan to Use) Seren? 
The most effective way to protect yourself is to use a VPN service. And more importantly, this goes well beyond Kodi as well. 
If you decide to use a VPN, make sure to pick a suitable one for Kodi and media streaming. With that said, ExpressVPN should be your pick.
There are many reasons why you have to use a VPN with Kodi. However, the most prominent reason is the protection of your digital privacy. That's the primary purpose of any VPN, as it scrambles and encrypts your data, essentially making you invisible on the Web.
Good to Know: Why Are VPNs Useful for Kodi? / Is It Safe to Use Kodi Without a VPN?
Then, there are other benefits to using a VPN. For example, using unofficial addons like Seren is made safer that way. Of course, that doesn't hide the fact that you're accessing shady sources of content, so keep that in mind.
And lastly, let's not forget about accessing geo-restricted content. Even if you only stick to legal Kodi addons, you'll still encounter plenty of great content hidden behind geo-restrictions. A VPN is the only way to get to that content.
If you'd like to continue exploring this topic, check out the best VPNs for Kodi (hands-on tested by TechNadu's team, by the way). And here's how to configure a VPN on Kodi. 
Seren Not Working? Try These Quick Fixes!
Having a problem streaming content via Seren? Does the addon fail to launch? We're here to help, so check out the possible fixes below.
Seren Not Loading Streams
Seren works only with premium services such as Real-Debrid or Premiumize. Therefore, you need to enable these services in Seren to make the addon work. Here's how that is done.
First, make sure to have a Real-Debrid or Premiumize account. 
Launch Seren and click on 'Tools.'
Then, select 'Open Settings Menu.'
On the left, click on 'Accounts.'
On the right, scroll down until you see the name of the service you're using. 
Click on 'Enable' and then authorize your Real-Debrid/Premiumize account.
Seren Crashing Before Playing a Movie/TV Show
This issue often happens if Seren tries to play a file in a resolution that your device doesn't support. You need to dive into the addon's settings, so here's what you need to do.
Open Seren and click on 'Tools.'
Make sure to click on 'Open Settings Menu.'
On the left side of your screen, select 'Scraping.'
On the right, scroll down until you see the 'Preemptive Termination' group of settings.
This is where you can set up the minimum resolution for movies and TV shows. 
By default, movies are set to '4K' while TV shows are set to '1080p.' So, make sure to pick the correct values here, based on your device's specifications.
Seren Showing the 'No Playable Sources Found' Message
Aside from updating Seren (check below for more info), you could also try to reset it. In many cases, this should resolve the issue of Seren not finding playable sources.
Open Seren and select 'Tools.'
Then, select 'Wipe Addon Data.'
Next, you need to enable your Real-Debrid/Premiumize account (check above). If you have a Trakt account, make sure to re-enable it as well. 
Restart Seren and try playing a video file.
How to Update 'a4kScrapers' via Seren
In many cases, the 'A4K' group of scrapers can produce a wide range of problems with Seren. With that said, here's how to update this Seren component. 
Using Seren, go to Tools > Provider Tools > Manage Provider Packages. 
Delete the 'a4kScrapers' package if you have one installed. 
Then, go to Install Package > Web Location. 
Enter 'https://bit.ly/a4kScrapers' (with the capital S) and click 'OK.'
Once you update the scrapers, restart Seren.
How to Update Seren
Lastly, know that updating Seren can resolve a wide range of technical problems. So, here's how to manually update the addon. 
Right-click on Seren's icon and pick 'Information.'
Then, click on the 'Update' button. 
If there's a new version available, click on its name. 
Kodi will now update the addon. So, feel free to launch Seren once this process is done.
Check Out These Alternatives to the Seren Kodi Addon
Lastly, we'd like to talk about alternatives to Seren. More precisely, we've decided to highlight some of the best alternatives – that are legal and safe to use. Check them out below. 
BBC iPlayer: If you want free movies and TV shows, BBC's iPlayer is an excellent choice. This media streaming platform brings new content daily, with plenty to watch. However, make sure to find the best VPNs for iPlayer, as the addon works in the United Kingdom only. 
Crackle: This is yet another movie streaming platform, available for free. You'll find both older and newer movies (released in the past decade), with some original content on offer as well. Learn more about watching Crackle outside the USA.
Netflix: And finally, a premium option. Netflix comes with affordable subscriptions, letting you access a sizable content library. Thanks to this unofficial addon (safe to use), you can integrate Netflix with Kodi. However, using a Netflix VPN will help you access an extensive list of hidden titles, so don't forget to click on the provided link.  
That would be all there's to know about the Seren Kodi addon. If you have questions for us, make sure to post a comment below. And lastly, don't forget to share this article online!