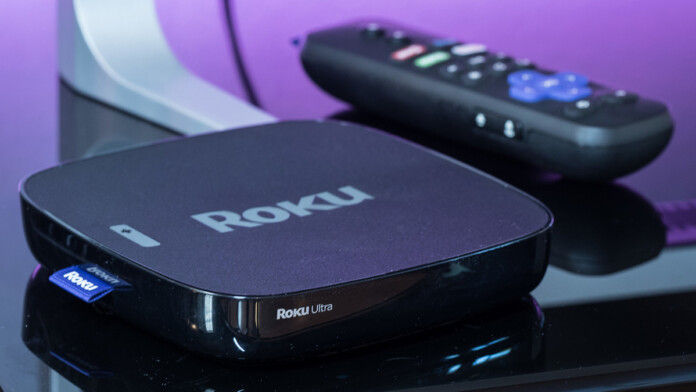 Roku devices are among the world's most popular media streaming devices. They are highly capable and bring tons of content while offering affordable prices. Naturally, many are wondering how to improve their experience by wanting to know how to install Kodi on Roku in 2019, and that's precisely what we'll talk about.
Right off the bat, we'll say that you can't install Kodi on Roku. Instead, you need to rely on screen mirroring, which is supported on a number of Roku devices. So, let's go over the official requirements first.
Why You Must Never Use Kodi Without a VPN?
Installing Kodi is easy and comes with no issues. However, by installing and using third-party addons and builds, you put yourself in danger of receiving copyright infringement notices. As you know, this leads to severe legal consequences that you'll surely want to avoid.
To enjoy Kodi risk-free and up to its full extent, we highly recommend using ExpressVPN. This is a very simple yet incredibly sophisticated VPN application that comes with numerous benefits. Here are the most prominent reasons why you should activate ExpressVPN right after you install Kodi.
Content/Addon Unblocking: Many Kodi addons are restricted to certain regions. ExpressVPN will unblock those addons with ease, expanding your media library exponentially.
Prevention of IPS Logging: Don't let your ISP detect that you use Kodi, which often leads to throttling. Instead, ExpressVPN hides what you do online from your ISP and anyone else online.
Advanced Data Leak Protection: Finally, note that not all VPNs are the same. Our editorial team suggests none other than ExpressVPN, which is proven to use advanced protocols that keep your private information out of anyone's reach.
There's no need to put yourself in danger when using Kodi – especially since there's a proven way to hide everything that you do online. So, subscribe to ExpressVPN now and make the best decision about protecting your online identity.
The Official Requirements
Not every Roku device supports screen mirroring. This is why you need to make sure you have a supported model. You can use any of the following ones:
Roku 4 (Model 4400);
Roku 3 (Model 4200);
Roku 2 (Model 4210);
Roku Streaming Stick (Model 3500 and 3600);
Make sure your Roku device is updated to the latest version. You need to be running Roku's software version 5.6 or above.
All there's left is to teach you how to use screen-mirroring on your device to 'send' Kodi 18 to your Roku player. So, here are 3 available methods you can try in 2019.
Before you can use screen-mirroring on your device to run Kodi on Roku, you first need to enable it on your media streaming player. Please note that you must go through this procedure before following any of your guides found below.
What is Screen Mirroring?
In case you're not familiar with screen mirroring, let's take a moment to explain this term.
Screen mirroring involves using your computer or a handheld device to share content with some other device. In other words, your device and some other device will achieve a wireless connection. What you see on your device's screen will be transferred to the other device's screen in real-time.
In this article, we're talking about Kodi. This means that you first need to install Kodi on your primary device (your computer or handheld device). Then, you can mirror your screen and enjoy using Kodi on your Roku.
How to Enable Screen Mirroring on Roku
On your Roku device, navigate to the left-placed menu and go to Settings > System > Screen Mirroring. This is where you can enable this option.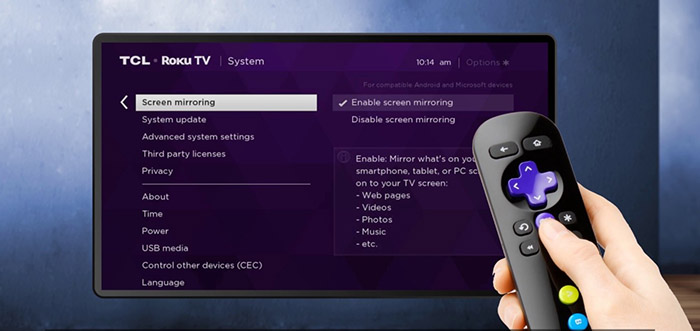 Next, you also need to be sure that your Roku device is using the same Wi-Fi network as your computer or smartphone (that has Kodi installed). On Roku, go to Settings > Network > Wireless (Wi-Fi) and check if you meet this requirement.
Method 1: Screen-Mirror Kodi from Android Devices
In case you own an Android device, you're in luck. Even couple-of-years-old smartphones and tablets are able to screen-mirror Kodi to Roku. However, this technology doesn't have one name across all manufacturers. Here are some of the possible ways screen mirroring is named on your device:
Smart View;
Wireless Display;
SmartShare;
HTC Connect;
Screen Casting;
Display Mirroring.
Since there are many different alternatives, we recommend doing a Google search for your device. However, we will provide a general guide on how to cast Kodi to Roku using your Android device.
In most cases, you need to enable screen mirroring from the settings menu;
So, open the Settings app on your smartphone first. Then, check out these options: Cast, Connection, Network, or Display;
Once you find the screen mirroring option, enable it and it should start looking for supported devices;
After a few seconds, Roku TV or Roku Player will appear on the list. Select the device;
Once you make this connection, Roku will ask whether you'd like to approve it. You can click on the 'Always accept' button.
That's it!
Method 2: Screen-Mirror Kodi from Windows 10 Devices
Here's how to enable screen mirroring on Windows 10 devices and run Kodi on your Roku:
Launch the Start Menu of your Windows 10 computer or tablet;
Now pick 'Settings' and then click on 'Devices';
From the left-positioned sidebar, click on 'Connected Devices';
Now click on 'Add a device' in the main screen view;
You will find your Roku device among one of the available sources.
In case the above-explained method didn't work, here an alternative that works on recently updated Windows 10 devices:
Open the Start Menu and click on Settings;
Now go to 'Devices';
You will be greeted with a 'Bluetooth & Other Devices' screen. Click on the 'Add Bluetooth or other device' button;
Your Windows device will now scan available devices. Hopefully, your Roku is going to be one of them;
Click on your Roku to start screen mirroring.
Finally, there's a third way to mirror your screen on Windows 10 devices, once again by going to your computer's settings.
Launch the Start Menu and go to 'Settings';
Now click on 'Display';
Scroll down until you see a message that says 'Connect to a wireless display'. Windows' Action Center will open on the right side of the screen. From these, pick your Roku device.
Method 3: Screen-Mirror Kodi from MacOS/iOS
Unfortunately, we have to say that screen mirroring isn't supported on Roku from MacOS and iOS. That's because Apple has its own screen mirroring technology called AirPlay, which has just begun to appear on products made by third-party manufacturers.
We'd like to highlight the fact that you can find many MacOS and iOS apps that promise to mirror your screen to Roku. However, you should know that, at the moment, none of these apps work. Instead, these applications are relying on Apple TV that then connects to your Roku, which is a workaround the might work at times – but often fails. The proof of this is low ratings of such screen mirroring apps.
Read More
While we have your attention, we'd like to recommend some highly helpful articles about getting the most out of your Kodi. So, take a look:
In conclusion, we'd love to hear what you have to say. Also, we'd love to help with any issues. If you're unsure about anything related to Kodi and Roku, feel free to let us know.
We hope that you found this article helpful. If that's the case, why not share it online? Also, don't forget to follow TechNadu on Twitter and Facebook. Thanks!