Have you ever thought about actually canceling your cable or satellite TV subscription? Maybe you'd like to start watching over live streams from over 30 channels on Sling TV instead. Yet, you want to watch Sling TV outside the US. You know you can't; the over-the-top Internet television service won't let you. But what if there is a way? Don't worry; TechNadu has you covered. Today, we'll teach you how to watch Sling TV outside the US.
VPNs are important tools that can hide your location from any website that tries to track you down, while also protecting your data with the help of encryption.
5 Best VPNs That Can Unblock Sling TV Anywhere!
It's quite easy to use a VPN to watch all the Sling TV you want, but you need to know what to pick, so we put together a list to make it easier for you.
1. ExpressVPN
It seems that with each passing day, you find out about an embarrassing data breach or hack. Thankfully, the world's most-used VPN, ExpressVPN is ready to help. Employing only military-grade encryption to keep you safe, no one will ever know what you do online. In addition, ExpressVPN is also very fast. When watching Sling TV outside the US, you'll rarely (if at all) experience any connection drops. Plus, you'll find support on Windows, Mac, Linux, iOS, Android, Apple TV, Kindle Fire, and more.
Military-grade encryption and speedy, stable internet connections come at a cost, though. You'll have to pay a slightly higher monthly subscription to use ExpressVPN. Designed with newcomers in mind, power users may become frustrated with ExpressVPN's emphasis on simplicity. Don't expect any kind of advanced configuration options in this application.
Want to find out more about our top VPN pick? Then, read through our in-depth review of ExpressVPN.
2. NordVPN
Sporting an elegantly designed user-interface, NordVPN strikes the perfect balance of simplicity and complexity all in one application. You'll find over 4,800 servers around the world, including dedicated P2P servers for P2P users. In addition, the servers are speedy, meaning that you'll watch Sling TV outside the US with hardly any interruptions.
NordVPN comes with several advanced features, including a double VPN which will hide you behind a couple of servers instead of just one. CyberSec will also come in handy when you're trying to visit shady sites.
Would you like to know more about our second pick, including additional pros and cons, and performance-related information? Then, read through TechNadu's complete NordVPN review.
3. SaferVPN
Want a VPN application that will easily let you watch Sling TV outside the US? Then, say hello to SaferVPN. Specialized streaming servers in the US and UK will constantly cycle your IP addresses to avoid geoblocks. Yet, this feature can truly be hit-or-miss, as often times, SaferVPN sharply reduces streaming quality.
Designed with simplicity in mind, just about anyone can use SaferVPN with relative ease. BitTorrent users, however, will have to look elsewhere, as this application has blocked P2P traffic. Is SaferVPN right for you? Read our full SaferVPN review to find out.
4. TorGuard
If you're willing to pay a little extra per month, TorGuard will help you easily watch Sling TV outside the US through dedicated US IP addresses.
In addition, you'll find that this VPN application comes with powerful features designed for power users. This includes high-speed virtual connections, support for most routers, and AES128 encryption. Yet, newcomers will have to look elsewhere, as TorGuard can feel very overwhelming and complex.
Would you like to know more about this VPN? Then, read TechNadu's complete TorGuard review.
5. StrongVPN
StrongVPN has one thing in mind: to keep you safe online. You'll find that this VPN application has 650+ servers in 20+ countries and a zero logging policy.
StrongVPN has proven to be great for streaming, offering great quality. Also, using it is quite easy and you don't need a degree in quantum physics to get it to work, as the setup process is automatic. You can connect up to five devices to your account, so all your household devices will be covered.
For more information about this VPN application, check out TechNadu's in-depth StrongVPN review.
FAQ
To make sure you understand the power of VPNs as well as all the ways you can watch Sling TV, we will answer some commonly asked questions. So, take a look.
What Should You Know About VPNs?
So, how can you get started? Simple. Just use a VPN application. A great VPN will spoof your location and make Sling TV believe that you're in the US. Complex licensing issues will suddenly go away, and you'll soon find yourself enjoying high-quality programming on your favorite networks.
VPNs, or Virtual Private Networks, connect you to the internet via a dedicated server run by a VPN provider. Great VPN applications will securely connect you to the internet, keeping your data hidden from prying eyes. You can also access content otherwise blocked off by internet service providers and streaming servers.
Are There Working Free VPNs for Sling TV?
We are aware that some of you will ask why someone would pay for a VPN when the Internet is full of free alternatives. Well, the truth is that we can't recommend free VPNs with an open heart because they're never really free – they offer a limited bandwidth for free and then when that's been consumed, ask for payment. Then, they're often keeping traffic logs on their users, which means there's no privacy. Plus, free VPNs are often the first to get detected by platforms like Sling TV or Netflix. So, we're going to stick to tools we've tried and tested time and time again.
Is Watching Sling TV Using a VPN Worth It?
Sling TV is an American over-the-top (OTT) Internet television service that's owned by Dish Network, and which has been around for a few years. The platform allows users to pick a major cable channel and view any of the content that's been streamed. Sling TV already has over 2 million subscribers and the number keeps growing.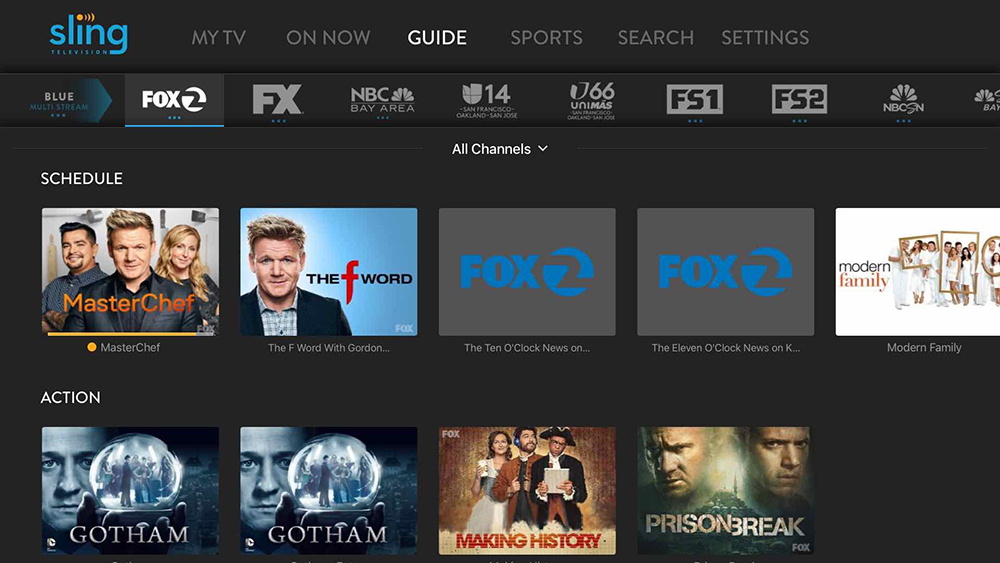 Sling TV allows users to view content from a number of networks, including ESPN, Disney Channel, AMC, CNN, BBC America, Food Network, Fuse, Bloomberg TV, Cartoon Network, History, or Comedy Central.
Where is Sling TV Available?
Much like many other similar tools, Sling TV is only available within the United States. Due to licensing issues, the content is not available abroad, whether we're talking about ESPN or the Disney Channel.
Those looking to watch Sling TV outside the US will immediately encounter a problem. Licensing issues mean that you can't watch your favorite Disney Channel programs abroad. Despite paying for the service, you won't watch the latest sports matches, either. Thankfully, TechNadu's here to help. We'll help you quickly get Sling TV up and running on your computer, smartphone, and tablet.
What Devices Are Compatible With Sling TV?
Among similar platforms, Sling TV seems to take the lead in the number of devices that are supported.
You can watch your favorite content on Roku, Amazon Fire TV, Android TV Chromecast, LeEco, AirTV Player, Xiaomi, LG and Samsung Smart TVs, or Xbox One. You can also download apps for iOS and Android smartphones and tablets, as well as Amazon Fire tablets. To learn more about all the devices compatible with Sling TV, take a look at this dedicated support page.
Whether you're traveling or living in another country, with this list, you'll have the perfect guide to selecting the right VPN for you to watch Sling TV and other similar platforms.
Feel free to post your comments below. And of course, if this article has helped you, please share it across your favorite social networks. You can check us out on Facebook or Twitter.