Sling TV is known for its affordable pricing plans, which look enticing even to those outside the USA. With that said, know that Sling TV (just like any other streaming service) does have certain geo-restrictions. However, the good news is that a VPN can help you overcome those limitations. So, here's everything you need to know on how to watch Sling TV outside the USA. 
Where Is Sling TV Available? 
As of 2021, Sling TV is available across the United States and Puerto Rico. That means Sling TV isn't available globally. Also, there are no official plans to introduce this media streaming service to more countries, so we'll have to make do with what's available right now.
How to Watch Sling TV Outside the USA – (While Traveling / If You're Subscribed)
First and foremost, know that the following method works only if you have an active Sling TV subscription. In other words, those who are traveling abroad can rely on the next steps. Here's how to watch Sling TV outside the USA. 
1. First, make sure to get your ExpressVPN subscription.
2. You'll find yourself on ExpressVPN's site, where you need to select 'Get ExpressVPN.'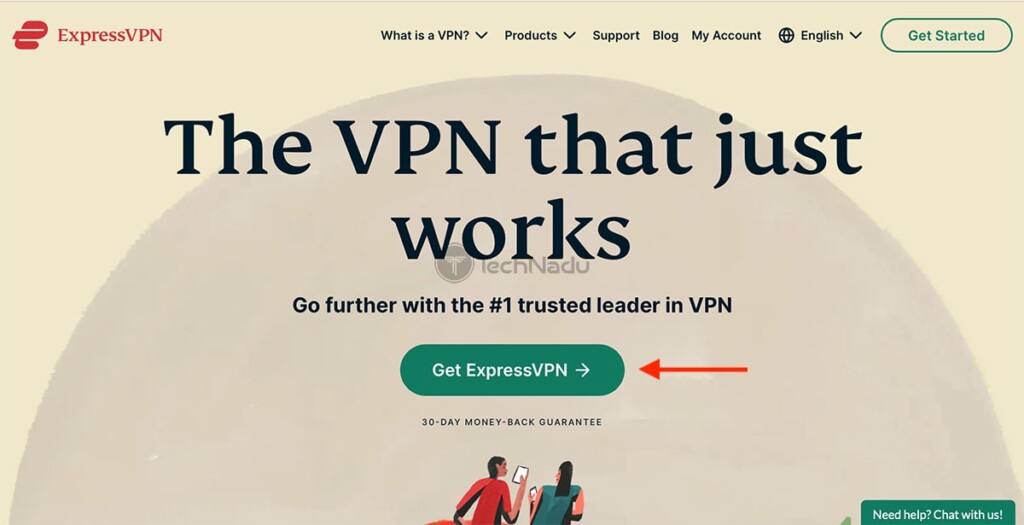 3. Now, pick a subscription plan (long-term ones come with hefty savings).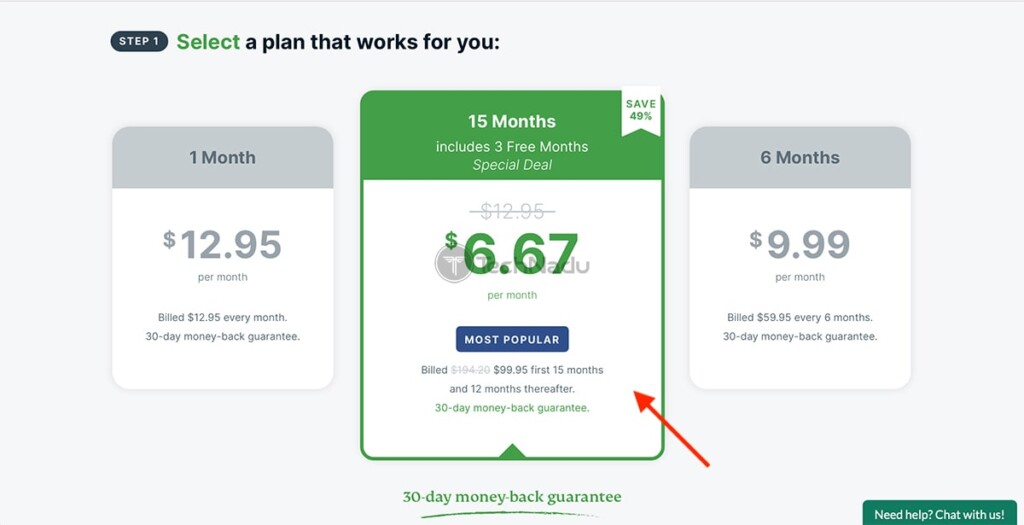 4. Input your email address and finalize the procedure.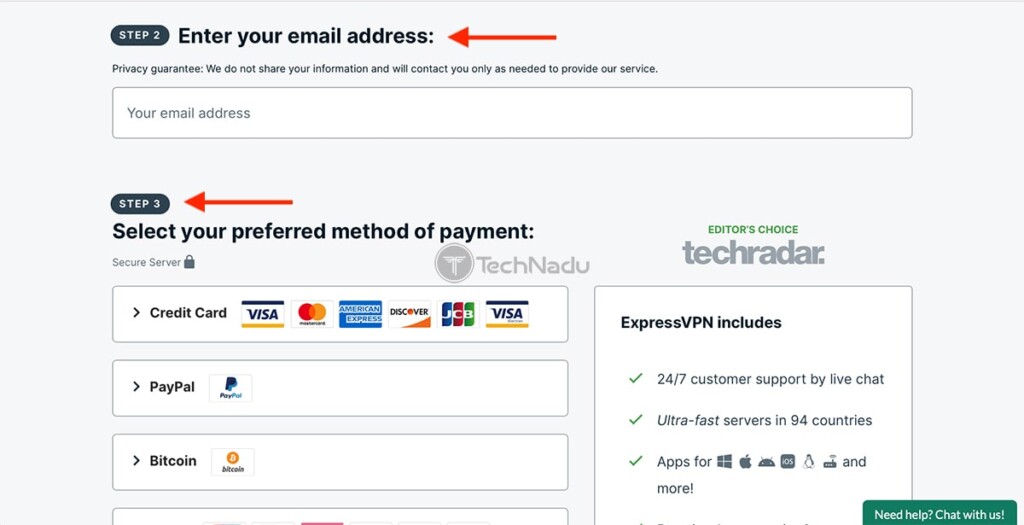 5. Once done, ExpressVPN will send you a confirmation email. Check your inbox. 
6. This is when you can proceed to download and install ExpressVPN on your device. 
7. Launch ExpressVPN. Go through its initial set up. You should see its home screen. 
8. Select the button below the ON/OFF switch (on ExpressVPN's home page). 
9. Then, pick 'United States,' and double-click on any of the US-based servers. 
10. Once you connect, ExpressVPN's interface will turn green. 
11. This is when you can proceed to launch Sling TV on your device.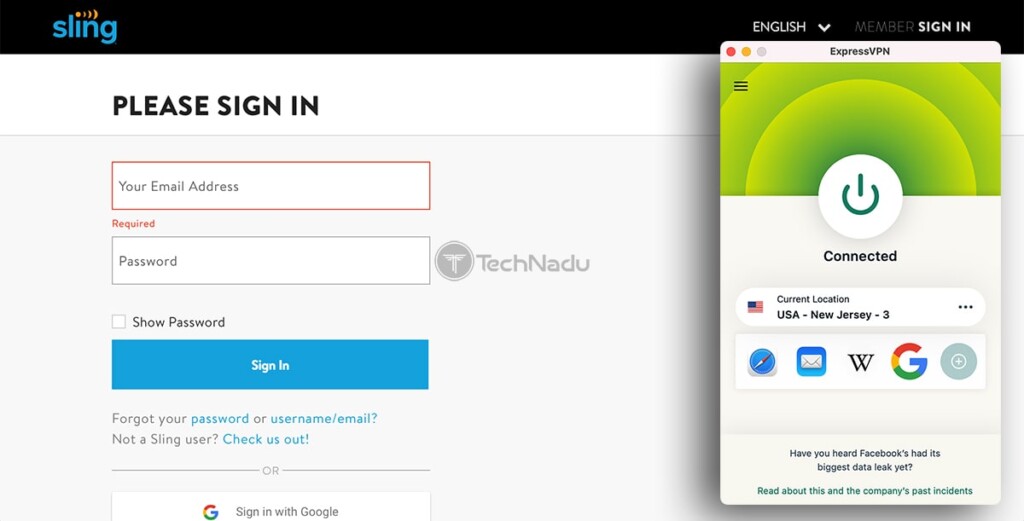 12. You can either use a Sling TV app or visit its website. Log in – and that's it!
At this moment, you should be looking at Sling TV – fully accessible, without any limitations. So, feel free to use it as if you were in the USA. However, keep in mind that ExpressVPN must be open in the background as long as you plan to use Sling TV. 
How to Watch Sling TV Outside the USA – (If You Don't Have a Subscription)
Since Sling TV offers gift cards, you can take advantage of those to subscribe outside the USA. These are easily redeemable, and they can be delivered via email. So, here's how to both subscribe and watch Sling TV outside the USA – from scratch!
1. For this entire procedure, you'll need a VPN. So, subscribe to ExpressVPN.
2. Once you get to ExpressVPN's site, click on 'Get ExpressVPN.'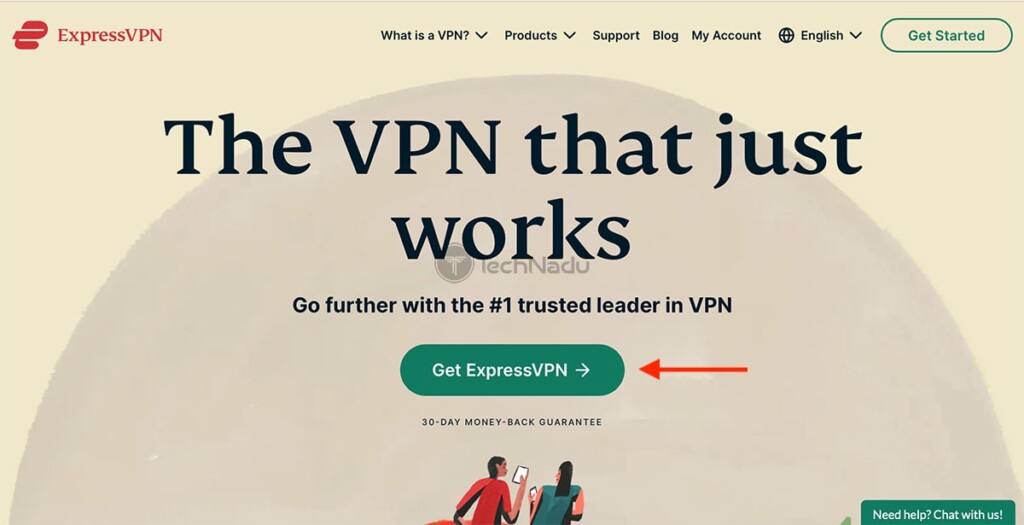 3. Pick a subscription, provide your email, and finalize the sign-up procedure.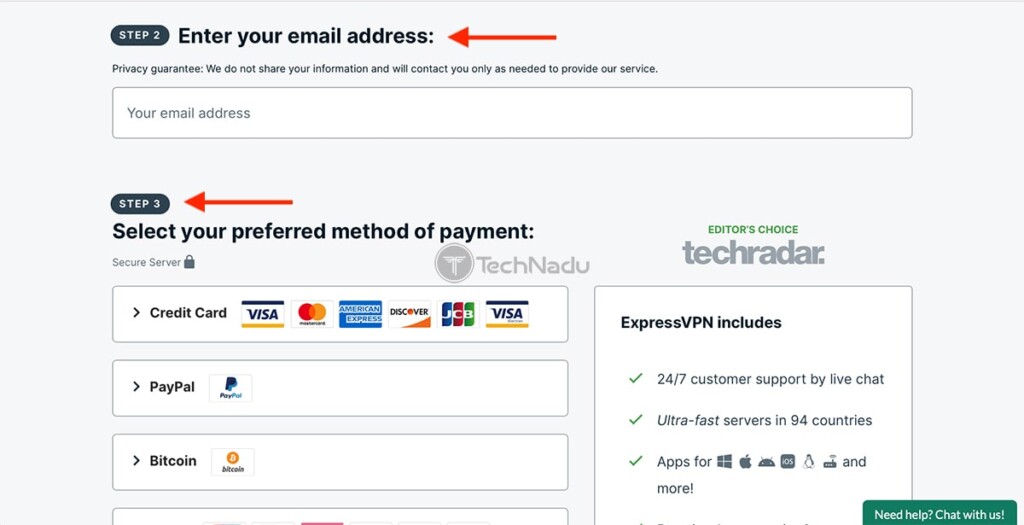 4. You will receive a confirmation email from ExpressVPN once done. 
5. Now, proceed to set up ExpressVPN on your device.
Keep in mind that you need this VPN installed on the device you'll use to subscribe to Sling TV. And also, you'll need to have ExpressVPN installed on any device you'll use to access and watch Sling TV. The link provided above covers all of the devices supported by this VPN, so make sure to use it. 
6. Next, you need to buy a Sling TV gift card (which you'll redeem soon enough). 
7. Proceed to either Amazon or PayPal, and get your Sling TV gift card. 
8. Keep in mind to buy a gift card of enough value to cover at least one month of use. 
9. Once you get your Sling TV gift card code, start by visiting Sling TV's website.
Sling is the live TV you love for less. Customize your channel lineup and watch TV online with no setup, hidden fees or long-term contracts.
10. Scroll all the way to the bottom and select 'Redeem Gift Card.'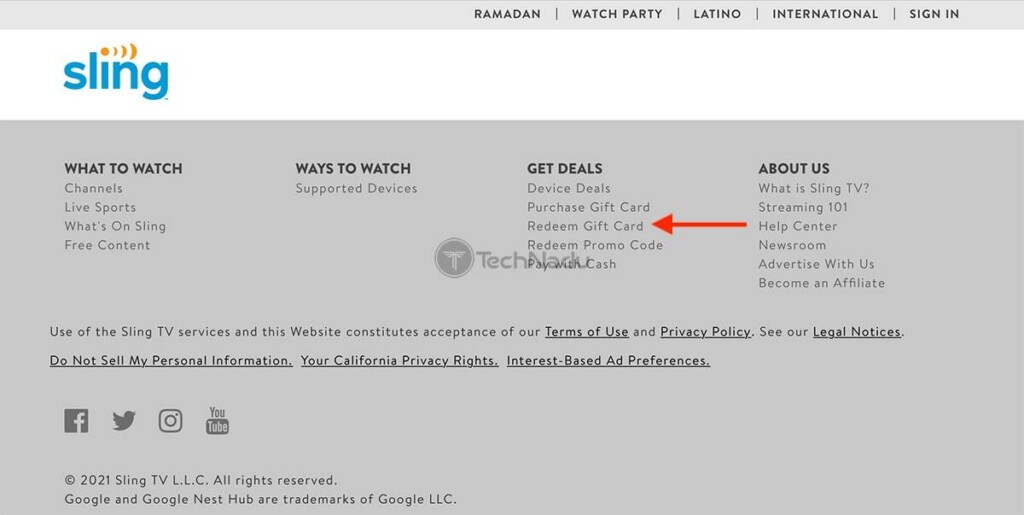 11. Since we want to create a new account, click on 'New User? Redeem Here.'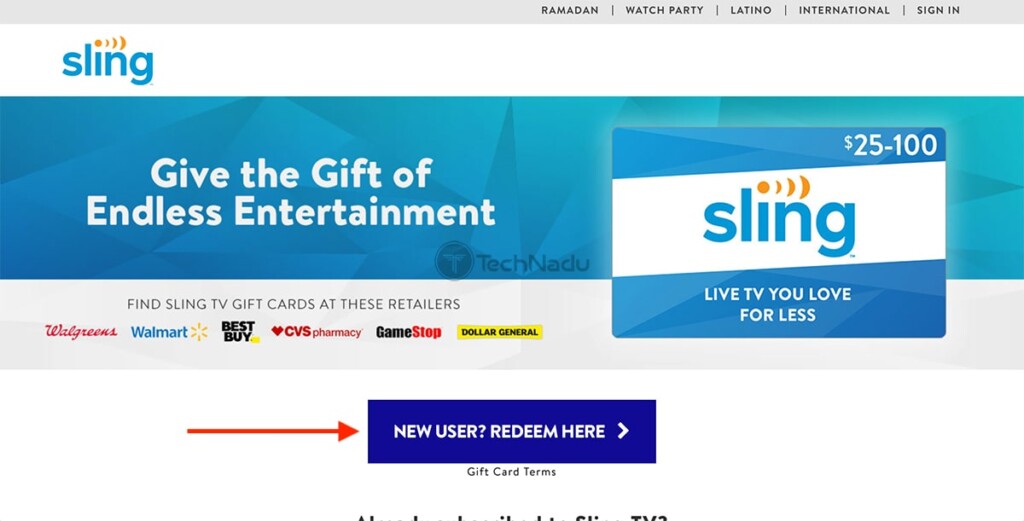 12. First, create your account and input any address based in the USA.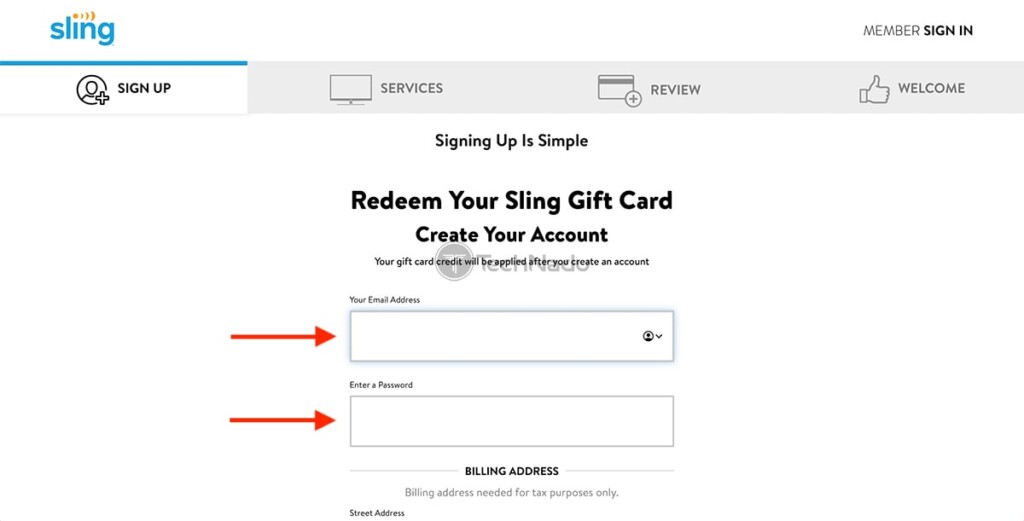 If you're having trouble adding a US address, we recommend using one of the numerous online tools to generate addresses, like this one. Sling TV requires an address for tax purposes, and this is a mandatory step when subscribing to the service.
13. Then, pick your Sling TV subscription plan and add any extras if you want. 
14. Lastly, provide your name and input your Sling TV gift card code. 
Sling TV will also ask you to add your credit card, to get seven days of use for free. However, those are not mandatory fields. As you'll always use gift cards, feel free to skip any payment-related information. 
15. Once done, click on 'Finish & Submit.' That's it!
From this moment on, you'll get access to Sling TV via any device – using your email address and password. So, feel free to download Sling TV on your iPhone/iPad or your Android. Of course, this media streaming service is compatible with plenty more devices, so use the provided link to learn how to access it. 
Remember that you'll need to add funds to your Sling TV before your subscription expires. To do that, first, get a gift card from Amazon or PayPal. Then, log in to your Sling TV account, and from the 'My Account' page, click on 'Add Gift Card.' Lastly, click on 'Update' to redeem it. 
What's the Best VPN for Sling TV in 2021? 
In case you didn't know, not every VPN is the same. You need a capable one that can unblock Sling TV from anywhere in the world, any time you want. After plenty of research and testing, we believe these to be the best VPNs for Sling TV in 2021. 
FAQ
What Devices Are Compatible With Sling TV?
Once you get your subscription, you can access Sling TV on smartphones, tablets, computers, smart TVs, media streaming players, and gaming consoles. That includes iOS, iPadOS, Apple TV, Android, Android TV, Fire TV, Chromecast, TiVo Stream 4K, Xbox Series X/S, and more. For a more complete list, turn to Sling TV's website.
How Many Simultaneous Streams Does Sling TV Offer?
That depends on your chosen Sling TV plan. If you go for 'SLING Orange,' you will get to watch on one screen at a time. And if you go for 'SLING Blue,' you'll get to watch up to three screens at a time. You can install Sling TV on as many devices as you want, but there's a limit to the number of simultaneous streams. 
How to Pay for Sling TV Outside the USA?
How to Cancel Sling TV Outside the USA?
To cancel Sling TV from outside the US, you need a VPN service. Once you activate your VPN, log in to Sling TV (via its website). Then, on the 'My Account' page, select the blue-colored 'Cancel Subscription' link. Confirm your decision by toggling switches next to your active plans, and once again, confirm your decision. 
How to Buy Sling TV Gift Cards Outside the USA?
Are VPNs Fast Enough for Sling TV?
You shouldn't encounter huge slowdowns when watching Sling TV with a VPN. Not even if you have slow Web connection speeds. That's because you only need 3Mbps to stream content on portable devices and 5Mbps to watch videos on your PC, TV, or Mac.
If you experience any speed drops, don't worry. You can use our guide to fine-tune your VPN speeds to enjoy smoother streaming.
Will Sling TV Ban You for Using a VPN?
That shouldn't really happen. At most, Sling TV will block the VPN's IP address, so you won't be able to use that server to unblock the site. Still, we did manage to find two Reddit posts (link 1 and link 2) where users said they had their accounts canceled because they used VPNs to unblock the site.
But those posts were made five years ago. We weren't able to find any recent posts complaining about this issue. The site's ToS also don't seem to say that's against the rules.
My VPN Doesn't Work With Sling TV – What Can I Do?
Sling TV probably uses similar VPN detection methods to Netflix. So, you could use the tips found in our Netflix proxy error guide to fix the problem. And if you're in a rush, here's what you should try:
Restart your VPN connection, app, your browser, or your device.
Connect to a different VPN server. 
Clear your browser's cookies and use incognito mode.
Make sure your VPN app is up-to-date.
Get a dedicated IP, if possible.
Can I Use a Free VPN to Watch Sling TV Outside the US?
No, there's no free-of-charge VPN that lets you access services like Sling TV. Free VPNs come with limited bandwidth and other strict limitations, making them unusable for anything more than basic Web browsing. And on top of that, free VPNs aren't safe to use (as many have proven to collect your personal data). Go for a reputable VPN instead, such as ExpressVPN.
Do you have any questions about watching Sling TV outside the USA? If you do - make sure to post your comment just below. And lastly, thank you for reading!