Apple TV is such a great platform, and it's real shame that you can't download Kodi from the tvOS App Store. However, this doesn't mean that you can't use this app – you just need a trustful guide that will teach you how to install Kodi on Apple TV, without jailbreaking the device.
To make this process as smooth as possible, we'll first list the official requirements. And we'll also make a note of which software tools you'll need for this process. Later on, we are going to discuss three methods of installing Kodi on Apple TV, which means you have plenty of options in front of you.
Warning: Why you must NOT USE Kodi without VPN?
Here are the reasons that you should consider looking at it without SKIPPING.
Using ILLEGAL Kodi Addons are Dangerous without a VPN: Most of the Kodi users are installing the ILLEGAL Kodi addons on their system to access all the latest movies, TV shows, sports, music, and much more for FREE, than a legal Kodi addon where it has the least content in it. But do you know what? The video content on illegal addons are a scraped and copyrighted material. If you are accessing them on Kodi, then your activities will be monitored by your ISP by tracking your IP and gives all the information to the government or companies if they request for it. This will land you in trouble. To stay away from this, you will have to connect to a VPN where it hides your identity by rotating your IP address while streaming Kodi content. This is how you will be safe from the prying eyes.
Bypass Geo-Restriction: As you probably know, some official addons like BBC iPlayer, NBC Sports, Hulu, IceFilms have geo-location restrictions. This also applies to other addons like Acestream which fetches the data from torrents. To unblock these restrictions, you will have to DEFINITELY use a VPN no matter what.
The above are the 2 reasons that forcing us to recommend a VPN to the Kodi users for safer streaming. In fact, after testing several VPNs for Kodi, we finally came up with a one non-stop solution and that is ExpressVPN, the top rated Kodi VPN so far.
Limited Time Offer: For our TechNadu readers, there is a 49% OFF on ExpressVPN which includes 3 FREE Months in it.
The Official Requirements
Apple TV (4th or 5th generation – Apple TV 4K);
tvOS version 11 or 12;
The latest version of Kodi for iOS – DEB File (ARM64);
Cydia Impactor – for the method that includes this tool;
Xcode and iOS App Signer – for the method that includes Xcode.
We've prepared 2 installation methods for Apple TVs that come with a USB port (for connecting to your computer). And there's one installation method that applies to the Apple TV 4K (that doesn't have a USB port).
Method 1: Using Cydia Impactor
Here's how to install Kodi on Apple TV via Cydia Impactor. Please note that we'll first need to convert Kodi's DEB file into IPA file, so let's get started.
You need to make sure that you have an application that unzips files. For Mac, one of the options is Unarchiver; For Windows, this can be 7-Zip; Use one of these applications to unzip Kodi's DEB file;
Among unzipped files, find the file that is named 'data.tar'. Once again, unzip this file.
Now, you should have a folder named 'data'. Open it and navigate to the Applications folder. Inside you'll find another folder named 'Kodi.app';
Don't enter this folder! Instead, create a new folder next to the existing 'Kodi.app' folder. Name it 'Payload';
Drag-and-drop the 'Kodi.app' folder into the Payload folder;
Now we need to create a new ZIP file. On Windows, right-click on the Payload folder and choose '7-Zip > Add to Archive. If you're using a Mac, here's a handy guide on how to unzip and zip folders.
Those who use 7-Zip will see a new dialog box. Here, it's important that you choose ZIP as the archive format, as well as that you name your file 'Kodi.ipa'. Mac users will automatically end up with a ZIP file. They only need to rename the file to 'Kodi.ipa' as the last step.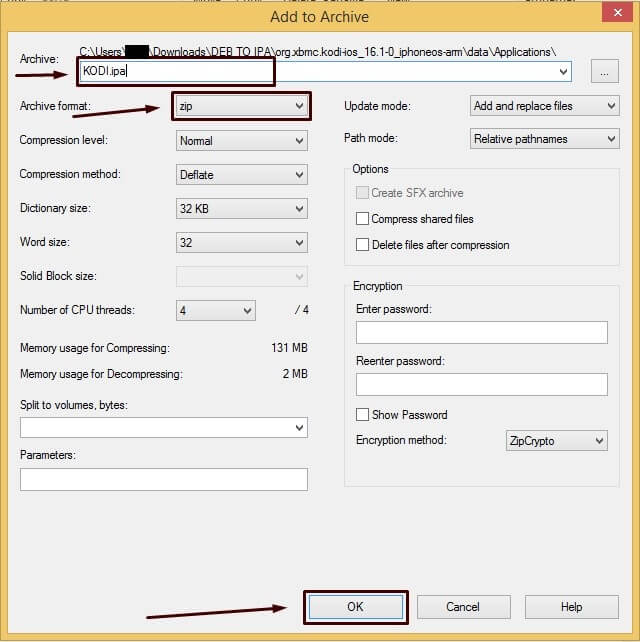 By now, we've talked about creating an IPA file. We'll use it to install Kodi on Apple TV via Cydia Impactor, so keep on reading.
Connect your Apple TV to your computer and make sure it's powered on. In case iTunes automatically opens, make sure to close it;
Open Cydia Impactor. You'll need to unzip it in case you haven't done that already;
As you'll see, Cydia Impactor is a rather simple application. You need to drag-and-drop the Kodi.ipa file. You'll also be asked to enter your Apple ID. Fill out the required fields and proceed.
After a few minutes, Cydia Impactor will push the Kodi application to your Apple TV. Disconnect the device from your computer;
Finally, connect your Apple TV to your TV and power it on. You should see Kodi installed.
Method 2: Using Xcode
Here's how to install Kodi on Apple TV by using Xcode, which is available only for Mac computers.
Connect your Apple TV to your Mac;
Launch Xcode. In the left-placed sidebar click on tvOS > Application. Choose 'Single View Application' on the right, and proceed;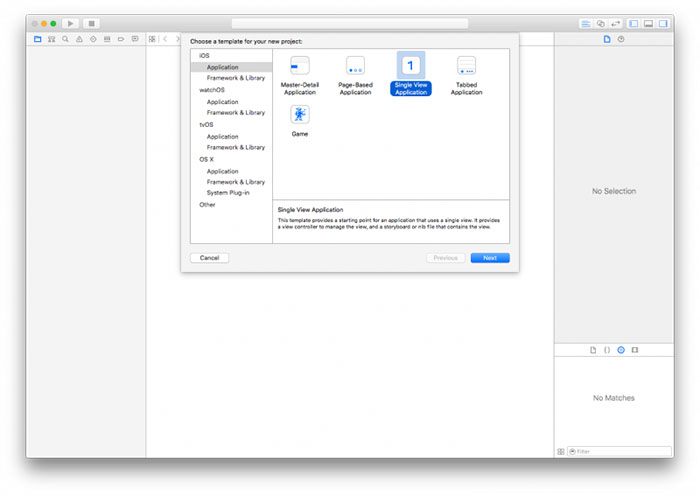 Provide a name for the app. You can go with 'Kodi'. Create a unique identifier as well that uses the project's name;
Once Xcode loads, you might see a warning about not having a provisioning file. Click on the button that says 'Fix Issue';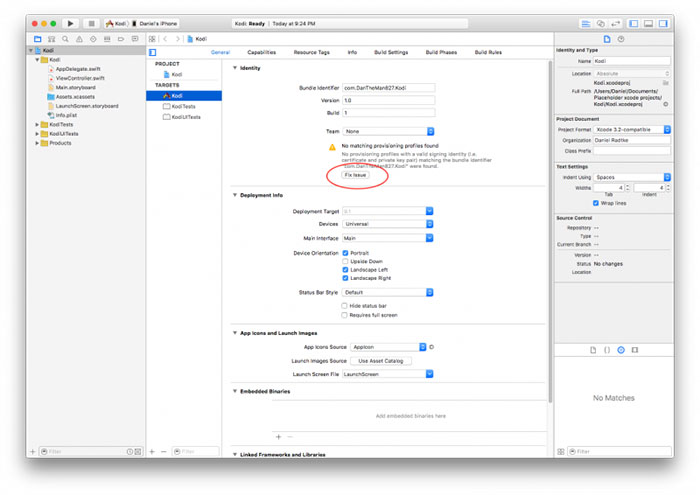 You will see that you need to enter your Apple ID to fix this issue. You can go with your standard Apple ID. It's even better if you have a Developer ID. Both of these types of accounts should work just fine; Process and then select your development team. Xcode should now fix any errors and you will be returned to the main view.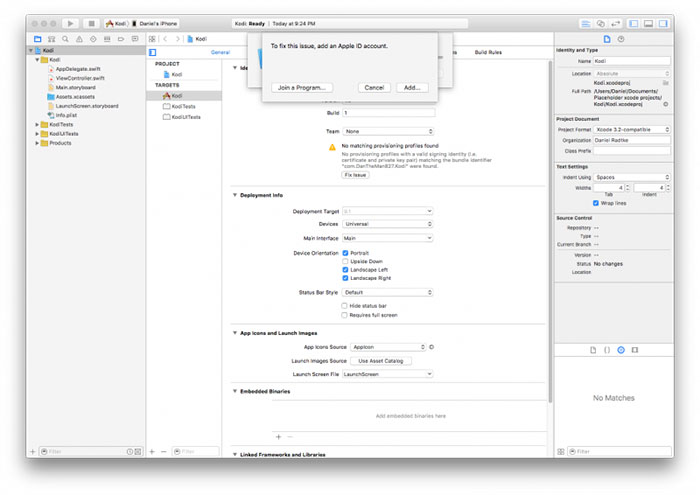 Now you need to open the iOS App Signer. This is a simple application that comes with several fields that you need to fill out. In the first one, named Input File, navigate to your Kodi DEB file. You don't have to worry about fields like Signing Certificate of Provisioning Profile – use default values. At the bottom, you can find the App Display Name field. Type in 'Kodi' and click on 'Start';
After some time, the iOS App Signer will unpack the data and save a new file. You'll be notified once that process is completed.
Go back to Xcode. From the top-placed menu bar, go to Window > Devices.
Find your Apple TV in the sidebar (which should be connected to your Mac and powered on). On the right-hand side, click on the '+' button. Now find the newly created Kodi file.
Xcode will do the rest. Once the process is completed, you can safely disconnect your Apple TV. Connect it to your TV, power it one, and you should see the application installed.
Method 3: Connect Wireless
To install Kodi on Apple TV 4K, you need to use our previously explained method (Xcode). However, instead of using a cable to connect your Apple TV to your Mac, you need to make a wireless connection. So, here's what you need to know.
On your Apple TV 4K, go to Settings > Remotes and Devices > Remote App and Devices. Keep your device at this screen;
On your Mac, open Xcode and go to Windows > Devices and Simulators using the menu bar;
A new window will open. In case your Mac and your Apple TV 4K are close, you will see a button to pair your Mac with your media streaming device. The button will say 'Pair With (Your Name) Apple TV.' Click on the button;
A verification code will appear on Apple TV display, so you need to type that into Xcode to complete the process.
That's it! Your Xocde and your Apple TV 4K are now paired. You can keep on reading our guide found above on how to deploy Kodi.
Important Note
All of the above-mentioned installation methods require authentication. This means that you'll need to provide your Apple ID before you send the Kodi app to your device. You can use your own, personal Apple ID or you can use a Developer ID. The main difference between these is that Developer IDs are premium-priced.
If you use a regular Apple ID, there is a chance Kodi might stop working after a while. For some users, this happens after seven days. For others, it may take up to one month. When that happens, you need to re-install the application using the same method you used when installing Kodi previously. If you wish to save your settings, don't delete Kodi on your Apple TV. Instead, simply re-install it.
Developer IDs are paid annually. This means that Kodi will work for a whole year before needed to be reinstalled.
Read More
While you're here, we want to take this opportunity to present a few additional articles that we are sure you'll find useful. So, take a quick look.
We hope that you managed to install Kodi on Apple TV by using our guides. Even though they are not as simple as we hoped them to be, this is the only way to successfully install Kodi on Apple TV.
You can always leave a comment if you have additional questions, and feel free to share this article online. Also, don't forget to follow TechNadu on Facebook and Twitter as well!