Without any doubt, Yoda is one of the most popular Kodi addons out there. However, that doesn't necessarily have to mean that using it is a smart idea. That's precisely the reason why our team wanted to produce this guide. So, let's talk about the Yoda Kodi addon.
As you surely know, one of the biggest "problems" with Kodi is this application's reputation. Thanks to unofficial addons that aren't afraid to dive into piracy, Kodi is under attack by both ISPs and anti-piracy agencies. Well, Yoda is one of the reasons for that situation.
Everything said below applies not only to Yoda but also to plenty of other Kodi addons. This includes some of the most popular picks like Exodus, Exodus Redux, The Magic Dragon, and countless others. 
Let's wait no longer. Here's everything you'll want to know about the Yoda Kodi addon.
Is the Yoda Addon LEGAL to Use?
No, Yoda is not legal to use. 
Any questions related to Yoda's legality can be answered by taking a look at its content sources. As Yoda uses illegal websites, this means that it doesn't have the necessary rights to distribute the content it offers. In other words, this is a classic case of digital piracy.
Essential Reading: Official vs. Unofficial Kodi Addons – Which Ones to Use?
Keep in mind that when talking about digital piracy, we're talking about copyright infringement. In many countries across the world, copyright infringement is punishable by law.
Therefore, in terms of its legality, Yoda isn't something you should consider using. However, there are other dangers related to unofficial addons, as explained below.
Is the Yoda Addon SAFE to Use?
Sadly, no. The Yoda addon for Kodi isn't safe to use.
In general, unofficial Kodi addons aren't safe, as many of those were proven to be malicious in the past. Every now and then, Kodi is affected by a new type of malware. For example, there used to be a big problem with cryptocurrency malware that's still plaguing many Kodi addons.
Essential Reading: Why Are Unofficial Kodi Addons Unsafe to Use?
This is one of the reasons why Kodi's developers warn against using third-party repositories, many of which come with forks and clones of Kodi addons with injected malware. Unless you take specific precautionary measures, your personal data could be easily exposed. 
Speaking of precautionary measures, one of the best things you can do is subscribe to a VPN. This will help you secure not only your personal data but also unblock geo-restricted content.
VPNs are designed to reroute your traffic through their servers, encrypt your Web data, and keep everything secure within a safe and leak-free tunnel. This means that you'll eliminate the risks associated with using addons like Yoda.
However, make sure to think twice before choosing a VPN, as you need one that's suitable for streaming (which is what Kodi is all about). Our recommendation would be ExpressVPN.
What Content Can You Stream via Yoda?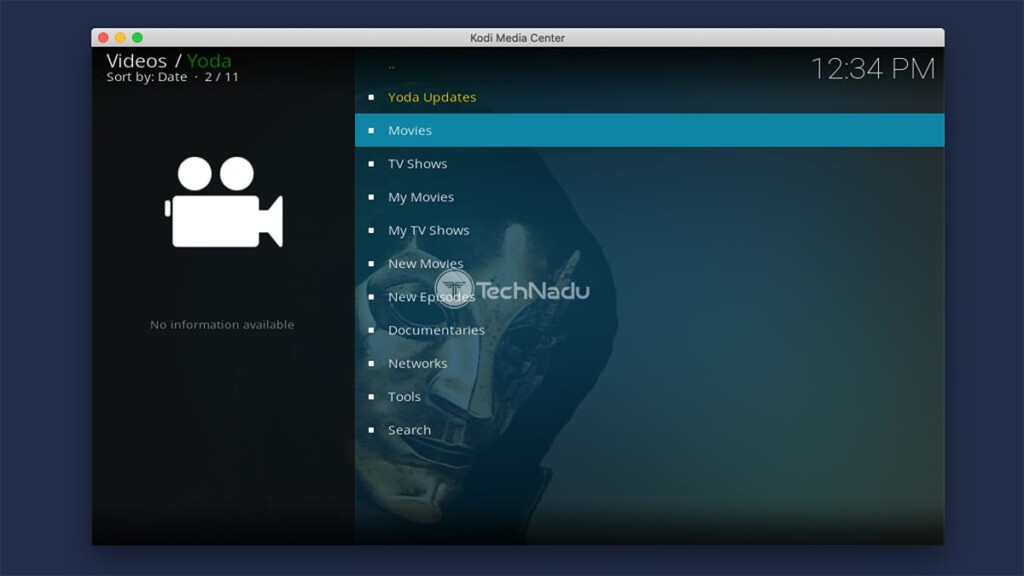 Just like the majority of hugely popular Kodi addons, Yoda brings movies and TV shows. This also includes documentaries, anime, cartoons, and plenty more.
One of the biggest reasons for Yoda's popularity is the addon's rapid development. Even though it shares the same core code with Exodus, Yoda wasn't afraid to add its spin to how the addon works. This is how you can take a deep dive into content providers and sub-categories that help you find exciting stuff to watch.
Discover More Kodi Addons: Movies, Live TV, Live Sports, Cartoons, Adult (XXX), TV Shows, Gaming, Music, Anime, Documentaries, Korean, and Bollywood.
Do We Recommend Installing the Yoda Kodi Addon?
No, we really can't recommend installing or using Yoda.
Yoda is a classic case of piracy, after all. And in case you didn't know, copyright infringement is something you should be concerned about. Anti-piracy laws are on the rise worldwide, with many agencies working extra hard on reaching digital pirates.
As you're about to see in the following segment, there are ways to anonymize your traffic. Still, it's essential to be clear about the reason why you might want to do that. Keep on reading to learn more.
How to Protect Yourself If You Plan on Using Yoda?
The only way to protect yourself and anonymize your Web traffic is by using a VPN. This is especially important when using Kodi and its unofficial addons.
Make sure to pick a VPN wisely, as you need one suitable for media streaming via Kodi. In terms of the number of benefits it brings, ExpressVPN should be your go-to option.
We could spend plenty of time talking about the benefits of VPNs for Kodi users. However, it all comes down to securing your Internet data. And also, VPNs are extra-usable for streaming, as they can unblock new types of Kodi addons and new types of content.
Good to Know: 7 Reasons Why Kodi Users Must Use a VPN Service
In case you decide to use a VPN, we're here to point you in the right direction. First, we recommend reading about what VPNs are. You can then expand your knowledge on how VPNs work so that you can get a complete picture. 
Then, check our overview of the best VPNs for Kodi (based on our hands-on tests, by the way). And to finalize everything, learn how to set up and configure a VPN on Kodi.
Yoda Not Working? Check Out These Quick Fixes!
It's not unusual for 'unofficial' Kodi addons to encounter technical problems. With that said, here's what to do if Yoda stops working on your Kodi.
Yoda Shows the 'No Streams Available' Error Message
This error message means that Yoda can't find sources for the file you're trying to play. So, you need to make sure that it's using all of the available sources, as shown below.
Launch Yoda and then click on 'Tools.'
Select 'Settings: Providers.' A pop-up should appear.
Make sure that 'Providers' is checked on the left side of the screen. 
Now, go through the list and see to enable all of the available providers. 
Yoda Crashes on Startup / Freezes During Use
It's not unusual for Yoda to go offline, which happens with many unofficial addons. Once that happens, you need to update it. However, if there's no new update available, you should try searching for Yoda in a different repository.
Yoda Buffers Movies and TV Shows / Refuses to Play
If Yoda takes too long to start playing a video file, its sources don't work correctly. A possible solution to this is to use Real-Debrid. So, here's how to integrate Real-Debrid with Yoda:
First, make sure to subscribe to Real-Debrid.
Then, launch Yoda and click on 'Tools.'
Scroll to the bottom and select 'URL Resolver Settings.'
Select 'Universal Resolvers' on the left side of the screen. 
Scroll until you see 'Real-Debrid.' Authorize your account from there.
How to Update Yoda to the Latest Version
Here's how to check if there's a new version of Yoda – by checking the repository used to install the addon. Follow these steps: 
Right-click on Yoda's icon and click on 'Information.'
Now, use the 'Update' button to check for new updates.
If there are new updates, you'll see them on your screen.
Click on the latest update available, and Kodi will finish everything on its own.
We also recommend updating Yoda by installing it from another repository. However, this means you need to do a Google search, and also make sure to pay attention to which repository you use (due to malware).
How to Update Kodi to the Latest Version
With each new update, Kodi receives plenty of bug fixes. These have the power to resolve technical and performance issues, so we highly recommend installing those.
We have a dedicated guide on how to update Kodi. Click on the provided link to reveal the steps you need to take.
The Best Alternatives to the Yoda Addon
It doesn't come as a surprise to know that many alternatives to Yoda await. We've done our best to highlight some of the most interesting options, found below. 
BBC iPlayer: If you're after free movies and TV shows, you should turn to BBC iPlayer. This is an amazingly useful addon, bringing full seasons of TV shows, in addition to plenty of freshly released movies. However, it's available in the UK only (check our guide to the best VPNs for BBC iPlayer).
Crackle: Once again, we have an addon that offers movies and TV shows for free. Crackle might not have the latest movies, but its library shouldn't be underestimated. There are even some hugely popular originals. To access this addon, you need to learn how to watch Crackle outside the USA.
Netflix: And lastly, a premium option. We're sure that many of you have Netflix subscriptions (or at least, access to a Netflix account). This is how you can access a vast library of movies and shows via Kodi. However, if you use a Netflix VPN, you can access a large number of "hidden" titles as well.
This is where we conclude our guide to the Yoda Kodi addon. If you have any questions, make sure to post a comment below. And also, don't forget to share this article online. Thanks!