Luckily for us, watching NFL games online is no longer a problem. Aside from standalone OTT streaming services, you can also rely on Kodi addons. However, the question is – what are the best NFL Kodi addons? Well, let's find out!
Before we go any further, an important note is to keep in mind that we'll talk only about legal Kodi addons in this article. This will not only help you avoid Kodi malware but also the serious legal consequences of copyright infringement.
With that said, expect to see several premium OTT channels in this article. As it turns out, this is the best way to stream NFL games. However, we also made sure to recommend free-of-charge options, which bring plenty of value – especially when combined with a VPN service.
How to Install & Watch NFL on Kodi
The majority of the addons we'll recommend in this article come from Kodi's own repository. So, here's how to install and watch NFL on Kodi.
Open Kodi and select 'Add-ons' using the main menu.
Then, navigate to 'Download' > 'Video Add-ons.'
Select the add-on you'd like to install (such as DAZN, ESPN 3, or iPlayer WWW).
You should see the addon's overview right now. Select 'Install.'
Upon the successful installation, return to the 'Add-ons' section and open it. That's it!
If you need more detailed instructions, we already have a useful resource for you. Check our guide to installing addons from Kodi's repository, where you'll find step-by-step instructions along with screenshots.
Of course, some add-ons come from other sources (such as the 'Sling' addon, for example). When it comes to those, you'll want to know how to install Kodi addons from GitHub or any ZIP file. Make sure to take a look.
In this article, we are talking about Kodi and this application's official and unofficial addons – all of which are based on open-source code. Addons for Kodi can come from the official source (you can install them via Kodi itself), or they can be hosted by third-party sources (such as GitHub, for example). In addition, Kodi and its addons are publicly available and free of charge.

TechNadu doesn't claim any responsibility for how our readers decide to utilize the following software. Please note that we don't condone sharing pirated content and copyright infringement. TechNadu is not affiliated with the software mentioned in this article in no way.

Make sure to carefully read everything said in this disclaimer and ensure the proper use of the software.
Disclaimer
Warning: Why you should ALWAYS USE a VPN with Kodi?
Here are the reasons that you should consider looking at it without SKIPPING.
Using ILLEGAL Kodi Addons are Dangerous without a VPN: Most of the Kodi users are installing the ILLEGAL Kodi addons on their system to access all the latest movies, TV shows, sports, music, and much more for FREE, than a legal Kodi addon where it has the least content in it. But do you know what? The video content on illegal addons is scraped and copyrighted material. If you are accessing them on Kodi, then your activities will be monitored by your ISP by tracking your IP and gives all the information to the government or companies if they request for it. This will land you in trouble. To stay away from this, you will have to connect to a VPN where it hides your identity by rotating your IP address while streaming Kodi content. This is how you will be safe from the prying eyes.
Bypass Geo-Restriction: As you probably know, some official addons like BBC iPlayer, NBC Sports, Hulu, IceFilms have geo-location restrictions. This also applies to other addons like Acestream which fetches the data from torrents. To unblock these restrictions, you will have to DEFINITELY use a VPN no matter what.
The above are the 2 reasons that forcing us to recommend a VPN to the Kodi users for safer streaming. In fact, after testing several VPNs for Kodi, we finally came up with a one non-stop solution and that is ExpressVPN, the top-rated Kodi VPN so far.
Limited Time Offer: For our TechNadu readers, there is a 49% OFF on ExpressVPN which includes 3 FREE Months in it.
Best NFL Kodi Addons in 2021
After spending hours sifting through countless Kodi addons, we believe the following to be the 4 best NFL Kodi addons in 2021. Take a look.
Important
Unfortunately, none of the addons recommended in this article work on Kodi v19 'Matrix' (which is the case with many other addons as well). Therefore, to use the following addons, make sure to have Kodi v18.9 installed on your device.
1. Sling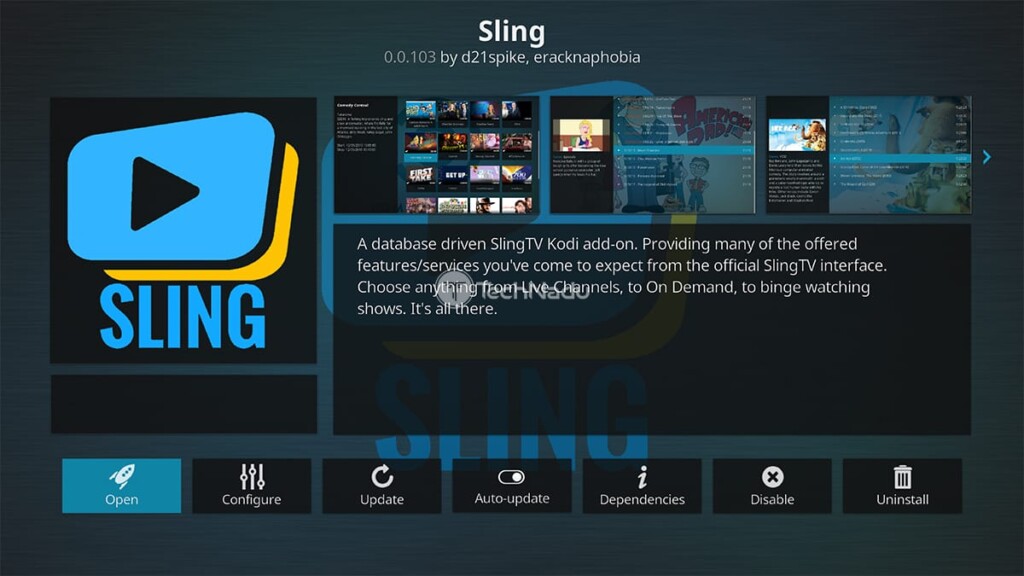 | | |
| --- | --- |
| Compatibility | Up to Kodi 18.9 (doesn't work on Kodi 19) |
| Applicable Geo-Restrictions | Available in the United States only. |
| Types of Content Available | A huge selection of live TV services. |
| Download ZIP File | Download from GitHub (plugin.video.sling) |
| Read More | How to install Sling on Kodi |
When it comes to watching the latest NFL season, you'll need to rely on CBS, FOX, ESPN, NFL Network, and NBC. Well, the good news is that the majority of those TV networks are available on Sling TV (which comes as a premium-priced OTT service).
Sling TV can meet the majority of your NFL-related needs. On top of that, it also comes with affordable subscriptions, allowing you to pick from extras and fine-tune your IPTV-watching experience. Here's our Sling TV review for more information.
With that said, if you decide to become a Sling TV subscriber – know that you use the 'Sling' addon for Kodi. It comes from GitHub, which means that it's an unofficial addon. However, it works without any issues, letting you use your credentials and watch Sling TV on any device.
2. DAZN
| | |
| --- | --- |
| Compatibility | Up to Kodi 18.9 (doesn't work on Kodi 19) |
| Applicable Geo-Restrictions | Available worldwide. |
| Types of Content Available | Live TV and on-demand content. |
| Read More | How to install DAZN on Kodi |
DAZN has recently expanded to a huge list of countries and markets, which means it's available worldwide – which is its biggest strength right now. This OTT platform has come up with an incredibly compelling offer for watching NFL games, and it also has affordable subscription plans.
During the 2021 NFL season, DAZN will bring every NFL game. That means you get regular-season games in addition to every single Playoff matchup. These games are available both on-demand and live.
With that said, if you decide to subscribe to DAZN, you'll get to watch every NFL game via Kodi as well. DAZN offers a highly polished Kodi addon from its official repository. It streams in HD, brings the latest content, and comes with frequent updates.
3. ESPN 3
| | |
| --- | --- |
| Compatibility | Up to Kodi 18.9 (doesn't work on Kodi 19) |
| Applicable Geo-Restrictions | Available in the United States only. |
| Types of Content Available | Both live ESPN channels and on-demand content. |
| Read More | How to install ESPN 3 on Kodi |
In case you already have a cable or OTT subscription with ESPN channels included, why not take advantage of that? Yes, that's true – there's a very special ESPN addon for Kodi, allowing you to live stream certain NFL games in HD.
Called ESPN 3, this addon lets you watch channels like ESPN, ESPN2, ESPN3, ESPNU, ESPNews, ESPN Deportes, SEC, Longhorn, SECPlus, and ACCExtra. Therefore, we're talking about plenty of content here.
The only trick here is that you need to authenticate your account. That means you need to have an existing cable or OTT subscription to activate this addon. Unless you do so, some free content is available as well – like ESPN3 and ACCExtra.
4. iPlayer WWW
When it comes to those residing in the United Kingdom, BBC's channels provide the best experience of watching the latest NFL games. Aside from broadcasting NFL games live, you can also watch the NFL Show, following 'Match of The Day' on Saturday nights.
With that said, know that the iPlayer WWW provides access to numerous BBC channels. You'll get to watch those live tv, as well as on-demand. In fact, iPlayer WWW has a huge library of content, with new titles being added daily.
The addon is one of the most popular ones in the Kodi community. It works without a hitch, receives occasional updates, and streams up to HD.
Tip
To use iPlayer WWW, you need to be in the United Kingdom. However, a capable VPN can easily let you access the addon from any country. We highly recommend ExpressVPN.
NFL Kodi Addons Not Working? Try These Fixes!
We hope you won't have any trouble installing the Kodi addons recommended in this article. However, if you encounter any errors while installing or using them, try the following.
In case you need additional solutions to Kodi errors, the provided link will take you to our guide to troubleshooting the application. We've made sure to cover as many different issues as possible, providing helpful tips along the way.
Which NFL Addons for Kodi No Longer Work – Or Have Shut Down Permanently?
Sadly, we now have a limited selection of NFL-focused addons for Kodi, which wasn't always the case. During the last year or so, many previously popular addons have stopped working, as listed just below.
Sling.TV (not to be confused with Sling)
NFL Team Videos
NFL.com Kodi Addon
NFL Game Pass
SportsDevil (often broken)
Castaway
cCloud TV (often broken)
Tip
We know how frustrating it can be to seek and try Kodi addons only to find them broken. That's why we recommend checking our guide to the 60+ best Kodi addons in 2021, all of which are legal and safe to use.
And while we have your attention, we'd like to recommend the best repositories for Kodi, as well as the best Kodi skins in 2021 – if you'd like to customize this home theater application.
That would be all on how to watch NFL on Kodi in 2021. We hope that we've helped you find the best-working NFL addons that are aligned with all your needs. Lastly, make sure to check our latest Kodi-related articles – and thanks for reading!