In many ways, Venom is quite similar to Exodus and Exodus Redux – all of which are hugely popular Kodi addons. However, does that make the Venom Kodi addon illegal and unsafe to use? If you've been having that question on your mind, you've come to the right place!
Like with any other unofficial Kodi addon, you need to be careful when using Venom. More precisely, you need a trustworthy guide to tell you what kind of content this addon brings. You also need to know if that content is legal, how to stay on Kodi's legal side, and more.
With that said, let's jump right in. Here's all you need to know about the Venom addon for Kodi.
Just recently, Venom switched to using premium scrapers only - with Real-Debrid leading the pack. This means that you need a subscription to Real-Debrid (or a similar service) to use Venom.
Is the Venom Addon LEGAL to Use?
No, the Venom Kodi addon isn't legal to use.
Similar to how other unofficial addons work, Venom taps into piracy. It sources its content from illegal websites. Therefore, we're talking about copyright infringement here, punishable by law in many countries across the world.
This is also the reason why using Venom can be quite unpredictable in the long term. We've seen plenty of Kodi repositories taken down by anti-piracy agencies. Therefore, using Venom can be a significant risk, with major legal consequences.
Is the Venom Addon SAFE to Use?
No, it isn't safe to install Venom on Kodi – as it paves the way for malware.
From time to time, you'll see Kodi's developers warn against accessing third-party repositories. In the past, we've had several malware "outbreaks" related to Kodi, which were mostly related to malicious forks and clones.
Due to this reason, you need to enable Kodi's support for unknown sources before installing Venom. This creates a very unsafe environment, as addons like Venom integrate with Kodi in a very deep way. If you install a malicious addon, it can easily infect your system.
Considering that Kodi addons integrate deeply with the application, make sure to double-check which addons you install. Or, you can stick to using a VPN service, which minimizes the risk of having your personal data exposed.
By encrypting your Web data, a VPN makes that data unreadable (and unusable) to anyone else. This even includes your Internet provider. As a result, Kodi will be more pleasurable to use, and you'll be 100% safe and protected online.
Make sure to use a VPN designed for Kodi, which is the best way to secure your use of this application, while reaping numerous other benefits as well.
What Content Can You Stream via Venom for Kodi?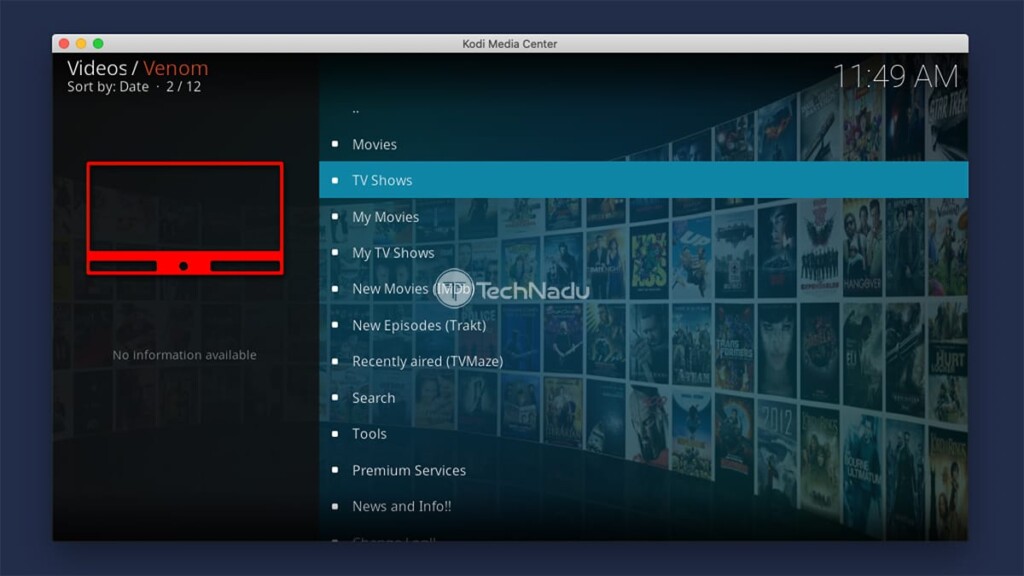 Venom brings movies and TV shows primarily. However, that also includes cartoons, documentaries, and other types of content.
In case you didn't know, Venom shares the same core code with Exodus and Exodus Redux. However, even though these three addons look the same, they aren't really the same. That's because Venom relies on a different set of scrapers.
Do We Recommend Installing Venom on Kodi?
No, we don't recommend installing Venom. In fact, we recommend staying away from any unofficial Kodi addon.
As you're about to see in the following segment, there's a way to use Venom while staying anonymous. However, in the end, there's no excuse for going against your country's laws.
You should also know that anti-piracy efforts are on the rise. As an example, we can take the USA, where the country's Copyrights Office is pushing for harsher anti-piracy laws. ISPs follow this trend as well, developing more aggressive systems to catch pirates. 
How to Protect Yourself When Using the Venom Addon?
You've probably seen prompts online, urging Kodi users to utilize VPN services. That's because this type of software can protect your digital privacy and even make you invisible online.
It's hugely important to pick a VPN suitable for media streaming - and Kodi, specifically. Based on our extensive hands-on tests, we recommend ExpressVPN. This is perhaps the only VPN that will meet all your needs, and we're sure you're going to love using it.
There are many reasons why VPNs are useful (especially) for Kodi users. They allow you to access geo-restricted content, improve your Web connection's overall stability, while also making sure that no one follows you on the Web.
To get started with VPNs, first learn more about what are VPNs. You'll then want to check the best VPNs for Kodi (hands-on tested by our expert team). And finally, here's how to install, set up, and configure a VPN on Kodi. 
Venom Not Working? Try Out These Solutions!
It's not unusual for Venom (and similar addons) to encounter problems from time to time. So, we're here to offer the best solutions. Check them out below. 
Venom Showing the 'No Debrid Account Setup' Error
For any unofficial Kodi addon to work smoothly, you need third-party services like Real-Debrid. These are dedicated 'downloaders' that use their channels to download data as fast as physically possible.
Here's how to integrate Real-Debrid with the Venom Kodi addon.
First, get your account/subscription at the Real-Debrid website.
Then, launch Kodi and open the Venom addon.
Now, go to Tools > My Account Settings. 
On the left side, click on 'Debrid Account.'
Finally, click on 'Authorize' in the 'Real-Debrid' segment. 
Slow Video Buffering in Venom for Kodi
There are two possible solutions here. You can use Real-Debrid to help you find better-quality links. Alternatively, you can try using a VPN to stabilize your Internet connection and access geo-restricted content.
We've already explained what Real-Debrid is, as well as how to integrate it with Venom. To learn more about this, make sure to check the section found just above. 
When it comes to VPNs, we highly recommend ExpressVPN to Kodi users. This is the only VPN that has the power to protect you online, provide reliable Internet speeds, and unblock just about any geo-restricted content in Kodi.
How to Clear Venom's Cache Data
Clearing Venom's cache should help with resolving all kinds of technical issues. So, here are the steps to clear the addon's cache data. 
Open Kodi and launch Venom.
Go to Tools > Cache Functions.
Feel free to use the 'Clear All Cache' option at the top.
Keep in mind that this might erase some of your settings as well. So, after clearing the addon's cache, revisit its settings to make sure everything's set correctly.
How to Update Venom
Venom receives new updates every couple of weeks. These help the addon run smoothly while resolving bugs as well. So, here's how to manually update the Venom addon.
Right-click on Venom's icon. 
Pick 'Information' from the dropdown menu you'll see on the screen. 
Use the 'Update' button to check if new updates are available. 
Click on the update you'd like to apply and confirm your decision.
How to Update Kodi
We recommend keeping Kodi up-to-date at all times. That should resolve technical issues not only with Venom but with other addons as well. 
We have a dedicated guide on how this is done. So, go ahead and learn how to update Kodi.
What Are the Best Venom Alternatives for Kodi?
If you decide to listen to our advice, you'll want to know about the best alternatives for Venom. Check our team's recommendations below.
Don't let you search for Venom alternatives stop here. We've prepared a handy overview of the best addons for Kodi right now. You'll find dozens of 100% legal options there, so make sure to take a look. 
That would be all you need to know about Venom for Kodi. Keep in mind that you can always post a comment if you have any questions for our team. And of course, why not share this article online? Thanks – and enjoy using Kodi!