No matter if you're looking for cartoons for yourself or your children, know that Kodi will most certainly meet your needs. However, considering that you'll find a large number of addons out there (some of which can be half-baked and even illegal to use), we've set out to help you find truly the best Kodi addons for cartoons available in 2022.
We'd also like to add that all of our recommendations are 100% legal. Keep in mind that most Kodi-related websites provide access to copyrighted content and illegal addons, which can quickly put you in a very bad position. So, make sure to know what kind of content you access and make sure you're on the safe side of the law.
Why Using a VPN Is a Must When Watching Cartoon Kodi Addons?
As you're about to see, many of the addons recommended in this article are geo-blocked. So, to access them, you'll need a capable and powerful VPN.
In general, most Kodi addons are available in select countries only. Upon their launch, they check your IP address, which is how your access can be restricted (as your IP reveals your location). So, if you want to avoid seeing error messages while watching everything that Kodi offers, using a VPN is your only option.
Aside from getting access to more addons, a VPN will hide your Kodi-related Web traffic. That means that your ISP (Internet Service Provider) won't throttle your Web connection speed. In other words, you'll get smooth and steady media streaming.
Combining a VPN with Kodi will allow you to unblock the application fully, giving you access to all of its benefits. So, if you want to know more, here are the best Kodi VPNs. And then, here's how to use a VPN with Kodi.
The Best Kodi Addons for Cartoons in 2022
After plenty of hands-on testing, we think these are the 8 best cartoon addons for Kodi:
1. South Park
We are not sure if South Park is the right choice for your kids, but we are sure that many of you enjoy watching this animated marvel. Since this is one of the most popular cartoons of its kind, there are millions of fans out there who'd like to watch the entire series.
We're talking here about an incredibly useful Kodi addon for South Park fans since it has every single episode from every season aired so far – always up-to-date. Finding complete South Park episodes online has become an impossible task lately, which is why this is such a valuable resource.
Since there are more than 20 seasons, having all those episodes in one place is an incredible achievement. That is why South Park is one of the best adult-friendly cartoon Kodi addons in 2022, and we highly recommend checking it out.
2. Simpsons World
Do we need to introduce you to The Simpsons? This animated sitcom (created by the one and only Matt Groening) has been on air since 1989. In other words, there are more than 650 episodes out there, spread across more than 30 seasons.
As you can already see, The Simpsons is a worldwide phenomenon - and now you can watch it on Kodi as well. However, this addon does come with some caveats, as it's available only to a limited selection of Kodi users.
If you're in the US, and if you have a valid FX subscription, this addon gets you access to a vault containing all of the episodes of The Simpsons. The addon is regularly updated, and it seems to be working without a single issue. We strongly recommend you try it out.
3. Vimeo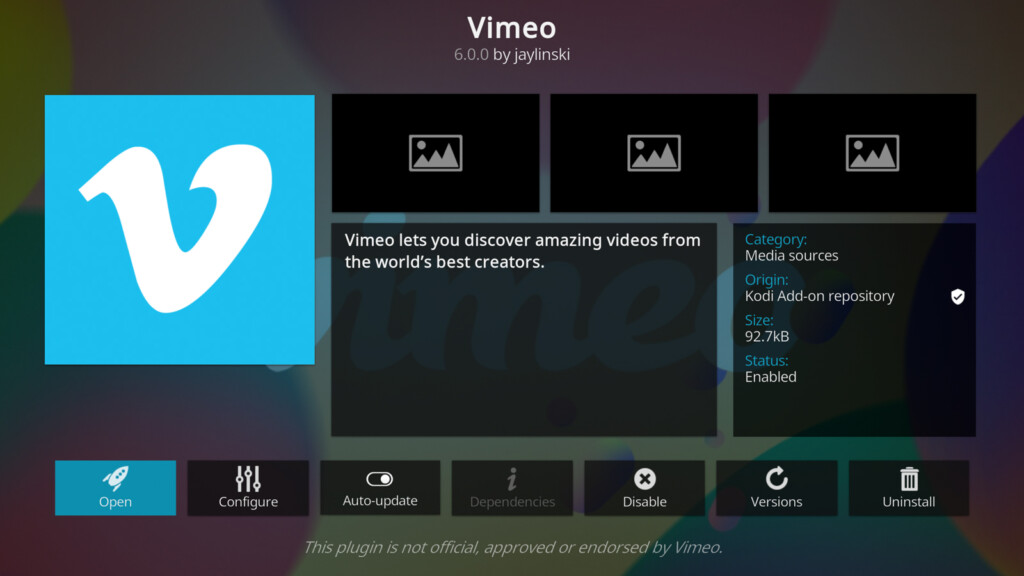 Vimeo is the platform of choice for independent filmmakers, often giving you access to videos you won't find elsewhere. With that said, know that Vimeo offers a rich selection of animated movies and short clips, both for younger and older audiences.
To get to Vimeo's section for animated content, launch the addon and pick 'Categories.' Then, go with 'Animation,' and you'll encounter an endless list of clips. The addon does a great job of giving you short descriptions and thumbnails, so you'll know what to expect before you proceed any further.
All in all, even though Vimeo doesn't offer currently popular (commercially available) cartoons, it's a rich source of really clever and artistic animated films, with new content arriving regularly. So, it's definitely worth a try.
4. PBS Kids
We have to admit that PBS Kids wasn't always the most up-to-date Kodi addon. Many times in the past, this addon experienced technical issues. However, it looks like those situations are behind us, as we've been using the addon for months now without any problems.
As its name gives a hint, this is PBS's selection of children-friendly content. As soon as you launch the addon, you'll be greeted by a sizeable selection of TV shows. Some of the most notable ones are Curious George, Hero Elementary, Arthur, Sesame Street, and similar.
As you click on an individual TV show title, a selection of episodes will open. Select an episode, and PBS Kids will start playing it. Very simple to use, with plenty of content.
5. TV Ontario Kids
TV Ontario offers a dedicated TV channel, serving content suitable for preschoolers. Launched in 1994, it became popular due to its educational content, which is now accessible via Kodi.
Surprisingly enough, TV Ontario Kids works anywhere globally - even without a VPN. This is yet another reason to try it out - especially if you have kids that need quality entertainment (which has become hard to come by these days).
Even though the addon could benefit from better organization, navigating to different TV shows and episodes is easy enough. And of course, the addon seems to work with no issues, without any dead links. Definitely one of the best cartoon Kodi addons right now.
6. YouTube
Aside from offering original videos, movies, TV shows, news, and pretty much any other kind of video content, YouTube also comes with a treasure trove of cartoons. Trust us - this is an endless stream of animated videos where you'll find everything from old classics to what's trending at the moment.
Without any doubt, YouTube is an essential Kodi addon and one of the best cartoon Kodi addons 2022. This Kodi addon mimics all of the features you'll find online, and you can even sign in to your account (and sync your preferences along the way).
7. iPlayer WWW
We have to admit that we often recommend the iPlayer WWW addon in our overviews of the best Kodi addons. However, this truly is one of the most versatile addons out there.
You get to watch more than a dozen different BBC-owned TV channels live, in addition to having access to a vast library of on-demand content. The only obstacle is that this addon is available in the UK only - but you can easily overcome that by using a VPN service.
In terms of cartoons, iPlayer WWW offers several children-friendly types of content. You need to open the 'Categories' folder on the main page of the addon. Then, you'll find plenty of titles in the CBBC and CBeebies categories. Give it a try - you won't regret it.
8. Japanese Animated Film Classics
We'll end our cartoon Kodi addons list with something a bit different. As its name implies, this addon is all about older cartoons made in Japan. This was a project initiated by the Film Center at Tokyo's National Museum of Modern Art, and it comes with several classic works that are now available digitally.
In contrast to today's cartoons, Japanese classics might seem odd to some. However, why not let your children explore their tastes and see other kinds of animations offered out there? After all, these cartoons are known for their educational note, which is always a welcome thing.
How to Find & Install Cartoon Addons on Any Version of Kodi
We're sure you can't wait to add a rich library of cartoons to your Kodi. So, here's our quick guide on how to install any of the addons recommended in this article.
Once you open Kodi, select 'Add-ons' using the application's main menu.
Then, select 'Download' and pick 'Video Add-ons.'
Click on the name of the addon you want to install (such as South Park, Simpsons World, Vimeo, PBS Kids, TV Ontario Kids, YouTube, iPlayer WWW, or Japanese Animated Film Classics).
Finalize the procedure by using the 'Install' button (in the bottom-right corner).
Lastly, return to the 'Add-ons' section and open the addon. That's it!
If you need a more comprehensive guide to installing addons from Kodi's repository, make sure to use the provided link. You'll be taken to our step-by-step guide with helpful screenshots.
Cartoon Kodi Addons Not Working? Try These Quick Fixes!
Just like with any other type of software, problems may arise with Kodi as well. So, if you can't install an addon or if it doesn't work properly, you'll want to try the following.
Lastly, we want to point you to our central guide on fixing Kodi errors and issues. That's where you'll find a range of solutions to both technical and performance issues with the application.
Which Kodi Addons for Cartoons No Longer Work - Or Have Went Offline?
A number of previously popular cartoon addons for Kodi no longer work. Those were mostly "unofficial" addons, so their disappearance doesn't come as a surprise. Here are some of the most notable examples of the cartoon Kodi addons that no longer work.
Goodfellas
Super Cartoons
WatchNixToons2
Gen-X
Deceit
Loki
Incursion
Nemesis AIO
7of9AIO
MaverickTV
Entertainment Time
Watch Dogs
Make Sure to Avoid These Illegal Kodi Addons for Cartoons!
If you encounter addons like Kidz Club, Brettus Kid's Tube, Apex, Phoenix Kids, WatchNixtoons, Kiddo, ToonTopia, or Kids1 Click Movies - know that they're illegal.
Those addons rely on piracy to distribute their content, which means that watching that content is against the law in many countries. Even if you use a VPN to hide your traffic, we really don't recommend using any unofficial Kodi addon with questionable sources of content.
So, if you wish to use Kodi legally and without getting into trouble, make sure to stick to the addons found in this article (recommended above).
Dear readers, that's all when it comes to the best cartoon Kodi addons in 2022. We hope that you've managed to find something exciting and that you'll enrich your Kodi library with new types of content. Lastly, don't forget to check our latest Kodi articles. Thanks for reading!