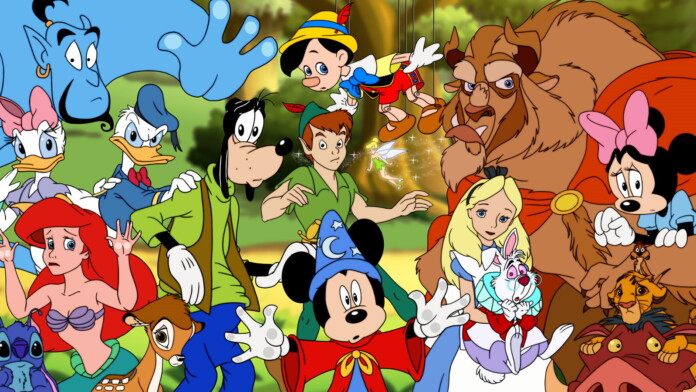 You are never too old to watch cartoons, right? No matter if you'd like to relive your childhood memories or to entertain your kids, Kodi can be a powerful ally. With hundreds of sources of addons and numerous customized Kodi builds, it's no wonder why this home theater software is so popular. Both developers and users like to tinker with this media-streaming player, which becomes more powerful with each new iteration. Besides, there's no shortage of useful and entertaining addons. You are about to see this for yourself since we'll be taking a look at the best cartoon Kodi addons in December 2019.
TechNadu's team of writers is always on the lookout for new and exciting addons. This is why you can often find useful guides for specific groups of addons. However, we don't just give you a list of addons. Instead, we dive deep and try to explain in the best possible way how to use these addons. More precisely, our guides feature step-by-step installation and an overview of the most important features. Things won't be any different in this article, where we'll talk about the best cartoon Kodi addons.
Before getting started, we strictly recommend you to be safe while using Kodi. Therefore, we want you to read the We will be talking about software developed for Kodi – which is based on open-source code. However, the following software comes from unofficial third-parties. In addition, it is publicly available and free of charge. TechNadu doesn't claim any responsibility for how our readers decide to utilize the following software. Please note that we don't condone sharing pirated content and copyright infringement. TechNadu is not affiliated with the software mentioned in this article in no way. Make sure to carefully read the above-said disclaimer and ensure the proper use of the software.
disclaimer and WARNING notice found below.
Warning: Why you should ALWAYS USE a VPN with Kodi?
Here are the reasons that you should consider looking at it without SKIPPING.
Using ILLEGAL Kodi Addons are Dangerous without a VPN: Most of the Kodi users are installing the ILLEGAL Kodi addons on their system to access all the latest movies, TV shows, sports, music, and much more for FREE, than a legal Kodi addon where it has the least content in it. But do you know what? The video content on illegal addons is scraped and copyrighted material. If you are accessing them on Kodi, then your activities will be monitored by your ISP by tracking your IP and gives all the information to the government or companies if they request for it. This will land you in trouble. To stay away from this, you will have to connect to a VPN where it hides your identity by rotating your IP address while streaming Kodi content. This is how you will be safe from the prying eyes.
Bypass Geo-Restriction: As you probably know, some official addons like BBC iPlayer, NBC Sports, Hulu, IceFilms have geo-location restrictions. This also applies to other addons like Acestream which fetches the data from torrents. To unblock these restrictions, you will have to DEFINITELY use a VPN no matter what.
The above are the 2 reasons that forcing us to recommend a VPN to the Kodi users for safer streaming. In fact, after testing several VPNs for Kodi, we finally came up with a one non-stop solution and that is ExpressVPN, the top-rated Kodi VPN so far.
Limited Time Offer: For our TechNadu readers, there is a 49% OFF on ExpressVPN which includes 3 FREE Months in it.
Without any further ado, we are introducing you to the 11 best cartoon addons for Kodi in 2019. Take a look.
1 Best Official Cartoon Addon
We will start our list of the best cartoon Kodi addons from official sources. In case you didn't know, there are legal Kodi addons and unofficial, third-party, addons. The first group is curated by the team behind Kodi and comes with an easy installation method.
1. South Park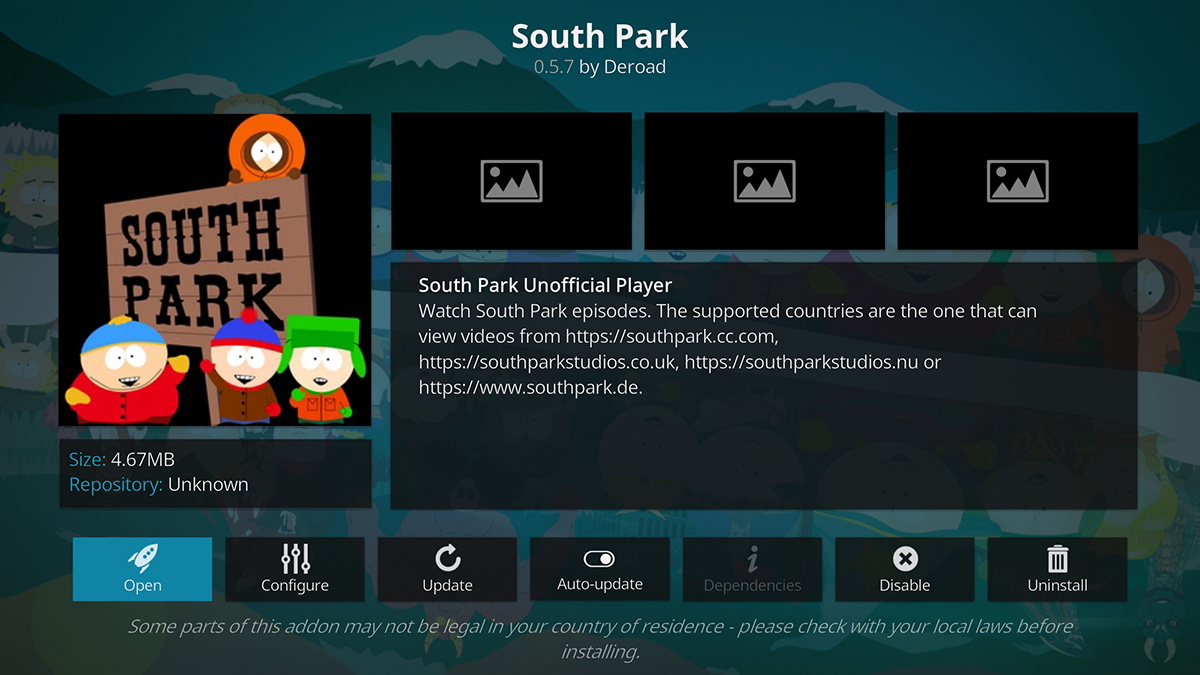 We are not sure if South Park is the right choice for your kids, but we are sure that many of you enjoy watching it on your own. Since this is one of the most popular cartoons of its kind, there are millions of fans out there who'd like to watch the entire series.
Among official addons (found at Add-ons > Downloads > Video Add-ons), you'll find South Park as one of the suggestions. This is an incredibly helpful addon for South Park fans since it brings every single episode from every season – always up-to-date and fully working. Since there are more than 20 seasons, having all those episodes in one place is an incredible achievement. This is why South Park is one of the best adult-friendly cartoon Kodi addons.
The home screen of this addon simply lists all of the available seasons. You click on any of them, and you'll be greeted with a grid of episodes. Click on an episode to start playing. It's that simple.
Steps to Install the South Park Addon for Kodi
When you open Kodi, you will see its Home screen. On the left side, you will see the main menu consisted of different categories of content. Click on Add-ons.
Once inside the Add-ons section, click on Download in the left-placed menu.
Now to go Video Add-ons. What you will see now is the list of available addons.
Find 'South Park' and click on this addon's name.
Next, click on the 'Install' button.
After several seconds, your new addon will install. Then, you will be able to find in the Add-ons section of Kodi.
10 Best Unofficial Cartoon Kodi Addons
Even though you can always find a couple of useful official addons, your experience of using Kodi won't be complete without unofficial ones. This is why we'll include detailed guides to unofficial addons as well. Let's jump right in.
1. Exodus Redux
As you can tell by its name, Exodus Redux is based on the original Exodus. Even though these two addons look similar, you should know that Exodus Redux is currently the more popular option. That's because it uses the latest available scrapers, which translates to having a vast media library.
Quite often, we see addons that bring lots of content but lack proper organization. This isn't the case with Exodus Redux. You will see this as soon as you open the addon, where numerous different categories await. To get to children-friendly content, go to Movies > Genres > Animation. The same applies to TV shows. You will find a huge selection of titles, many of them in HD formats. The addon does a good job of maintaining its streaming links and removing non-working ones. This is why you'll hardly find a movie or TV show that isn't working.
If you want to know why this is one of the best Kodi addons for cartoons, you need to try it out for yourself. So, here's how to install Exodus Redux on Kodi.
2. The Magic Dragon
The Magic Dragon is one of the most powerful all-in-one Kodi addons you can find right now. This is the successor to The Dogs Bollocks addon, whose entire media library has been transferred to the new addon and upgraded, along the way.
This addon lets you dive into a diversified media library. You can find movies, TV shows, live sports, music, radio stations, and pretty much anything else. And of course, cartoons are on offer as well. You can find these in the 'Kids' category, featuring 20+ content categories. Both TV shows and full-length movies are included.
With this said, all there's left is to try this addon out. So, we will recommend reading our guide on how to install The Magic Dragon.
3. IT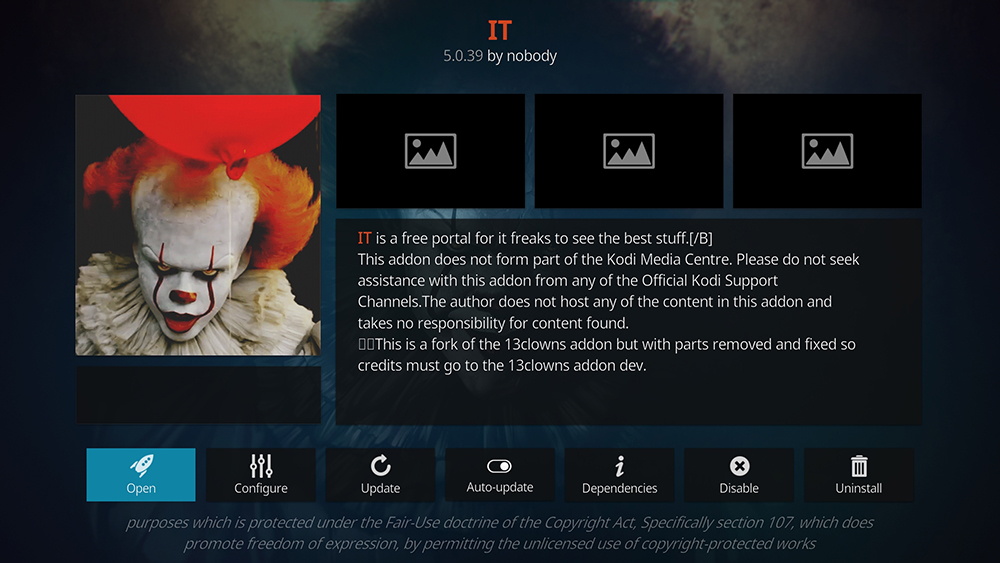 Next, we have a highly interesting and useful addon named IT. This one is a direct successor of 13Clowns Video. As you probably know, that addon is no longer available, and many of us have been waiting for a viable alternative. Well, we're more than sure you're going to love what IT offers.
This addon is primarily focused on movies and TV shows. You can use both of these categories to search for animated content. However, there's also a special category, featuring children-friendly content. In there, you'll find cartoons made by Nickelodeon, Cartoon Network, and Disney. There are also one-click movies, which present the fastest way to entertain your children.
So, want to try IT? Make sure to use the following URL: https://t2k-cloud.co.uk/Repo.
4. Venom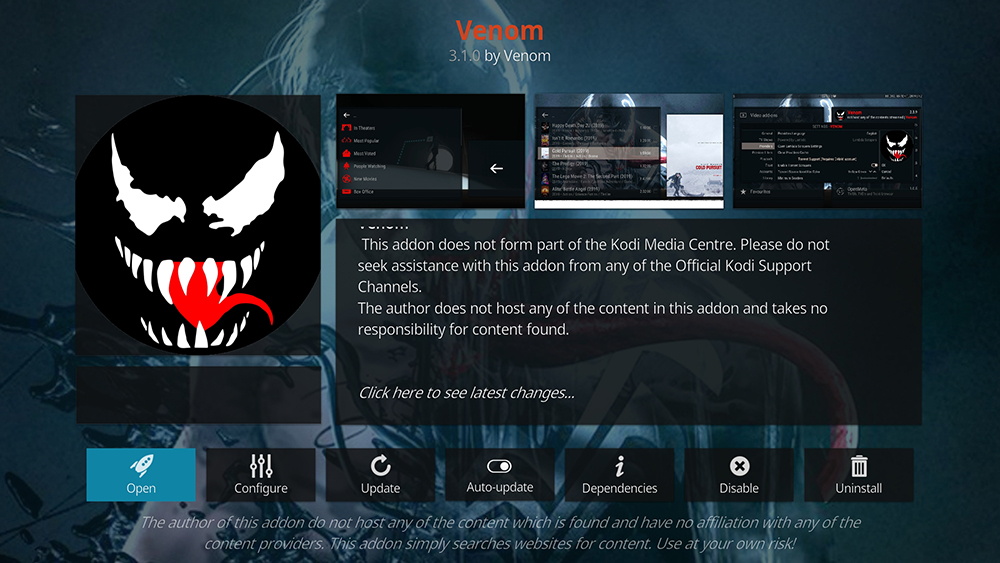 Venom is, in many ways, similar to our previous recommendation. This addon is all about movies and TV shows. As such, it provides numerous categories to preview the available content, where selecting a genre is one of the ways to go. Among those genres, you'll find animated content – perfectly suitable for your children.
Venom uses its own scrapers and is usually quick to find fully-working links. All you have to do is pick a title, and the addon will do the rest. Select which file you'd like to play, and Venom will start playing the file with no buffering. There's also a category that brings dedicated tools for resolving all kinds of technical issues with Kodi, which is also a welcome thing to see.
Lastly, you also need how to install Venom on Kodi. The provided link will take you to our step-by-step guide, so make sure to use it.
5. Numb3rs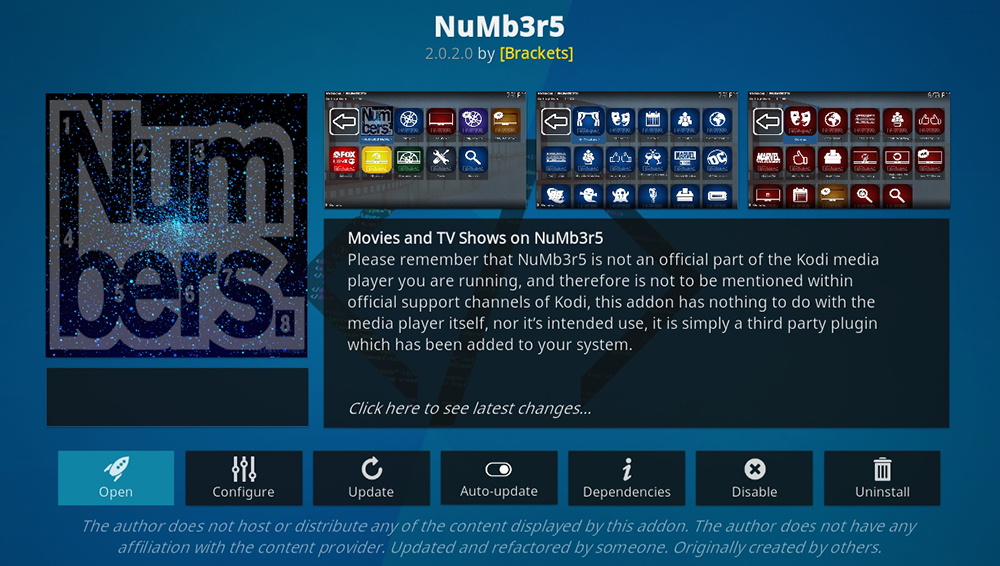 No matter if you're looking only for cartoons or other types of content as well, the Numb3rs addon won't disappoint you. It provides you with access to movies, TV shows, and documentaries, aside from having a dedicated 'Kids Zone'.
In terms of the content suitable for children, you'll find movies, TV shows, and special content for the youngest. No matter which category you select, you'll find a nice range of sub-categories, helping you find what you truly want. For example, the movies category brings you curated selections of popular titles, Walt Disney movies, box-sets, and more. All in all, this truly is one of the best Kodi addons for cartoons out there.
The Numb3rs addon can be found in the CellarDoor TV repository, alongside a nice selection of other popular picks. You can find it here: http://cellardoortv.com/repo.
6. Neptune Rising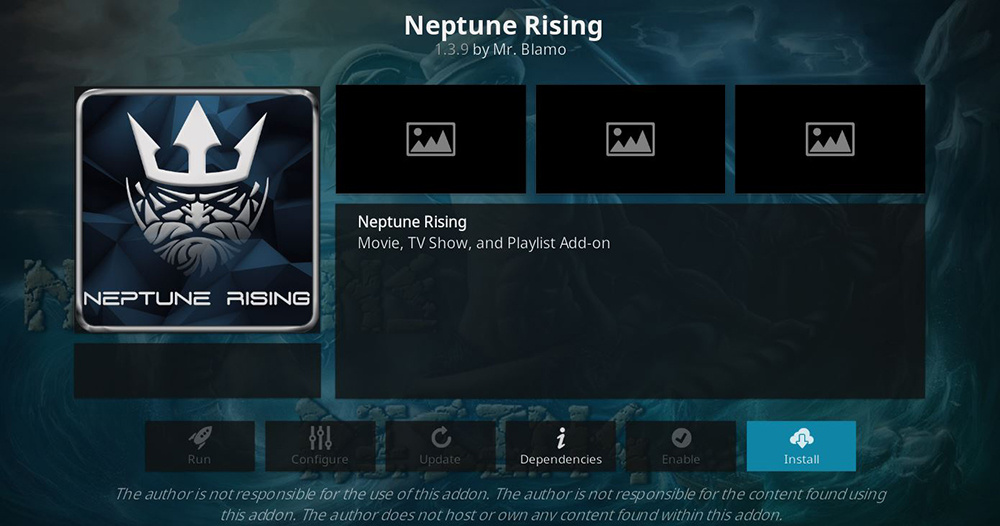 After quite some time being offline, Neptune Rising is once again available. It's now hosted in an all-new repository called Mr. Freeworld, from where you can download the latest available version of Neptune Rising.
This addon is based on Exodus' code, which should provide you with a familiar interface. However, Neptune Rising brings fewer content categories than Exodus, which means that it's easier to use as well. And most importantly, it comes with a dedicated 'Animation' category where you can find both movies and TV shows.
Finally, don't forget to learn how to install Neptune Rising. Use the provided link to visit our dedicated article.
7. Scrubs v2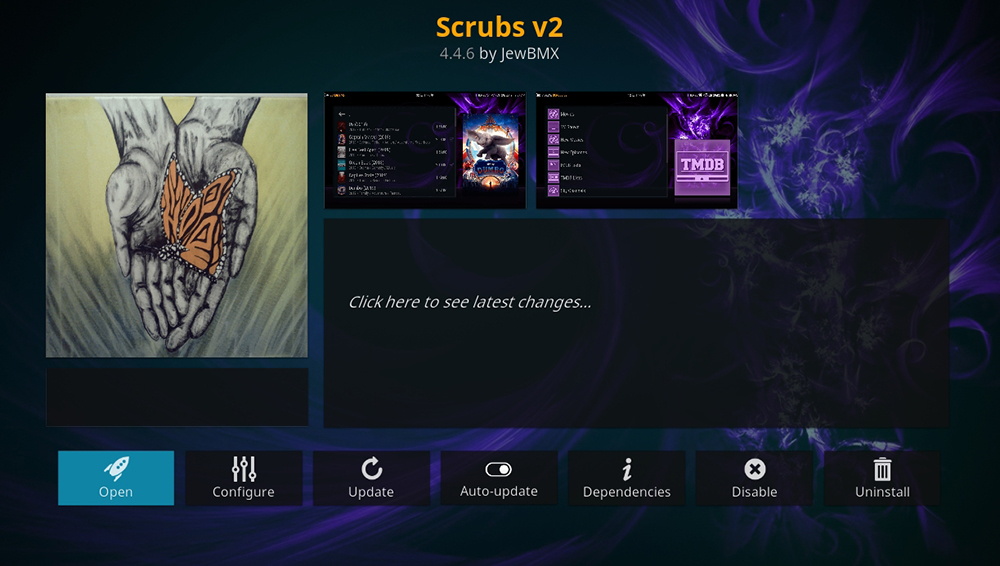 The recently re-released Scrubs addon (now named Scrubs v2) is all about movies and TV shows. However, as you can expect since we're talking about it right now, it offers children-friendly content as well. To get to cartoons in Scrubs v2, click on 'More Stuff' using the main menu and then open the 'Kids Corner' folder. Inside, you'll find around 18 titles with hundreds of individual episodes.
If you'd like to try out this addon, here's the URL to its repo that you need to install on your Kodi: https://jewbmx.github.io/.
8. 7of9 AIO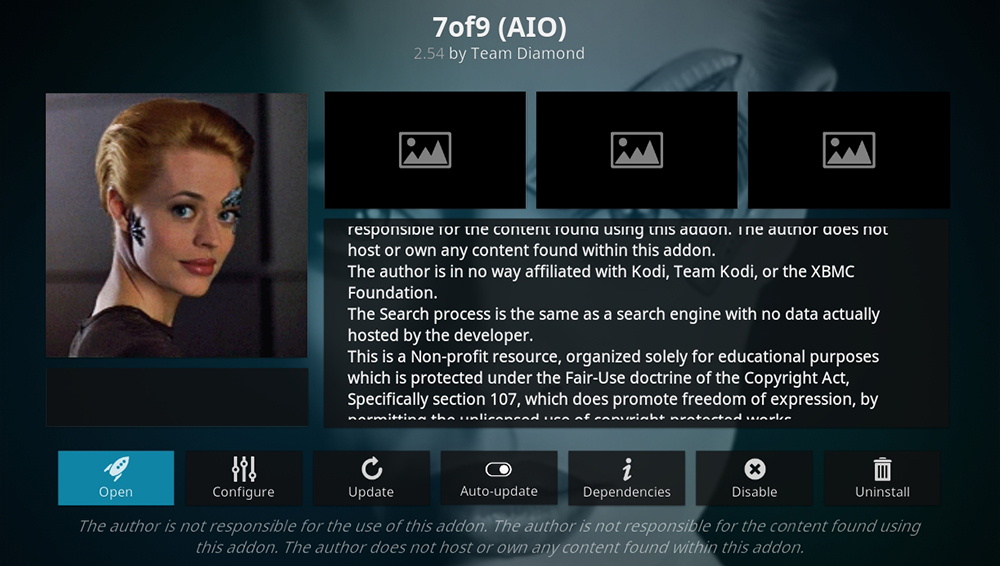 In general, Kodi addons can be somewhat hard to navigate. That's because their developers are primarily focused on bringing plenty of content. However, there are a few notable exceptions including the 7of9 AIO addon.
Once you open its 'Kids' content category, you'll find close to 50 topics and genres. There are movies, TV shows, live TV channels, and there are super-handy curated collections as well. If you'd like to see all of this in action, you need to install the Diamond Wizard Repo, found here: http://repo.rubyjewelwizard.com/.
9. Luxray Prime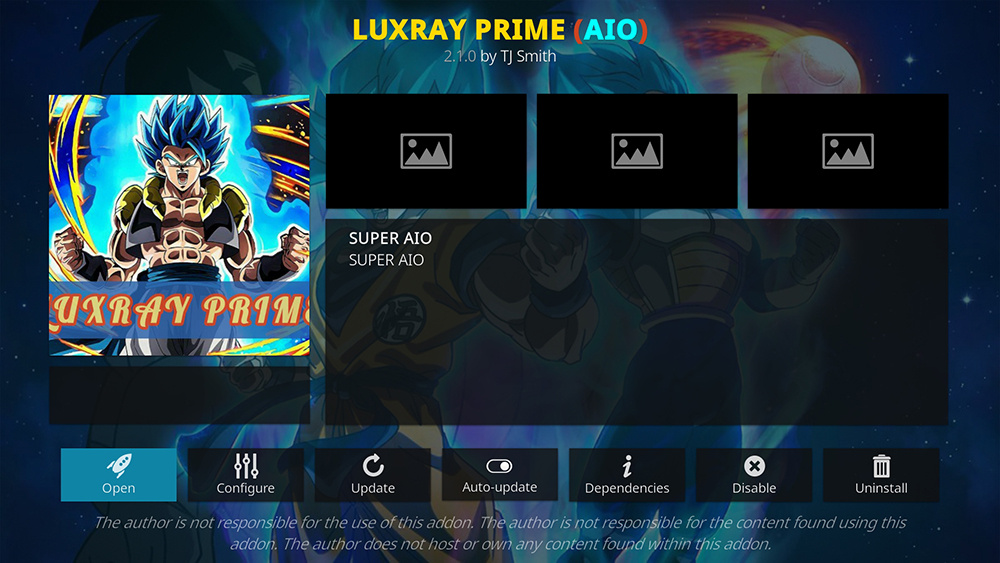 Our goal is to make this article as helpful as possible. And we're going to do that by presenting both well-known and freshly released addons. Well, this is also why you'll find Luxray Prime in this article, being one of the hottest new addons right now.
Considering that we're mentioning this addon here, you can expect a rich library of animated movies. We're talking about cartoons for both kids and adults, as well as plenty more. Luxray Prime comes with a sizeable library of movies and TV shows, and you can also find live TV channels. Needless to say, this addon will keep you occupied for a long time to come.
To try Luxray Prime for yourself, you first need to install the repository which hosts this addon. So, you can find it here: http://ezzer-mac.com/repo.
10. The Crew
The Crew appeared a few months ago, and it already received plenty of updates. Thanks to these updates, this is one of the most content-rich addons right now. You'll find movies, TV shows, sports-related content, IPTV, and plenty more.
As you can imagine, The Crew also comes with a section with animated content. You'll find movies and TV shows, and there's a series of handpicked collections as well. Depending on what kind of content you're after, we're sure that these collections will come in handy. All in all, it's easy to see why this is one of the best Kodi addons for cartoons.
All there's left for us is to tell you how to install The Crew on Kodi. Click on the provided link to learn more – and trust us, you'll be happy to have tried this Kodi addon.
Finally, make sure to follow TechNadu on Facebook and Twitter for more Kodi-related news – and don't forget to share this article online. Thank you!