No matter if you're looking for cartoons for yourself or for your children, know that Kodi will meet your needs. However, considering that you'll find a large number of addons ou there (some of which can be half-baked), we've set out to help you find the best Kodi addons for cartoons available in 2020.
With that said, we've discovered seven highly interesting addons – serving cartoons suitable for adult audiences as well as children. And as you'd expect, all of the following picks are truly the best Kodi cartoons add-ons, bringing new types of content every once in a while, while streaming without any issues.
We'd also like to add that all of our recommendations are 100% legal. Keep in mind that the majority of Kodi-related websites provide access to copyrighted content and illegal addons, which can easily put you in a bad position. So, make sure to know what kind of content you're accessing and make sure that you're on the safe side.
In this article, we are talking about Kodi and this application's official and unofficial addons – all of which are based on open-source code. Addons for Kodi can come from the official source (you can install them via Kodi itself), or they can be hosted by third-party sources (such as GitHub, for example). In addition, Kodi and its addons are publicly available and free of charge.

TechNadu doesn't claim any responsibility for how our readers decide to utilize the following software. Please note that we don't condone sharing pirated content and copyright infringement. TechNadu is not affiliated with the software mentioned in this article in no way.

Make sure to carefully read everything said in this disclaimer and ensure the proper use of the software.
Disclaimer
Read This Before Installing Kodi Addons on Your Device!
Do you think it's legal and safe to install third-party Kodi addons on your device? ABSOLUTELY NOT – and here's why!
Third-party Kodi addons are often referred to as 'unofficial' or 'illegal Kodi addons.' That's because they let you stream copyrighted content from illegal sources like torrent (P2P) repositories and other websites, which aren't generally safe, to be honest.
So, what will happen if you don't act cautiously? Well, you'll expose yourself to criminal prosecution, often leading to huge fines – once your ISP collects enough data about your online activities. We've seen that happen many times before.
That's the reason why we don't recommend installing third-party Kodi addons.
No matter if you use official or unofficial Kodi addons, keep in mind that Kodi can be safely accessed using a VPN. Connect to a VPN, and you'll be safe online, no matter what. Simple as that.
A VPN can help you do the following five things:
Hide your IP address, while keeping you anonymous while streaming via Kodi.
Keep you safe from legal troubles.
Fight against ISP-imposed throttling.
Unblock all kinds of geo-restricted Kodi addons in your country.
Bypass sports-related blackouts.
For more details, please read this guide.
After testing over sixty VPNs hands-on, we conclude that ExpressVPN is the #1-rated VPN for Kodi. If you are interested, please read our ExpressVPN review. Also, if you decide to subscribe, grab this limited time deal – save 49% + get 3 extra months FREE.
So, here are the 7 best cartoon addons for Kodi in 2020.
1. South Park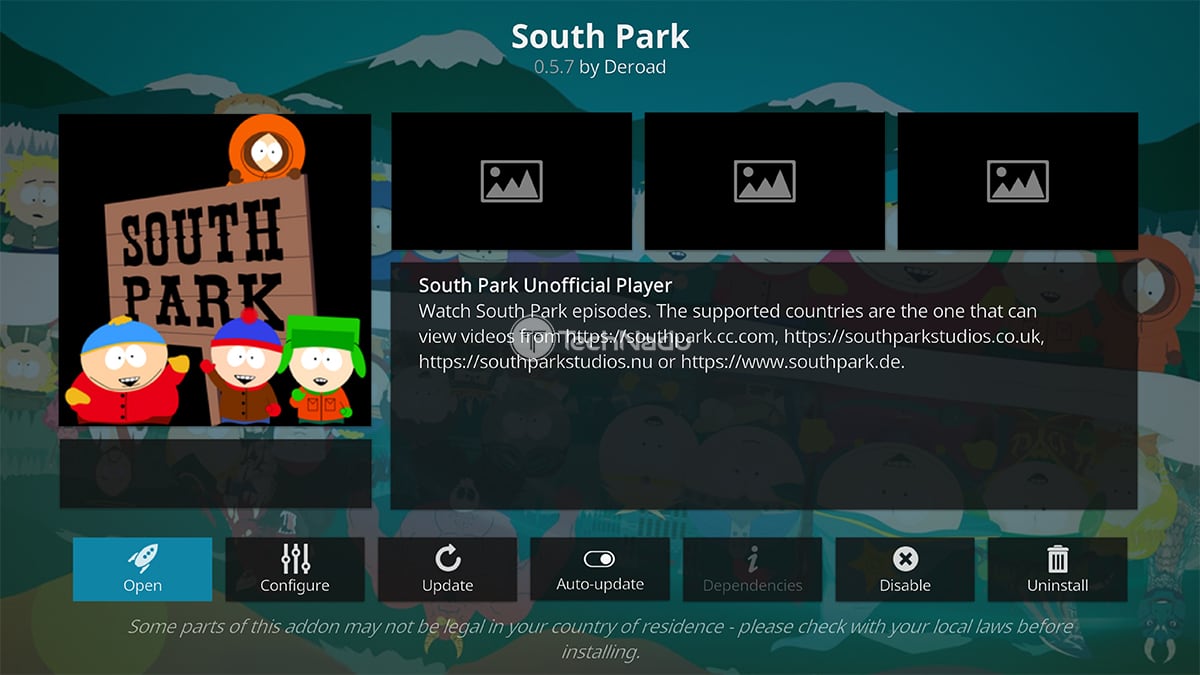 | | |
| --- | --- |
| Where to Find This Addon? | The official Kodi repository. |
| Applicable Geo-Restrictions | Available worldwide. |
| Types of Content Available | Individual South Park episodes, on-demand. |
We are not sure if South Park is the right choice for your kids, but we are sure that many of you enjoy watching this animated marvel. Since this is one of the most popular cartoons of its kind, there are millions of fans out there who'd like to watch the entire series.
We're talking here about an incredibly useful add-on for South Park fans since it has every single episode from every season aired so far – always up-to-date. Managing to find complete South Park episodes online has become an impossible task, which is why this is such a valuable resource.
Since there are more than 20 seasons, having all those episodes in one place is an incredible achievement. This is why South Park is one of the best adult-friendly cartoon Kodi addons in 2020.
2. Simpsons World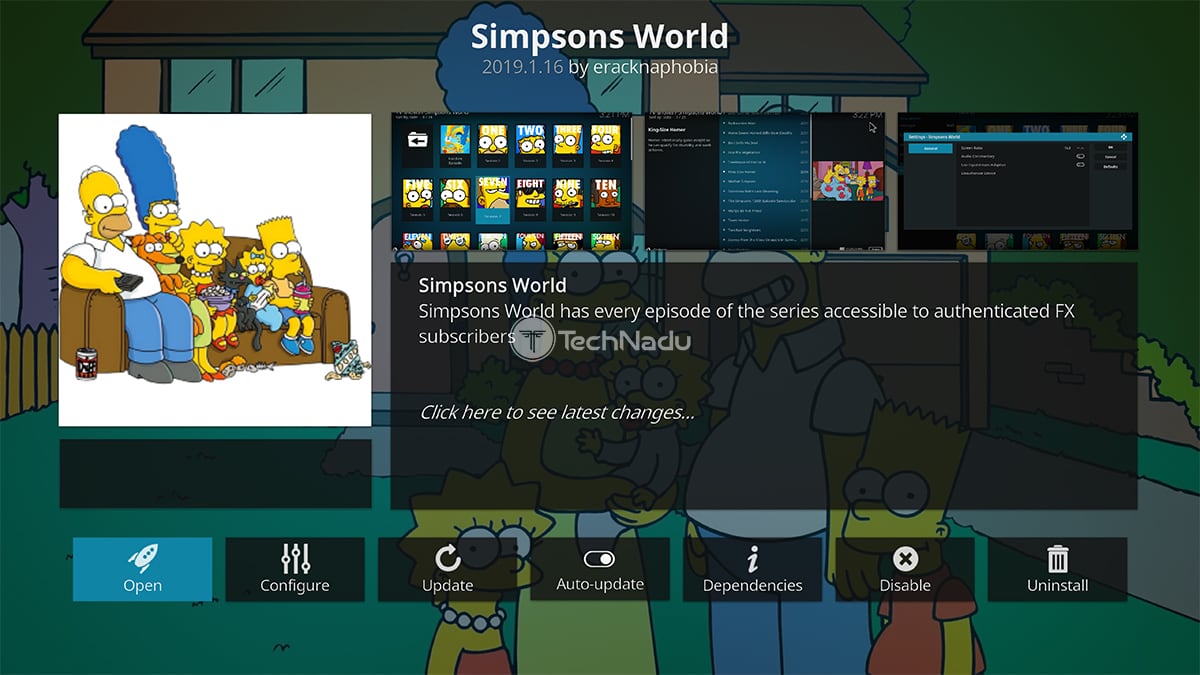 | | |
| --- | --- |
| Where to Find This Addon? | The official Kodi repository. |
| Applicable Geo-Restrictions | Available in the USA (with a valid FX subscription). |
| Types of Content Available | Individual The Simpsons episodes, on-demand. |
Do we need to introduce you to The Simpsons? This animated sitcom (created by the one and only Matt Groening) has been on air since 1989. In other words, there are more than 650 episodes out there, spread across more than 30 seasons.
As you can already see, The Simpsons is a worldwide phenomenon – and now you can watch it on Kodi as well. However, this addon does come with some caveats, as it's available only to a limited selection of Kodi users.
In case you're in the US, and if you have a valid FX subscription, this addon gets you access to a vault containing all of the episodes of The Simpsons. The addon is regularly updated, and it seems to be working without a single issue. We strongly recommend you try it out.
3. PBS Kids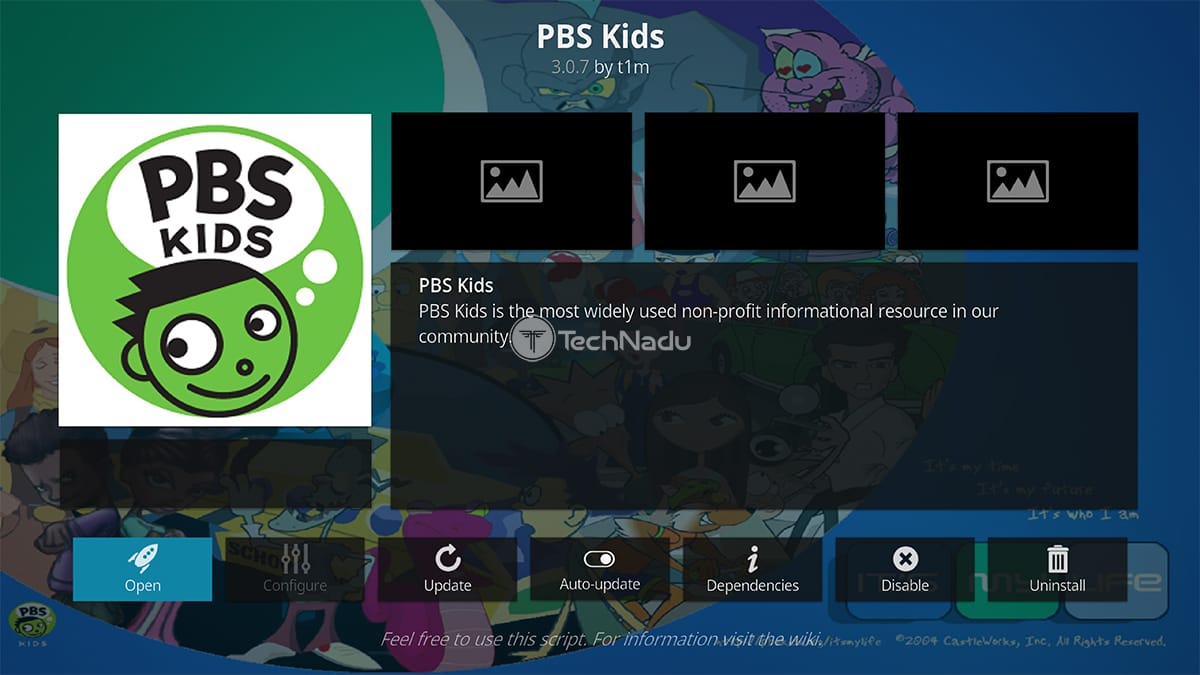 | | |
| --- | --- |
| Where to Find This Addon? | The official Kodi repository. |
| Applicable Geo-Restrictions | Available in the USA. You can use ExpressVPN to unblock this addon from anywhere in the world. |
| Types of Content Available | Children-friendly TV shows and cartoons. |
We have to admit that PBS Kids wasn't always the most up-to-date Kodi addon. Many times in the past, the addon experienced technical issues. However, it looks like those situations are behind us, as we've been using the addon for months now without any problems.
As its name gives a hint, this is PBS' selection of children-friendly content. As soon as you launch the addon, you'll be greeted by a sizeable selection of TV shows. Some of the most notable ones are Curious George, Hero Elementary, Arthur, Sesame Street, and similar.
As you click on an individual TV show's title, a selection of episodes will open. Select any episode, and PBS Kids will start playing. Very simple to use, with plenty of content.
4. TV Ontario Kids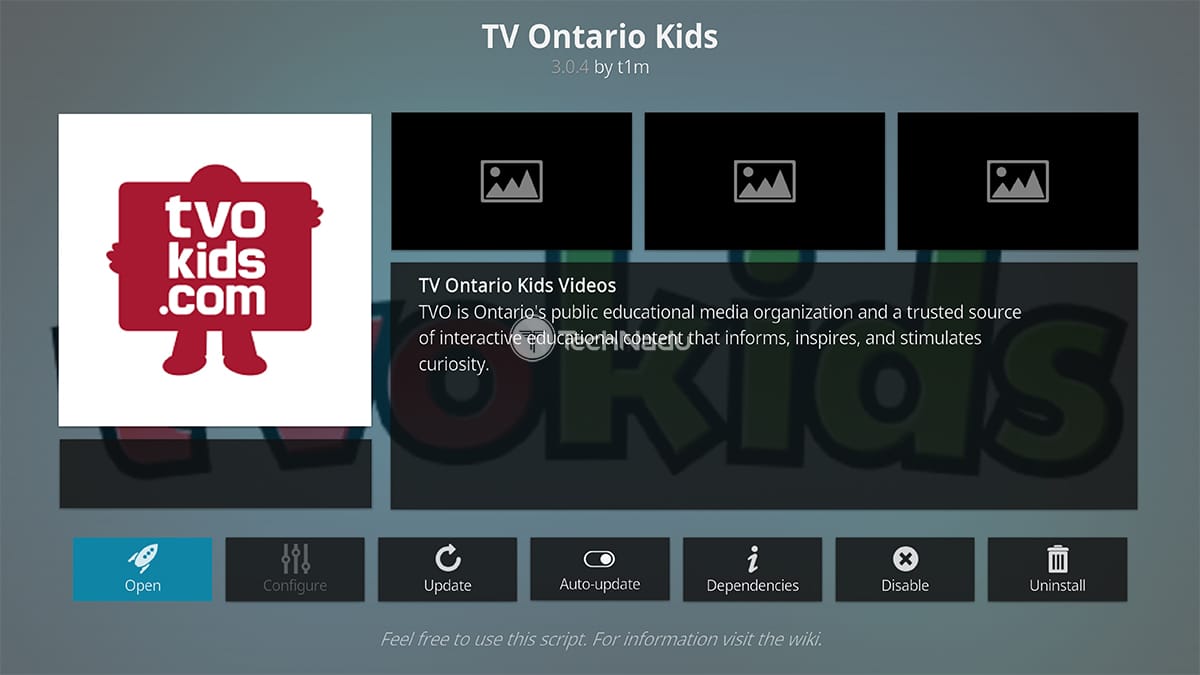 | | |
| --- | --- |
| Where to Find This Addon? | The official Kodi repository. |
| Applicable Geo-Restrictions | Available worldwide. |
| Types of Content Available | TV shows made for children and cartoons. |
TV Ontario offers a dedicated TV channel, serving content suitable for preschoolers. Launched in 1994, this channel became popular due to its educational content, which is now accessible worldwide via Kodi.
Surprisingly enough, TV Ontario Kids works anywhere in the world – even without a VPN. This is yet another reason to try it out – especially if you have children that need quality entertainment.
Even though the addon could benefit from a bit better organization, navigating to different TV shows and episodes is easy enough. And of course, the addon seems to be working with no issues, without any dead links. Definitely one of the best cartoon Kodi addons right now.
5. YouTube
| | |
| --- | --- |
| Where to Find This Addon? | The official Kodi repository. |
| Applicable Geo-Restrictions | Available worldwide. |
| Types of Content Available | Original content made by YouTube creators. |
| Read More | How to install YouTube on Kodi |
Aside from offering original videos, movies, TV shows, news, and pretty much any other kind of video content, YouTube also comes with a treasure trove of cartoons. Trust us – this is an endless stream of animations where you'll find everything from old classics to what's trending at the moment.
Without any doubt, YouTube is an essential Kodi addon, as well as one of the best cartoon Kodi addons 2020. The Kodi addon mimics all of the features you'll find online, and you can even sign-in to your account (and sync your preferences along the way).
Tip
It's true that YouTube is accessible worldwide. However, if you'd like to unblock all of its content (which is restricted to individual countries), we highly recommend using a VPN. Here are the best VPNs for YouTube available right now.
6. iPlayer WWW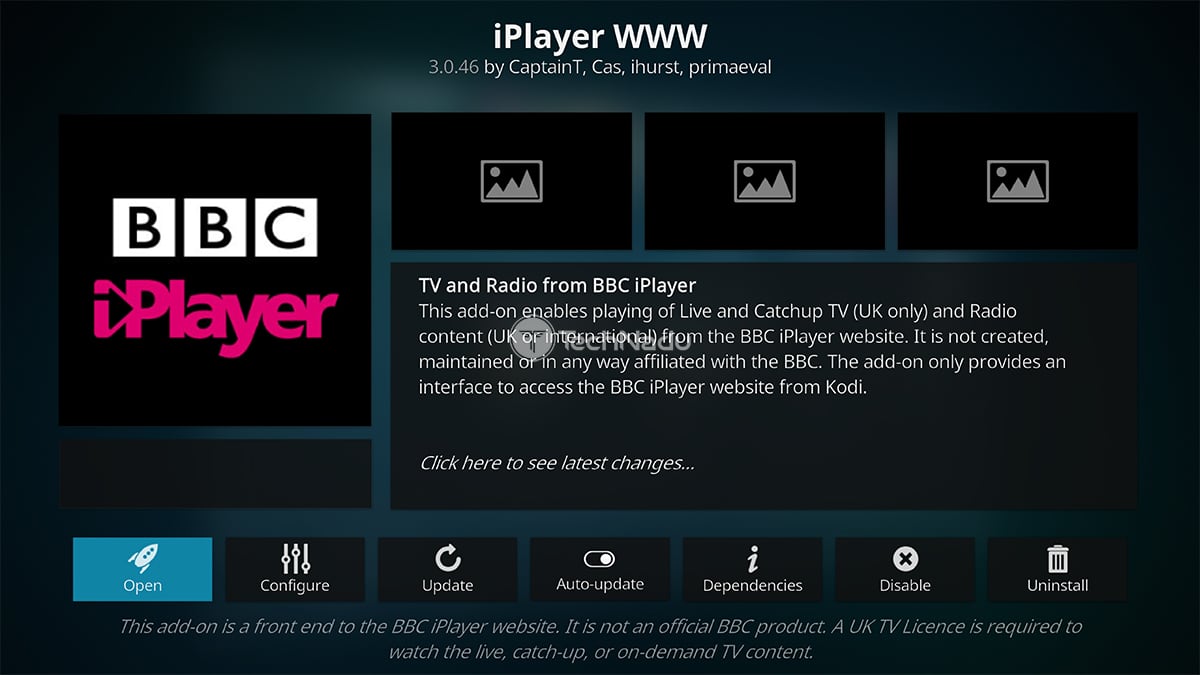 We have to admit that we often recommend the iPlayer WWW addon in our overviews of the best Kodi addons. However, this truly is one of the most versatile addons out there.
You get to watch more than a dozen different BBC-owned TV channels live, in addition to having access to a huge library of on-demand content. The only obstacle is that this addon is available in the UK only – but you can easily overcome that by using a VPN service.
In terms of cartoons, iPlayer WWW offers several children-friendly types of content. You need to open the 'Categories' folder on the main page of the addon. Then, you'll find plenty of titles in the CBBC and CBeebies categories. Give it a try – you won't regret it.
7. Japanese Animated Film Classics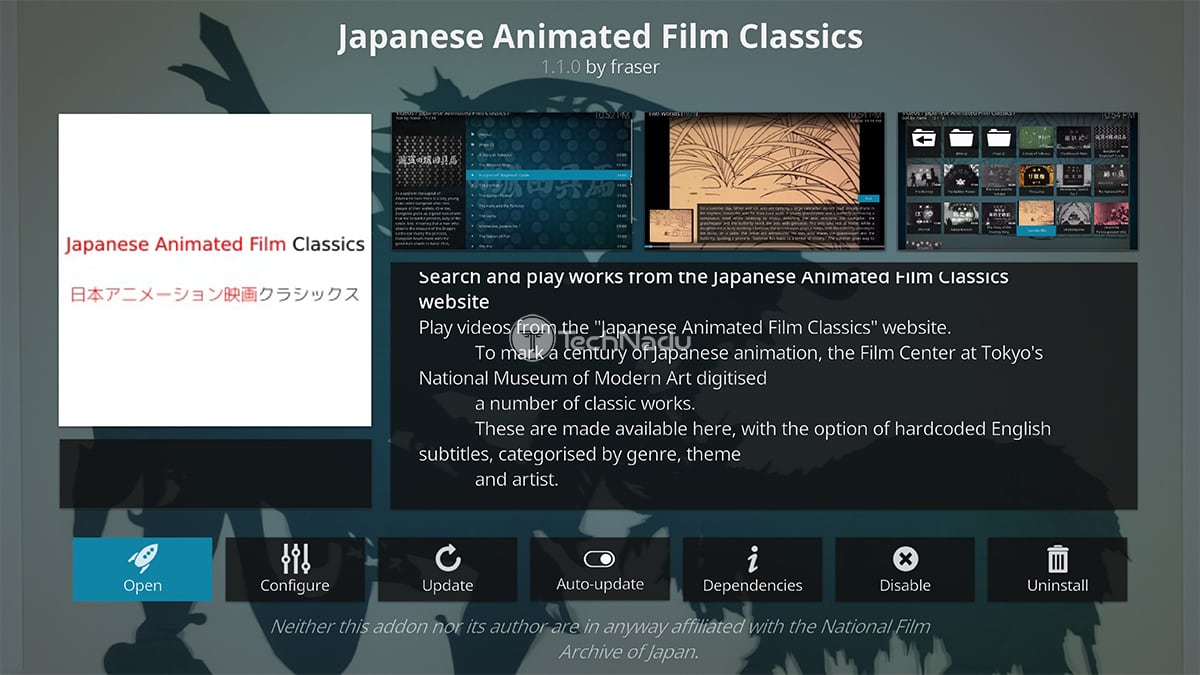 | | |
| --- | --- |
| Where to Find This Addon? | The official Kodi repository. |
| Applicable Geo-Restrictions | Available worldwide. |
| Types of Content Available | Classic Japanese cartoons. |
We'll end our cartoon Kodi addons list with something a bit different. As its name implies, this addon is all about older cartoons made in Japan. This was a project initiated by the Film Center at Tokyo's National Museum of Modern Art, and it comes with several classic works that are now available digitally.
In contrast to today's cartoons, Japanese classics might seem odd to some. However, why not let your children explore their taste and see other kinds of animations offered out there? After all, these cartoons are known for their educational note, which is always a welcome thing.
Dear readers, that's all when it comes to the best cartoon Kodi addons. We hope that you've managed to find something exciting and that you'll enrich your Kodi library with new types of content. Enjoy watching cartoons!
Freshly-Updated Overviews of Best Kodi Addons