The world is revolving around entertainment and we are sure that you want to be a part of it. Therefore, Kodi is the perfect solution for streaming the latest movies, across a large number of devices. Thanks to popular Kodi addons, you are always just a few clicks away from a huge library of streamable content. This is why we've decided to bring you a list of the very best Kodi addons for movies.
We understand your frustration of finding addons that still work. The truth is that Kodi addons can be quite unreliable and it's always a good idea to have alternatives. We did our homework and tested dozens of Kodi addons as we wanted to find fully-working addons as of December 2019. Therefore, you can be sure that the following addons are the best Kodi addons for movies at the moment. If you have other suggestions, make sure to drop us a comment below.
Before getting started, we strictly recommend you to be safe while using Kodi. Therefore, we want you to read the We will be talking about software developed for Kodi – which is based on open-source code. However, the following software comes from unofficial third-parties. In addition, it is publicly available and free of charge. TechNadu doesn't claim any responsibility for how our readers decide to utilize the following software. Please note that we don't condone sharing pirated content and copyright infringement. TechNadu is not affiliated with the software mentioned in this article in no way. Make sure to carefully read the above-said disclaimer and ensure the proper use of the software.
disclaimer and WARNING notice found below.
Warning: Why you should ALWAYS USE a VPN with Kodi?
Here are the reasons that you should consider looking at it without SKIPPING.
Using ILLEGAL Kodi Addons are Dangerous without a VPN: Most of the Kodi users are installing the ILLEGAL Kodi addons on their system to access all the latest movies, TV shows, sports, music, and much more for FREE, than a legal Kodi addon where it has the least content in it. But do you know what? The video content on illegal addons is scraped and copyrighted material. If you are accessing them on Kodi, then your activities will be monitored by your ISP by tracking your IP and gives all the information to the government or companies if they request for it. This will land you in trouble. To stay away from this, you will have to connect to a VPN where it hides your identity by rotating your IP address while streaming Kodi content. This is how you will be safe from the prying eyes.
Bypass Geo-Restriction: As you probably know, some official addons like BBC iPlayer, NBC Sports, Hulu, IceFilms have geo-location restrictions. This also applies to other addons like Acestream which fetches the data from torrents. To unblock these restrictions, you will have to DEFINITELY use a VPN no matter what.
The above are the 2 reasons that forcing us to recommend a VPN to the Kodi users for safer streaming. In fact, after testing several VPNs for Kodi, we finally came up with a one non-stop solution and that is ExpressVPN, the top-rated Kodi VPN so far.
Limited Time Offer: For our TechNadu readers, there is a 49% OFF on ExpressVPN which includes 3 FREE Months in it.
Finally, let's take a look at some of the essential movie addons for Kodi that you have to try. All of the following recommendations come with huge media libraries, and we're sure they'll keep you busy for a long time.
Keep on reading to get the 15 best Kodi addons for movies in December 2019.
1. Exodus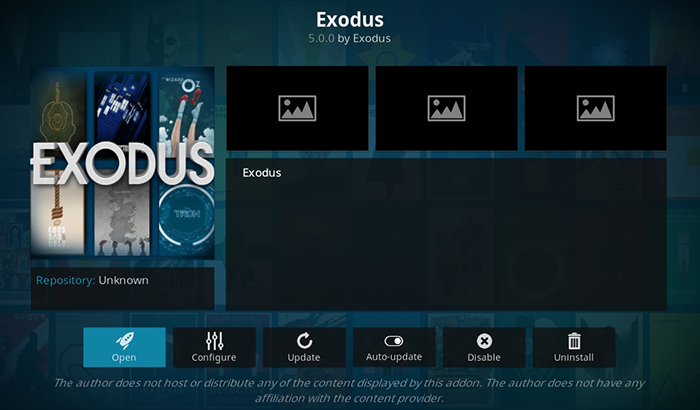 We start our list of the best movie Kodi addons with one of the most popular addons of all time. Even though Exodus was offline until a few months back, it has been picked up by a new developer. This means that you need to update or install the new version if you've used this addon before.
You can find two types of content here – movies and TV shows. The most interesting thing about movies is that numerous filtering options are available. You can browse different genres, languages, actors, directors, or take a look at curated lists. All in all, a pretty comprehensive movie addon for Kodi. Here's how to install the Exodus addon.
2. IT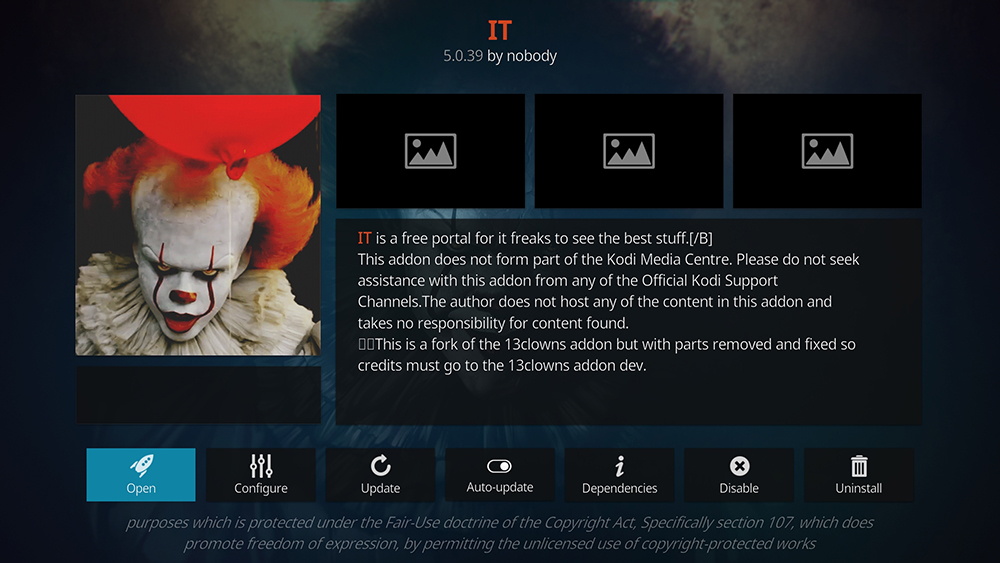 Without any doubt, IT is one of the hottest Kodi addons right now. Being a fork of 13Clowns Video, numerous Kodi users have started using IT as a replacement to the previously popular addon. And once you install and launch this addon, you'll see the reason for its popularity.
IT caters to fans of movies in the best way possible. You'll find numerous ways to preview the available content, in addition to a large list of curated categories. Movies are often delivered in 720p and 1080p formats, and there's even a category for 4K content as well. It's safe to say that IT is one of the best movie Kodi addons right now.
To install IT, use the following repo: https://t2k-cloud.co.uk/Repo. Add it to your Kodi, and access this media source to find its ZIP file.
3. Venom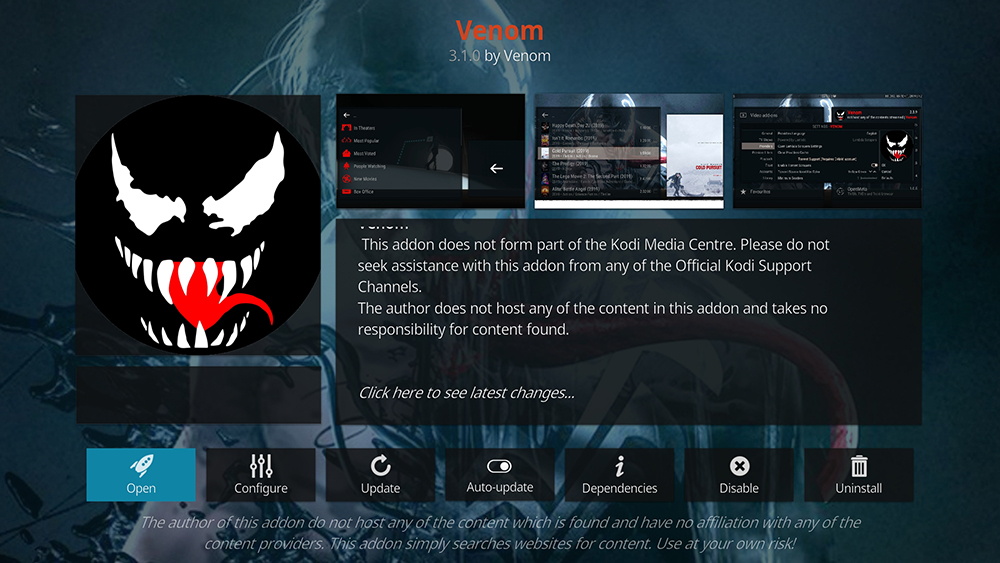 Our list of the best Kodi addons for movies wouldn't be complete without Venom. This addon has been around for several months now, and it already became quite known in the Kodi community. As you can imagine, there's a good reason for that.
Venom brings movies and TV shows, bringing a whole series of sub-categories as well. These let you filter the available content, so you can sort movies by their genre, popularity, and rating. There are also curated collections that show you DC or Marvel movies, children-friendly content and plenty more. In case you have an IMDb or Trakt account, you can easily integrate these services with Venom, so you can create your own lists and track what you watch.
Interested in trying out Venom? We're sure you are – so let's talk about how to access this addon. For this purpose, we've published a guide on how to install Venom on Kodi.
4. The Crew
It's true that The Crew is one of the newest Kodi addons – it's only been available for a couple of months. However, this is certainly one of our personal favorites, at the moment. The Crew is an all-in-one addon bringing movies, TV shows, cartoons, IPTV, sports-related content, and plenty more.
If you're into movies (and we bet you are), you should know that The Crew comes with a sizeable collection of movie titles. You can filter this addon's library in many different ways, and you can also check out curated collections. Also, you'll find a nice selection of '1-click' movies here that come in both HD and 4K.
The only way to see what this addon brings is to try it out. So, here's how to install The Crew on Kodi.
5. Nole Cinema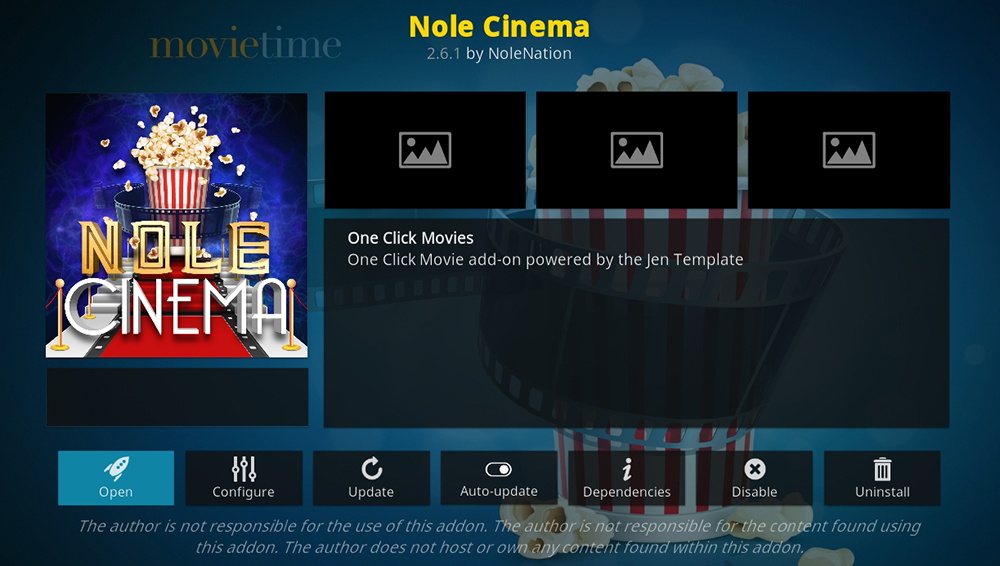 As its name says, this Kodi addon is all about movies – and nothing else. It's also one of the most popular right now, giving you the ability to expand your Kodi media library with thousands of movie titles.
Upon opening the Nole Cinema addon, you will find dozens of different categories. Among those, you'll find action movies, comedies, classics, horror flicks, animated movies, and plenty more. Open any of these and Nole Cinema will populate its library. Then, select any title and the addon will start searching the Web for available links. Even though Nole Cinema advises you to use Real Debrid, know that we've managed to play all of its content even without integrating this service with Kodi.
Does this addon sound like something you'd like to try? If that's so, to download and add it to your Kodi, use the following URL: http://magnetic.website/repo/.
6. Exodus Redux
The name says it all – Exodus Redux is yet another clone (fork) of the original Exodus. However, even if you still use the original addon, we highly recommend installing this one as well. That's because Exodus Redux is using the latest-generation Web scrapers, which means that you might be able to find additional movie titles.
It's also worth mentioning that this addon comes with very intuitive navigation. No matter if you'd like to dive into movies or TV shows, you'll find a healthy dose of different filtering options. And also, Exodus Redux scrapes the Web for various types of video files, so you'll get to select a video resolution before playing any movie.
Finally, here's everything you need to know about the Exodus Redux for Kodi. Click on the provided link to learn how to install this addon.
7. Neptune Rising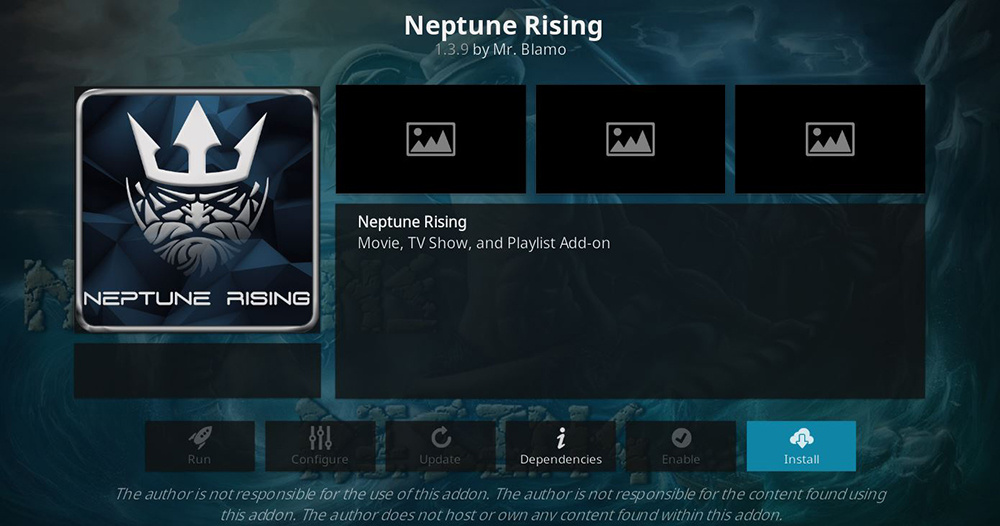 You might be surprised to find Neptune Rising on our list of the best movie Kodi addons. Yes, it's true that Neptune Rising was once a highly popular addon, if not the most popular one. After a brief period of being offline, it's now being developed by a new developer who's keeping its code alive.
The new Neptune Rising is a highly capable addon, mostly focused on movies and TV shows. There are plenty of subcategories, including different genres, languages, and you'll find curated collections as well. So, here's how to install Neptune Rising right now.
8. Firefly
In many ways, Firefly is similar to a number of addons you'll find in this article. That's because it's built upon Exodus' code. However, Firefly also does a wonderful job of bringing its own character to the table.
Considering that we're talking about the best Kodi addons for movies, you'll certainly find Firefly to meet your every need. There are Hollywood blockbusters here, in addition to international movies. You can sort and filter the available content in numerous different ways, and you can filter the movies by their video quality.
Want to try out Firefly? You'll find it here: https://huckfinndiesel.github.io/repo/.
9. Numb3r5 (Numbers)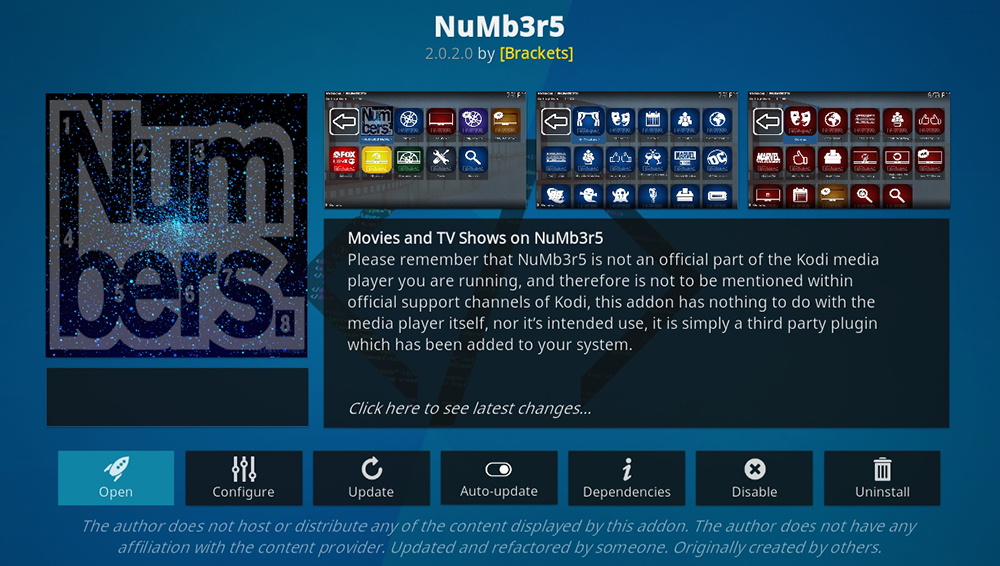 Next, we have a recently released addon called Numbers (Numb3rs). It brings plenty of movies, different ways of finding something that you'll like, and curated collections as well.
Upon opening Numbers, you'll see a nicely designed menu. If you open its 'Movies' category, you'll see 20+ ways of filtering its movie library. You can check out different genres, actors, directors, and you'll find collections like DC Movies, Marvel Movies, and so on. We also recommend checking out the 'Collection' folder, which contains 8 curated collections of movies with hundreds of titles combined.
Want to see why this is one of the best movie addons? Make sure to try it out – which you can do by installing it from here: http://cellardoortv.com/repo.
10. The Magic Dragon
The Magic Dragon is a powerful all-in-one addon that can satisfy your every entertainment-related need. It's been around for several months now and received plenty of updates in the meantime. Today, this is perhaps the most feature-rich addon around.
Aside from bringing a sizeable content library, this addon supports Real Debrid. If you want a smooth playback without any buffering, you can find this option on the home screen of The Magic Dragon. Aside from movies, you can find TV shows, sports, cartoons, and even online radio stations. To learn more, check our article on how to install The Magic Dragon on Kodi.
11. Tempest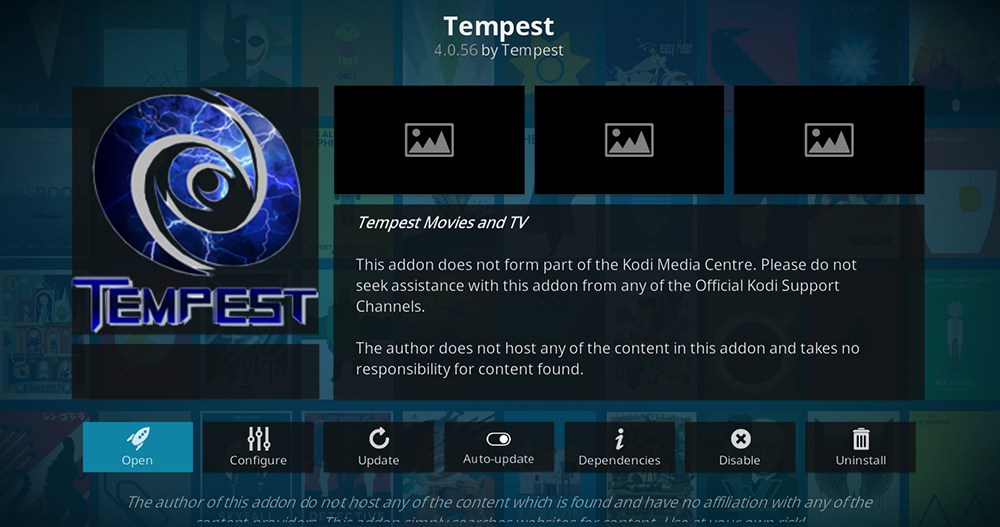 Tempest is a recently released addon and it's a clone (fork) of Exodus. However, it has its own scrapers and comes with a huge library of movies and TV shows. And since Kodi users should always have plenty of alternatives, we think you should really try this addon out.
What's interesting about Tempest is that it brings fast-performing scrapers. When it comes to freshly released movies, you can easily find HD links as well as a few 4K links as well. And let's not forget to add that you'll get to access hundreds, if not thousands of movies and TV shows.
If you'd like to try this addon, make sure to access its latest repository. To see how this is done, here's how to install Tempest on Kodi.
12. UK Turk Playlists
This list wouldn't be complete without mentioning the UK Turk Playlists addon. It allows you to watch movies, TV shows, and even live TV programming. What more can we ask for, really?
Upon launching the addon, you can access the movies section. Inside, you'll find 36 ways to browse the current catalog. You can see what's trending, different genres and themes, as well as box-sets. Finally, streaming seems to work just fine – without any buffering issues.
Here's our installation guide for UK Turk Playlists Kodi addon, where we take you through the installation one step at a time.
13. Destiny of Deathstar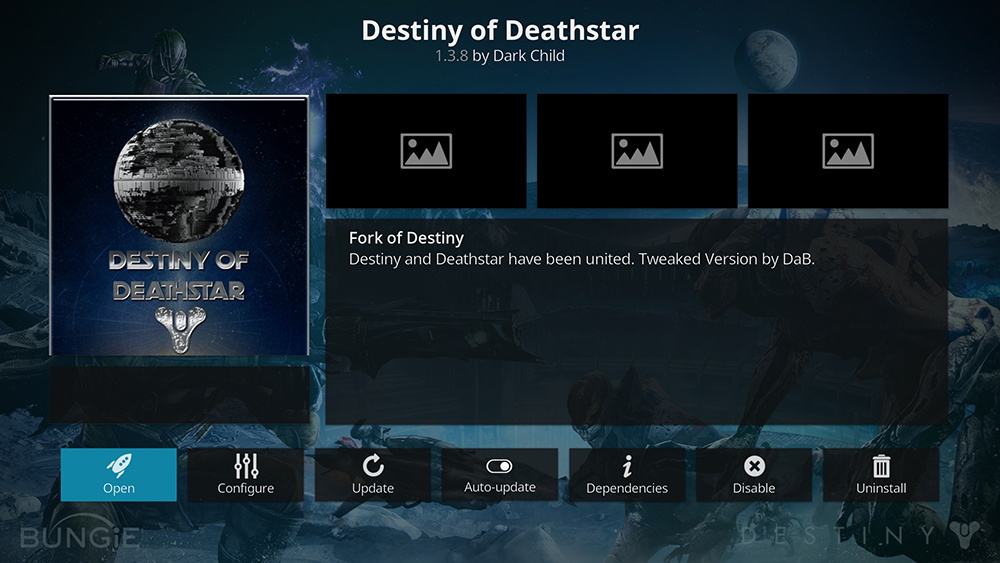 Deathstar is a hugely popular addon, and it's still available in certain repositories. However, we recommend you go with Destiny of Deathstar, which is the original addon's latest iteration. And trust us, it's worth trying out this addon.
On its home screen, Destiny of Deathstar shows you its content categories. This includes movies, TV shows, cartoons, live content, and more. If you open its movie library, you'll get to see the latest and trending movies, popular picks, recommendations based on your history of using the addon, and more. There's plenty of ways to find something interesting, which is why we think this is one of the best Kodi addons for movies right now.
Right now, the latest version of this addon is found in the Ezzer-Mac repository, which is located here: http://ezzer-mac.com/repo.
14. Phoenix Rises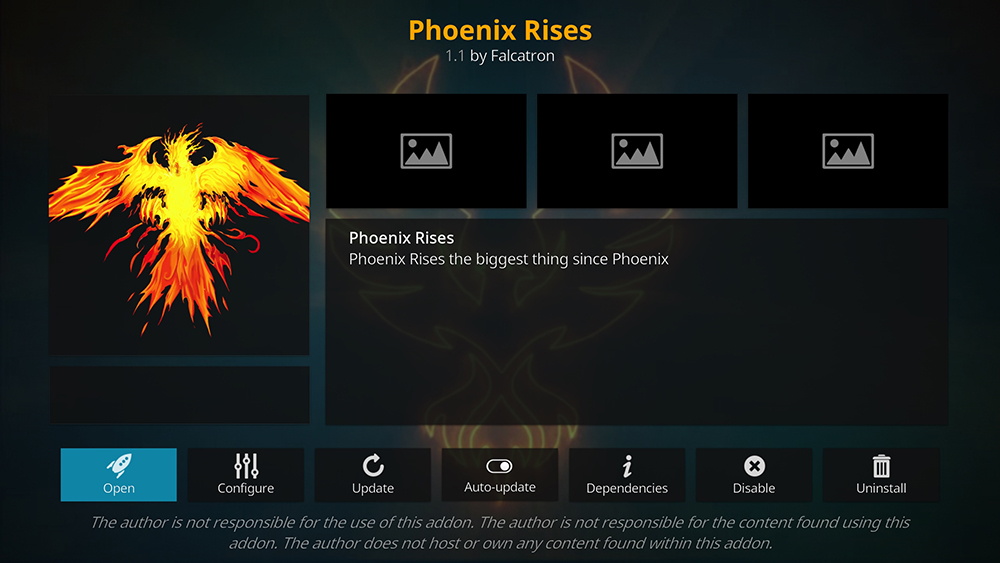 We became huge fans of Phoenix Rises as soon as we installed it. That's because this addon is actually a gateway to numerous other addons, each specializing in certain types of content. There's music here, in addition to movies, TV shows, documentaries, live events, and plenty more.
As you open the 'Movies' category, you will see more than 15 different options. You can check what's new, what's trending, check out different movie collections, and more. We also recommend checking '1-Click' movies, which play without the addon having to search the Web for available links.
Phoenix Rises is part of the Team Falcon repository, a brand-new repo that we think will be hugely popular soon. You can find it here: http://teamfalcon.exposed/repository/.
15. Original
As you already know, media streaming platforms offer plenty of interesting movies and TV shows served as the original content. In other words, there are plenty of Netflix exclusives that you won't find elsewhere. Well, there's now a Kodi addon that's dedicated to this type of movie titles.
Called 'Original', this addon comes with three main categories: Netflix, Hulu, and Amazon. All of these bring dozens of movies and TV shows – mainly served in HD video formats. And also, this addon is regularly updated with new titles, which is why we highly recommend it.
All you need to know is where to find this addon? Well, 'Orignal' can be found in the Mr. Freeworld repo, found here: http://legionworldtv.com/zips/.
There you have it, folks! We hope you've found our list of the best Kodi addons for movies to be helpful. Feel free to use the comments section below to tell us your favorites.
As always, we'd appreciate if you could share this article on social networks. And also, let's not forget to mention TechNadu's social media profiles. So, make sure to follow us on Facebook and Twitter. Thanks!