The world is moving around entertainment and we are sure that you want to be a part of it. Therefore, Kodi is the perfect solution for streaming the latest movies. Thanks to popular addons for Kodi, you are always just a few clicks away from a huge library of streamable content. This is why we've decided to bring you a list of the very best Kodi addons for movies. 
Disclaimer: We will be discussing software developed for Kodi – which is based on open-source code. However, the following software comes from unofficial third-parties. In addition, it is publicly available and free of charge. TechNadu doesn't claim any responsibility for how our readers decide to utilize the following software. Please note that we don't condone sharing pirated content and copyright infringement. TechNadu is not affiliated with the software mentioned in this article in no way. Make sure to carefully read the above-said disclaimer and ensure the proper use of the software.
WARNING: Before You Continue…
Even without your explicit consent, your ISP (Internet Service Provider) is collecting and filtering your Web browser data. This means that using Kodi to stream copyrighted content might get you into legal trouble. Also, your ISP might block access to specific streams, which leads to Kodi errors, or entirely blocked and throttled streaming. This is why users of Kodi should always use a VPN to make sure their identity and privacy are protected while streaming.
TechNadu's editorial team uses and strongly recommends ExpressVPN. This is, by far, the fastest and most reliable VPN with the power to unblock any website and service. Once activated, ExpressVPN encrypts your Web traffic and makes it anonymous – keeping it away from your ISP's prying eyes. In fact, you will become invisible on the Web since your user logs, and your traffic history isn't stored on any server.

Make sure your Web browsing and streaming aren't used against you. Subscribe to ExpressVPN and enjoy using Kodi without any restrictions!
The Best Kodi Addons for Movies – Top Picks!
Finally, let's take a look at some of the essential Kodi addons that you have to try on your own. We have done our research and tested each of the following suggestions. This is why you can be sure that you're installing a fully-working addon.
SkyNet
We have to say that SkyNet is one of our favorite addons at the moment. This is because it manages to bring just about any type of content that you could imagine.
When it comes to watching movies, SkyNet's got you covered. There is a specialized selection for the latest movies, many of which come in 720p and 1080p. We recommend checking out the 'SkyNet Online Movies' category, where you'll find everything you need.
Here's our detailed installation guide for SkyNet, which features in-depth information.
UK Turk Playlists
This list wouldn't be complete without mentioning the UK Turk Playlists addon. It allows you to watch movies, TV shows, and even live TV programming. What more can we ask for, really?
Upon launching the addon, you can access the Movies section. Inside, you'll find 36 ways to browse the current catalog. You can see what's trending, different genres and themes, as well as box-sets. Finally, streaming seems to work just fine – without any buffering issues.
Here's our installation guide for UK Turk Playlists, where we take you through the installation one step at a time.
Genesis Reborn
After being offline for a while, Genesis Reborn is finally available once again. We are sure that many of you were big fans of this addon, making us sure that you'll be ready to try it again.
The all-new Genesis Reborn takes off where the previous version left off. It still brings a nicely organized menu with plenty of different options. Once you enter the 'Genesis Reborn Movies' category, you will find a dozen of different ways to preview the available selection. This kind of easy navigation is hard to find these days.
Here's how you can install Genesis Reborn on Kodi and see for yourself why this is one of the best Kodi addons for movies.
Nemesis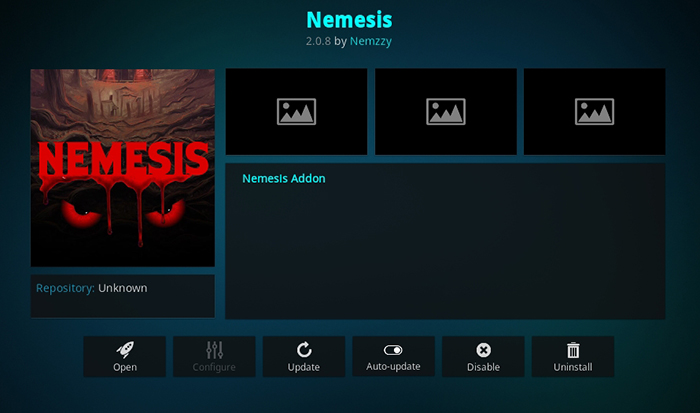 Long-time Kodi users know all about Nemesis. This addon managed to survive several legal attacks and it is still going strong. Today, Nemesis is a large repository of streamable content.
When it comes to movies, Nemesis provides access to both new and old movies. You can find 720p, 1080p, and even 4K movies. We were surprised to see 3D movies as well, which can be used if you have a 3D-equipped smart TV. The only downside is that you need to enter a PIN every four hours, which can a bit tedious.
Use the following link to learn more about Nemesis as well as how to install it.
Incursion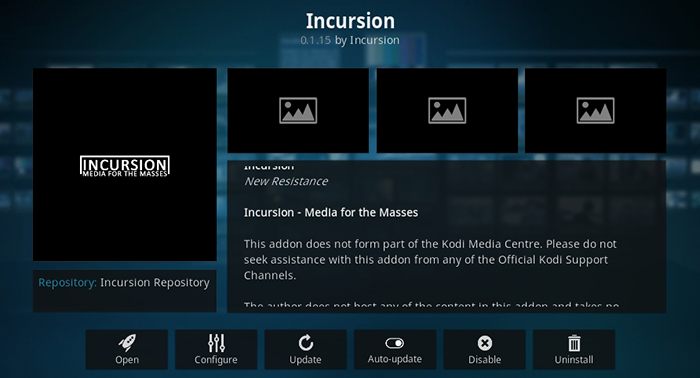 A few months ago, one of the most popular all-in-one addons went offline. There are big chances that you were a fan of Exodus, which is nowhere to be found at the moment. This is why we need to take a look at the most capable forks.
In the world of Kodi, forks are 'offsprings' of certain addons. For example, Incursion is one of the best forks of Exodus currently available. This addon can be used to watch movies and TV shows and features a familiar UI. There are numerous different filtering options, making us sure you'll always find something interesting to watch. On top of all this, you'll hardly find a non-working link.
Here's our in-depth review of Incursion, containing the installation guide.
Gaia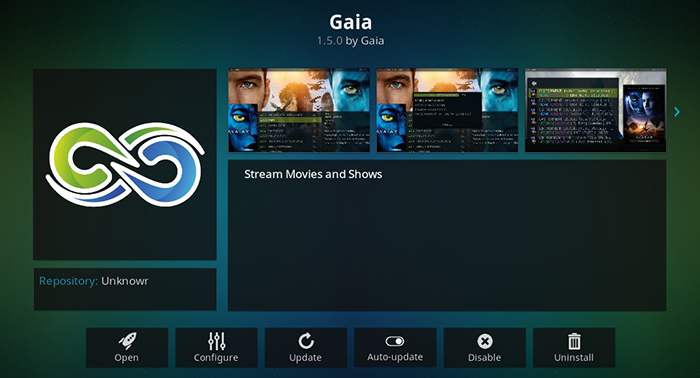 The Gaia addon is a different type of addon. Instead of scrapping the Web for available links, it uses a few well-known (and premium priced) services. One of these is Real Debrid, which allows you to stream HD and even 4K movies without any issues.
Even though Gaia requires you to pay for the full user experience, you can still use it free of charge. This addon successfully finds the latest and older movies, making is one of the best Kodi addons for movies, at least for the moment. In addition, Gaia comes contained within its own repository, which gives us hope that it will work for a very long time.
You can install Gaia on Kodi in a matter of minutes. Don't miss out on trying this addon on your own.
The Dogs Bollocks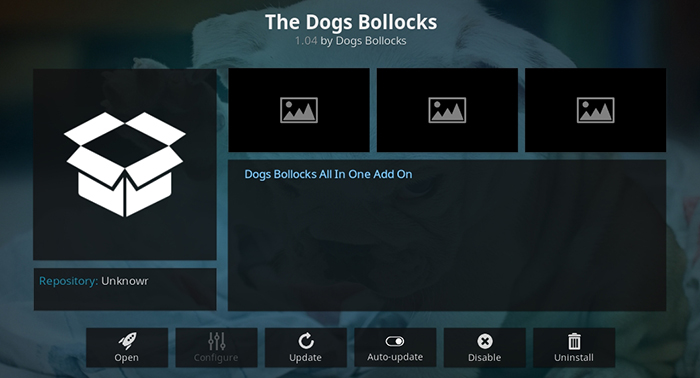 Yes, we understand how strange the name of this addon sounds. However, we're ready to go past that since The Dogs Bollocks is one of the most powerful Kodi addons you can find. In fact, this is the successor of The Pyramid, which is now defunct.
The Dogs Bollocks offers several different ways to find a movie you'd like to watch. For example, you can check out what other Kodi users are watching. There are also dedicated categories for newly released movies, screeners, and cam recordings. All in all, an incredible library of movies await.
Want to try out this addon? Great! Here's how to install The Dogs Bollocks on your Kodi.
Atom Reborn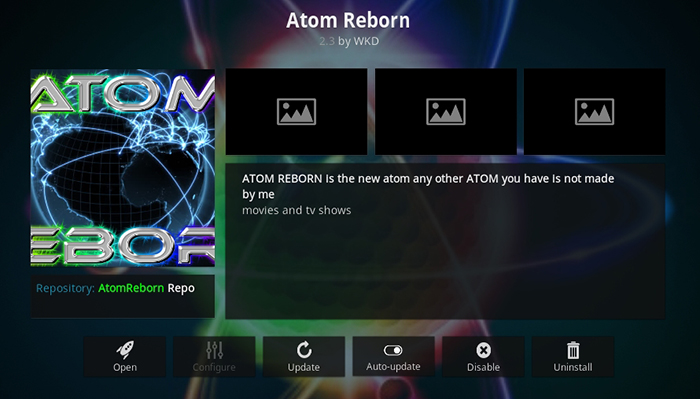 In the past, you have probably heard about Atom addons for Kodi. Those were numerous addons that were oriented towards different types of content. Today, we have Atom Reborn which is a very capable all-in-one addon.
When it comes to movies, you can expect the standard set of options. There are different filtering options, allowing you to narrow down your choice. However, you'll be happy to hear that some niche categories exist as well. For example, there's a selection of Real Debrid movies that provide a very smoothing buffering. Then, you will also find a selection of around 100 4K movies. Sounds amazing, right? You'll soon see why this is one of the best Kodi addons for movies – trust us.
To find out more about this addon, read our review of Atom Reborn (which also contains the installation guide).
Jarvis VOD
We end our list of the best Kodi addons for movies with Jarvis VOD. The latest version of this addon brings plenty of additions, which includes new movie genres as well.
The only downside to Jarvis VOD is its somewhat hectic user interface. We suspect this addon is using several sources to feed its content, which is why you'll see oddly named sections. However, almost every section brings its own movie library. All in all, there are hundreds of titles available.
We strongly recommend you to try out this addon. Here's all you need to know about Jarvis VOD.
Additional Resources: What's Next?
Now you know more about the best Kodi addons for movies. However, numerous other options await. Therefore, we'd like to provide a few useful resources.
Aside from movie-related addons, you can explore TechNadu's list of the best Kodi addons. This is where you'll find plenty of different options to try out;
Next, here are the best live TV addons. Since Kodi can be useful if you decide to go cord-cutting, it's worth knowing that you can use watch IPTV as well;
Finally, you can try one of the best builds for Kodi – or explore what different developers have to offer by installing the most popular repositories.
Final Thoughts
There you have it, folks! We hope you've found our list of the best Kodi addons for movies to be helpful. Feel free to use the comments section below to tell us your favorites.
As always, we'd appreciate if you could share this article on social networks. Let's spread the word about Kodi. Thanks!