The world is revolving around entertainment and we are sure that you want to be a part of it. Therefore, Kodi is the perfect solution for streaming the latest movies. Thanks to popular Kodi addons, you are always just a few clicks away from a huge library of streamable content. This is why we've decided to bring you a list of the very best Kodi addons for movies.
We understand your frustration of finding addons that still work. The truth is that Kodi addons can be quite unreliable and it's always a good idea to have alternatives. We did our homework and tested dozens of Kodi addons as we wanted to find fully-working addons as of May 2019. Therefore, you can be sure that the following addons are the best Kodi addons for movies at the moment. If you have other suggestions, make sure to drop us a comment below.
Before getting started, we strictly recommend you to be safe while using Kodi. Therefore, we want you to read the We will be talking about software developed for Kodi – which is based on open-source code. However, the following software comes from unofficial third-parties. In addition, it is publicly available and free of charge. TechNadu doesn't claim any responsibility for how our readers decide to utilize the following software. Please note that we don't condone sharing pirated content and copyright infringement. TechNadu is not affiliated with the software mentioned in this article in no way. Make sure to carefully read the above-said disclaimer and ensure the proper use of the software.
disclaimer and WARNING notice found below.
Warning: Why you should ALWAYS USE a VPN with Kodi?
Here are the reasons that you should consider looking at it without SKIPPING.
Using ILLEGAL Kodi Addons are Dangerous without a VPN: Most of the Kodi users are installing the ILLEGAL Kodi addons on their system to access all the latest movies, TV shows, sports, music, and much more for FREE, than a legal Kodi addon where it has the least content in it. But do you know what? The video content on illegal addons is scraped and copyrighted material. If you are accessing them on Kodi, then your activities will be monitored by your ISP by tracking your IP and gives all the information to the government or companies if they request for it. This will land you in trouble. To stay away from this, you will have to connect to a VPN where it hides your identity by rotating your IP address while streaming Kodi content. This is how you will be safe from the prying eyes.
Bypass Geo-Restriction: As you probably know, some official addons like BBC iPlayer, NBC Sports, Hulu, IceFilms have geo-location restrictions. This also applies to other addons like Acestream which fetches the data from torrents. To unblock these restrictions, you will have to DEFINITELY use a VPN no matter what.
The above are the 2 reasons that forcing us to recommend a VPN to the Kodi users for safer streaming. In fact, after testing several VPNs for Kodi, we finally came up with a one non-stop solution and that is ExpressVPN, the top-rated Kodi VPN so far.
Limited Time Offer: For our TechNadu readers, there is a 49% OFF on ExpressVPN which includes 3 FREE Months in it.
Finally, let's take a look at some of the essential movie addons for Kodi that you have to try. All of the following recommendations come with huge media libraries, and we're sure they'll keep you busy for a long time.
Keep on reading to get the 12 best Kodi addons for movies in May 2019.
1. Exodus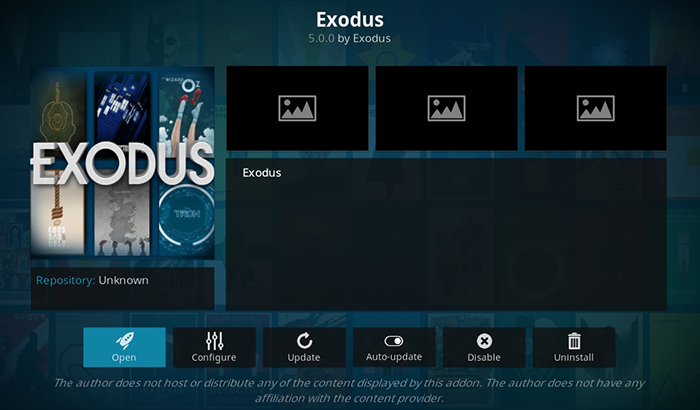 We start our list with one of the most popular addons of all time. Even though Exodus was offline until a few months back, it has been picked up by a new developer. This means that you need to update or install the new version if you've used this addon before.
You can find two types of content here – movies and TV shows. The most interesting thing about movies is that numerous filtering options are available. You can browse different genres, languages, actors, directors, or take a look at curated lists. All in all, a pretty comprehensive movie addon for Kodi. Here's how to install Exodus addon.
2. Yoda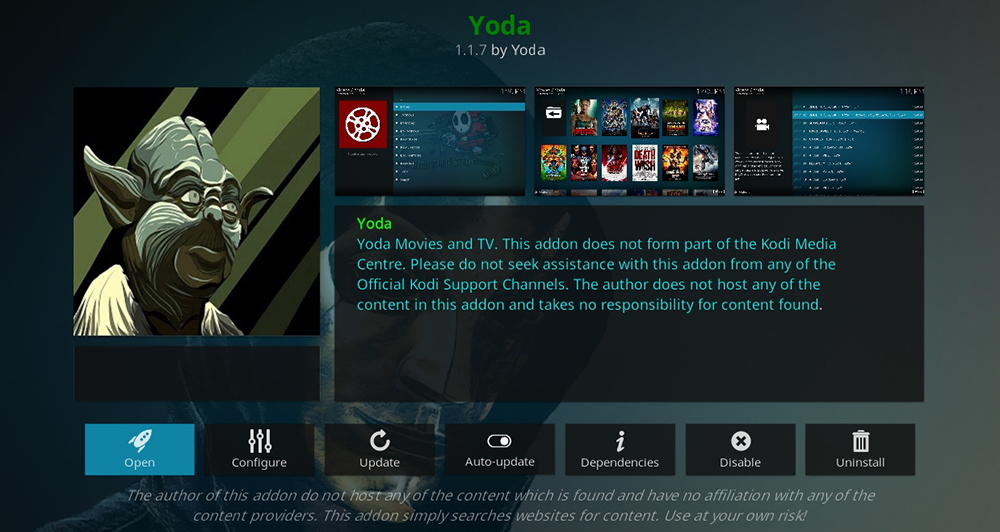 Being an Exodus clone, Yoda quickly became a highly trending addon a while back. This addon is all about movies that you can sort and browse in many different ways. You can find plenty of different genres, languages, box-sets, and you can create your custom lists of favorites.
At the moment, Yoda is one of the best performing addons with plenty of fully-working links. To download this addon, use the following URL to install the repository that hosts Yoda – http://2supremacy.uk/repo/.
3. Monster Munch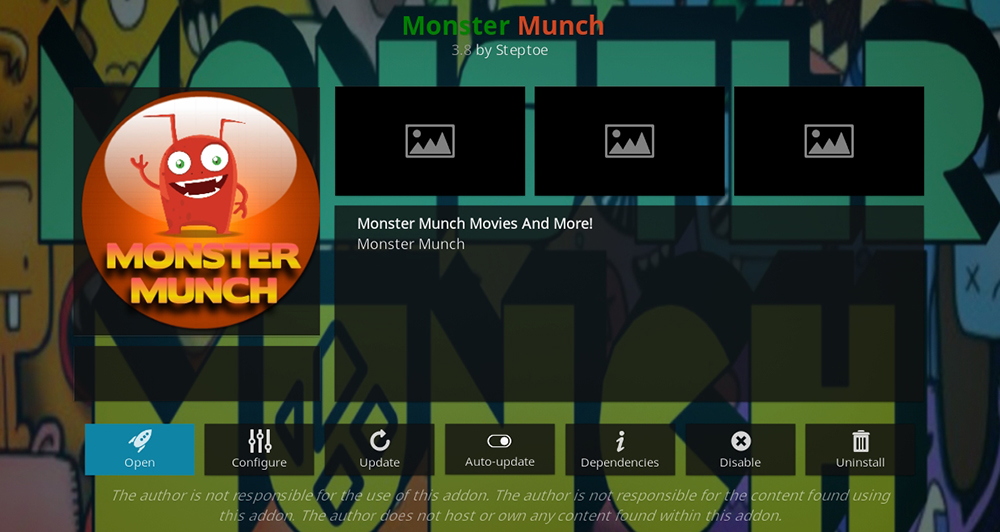 Monster Much is a currently popular Kodi addon that's not only about movies. However, what we like best about this one is its curated movie collection. And on top of that, you can find Real-Debrid movies here as well, and even 4K titles that work without any problem. There are over one hundred 4K movies, all playing without a hitch.
Want to try Monster Munch and see why it's one of the best Kodi movie addons? If that's so, here's the addon's repository – http://steptoesplace.net/repo.
4. The Magic Dragon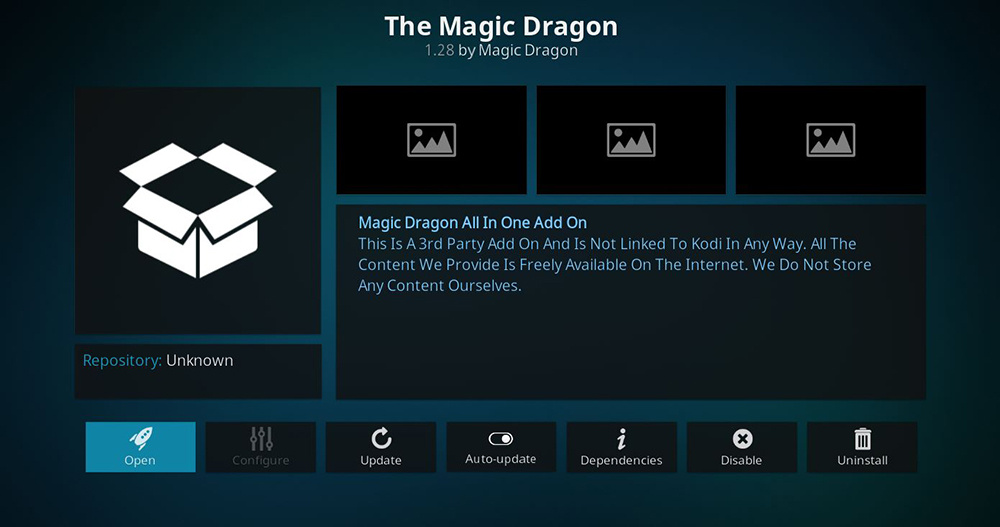 The Magic Dragon is a powerful all-in-one addon that can satisfy your every entertainment-related need. It's been around for several months now and received plenty of updates in the meantime. Today, this is perhaps the most feature-rich addon around.
Aside from bringing a sizeable content library, this addon supports Real Debrid. If you want a smooth playback without any buffering, you can find this option on the home screen of The Magic Dragon. Aside from movies, you can find TV shows, sports, cartoons, and even online radio stations. To learn more, check our article on the Magic Dragon for Kodi.
5. Destiny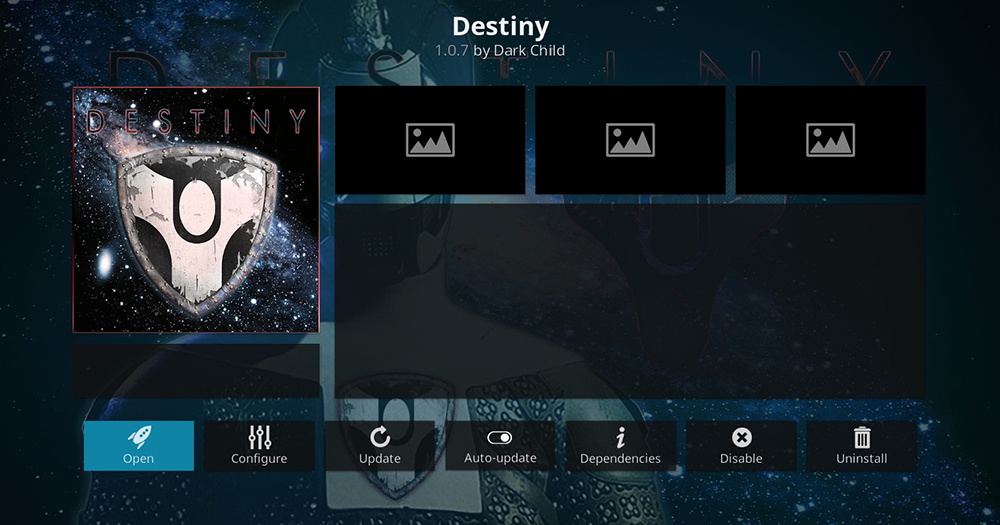 It's relatively easy to find movie-related addons for Kodi. However, you should search for the best movie Kodi addons that don't just list the available titles. Ideally, you want several filtering options and even curated collections. Well, that's why we're recommending Destiny in this article.
Created by 'Eggman', Destiny is a freshly released addon that uses the latest scrapers. It comes with a category dedicated to movies, filled with interesting sub-categories. You can check out different genres, what's popular, what's trending, and more. However, you can also watch Oscar-winning movies, the most popular titles in the last decade, and you can create a list of your favorites. So, there's plenty going on around Destiny, which has already become hugely popular.
As noted earlier, Destiny can be found in the Eggman Repository. With this said, make sure to use the following URL: http://repo.mreggman.xyz and install Destiny from there.
6. Aspis
All-in-one addons are a great way to expand your Kodi media library. And if they come with a huge library of movies, you'll certainly want to have one of those installed. Well, that's where Aspis comes into play.
Having a dedicated movies library, Aspis comes with pretty much any movie genre you can imagine. You can even find 3D and 4K movies here, in addition to a sizeable collection of 1-click movies. These titles are played automatically, without having to search for a source. This makes them the best that Kodi can currently offer.
Aspis is hosted by the Supremacy repository – http://2supremacy.uk/repo/. Add this URL to your Kodi's File Manager, and then install the repo and the addon itself.
7. Tempest
Tempest is a recently released addon and it's a clone (fork) of Exodus. However, it has its own scrapers and comes with a huge library of movies and TV shows. And since Kodi users should always have plenty of alternatives, we think you should really try this addon out.
What's interesting about Tempest is that it brings fast-performing scrapers. When it comes to freshly released movies, you can easily find HD links as well as a few 4K links as well. And let's not forget to add that you'll get to access hundreds, if not thousands of movies and TV shows.
To install Tempest, you need to use the following URL, from where you can install the Tempest repository: http://tempest.zapto.org/repo/.
8. UK Turk Playlists
This list wouldn't be complete without mentioning the UK Turk Playlists addon. It allows you to watch movies, TV shows, and even live TV programming. What more can we ask for, really?
Upon launching the addon, you can access the movies section. Inside, you'll find 36 ways to browse the current catalog. You can see what's trending, different genres and themes, as well as box-sets. Finally, streaming seems to work just fine – without any buffering issues.
Here's our installation guide for UK Turk Playlists Kodi addon, where we take you through the installation one step at a time.
9. Redemption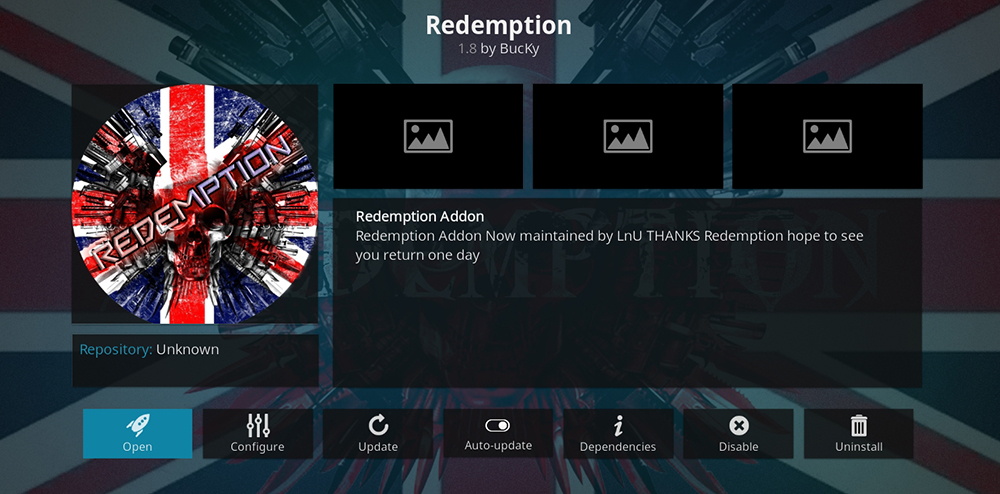 Redemption has been available for a long time now, initially developed by Bucky Media. However, this repository went down a few months ago, which made Redemption go offline as well. Still, this isn't the end for this amazing movie addon as it now has another developer working on it.
You can find the latest version of this addon in the Diamond Repo, found using this URL: http://repo.rubyjewelwizard.com/. Install this repository first, visit its 'Video Add-ons' section, and you'll see Redemption waiting for you. You'll find plenty of the latest movies here, some 4K titles, and there's even a section for Shudder movies.
10. Tubi TV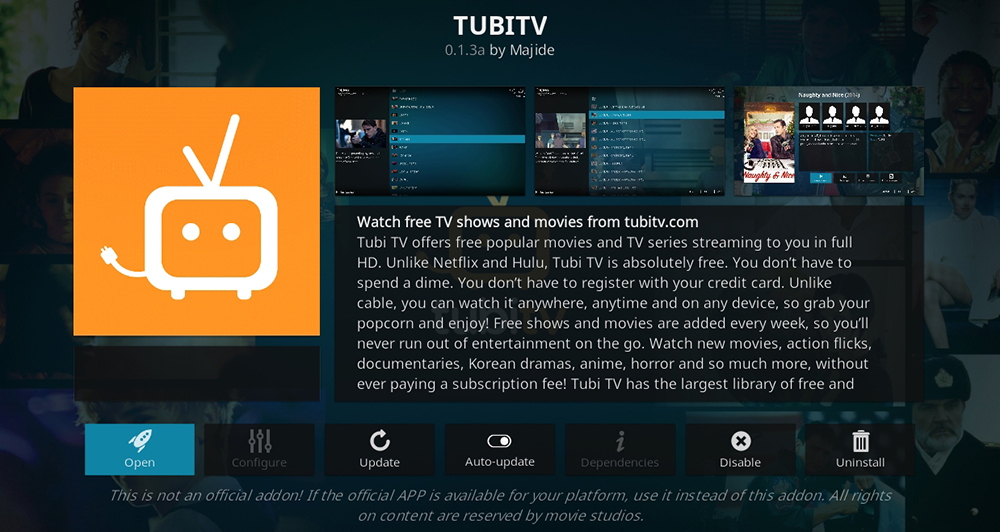 Tubi TV is something else. It doesn't bring you the latest Hollywood blockbusters. Instead, it relies on Web services for movies that might have flown under the radar. As such, it provides a wealth of content that plays in HD as well.
You need to use this URL to install Tubi TV – http://addons.kodibg.org. Add this URL to your Kodi via the application's File Manager. Then install the repository, and finally install the addon.
11. Deceit
Deceit comes from the hottest Kodi contributor at the moment, called One Nation. Even though it resembles Exodus in some ways, this is a hugely powerful addon that offers more than just movies. You can find live TV channels, sports, TV shows, and plenty more.
This addon can be installed from this address – http://onenation.info/Repo, which is the official URL of the One Nation repository.
12. Loki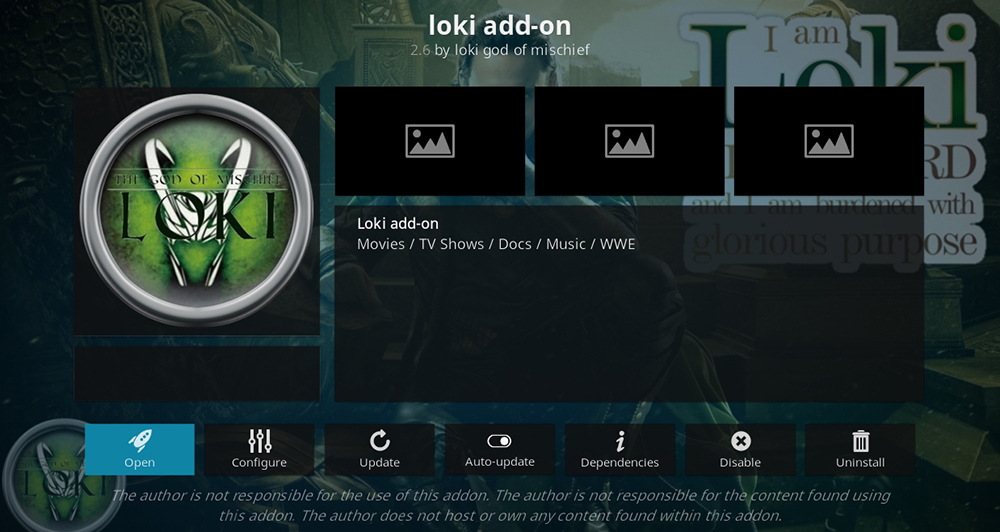 It's true that Loki has had a troubling past. However, it somehow always manages to come back. Quite recently, Loki received a new update that once again brought this addon up to speed. And we simply had to include it in our list of the best Kodi addons for movies.
When installing Loki, making sure to use the latest available version. And this means using this repository – http://kodiuk.tv/repo.
There you have it, folks! We hope you've found our list of the best Kodi addons for movies to be helpful. Feel free to use the comments section below to tell us your favorites.
As always, we'd appreciate if you could share this article on social networks. And also, let's not forget to mention TechNadu's social media profiles. So, make sure to follow us on Facebook and Twitter. Thanks!