Locast is a live-TV streaming service, available free-of-charge in a number of US cities and metropolitan areas.
Since it isn't charging its users, Locast is a nonprofit organization that relies on donations – which has helped the service avoid legal troubles, until now.
Major broadcasters have had plenty of success in shutting down TV streaming platforms that used to operate without the 'retransmission consent.'
Early last year, a new TV service named Locast grabbed the headlines by announcing its presence in several cities across the United States. Unlike other live TV streaming services, Locast does not charge its users, which helped the service avoid any legal troubles until now. However, the future of this streaming platform is now at stake, as all four major broadcasters (ABC, CBS, Fox, and NBC) have filed a lawsuit against Locast. As the Wall Street Journal reports, the TV networks are trying to shut down this streaming service after having plenty of success in similar endeavors in the past.
The founder of Locast is David Goodfriend, a lawyer based in New York. As explained to the New York Times earlier this year, Locast was founded after carefully inspecting whether relevant laws allow the existence of such a service. Goodfriend got the idea of launching Locast while lecturing at Georgetown Law about the demise of Aereo. This company was similar to Locast, but with one major difference. Aereo was using broadcast signals and offered them for online streaming without negotiating with broadcasters for the privilege. This led to a lawsuit which ended in the US Supreme Court ruling in 2014 that the company has violated copyright law. It didn't take long for Aereo to declare bankruptcy, which is now raising the question of the future of Locast. Something similar is also happening to Omniverse, another live TV streaming service.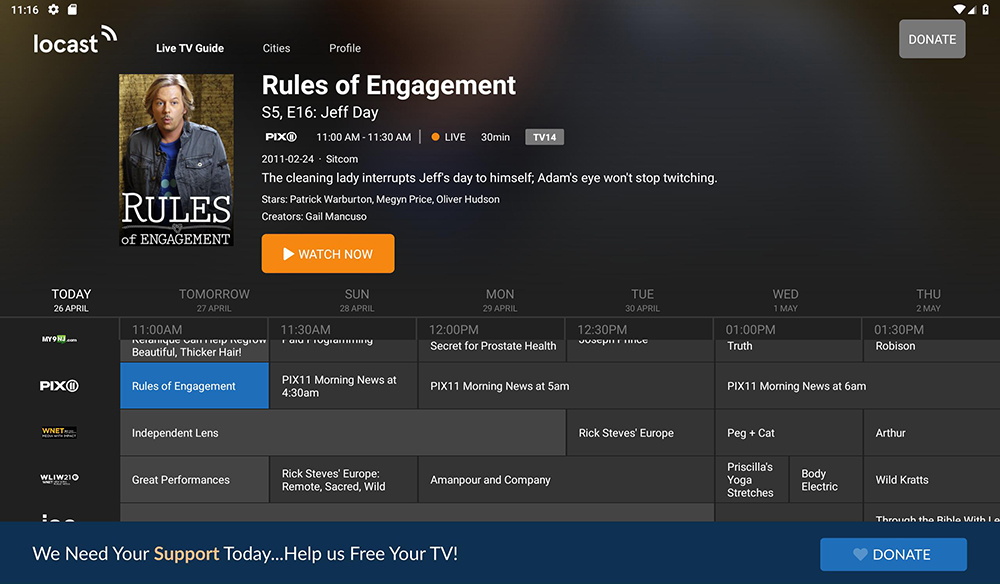 Unlike Aereo, Locast is a non-profit organization. Even though Goodfriend initially funded the service via a line of credit from an unknown entrepreneur, the streaming service now relies on user donations. Anyone can use the service free of charge (in supported areas), but donations are welcomed as they help the service stay afloat. However, even that's not a problem for broadcasters such as ABC, CBS, FOX, and NBC. The problem is that Locast is gaining popularity across the US and it has started to build strong relationships with AT&T and Dish Network.
A few months ago, AT&T added the Locast app to their DirectTV and U-verse set-top boxes. On top of that, the company made a $500,000 donation to Locast so that the streaming platform can "make free broadcast content available to consumers and offer them more choice." Additionally, AT&T promoted Locast as a way for its customers to circumvent a blackout of CBS-owned stations. Due to all these reasons, the major broadcasters are saying that "Locast is not the Robin Hood of television; Instead, Locast's founding, funding, and operations reveal its decidedly commercial purposes." The broadcasters also believe that AT&T, Dish network, and Locast are working together to "devalue retransmission rights." Interestingly enough, Dish now denies any connection to Locast.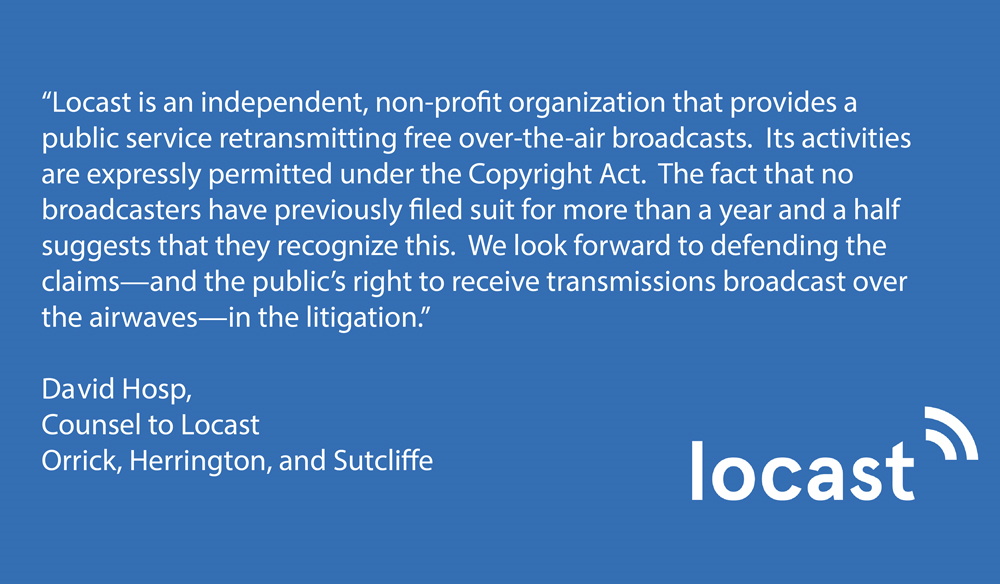 Finally, it's worth noting that Goodfriend has had plenty of success in the courtroom, in the past. Locast was founded as part of a non-profit organization called Sports Fans Coalition NY. Back in 2014, this group managed to challenge the NFL for imposing blackouts on local broadcasts of games. The Federal Trade Commission ultimately ended the Sports Blackout Rule, forcing the NFL to suspend its blackout-related practices. Of course, you still need to get creative to bypass blackout restrictions, as these aren't going completely away anytime soon.
Are you a user of this live TV streaming platform, and what are your thoughts on the above? Let us know in the comments section below, and don't forget to follow us via our social media profiles, on Facebook and Twitter. Thanks!