The chances are that you're using Kodi as an alternative to Netflix, Hulu, or Amazon Video. Thanks to a large number of available add-ons and customized Kodi builds, you can find and stream almost any kind of content. This includes movies, international live TV channels, sports programming, cartoons, anime, or anything in between. We have already covered various types of Kodi addons on our website, which is why we have decided to dedicate this article to documentaries. No matter if you like historical documentaries or modern conspiracy theories, you have come to the right place. We know which are currently the best Kodi addons for documentaries that you can download right now.
If you like to follow TechNadu's articles, you know that we're doing our best to discover fully-working best Kodi addons that are well-maintained as well. This is going to be the case with this article as well. During our research, we have encountered several niche Kodi documentary addons that bring extensive libraries of content. Let's jump right in.
Before getting started, we strictly recommend you to be safe while using Kodi. Therefore, we want you to read the We will be talking about software developed for Kodi – which is based on open-source code. However, the following software comes from unofficial third-parties. In addition, it is publicly available and free of charge. TechNadu doesn't claim any responsibility for how our readers decide to utilize the following software. Please note that we don't condone sharing pirated content and copyright infringement. TechNadu is not affiliated with the software mentioned in this article in no way. Make sure to carefully read the above-said disclaimer and ensure the proper use of the software.
disclaimer and WARNING notice found below.
Warning: Why you should ALWAYS USE a VPN with Kodi?
Here are the reasons that you should consider looking at it without SKIPPING.
Using ILLEGAL Kodi Addons are Dangerous without a VPN: Most of the Kodi users are installing the ILLEGAL Kodi addons on their system to access all the latest movies, TV shows, sports, music, and much more for FREE, than a legal Kodi addon where it has the least content in it. But do you know what? The video content on illegal addons is scraped and copyrighted material. If you are accessing them on Kodi, then your activities will be monitored by your ISP by tracking your IP and gives all the information to the government or companies if they request for it. This will land you in trouble. To stay away from this, you will have to connect to a VPN where it hides your identity by rotating your IP address while streaming Kodi content. This is how you will be safe from the prying eyes.
Bypass Geo-Restriction: As you probably know, some official addons like BBC iPlayer, NBC Sports, Hulu, IceFilms have geo-location restrictions. This also applies to other addons like Acestream which fetches the data from torrents. To unblock these restrictions, you will have to DEFINITELY use a VPN no matter what.
The above are the 2 reasons that forcing us to recommend a VPN to the Kodi users for safer streaming. In fact, after testing several VPNs for Kodi, we finally came up with a one non-stop solution and that is ExpressVPN, the top-rated Kodi VPN so far.
Limited Time Offer: For our TechNadu readers, there is a 49% OFF on ExpressVPN which includes 3 FREE Months in it.
Before we continue, you need to be sure that you can install third-party addons. By default, Kodi allows addons from its official repository to be installed. However, you can open Kodi to third-party software in just a few quick steps, so make sure to do that first.
And now, we're proud to present the 10 best Kodi addons for documentaries as of December 2019. Here are our top picks!
1. IT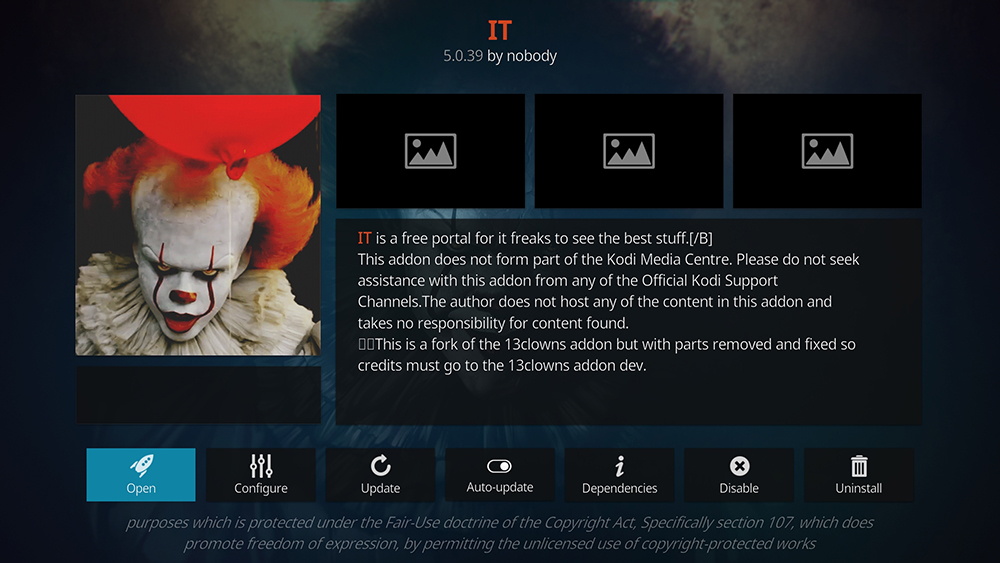 We understand that many of you have been using 13Clowns lately. However, as you surely know, this addon is no longer available. However, we now have a clone of 13Clowns that will most certainly make you happy. Called IT, this addon is all about movies and TV shows, with documentaries being included as well.
Speaking of documentary films, IT comes with helpful navigation allowing you to check different topics and genres. And if you simply want to see what's available as one huge list, you can see that as well. There are hundreds of titles on offer, many of them in HD. The addon is quick to scrape the Web for available sources and has no performance or buffering issues.
Here's the URL of this addon's repo: https://t2k-cloud.co.uk/Repo. Make sure to add it to your Kodi via the application's File Manager, install the repository, and then install the addon as well.
2. The Red Queen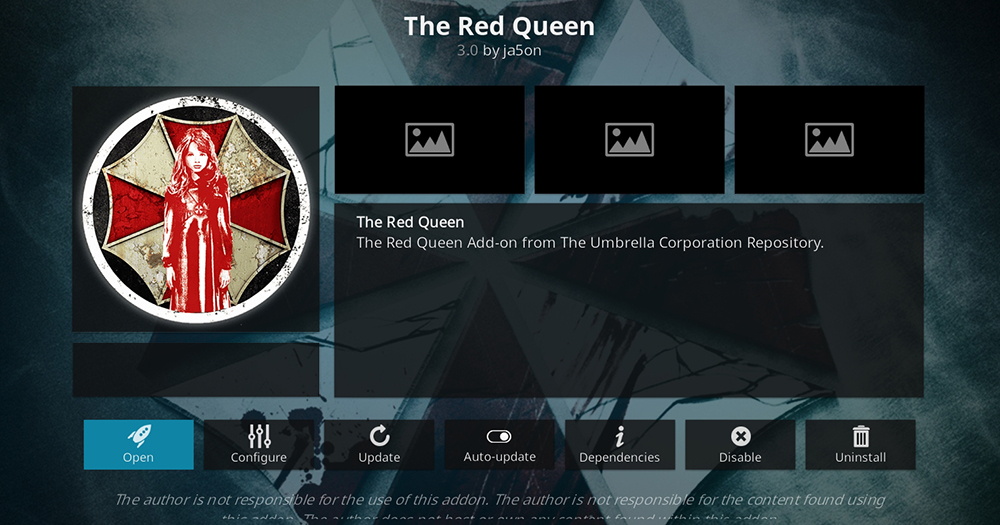 This freshly released addon uses the same database as our previous recommendation. However, we all know that Kodi addons can be quite unreliable – so having an alternative is never a bad idea. That's why we recommend installing The Red Queen.
This addon's section dedicated to documentary movies comes with around 40 genres and plenty of individual titles. You would really need to make an effort here not to find plenty of interesting titles. And if that's not enough, The Red Queen gives you access to movies, TV shows, sports-related content and plenty more.
If you'd like to give The Red Queen a try, use this URL: http://racooncity.gq/repo/.
3. Phoenix Rises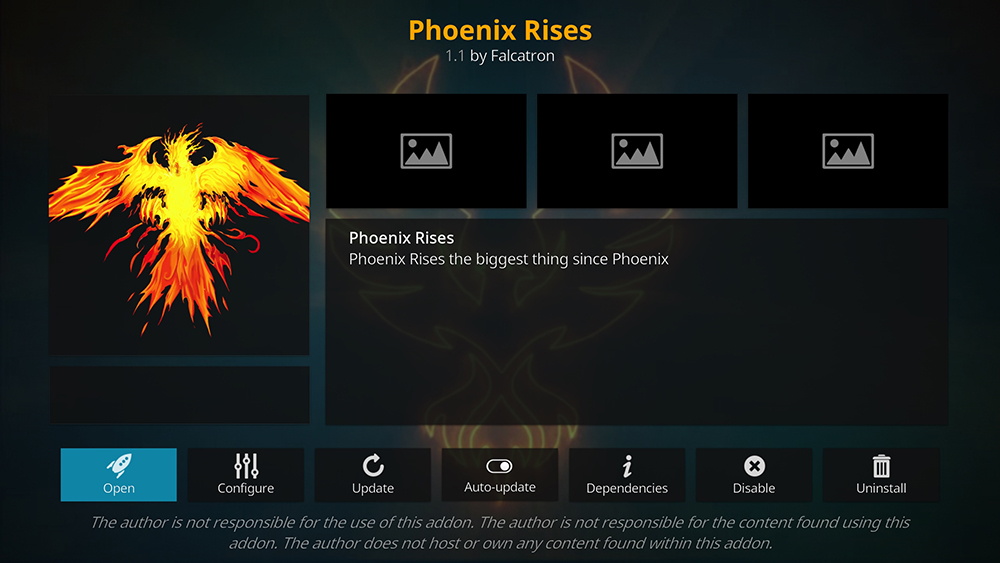 Next, we have a freshly released addon that brings just about everything. Phoenix Rises is actually a combination of different addons, with each specializing in a different type of content. There's a category related to documentaries, where you'll find 25 sub-categories like crime, drugs, economics, nature, and so on.
Aside from documentaries, Pheonix Rises can also be used for movies, TV shows, music, cartoons, live events, and there's a segment for adult-related entertainment. We've spent some time testing the addon, and we can say that it works without any issues, whatsoever.
In case you'd like to download and install Phoenix Rises, you need to download the Team Falcon repository first, found here: http://teamfalcon.exposed/repository/.
4. The Magic Dragon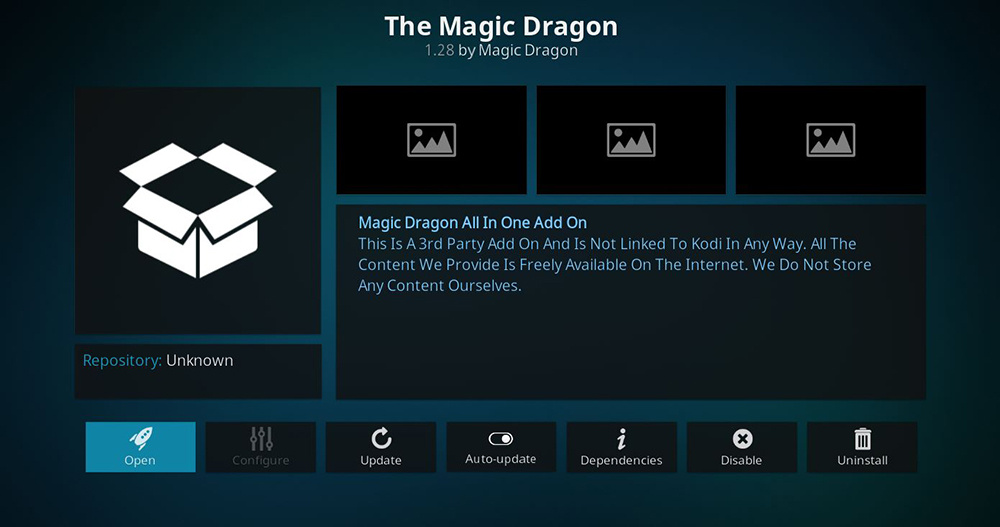 Next on our list of the best Kodi addons for documentaries is The Magic Dragon. Even though this is one of our recent discoveries, this addon has already proved its worth. In fact, we have been using it on a daily basis.
Among the available content options on the homepage, The Magic Dragon offers a dedicated section for documentaries. Open it and you'll see a long list of different titles – more than 1,000 right now. Click on the title you want to watch, and the addon will do the rest on its own. The best thing is – the majority of movie files can stream without any problems.
We strongly recommend you to try this interesting addon. Here's all you need to know about how to install The Magic Dragon on Kodi.
5. Scrubs v2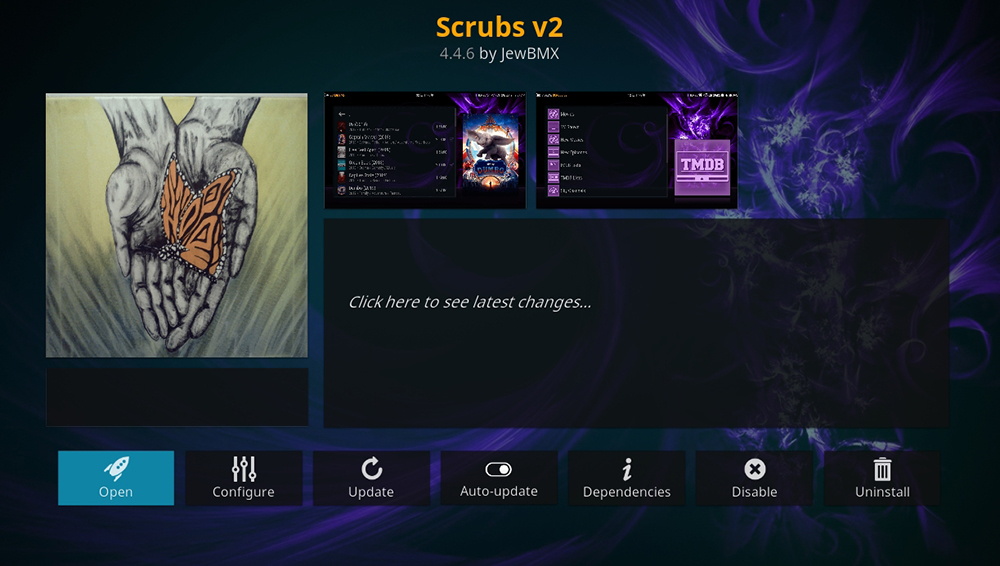 Scrubs was a hugely popular addon a while back until it somehow stopped being the most reliable Kodi addon. However, as you can see by its name, Scrubs v2 is the second version of this addon – and if we dare to say, it's quite better than the original.
Aside from offering a sizeable catalog of movies and TV shows, you'll find additional content options in the 'More Stuff' folder – available from this addon's home screen. As you can imagine, there are documentaries here as well. More precisely, there are 20+ different genres and topics, so there's plenty to watch.
The latest official version of Scrubs v2 can be found here: https://jewbmx.github.io/.
6. Numbers (Numb3r5)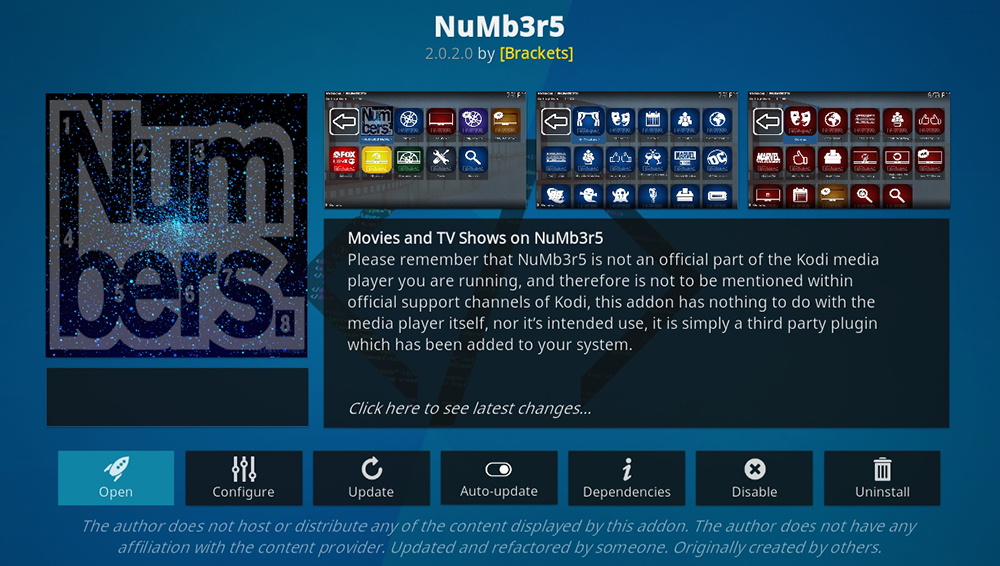 In many ways, the Numbers addon is similar to our previous recommendation. Primarily, this addon is focused on movies and TV shows. However, there's also a rich library of documentary films, who have their own dedicated category.
Numbers uses the same content filtering system like Exodus, so you'll find numerous genres and topics within each of its content categories. The same applies to documentaries, as there are 23 sub-categories to choose from with hundreds of titles combined. In terms of recently released addons, this surely is one of the best Kodi addons for documentaries.
If you'd like to test-drive Numbers, you first need to install the CellarDoor repository, found using this URL: http://cellardoortv.com/repo.
7. 7of9 AIO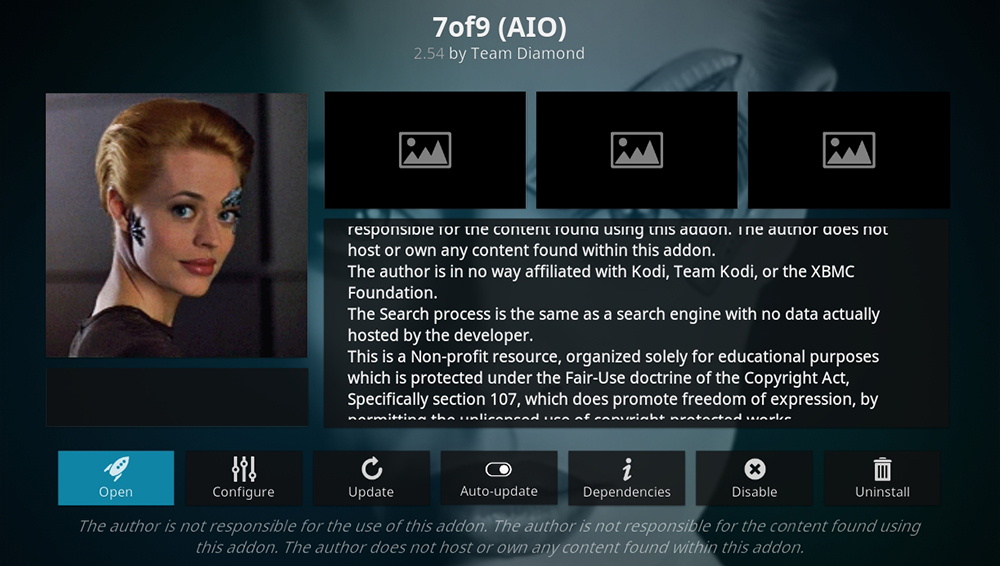 We're huge fans of all-in-one Kodi addons – for obvious reasons. They bring a wealth of content, usually nicely organized and easily accessible. Well, 7of9 belongs to that group of addons. Also, we believe you're going to love this addon if you're into Star Trek and Star Wars, considering that it comes from a developer who's a huge fan of those movie franchises.
In terms of the available documentaries, there are hundreds (if not thousands) of available titles. There are many ways to filter the available content, and many of these files seem to work without a hitch. Therefore, we definitely recommend checking this addon on your own.
Here the URL of the Dimond Wizard Repo: http://repo.rubyjewelwizard.com/. You'll need to install this repository first, and then access it to install 7of9 (AIO).
8. Nole Cinema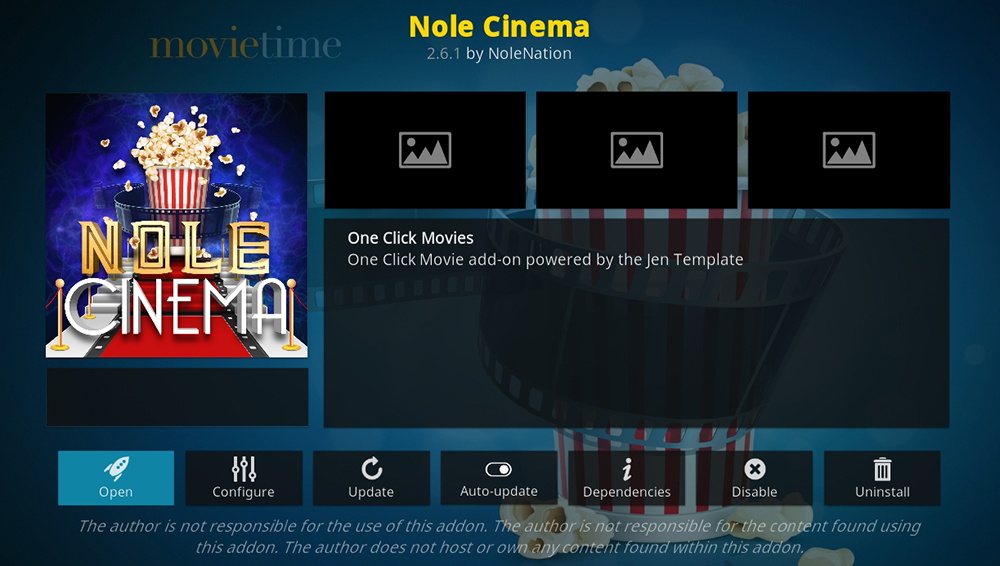 As you can guess by its name, Nole Cinema is mostly focused on movies. This is a unique addon as it scrapes the Web for sources usually not available elsewhere. And considering that it comes with a dedicated documentary section, there's a chance you'll find some highly interesting titles here.
At the moment, there are around 40 titles in terms of documentary films. This might not be the biggest library of its kind, but it's still worth having it. With this said, we didn't have any doubt about whether to include the Nole Cinema addon on our list of the best documentary Kodi addons. Finally, here's the URL you need to use to install the repository which hosts the Nole Cinema addon: http://magnetic.website/repo/.
9. YouTube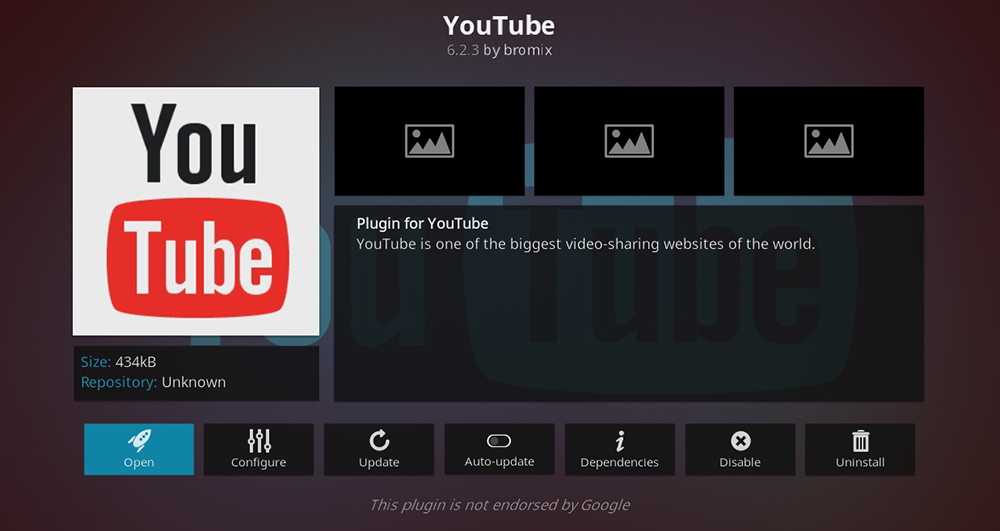 You might be wondering why we have decided to put YouTube on this list. Well, you probably know that you can find numerous full-length documentary films on YouTube. These might not be the latest Netflix documentaries, but this list wouldn't be complete if we fail to mention such an incredible source of educational films.
Steps to Install YouTube Using Kodi's Official Repository
Open Kodi and click on 'Add-ons' in the left-placed main menu;
Next, click on the Open Box icon, found in the top-left corner;
Select 'Install from Repository';
Then, navigate to Kodi Add-on Repository > Video Add-ons;
Scroll to the bottom of the list, where you'll find the YouTube addon. Click to open it;
Finally, hit the 'Install' button;
After a few moments, YouTube will be ready for use on your Kodi. Return to the Add-ons section, where you'll see its icon.
Once you launch the YouTube addon, you will be greeted by several popular ways to browse the available content. These are Popular Right Now, Browse Channels, and Live. Moreover, you can also sign-in using your YouTube account and access your library of content.
One of the ways to browse documentaries is to use the search option. Next, click on Search > New Search. Type in 'Documentary' and hit Enter. This way, you will unlock a whole new section of full-length documentaries with thousands of available titles.
10. cCloud TV
In the world of Kodi addons that bring live streams of TV channels, cCloud TV deserves a special place. This add has been around for quite some time and even managed to expand its library of content. Today, cCloud TV features TV channels, movies, and TV shows as well.
As you can see, this addon is a viable option if you're looking for TV channels that bring documentaries like Discovery or National Geographic, for example. This section can be found on the addon's home screen, under the 'Documentary' section. Inside, you'll see close to 60 TV channels including Animal Planet, Discovery Channel, Discovery Science, Viasat Explorer, Viasat History HD, and many others. You can also find non-English channels as well. And finally, make sure to read TechNadu's guide on how to install the cCloud TV addon on Kodi.
That's it, folks! We hope that you're enjoying your brand new Kodi addons for documentaries. If you install all of the addons found in this article, you'll unlock hundreds of hours of content on your Kodi. We are sure this will keep you busy for a long time.
If there's an addon that we haven't mentioned, please don't hesitate to tell us. Use the comments section below to ask us anything. Also, don't forget to follow us on Facebook and Twitter. Thanks!