Watching documentaries on Kodi is a dream come true. This application comes with a range of addons that specialize in educational videos, most of which are free of charge. However, what are truly the best Kodi addons for documentaries in 2021? We'll help you find out!
Before we jump in, know that we've focused only on legal addons for Kodi. That means you won't find any "unofficial" addons here, which typically lead to copyright infringement. So, you'll be safe and worry-free when using Kodi. And now, let's jump right in.
How to Find & Install Documentary Addons on Any Version of Kodi?
We've prepared a long list of Kodi addons that focus on documentaries - and all of them are very quick to install. Just go through the following steps.
Open Kodi and select 'Add-ons' using the main menu (on the left side).
Then, select 'Download' and click on 'Video Add-ons.'
Pick the addon you want to install (such as iPlayer WWW, CuriosityStream, National Geographic, Documentary Heaven, TED Talks, YouTube, British Pathe, NASA, or ESA Videos).
At this moment, you should see the selected addon's overview.
Use the 'Install' button (in the bottom-right corner) to install the addon.
Once done, return to the 'Add-ons' section and open the newly installed addon.
For a more in-depth overview of how to install addons from Kodi's official repository, click on the provided link. You will be taken to our dedicated guide with more detailed steps and helpful screenshots - perfect for complete beginners.
You should also know that some Kodi addons might come from other sources. For example, you can get addons for Kodi from GitHub or install addons from ZIP files. Make sure to check those installation methods, teaching you how to deal with any type of addons for Kodi.
Best Kodi Addons for Documentaries in 2021!
And now, we're proud to present the 10 best Kodi addons for documentaries in 2021.
1. iPlayer WWW
You've probably heard about hugely popular documentaries such as Planet Earth, Kingdom of Plants, Human Planet, First Life, and plenty more. All of these come from the BBC, the world's oldest broadcaster.
You should also know that the BBC has a free-of-charge streaming platform, called iPlayer. This platform is accessible on Kodi as well, via the iPlayer WWW addon. Considering the size of its library, you'll soon see why this is the best documentary Kodi addon right now.
At the moment, more than 750 documentaries await. Aside from that, you'll find thousands of TV shows and movies, and we're not talking about old titles here. Many of those are brand-new, available free of charge. Therefore, this is a must-have add-on.
2. CuriosityStream
Here, we have a dedicated media streaming service focused on documentaries only. With the pricing starting at $2.99/month for the HD plan, there's a steady stream of high-quality documentaries. CuriosityStream comes from the Discovery Channel founder, which means you can expect a platform that'll grow in the future.
CuriosityStream's Kodi addon brings just about everything available on the platform's site or apps. That includes having access to thousands of documentaries, all of which are available on-demand. Simply input your username and password, and that's about it.
With that said, know that we highly recommend CuriosityStream if you're looking for quality documentaries, as well as if you're willing to pay for a premium subscription (still quite affordable, though).
3. National Geographic
We're certain that National Geographic needs no introduction. What started out as a magazine back in 1888 is today a worldwide organization dedicated to promoting exploration and knowledge.
If you decide to try this add-on out, you'll get to watch a large number of videos that are available free of charge on NG's website. For the most part, these are short clips - but you'll also find full-length movies as well.
Also, you should not confuse this addon with Nat Geo PLUS, which is a subscription service that also includes media streaming. As you can tell, that is a premium-priced option, and it isn't available on Kodi. However, we think you're going to love what you'll find in the NG addon, especially since it comes without any geo-limitations.
4. Documentary Heaven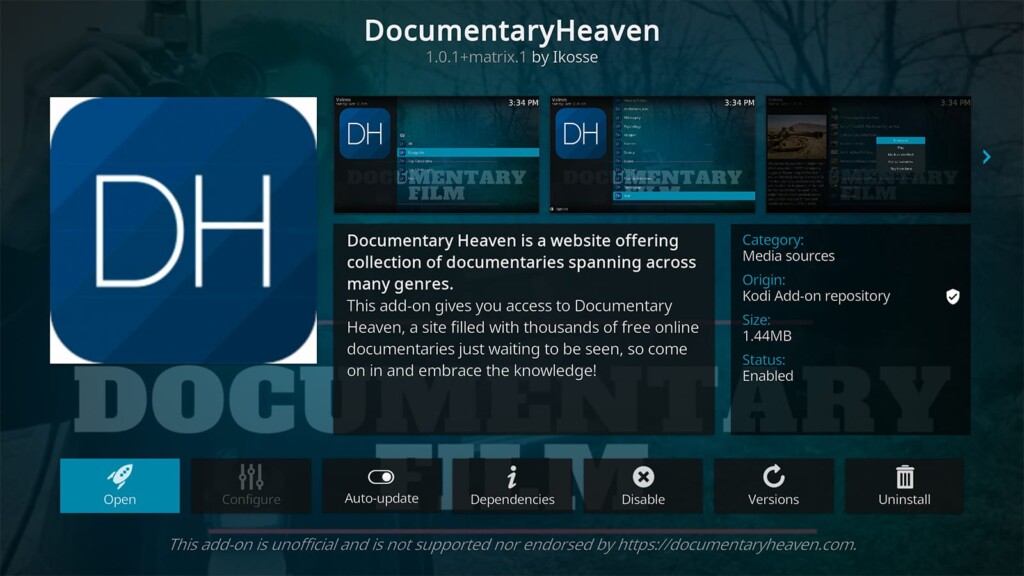 In our article on the best free movie streaming sites, we talked about Documentary Heaven, which comes as a valuable source of educational videos. This is one of the most popular websites of its kind, sourcing all kinds of videos from around the Web and presenting them from a single place. And, as you can already guess, it comes with a Kodi addon.
The addon is nicely designed, comes without any annoyances, and it's really easy to use. You'll find it in Kodi's official repository (and it works on Kodi 19 as well), so you'll install it in no time. And after that, you'll unlock a whole new world of documentaries, of any imaginable genre.
With that said, this truly is one of the best Kodi addons for documentaries. And the best thing is that you can expect new content on a regular basis. Therefore, we strongly recommend you try it out.
5. TED Talks
As you can imagine - TED talks aren't really documentaries. However, documentaries are about spreading knowledge and expanding your point you view. With this said, we're sure that many of you are going to be thrilled about the fact that TED is available on Kodi.
The best thing is - you can use it for free, without any limitations, and even without having to sign-up for an account.
Once you open TED Talks, you'll see several categories like the newest talks, speakers, and topics. This is a good starting point to find what you're interested in, and we recommend getting into this addon's topics first, presenting a great way to explore what this addon offers.
6. Animal TV
Next, we have something completely different from our previous recommendations. Animal TV is all about live-cams - and you'll find more than 60 different cams right now.
These are not documentaries (per se), but you can easily see why we've decided to include this option on our list of the best Kodi addons for documentaries. Once you get tired of watching what's on other addons, you can simply launch a live cam and leave it running on your computer or TV.
If you decide to try out Animal TV, you'll get to watch animals in their natural habitats, and you'll find cams from various rescue centers and plenty more. There are also several nature-themed cams, including a view of aurora borealis.
7. YouTube
You already know that YouTube is the place where you can follow your favorite video creators. However, this online platform is also home to a huge vault of movies, TV shows, and - documentaries.
It's true that you won't find the latest documentaries here. However, let's not forget that YouTube comes free of charge. With that in mind, there's nothing stopping you from trying it out, especially since you'll find plenty to watch here.
To watch documentaries on YouTube, make sure to use its search functionality. You can also do a quick search online to find the best documentary channels. Once you do that, you can subscribe to those channels to stay in the loop regarding their content.
8. British Pathé
British Pathé is a collection of 85,000 films - many of which you won't find anywhere else on the Web. The majority of these are old clips regarding our global history, with a big accent being placed on the United Kingdom's history.
In addition, this addon brings more than 120,000 items from Reuters-owned news agencies. Therefore, this truly is a vault of valuable movies, crucial for learning more about history.
In case you're a fan of older movies and clips, especially those very rare ones, you're going to love what British Pathé offers. This addon is also a true example of how useful Kodi can be, giving you the ability to dive into unique archives.
9. NASA
We're sure that we don't have to introduce you to NASA, the US National Aeronautics and Space Administration. You probably also know that NASA has done plenty in the last couple of years to reach a much larger audience across the world. Well, you can now take advantage of that via Kodi as well.
The NASA Kodi addon has two types of content. First, there are live streams of NASA's TV channels, including live streams from the ISS. And then, there are on-demand videos that come from various NASA-owned YouTube channels.
All in all, if you're into space agencies and keeping track of their latest discoveries, you'll hardly find a better option than NASA's Kodi addon.
10. ESA Videos
This addon comes from the European Space Agency (ESA), combining different types of news videos with astronomy videos. Combined, these sources bring more than 1,500 videos, many of which come in HD.
If you're into astronomy, you'll hardly find a better option out there. This is also why we felt compelled to include ESA Video to our list of the best Kodi addons for documentaries.
To stay on top of the latest news, make sure to check out Euronews and Science@ESA, both of which are available on the addon's home page. If you click on 'Earth from Space,' you will find hundreds of videos of different areas of our planet.
Documentary Kodi Addons Not Working? Here's What You Can Do!
If you're having a hard time installing or running any of the addons recommended in this article, know that we're here to help. We've gathered a group of quick and easy fixes for different kinds of Kodi errors, so take a look just below.
Finally, know that we have even more solutions for you. Our central guide to troubleshooting Kodi errors and issues will certainly come in handy - so, make sure to take a look.
Which Kodi Addons for Documentaries No Longer Work - Or Have Went Offline?
Kodi's add-ons can be unpredictable, often going offline without any warning. With that said, we'd like to list some of the previously popular Kodi addons for documentaries that are no longer functional. Take a look below.
Brettus Documentaries
Bubbles
Gaia
Phoenix Rises
The Red Queen
Incursion
Supremacy
7of9AIO
StarTec Mobdro
13Clowns
Maverick TV
The addons listed above used to come from "unofficial" sources, which is why we recommend sticking to addons from Kodi's official repository. Make sure to be careful about what you install on Kodi, and beware of "unofficial" addons in general.
So, you've reached the end of our list of the best Kodi addons for documentaries in 2021. If you'd like to keep on exploring more about Kodi, the provided link will take you to our latest articles. Thanks for reading - and enjoy using Kodi!