The application today known as Kodi was completely different back in 2003. This is because Kodi was originally conceived as a media player for Microsoft's Xbox console. However, we all know how quickly things change in today's tech world. Originally known as XBMC (Xbox Media Center), this application quickly grew beyond Xbox and expanded to different platforms and devices. You might be wondering if it's still possible to use Kodi on Xbox? If that the case, you've come to the right place. We will we talking about how to install Kodi on Xbox One.
Let's take a quick look at what you can expect from this guide. First, we'll be talking about Kodi and Xbox and see their differences. You probably know a lot of about this, but it's always a good idea to take another look at the basics. Then, we'll see how to install Kodi on Xbox One and unify these two very different platforms. By the end of this guide, you will learn all you need to know about these two entertainment hubs and how to make them work side-by-side. Let's jump to our first segment.
Disclaimer: We will be talking about software developed for Kodi – which is based on open-source code. However, the following software comes from unofficial third-parties. In addition, it is publicly available and free of charge. TechNadu doesn't claim any responsibility for how our readers decide to utilize the following software. Please note that we don't condone sharing pirated content and copyright infringement. TechNadu is not affiliated with the software mentioned in this article in no way. Make sure to carefully read the above-said disclaimer and ensure the proper use of the software.
Warning: Why you must NOT USE Kodi without VPN?
Here are the reasons that you should consider looking at it
without SKIPPING
.
Using ILLEGAL Kodi Addons are Dangerous without a VPN: Most of the Kodi users are installing the ILLEGAL Kodi addons on their system to access all the latest movies, TV shows, sports, music, and much more for FREE, than a legal Kodi addons where it has the least content in it. But do you know what? The video content on illegal addons are a scraped and copyrighted material. If you are accessing them on Kodi, then your activities will be monitored by your ISP by tracking your IP and gives all the information to the government or companies if they request for it. This will land you in trouble. To stay away from this, you will have to connect to a VPN where it hides your identity by rotating your IP address while streaming Kodi content. This is how you will be safe from the prying eyes.
Bypass Geo-Restriction: As you probably know, some official addons like BBC iPlayer, NBC Sports, Hulu, IceFilms have geo-location restrictions. This also applies to other addons like Acestream which fetches the data from torrents. To unblock these restrictions, you will have to DEFINITELY use a VPN no matter what.
The above are the 2 reasons that forcing us to recommend a VPN to the Kodi users for safer streaming. In fact, after testing several VPNs for Kodi, we finally came up with a one non-stop solution and that is
ExpressVPN, the top rated Kodi VPN
so far.
Limited Time Offer:
For our TechNadu readers, there is a
49% OFF on ExpressVPN
which includes
3 FREE Months
in it.
Using Kodi on Xbox One: The Basics
In case you're confused about what is Kodi and how is it different from Xbox, let's take a deeper look at these two. This might help you to understand their differences and similarities, as well as the basic technical terms. After that, we'll talk about different ways to integrate these two platforms.
What is Kodi?
Kodi is designed to be your family's entertainment hub. First and foremost, this application can be used to store and organize your own collection of media. If you're a fan of movies, you probably have a library of DVDs or video files on your computer. On top of that, Kodi also works with TV shows, music, and even photos. All these kinds of files can be easily imported to Kodi and kept in a single place. We are sure you realize how convenient this can be.
On top of that, Kodi is a completely free-of-charge application. You can download, install, and use it without any restrictions. This isn't a freeware software, which means that you won't see advertisements or other annoying pop-ups. Also, Kodi is based on open-source software. This means that programmers and developers can build their own extensions for Kodi. This is why you can find numerous highly-functional add-ons, in addition to skins that are capable of changing Kodi's default looks. Finally, there are also custom builds that combine different kinds of extensions and customization features into one convenient package. As you can imagine by now, you can use these addons, skins, and builds free-of-charge. It's not that hard to see the reason for Kodi's massive popularity.
Kodi: Versions & Compatibility
This application is known for its broad compatibility with different operating systems and devices. You can use it to organize and play your collection of media on your computer, smartphone, tablet, or your Smart TV. Here are the systems and devices that have a native version of Kodi available:
As seen above, almost every popular platform is covered. The good news is that even if there isn't an official Kodi version, there are always workarounds to use Kodi on non-supported devices. Now, let's take a look at how Xbox devices are different from Kodi.
What is Xbox One?
At its core, Microsoft's Xbox One is a gaming console. It took a long time until Xbox's capabilities where strong enough to overcome that primary role. This is why Xbox is an entertainment hub these days.
Aside from playing games, you can use this device to stream online content. This is done by installing applications, just like on your smartphone or tablet. Some of the popular options include Netflix, Hulu, YouTube, and many others. However, it's unlikely that somebody would buy an Xbox model only to stream media from the Web.
What is also important for you to understand is that the current Xbox model is powered by Windows 10. Microsoft's goal is to create a unified App Store that would contain apps compatible with all devices powered by this OS. Today, there is a set of applications compatible with Xbox consoles, computers, and tablets.
Xbox: Versions & Compatibility
As said before, Xbox is a gaming console. That means it's compatible with almost every newer TV with HDMI ports. Connect your Xbox to your TV as well as to a power source, and you're ready to go. However, it's important to be said that you can also watch live TV through cable box integration. This is why it's incredibly easy to switch between gaming, live TV, and on-demand entertainment.
There are currently three models to choose from:
Xbox One is the original model of the 'One' series. It is currently priced at $494.20 and comes with either 500GB or 1TB of storage. You can play HD games, but there's no support for 4K gaming. In addition, it lacks popular options like HDR streaming and gameplay. Buy from Amazon.
Xbox One S is the currently the most popular model of Microsoft's gaming console. Its price starts at $299 and goes up to $399. It comes with 500GB, 1TB or 2TB of storage space. In addition, it supports HDR video streaming and gameplay, uses cloud services, brings highly polishes graphics and more. Buy from Amazon.
Finally, there's the recently launched Xbox One X. It is being marketed as the most powerful console ever. It's priced at $494.20 and comes with 1TB of storage. In addition, it brings powerful specs like the 4K gameplay at 60 frames per second, the latest-generation graphics, highly capable processors, and more. Buy from Amazon.
How to Install Kodi on Xbox?
It's time to take a look at how to install Kodi on Xbox. There are different ways you can do this, and we'll cover all of them. But first, here's what you need to know about limitations of using the currently available Kodi version on Xbox devices.
Limitations of Kodi Alpha for Xbox One
What you need to understand is that Xbox Store hosts apps that are optimized for this platform – where many of them are 64-bit. Well, the latest stable release of Kodi (v17) is a 32-bit application, which is why you can't use it on your Xbox device. In other words, you will actually download an alpha Kodi version (v18) to your Xbox device.
This all happens in the background. Let's say that you have a Windows 10 PC and an Xbox console as well. When you access their app stores, you will only see one 'Kodi' – without clearly mentioned versions. However, Kodi 17 will be downloaded to your PC, and Kodi 18 will be downloaded to your Xbox.
Since you'll be dealing with an alpha version of Kodi, you must know that there are some limitations. That's because this is a 'preview' version where bugs can easily appear, and where many options don't work. For example, external storage is a mess right now. You can't add external hard drives to Kodi on Xbox One, or even USB sticks. Then, local media network streaming methods don't work either. In case you want to stream content from your Mac or Windows 10 PC, you'll have to rely on creating shared NFS folders.
Option #1: Install From Your PC
In case you're running Windows 10 on your computer, you already have access to the Microsoft Store. This is where you can find applications, games, and media – and download them to your PC. However, Microsoft Store is a useful tool for installing apps on other devices as well. Here's how to install Kodi on Xbox using your computer.
Open Microsoft Store on your PC. This can be done by launching the Start Menu and typing in 'Store'. Hit Enter to open it;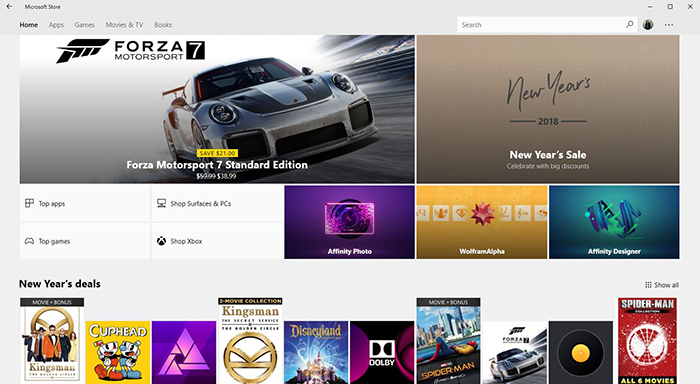 In the top-right corner, you'll see a search bar. Use it to search for 'Kodi'. Once again, hit the Enter button on your keyboard;

On the left side of the screen, you'll see Kodi's icon. Click to open it;
Finally, use the button that says 'Install on Xbox One'. Microsoft will try to connect to your gaming console and install the application on its own;

After a few moments, you should see Kodi being downloaded or queued for downloading on your Xbox. Be patient, and wait a few moments until this process is done;
Upon receiving a notification that Kodi is ready for launch, go ahead and open it.
Option #2: Install Kodi via Xbox
Even though it's convenient to install Kodi on Xbox by using your PC, there's a different way. As you know, your gaming console already has a store for games and apps. Therefore, you can use that store to download Kodi.
Power ON your Xbox and wait until you see your Home Screen;
Next, go to the 'Store' item using the top-placed main menu;
Now, click on 'Search' and type in 'Kodi';
Navigate to Kodi's icon on the list of search results and open it;
Finally, select 'Install';
Kodi will now download and install in the background. Shortly after, you will see a notification. Go ahead, and try out the application.
How to Update Kodi on Xbox One
As noted earlier, you will be dealing with an alpha version of Kodi for Xbox One. This means that keeping the software updated is of the highest importance. In other words, every Kodi update will bring bug fixes, as well as better stability and security.
Many of you receive automatic updates via Xbox One. After all, that's the best way to keep all your games updated. Still, you can do this manually. Just go to My Games & Apps and then go to 'Updates' in the left-placed sidebar.
How to Uninstall Kodi on Xbox One
If for some reason you're not happy with how Kodi runs on Xbox One, you can uninstall the apps. This is done in the same as games are removed from your Xbox console.
From the Xbox Home Screen, go to My Games & Apps;
Next, search for Kodi on the list. You can filter the content accordingly;
Press the menu button on your controller;
Go to Manage App > Uninstall.
Finally, confirm your action.
There's also another way to delete Kodi. In case you've used Kodi recently, you can find its icon (tile) on the Home Screen. Highlight the title, press the menu button, and uninstall it from there.
Final Thoughts
As you can see, you can install Kodi on Xbox in a matter of seconds. We hope you've managed to go through the entire process and that you're enjoying the application as we speak.
In case you have anything to add, feel free to use the comments section. Also, we'd appreciate if you could share this article online and follow our page on Facebook and Twitter. Thanks!