There aren't too many Kodi addons like Tempest – growing rapidly with each new version. However, is it a good idea to install this addon? Is the Tempest Kodi addon legal in the first place? We're sure you have many pressing questions, so let's jump right in. 
Before we continue, keep in mind that Tempest is an unofficial Kodi addon. There are plenty of reasons to avoid using anything that comes outside of Kodi's official repository. Copyright infringement and malware are perhaps the most prominent reasons.
With that said, plenty of what will be said below applies to other popular addons as well. This includes Exodus, Exodus Redux, The Magic Dragon, and countless more. 
And now, here's everything you need to know about the Tempest Kodi addon. Make sure to read the following content very carefully. 
Is the Tempest Addon LEGAL to Use? 
No, the Tempest addon for Kodi isn't legal to use. 
To answer this question more clearly, you need to know about the sources that Tempest uses. Considering that those are illegal sources, the addon doesn't have the necessary rights to distribute all those movies and TV shows.
Useful to Know: How to Use Kodi Legally? – All Your Questions Answered!
In other words, this is a classic example of copyright infringement. And yes, copyright infringement is punishable by law in many countries across the world. 
Therefore, using Tempest isn't considered legal. 
Is the Tempest Addon SAFE to Use? 
No, Tempest isn't safe to use, and here's why.
Tempest is an unofficial Kodi addon. This means that Kodi's developers have no supervision over what kind of content this addon brings. And also, there's no way of knowing whether Tempest brings malicious code until after it gets inside your system. 
In the past, we've seen that forks and clones are among the most dangerous Kodi addons. This is how cryptocurrency miners have found their way to Kodi, in addition to plenty of other types of malware. That's the main reason why Kodi's developers strongly recommend avoiding third-party repositories. 
Learn More: Why Are Unofficial Kodi Addons Risky to Use?
In other words, you're risking your device's safety as well as your personal privacy by using addons such as Tempest. This is precisely the reason why VPNs are often recommended to Kodi users, with ExpressVPN coming in first.
Without a VPN, your personal data gets exposed - which is highly dangerous when using unofficial Kodi addons. A VPN will encrypt your Web connection data, enabling you to use Tempest and similar 'unofficial' addons without risking your safety.
Aside from securing your privacy, a VPN also helps you access geo-restricted content. This is yet another crucial benefit, as certain types of content in Tempest (and many other addons) can be blocked. With that said, make sure to use a reliable VPN like ExpressVPN, made for Kodi users.
What Content Can You Stream via Tempest?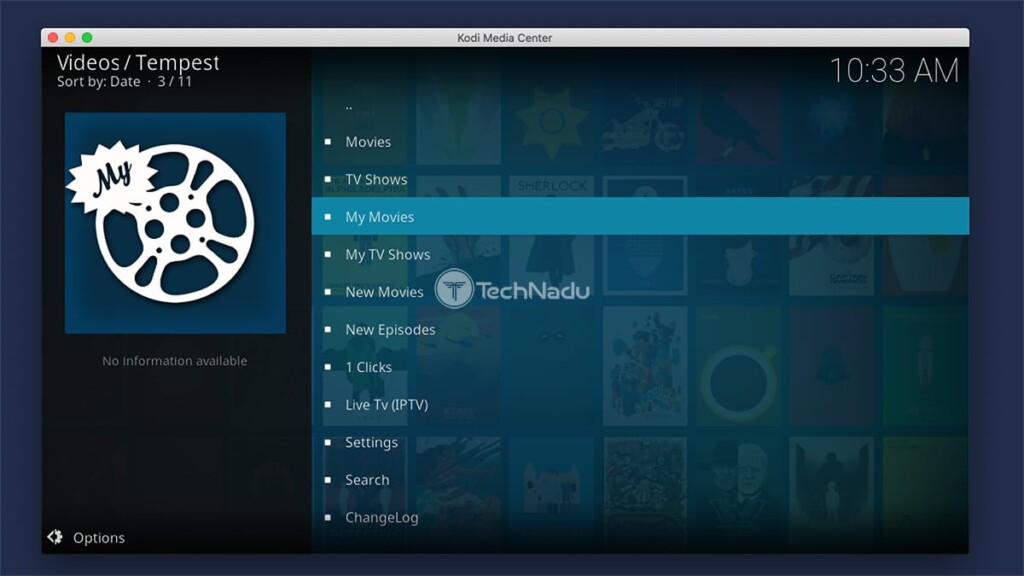 Tempest was built upon Exodus' code, so these two match in their content. You'll find movies and TV shows here, as well as live TV.
This addon has also been expanding its functionality in the previous months. Aside from finding new categories and sub-categories of movies and TV shows, you'll also find 1-click movies. These play instantly, as soon as you click on their titles (there's no content scraping). 
Do We Recommend Installing the Tempest Kodi Addon?
No, we don't recommend installing Tempest.
Keep in mind that using Tempest leads to piracy – punishable by law. Therefore, you'll be going against your country's laws, which is something that should never be done. 
Good to Know: US Copyright Office Pushes for Harsher Anti-Piracy Laws
Even if you live in a country that has a relaxed attitude towards casual piracy, you should be concerned about malware. Don't forget that malicious Kodi addons can infiltrate your system, take its resources, and take advantage of your private data.
How to Protect Yourself If You Plan on Using Tempest on Kodi? 
The only way to protect your privacy online is by using a VPN service.
Know that we've tested more than seventy VPN services so far. And without a single doubt, there's only a handful of VPNs that we gladly recommend. If you want truly the best option right now, with numerous benefits for Kodi users, subscribe to ExpressVPN.
This type of software comes with numerous benefits. However, its most prominent one is related to the way it routes your Web traffic. By encrypting it, as well as by routing it through its servers, a VPN can make you invisible online. 
Good to Know: What Are VPNs? / How Do VPNs Work?
If you're a Kodi user, a VPN can help you regain your anonymity, unblock geo-restricted content, and even use addons like Tempest without legal consequences. 
However, keep in mind that using a VPN isn't an excuse to dive into piracy and copyright infringement. Those aren't the reasons we recommend VPNs to Kodi users in particular. 
Essential Reading: Why Are VPNs Useful for Kodi Users?
If you decide to dive into the world of VPNs, check out the best VPNs for Kodi (hands-on tested by TechNadu's team). And also, don't forget to learn how to set up a VPN on Kodi as well. 
Tempest Not Working? Check Out These Fixes!
Kodi addons (especially unofficial ones) aren't known for their stability. So, if you're experiencing problems with Tempest, you'll want to try the following solutions.
Tempest Showing the 'No Streams Available' Message
There are several possible solutions here. You could try updating Tempest (scroll below for more information on this), installing it from a different repository, or using Real-Debrid. 
Let's see how to integrate Real-Debrid with addons such as Tempest:
Launch Tempest and click on 'Settings.'
Now, select 'Accounts,' and a pop-up should open.
Click on 'ResolveURL Settings,' and another pop-up will open. 
Select 'Universal Resolvers' and scroll down until you see 'Real-Debrid.'
Click on 'Authorize My Account' to integrate Real-Debrid with Kodi.
Tempest Showing the 'Can't Connect to Repository' Message
If you can't connect to Tempest's repository, that means that it's not online at the moment. In the past, this repository has had numerous problems, causing it to be offline quite often. 
When something like that happens, there's nothing you can do – but wait until the repository is once again online.
Tempest Fails to Play Live TV Channels
The majority of live TV channels available in Tempest are geo-restricted. This means you'll need a VPN to make those work. By connecting to a server in a different country, that country's TV channels will become available in Tempest. 
Our strong recommendation is ExpressVPN – by far, the best VPN you'll find today.  
How to Update Tempest to the Latest Available Version
Keeping Tempest up to date will help you resolve issues with the addon and its dependencies. So, here's how to check if there's a new version of Tempest. 
Right-click on the addon's icon. 
Select 'Information,' and a new screen will appear.
Use the 'Update' button to check for new updates. 
If there's an update available, click on its name and then confirm your decision.
How to Update Kodi to the Latest Available Version
In some cases, Kodi can cause software conflicts between different addons. This is the reason why keeping Kodi up to date is imperative. Keep in mind that with each new update, this application becomes more stable.  
Finally, here's our full guide on how to update Kodi.
What Are the Best Alternatives to Tempest for Kodi? 
There are many excellent Tempest alternatives out there, especially legal ones. So, here are some of the best picks right now:
BBC iPlayer: This is one of our favorite Kodi addons. As its name implies, it brings movies, TV shows, and even live TV channels. On top of that, it comes free of charge. However, you'll need a VPN for BBC iPlayer as this addon is available in the United Kingdom only. 
Crackle: If you're after free movies and TV shows, make sure to try out Crackle. This platform comes with a sizeable library of movies and TV shows, including Crackle's originals, which have become quite popular. This addon is restricted to the USA, you'll want to know how to unblock Crackle from anywhere. 
Netflix: Lastly, here's a premium-priced Tempest alternative. If you have a Netflix subscription or plan on getting one, you can access this streaming platform on Kodi. Even better, you can access hidden titles by using a Netflix VPN.
So, that would be all there's to know about the Tempest Kodi addon. If you have any questions for us, don't hesitate to post your comment below. And of course, why not help us spread the word by sharing this article? Thanks – and enjoy using Kodi!