Baseball may be one of the favorites sports in America, but is it worth it to get a subscription for the gamed MLB.TV? Well, we're going to find out as we review MLB.TV today.
The platform offers fans quite a few things to watch, but also lacks in a lot of departments if we're to go by the user comments left on various platforms. Sure, it's easier to complain than to praise, but it's certainly something to take into account. Nonetheless, we're going to start from scratch and see what the deal is.
First, let's get to know the service by going over the basic info regarding it. It might very well come in handy when comparing MLB.TV with other sports streaming services.
Overview
Product Name
MLB.TV
Supported Platforms
Windows, Mac, PS4, Xbox One, Roku, Apple TV, Chromecast, Blu-Ray Samsung, Amazon Fire TV, Android TV, iOS smartphones and tablets, Android smartphones and tablets,
Availability
MLB.TV is available everywhere, with international subscribers getting access to content without blackouts
Unique Features
Access to full baseball games, including Postseason games, in HD
Price
Full Season

All Teams - $118.99 per year or $24.99 per month.
Single Teams - $91.99 per year

The price will vary depending on when the subscription is acquired. Postseason - $24.99

Visit
MLB.TV
Now that we've got those covered, we're going to go for the pros and cons of the MLB.TV service. You can go on reading to find out why we've reached these conclusions afterward.
Final Verdict
| | |
| --- | --- |
| Pros | Works worldwide, loads of content |
| Cons | Games are subject to blackout in the United States and Canada |
| Verdict | The platform is great for die-hard fans, and a VPN could solve the blackout issue |
| Score | 8.8/10 |
So, let's move on and dive into the deep end and find out everything there is to know about MLB.TV.
MLB.TV Review: Find Out All You Need to Know
There are a lot of things to know about MLB.TV and we hope we can answer all the questions you may have. We'll start off with basic info like what devices you can use this service on, then we're going to see what content you can enjoy, the price they ask of you, and so on.
You need to know that MLB.TV is only available in the United States. In case you live in any other nation, you're going to need a VPN to help you out. If you don't already have one of those, we strongly recommend getting ExpressVPN, which has proven to be able to give you a US-based IP that will hold against most VPN-detecting software.
Platform Compatibility
MLB.TV works with a wide range of devices, so you have no excuse in this area. Our Score: 10/10
MLB.TV is not kidding around when it comes to device compatibility. The baseball dream-home works on loads of platforms and you'll be able to get them on pretty much anything you own.
Amazon: Fire TV
Apple: Apple TV, iOS smartphones and tablets
Google: Android smartphones and tablets, Android TV, Chromecast
Blu-Ray: Samsung
Game Consoles: PlayStation 4, Xbox One
Other: Roku, Windows, Mac
We're pretty sure you have at least one of the devices mentioned here, or you wouldn't be reading our review in the first place.
Sign Up to MLB.TV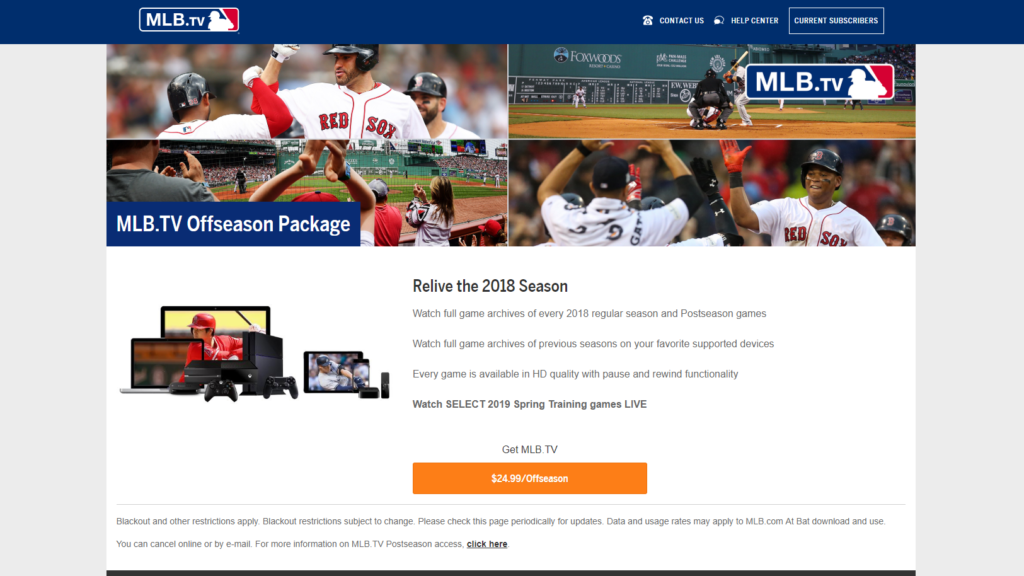 One of the cool things about MLB.TV is that you can sign up from anywhere. Our Score: 10/10
Signing up for MLB.TV is quite easy and requires you provide an email address and a payment method. What's interesting is that you can either create an account or purchase your subscription as a guest. In the latter case, you will only provide billing information. Also, good news for everyone, you can also pay via PayPal, so you won't have to hand out your credit card info just about anywhere.
User Interface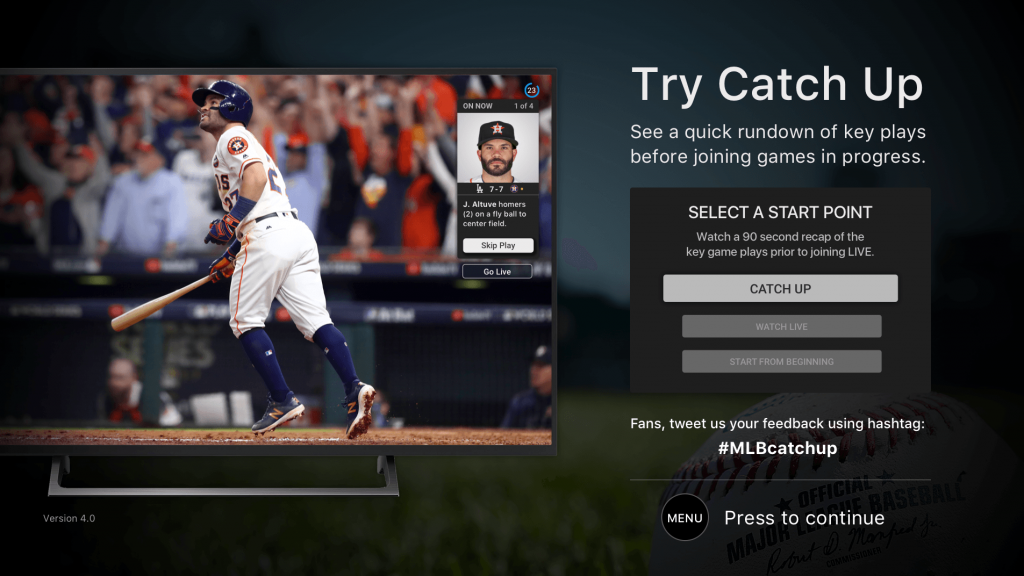 The MLB.TV app is easy to use and works fast, as far as we experienced. Our Score: 9/10
When it comes to this type of services that help you watch content from wherever you may be, you can go ahead and download the app, sign in, and enjoy it all.
The MLB.TV is just the same. Access to previously played games is particularly easy and the stream is easy to handle, rewinding and moving forward as you see fit. You can also check out the division standings and games of each individual team by selecting the teams from a drop-down menu. It's also possible to check out the schedule for the day's games, as well as for games that are to take place in the coming days. You may also go into the Settings area and set up preferences about your account, and so on.
The interface is intuitive and no one should have any issues figuring it out in no time.
Available Content
The content you get to see live depends on where you live in. Our score: 8/10
This is a dedicated sports app that follows the rules of the Major Baseball League that apply to local TV networks too. We're talking about blackouts here. Users in Canada and the United States are subject to regular season local live blackout.
This means that if you live in the area where the team you love plays, you're not going to be able to watch the game live because local TV stations have the broadcasting rights. The video does become available 90 minutes after the game ends and you can stream it to your device, but that's too little too late, especially if you've cut the cord or simply can't watch on a TV. This is a particularly annoying thing about US sports, but inventive fans can make use of a VPN to change "location" and watch the games. If you don't have such a tool on your device, we strongly recommend getting ExpressVPN.
International subscribers don't face such issues, so it may even be an idea to just use the VPN to switch over to the UK, for instance, but that's up to you, in the end.
MLB.TV features all games in the season, and you can stream them live. The League will announce what games are subject to blackouts, so you can plan accordingly. You can even check out based on your ZIP code if you're going to be able to watch the game or not.  In the end, this platform may be best for people who live far away from their favorite teams. Then again, that VPN we mentioned will solve any issue if you'll "jump" to a different city, so keep that in mind.
Performance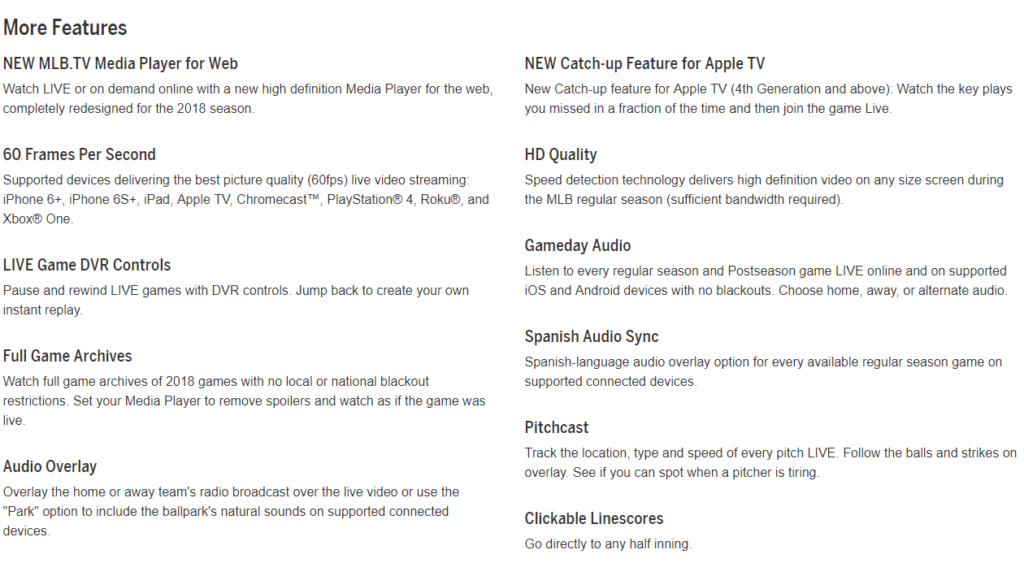 We didn't have any issues with the app, and the best picture quality supported was of 60 fps live video. Our Score: 9/10
The platform provides users with streaming at 60 frames per second quality, but this is only available on a number of devices, according to MLB.TV - iPhone 6+, iPhone 6S+, iPad, Apple TV, Chromecast, PlayStation 4, Roku, and Xbox One.
MLB.TV supports both SD and HD quality stream, and you'll get the quality your Internet bandwidth can carry. For the highest video quality, MLB.TV recommend users have at least 3 Mbps. Anything below will qualify for SD video. The same applies to mobile or other connected devices.
We should mention that MLB.TV has recently cut support for TiVo, so you will no longer be able to enjoy the content in this manner. Also, the list only features Samsung connected devices nowadays, cutting out those from Panasonic and LG.
Customer Support
You can either call, email, tweet, or message the MLB.TV support team. Our Score: 9/10
The first line of help offered by MLB.TV is a pretty extensive Help Center. If the questions and answers they have there won't solve your problem, you can always reach out to the support team.
You can do that via a form they have on the site, Twitter, email, or directly via phone call. They have two numbers available, one for the United States, and one for international subscribers.
Pricing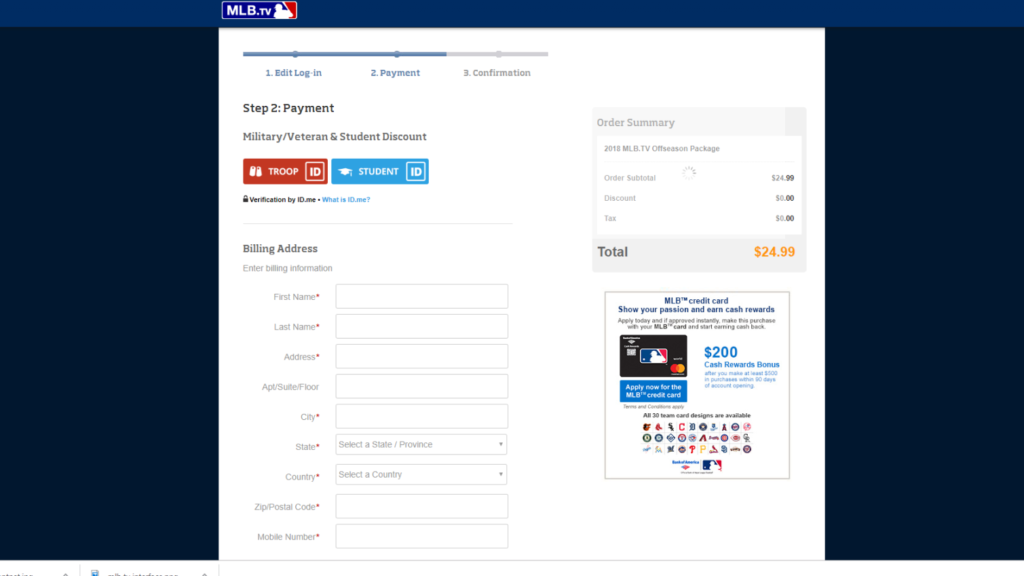 The subscription price differs depending on what part of the season you want to watch, or how far along in the season you are. Our Score: 8/10
There are quite a few ways you can get an MLB.TV subscription, but it depends on the season you want to watch games from. Currently, they're offering a Postseason package that costs $24.99 and which gives users access to full game archives of the past season, as well as live streaming of select spring training games for the next season.
Those who want to subscribe to MLB.TV can do so in quite a few ways. If you want to watch all teams, you can either pay $118.99 for the full year, or $24.99 per month. Alternatively, if you want to only watch one team's games, you can pay $91.99 for the full year. Prices for the full year vary depending on when you're making the subscription. The prices have gone slightly up over the past year, but they're not that dramatic.
The subscription will cover live and on-demand out-of-market regular season games, and you can choose home or away feeds in HD. They've also made it easier to follow your favorite team.
The Verdict
MLB.TV seems like a great platform and the best part is that you pay only for the content you're going to watch. The fact that you can enjoy all the games throughout the season is the best part, especially for hardcore baseball fans. Whether or not the MLB.TV subscription is for you or not, it's for you to decide, but the platform works well enough that we'd recommend it.
PROS: Works everywhere in the world, allows live streams of all games
CONS: Subject to blackouts in the US and Canada
Our Score: 8.8/10
We hope we've been of some help in getting you to decide whether to subscribe to MLB.TV or not. The platform is worth it overall, but you just have to decide if the price is right for the content it provides.
Let us know if you ended up subscribing to MLB.TV or not, and what your favorite parts are in the comments section below. Please share the article online and follow TechNadu on Facebook and Twitter.