Yes, it's true - Kodi lets you stream TV channels live. And also, we're talking about a huge selection of TV channels at your disposal, from all around the world. For this purpose, you need to know which addons to install - so, let's help you find the best Kodi live TV addons.
As you're about to see, watching live TV via Kodi is a realistic possibility. We've managed to find a group of addons, many of which are available in Kodi's official repository (so they're safe to install and use). That means installing those should take only a few moments of your time.
In addition, the majority of these come free of charge, which is something that cord-cutters are going to love. So, considering that we have plenty of options in front of us, let's get started with our list of the best Kodi addons for watching live TV.
Do You Need a VPN for Watching Live TV on Kodi?
Yes, you need to use a VPN to watch live TV on Kodi - especially if you want to access addons that are blocked in your region or country.
As you're about to see, there are plenty of addons you can try. However, most of them come with geo-blocks. That means they're restricted to certain countries only, which limits your options when it comes to watching live TV channels.
With that said, if you want to access everything that Kodi offers, you need a VPN. Aside from that, you need it to safeguard your privacy, avoid potential legal issues with using Kodi (related to using unofficial addons), as well as bypass ISP-induced throttling. Here's why else you need a Kodi VPN.
Know that our #1 recommendation is ExpressVPN (right now, you can save 49% and get 3 FREE months). However, as our guide to the best VPNs for Kodi shows you, other options exist as well.
To learn more, here's how to install a VPN for Kodi, as well as how to use a VPN with Kodi.
Best Kodi Live TV Addons in 2022
After going through dozens of addons, we found the 10 best Kodi live TV addons that let you stream popular TV channels and on-demand content without any hassle. Check them out just below.
XUMO is one of the hottest free TV streaming services right now. Initially available in the USA, it can now be used in a large number of countries worldwide. And yes, it really comes free of charge, without any hidden costs.
Depending on your location, you will see a group of channels that either come from big-name broadcasters or that are centered around certain themes (like politics, movies, reality TV, and similar). Most of these come in HD, perfect for watching on your large-screen TV.
We sincerely hope to see XUMO being available for a long time to come. However, there are already talks about Comcast buying this streaming service - and we hope to see this go without any major changes. Without any doubt, this is one of the best working live TV Kodi addons, and if you'd like to learn more - check our full XUMO.TV review.
In many ways, Pluto.TV is similar to our previous recommendation. This is yet another free live TV platform, available in a select group of countries.
There's no need to register or go through any complicated set-up procedures - all you need to do is install the Pluto.TV Kodi addon. Once you do that, you'll be greeted by its polished UI, showing you the list of available channels. However, registering for an account does come with some perks (like cross-device syncing).
Pluto.TV offers some flexibility as well, as it doesn't offer live TV channels only. It comes with a series of themed 24/7 live streams, so you can watch movies and TV shows live. And also, let's not forget that Pluto.TV comes with a library of on-demand movies, which are available on Kodi as well (free of charge, of course).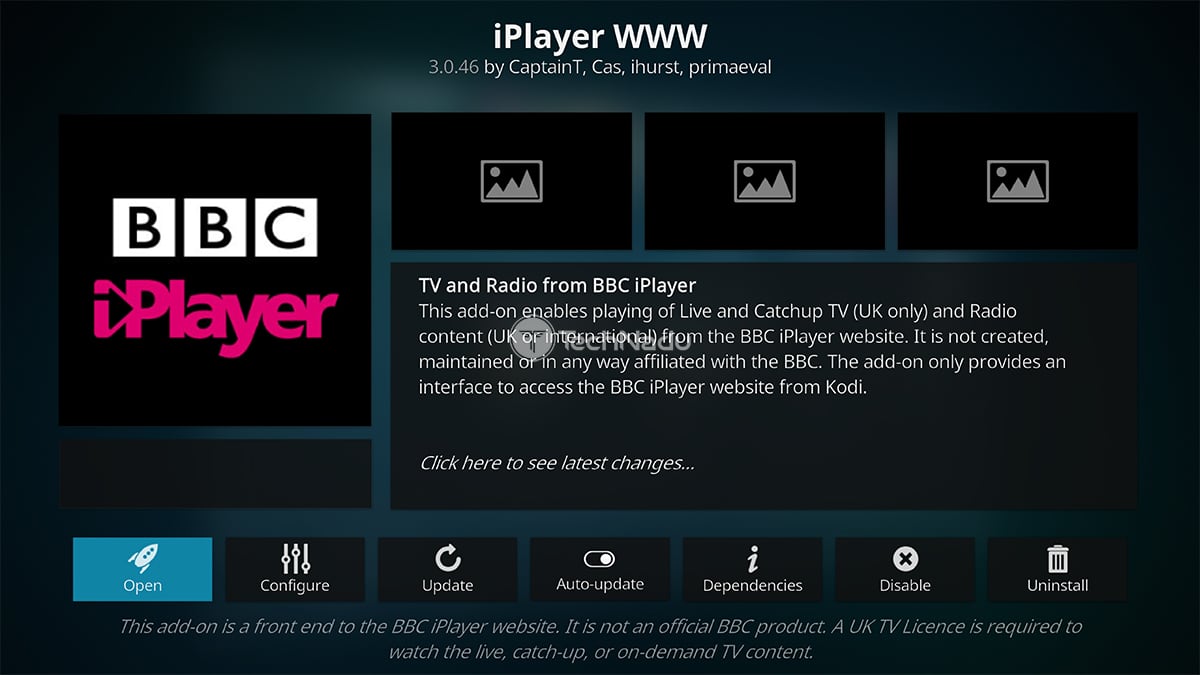 Next, our list of the best Kodi live TV addons wouldn't be complete without BBC's iPlayer. As its name says, this is an OTT platform offered by the BBC, giving you access to both live and on-demand content.
You'll get to watch BBC One, BBC Two, BBC Four, BBC News Channel, CBeebies, CBBC, S4C, Alba, and plenty more in terms of live TV channels. These are mostly available in high resolution, making them suitable for your TV as well.
Once you get tired of watching live TV, you can switch to streaming on-demand content. The iPlayer WWW Kodi addon comes with hundreds of TV shows and movies, and we're talking about recently released titles here. There's truly plenty to watch, and we think you're going to love this addon.
You might be surprised to find YouTube on this list. However, you should know that YouTube is the preferred platform for a number of TV networks. They use YouTube for streaming their content live, reaching a huge user base worldwide.
As you can expect, YouTube doesn't offer premium-priced channels (that's what YouTube TV offers - but it's not available on Kodi). Still, there are many free channels that can be watched at any moment. You can think of these as 24/7-available live streams.
Just launch YouTube on your Kodi, select the 'Live' category, and browse the available live stream videos. Even better, you can do some online research and check if your local stations have YouTube live streams.
There's no shortage of video streaming services. However, it's always nice to see a service that lets you live stream just about anything - without censorship and restrictions.
That's precisely what Livestream offers. You'll find hundreds of different types of live streams surrounding various topics, and many of these come in HD. On top of that, we're talking about a huge volume of content that's uploaded to this platform daily.
As you know, we're talking about the live TV addons in this article. So, you should know that Livestream currently offers close to two hundred TV channels, and these are mostly regional channels. There are plenty of options from the USA as well as international picks.
In case you'd like to have a library that brings a combination of international TV channels, we have a proposition for you. Called Catch-Up TV & More, this addon is one of the most popular options right now (despite its generic name).
In terms of TV channels, it comes with a sizable list of free channels from the USA, the UK, France, Belgium, Japan, Canada, Poland, Spain, Tunisia, Italy, the Netherlands, and China.
Aside from watching dozens of TV channels live, this addon also provides a gateway to on-demand content. It keeps track of some of the TV channels it offers and then provides a so-called catch-up TV service. And if that's not enough, you can stay on top of the latest videos provided by eighteen reputable websites.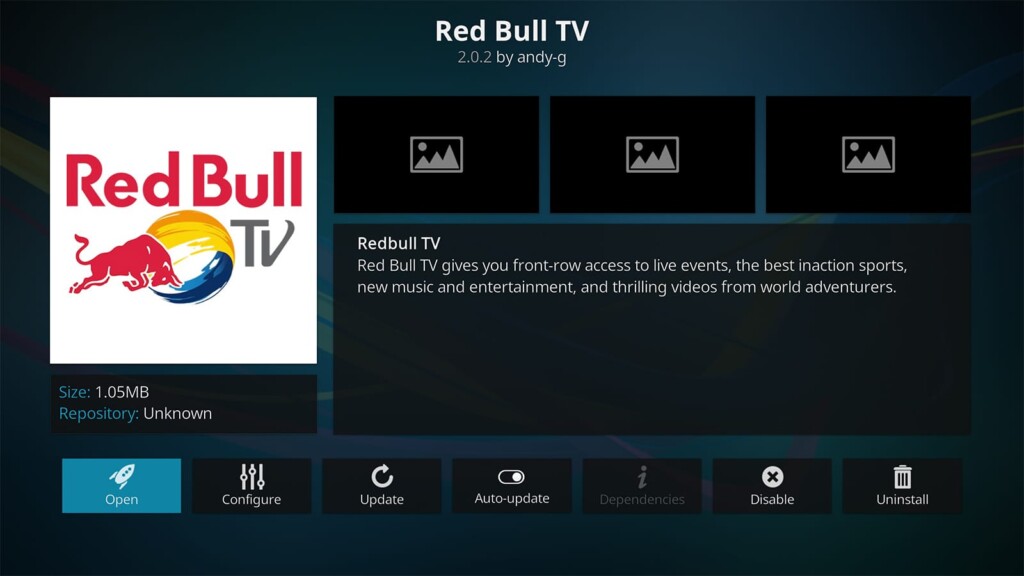 In case you didn't know, Red Bull has its own TV channel as well as plenty of original content. All of that is available via its Kodi addon, which comes without any geo-blocks.
Upon opening Red Bull TV on Kodi, you'll see a list of content categories. You'll find Red Bull's TV channel at the top, followed by various on-demand categories of content (related to biking, surfing, gaming, music, motorsports, and more). Everything is neatly organized and everything works without any issues.
So, even though you won't find multiple TV channels here, you'll find a treasure trove of sports-related content. Red Bull is now producing original TV shows, which means that you'll always find something interesting to watch.
8. Live Tube
Earlier in this article, we recommended the YouTube Kodi addon. That one is a great option if you want a combination of live and on-demand content. However, here we have an addon that's about live streaming only.
Called LiveTube, this one brings various types of live streams from YouTube, neatly categorized and easily accessible. As its name gives a hint, it relies on YouTube. However, considering its focus on live content, it eliminates plenty of other types of distractions.
On the homepage of this addon, you'll see more than a dozen categories. That includes news, gaming, sports, and more. You can also see which live streams are trending right now, featured picks, as well as previously popular streams (so you can watch their recordings). Try it out, and you'll see why this is one of the best Kodi addons for live TV in 2022.
9. Newsmax TV
Newsmax TV has been around for several years now, managing to find its place on TVs across over 70 million households in the US via cable TV. Just recently, this TV network started expanding all over the world, which is where this Kodi addon comes into play.
If you want to watch this TV channel, which comes completely free of charge, you can use its official website. That same live stream is present on Kodi as well, via the Newsmax TV addon. As such, it's a great way to stay on top of the latest events.
As you can see, we're talking about a single TV channel here - so this isn't an addon with multiple options to watch. However, Newsmax TV has reached its popularity rather quickly, especially when it comes to more conservative viewers. Therefore, it's good to know that it offers an official Kodi addon as well.
We'll end our list of the best Kodi live TV addons with Deutsche Welle. In case you live in Europe, you probably already know about this TV channel. As its name says, it comes from Germany - however, it airs in multiple different languages. By using its official Kodi addon, you'll find Deutsche Welle in English, German, Spanish, and Arabic.
Aside from watching Deutsche Welle live, you can also watch its on-demand content. This channel provides content related to politics, technology, travel, science, and plenty more. So, if you need a fresh perspective on today's events, this should be your go-to place.
Is It Legal and Safe to Watch Live TV on Kodi?
Yes, it's legal and safe to watch live TV on Kodi - as long as you use addons found in Kodi's official repository. Other addons might be illegal.
Our strong recommendation is to be very careful about what addons you install on Kodi. Most other websites focus on unofficial addons and recommend installing those. However, know that unless an addon comes from Kodi's repository, it probably brings copyrighted content.
Watching that kind of content leads to copyright infringement, which is illegal in most countries. So, if you want to be on the safe side (of the law), you need to rely on our recommendations.
What Can You Expect to Watch via Kodi Live TV Addons?
As you can imagine, Kodi's live TV addons give you access to various TV channels from around the world. That means that you'll get to live-stream them, directly via Kodi.
Addons such as XUMO.TV and Pluto.TV give you a huge range of themed TV channels. As such, they focus on the latest news, action, comedy, horror, romance, stand-up specials, and everything else you can imagine.
Then, there are dedicated live TV addons, focusing on a single or a small group of channels, such as iPlayer WWW (focusing on BBC's channels) and Red Bull TV (sports-related).
We'll also mention that the majority of recommendations in this guide bring on-demand content as well. That means that they host movies, TV shows, and other types of content, available to watch any time you want.
How to Find & Install Live TV Addons on Kodi?
Getting started with new addons on Kodi is incredibly simple. You can download and install new Kodi addons from the application itself, as explained just below.
Open Kodi.
Select 'Add-ons' using the left-placed (main) menu.
Then, select or hover over 'Download' (using the left-placed menu, again).
Make sure to select 'Video Add-ons.'
Now, click the name of the addon you'd like to install (XUMO.TV, Pluto.TV, iPlayer WWW, YouTube, Livestream, Catch-Up TV & More, Red Bull TV, Newsmax TV, or Deutsche Welle).
Hit the 'Install' button (bottom-right corner).
Kodi will now show you if any dependencies need to be installed. Click on 'OK.'
That's it! Return to the 'Add-ons' section, where the newly installed addon will be located.
You should also know that we have two types of Kodi addons. The above-explained method instructs you to install addons from Kodi's official repository. These are safe to use as all of them are approved by Kodi's development team.
Kodi Live TV Addons Not Working? Try These Fixes!
When installing Kodi addons, you might face errors that prevent their installation. With that said, we'll address two of the most common errors and help you resolve them.
Here's How to Fix the Live TV Addons' 'Check the Log for More Information' Error
This is perhaps the most common error that Kodi users face. Its message doesn't really point to a specific code of anything similar, which leaves you with a group of possible resolutions. With that said, you'll want to do the following.
One of the easiest fixes for the "Check the log for more information" error is to clear Kodi's cache data. This is typically done using the Indigo addon for Kodi (there are other ways as well).
Other possible solutions are to rebuilt Kodi's database, as well as to try installing dependencies manually, as that's most probably the cause of the issue you're seeing. You'll find step-by-step instructions on what should be done in our guide to resolving Kodi dependencies-related issues.
Here's How to Fix the 'Something Went Wrong. Try Again..." Error
Once again, we have an error that's typically caused by unofficial Kodi addons. Since it doesn't give a specific error code, we can offer you a set of general guidelines on what can be done.
Keep in mind that this error is caused by the addon you're trying to install (and not Kodi itself). So, you should try installing it from a different repository. If that doesn't work, the problem could be in your local Kodi installation.
Our recommendation would be to first clear Kodi's cache. Therefore, we recommend re-installing Kodi. However, our suggestion would be to reinstall Kodi using the same version of the application (as a new version might break compatibility with your addons).
Which Live TV Addons No Longer Work or Have Shut Down Already?
It's not unusual to see Kodi addons disappear overnight. This especially goes for addons that come from online repositories, which you install via ZIP files. With that said, a number of previously popular live TV addons for Kodi no longer work, such as the following ones.
1Channel
AceStreams
Atom Reborn
Bob Unleashed
cCloud
Dexter TV
Eliplex TV
Falcon Project
Falcon Ultra
Free Streams
Fire TV Guru
Genie TV
Indian TV
IPTV Stalker
Lucky IP TV
Mastest IP TV
Mobdro
Phoenix
Project Free TV
Renegades TV
Spiz TV
Of course, the list doesn't stop there as numerous piracy-fighting agencies are after Kodi. With that said, we strongly recommend using the addons listed in our overview of the best Kodi live TV add-ons - all of which are legal and safe to use.
And with this, we end our list of recommendations for the best live TV addon for Kodi. To keep exploring more about this application, make sure to check out other articles about Kodi. And, of course, happy streaming!