Your Windows-powered machine can become an ultimate media-streaming service thanks to Kodi. Being one of the most powerful applications of its kind, you've probably heard people talking about it. However, Kodi has tremendously changed over the last couple of years. Aside from bringing an overhauled interface, the newest version brings unprecedented features as well. No matter if you're looking to return to this app or if you want to find out about Kodi for the first time, you've come to the right place. This article will teach you how to install Kodi on Windows.
If you continue reading, you will learn all you need to know about Kodi. First, we'll see what Kodi is as well as what it can do. Then, we'll teach you how to install Kodi on Windows by explaining the main (desktop) version as well as some of its variants as well. Without further ado, let's jump right in.
Disclaimer: We will be talking about software developed for Kodi – which is based on open-source code. However, the following software comes from unofficial third-parties. In addition, it is publicly available and free of charge. TechNadu doesn't claim any responsibility for how our readers decide to utilize the following software. Please note that we don't condone sharing pirated content and copyright infringement. TechNadu is not affiliated with the software mentioned in this article in no way. Make sure to carefully read the above-said disclaimer and ensure the proper use of the software.
Warning: Why you must NOT USE Kodi without VPN?
Here are the reasons that you should consider looking at it
without SKIPPING
.
Using ILLEGAL Kodi Addons are Dangerous without a VPN: Most of the Kodi users are installing the ILLEGAL Kodi addons on their system to access all the latest movies, TV shows, sports, music, and much more for FREE, than a legal Kodi addons where it has the least content in it. But do you know what? The video content on illegal addons are a scraped and copyrighted material. If you are accessing them on Kodi, then your activities will be monitored by your ISP by tracking your IP and gives all the information to the government or companies if they request for it. This will land you in trouble. To stay away from this, you will have to connect to a VPN where it hides your identity by rotating your IP address while streaming Kodi content. This is how you will be safe from the prying eyes.
Bypass Geo-Restriction: As you probably know, some official addons like BBC iPlayer, NBC Sports, Hulu, IceFilms have geo-location restrictions. This also applies to other addons like Acestream which fetches the data from torrents. To unblock these restrictions, you will have to DEFINITELY use a VPN no matter what.
The above are the 2 reasons that forcing us to recommend a VPN to the Kodi users for safer streaming. In fact, after testing several VPNs for Kodi, we finally came up with a one non-stop solution and that is
ExpressVPN, the top rated Kodi VPN
so far.
Limited Time Offer:
For our TechNadu readers, there is a
49% OFF on ExpressVPN
which includes
3 FREE Months
in it.
Getting Started: What is Kodi?
Kodi is a home theater software. What this means is that it's built to play all kinds of media files, including movies, TV shows, music, and radio. However, one of the most powerful components of this application is its add-ons. They come through official and unofficial channels, and you can find thousands of interesting add-ons. Aside from streaming media, they can be used to enjoy other types of content. Almost every reputable media streaming service is compatible with Kodi, like Netflix, Hulu, and Amazon Video. However, we strongly recommend taking a look at unofficial addons since they not only bring a huge library of content but also regional and country-specific media. For example, you can use Kodi to enjoy Chinese cinematography, to explore vibrant and action-field Bollywood movies, or to watch well-known Korean movies and TV shows. It's amazing really what Kodi can offer.
Install Kodi on Windows 10: The Complete Guide
Before we let you enjoy Kodi's content, we need to show you how to install this amazing application. But first, we need to take a look at requirements. Don't worry, you don't need an ultra-powerful PC to run Kodi and explore all of its features.
Official Requirements
The good news is that Kodi is compatible with a wide range of systems, and almost anyone can install and use this application. However, it's still important to take a deeper look and make sure you're on the right track. Here are the official requirements for running the latest version of Kodi:
Windows Version: You need to be running Windows 7 or higher. As you can see, Kodi isn't available for Windows XP, since it discontinued its support three years ago.
CPU: Almost any x86 or x64 processor will do the job. This includes Intel Pentium 4, AMD Athlon 64, or any newer CPU. In other words, you won't have any issues running Kodi if your computer was made during the last 10 years.
RAM: You need to have at least 1GB of RAM. It's recommended to have at least 2GB to make sure you can run Kodi alongside other applications on your PC.
GPU (Graphics): Any GPU that supports DirectX version 9 will do that job. Just like with previous requirements, any GPU made in the last 10 years or so will be able to run Kodi.
Available Space: On its own, Kodi requires between 100 and 200MB of space. However, make sure you've got enough free space if you're going to use this application to play locally stored movies and TV shows. If you plan on streaming media, you don't need to have more than 500MB of space to ensure trouble-free streaming.
Option #1: Install Kodi on Windows 10 via an EXE File
We'll show you how to install Kodi using an EXE (executable) file that can be downloaded from the Web. First, we'll download this file and then teach you how to use it to install Kodi.
First, you need to download Kodi's installation file. Navigate to kodi.tv/download, where you'll see Kodi's different versions.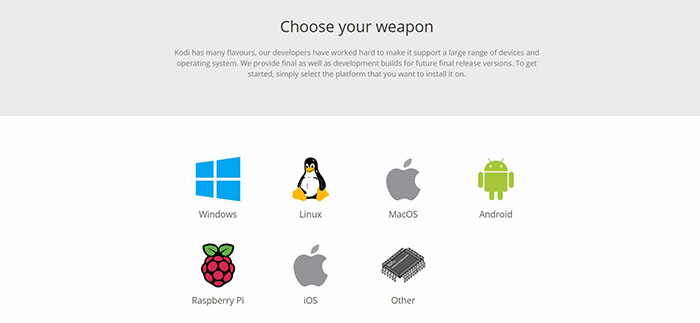 2. You'll recognize the Windows logo, so click on it. A new screen will be shown, with different versions of Kodi.
3. No matter if you're using Windows 10 or an older version, this is where you'll find a single EXE file that is used to install Kodi. There are two main branches, named Release and Nightly. The first one brings the latest official version of Kodi. On the other hand, the Nightly branch brings a current beta version. You can use it if you'd like to try not-yet-released features but you should also know that beta applications are prone to bugs. We'll use the official way, so we'll navigate to Release > Installer (32bit). You'll see that there's another button as well, named 'Windows Store'. We won't be using it right now, but we'll use this method later in the article.
4. Kodi's installation file will now download. It's not large (around 80MB), so you won't have to wait for long for it to be downloaded. This depends on the speed of your Internet connection, of course.
5. Once the file has been downloaded, you need to find it. The majority of users will find the file on their desktop. Simply minimize your Web browser, and you'll see the file. However, it can be also placed in the Downloads folder. This folder can be found by clicking on My Computer on the desktop and finding Downloads from the left-placed sidebar.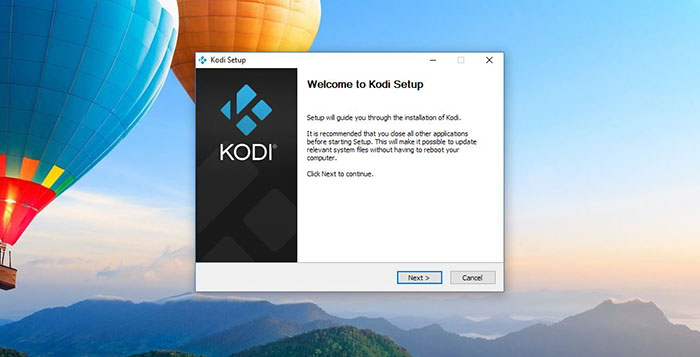 6. Double-click on the downloaded EXE file. An installation wizard will appear. You'll need to go through several steps until you see Kodi being installed. Once the installation is done, you'll see an option to run Kodi. Check this option and finalize the installation.
7. You're done! It is that easy to install Kodi on Windows.
Option #2: Install Kodi via the Windows Store
If you think our first method is complicated, you can install Kodi on Windows by using the Windows Store. This goes for those of you who use Windows 10 or 8. Since there's no Windows Store on Windows 7, this installation method isn't applicable to those users.
Open Windows Store. You can find it by launching the Start Menu and typing 'Store'. This will make Windows search for Windows Store and you'll see it among search results. Click on its icon to launch it.
2. Once the Windows Store is opened, you can use the top-right Search field. Type in 'Kodi' and hit Enter. After a couple of seconds, Kodi will be displayed among search results. There will be different options present, so make sure to install the app created by XBMC Foundation.
3. Once you click on Kodi's icon, you will be taken to its overview. Since this app is free of charge, all you need to do is to click on the 'Get' button. Windows Store will do the rest.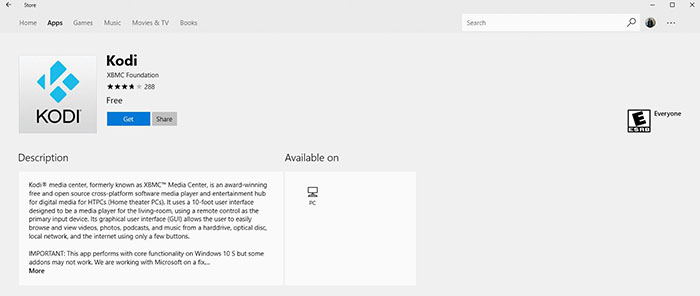 4. Kodi will be downloaded and installed in the background. Once this process is finished, you will see a Windows notification in the bottom-right corner. You can use this notification launch Kodi. Alternatively, you can launch the Start Menu and type in 'Kodi'.
EXE File Vs. Windows Store: What's the Difference?
You might be wondering if there are any differences between these two installation methods. You've also probably heard that Windows Store apps are restricted in certain ways. However, this isn't the case here.
No matter which installation method you choose, you will end up with the same version of Kodi. Windows Store doesn't restrict Kodi, which means that you can install and use it just like the standard version. The biggest benefit here is that you can use Windows Store to keep Kodi updated at all times.
You can also look at these two installation methods as alternatives. If the Windows Store isn't working, you can download the EXE file and install Kodi on Windows.
Install Kodi on Windows: Portable Mode
We would also like to tell you about an alternative way to install Kodi on Windows. Instead of having it installed locally, you can transfer Kodi's files to a USB stick. This is a so-called Portable Mode that allows you to carry Kodi's library on a USB and use it with different Windows-powered machines. Here's how to install Kodi's Portable Mode.
First, you need to download Kodi's EXE (Executable) file. Go to kodi.tv/download and click on the Windows logo. Once the new window appears, click on the button that says 'Installer (32bit)'. This will download Kodi's installation file to your computer.
Launch the EXE file and the Installation Wizard will begin. Instead of simply hitting the 'Next' button, you need to be careful this time. At one point, you'll be asked where you'd like to install Kodi. You need to click on 'Browse' and navigate to your removable USB drive. Finalize the installation and make sure to STOP before exiting the process.
The final step of the Installation Wizard will allow you to 'Run Kodi'. Make sure this option isn't enabled since you MUST NOT run Kodi at this point. Instead, leave this option blank and exit the installation.
Now, navigate to your Kodi files. Since you chose to install it on a USB, go to this directory. Inside, you'll find a file named 'Kodi.exe'. Create a shortcut. This can be done by right-clicking on this file and selecting 'Send to Desktop (Create Shortcut)'.
Find the newly created shortcut. Right-click on it and select 'Properties'. This is where you'll see a filed named 'Target:'. You need to add '-p' after any other characters in this field. For example: 'F: \Kodi\kodi.exe -p'. Make sure you've made this correction and save the change.
Finally, you can launch Kodi. Now, every file and addon you install will be saved within Kodi folder itself. This can include scripts, addons, a local library of content, skins, and user data. You can find these files in the 'portable_data' folder. What this also means is that all those changes will be saved to your USB drive. You can use it on different computers without any issues.
How to Update Kodi on Windows?
So far, we have been talking about how to install Kodi on Windows. However, it's also important to know how to update Kodi. In case you don't know, this application is receiving a new update every now and then. For example, the latest version is 17.5 and it was released on November 14, 2017. Developers of Kodi are currently working on a new major overhaul, codenamed Kodi 18.0 Leia. It is expected to be released sometime in 2018.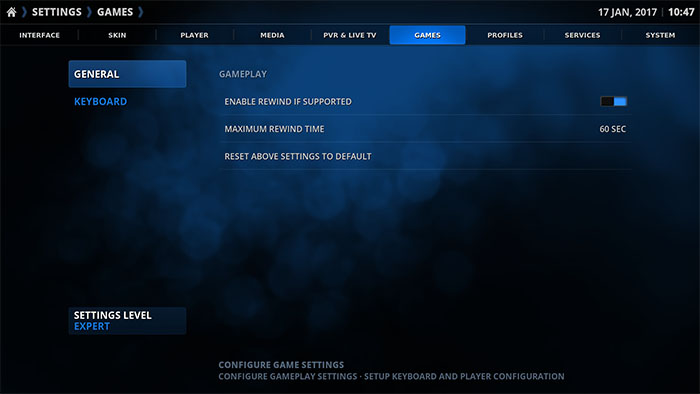 To update Kodi on Windows, you can follow our explanation found above – the one about how to install Kodi on Windows via EXE file. This involves going to Kodi's official website and downloading a new Executable file. Then, you can simply install the new version over the existing one. If you want to keep all your settings and third-party add-ons, do not uninstall Kodi. Simply install the new version and Kodi will take care of the rest.
Install Kodi Addons, Builds, and Repositories
We hope that you managed to install Kodi by now. So, you must be wondering what's next? We recommend launching this application and exploring its features. As you'll see, this is a very comprehensive app that can store and play all kinds of media files. Upon opening, you'll find the left-positioned main menu with categories like Movies, TV Shows, Music, Music Videos, and more. You can add your own content to Kodi by clicking on the 'Enter Files Section'. This will allow you to add different file types and associate them with different Kodi categories.
We also highly recommend checking out third-party addons for Kodi. But first, make sure to check out the official selection by clicking on Add-ons from the main menu, and then going to Downloads. Then, feel free to explore unofficial addons. TechNadu has numerous helpful tutorials on how to install different kinds of addons and activate their features.
Finally, we shouldn't forget to mention customized Kodi builds. This isn't the same as addons, so it's important for you to understand the differences. Builds for Kodi bring numerous useful addons, all at once. Once you install a build, you will see a completely changed interface with the available selection of add-ons. In other words, builds are the fastest way to install a bunch of addons at once.
How to Properly Uninstall Kodi?
You now know how to install Kodi on Windows. However, we'd also like to show how to uninstall Kodi. We'll go in-depth and show you how to get rid of any file associated with Kodi.
Program: To uninstall Kodi, you can run Windows Add or Remove Programs, or 'Uninstall a Program' if you're using Windows 10. This option can be found within the Control Panel.
User Data: Windows can help you get rid of Kodi. However, this won't delete every file. This is because Kodi, just like any other applications, is saving files to different directories that are out of reach of Window's tool for uninstallation. Navigate to C: > Users > Your Username > AppData > Roaming > Kodi. Feel free to delete this file and then empty your Recycle Bin.
In case you downloaded Kodi from the Windows Store, you'll need to go through a couple of additional steps. Navigate to C: > Users > Your Username > AppData > Local > Packages > XBMCFountain.Kodi > LocalCache > Roaming.
Final Thoughts
As you can see, Kodi is an incredibly versatile software and you can install Kodi on Windows within minutes. After that, you can store your local library of content within this app, or use add-ons to include streamable libraries. If you have any questions regarding this process, feel free to let us know using the comments section below. We'll be glad to help.
Also, feel free to share any tips and tricks, as well as your favorite Kodi addons. We're always interested in hearing what the vibrant community of Kodi users has to say. And don't forget to follow TechNadu on Facebook and Twitter.