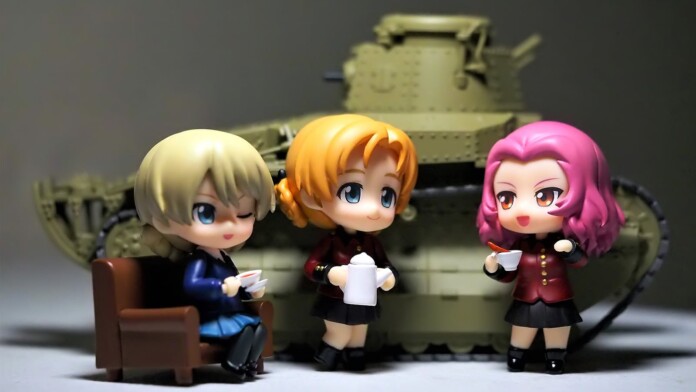 The culture of anime has spread all over the globe, and that reflects in our online world as well. The same applies to Kodi, which can be your go-to source for anime movies and TV shows. Among numerous repositories and popular Kodi addons, Kodi acts as a repository on its own. This is because you can use this home theater software to access different sources of content from one place. This is why, in this article, we'll be taking a look at the best anime Kodi addons in 2020.
Here at TechNadu, we are dedicated to bringing useful articles that teach you how to get the most out of Kodi. And of course, we're dedicated to teaching you how to expand your Kodi's content library. As you're about to see, we've prepared several recommendations – all of which come with sizeable anime libraries on their own. We'll provide all the details, and it's up to you to decide which one is worth your time and money.
Before getting started, we strictly recommend you to be safe while using Kodi. Therefore, we want you to read the We will be talking about software developed for Kodi – which is based on open-source code. However, the following software comes from unofficial third-parties. In addition, it is publicly available and free of charge. TechNadu doesn't claim any responsibility for how our readers decide to utilize the following software. Please note that we don't condone sharing pirated content and copyright infringement. TechNadu is not affiliated with the software mentioned in this article in no way. Make sure to carefully read the above-said disclaimer and ensure the proper use of the software.
disclaimer and WARNING notice found below.
Warning: Why you should ALWAYS USE a VPN with Kodi?
Here are the reasons that you should consider looking at it without SKIPPING.
Using ILLEGAL Kodi Addons are Dangerous without a VPN: Most of the Kodi users are installing the ILLEGAL Kodi addons on their system to access all the latest movies, TV shows, sports, music, and much more for FREE, than a legal Kodi addon where it has the least content in it. But do you know what? The video content on illegal addons is scraped and copyrighted material. If you are accessing them on Kodi, then your activities will be monitored by your ISP by tracking your IP and gives all the information to the government or companies if they request for it. This will land you in trouble. To stay away from this, you will have to connect to a VPN where it hides your identity by rotating your IP address while streaming Kodi content. This is how you will be safe from the prying eyes.
Bypass Geo-Restriction: As you probably know, some official addons like BBC iPlayer, NBC Sports, Hulu, IceFilms have geo-location restrictions. This also applies to other addons like Acestream which fetches the data from torrents. To unblock these restrictions, you will have to DEFINITELY use a VPN no matter what.
The above are the 2 reasons that forcing us to recommend a VPN to the Kodi users for safer streaming. In fact, after testing several VPNs for Kodi, we finally came up with a one non-stop solution and that is ExpressVPN, the top-rated Kodi VPN so far.
Limited Time Offer: For our TechNadu readers, there is a 49% OFF on ExpressVPN which includes 3 FREE Months in it.
Without further ado, these are the 4 best anime Kodi addons in 2020.
1. Funimation NOW
Where to Find This Addon? – Official Kodi repository.
From Where You Can Access This Addon? – Sadly, it's restricted to the USA only. This means that you need to learn how to unblock Funimation NOW outside the US, which is done via a VPN. Our top recommendation would be ExpressVPN.
What you can stream via Funimation NOW? – A sizable library of anime movies and TV shows, including plenty of dubbed titles.
Funimation NOW is one of the best-looking anime Kodi addons. It comes with a custom UI design and features beautiful transitions and animations. However, we are sure that you'll use this addon for its content.
Once you open the addon, you'll see a nice animation until the addon fully loads. Then, you'll be greeted with a login screen. If you opt for a free account, you'll occasionally see ads. However, If you decide to upgrade, you'll need to pay $5.99 per month. This seems like a fair price considering how much content there is. All streams come in HD and work without any issues. In addition, videos are dubbed in English. It's easy to see why this addon is at the top of our list of the best Kodi addons for anime.
2. Crunchyroll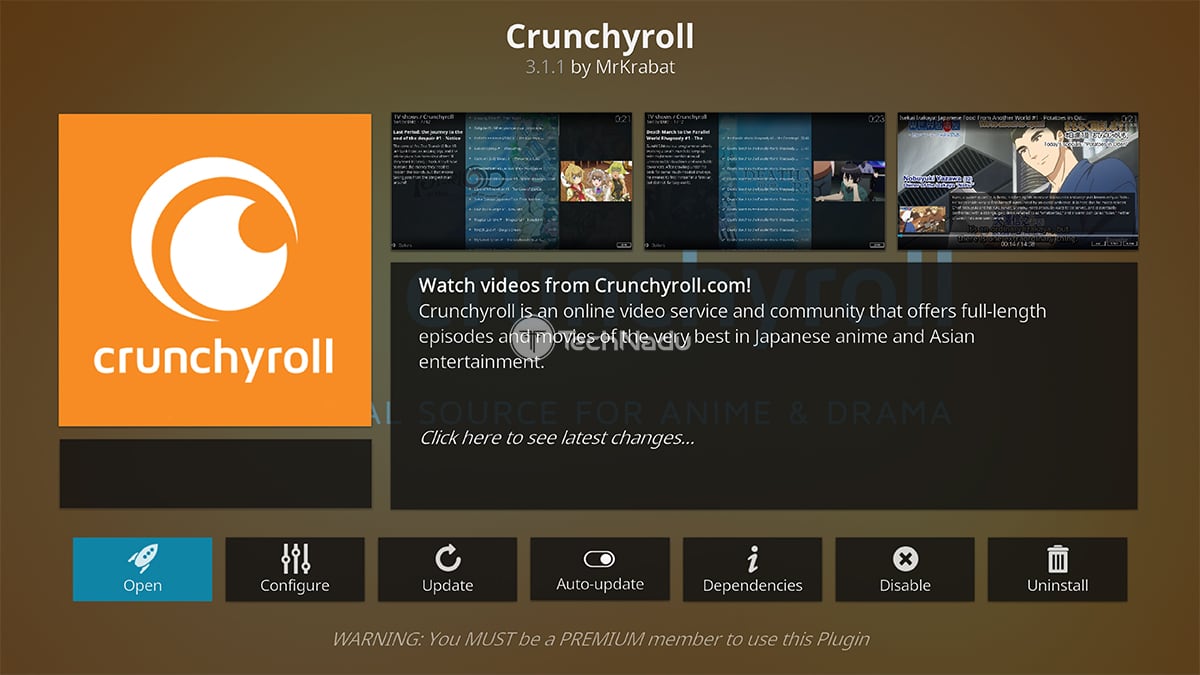 Where to Find This Addon? – Official Kodi repository / Download from GitHub.
From Where You Can Access This Addon? – Make sure to learn how to unblock Crunchyroll outside the US since it's restricted to this country only. We recommend ExpressVPN for this purpose, as this VPN doesn't only unblock this addon but also ensures a smooth streaming experience.
What you can stream via Crunchyroll? –A sizable library of anime movies and TV shows, including plenty of subbed titles.
In many ways, Crunchyroll is similar to Funimation NOW. It has an incredibly extensive library of content divided into movies and TV shows. The addon is nicely designed and allows different ways of filtering the content. However, be prepared to occasionally encounter some streaming issues. Sadly, it seems like the Kodi addon isn't at the top of priorities for this company since the addon is rarely updated. Still, don't expect any deal-breaking issues.
You can try Crunchyroll free of charge. However, it does come with a subscription priced at $7.99 per month. Finally, you need to know that this addon only work with Premium accounts. In other words, you won't be able to sign-in if you have a free account.
3. Netflix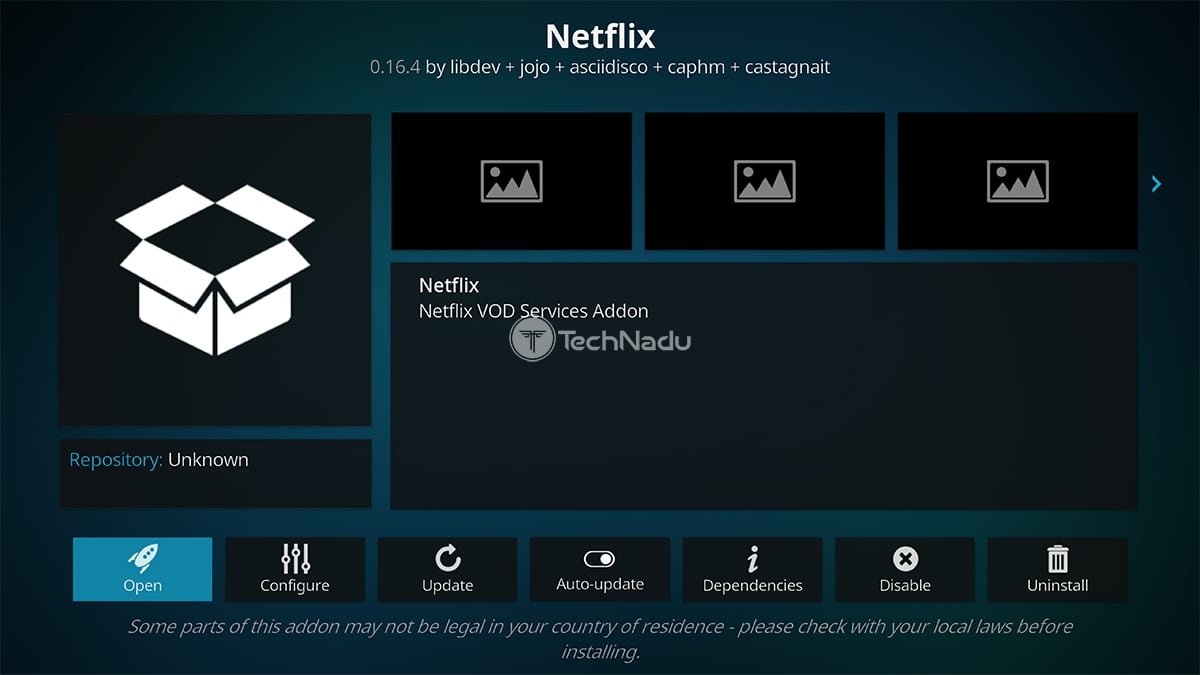 Some of you might be surprised to see Netflix recommended in this article. That's because not many know that Netflix is investing heavily in producing original anime titles. At the moment, some of the most popular picks are Devilman Crybaby, Aggretsuko, SWORDGAI, and more. There are also plenty of exclusive titles (not produced by Netflix but offered only via this distribution channel) like Children of the Whales and Little Witch Academia.
The Netflix addon allows you to log-in using your existing Netflix credentials. You'll get to browse its entire library and it even supports multiple users. In addition to this, you'll get to stream its content in up to HD.
4. YouTube
Where to Find This Addon? – The official Kodi repository.
From Where You Can Access This Addon? – Available worldwide. In case you'd like to expand your library, access the US version. Here are the best VPNs for YouTube.
What you can stream via YouTube? – An endless library of video content. YouTube also features a large number of anime titles, available for free.
We'll end our list of the best anime Kodi addons with YouTube. We're sure that this platform needs no introduction – as you already know what to expect. Aside from its original content, YouTube can be a great source to find older anime movies and TV shows. A large number of those are full-length titles, giving you hundreds of hours of entertainment.
The YouTube Kodi addon is also a highly powerful option. You get to use your Google account to log-in, manage your favorites, search the platform, and plenty more. The addon has been receiving regular updates during the last couple of months, and now works without any performance-related problems.
So, that would be all on the best Kodi addons for anime. We made sure to pick only the best options available right now, giving you a combination of free and premium sources. With this said, we're sure you'll find an option that works for you.