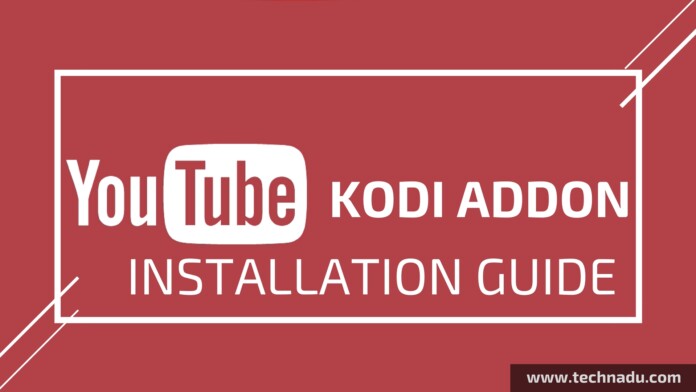 It's rare to tag an addon with 'world's number one streaming platform' title. But, YoutTube Kodi Addon comfortably fits that statement. Youtube is a well-known service that lets you enjoy content from all around the world. One can find everything on YouTube from TV shows to documentaries, to music videos, to how-to-basic guides. Literally everything! The consistent urge to install this beast on your Kodi device is pretty human, and if you do not know how to–we've got you covered.
In this installation guide, we'll give you step by step instructions on how to install YouTube Kodi addon and also introduce some of its major features. But before that, let's go through a crucial warning.
Disclaimer: We will be talking about software developed for Kodi – which is based on open-source code. However, the following software comes from unofficial third-parties. In addition, it is publicly available and free of charge. TechNadu doesn't claim any responsibility for how our readers decide to utilize the following software. Please note that we don't condone sharing pirated content and copyright infringement. TechNadu is not affiliated with the software mentioned in this article in no way. Make sure to carefully read the above-said disclaimer and ensure the proper use of the software.
WARNING: Before You Continue…
TechNadu recommends connecting to the Web using a VPN application. The majority of Internet Service Providers (ISPs) are able of tracking your Web browsing habits and collecting information. This kind of personal data can be forwarded to government agencies or sold to marketing companies. One of the consequences of these actions can be copyright infringement notices that some users of Kodi reported receiving. The only way to stop this from happening is to use a VPN.
VPN applications encrypt your Internet connection.As such, your personal data stay hidden and inaccessible by your Internet Service Provider.
VPN applications guard your online anonymity. A number of websites often use cookies to track your browsing habits. By altering your IP address, VPNs preserve your anonymity no matter if you visit websites or use Kodi to stream media.
VPNs unlock restricted content.Using this kind of application, your computer will receive a new IP address that points to a completely different physical location. This is how you can watch region-restricted movies and TV shows.
VPNs can improve your Internet connectivity.A reliable VPN application can de-block throttled connections and achieve better overall performance.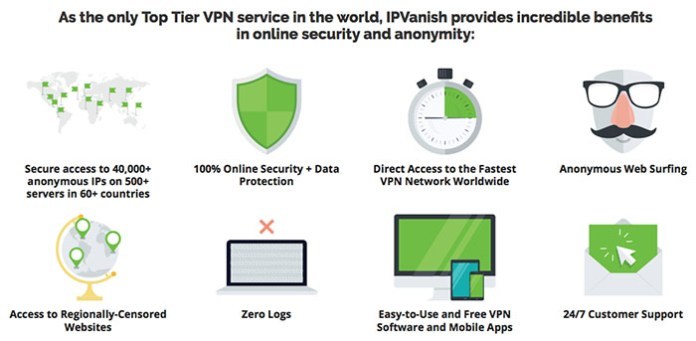 Based on our experience, TechNadu would like to recommend IPVanish. This has been our VPN of choice for a long time, making us happy with its features and performance.
IPVanish is capable of keeping your connection highly secure. It can also be used to watch region-restricted movies and TV shows. Finally, this application doesn't affect Internet connection speeds. On top of that, it's very affordable.
Sign up for IPVanish and try it out for yourself.
YouTube Kodi Addon: The Basics
YouTube Kodi Addon has become the go-to place for all type of streaming content, especially the music videos of classics and latest pop charts. Apparently, it's the biggest video sharing website in the world. And, its gradual adaptation for long duration video makes it a great couch companion. We're excited to share this article with you.
Let's, without wasting any time, go through how to install YouTube Addon on Kodi.
How to Install YouTube Kodi Addon?
The most comforting part about adding YouTube Kodi addon is its convenient availability in the official Kodi repository. Just browse through the official Kodi repo from 'install from repository' option and look for YouTube addon. Let's go through the procedure.
Installation Guide
Launch Kodi on your device. Select Add-ons from the list of options in the left menu panel on the Home screen.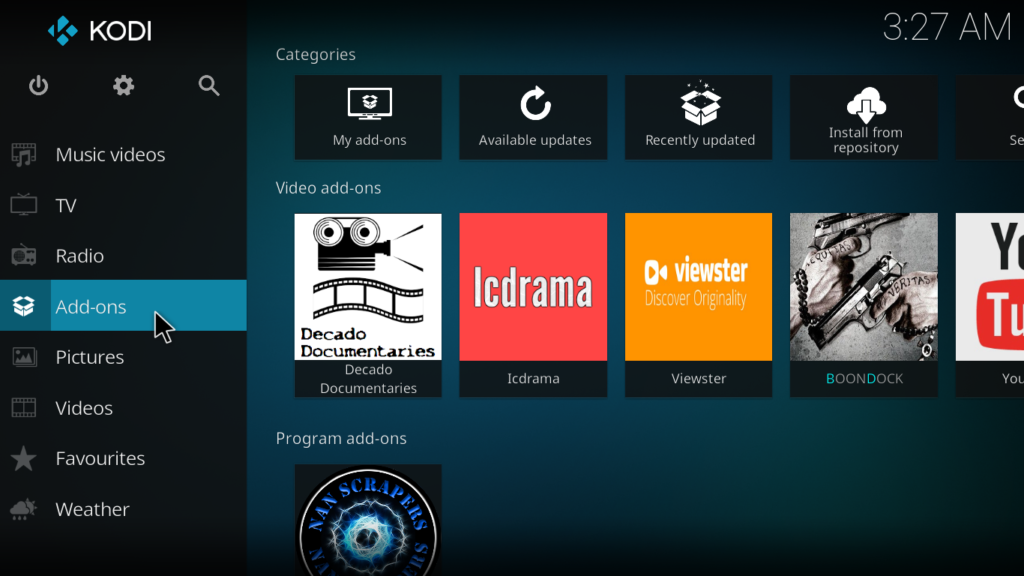 Select the package icon at the top left of the screen.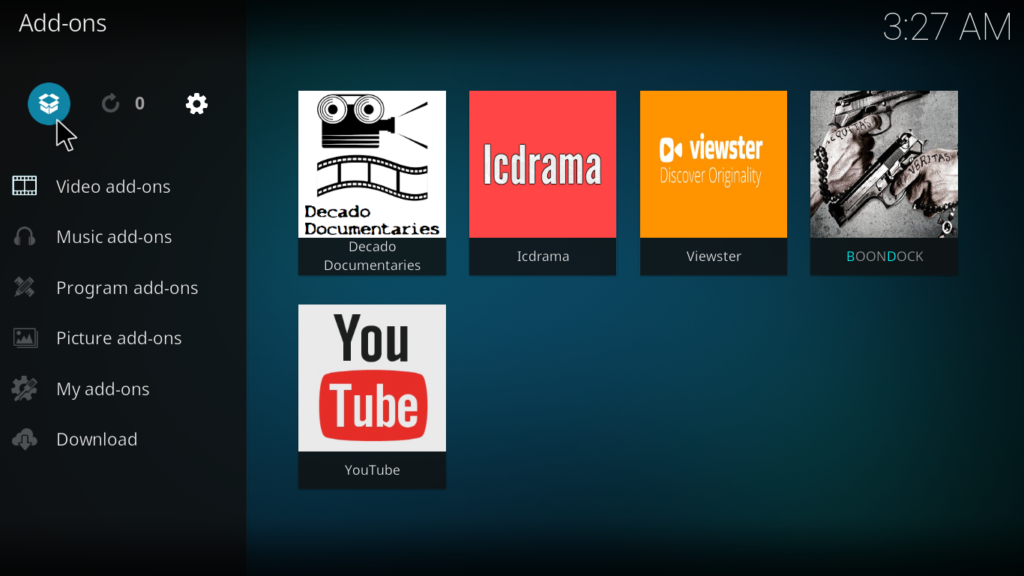 Now, you'll be presented with a list menu. Navigate to 'Install from repository' from the list and click on it.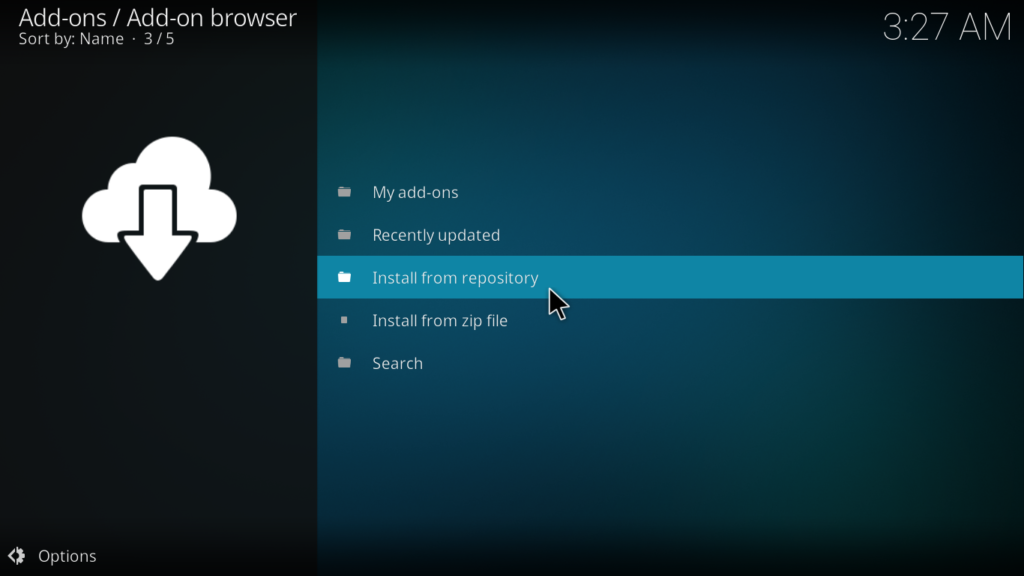 Here, you'll find a list of all the repository installed on Kodi. Now, select 'Kodi Add-on repository' from the list.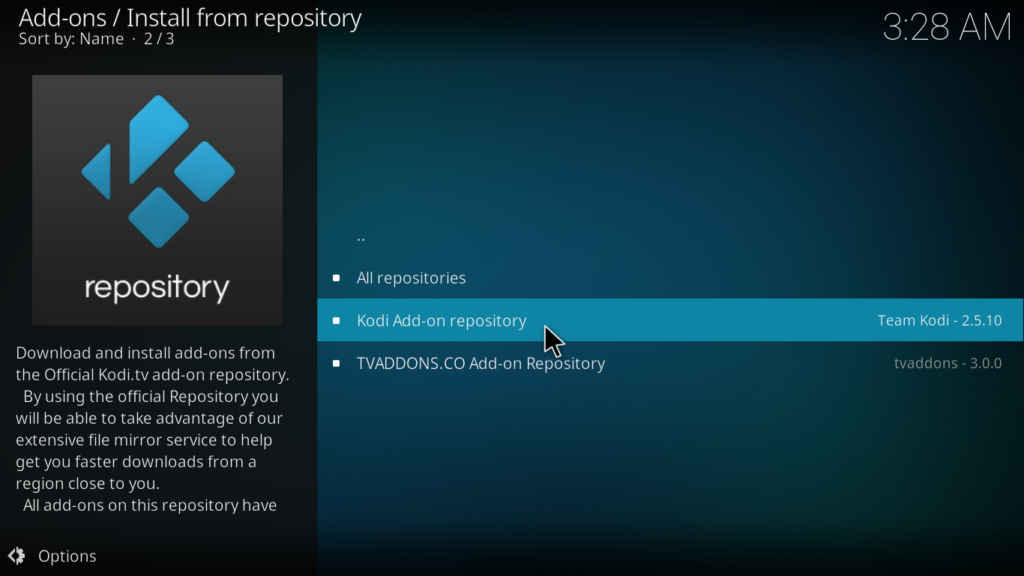 Choose Video add-ons from the list.
Now, navigate to 'YouTube' and click on it.
Click on the Install button at the bottom right of the screen.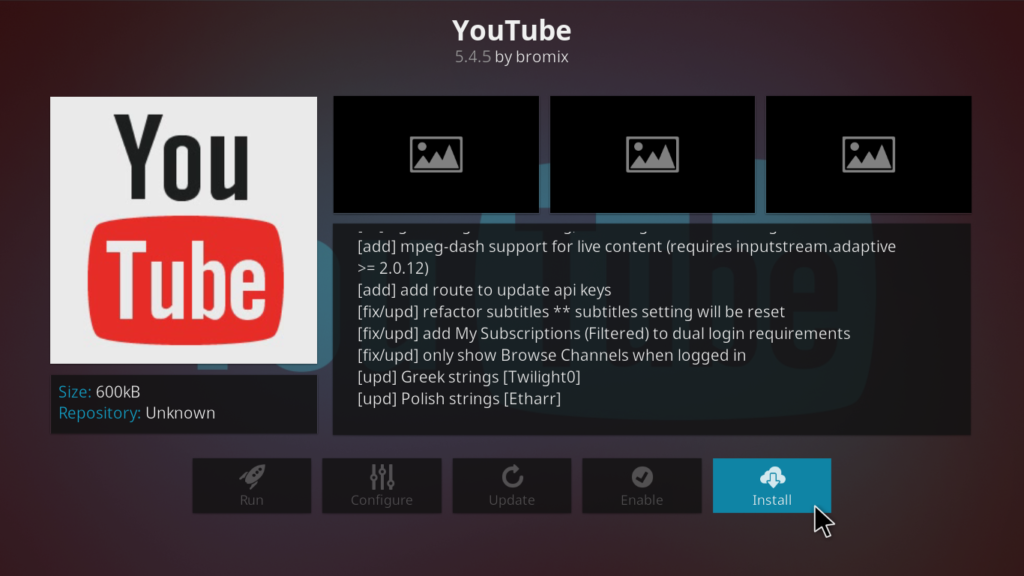 Now, wait for an 'add-on installed' notification at the top right of the screen.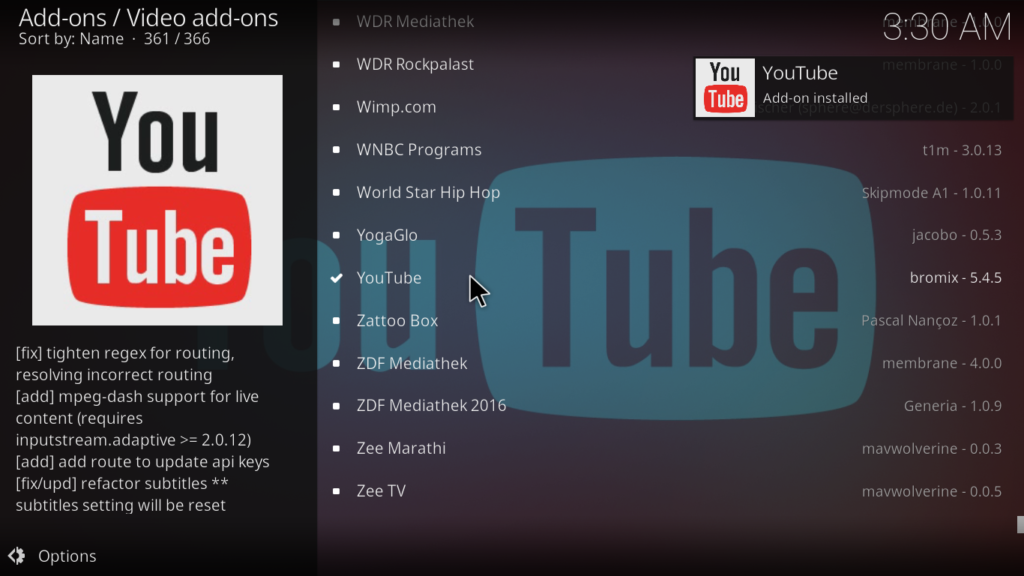 YouTube Kodi Addon has been successfully installed.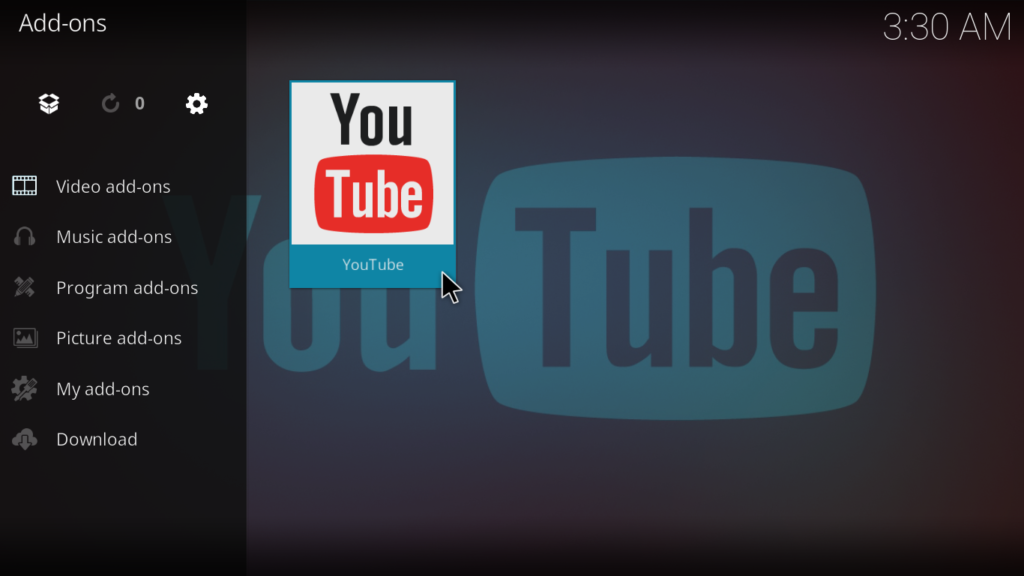 YouTube Kodi Addon: What to Expect?
Once you finish the installation and open the add-on, you'll see three major categories; Popular right now, Search and Live. Under the 'popular right now' section you can see all the trending videos. Through 'Search' option you can access the expansive media library of YouTube's database. And at last, under 'Live' category, as the name suggests, you can find the videos that are currently on air.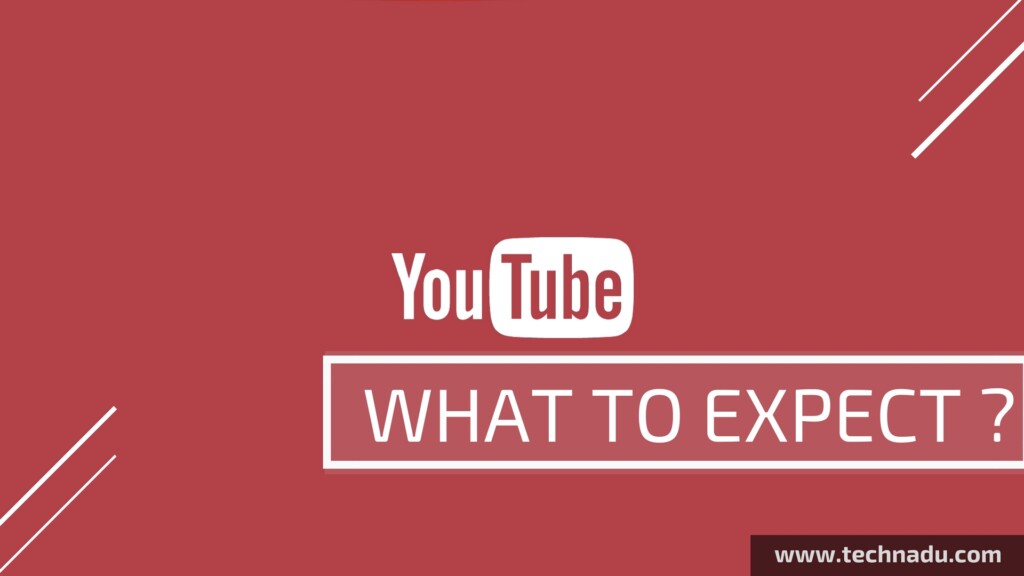 The best thing about YouTube addon for Kodi is its capability to sync with our Google account. This lets Kodi users have a 360 streaming experience at absolutely no cost. This factor exponentially personalizes the entire experience on this addon, and overall makes it a pleasing journey.
Additional Resources: What's Next?
We all have to agree on the vast potential of YouTube Kodi addon. As we move towards a better framed and functioning codes, YouTube will also get better. In many ways, YouTube's add-on is similar to the recommendations in our Best Kodi Addons list of 2018. There is some more goodness that we'd like to share with our users.
All of the recommendations in our lists are individually tested by the Team Technadu. And at the time of the test, the addons were fully functional and updated.
Final Words
YouTube is a red beast. It can serve any number of groups with contrasting tastes. Its massive database is yet another lucrative factor why we recommend this addon to every Kodi lover. Since this addon can be accessed from anywhere in the world, it might rise to some of the privacy issues. We highly recommend IPVanish to our users to keep their connections secure. Happy Koding!
And like always, thank you for reading.
If you have any questions for us, kindly use our comment section and let us know. Our team will reach out to at their earliest. And, if you found this installation guide useful, share it with your friends and anyone who it might help.