During the last couple of years, Chromebooks became increasingly popular devices. At first, Chromebooks were known for its budget-friendly price. This isn't the rule anymore since you can find some powerful devices powered by the latest generation of processors and graphics – which comes at a price. What this also means is that Chromebooks are more than capable of running Kodi and playing high-definition movies. This is the reason why we wanted to tell you how to install Kodi on Chromebook computers.
As you probably know, not every Chromebook is the same. There are different models and configurations available, which also means there are different ways to install Kodi on Chromebook. Don't worry, this guide can be used for any model – no matter if you have access to the Google Play Store or not. We'll be taking you through every step of the way and we'll provide useful screenshots in case you ever get lost. Without further ado, let's jump right in.
Disclaimer: We will be talking about software developed for Kodi – which is based on open-source code. However, the following software comes from unofficial third-parties. In addition, it is publicly available and free of charge. TechNadu doesn't claim any responsibility for how our readers decide to utilize the following software. Please note that we don't condone sharing pirated content and copyright infringement. TechNadu is not affiliated with the software mentioned in this article in no way. Make sure to carefully read the above-said disclaimer and ensure the proper use of the software.
WARNING: Before You Continue…
Even without your explicit consent, your ISP (Internet Service Provider) is collecting and filtering your Web browser data. This means that using Kodi to stream copyrighted content might get you into legal trouble. Also, your ISP might block access to specific streams, which leads to Kodi errors, or entirely blocked and throttled streaming. This is why users of Kodi should always use a VPN to make sure their identity and privacy are protected while streaming.
TechNadu's editorial team uses and strongly recommends ExpressVPN. This is, by far, the fastest and most reliable VPN with the power to unblock any website and service. Once activated, ExpressVPN encrypts your Web traffic and makes it anonymous – keeping it away from your ISP's prying eyes. In fact, you will become invisible on the Web since your user logs, and your traffic history isn't stored on any server.

Make sure your Web browsing and streaming aren't used against you. Subscribe to ExpressVPN and enjoy using Kodi without any restrictions!
Install Kodi on Chromebook: Overview
The majority of Chromebook users use their computer for basic needs. This includes browsing the Web, editing text documents, and checking e-mail. However, your Chromebook is more powerful than you can imagine. We'll tell you how to transform your computer into a multimedia machine capable of playing locally stored media and online streaming.
Here are some of the things that we'll talk about:
How to update your Chromebook;
How to install Kodi on Chromebook using Google Play Store;
What to do if you don't have Google's Play Store;
How to turn Kodi into an extension for Google Chrome;
What to do once you install Kodi – learn how to take advantage of its amazing features.
We really hope that you have a Chromebook that comes with the Google Play Store. This would mean that you can download and install Kodi in a matter of minutes. However, there's no need to worry if that's not the case. Even if you don't know anything about transforming APK files and installing them, we're here to help. Continue reading to learn more.
Install Kodi on Chromebook via Google Play Store
What you need to know is that Kodi offers a full-fledged Android application. This means that you can install Kodi for Android and run it natively on your computer. In addition, you can easily update it and have the access to the latest version at all times. In case you have access to the Google Play Store, here's how to install Kodi on your Chromebook.
Launch Google Play Store on your computer;
At the top of the screen, you will see the search field. This is where you can search for different applications if you know their names;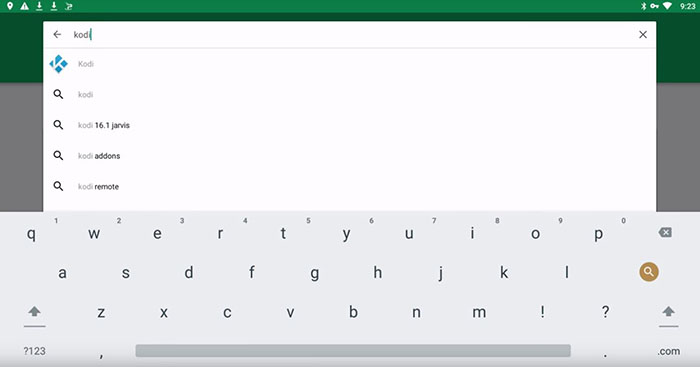 Type in 'Kodi' or use the voice search. After a couple of seconds, you'll see a list of search results;
Find Kodi on this list and click on its icon. You'll see that there are many Kodi-related applications available, but make sure to install the official one. You can recognize it by its developer since Kodi is made by the XBMC Foundation. Also, it's free of charge;
An overview of Kodi will now open. Hit the green-colored 'Install' button and your Chromebook will do the rest. Depending on your Internet connection speed, it might take a few minutes for the application to be downloaded and installed.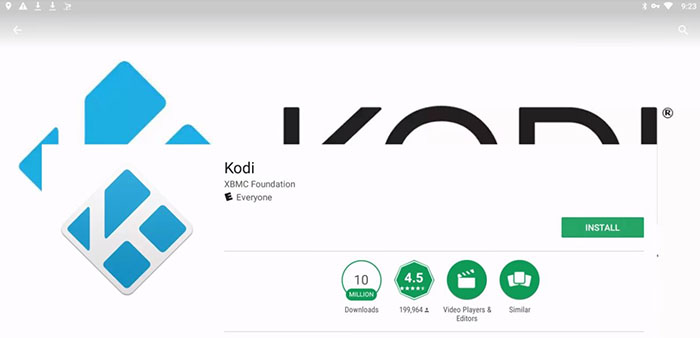 That's it! You should now find Kodi among the installed apps on your Chromebook. Find its icon and launch it.
Supported Chromebook Models
The official method of installing Kodi via Google Play Store can be utilized on Chromebooks that come with Google's store of applications. If you're not sure if your Chromebook is capable of doing this, we are going to give you a few tips.
In case you ever used the Google Play Store on your Chromebook, you're good to go. In addition, if you bought your computer sometime in 2017 or 2018, you're also capable of installing Kodi the official way.
Here are some of the most popular Chromebooks that come with the Google Play Store:
Acer Chromebook R11;
Acer Chromebook Spin 11;
Google Chromebook Pixel (2015 or later);
Samsung Chromebook Plus;
Samsung Chromebook Pro;
Asus Chromebook Flip C100PA;
Asus Chromebook Flip C213.
Important note: The above-found models aren't the only ones capable of running Google Play Store. To see a full list of supported devices, use this support page that's maintained by Google.
Install Kodi on Chromebook: Alternative Methods
The ability to download Android applications on Chromebook computers is reserved for newer models. We are sure that many of you don't have access to the Google Play Store. However, this doesn't mean that your computer can't run Kodi. Instead, you just need to be more creative to make this application run. Continue reading and make sure to follow each and every step in this guide.
Step #1: Update Your Chromebook
First, we need to make sure you're running the latest version of your Chromebook's operating system (Chrome OS). Even though your Chromebook automatically downloads new updates, it's wise to check for updates manually. This is the only way to make sure your computer has the needed updates:
Make sure you're logged in and go to Settings;
Once you're in, click on 'About Chrome OS';
Click on 'Check for and apply updates';
Your Chromebook will do the rest.
Here's an alternative way to update your Chromebook if the above-said method gives you problems:
Open the Chrome Browser;
Click on the drop-down menu in the top-right corner. This button looks like three small lines on older Chromebooks or three vertical dots on newer computers;
Now pick 'Settings';
Based on your version of Chrome, you need to find the 'About Chrome' button/link. Make sure to check around, since it can be placed in different spots. On newer models, you need to click on the button in the top-left corner (three vertical dots). This is where you can update Chrome OS.
Important Note: You need to be running Chrome OS version 53 or higher. Check out the most recent public version on Google's Blog.
Step #2: Download Arc Welder
We need to use a tool designed for developers to install Kodi on Chromebooks that don't have the Play Store. This tool is called 'Arc Welder.'
When it comes to Chromebooks, Arc Welder acts as a Chrome extension and/or application. It's completely free of charge and you don't have to be a developer to use it. Use this link to access the tool and download it.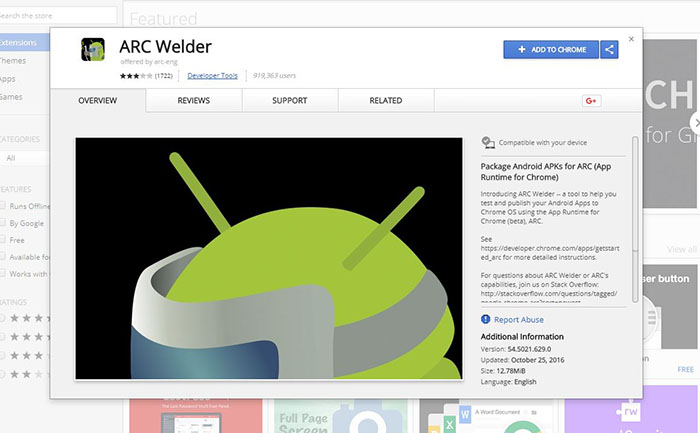 Right now, you need to make sure that Arc Welder is downloaded and installed. We will talk about how to use it later in the article.
Step #3: Download Kodi's APK File
We need to download Kodi as well. Please note that Android applications come with the APK extensions. We are going to use Kodi's official website to download the required file.
Launch Kodi's website and click on the 'Download' button. You will be taken to a page where you'll see different platforms and versions of Kodi;
Click on Android's logo;
Now, choose from a 32bit or 64bit version. You can see which of these versions you can run by typing 'chrome://help' in Chrome's address bar. As you can see on the screenshot below – it says 64bit at the end. If you're seeing the same thing on your Chromebook, go ahead and download the 64bit version.
Important Note: If for some reason you can't update your Chrome OS to the latest version, there's still a chance to run Kodi. However, you will need to download an older version of this application. Here's how to do that:
Go to the Download section on Kodi's website;
Scroll down until you see the 'Older Releases' section. Click on the provided link;
Now you'll see supported operating systems and platforms. Pick Android and proceed until you see three sub-folders. The majority of Android users will be fine with either ARM or ARM64 versions. Click on any of those;
Finally, you'll see a list of supported files. Click on one of the files to download the APK to your Chromebook.
That's it! You've successfully downloaded Kodi's APK file which we'll use in a second.
Step #4: Install Kodi on Chromebook
We have arrived to the final step of this guide. Continue reading to learn how to use Arc Welder to install and run Kodi on your computer:
Launch Arc Welder on your Chromebook. You will see a fairly simple interface with a large 'Plus' icon. Click on it;
Now navigate to Kodi's APK file that you downloaded to your computer. Click 'Open';
Arc Welder will need some time to process the application. Once everything is ready, you will see Kodi's overview. Click on 'Test';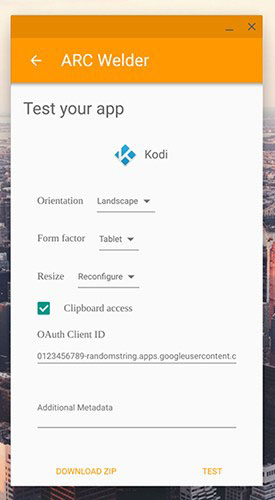 That's it! Kodi will now load and fully open. Don't worry if it takes a few minutes for Kodi to fully launch the first time you open it.
Install Kodi on Chromebook: Chrome Extension
The above-mentioned process is required if you want to use Arc Welder to run Kodi. This means that you'll need to use this application every time you want to run this home theater software. However, there's an easier way to run Kodi – and that is by turning it into a Kodi extension.
Important Requirements
Before proceeding, you need to make sure that you've done the following procedures:
You need to run Kodi through Arc Welder. In other words, all of the mentioned-above steps are needed. This includes downloading Kodi's APK file and testing the application using Arc Welder.
In case you haven't tested the application, make sure to do the following: download Arc Welder and download Kodi's APK file. Launch Arc Welder and 'test the application'. Now you're ready to proceed.
Turn Kodi Into an Extension
Here's how to transform Kodi's APK file into a Chrome Extension:
Open Google Chrome and click on the More button in the top-right corner (represented by three vertical dots);
Now scroll down to 'More Tools'. From there, click on 'Extensions';
In the top-right corner, you will see an option that says 'Developer Mode'. Make sure this option is enabled;
Now click on the button that says 'Load unpacked extensions'. It can be found in the top-left corner;
Finally, find Kodi's APK file. However, this shouldn't be a freshly downloaded file. Instead, you need to find the file that was exported via Arc Welder. You'll recognize it by its name which should be something like 'apk_export'. Click on the file.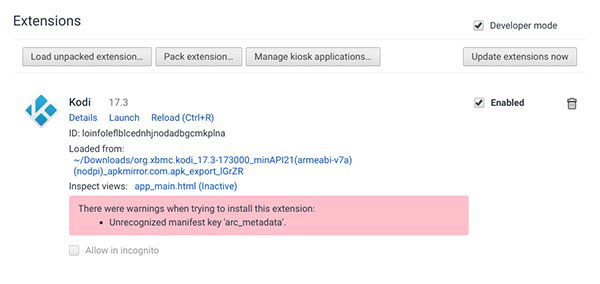 That's it! Chrome will now import Kodi and recognize it as an extension. Feel free to use just you would use any Android application.
Install Kodi on Chromebook: What's Next?
Now that you have Kodi installed on your Chromebook, let's see what do this next. We are going to tell you how to install addons and how to customize Kodi to your needs. Finally, we'll end this article by showing you a few useful articles published on TechNadu.
Step #1: Customize Kodi's Looks
We believe that the majority of Kodi users are going to happy with the application's default looks. However, not everyone will like it. This is why it's important for you to know how to download and install skins for Kodi.
Next, you can check our frequently updated list of the best Kodi skins. We try to update this article on a monthly basis, so there's always something new to try out.
Step #2: Install Kodi Addons
The use of add-ons is one of the biggest reason to try Kodi. These extend the application's capabilities and bring large content libraries that can be streamed. Once again, you can check our overview of the best Kodi addons.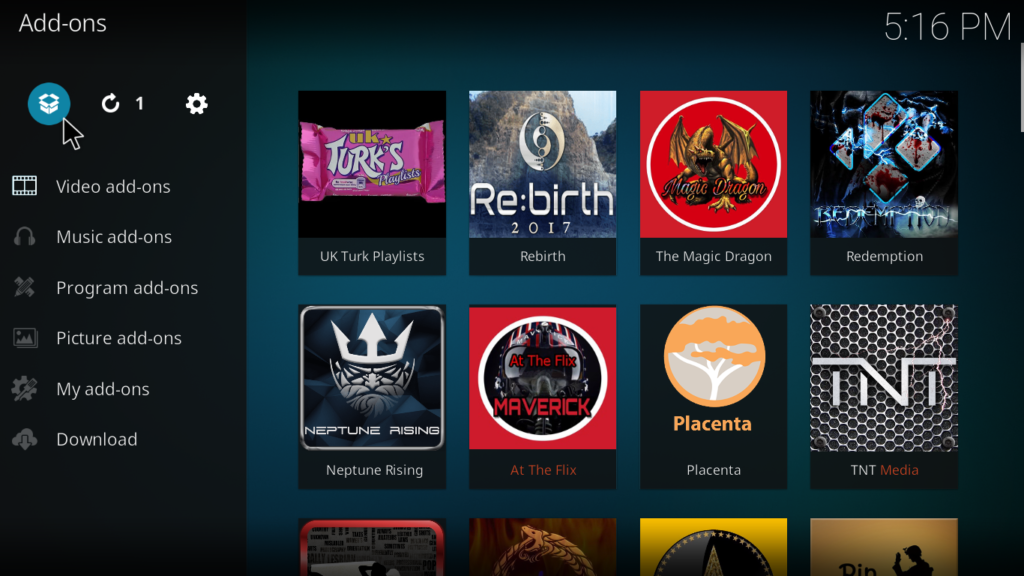 We'd also like to recommend our articles that talk about specific groups of add-ons. This will hopefully help you to find fully-working add-ons with ease.
Step #3: Install a Build
Finally, we'd like to tell you about customized builds for Kodi. These are software creations that completely change Kodi's user interface and they also bring a large number of preloaded add-ons. This can save you a lot of time since you don't need to install add-ons manually.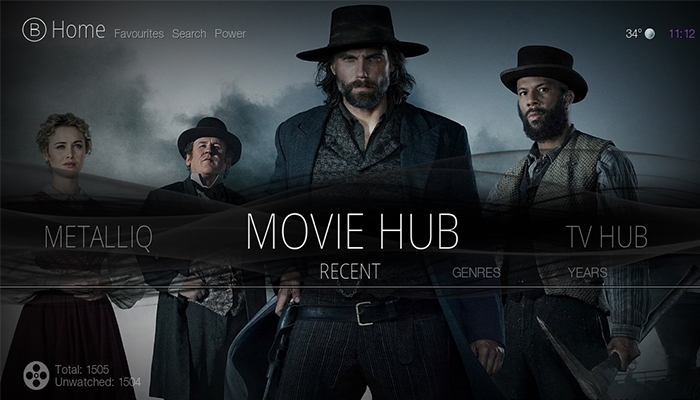 Final Thoughts
This is where we conclude our article on how to install Kodi on Chromebook. In case you have anything to add, feel free to post a comment. We're dedicated to communicating with the community of Kodi users. Let's exchange ideas and help each other with technical difficulties.
In case you think this article might be helpful for other Kodi users, why not share it? Also, you can follow us on Facebook and Twitter as well. Thanks!