Interestingly enough, Kodi can be hugely helpful even when it comes to niche types of content. And as you're about to see in our overview of the best Korean Kodi addons, this application offers both free and paid sources of quality content.
The truth is that you won't find plenty of Kodi addons that specialize in Korean movies and TV shows. After plenty of research, we've decided to highlight the top three add-ons. Still, each of the following recommendations comes with a sizeable library. More importantly, all of that content is frequently updated.
Related Content: 50+ Best Kodi Addons Overall
Before we proceed further, we have a word of caution for you. Our strong advice is to make sure you're using Kodi safely and legally. With this said, we want you to read our In this article, we are talking about Kodi and this application's official and unofficial addons – all of which are based on open-source code. Addons for Kodi can come from the official source (you can install them via Kodi itself), or they can be hosted by third-party sources (such as GitHub, for example). In addition, Kodi and its addons are publicly available and free of charge.

TechNadu doesn't claim any responsibility for how our readers decide to utilize the following software. Please note that we don't condone sharing pirated content and copyright infringement. TechNadu is not affiliated with the software mentioned in this article in no way.

Make sure to carefully read everything said in this disclaimer and ensure the proper use of the software.
disclaimer as well as the following warning message.
Warning: Why you should ALWAYS USE a VPN with Kodi?
Here are the reasons that you should consider looking at it without SKIPPING.
Using ILLEGAL Kodi Addons are Dangerous without a VPN: Most of the Kodi users are installing the ILLEGAL Kodi addons on their system to access all the latest movies, TV shows, sports, music, and much more for FREE, than a legal Kodi addon where it has the least content in it. But do you know what? The video content on illegal addons is scraped and copyrighted material. If you are accessing them on Kodi, then your activities will be monitored by your ISP by tracking your IP and gives all the information to the government or companies if they request for it. This will land you in trouble. To stay away from this, you will have to connect to a VPN where it hides your identity by rotating your IP address while streaming Kodi content. This is how you will be safe from the prying eyes.
Bypass Geo-Restriction: As you probably know, some official addons like BBC iPlayer, NBC Sports, Hulu, IceFilms have geo-location restrictions. This also applies to other addons like Acestream which fetches the data from torrents. To unblock these restrictions, you will have to DEFINITELY use a VPN no matter what.
The above are the 2 reasons that forcing us to recommend a VPN to Kodi users for safer streaming. In fact, after testing several VPNs for Kodi, we finally came up with one non-stop solution and that is ExpressVPN, the top-rated Kodi VPN so far.
Limited Time Offer: For our TechNadu readers, there is a 49% OFF on ExpressVPN which includes 3 FREE Months in it.
Finally – here are the 3 best Korean Kodi addons in 2020.
1. Netflix
Yes – you read that right. The first option on our list of the best Korean Kodi addons is none other than Netflix. This media streaming giant has done plenty to include international movies into its lineup, and you'll find a sizeable library of titles right now.
Some of the most popular picks are Train to Busan, Lucid Dream, 26 Years, Forgotten, Rampant, and plenty of other Korean movies.
As you already know, Netflix isn't a niche OTT platform. It's trying to bring just about any type of content available out there, which means that you'll get plenty for your money. This is the reason why we think you're going to love its Kodi addon as well. To learn more, we recommend checking our Netflix review.
2. Viki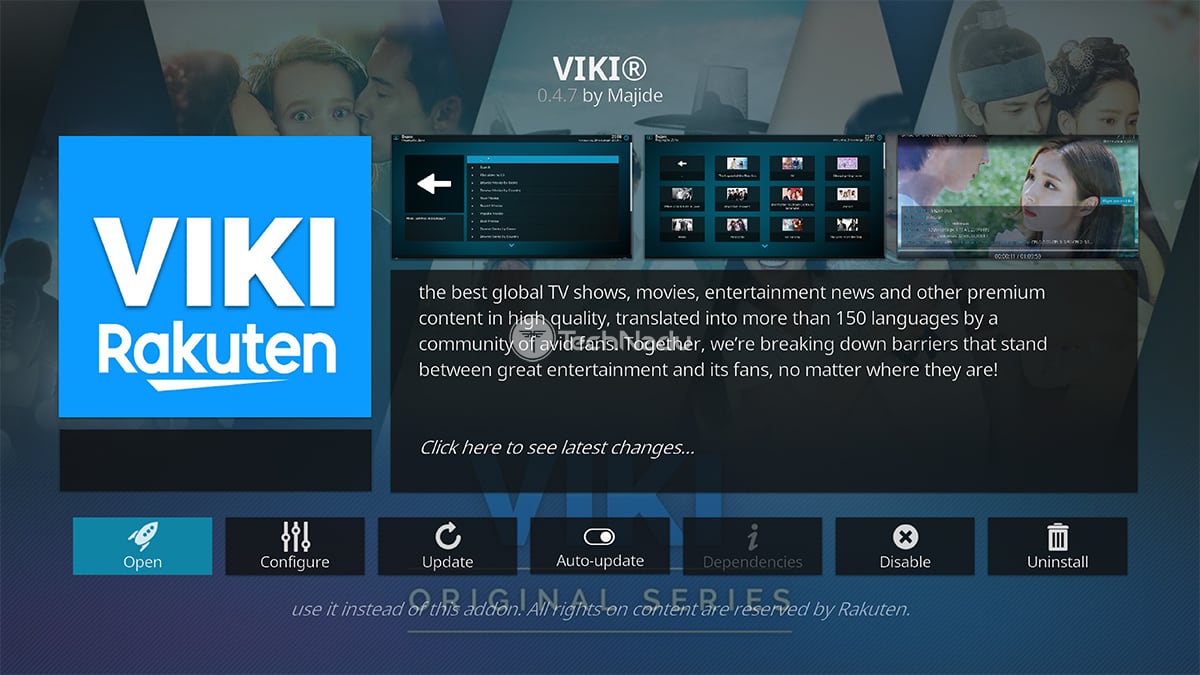 | | |
| --- | --- |
| Where to Find This Addon? | Download from MEGA (plugin.video.vikir.zip) |
| Applicable Geo-Restrictions | Some titles can be restricted. Here are the best VPNs to unblock Viki from anywhere in the world. |
| Types of Content Available | Korean movies and TV shows. |
Next, we have something that's similar to our previous recommendation – but also very different at the same time. Called Viki, this is an OTT service owned by Rakuten, the company behind the popular Viber messenger app.
Realizing that there's an opportunity to expand its presence, Rakuten made the right call and brought Viki to millions of users across the world. This is where you'll find Korean, Japanese, and Chinese movies, in addition to TV shows and other types of international content.
It's also worth noting that plenty of movies can be watched free of charge. However, if you're truly a fan of Korean movies, you'll want to check out Viki Pass Plus – which gets you access to plenty of exclusive titles.
3. YouTube
| | |
| --- | --- |
| Where to Find This Addon? | The official Kodi repository. |
| Applicable Geo-Restrictions | Available globally. If you want to fully unlock YT, check out the best VPNs for YouTube. |
| Types of Content Available | International, indie, and independent movies. |
| Read More | How to install YouTube on Kodi |
We are going to end our list of recommendations with YouTube. It might be surprising to see this platform here – but as you probably know, YouTube is the world's most popular video streaming service, after all.
As you can imagine, we're not talking about the latest blockbusters here. However, if you're into older Korean movies, YouTube can be your best friend. You can find its addon in Kodi's official repository, capable of supporting your user account, syncing your favorites, and plenty more. We definitely recommend trying it out.
So, this brings us to the end of our article on the best Korean Kodi addons in 2020. We sincerely hope that you'll manage to expand your Kodi's library with this new type of content. If there's anything you'd like us to know, post a comment below.
Freshly-Updated Overviews of Best Kodi Addons