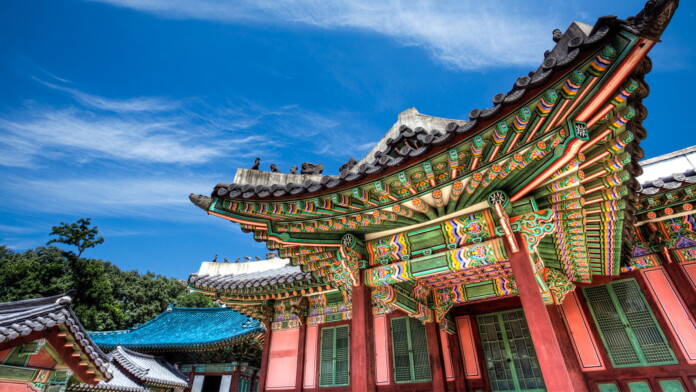 South Korea is a small country, at least geographically, but the influence of its culture is noticeable worldwide. First, Korean music came. K-Pop has taken over the world during the last few years, even though its influence started to spread in the 90s. Today, we are witnessing the rise of Korean cinematography. I believe many of you became acquainted with it in the past. However, my interest in Korean cinematography started with Busanhaeng (Train to Busan). This is one of the most successful commercial movies that came out of this intriguing country. Soon after, I released that Korea has a lot to offer. This is why we will be talking about the best Korean Kodi addons in this article.
No matter if you use Kodi to stream movies, or if you're interested in Kodi's offering of live TV channels, you've come to the right place. TechNadu is the ultimate source of helpful tutorials about Kodi addons as well as Kodi builds, where we explain where to find them and how to install them. This article will continue in the same manner, with detailed information about features and installations. We promise that by the end of this article, you will learn the most important features of Kodi like installing third-party addons. Most importantly, the following Korean Kodi addons will grant you a large online library of streamable content.
Before getting started, we strictly recommend you to be safe while using Kodi. Therefore, we want you to read the We will be talking about software developed for Kodi – which is based on open-source code. However, the following software comes from unofficial third-parties. In addition, it is publicly available and free of charge. TechNadu doesn't claim any responsibility for how our readers decide to utilize the following software. Please note that we don't condone sharing pirated content and copyright infringement. TechNadu is not affiliated with the software mentioned in this article in no way. Make sure to carefully read the above-said disclaimer and ensure the proper use of the software.
disclaimer and WARNING notice found below.
Warning: Why you must NOT USE Kodi without VPN?
Here are the reasons that you should consider looking at it without SKIPPING.
Using ILLEGAL Kodi Addons are Dangerous without a VPN: Most of the Kodi users are installing the ILLEGAL Kodi addons on their system to access all the latest movies, TV shows, sports, music, and much more for FREE, than a legal Kodi addons where it has the least content in it. But do you know what? The video content on illegal addons are a scraped and copyrighted material. If you are accessing them on Kodi, then your activities will be monitored by your ISP by tracking your IP and gives all the information to the government or companies if they request for it. This will land you in trouble. To stay away from this, you will have to connect to a VPN where it hides your identity by rotating your IP address while streaming Kodi content. This is how you will be safe from the prying eyes.
Bypass Geo-Restriction: As you probably know, some official addons like BBC iPlayer, NBC Sports, Hulu, IceFilms have geo-location restrictions. This also applies to other addons like Acestream which fetches the data from torrents. To unblock these restrictions, you will have to DEFINITELY use a VPN no matter what.
The above are the 2 reasons that forcing us to recommend a VPN to the Kodi users for safer streaming. In fact, after testing several VPNs for Kodi, we finally came up with a one non-stop solution and that is ExpressVPN, the top rated Kodi VPN so far.
Limited Time Offer: For our TechNadu readers, there is a 49% OFF on ExpressVPN which includes 3 FREE Months in it.
2 Best Official Korean Kodi Addons
Kodi's repository of addons comes from two sources. The first one contains official addons. These are installed using the official addons repository of Kodi which contains a large library of streamable content. Then, there are unofficial addons (which we'll be talking about later in this article). So, here are the best Korean Kodi addons right now.
1. Viewster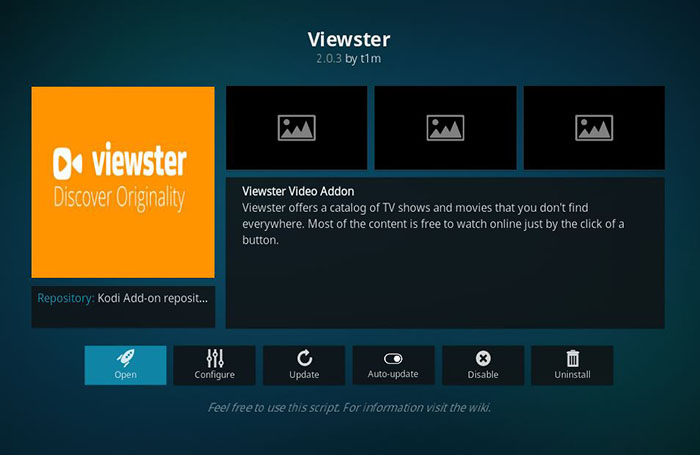 Viewster is a popular Web-based streaming service that still lurks in the shadows of giants like Netflix, Hulu, and Amazon Video. However, it brings a very interesting selection of content and certainly deserves your attention.
Upon launching Viewster, you'll immediately see a large selection of content categories. These include Action, Animation, Classics, Comedy, Horror, Romance, Thrillers, and much more. This add-on offers both movies and TV shows, which can be seen after clicking on any of the categories present on the home screen. Sadly, you won't find content organized by languages or the country of origin. This would be tremendously helpful in finding non-English movies and TV shows. However, there are two ways to find Korean content:
Open Viewster and use the search option on the main screen. You can use a term like 'Korea' when performing the search. The library isn't huge, but it's a good starting point.
Another way to find Korean content is to use this Viewster's official website. Type 'Korea' in the search box (top-right corner) and a list of available titles. Then, use those titles to find movies within the addon.
And finally, check out how to install Viewster on Kodi. The installation process shouldn't take more than a few moments since this is an official addon.
2. FilmRise
Older Korean movies can often be found on YouTube, where you can watch them free of charge. This means that in terms of Kodi, you have two options available. You can either go for an unofficial YouTube addon, or you can use FilmRise instead.
FilmRise is an official Kodi addon that's all about free movies. This addon uses several sources from the Web, with YouTube being the most prominent one. Since it's all about movies, you'll find plenty of different categories right on the home screen, with a search functionality included. Even though there isn't a dedicated section for Korean movies, you can (manually) search for them instead. And the best thing is – all of the available movies stream with no issues, and they're all copyright-free.
If you're willing to test this addon for yourself, here's how to install FilmRise on Kodi.
5 Best Unofficial Korean Kodi Addons
Among official addons, you won't find a better option than Viewster and FilmRise. This is why it's imperative to turn to a world of third-party addons. These come with a somewhat lengthier installation method, but it's nothing complicated.
1. DramaGO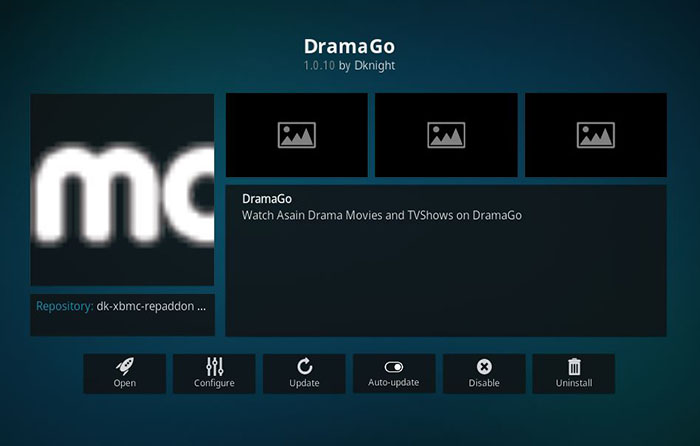 This addon doesn't only bring content based on the Korean language. Instead, this is an amazing source of Asian cinematography in general. Our strong suggestion is to take a look at Chinese movies within this addon since we're am sure you're going to like it.
The main screen of DramaGo brings different ways to browse the available content. Some of the available options are Recently Added Movies, Movies A-Z, Movie Genres, Top Movies, and more. The same applies to TV shows as well. All of those categories are self-explanatory and they lead to more defined filters. The number of different categories is astonishing. For example, if you click on 'Movie Genres,' you will see 87 different ways to browse the selection.
DramaGo can be found within the DK-XBMC repository. This is one is known for a vast collection of addons, so you'll probably find other interesting options as well. Installation of DramaGo is very simple if you use the provided link and follow the guide carefully.
2. IC Drama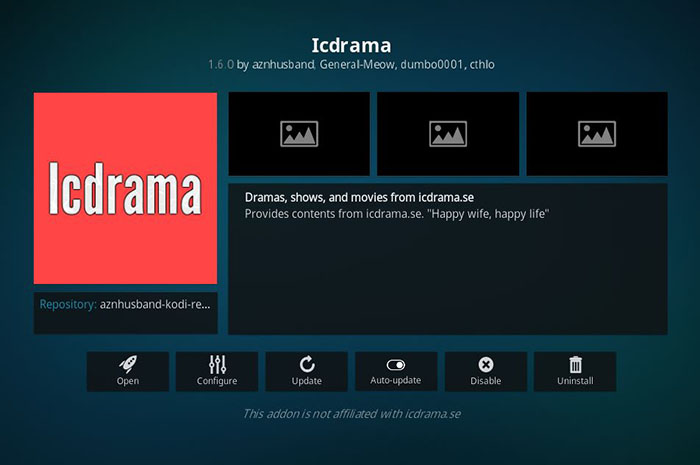 This is one of the best Korean Kodi addons that brings the latest content. It's specialized in TV content, you can also find a section that contains a nice selection of Asian cinematography. Almost each of the available sources offers HD content, so you can enjoy it on a large-screen TV.
Upon opening IC Drama, you will see a nicely filtered content by the country of origin. There are options like HK Drama, Chinese Drama, Taiwanese Drama, and Japanese Drama. As you can expect, there's also Korean content that includes TV shows as well as variety shows. This is how you can access Korean content:
Korean Drama: This option is offered on the home page of IC Drama. There are 55 shows at the moment. When you click on any of the available titles, you will see two options: English and Chinese subtitles. No matter which option you choose, the next step leads to listed seasons and episodes.
Also note that there are two additional options on the home screen: Cantonese and Chinese Subtitles. These act as shortcuts to the previously explained navigation path.
Korean Variety: In case you like variety shows, which can be a lot of fun – especially Korean, you can access this option on the home screen of IC Drama. A nice selection awaits with listed episodes.
Here's how to install IC Drama for Kodi:
Open Kodi and go to the System menu. Use the top-left positioned Gear Icon.
Now open File Manager and double-click on Add Source.
You will see a message that says '<None>'. Click on it and enter the following URL: http://aznhusband.github.io/repo. Give a name to this repository and hit OK.
Go to the Add-ons Section of Kodi's main screen. Use the Open Box icon to proceed.
Pick 'Install from ZIP file'. Now browse the newly added plugin – click on its name in a newly opened pop-up window and install the file named 'repository.aznhusband-kodi-repo.zip'.
Return one step and now pick 'Install from Repository'. Find an entry named 'aznhusband-kodi-repo'. Open it and navigate to the Video Add-ons folder.
Inside, you'll find 'Icdrama'. Click on the addon's name and use the Install button.
IC Drama will be installed after a few seconds and placed within the Add-ons section.
You can return to the Add-ons Section to launch it.
3. cCloud TV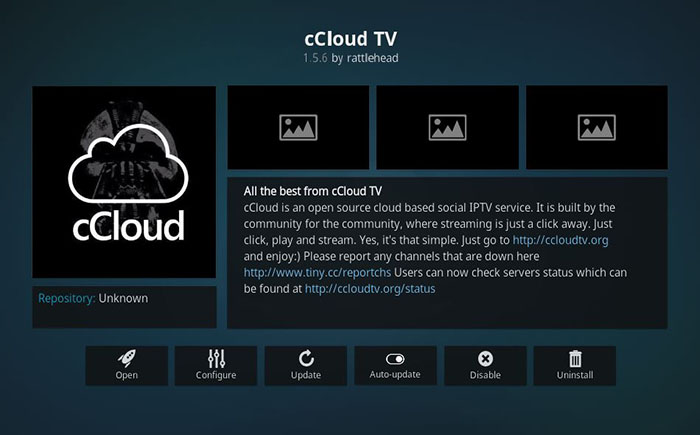 This is one of the most popular addons that provides international content. It has been around for quite some time and managed to attract a large group of loyal users. One of the best things about cCloud TV is that it's well-maintained, with very few non-working links.
The main screen of cCloud TV shows a nice selection of categorized content. Here you'll find options including Movies, News, Documentary, Music, Radio, and On-Demand content. In addition, you'll find categorized sports content as well, so you can watch boxing on Kodi, NFL, WWE, or anything else.
There are several hundreds of live TV channels within individual categories. Your best bet would be to browse the addon on your own and find the content you like. Sadly, there's no option to create favorites so that you have an easily accessible list of options.
When it comes to Korean content, you will find three options. Let's take a look at these, so you know what to expect.
KBS World (News): This is a well-known TV station that broadcasts from South Korea. As you can expect, its programming is in Korean, but you can often find subtitles in English, Malay, and Chinese.
KBS World (Family): This yet another similar channel that comes from the same broadcast at the previous option. This is where you'll find family-friendly content such as movies, TV shows, documentaries as well as informative content for children.
Korean Central Television: This is perhaps the most intriguing TV channel since it comes from Pyongyang. We have been hearing a lot about North Korea and the rising tensions around the world. In their homeland, KCT is the only source of news for North Koreans. However, you won't be able to access that stream. Instead, you can watch KCT's entertainment section.
Since this not one of the dedicated Korean Kodi addons, you'll have to use the search option to find available Korean content. Click on 'Search' from on the home screen of cCloud TV and type 'Korean'. This will list all of the available options. At times, these streams will go down. However, feel free to return later once they start working again.
cCloud TV installation is similar to installations of other third-party addons. Use the provided link to access TechNadu's guide.
4. Incursion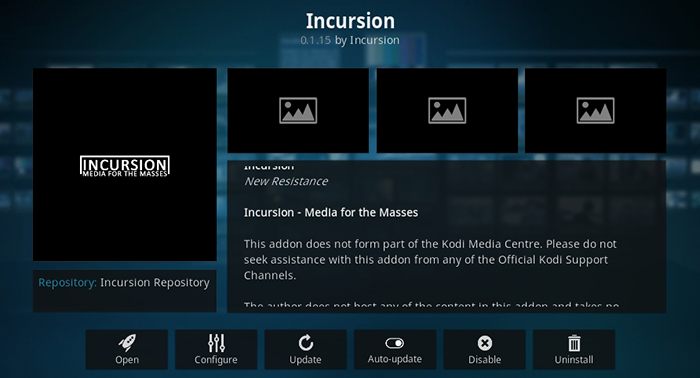 In some ways, Incursion is similar to the cCloud TV addon. However, the biggest difference here is the way this addon organizes its content. Continue reading to learn more.
This addon has found its way to our list of the best addons a month ago. Since then, we find ourselves using it on a daily basis. It's easy to navigate and it brings a huge number of titles. On top of that, we can't remember the last time we encountered a faulty link. These are the reasons why Incursion is on this list of the best Korean Kodi addons.
Upon opening this addon, you will find a number of options including Movies, TV Shows, New Movies, New Episodes, Channels, and more. You can expect what even of them are designed to do. There are also two additional options: My Movies and My TV Shows. This is where you can create your favorites, which is especially helpful for TV shows that contain several seasons and many episodes. However, you'll need a Trakt or IMDB account – both of which can be added via this addon's Settings panel.
To find Korean movies, we recommend using the search option. It can be found on at the bottom of the main menu. Simply type in the name of the movie you're looking for, or search for 'Korean'. You should soon see a list of results.
Incursion for Kodi is a must-have addon. It combines blockbuster hits with international content, which seems like a perfect combination. I am sure you'll spend many hours using this addon.
5. Yoda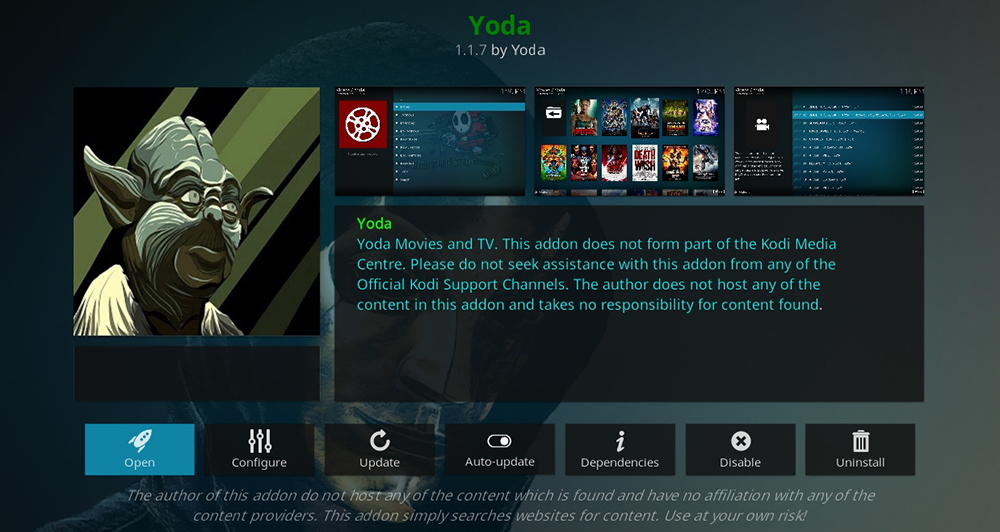 We're going to end our list of the best Korean Kodi addons with Yoda. This one is highly trending right now, being a clone of Exodus – with its own spin to this proven addon.
Yoda is all about movies and TV shows, where its UI is similar to what Exodus brings. No matter if you dive into the available movies or TV shows, you'll get to browse them by genres, languages, actors, and in many different ways. And if you go for Korean movies, you'll find around 50 titles right now. So, it's not the biggest collection out there, but it's still a worthwhile one.
You'll find Yoda at http://supremacy.org.uk/zip/repo/. Make sure to add this source to your Kodi, install this repository, and then finally install Yoda as well.
This is where we conclude our list of suggestions of Korean Kodi addons in 2019. We sincerely hope that you managed to install the addons found in this article. This would mean that now you have hundreds of Korean movies and TV shows – ready to be streamed. Before we conclude this article, we'd like to give you a few suggestions for what movies to watch:
The Handmaiden: An amazing achievement of Korean cinematography that won numerous 'Best Film' awards.
The Wailing: A highly imaginative crime drama with elements of pure horror.
Snowpiercer: This is an English-based movie directed by South Korean director Joon-Ho Bong. A true masterpiece of science fiction.
Castaway on the Moon: A good pick if you like touching movies with a slow buildup. An American remake is in the works.
I Saw the Devil: An incredibly tense psychological thriller/horror. This movie isn't for the faint of heart.
In case you've made it to the end of our article, why not share it online? Also, make sure to follow TechNadu on Facebook and Twitter. Thanks!