Clearing Kodi's cache can resolve numerous technical problems. This is oftentimes the best solution if your Kodi is misbehaving or if you're experiencing playback issues. And the best thing is - you can do this in a matter of seconds. With that said, we'll show you how to manually clear cache on Kodi in 3 different ways.
Before we get started, we have an important update regarding the latest available version of Kodi, which would be Kodi 19 'Matrix.' Unfortunately, if you've already upgraded, your options for removing Kodi's cache are limited. Check the segment below for more info.
3 Ways to Clear Cache on Kodi 18 & 19 (Depending on Your Platform)
At the moment, there are three reliable ways to remove cache data on Kodi. So, pick any of the following methods based on the version of the application you currently use.
Method #1: Universal Way to Clear Kodi Cache (Kodi 18 Only)
Even though Indigo has recently received an update, this Kodi add-on is still incompatible with Kodi 19. With that said, the following content applies only to Kodi 18, at least for now.
Indigo is the best maintenance-related Kodi add-on, bringing a huge set of options related to troubleshooting. So, here's how to use it to remove cache files on Kodi.
First, install Indigo on Kodi. Click on the provided link to learn how that is done.
Once installed, launch Indigo and open 'Maintenance Tools.'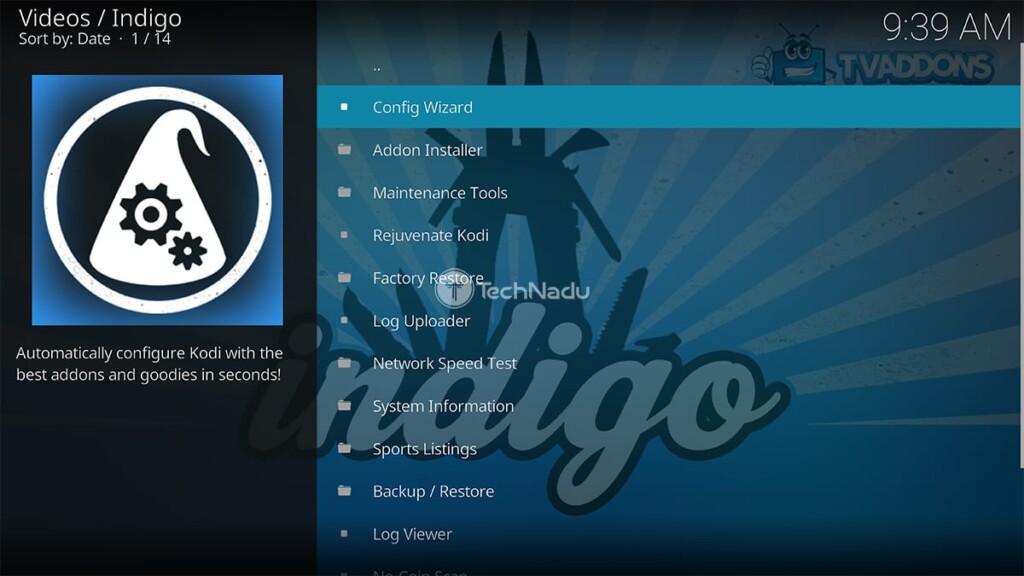 You will now see a long list of options and tools. Keep on reading to learn why and how to use them.
Clear Cache – As its name says, this is where you can delete cache on your Kodi. Simply click on this option and you'll be asked to confirm your decision.
Delete Thumbnails – This option allows you to free up a lot of space. If you're running low on disk storage, use this option.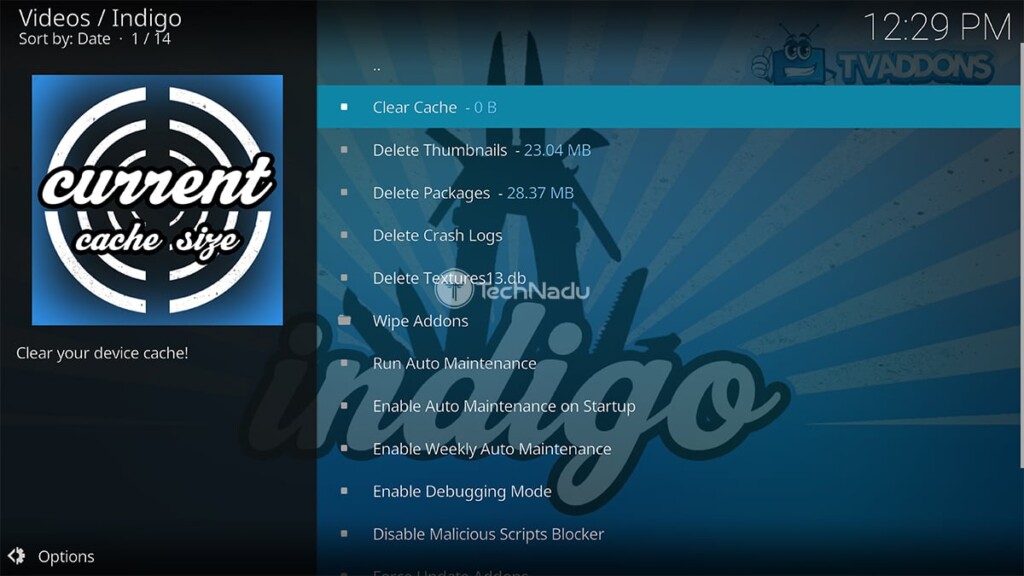 Delete Crash Logs – This is where you can delete old crash logs that are saved every time you encounter performance issues. Deleting these can free up some space.
Delete Textures13.db – As you can see, you can delete one of Kodi's databases that stores artwork. You can use this option if you can't get artwork to show properly.
Run Auto Maintenance – To make sure your Kodi is running at its best, use this option. This is a very helpful script that takes a couple of seconds to complete.
Method #2: Clear Kodi's Cache on Firestick Devices (Kodi 18 & 19)
For this method, you won't use Kodi itself to clear its own cache. Instead, you'll rely on Fire OS' Settings, which means that this method works with any version of Kodi.
Activate your Fire TV Stick. Make sure that you're on its home page.
Navigate to 'Settings.' Then, scroll until you see 'Applications.'
A new screen will now appear. You need to pick 'Manage Installed Applications.'
Your locally installed Fire OS apps will now appear. Find 'Kodi' and select its name.
And lastly, go ahead with 'Clear Cache.' Confirm your decision. That's it!
Method #3: Clear Kodi's Cache on Android TV (Kodi 18 & 19)
This method of removing Kodi's cache works on any Android TV device, and that includes Nvidia's Shield TV and Mi's Box (among many more). Here's what you need to do.
Activate your Android TV device. Make sure that you're on its home screen.
Go to 'Settings,' which should be visible in the top-right corner.
A sidebar should now appear. Scroll down to 'Apps.' Select this option.
You'll now see your locally installed Android TV apps. Find and select 'Kodi.'
Lastly, pick 'Clear Cache' and confirm your decision. That's it!
After clearing Kodi's cache, you'd want to return to Kodi and learn how to make the most out of it. With this said, we're sure you'll find the following resources to be helpful:
This is where we conclude our guide on how to clear cache on Kodi. In case there's anything you'd like to add, don't hesitate to let us know. And finally, thank you for reading!