Without a single doubt, BBC's iPlayer is one of the world's best streaming services. We think of this platform as a hidden gem, as not many are using it outside the United Kingdom. However, this is where you'll find a huge library of movies and TV shows produced by the BBC – in addition to a sizeable library that comes from other TV networks (from the USA). The only question is – how to install the BBC iPlayer Kodi addon? Don't worry, TechNadu's editorial team is here to help!
The good news is that the BBC iPlayer addon comes free of charge. Also, you'll find it in Kodi's official repository, which makes its installation easy and quick. However, we also have some not-as-good news. To make this addon work on your Kodi, you need to be in the United Kingdom. In case you're not, you need to get a UK IP address. This is done by using a VPN application – so make sure to check out the best VPNs for BBC's iPlayer. By using a VPN, you can connect to a server in the UK and obtain a new IP address. Then, you'll get to unblock not only the BBC's streaming platform but numerous other websites as well.
Before we proceed further, we have a word of caution for you. Our strong advice is to make sure you're using Kodi safely and legally. With this said, we want you to read our In this article, we are talking about Kodi and this application's official and unofficial addons – all of which are based on open-source code. Addons for Kodi can come from the official source (you can install them via Kodi itself), or they can be hosted by third-party sources (such as GitHub, for example). In addition, Kodi and its addons are publicly available and free of charge.

TechNadu doesn't claim any responsibility for how our readers decide to utilize the following software. Please note that we don't condone sharing pirated content and copyright infringement. TechNadu is not affiliated with the software mentioned in this article in no way.

Make sure to carefully read everything said in this disclaimer and ensure the proper use of the software.
disclaimer as well as the following warning message.
WARNING: When Using Kodi, Make Sure to Always Use a VPN!
Without a VPN, you will be facing many obstacles when using Kodi. Aside from encountering blocked content, you're also putting your privacy at risk. With this said, here's why you MUST use a VPN while using Kodi:
Kodi Imposes Geo-Restrictions: Numerous Kodi addons are restricted to certain countries only. By checking your IP address, these addons can block access to their content, which means that you're missing out on a vast media library. A VPN resolves this problem by giving you a virtual IP address associated with a different country. For this purpose, we recommend getting a US IP or a UK IP address – as the majority of Kodi addons are restricted to these two countries.
Your ISP is Watching Your Every Move: Without a VPN, your ISP collects all your Web data. This includes your Web search history, any websites you visit, and any media streaming services you use. Kodi is a media streaming application, which means that many of you will face ISP-imposed throttling, as a result. By hiding your Web traffic via a VPN service, you can make sure that your ISP doesn't know what you're doing online – and enjoy the full speed of your Web connection.
You're Putting Your Device's Safety at Risk: Be very careful about which Kodi addons you install. Third-party sources can often lead to malware and cryptocurrency trojans, exploiting your private data and your device's resources. With this said, know that VPNs reduce the risk of you getting infected with malware by implementing website blacklists. They don't completely stop malware, but they can block access to malicious websites by using often-updated lists of dangerous websites (supplied by antivirus vendors). This is especially handy in the world of unofficial Kodi addons.
Once again, be very careful while using Kodi – and think about your privacy and digital security. A reliable VPN helps you secure and improve your Web connection, unblocks everything that Kodi offers, and takes care of your privacy. And per our extensive hands-on tests, we highly recommend you use ExpressVPN – the best VPN for Kodi at the moment.
LIMITED TIME OFFER: For our readers, we've prepared an exceptional deal. You can now save 49% on ExpressVPN – and get three additional months for free!
4 Steps to Install BBC iPlayer Addon on Kodi in 2020
Finally, let's talk about what you want to know. Here's how to install the BBC iPlayer on Kodi, the simple way.
Open Kodi and click on 'Add-ons' in the main menu (on the left side of the screen). Then, click on 'Download' via the left-placed menu.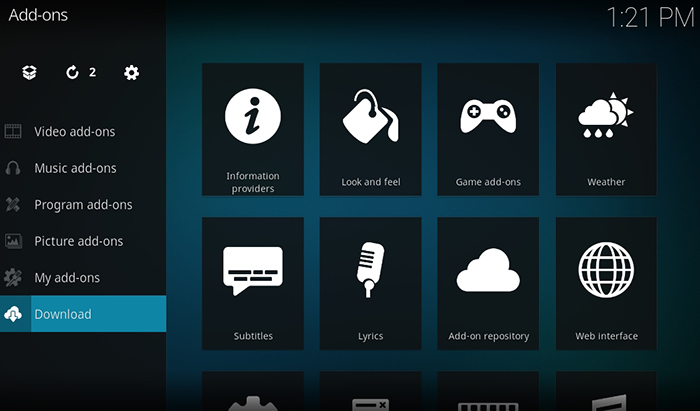 You will now see a list of different categories. You need to open a folder named 'Video add-ons'. Scroll down and then click on 'iPlayer WWW';
To finalize the installation, hit the 'Install' button. You'll be asked to install the required dependencies (especially if you've installed or updated Kodi recently). So, make sure to click on 'OK'. The addon should be downloaded and installed on its own.
After a few moments, Kodi will let you know that your new addon has been installed. Return to your Add-ons where the iPlayer WWW addon will be waiting for you. Enjoy!
In case you cannot find BBC iPlayer or if there are too many different options, we have an alternative installation method for you. This often happens once you install third-party repositories, which makes it hard to pinpoint individual addons. So, here's an even quicker way to get to the iPlayer WWW addon.
Launch Kodi and wait until it fully loads. Then, click on the Search icon in the top-left corner (underneath the application's logo).
Choose to 'Search Add-ons' from the menu you'll see on your screen and type in 'iPlayer WWW'. Click on 'OK' to finalize the search.
A list of search results will appear on the screen. Click on 'iPlayer WWW', which will open the addon's overview. The finalize the process, use the 'Install' button.
Dear readers, this is where we conclude our guide on installing the BBC iPlayer on Kodi in 2020. We did our best to explain everything you need to know. However, don't hesitate to post a comment below if you're facing any kind of issue. We'll be glad to respond!