After an extended development and testing period, Kodi 19.0 'Matrix' is now finally available for download. However, unlike the previous major Kodi iterations, this latest one comes with a significant change. More precisely, Kodi 19.0 'Matrix' automatically disables incompatible 3rd-party addons – and we're talking about a vast number of both 'official' and 'unofficial' addons. 
This is a big change that will surprise many Kodi users out there, who are in for a big disappointment. So, if you've been building your library of Kodi addons for a long time (as many of us have), you'll want to be careful before updating. Here's all you need to know. 
Why Does Kodi 19.0 'Matrix' Break Compatibility With Third-Party Addons?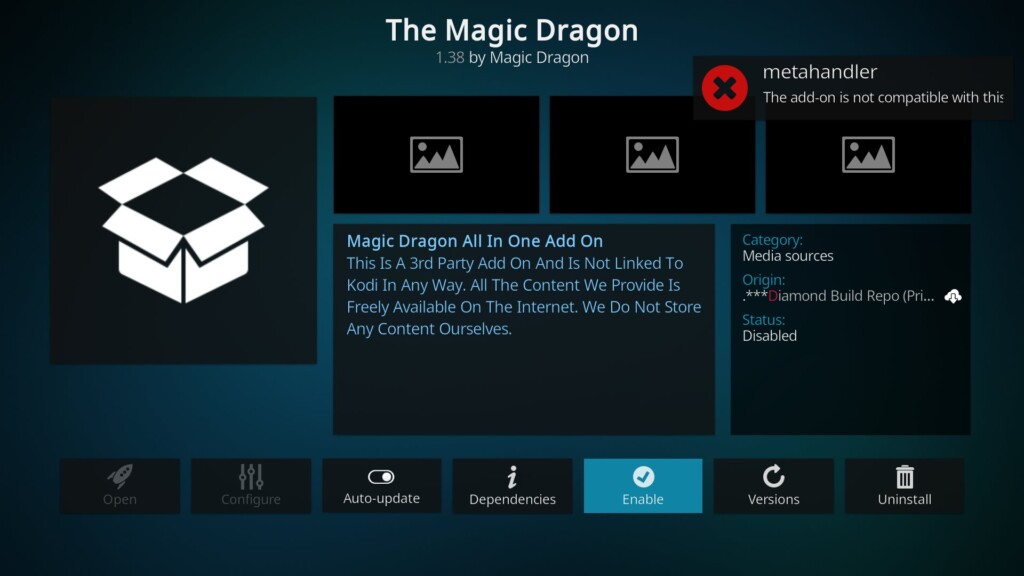 The latest version of Kodi looks and feels the same as before. Still, plenty has changed in the background, with over 600,000 lines of code added. Perhaps the biggest change in Kodi 19.0 'Matrix' lies its transition to Python 3 – breaking compatibility with addons written in Python 2.
Learn: Seeing the "The Add-on Is Not Compatible with This Version of Kodi" Error Message? Why? 
However, what's interesting to note is that Kodi's developers announced this transition almost three years ago, justifying their decision by listing the following reasons. 
Python 2 has reached its end-of-life on January 1, 2020. That means Kodi relied on the latest available version of Python 2 to the end of its life. As a way to keep the stability of the application intact, Kodi 19 'Matrix' had to switch to Python 3. 
Speaking of Python 3, there were no reasons to delay this upgrade, and this programming language is more than mature enough, being released more than a decade ago. 
Just like other types of software, Kodi tries to follow good practices in programming. With that said, most of the currently available Python books, courses, and tutorials focus on Python 3. 
And lastly, this decision was made to allow Kodi to implement new features in the future. The fact is that Python 2 is no longer under active development (it has been receiving security patches only). On the other hand, Python 3 is under active development, allowing Kodi to follow that programing language's new capabilities. 
Most importantly, Python 3 is not backward-compatible with the previous version. Therefore, developers need to maintain two separate branches to still deliver addons compatible with both Python 2 and Python 3. And of course, they can also use only the latest version of this programming language (making addons compatible with Kodi 19.0 'Matrix' only). 
So, What Type of Addons Are Compatible With Kodi 19 Then?
As you can already imagine, Kodi 19.0 'Matrix' is compatible with Python 3 only – which means it can run addons that are Python 3-based. In other words, once you install the latest version of Kodi, you won't be able to access the addons that were previously available via Kodi's official repository (accessible via Kodi 18 'Leia'). The application shows compatible addons only (the ones that use Python 3), limiting your options severely. It's best if you downgrade from Kodi 19 to the previous version 18 'Leia' for using all the addons you were using before this update.
How Many Addons Can You Now Find in Kodi's Official Repository? 
Previously, Kodi's official repository used to offer hundreds of add-ons. However, at this moment, you can access around only one hundred "official" addons. It's clear that third-party developers are taking their time to update their addons to Python 3 – which leaves you with a very limited selection of available options. 
Do "Unofficial" Addons Still Work on Kodi 19? 
Yes, any third-party "unofficial" addon can still work on Kodi 19. However, the situation is the same as with Kodi's "official" add-ons – there aren't too many that work right now.
Keep in mind that Kodi addons are typically developed and maintained by volunteers in their spare time, so updating their software creations for Kodi might not be a priority. 
We also need to note that most currently popular "unofficial" addons aren't compatible with Kodi 19 (which includes popular addons such as The Crew and The Magic Dragon, among others). If you decide to update from Kodi 18 'Leia' to Kodi 19 'Matrix,' you will see a note saying that incompatible addons are disabled. 
We expect to see several malicious Kodi addons appear soon, trying to capitalize on this currently chaotic situation. We recommend exercising caution regarding what you install on Kodi, as there are many unsafe Kodi addons out there that can wreak havoc on your system. 
Is It Worth Updating to Kodi 19.0 'Matrix?' 
Well, that depends on your preferred use of Kodi. If you use it to store and play your media library, updating to the latest version sounds like a good idea. However, if you primarily rely on addons, our recommendation is to wait. Otherwise, you will end up with a minimal selection of addons (with your favorite ones being disabled, most probably). 
Read: Should I Update to Kodi v19 'Matrix?' – We'll Help You Decide by Weighing the Pros & Cons!
It will take some time for third-party developers to update their addons for Kodi 19, but all we can do is wait. Hopefully, this situation will be much better in a couple of months, especially since Kodi 19 has been officially released (prompting third-party developers to speed up their work, perhaps).