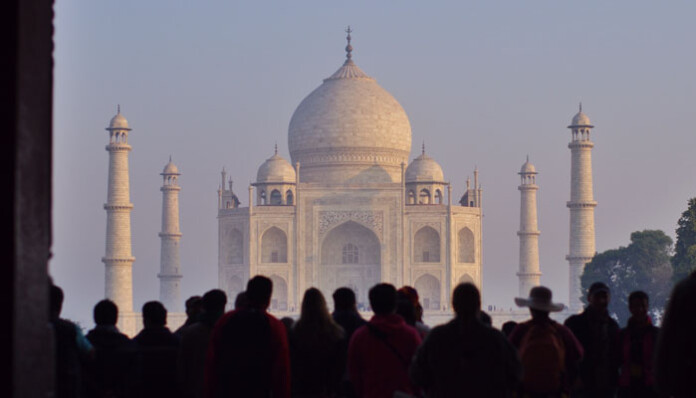 Aside from Hollywood and its massive entertainment industry, there are other sources of enjoyable movies. I am sure many of you enjoy Bollywood production. Perhaps this is because Indian films are an epitome of vibrant characters, catchy songs, romantic scenes and action-filled stories. No matter if you're looking for older and classic films, or if you're interested in a recent production, Kodi can be your ultimate source of entertainment. Why's that? Well, because there are dozens of useful Kodi Bollywood addons that unlock a whole new world of entertainment.
If you continue reading this article, you will learn about the best Kodi Bollywood addons. We'll take you through their installation methods and their features as well. As I am sure you know, even the best of Kodi addons can come and go – which is why sometimes it's hard to find and install them. Don't worry; we will bring you the newest and up-to-date repositories that we tested for ourselves. All of the following addons can be installed right away.
Disclaimer: This article contains information about software based on Kodi – which is based on open source code on its own. The following addons can be considered both official and unofficial. However, all of them are publicly available and free of charge. Therefore, TechNadu doesn't take any responsibility for how our readers decide to use the software mentioned below. Please note that we don't condone piracy nor copyright infringement. Additionally, this website is no way connected to the software mentioned below. Please make sure to read and fully understand the above-said disclaimer carefully and ensure the proper use of the software.
WARNING: Before You Continue…
Even without your explicit consent, your ISP (Internet Service Provider) is collecting and filtering your Web browser data. This means that using Kodi to stream copyrighted content might get you into legal trouble. Also, your ISP might block access to specific streams, which leads to Kodi errors, or entirely blocked and throttled streaming. This is why users of Kodi should always use a VPN to make sure their identity and privacy are protected while streaming.
TechNadu's editorial team uses and strongly recommends ExpressVPN. This is, by far, the fastest and most reliable VPN with the power to unblock any website and service. Once activated, ExpressVPN encrypts your Web traffic and makes it anonymous – keeping it away from your ISP's prying eyes. In fact, you will become invisible on the Web since your user logs, and your traffic history isn't stored on any server.

Make sure your Web browsing and streaming aren't used against you. Subscribe to ExpressVPN and enjoy using Kodi without any restrictions!
Best Kodi Bollywood Addons: Official Addons
First, we'd like to talk about official addons. These can be found within Kodi's own repository of third-party creations. We'll teach you how to install SnagFilms.
SnagFilms
SnagFilms is a rich source of movies and TV shows from all over the world. Once you open the addon, you'll immediately see a long list of categories. More precisely, there are more than 30 content categories at the moment. As you can expect, there is a dedicated Bollywood category as well.
Among official add-ons, SnagFilms is one of the Kodi Bollywood addons with a large selection of movies. At the time of writing this article, there are more than 50 titles ready to be streamed. All of them come in 720p HD quality, and there are no streaming issues. It's clear that this is a well-maintained addon. We are sure you'll spend many hours using SnagFilms and enjoying Bollywood cinematography.
Finally, let's take a look at how you can install SnagFilms to your Kodi.
Open Kodi, and you'll see its main screen. From there, navigate to the Add-ons section found in the left-positioned menu;
Once inside the Addons section, click on the Download button;
Navigate to the Video Addons from the right-positioned menu.
This is where you'll see the list of all available addons currently maintained by Kodi. Go ahead and locate 'SnagFilms';
Once you find this addon, click on its name;
Finally, use the 'Install' button;
After a few moments, the addon will be installed and placed in the Add-ons section of your Kodi.
Best Kodi Bollywood Addons: Unofficial Addons
Now is the time to take a look at third-party repositories and Kodi Bollywood addons. The main difference in comparison to official addons is their installation method. However, you don't have to be afraid since it's still very straightforward. We'll be guiding you through every step of the way.
Einthusan
This article would be far from complete if we didn't mention Einthusan. Fans of the Bollywood cinematography should be well-aware of this addon since it's one of the best of its kind.
Upon opening Einthusan you will be greeted by a list of different languages. Some of the available ones are Hindi, Telugu, Punjabi, and many others. There's also Tamil, which is the reason why we've mentioned Einthusan in our article about the best Tamil addons for Kodi. No matter which language you pick, you will see different sorting options. For example, you can browse recently released movies, currently popular, or search for a specific title.
Here's how to install Einthusan:
This addon is located in a repository named Humla. So, you first need to download this repository to your computer. Make sure to leave it in the ZIP file format;
Now, launch Kodi and navigate to the Add-ons section using the main menu;
Click on the Open box icon in the top-left corner of the screen and pick 'Install from ZIP file';
Next, navigate to the location of the previously downloaded ZIP file. In case it's located on your desktop, you need to go to C: > Users > Your Username > Desktop. Click to install it;
Next, pick 'Install from Repository';
Navigate to Humla Add-ons Repository > Einthusan. Finally, hit the 'Install' button;
After a few moments, the addon should be installed on your Kodi. Go ahead and find it in the Add-ons section.
ZemTV
ZemTV is a long-standing addon that has been popular for a long time now. However, things didn't always go smooth. It was unavailable for a few months but it's now fully working. This makes us happy because ZemTV provides lots of great content.
The Home screen of this addon shows what ZemTV is all about. You can use this addon to watch live channels and movies from India and Pakistan. There's also a dedicated sports section for those of you who enjoy watching sports on Kodi. All in all, you can rely on this addon for plenty of movies that seem to be working just fine.
Finally, check out how to install Zem TV. Use the provided link to read our detailed installation guide.
ErosNOW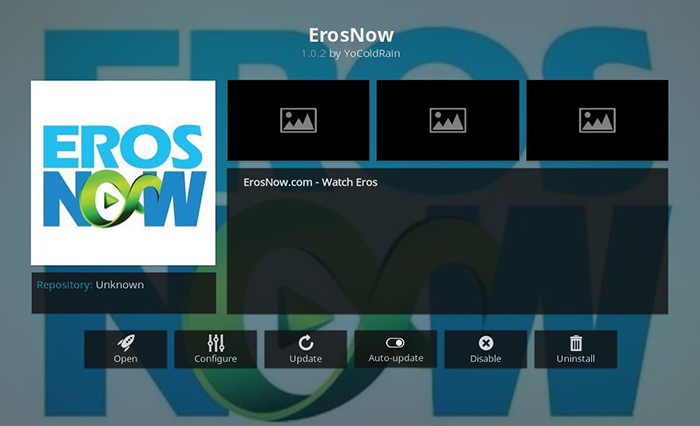 A few months ago, there were numerous Bollywood Kodi addons. However, some of the most popular ones have shut down. However, addons that rely on premium-priced services are as strong as ever. One of those is ErosNOW.
Being a hugely popular repository of Indian movies, ErosNOW is popular all around the world. The good news is that there's a free account that brings a small list of movies and music videos. To unlock its full potential, you'll need to pay $7.99 per month. Even though this means increasing your monthly costs, this is one of the most reliable ways to stay on top of the latest movie and TV show titles.
To get started, you need to install the ErosNOW addon. Use the provided link to read our guide.
Incursion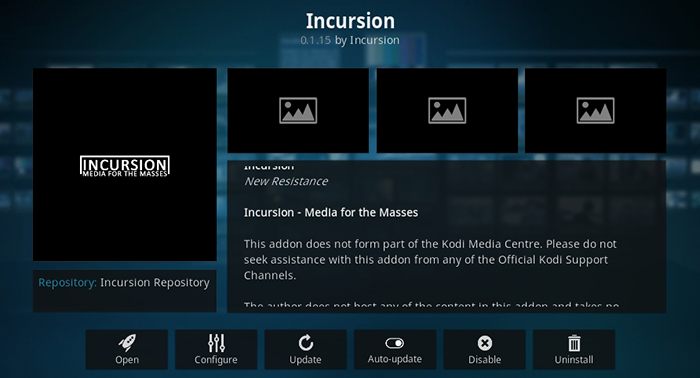 This is a well-known name in the world of Kodi addons. Incursion serves as a source of many different media streams around the Web. This is why you'll often see a different list of available sources since some of them stop working at some point. However, the addon is well-maintained, so you'll hardly find a non-working link.
Sadly, Incursion doesn't have a dedicated 'Bollywood' category. However, this doesn't mean there aren't any Indian movies. You can find them by using the search option. Once you open the addon, you'll see the Search option located at the end of the list. Click on it, and you'll see that you can search movies and TV shows, as well as to perform more accurate searches.
Here's a useful article on how to install Incursion. Make sure to read it and carefully follow every step.
Genesis Reborn
This is one of Kodi's addons that specializes in movies and TV shows. As such, it serves as the central point of numerous video sources around the Web. Furthermore, this well-maintained addon doesn't provide any non-working links – making it a pleasure to use.
Genesis Reborn is a very nice source of Bollywood movies. However, it lacks a specific category where these movies can be found. Instead, you'll have to rely on the search function. The biggest downside to this is that you'll have to search the Web first, to find a movie you'd like to watch. Then, return to the addon and find the movie's title. We sincerely hope we'll get to use a dedication section where we can browse different movies and find something interesting to watch.
We'd also like to mention that you can find 4K movies here, as well as 1080p HD streams. However, since this is not a dedicated Kodi Bollywood addon, you shouldn't count on 4K for watching Indian cinematography.
Click on the following link for additional information on this addon: How to Install Genesis Reborn on Kodi.
Placenta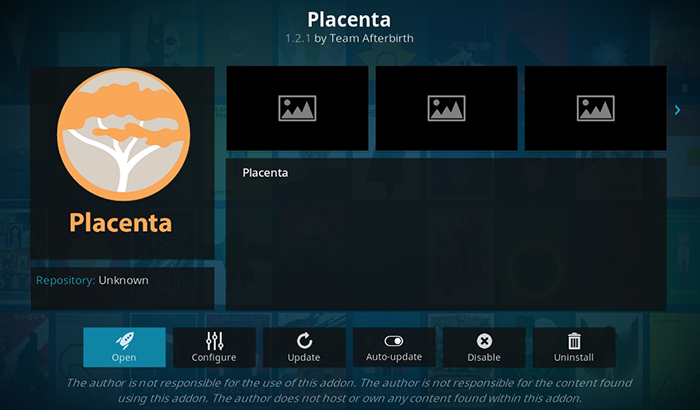 In many ways, Placenta is similar to our previous suggestions. Built upon Exodus' code, you will see plenty of content that covers both movies and TV shows. What we love about this addon are its intuitive navigation and a fully-working Web scrapper.
To watch Indian movies via Placenta, you need to open Movies or TV shows – these are two prominent main menu categories. Then, open 'Languages' and this is where you'll find a number of different languages. If you open 'Hindi' or example, you will be greeted by a number of streamable files.
All there's left is to install Placenta. Use the provided link to learn more.
Additional Resources: What's Next?
Now, you know about the best Bollywood addons for Kodi. However, numerous other types of addons await. This is why we've prepared a list of articles that you might find to be interesting.
Conclusion
We hope that you found this article helpful, as well as that you'll use it to install a least a few of Kodi Bollywood addons. I think we can all agree that Indian cinematography is truly authentic and pleasurable, which is why many of us are always trying to find a way to watch more Bollywood movies.
Do you have a Kodi Bollywood addon that you'd like to recommend? If that the case, don't be afraid to post a comment and let us know. We'll gladly include your suggestions in this article.