Aside from Hollywood and its massive entertainment industry, there are other sources of enjoyable movies. I am sure many of you enjoy watching Bollywood-made films. Perhaps this is because Indian films are an epitome of vibrant characters, catchy songs, romantic scenes, and action-filled stories. No matter if you're looking for older and classic films, or if you're interested in a more recent production, Kodi can be your ultimate source of entertainment. Why is that? Well, because there are dozens of useful Kodi addons that unlock a whole new world of entertainment. With this said, we wish you a warm welcome to our overview of the best Kodi Bollywood addons!
As you're about to see, we've prepared three recommendations for you. So, not plenty – but still, you can combine these to get access to thousands of Bollywood movies – especially if you decide to invest in a subscription. With this said, we're going to tell you from where to download the best Kodi Bollywood addons, what to expect from each, and plenty more. So, let's jump right in.
Before we proceed further, we have a word of caution for you. Our strong advice is to make sure you're using Kodi safely and legally. With this said, we want you to read our In this article, we are talking about Kodi and this application's official and unofficial addons – all of which are based on open-source code. Addons for Kodi can come from the official source (you can install them via Kodi itself), or they can be hosted by third-party sources (such as GitHub, for example). In addition, Kodi and its addons are publicly available and free of charge.

TechNadu doesn't claim any responsibility for how our readers decide to utilize the following software. Please note that we don't condone sharing pirated content and copyright infringement. TechNadu is not affiliated with the software mentioned in this article in no way.

Make sure to carefully read everything said in this disclaimer and ensure the proper use of the software.
disclaimer as well as the following warning message.
WARNING: When Using Kodi, Make Sure to Always Use a VPN!
Without a VPN, you will be facing many obstacles when using Kodi. Aside from encountering blocked content, you're also putting your privacy at risk. With this said, here's why you MUST use a VPN while using Kodi:
Kodi Imposes Geo-Restrictions: Numerous Kodi addons are restricted to certain countries only. By checking your IP address, these addons can block access to their content, which means that you're missing out on a vast media library. A VPN resolves this problem by giving you a virtual IP address associated with a different country. For this purpose, we recommend getting a US IP or a UK IP address – as the majority of Kodi addons are restricted to these two countries.
Your ISP is Watching Your Every Move: Without a VPN, your ISP collects all your Web data. This includes your Web search history, any websites you visit, and any media streaming services you use. Kodi is a media streaming application, which means that many of you will face ISP-imposed throttling, as a result. By hiding your Web traffic via a VPN service, you can make sure that your ISP doesn't know what you're doing online – and enjoy the full speed of your Web connection.
You're Putting Your Device's Safety at Risk: Be very careful about which Kodi addons you install. Third-party sources can often lead to malware and cryptocurrency trojans, exploiting your private data and your device's resources. With this said, know that VPNs reduce the risk of you getting infected with malware by implementing website blacklists. They don't completely stop malware, but they can block access to malicious websites by using often-updated lists of dangerous websites (supplied by antivirus vendors). This is especially handy in the world of unofficial Kodi addons.
Once again, be very careful while using Kodi – and think about your privacy and digital security. A reliable VPN helps you secure and improve your Web connection, unblocks everything that Kodi offers, and takes care of your privacy. And per our extensive hands-on tests, we highly recommend you use ExpressVPN – the best VPN for Kodi at the moment.
LIMITED TIME OFFER: For our readers, we've prepared an exceptional deal. You can now save 49% on ExpressVPN – and get three additional months for free!
Finally, these are the 3 best Kodi Bollywood addons in 2020.
1. Einthusan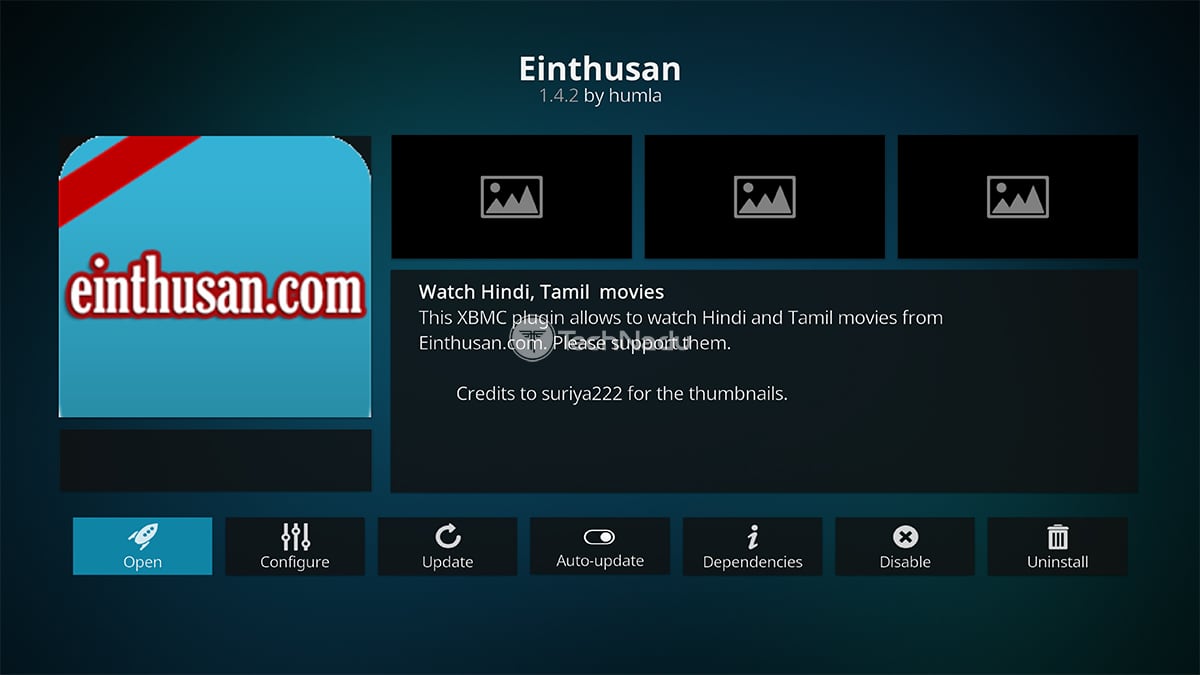 Where to Find This Addon? – Download from GitHub (Humla Repository).
From Where You Can Access This Addon? – Your access to Einthusan might be restricted, depending on where you live. However, you can overcome this by using a VPN and changing your IP. We highly recommend you to use ExpressVPN for this purpose.
What You Can Stream via Einthusan? – A collection of over 4,000 movies from different regions of India (in different languages).
Read More: How to install Einthusan on Kodi.
This article would be far from complete if we didn't mention Einthusan – as this is one of the best libraries of Indian movies. More importantly, this streaming service has been around for a long time now, and this gives us hope that we'll get to use this Kodi addon for a long time to come.
Upon opening Einthusan you will be greeted by a list of different languages. Some of the available ones are Hindi, Telugu, Tamil, Punjabi, and others. No matter which language you pick, you will see different sorting options. For example, you can browse recently released movies, currently popular, or search for a specific title. As per our hands-on tests, there are no dead links, everything works flawlessly, and many movies come in HD.
2. SnagFilms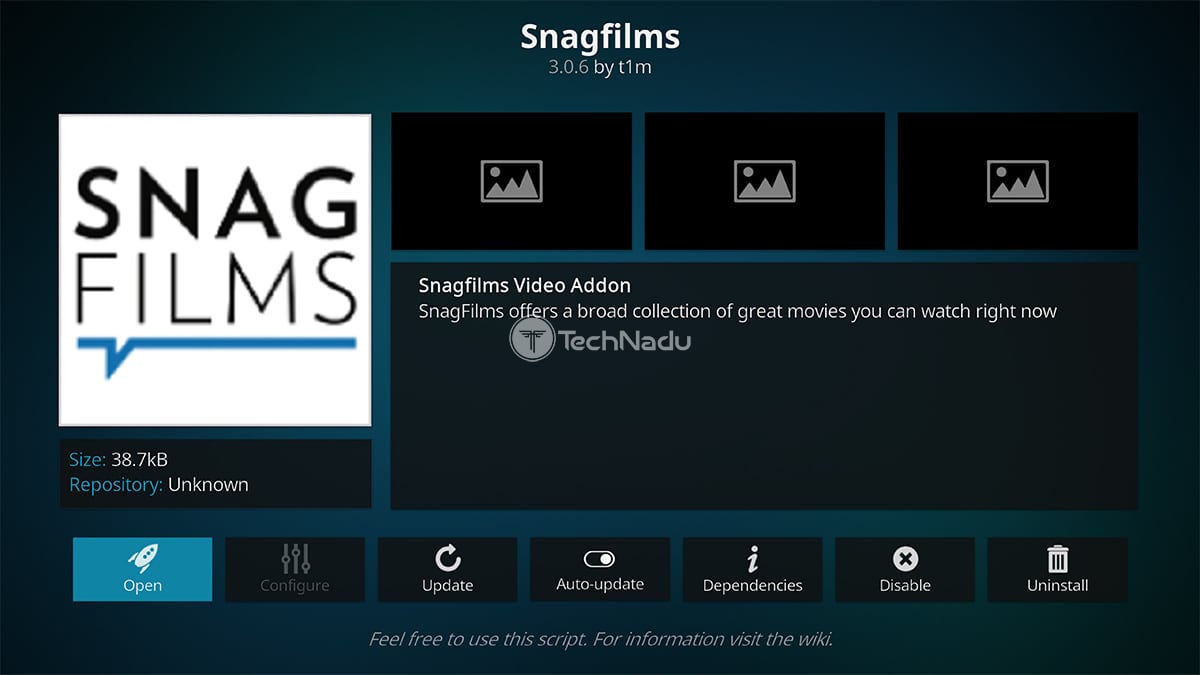 Where to Find This Addon? – The official Kodi repository.
From Where You Can Access This Addon? – Available globally and free-of-charge.
What You Can Stream via SnagFilms? – Thousands of independent movies from all around the world, India (Bollywood) included.
SnagFilms is a rich source of movies and TV shows from all over the world. Once you open the addon, you'll immediately see a long list of categories. More precisely, there are more than 30 content categories at the moment. As you can expect, there is a dedicated Bollywood category as well.
Among official add-ons, SnagFilms is one of the Kodi Bollywood addons with a large selection of movies. At the time of writing this article, there are more than 50 titles ready to be streamed. All of them come in 720p HD quality, and there are no streaming issues. It's clear that this is a well-maintained addon. We are sure you'll spend many hours using SnagFilms and enjoying Bollywood cinematography.
3. YouTube
Where to Find This Addon? – The official Kodi repository.
From Where You Can Access This Addon? – Available globally, except in a few countries. However, to fully unblock this platform, you'll want to check the best VPNs for YouTube – so you can access the US version.
What You Can Stream via YouTube? – An endless library of movies, TV shows, and video clips. Plenty of older Bollywood movies available as well.
Read more: How to install YouTube on Kodi.
You might be surprised that we recommend YouTube as one of the best Kodi Bollywood addons in 2020. However, you should know that YouTube has an extensive library of free movies, which is the reason why this addon is mentioned in this article. You see, this media streaming service isn't only about funny videos – especially if you're willing to dig beneath its surface.
As you might expect, YouTube won't get you to watch the latest commercial films. However, older Bollywood titles can be found often, as well as some independent movies. If that's your thing, you should definitely add YouTube to your Kodi. This is an often-updated addon, letting you import your favorites as well, so you can easily sync your lists between different devices.
And that would be all we've prepared for you, dear readers. We hope that you've found our list of the best Kodi addons for Bollywood movies to be helpful and useful. Enjoy streaming!