NordVPN and ExpressVPN are the leaders of today's global VPN industry, serving as prime examples of what a capable, feature-rich, and fast-developing VPN should look like. So, it's no surprise that they're featured in our overview of the best VPN services.
On the one hand, we have NordVPN, a Panama-based no-logs VPN, which also takes proper care of your privacy, has servers in around 60 countries, but also brings a range of unique features that keep you safe and protected online.
On the other hand, there's ExpressVPN, a British Virgin Island-based no-logs VPN service, which provides security, privacy, fast performance, and servers in 100+ countries. This VPN is suitable for practically any use - privacy protection, streaming, torrenting, gaming, and more.
As you can already see, our ExpressVPN vs. NordVPN comparison will need to be in-depth, as that's the only way to uncover the differences between the two VPNs. That said, let's begin by giving you a quick comparison of their most prominent features.
In this in-depth NordVPN vs. ExpressVPN comparison, we'll help you decide whether to pick NordVPN or ExpressVPN based on your needs, priorities, and budget. We'll do that by going through a range of individual aspects of the VPN services, providing a direct comparison.
We'll talk about their backgrounds, countries of origin, data logging practices, supported devices, installation procedures, prominent features, ease of use, media streaming and torrenting support, performance, and pricing, among other things.
Background, Jurisdiction & Reputation
When choosing a VPN, you'll want to check its background first. Ideally, you should pick a VPN outside the 5/9/14-Eyes Alliance, sticking to its no-logs policy. Let's see how ExpressVPN and NordVPN compare in this aspect.
NordVPN (Score - 8.5/10)
NordVPN comes from Panama, a privacy-friendly country with no mandatory data retention laws. Like ExpressVPN, NordVPN goes through regular audits of its policies and infrastructure, so it's a guaranteed no-logs VPN service.
However, it's important to mention that NordVPN was once hacked in 2018, which left a dent in the VPN's reputation. Still, no user data was exposed in that incident, which happened when a malicious actor targeted a third-party data center. Since then, NordVPN has massively increased its dedication to independent audits.
Also, NordVPN uses RAM-only servers as well. So, even though it has a solid no-logs policy, it uses additional systems to prevent your data from being logged. That said, we wouldn't hesitate to recommend NordVPN if your primary focus is your privacy and digital security.
ExpressVPN (Score - 9/10)
ExpressVPN comes from the British Virgin Islands. It's outside of the 14-Eyes Alliance, which is always a good starting point. However, Kape Technologies acquired ExpressVPN in 2021, which means it's no longer an independent company. In fact, it has the same owners as CyberGhost VPN, ZenMate VPN, and Private Internet Access (PIA).
That might sound problematic, as ExpressVPN is no longer an "indie" VPN. However, the reality is that ExpressVPN is among the most progressive VPNs in terms of privacy protection. It goes through regular in-depth audits, proving its commitment to its no-logs policy. On top of that, it uses RAM-only servers, eliminating any chance of data logging.
We'll also mention that ExpressVPN has had no problematic events in the past. This VPN never logged any private information. Since it has been in the VPN business for more than a decade, it's clear that you can trust this VPN.
Who's the Winner? - It's a Tie!
Despite the security incident in the past, we have to admit that NordVPN is still one of the most trustworthy VPNs. No personal data leaked in that case, and this VPN went through countless audits in the meantime. So, feel free to get NordVPN if you prioritize privacy.
Of course, ExpressVPN is equally trustworthy. It's now a product of a global company that owns other VPN brands as well, but it remains loyal to its initial vision. In other words, if you decide to get ExpressVPN, you won't be making a mistake.
Supported Platforms & Devices
Depending on how many devices you want to use, you need a VPN whose apps work on the most popular platforms. Luckily for you, both ExpressVPN and NordVPN offer decent cross-platform compatibility. Continue reading to learn more.
NordVPN (Score - 10/10)
When it comes to supported platforms and devices, NordVPN doesn't disappoint. It offers highly polished apps for every popular platform out there. So, no matter if you need a VPN for your Windows, macOS, Linux, Android, or iOS device, NordVPN will meet your needs.
Also, NordVPN works on dedicated streaming devices. That means you can use its applications for FireOS and Android TV. Furthermore, you can set it up on a wide range of routers. Of course, you'll need to go through manual configuration in that case.
NordVPN can be used on 6 devices at the same time. Of course, if you install it on a router, that will count as a single connection, no matter how many devices you have at home.
ExpressVPN (Score - 10/10)
ExpressVPN offers a wide range of native apps that can be installed on all popular desktop and mobile operating systems. You also have the freedom to use Web browser extensions for Chrome, Firefox, and Edge. Those extensions aren't proxies, which is the case with most other VPNs. They are VPN extensions that require ExpressVPN's app to work.
Furthermore, you can install ExpressVPN on VPN-compatible routers powered by OpenVPN, DD-WRT, and various stock firmware types, and use it on up to 8 devices at the same time. On top of that, you can get ExpressVPN's Aircove, which is the VPN's own router. As far as we know, no other VPNs offer their own routers, making ExpressVPN the leader in that field.
Who's the Winner? - It's a Tie!
ExpressVPN and NordVPN are two of the longest-standing VPNs. So, it's no surprise that they offer polished software for practically any platform out there. In other words, when it comes to their supported platforms and devices, there are no significant differences between the VPNs.
That said, we recommend you get NordVPN if you want a one-click VPN application or if you wish to run your VPN on a router. Or, get ExpressVPN if you need more simultaneous connections, as this VPN gives you 8 of those.
Installation & Initial Configuration
Getting started with a VPN shouldn't be a tiresome process. Instead, it should take a couple of minutes of your time, which is achieved by offering native apps that come without complicated installation methods. So, here's what ExpressVPN and NordVPN offer.
NordVPN (Score - 10/10)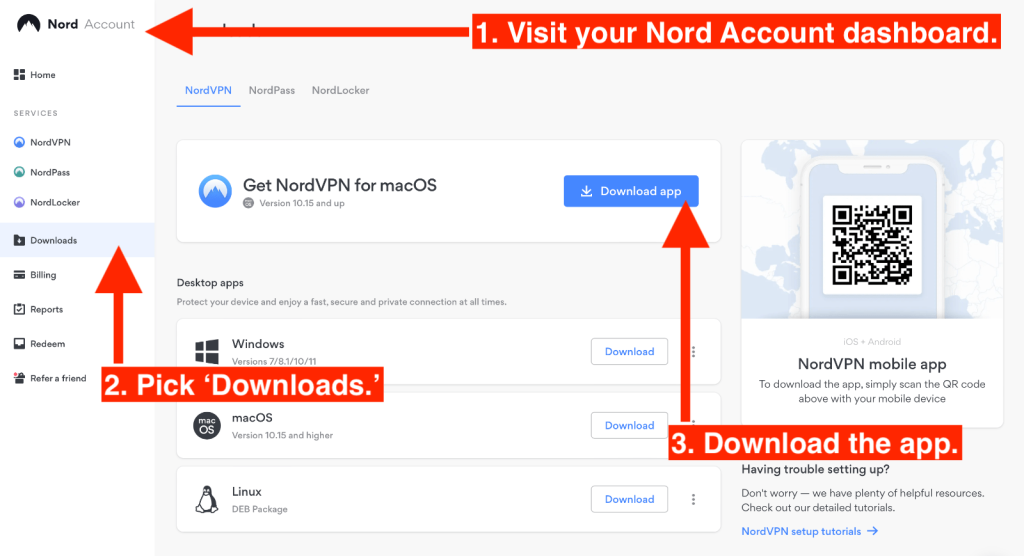 NordVPN features a highly polished installation process. Its setup file is quite small, so you don't need a fast connection to download it, and you should be ready to connect to VPN servers in under a minute.
Aside from desktop and mobile devices, NordVPN can be installed on compatible routers as well. This VPN also offers user-friendly step-by-step tutorials. So, even if you never installed a VPN on a router, you should have no issues setting up NordVPN.
Since NordVPN offers obfuscated servers, it can be used in restrictive countries as well. To make that happen, the VPN provides alternative applications (like the one made for China, for example) and custom manual connections, explained through its numerous guides and tutorials.
ExpressVPN (Score - 10/10)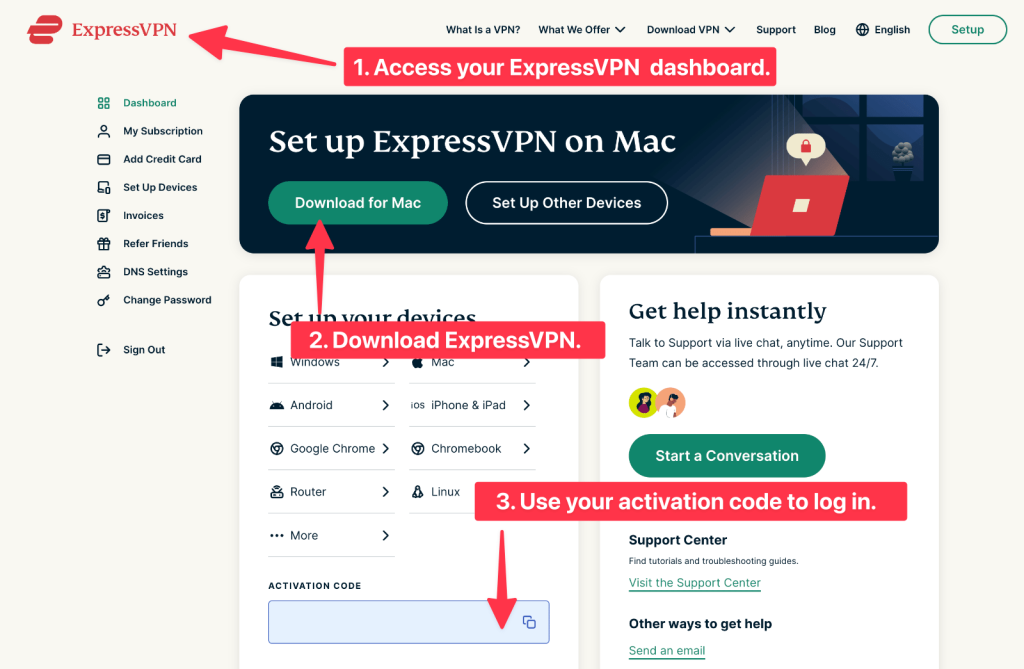 After signing up for a new account, you are free to download any of ExpressVPN's apps. This is done by logging into your account on the VPN's website, picking your platform, and you can then download the required installation files.
ExpressVPN doesn't contain any bloatware, so it takes up very little space on your hard drive. You can install and start using it in less than a few minutes on desktop and mobile devices.
ExpressVPN also has numerous helpful installation guides for all devices, including routers. And if you're in a restrictive country, such as China, this VPN offers alternative ways to get to its installation files. So, in terms of installing this VPN, you're covered more than well.
Who's the Winner? - It's a Tie!
No matter which of these VPNs you pick, you won't encounter any installation issues. We're sure that even first-time users will manage everything on their own without relying on customer support. ExpressVPN and NordVPN come with lightweight applications that install in less than a minute, without bloatware or anything similar.
If you get NordVPN, you'll be done in under a minute, thanks to a unified dashboard that gives you easy and quick access to all its apps. Its competitor has a similar approach, so if you get ExpressVPN, you can have an active VPN session in under a couple of minutes as well.
Prominent Features
Our next step in the debate takes us to the VPNs' most important features. Yes, we're talking about privacy-related features, so make sure to pay special attention to this segment. Here's what you need to know.
NordVPN (Score - 10/10)
NordVPN is almost overflowing with features. It has a kill switch (on Windows, macOS, Linux, Android, and iOS) as well as split tunneling (Android and Windows). Needless to say, the basics are there as well. That means you get comprehensive data leak protection, leaving no possibility of your data surfacing on the Web.
As a response to ExpressVPN's Threat Manager, NordVPN offers Threat Protection. This feature eliminates ads, prevents trackers, and even scans small files for malware. So, it's a bit more comprehensive than what its competitor offers.
Let's not forget to mention that NordVPN also offers specialized servers. For example, there are "Double VPN" servers that encrypt your connection two times. There are also servers for P2P as well as accessing the Tor network. On top of that, you get dedicated IPs as well, which is something that ExpressVPN is missing.
ExpressVPN (Score - 9/10)
The best thing we can say about ExpressVPN is that it just works. It is a rock-solid VPN, highly reliable, and nails the fundamentals. You get a highly polished kill switch (available on Windows, macOS, Linux, Android, and routers) as well as highly secure VPN protocols.
On top of that, ExpressVPN offers split tunneling on Windows, macOS, Android, and routers. So, both complete beginners and highly advanced users have something useful. Let's also not forget that you get unlimited server switches, unlimited bandwidth, and unlimited data.
In terms of unique features, ExpressVPN has an anti-tracking system called Threat Manager. It's designed to block access to malicious websites, eliminate trackers, and even remove ads. This VPN also includes ExpressVPN Keys, which is a very capable premium password manager, included at no extra cost.
Who's the Winner? - NordVPN!
By looking at its list of features, it's clear that NordVPN comes out on top. It offers most of what its competitor offers but also goes many steps beyond. Today, this is not just a VPN service but a fully featured cyber-sec solution that proactively protects your sensitive information.
So, get NordVPN if you need an ultra-powerful VPN that can hide your data, block trackers, eliminate ads, but also protect you against malware, and more.
Server Count & Infrastructure
Having access to servers in many countries translates to the ability to unblock the Web. That said, this ExpressVPN vs. NordVPN comparison segment will compare their server networks.
NordVPN (Score - 9/10)
Without any doubt, NordVPN is one of the most powerful VPNs in terms of its server network. It has more than 5,800 servers spread across the globe. However, that doesn't necessarily translate to more variety.
Compared to ExpressVPN, NordVPN only has servers in 60 countries. Therefore, even though this VPN has more servers than its competitor, it actually gives you a narrower range of options. Still, NordVPN's servers are placed strategically across the world, covering all of the popular VPN locations like the US, Canada, the UK, and more.
We'll also mention that NordVPN offers both standard and specialized servers. You can use any of the standard servers to unblock the Web, stream media, or protect your privacy. Specialized servers can help you download torrent files, access the Tor network, and more.
ExpressVPN (Score - 8.5/10)
ExpressVPN manages a network of 3,000 servers in 105 countries. That is more than enough to meet your every need. Also, you get to test the speed of each server and pick the fastest one - even before you dive into connecting to VPN servers (available on macOS only).
We'll also mention that ExpressVPN offers 10 Gbps servers and a few virtual server locations. That means its network is made of bare-metal servers (as opposed to virtual servers). Also, all ExpressVPN servers are optimized for torrenting, streaming, and gaming.
Even though ExpresVPN covers more locations than NordVPN, it has fewer servers overall. That means you're more likely to encounter (over)crowded servers, especially in popular locations.
Who's the Winner? - NordVPN!
We will pick NordVPN as the winner of this category because it has more servers than its competitor. You get more than 5,800 servers as opposed to ExpressVPN's 3,000+ servers. So, you should get NordVPN to ensure that overcrowded servers don't become a problem.
However, there are still plenty of reasons to get ExpressVPN - especially if you don't need too many servers but want access to many VPN locations. Even though it has "only" 3,000+ servers, ExpressVPN distributes them across 100+ countries.
UI/UX Design & Ease of Use
Both ExpressVPN and NordVPN come with user-friendly interfaces, and they cater to almost every type of device out there. They both have invested a lot of time and effort into refining their UI and UX, so let's focus our NordVPN vs. ExpressVPN comparison on that aspect for now.
NordVPN (Score - 10/10)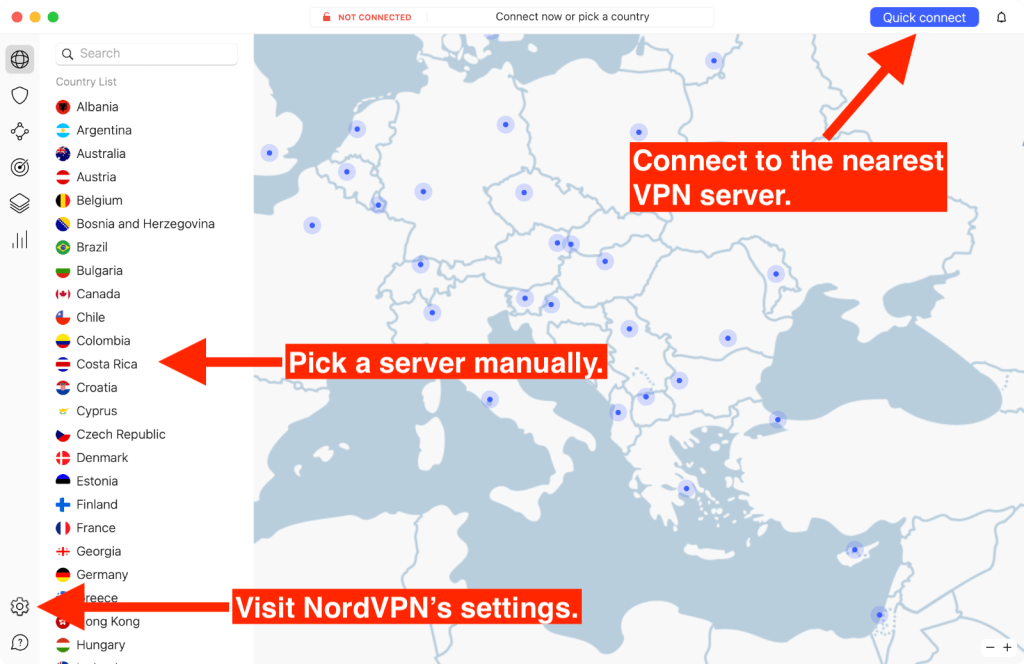 NordVPN greets you with a stylishly designed map of the world and a 'Quick Connect' option that automatically connects you to a recommended server. We love how NordVPN organizes its servers into types and countries, giving you several ways to initialize a connection.
You should have no issues using NordVPN even if you never used a VPN before. This provider offers highly polished and user-centric applications across all its supported platforms. You'll also find nicely explained technical terms once you get to the settings.
When it comes to NordVPN's mobile apps, they have a similar design to what you'll see on your computer. The main focus is on a big interactive map, using which you can connect to servers. You can also access NordVPN's settings right from the main screen, which comes in handy when you want to change a protocol on the go.
ExpressVPN (Score - 10/10)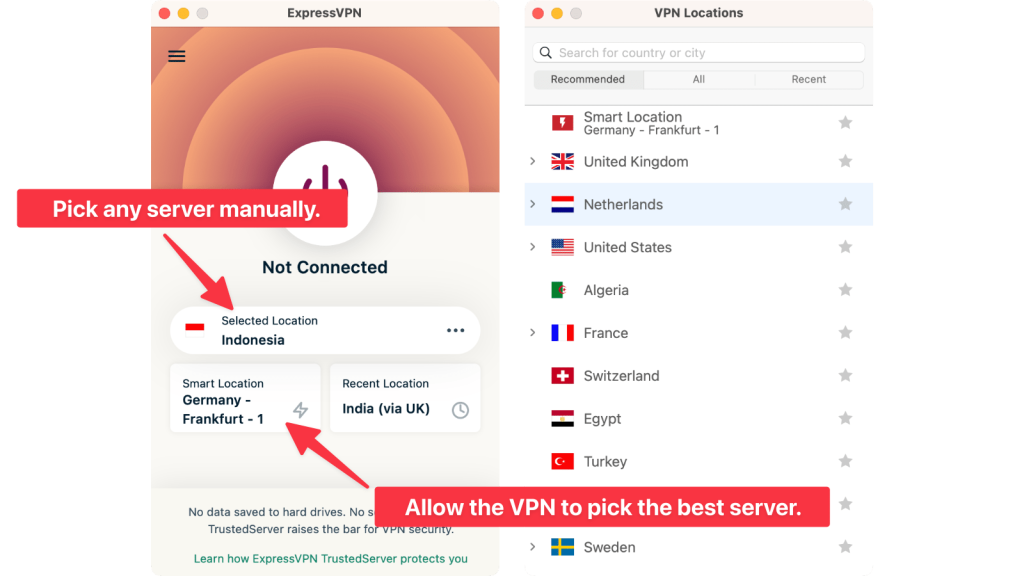 ExpressVPN's desktop app has a simple and elegant design. The home screen has a big power button that connects you to a 'Smart Location.' If you want to pick a server manually, there is a list of recommended locations to try, as well as the full list of ExpressVPN's servers.
If you want to dive into ExpressVPN's settings, use the "hamburger" button. The VPN does a good job of simplifying everything, so you can make adjustments with ease. You don't need to know any VPN terminology to use this VPN.
Everything said above applies to ExpressVPN's mobile apps as well. They follow a similar design philosophy, featuring a uniform design across the board. The VPN's servers and settings are available with just a few taps - without any unwanted complications.
Who's the Winner? - It's a Tie!
It's impossible to pick a winner in this ExpressVPN vs. NordVPN round, as both of them have really polished interfaces. In many ways, both of these are great examples of how a modern UI doesn't have to be complicated to allow you to perform complex operations.
Our recommendation is to get NordVPN if you need a desktop-level interface that allows you to pick servers in more ways than one. Or, you can get ExpressVPN if you're after a simple, mobile-like interface without too many configuration options
Media Streaming, Torrenting & Gaming Support
Aside from protecting your privacy, VPNs also help you unblock media streaming services, play online games, and download torrents anonymously. So, this segment will show you what to expect from those aspects.
NordVPN (Score - 10/10)
NordVPN can unblock a huge range of streaming sites. For the most part, you won't have an issue finding a server that can unblock a streaming platform. However, NordVPN doesn't label its servers as streaming-friendly, so if you fail to unblock content, you'll need to try random servers on your own. Still, that will hardly be an issue you'll encounter often.
Also, NordVPN supports torrenting - via special P2P-optimized servers. You can use those with OpenVPN and WireGuard, so your privacy is protected. WireGuard (NordLyx) works great for torrenting as it's among the fastest VPN protocols available.
We'll also add that NordVPN is suitable for gaming. Since this VPN brings a highly optimized server network, you can expect to keep your ping and latency in check. So, even if you play fast-paced online games, your gaming experience should be terrific.
ExpressVPN (Score - 10/10)
We strongly believe that very few VPNs are better for streaming than ExpressVPN. It unblocks any streaming platform out there, including Netflix, Hulu, Disney+, Prime Video, iPlayer, and more.
Also, this VPN supports torrenting via all of its 3,000+ servers. This is a big advantage over other VPNs, which usually bring a smaller selection of P2P servers. The only downside is that ExpressVPN doesn't support port forwarding, but that's not a major limiting factor.
When it comes to gaming, ExpressVPN performed admirably. It managed to keep our ping and latency in check, even when using remote servers. So, if you wish to bypass geo-blocks and connect to specific gaming servers, ExpressVPN will meet your needs.
Who's the Winner? - It's a Tie!
If you get NordVPN, you'll gain access to practically any streaming service out there. Also, this VPN has a group of specialized P2P servers, and it also works great for gaming thanks to its NordLynx protocol. So, it comes as a bulletproof pick.
However, the same applies to ExpressVPN as well. Even though this VPN doesn't label its servers as streaming- or torrenting-friendly, they work just fine. So, if you're into streaming, torrenting, or gaming, your decision to get ExpressVPN will be foolproof.
Security & Privacy
Besides unblocking content, privacy and security are the second reason why people use VPNs. Well, we're happy to say that your data is safe with both ExpressVPN and NordVPN, as you'll soon find out.
NordVPN (Score - 9.5/10)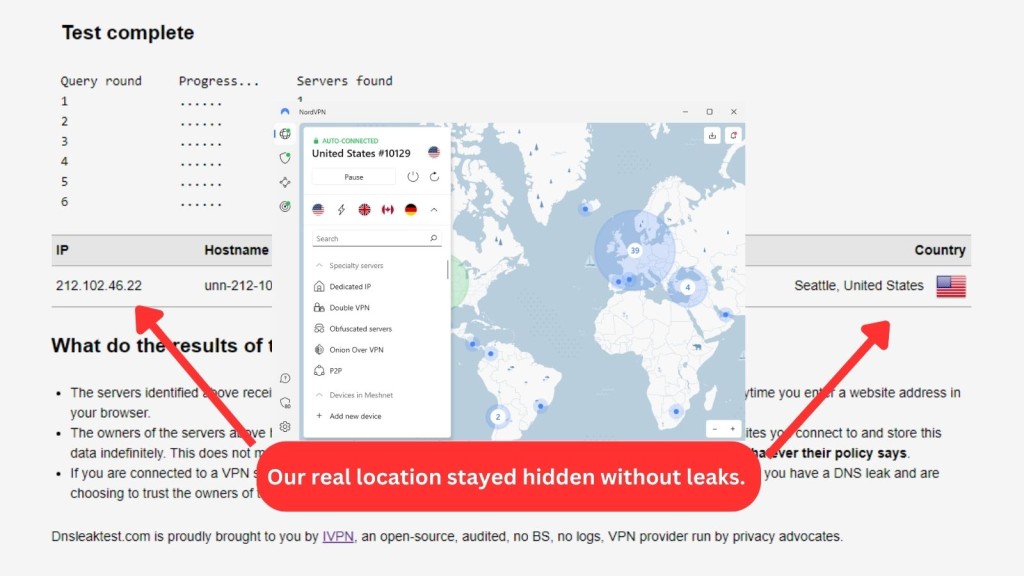 Double encryption stands out the most here, which is something that's rarely seen these days. You get that perk if you use NordVPN's double-VPN servers. And the service offers capable privacy-focused protocols - OpenVPN, IKEv2, and NordLynx.
Their privacy policy is also easy to read through, just like ExpressVPN's. Most importantly, this is a verified no-logs VPN service. So, you don't have to worry whether any data will end up on the servers run by NordVPN.
The same applies to the integrity of NordVPN's tunnels. Even after running numerous tests, this VPN never showed any weakness. So, you won't have to worry about DNS, IP, or WebRTC leaks.
ExpressVPN (Score - 9.5/10)
ExpressVPN brings a series of capable protocols led by OpenVPN and Lightway. In fact, Lightway is ExpressVPN's own protocol, designed as a response to WireGuard. It's ultra-fast without sacrificing your privacy. You can also switch between those protocols quite easily.
Then, you can expect an audited no-logs policy coupled with RAM-only servers. That means ExpressVPN is very safe to use. Also, it's more than capable of protecting your privacy without ever logging a single file about you.
We also ran a round of data leak tests. So, we can confirm that ExpressVPN's tunnels are very strong. You won't encounter any data leaks, and that includes IP, DNS, and WebRTC leaks.
Who's the Winner? - It's a Tie!
As you can see in this ExpressVPN vs. NordVPN comparison round, these VPNs have a lot in common. We're talking about protocols like OpenVPN and AES-256 encryption, which means your privacy will be safe and sound. Also, each of these VPNs comes with extra options to further enhance your privacy.
If you get NordVPN, you'll get the NordLynx protocol, which is based on WireGuard and is among the safest and fastest protocols available right now. If you get ExpressVPN, you'll get the Lightway protocol - known for its speed and the ability to unblock any website or app.
Speed & Performance
Security and privacy are great, but not when they come at the cost of speed. That said, this ExpressVPN vs. NordVPN comparison segment focuses on the performance of their servers.
NordVPN (Score - 9/10)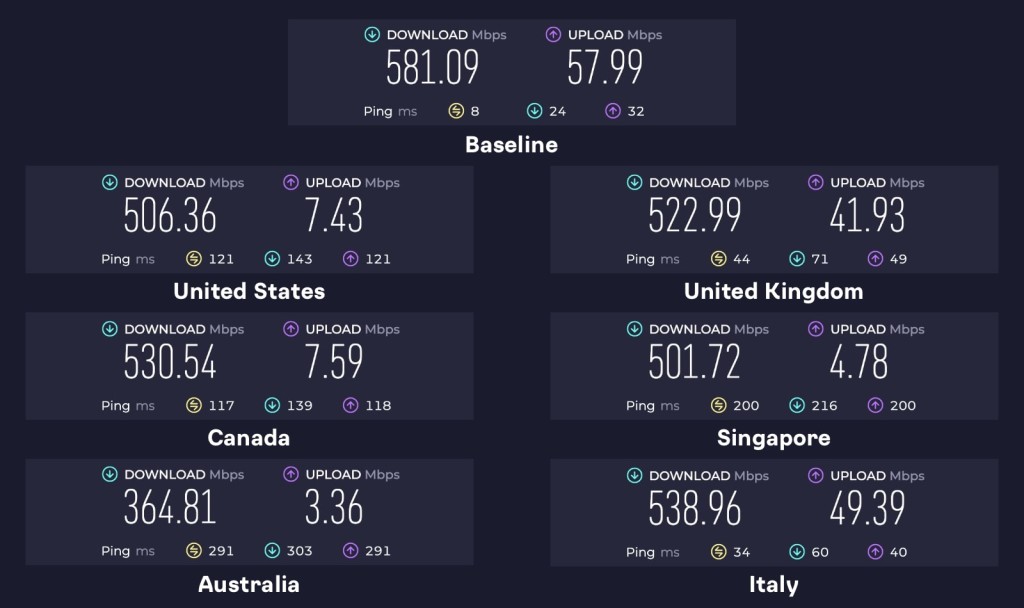 During the last year or so, NordVPN has done plenty to improve its performance, and that truly shows. It's an ultra-fast VPN overall, especially if we consider all the privacy-first features it brings. That said, this VPN slowed us down by only 15% on average.
In other words, even if you have a slower Web connection, NordVPN can still allow you to stream in HD and even 4K. Also, your file downloads won't suffer, as a 15% reduction won't add a lot of time to your downloads. On top of that, you will get malware protection, so the tradeoff here is more than worth it.
We'll also mention that highly remote servers can be a bit slow if you use the OpenVPN protocol. However, that's something you can easily resolve by switching to NordLynx, which is must fast in most cases.
ExpressVPN (Score - 9.5/10)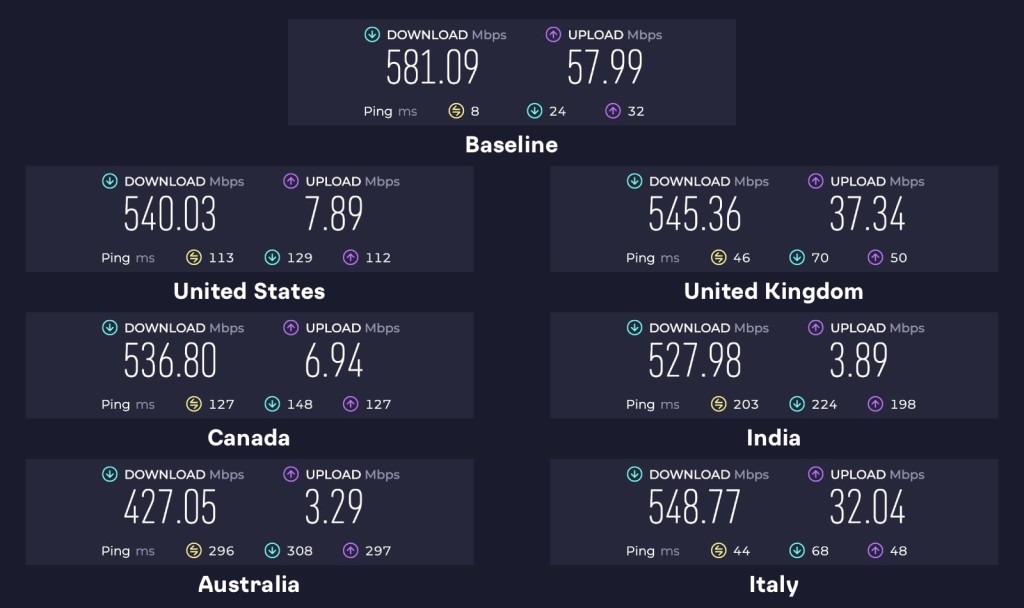 On average, ExpressVPN slowed us down by 10.3%, which means it's among the fastest VPNs available today (based on our hands-on tests). What's important to mention is that we haven't experienced any fluctuations in performance.
In other words, no matter if you connect to nearby or remote servers, ExpressVPN will always work well (which usually isn't the case with today's VPNs). Also, connecting to servers usually takes only a couple of minutes, thanks to the VPN's technology called "Parallel Connections."
We also need to praise ExpressVPN's performance in terms of the long-distance connections, as we managed to stream in up to 4K using a US-based streaming platform (even though we're far from that country). So, you'll get extra-fast performance without any hiccups.
Who's the Winner? - It's a Tie!
NordVPN and ExpressVPN are among the best-performing VPNs right now. If you get NordVPN, you can expect amazing performance across the board, which comes practically unparalleled when using relatively nearby servers. And if you get ExpressVPN, you'll be using one of the fastest VPN networks, especially if you switch to its Lightway protocol.
Customer Support
We were very impressed by the levels of support these VPNs offer. Whichever one you pick, you'll get the help you need, in a timely manner. Here's more information.
NordVPN (Score - 10/10)
As good and helpful as ExpressVPN's live chat is, we're always more impressed with NordVPN's 24/7 support. Their reps are ultra-fast and resourceful, and we never feel like they were reading from a script. That said, we're confident that you'll be happy as well.
NordVPN also offers plenty of written resources. You can check a wide range of articles, FAQs, and similar types of resources. Like its competitor, NordVPN also offers a very active blog, which we strongly recommend checking out from time to time.
ExpressVPN (Score - 10/10)
ExpressVPN is lightning-fast in responding via live chat (available 24/7). Over email, they take a bit longer. Still, you may not even need to talk to anyone because their website contains plenty of tutorials and guides to help you find the solution you need.
Trust us that you won't find yourself lost at any moment, no matter what questions you have or what technical issues you might experience. On top of that, ExpressVPN has a very helpful and active blog, which you can use to learn more about VPNs, cyber-security threats, and more.
Who's the Winner? - It's a Tie!
Having access to responsive customer support is crucial when it comes to VPNs. So, we're happy to report that both ExpressVPN and NordVPN deliver in that regard. Both of them offer 24/7 live chat support, which is the fastest way to get answers to any questions you might have.
If you get NordVPN, you'll gain access to 24/7 live chat support, as well as countless other resources, such as guides, tutorials, how-to articles, and more. If you get ExpressVPN, you'll also gain access to live and on-demand support resources, making the two VPNs equal.
Pricing
Having spent a lot of time testing and using these two VPNs, we can confidently say they're worth every penny. Let's compare ExpressVPN vs. NordVPN in terms of their price and value.
NordVPN (Score - 9/10)
NordVPN offers three subscription plans, named Standard, Plus, and Complete. The Standard plan is the most affordable one, starting at $2.99/month for its 2-year subscription. If you want a shorter commitment, you can pay $4.49/month for the next year, or $12.99 each month.
The Standard plan gives you VPN protection, and you also get protection against malware and tracking. The Plus (starting at $3.99/month) plan adds a password manager and data breach scanner, while the Complete plan (starting at $4.99/month) adds 1 TB of encrypted storage.
Like ExpressVPN, they also offer a 30-day money-back guarantee. And yes, it's a no-questions-asked policy, but they will try to troubleshoot the issues you're experiencing first.
ExpressVPN (Score - 9/10)
At the moment, the most affordable ExpressVPN plan is the 1-year subscription ($99.95/year or $6.67/month). With their current offer, you also get 3 months for free as well as 1 year of Backblaze, which is a system backup and recovery solution.
Also, ExpressVPN offers a no-questions-asked money-back policy. That means you have 30 days to test-drive the VPN service. If you change your mind, you can simply ask for a refund.
That's also how you can take advantage of ExpressVPN's free trial. For more info, turn to our guide that explains how much is ExpressVPN, helping you better understand the overall value this VPN brings.
Who's the Winner? - NordVPN!
It's clear that NordVPN is more affordable than ExpressVPN, no matter which of its subscription plans you pick. Also, NordVPN comes with 3 subscription tiers, allowing you to choose from different tools based on your needs, optimizing your cost. So, if you get NordVPN, know that you'll be getting plenty of value overall.
NordVPN vs. ExpressVPN - Which One Is Better?
ExpressVPN and NordVPN are, in our opinion, the best of the best. You can't go wrong with whichever choice you make, but there can only be one winner. And for us, the winner of this ExpressVPN vs. NordVPN comparison is - NordVPN.
To see why, let's compare the individual scores of ExpressVPN and NordVPN based on their respective reviews published on our website. Check the following table for more information.
Even though both of these are hugely powerful VPNs, NordVPN has the looks of a champion and delivers the privacy and security that you'd want from a quality VPN service. It's just as easy to use as ExpressVPN but also offers deeper functionality for those who want a bit more control over their connection. So, go ahead and sign up for NordVPN today.
You've reached the end of our NordVPN vs. ExpressVPN comparison. In case of any questions or doubts, make sure to post your comment below. Thanks for reading!