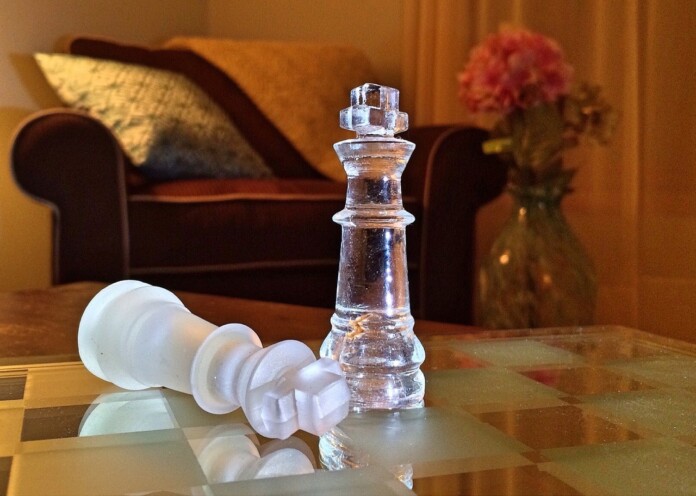 In this day and age, if you're not using a VPN (Virtual Private Network) it's a bit like driving without a seatbelt. Heck, in some countries (we're looking at you, China) it may even be like driving blindfolded. Privacy, security, and freedom online is not a guarantee.
Unless you have a quality VPN, of course. You can learn all about VPNs from our handy guide to VPNs.
Today we look at two outstanding VPN services. When we reviewed ExpressVPN, it was hard to imagine another VPN service rising to the same levels. ExpressVPN is user-friendly in the extreme, polished from top to bottom, and offers exceptional customer service.
Then we reviewed NordVPN, and suddenly we were torn. NordVPN goes toe-to-toe with ExpressVPN in usability but also offers a wider range of features to customize and enhance your VPN experience.
Let the battle begin.
| | | |
| --- | --- | --- |
| | ExpressVPN | NordVPN |
| Pricing | 4/5 | 4.5/5 |
| Ease of Use | 5/5 | 5/5 |
| Privacy & Security | 4.5/5 | 4.5/5 |
| Performance | 4/5 | 5/5 |
| Features | 4/5 | 5/5 |
| Support | 5/5 | 4.5/5 |
We had no choice but to create the ultimate head-to-head to find out which VPN deserves to sit on the throne.
Pricing
ExpressVPN and NordVPN maybe two of the more expensive VPN offerings, but having spent a lot of time with both, we feel that they are worth every penny.
ExpressVPN can be had for $12.95 for one month or $8.32 per month if you sign up for a year. By comparison, NordVPN is a bit more affordable at $11.95 for one month and $5.75 for a year. Even better, they have a special two-year deal for just $3.29 per month!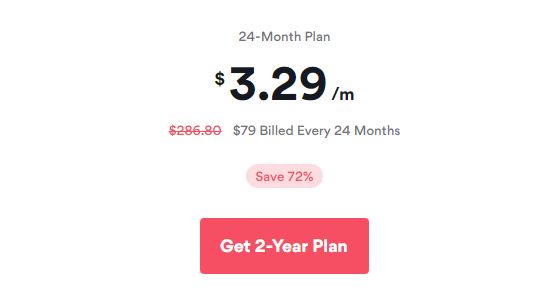 Both provide plenty of payment options, including Bitcoin for those who don't want to compromise on their privacy.
Neither service has a free trial option, but both have a 30-day money-back guarantee. Just be aware that NordVPN only offers a refund if the service is broken in some way, and both VPNs can only give you your money back if you paid using a method that allows refunds.
This one is simple – NordVPN is the more affordable choice.
Ease of Use
Both VPNs have exceptional user interfaces, and they cater for almost every type of device under the sun. They've both invested a lot of time into refining their designs and making sure the experience is consistent across all clients and even their websites.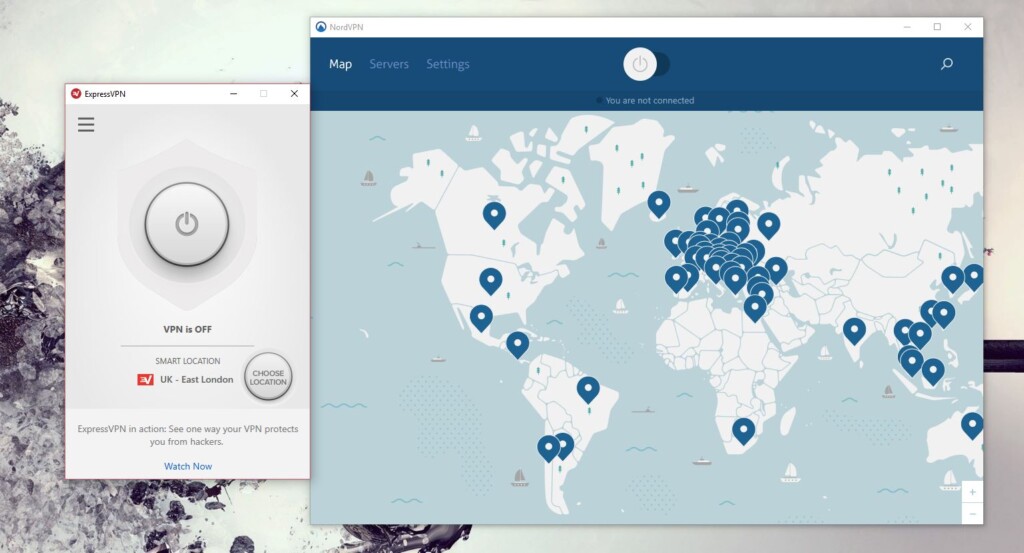 ExpressVPN has the more simple and elegant design, with no clutter to speak of. If you've never used a VPN before and are worried that you may be in over your head, ExpressVPN will wash away those doubts in seconds. The main screen has a big, bold power button that will connect to a Smart Location. With a single click or tap of that power button, you can connect to the web anonymously, without needing to mess around in settings or have a deeper knowledge.
If you do choose to pick your own server location, there is a short list of recommended servers to try, or the full list of ExpressVPN's global army of servers. There's no immediate way to know what server to choose, but you can run a speed test (it will take about five minutes) on all the servers to determine the fastest options.
Unfortunately, ExpressVPN is limited to just three simultaneous connections, although their router client will protect every device connected to it.
NordVPN greets you with a stylishly designed map of the world and a connection wizard that will find the best server for your specific need (like P2P or security). We absolutely adore how NordVPN organizes its servers into types and countries. It is always happy to make life simple by connecting you to the best server, but it also gives you the freedom to click on a country or type and get an overview of those available servers. You'll find distance and server load to help you make the perfect manual choice.
NordVPN allows double the amount of simultaneous connections (six), so you should be able to install it on pretty much every device that you own. And have a slot or two available for your friends.
Both VPNs offer exceptional ease of use, but NordVPN digs beneath the surface level to provide a richer experience. They are both exceptional, but NordVPN edges it.
Privacy & Security
Privacy and security are the main reasons why people turn to VPNs. Thankfully you can rest easy knowing that in ExpressVPN and NordVPN you are in safe hands.
Both make use of military grade data encryption (AES-256), are based in countries outside of the '14 Eyes' (ExpressVPN – British Virgin Islands, NordVPN – Panama), have no logging policies, offer DNS leak prevention, and both come equipped with Kill Switches. When it comes to protocols, NordVPN has OpenVPN, L2TP, and PPTP. ExpressVPN offers the same protocols but also allows SSTP.
ExpressVPN has a few extra privacy features like a NAT firewall to block incoming traffic, but NordVPN comes with a host of extra tools like being able to use VPN over the Onion network and Double VPN servers (although they come with a big performance hit) for an extra layer of anonymity online.
One small mark against NordVPN – the Kill Switch doesn't disconnect your network connection. Instead, it shuts down applications at your choosing. Having our browser shut down every time we disconnected from the VPN was not fun. Luckily the development team is working on a solution.
We're going to call this one an admirable draw.
Performance
Security and privacy are great but not when they come at the cost of speed. If you're going to connect to servers on the other side of the world, you're going to experience slower speeds, but a great VPN will minimize the slowdown.
Both VPNs boast unlimited server switching, bandwidth, and speed but ExpressVPN covers more countries with over 1500 servers compared to NordVPN's 1090. But the important question is how do they perform?
In short, both VPNs work great. From P2P to streaming – you're going to love the time you spend connected to these services.
However, we're here to determine the best of the best and based on our experiences; there is a clear winner. In our tests, NordVPN consistently comes out on top. A 10-50% performance difference (compared to ExpressVPN servers) is typical, but we've even seen up to 100% improvement on servers from the same city.



Look, we don't think you'll complain about ExpressVPN's speeds…but once you've used NordVPN's rapid network it may be hard to accept anything less.
Feature
The best thing we can say about ExpressVPN is that it just works. It is rock-solid, reliable, and nails the fundamentals. However, when it comes to extra features, there isn't that much to talk about. There's the Kill Switch, a Nat firewall and a really handy speed test tool. But that's about it.
NordVPN, on the other hand, is almost overflowing with features. We've talked about the Kill Switch, Double VPN and Onion servers but that's just the start. There are special obfuscation servers, Anti-DDoS servers, a paid option for dedicated IP servers. It even comes with its own ad, malware, and phishing prevention tool called CyberSec.

If you want the most tools in your VPN toolbox, then NordVPN is the way to go.
Support
We were very impressed by the levels of support that both VPNs offer to subscribers.
ExpressVPN was lightning fast in responding via live chat (which is 24/7) and via form submission on their website. You may not even need to talk to anyone because their website contains plenty of tutorials and guides to help you setup, solve, and explain just about everything related to the service.
As good as ExpressVPN's live chat was, we were even more impressed with NordVPN. Their support members were just as fast but didn't feel like they were reading from a script. However, responses to our form submissions took much longer (six hours versus ExpressVPN's one hour) during our testing period. They also have a great support section on the website, but it's not quite as comprehensive.
When you get stuck and need a hand, ExpressVPN is doing the most to help you get back on track.
The Verdict
ExpressVPN and NordVPN are, in our opinion, the best of the best. You can't go wrong with whichever choice you make, but there can be only one winner, and that is NordVPN.
NordVPN has the look of a champion and delivers the anonymity and security that you'd want from a quality VPN service. It's just as easy to use as ExpressVPN (newbie-friendly) but also offers deeper functionality for those who want a bit more control over their VPN.
NordVPN is more affordable, offers a great bundle of features, and it has the performance that leaves ExpressVPN in the dust. We loved every moment using NordVPN and have no hesitation in giving it our highest recommendation.
All hail the VPN king – NordVPN!