You can install/set up NordVPN on the iPhone or iPad in 2 different ways. The easiest way to get started with NordVPN is to download its app from the App Store, which is how you'll gain access to every feature this VPN offers for your device. The only requirement is to have an iPhone or iPad running iOS/iPadOS 14.2 or newer.
If you don't wish to use NordVPN's app, you can configure the VPN manually. This way, you'll use a single protocol (OpenVPN), and you'll need to configure each connection manually. That said, both of those methods work fine, but we always recommend going with the native app first.
How to Set Up NordVPN on iOS (iPhone and iPad)
As briefly explained just above, you can choose from running NordVPN on iOS via its native app, or you can set up a VPN connection manually. These are your options:
Method #1: Download NordVPN's Native iOS App
Using your device's App Store, you can install NordVPN on your iPhone and iPad in a matter of seconds. That's how you'll get every feature the VPN offers, and you'll get auto-updates as well. Here's what you need to do:
1. Sign up for NordVPN using your iPhone/iPad and any Web browser.
2. Visit the App Store and use the 'Search' tab to look up 'NordVPN.'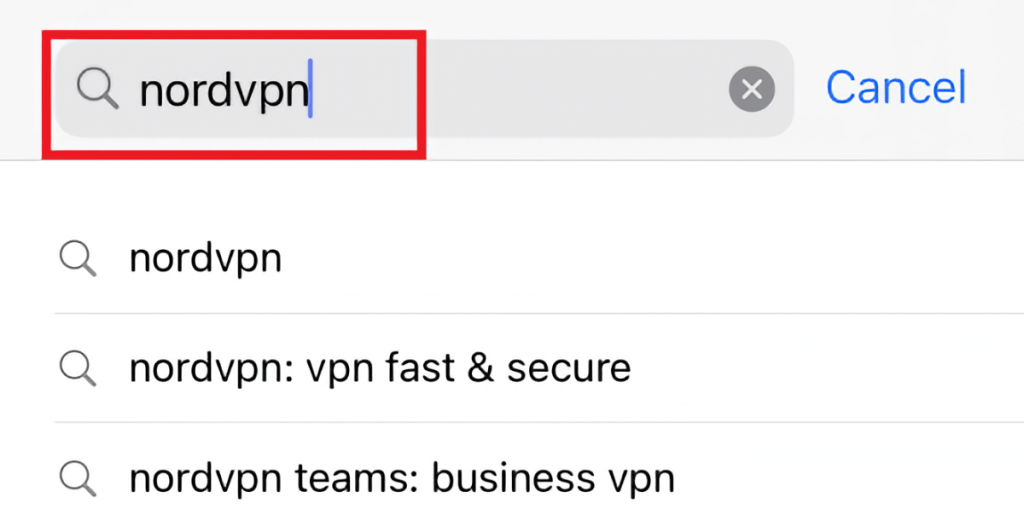 3. Tap on NordVPN's icon, and you'll open its App Store overview. Tap 'Get' or 'Download,' and NordVPN will download and install on your iPhone or iPad.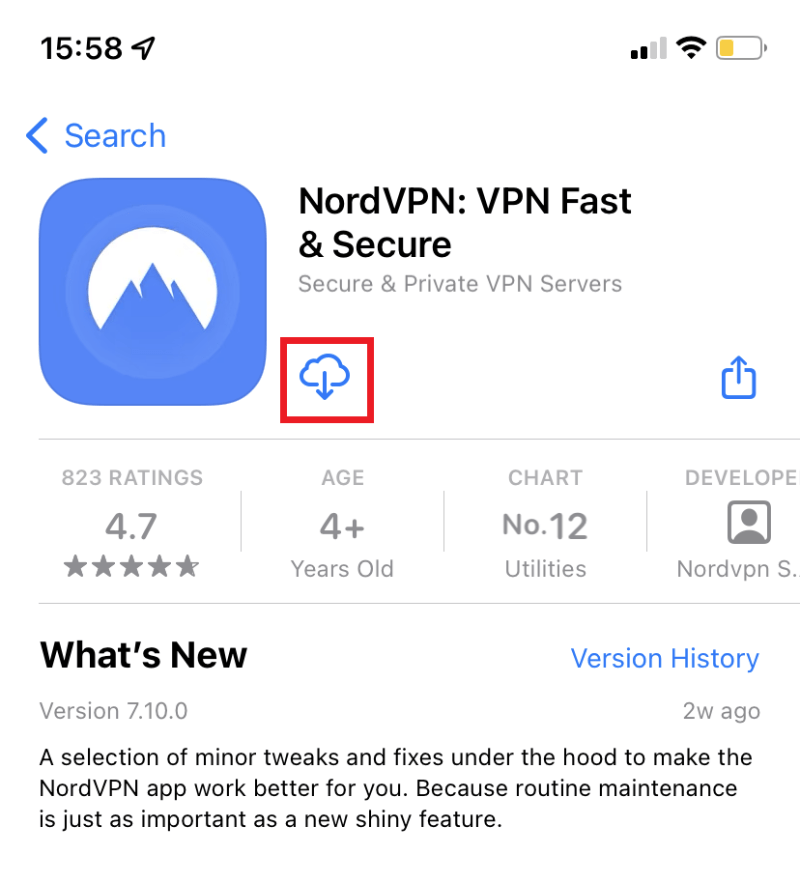 4. Tap 'Open' once the app is installed. Alternatively, you can return to your device's home screen and find NordVPN's icon to open the VPN app.
5. Tap 'Log In', and a new browser window will open, asking for your email address and password. Use your Nord Account credentials to log in and gain access to the app.
6. NordVPN will now ask you to accept its privacy policy. Tap 'Agree & Continue.'
7. The first time you connect to a server, you'll see a prompt to allow NordVPN to install VPN configurations on your iPhone or iPad. Go with 'Allow,' and you'll connect automatically.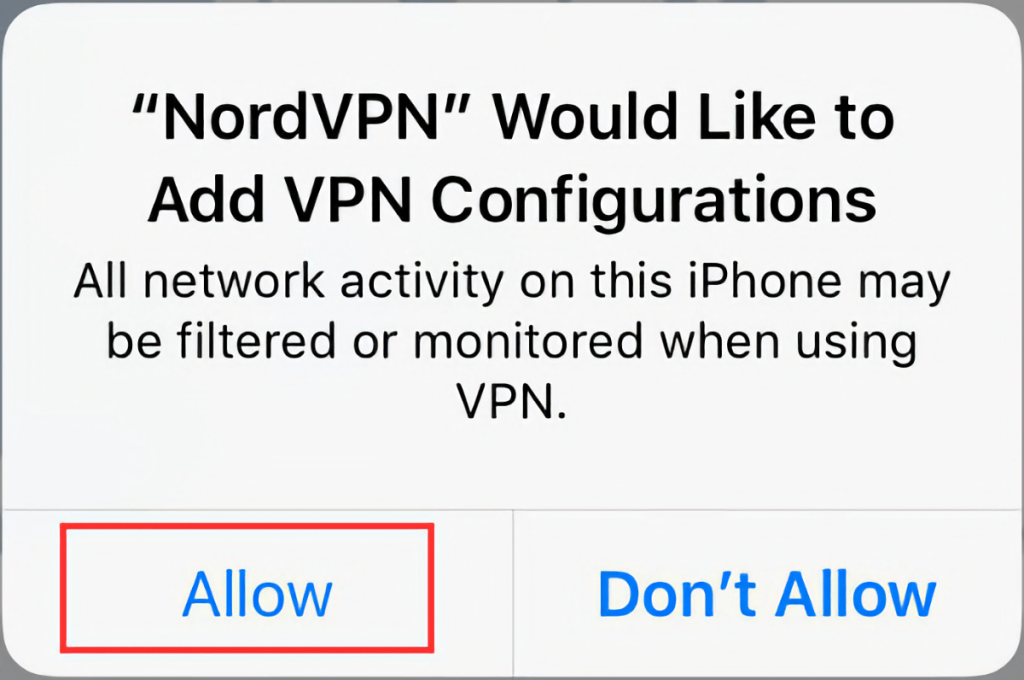 8. You can now connect to the closest server by taping 'Quick Connect.' Also, you can pick a location manually using a panel underneath NordVPN's interactive map. That's it!
Method #2: Set Up NordVPN Manually via OpenVPN
Those who don't want to use the NordVPN iPhone/iPad app can set up the VPN manually. That's done through a client called OpenVPN Connect, where you configure individual VPN connections. Just follow these steps:
1. Subscribe to NordVPN using your iPhone/iPad and any Web browser.
2. Open the App Store and search for the 'OpenVPN Connect' app. Then, tap 'Get' to download and install the app on your iPhone or iPad.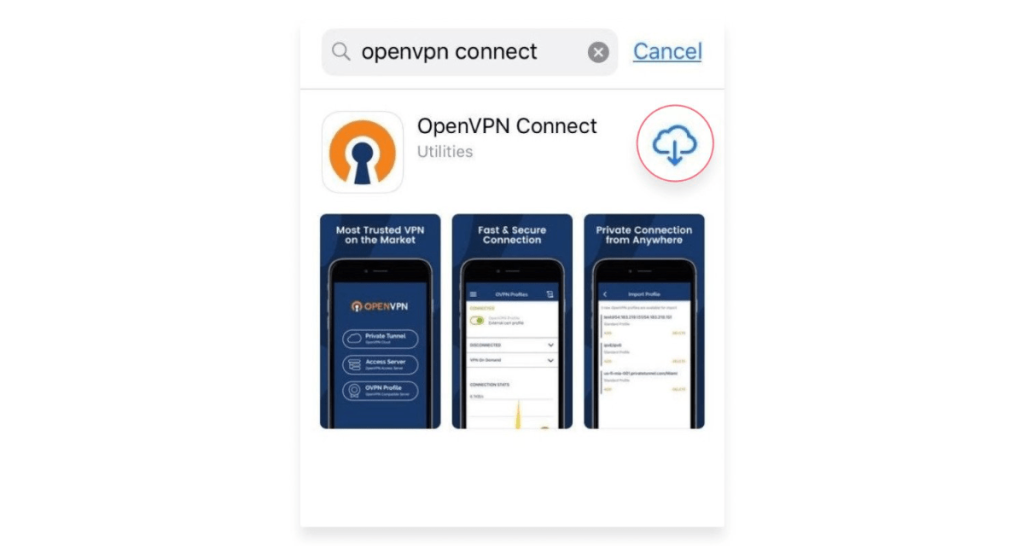 3. Return to your Web browser and visit NordVPN's site. Tap 'Servers' using the main menu and pick 'Recommended Server.' Find a server based on its location and tap 'Show Available Protocols.' Download your chosen server's config file (OVPN file).
4. Find the newly downloaded OVPN file and open it. You'll be asked which app to use for the file, so you need to select 'Open in OpenVPN.'
5. You'll now be asked about your NordVPN credentials. To find those, visit the NordVPN site and tap 'Log In' using the main menu. Then, navigate to NordVPN > Manual Setup > Set Up NordVPN Manually. This is where you'll find your NordVPN credentials.
6. Enter your credentials back in the OpenVPN Connect app. Once you do, the app will ask you to add VPN configurations. Go with 'Allow.'
7. To activate your newly added VPN connection, toggle the switch on the left side. Wait for it to turn green, and you'll connect. That's it!
Final Thoughts
Among the two available methods of setting up NordVPN on the iPhone/iPad, we recommend using its native app. That's the easiest way to get started, gain access to all 5,500+ servers and practically every feature NordVPN offers. Going the OpenVPN route is also a good option, but better suited for more advanced users.
This powerful VPN works on more than your iOS and iPadOS devices. You can use it on a PC, streaming device, smart TV, and even on select routers. So, to learn how to use it on more devices, here's our central guide that explains how to set up NordVPN.
FAQ
Does NordVPN Work on iPhone?
Yes, NordVPN works on the iPhone. It's one of the best-designed VPN apps hosted by the App Store, giving you access to 5,500+ servers in 60 countries, coupled with numerous privacy-protecting features.
Is It Safe to Use NordVPN on iPhone?
Yes, it's safe to use NordVPN on the iPhone. This is a highly reputable VPN with numerous independent audits under its belt. So, it's 100% safe to use.
Is NordVPN Free for iPhone?
Yes, NordVPN comes free for the iPhone and iPad. However, you'll need an active subscription before you gain full access to the app.
That's all! Now you know how to download, install, and use NordVPN on the iPhone and iPad. If you have further queries, drop us a comment through the button below. Thanks for reading!