Thanks to its clever marketing messages and user-friendly persona, NordVPN has managed to build a strong reputation for being a highly transparent VPN. However, as you're about to see, this PR image isn't just purely based on this VPN's marketing strategy.
Right off the bat, we'll say that NordVPN is among the best VPNs available today. Still, that doesn't mean it's perfect for every type of user imaginable. So, you'll want to know the specifics. With that said, we wish you a warm welcome to our hands-on NordVPN review!
We've put NordVPN through a series of rigorous tests and spent quite some time with this VPN. So, if you stick with us until the end of this review, you'll get to know all there is to know about this VPN, what to expect, and well as its place among its competitors.
Before we get started, we're going to present some quick facts about NordVPN. Make sure to take a quick look at the table found below.
Quick Facts
| | |
| --- | --- |
| Jurisdiction | Panama |
| Logs | No logs (audited) |
| Number of Servers | 60 countries; 5,300+ servers |
| Parallel Connections | 6 |
| Encryption Standards | AES-256 / OpenVPN, IKEv2, and NordLynx (WireGuard) |
| Speed Reduction | 36.8% (on average) |
| P2P Support | YES |
| Live Chat Support | YES |
| Supported Platforms | Windows, macOS, Linux, iOS, Android, Web browsers, and routers. |
| Price | Starting at $3.71/month |
Save 62% on NordVPN's 2-year plan + get 3 extra free months – now priced at $3.09/month ($83.43 in total). 30-day money-back guarantees available!
Next, we like to highlight the ability of VPNs to unblock popular media streaming services. So, the following table will tell you which streaming sites can be unblocked via NordVPN.
| | |
| --- | --- |
| American Netflix | YES |
| Hulu | YES |
| Disney+ | YES |
| BBC iPlayer | YES |
| Amazon Prime Video | YES |
| Kodi | YES |
Lastly, if you're in a rush to see our conclusions about NordVPN, we will present them via the following table. Take a look to learn about the pros and cons of this VPN.
The Bottom Line
| | |
| --- | --- |
| Pros | Easy to install; Highly polished interface; Double encryption; Plenty of servers; No data leaks; Plenty of value for the price; Amazing performance. |
| Cons | Split tunneling not available on all devices; High-priced monthly subscription plan. |
| The Final Verdict | NordVPN is quite easy to recommend. It's user-friendly, keeps no logs, and relies on military-grade encryption - so you can browse the Web freely. |
| Our Score | 9.4/10 |
In case you'd like to dive into everything this VPN offers, keep on reading our NordVPN review. We'll be taking a very close look at this VPN by inspecting its most prominent and vital aspects.
NordVPN is a fast-developing VPN service, with new features, software refinements, and bug fixes made available on a regular basis. So, if you wish to stay on top of what's new in NordVPN, make sure to use the provided link.
NordVPN Review
Finally, we're ready to start our hands-on review of NordVPN. If you'd like to learn more about how we've inspected NordVPN, make sure to read about how we review VPN services.
Background, Jurisdiction & Reputation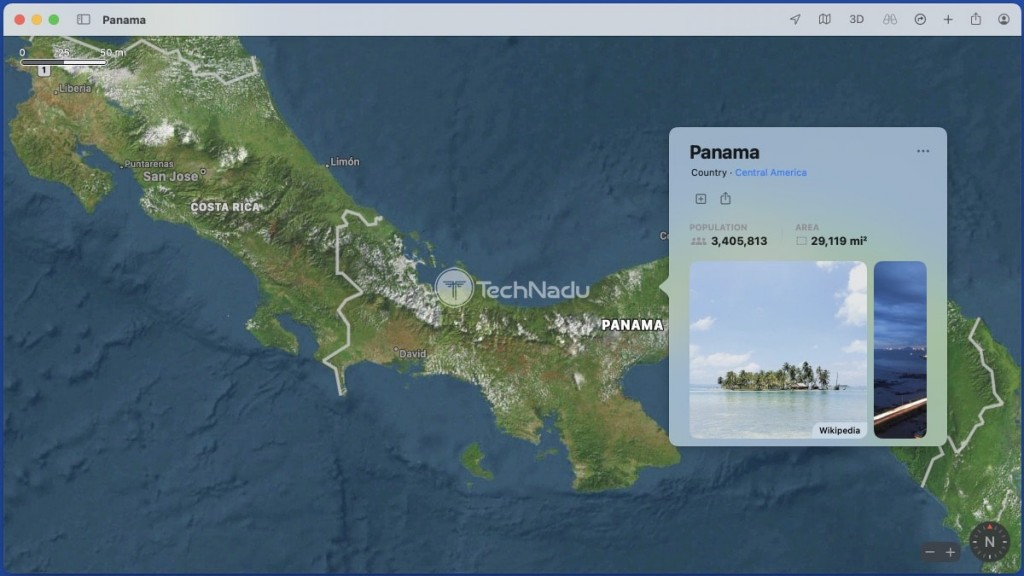 NordVPN has had certain problems in the past. However, the fact is that this VPN remains one of the most transparent and user-friendly VPNs out there. Our Score: 8.5/10
When choosing a VPN, you must know whether you can trust it. One of the best ways to find a trustworthy VPN is to check its background. You'll want to know about its jurisdiction as well as if there were any problematic data leaks in the past.
Where Does NordVPN Come From? Is It Part of the 14-Eyes Alliance?
NordVPN has decided to base its operations in Panama (the company behind NordVPN is called 'Nord Security - NordSec Ltd' / previously known as 'Tefincom S.A.'). This was a good choice as this country has no data retention laws that could force VPNs into collecting your private data.
Also, Panama is not a member of the 5/9/14 Eyes Alliance, which is a group of countries with mandatory data retention laws and aggressive mass surveillance operations.
It should be noted that certain rumors were circulating about this VPN a while back. According to those, NordVPN was owned by a company called Tesonet, based in Lithuania. Even though a connection exists between NordVPN and Tesonet (both of those brands come from the same team), there's nothing malicious in that connection.
In October 2021, NordVPN's parent company (Nord Security) acquired Atlas VPN, a relatively new VPN service known for offering a free tier. In February 2022, Nord Security merged with Surfshark, another well-known VPN service. That means NordVPN's parent company has close business relations with Atlas VPN and Surfshark, but that's where any connections between those VPNs end.
More precisely, NordVPN, Atlas VPN, and Surfshark have their own development paths and product roadmaps. They target different types of users and customers, and there's no data sharing involved between those brands.
If you'd like to take a much deeper dive into NordVPN's business structure and its relation to other cybersecurity companies, we offer an in-depth analysis of NordVPN's business and development path. So, make sure to use the provided link.
Did NordVPN Leak Personal Data in the Past?
NordVPN has a strict no-logs policy, and it promises not to collect your personal data. You'll be happy to know that NordVPN looks to be sticking to that promise by employing strict security protocols that prevent any kind of unauthorized access to their servers. Still, that doesn't mean there weren't any problematic situations in this VPN's past.
In September 2018, it was revealed that NordVPN had contained a privilege escalation bug that (in theory) could have exposed some of the user data (which didn't happen). However, this bug has had been fixed before the report became public.
In April 2019, there were reports of strange behavior related to NordVPN's data flow through the VPN's servers. However, the official explanation soon followed - saying that was caused by NordVPN's anti-censorship mechanism (nothing suspicious, once again).
We've also learned that NordVPN had been hacked in 2018 after an unknown hacker managed to access one of the VPN's Finland-based data centers. As NordVPN explained, this was an isolated case that didn't endanger any personal information.
Is NordVPN Legal and Safe to Use?
None of the previous incidents involving NordVPN have left the VPN's subscribers exposed, in the sense of someone getting to their data. Therefore, even though the VPN's systems had been breached in the past, this also shows us that NordVPN stays faithful to its promises.
With that said, we believe NordVPN is safe to use, and we recommend it from that aspect. And when it comes to its legality, there are no problems in that aspect either. As long as VPNs are legal in your country, you should have no problem using this VPN.
Supported Platforms & Devices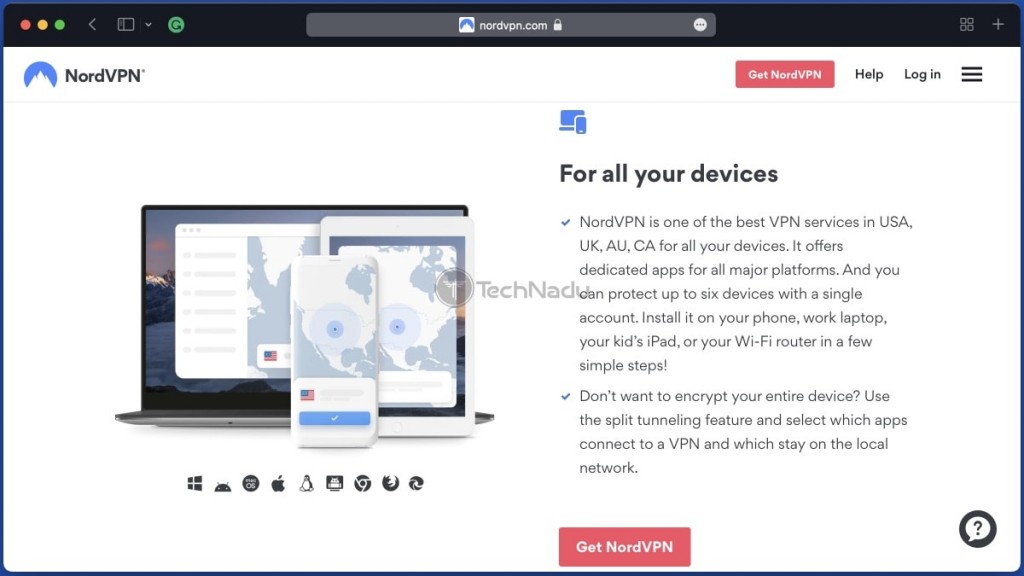 NordVPN covers pretty much any popular and less popular platform out there. You can always count on using a native application offered by this VPN. Our Score: 10/10
When you decide to use a VPN, you'll want one that protects all your devices. That's because using a single unprotected device poses a risk of leaking your personal data. So, here's a table explaining which devices are natively supported by this VPN.
Platform Compatibility
| | |
| --- | --- |
| Desktop Platforms | Windows, macOS, Linux, Chrome OS. |
| Mobile Platforms | Android, iOS. |
| Web Browsers | Chrome, Firefox, Edge. |
| Routers | DD-WRT, Tomato routers, and more. |
| Other Devices | Android TV, Amazon Fire TV. |
It's clear that NordVPN brings wide compatibility with many platforms and devices. What's also important to note is that you can use NordVPN on devices not mentioned in the table above – as long as those devices support the OpenVPN protocol.
In those cases, you would need to set up NordVPN manually. In general, that's not an overly complicated procedure. You can always rely on NordVPN's customer support for any assistance.
Of course, you can always go for a capable VPN router. Aside from DD-WRT and Tomato, this VPN can be installed on any router that supports OpenVPN. This is how you can protect all your devices at once without having native clients installed.
On top of that, installing NordVPN on your router takes a single "slot" of your subscription, no matter how many devices you connect to your router.
Installation & Initial Configuration
Downloading, installing, and configuring NordVPN doesn't require you to have any technical knowledge. The entire process is very user-centric and intuitive. Our Score: 10/10
As you can guess, you first need to subscribe to NordVPN. Once you do that, you'll end up with your username and password to log in to your 'Nord Account' on the VPN's website.
On the left side of your 'Nord Account' dashboard, you'll see five tabs: Overview, Downloads, Billing, Reports, and Redeem. While the first one gives you an overview of your active services and their expiration dates, you'll need to use the second tab to download native applications (the 'Downloads' tab).
For each of the available platforms, you'll have several options to choose from. So, go ahead and select your platform, and the installer will automatically download. At any moment, you can consult NordVPN's support pages and setup tutorials, visible on the right-hand side of the 'Downloads' page.
Then, you need to run the installer - just like you would usually do on your computer. After a few seconds, NordVPN will install on your device. To log you in, NordVPN uses a Web interface, as you can use a single 'Nord' account to access a range of Nord-branded services.
Prominent Features
It took years for NordVPN to build its offer. Today, aside from the standard set of options, this VPN offers highly advanced and unique features. Our Score: 9/10
In this segment, we look at a set of standard and advanced options that VPNs typically offer. We'll first show you a table of those options and whether NordVPN supports them or not.
| | |
| --- | --- |
| DNS Leak Protection | YES |
| IPv6 Leak Protection | YES |
| Kill Switch | YES (Windows, macOS, Linux, Android, iOS) |
| Split Tunneling | YES (Android, Windows) |
| Dedicated/Static IP | YES |
| Ad-Blocker, Anti-Malware | YES |
| Unlimited Server Switches | YES |
| Unlimited Bandwidth | YES |
| Unlimited Data | YES |
NordVPN is a VPN provider that rapidly evolves its services. It is adding new servers all the time, as well as new features every couple of months. Therefore, it's not surprising to know that NordVPN covers the basics quite well, managing to meet the needs of both beginners and highly advanced users.
It's also worth noting that NordVPN is actually a double VPN. This means you can set your traffic to go through two secure servers, adding an extra layer of protection. As you can expect, truly no one will be able to track what you do online. Of course, this is an optional feature (included in the cost of your subscription).
Aside from that, you get access to specialized servers as well. Using those, you can obfuscate your Web traffic, suitable for use in countries with heavy online censorship. There are also servers for P2P traffic, accessing the Tor network, and more.
Let's not forget to mention NordVPN's Threat Protection, which is a recently introduced feature that blocks ads and trackers. However, it also has a useful anti-virus component, as it scans executable files for malware. Malware scanning works independently from the VPN, which means you're not required to connect to NordVPN's servers.
Of course, NordVPN also delivers when it comes to the basics. You can count on all kinds of data leak protections, including DNS and IPv6, and there's a kill switch that blocks all your traffic if your VPN connection drops. All in all, a pretty comprehensive package.
How Many Simultaneous Connections Do You Get With NordVPN?
NordVPN gives you 6 simultaneous connections, which seems generous enough.
Let's not forget that NordVPN is present on a wide range of devices and platforms. On top of that, you can install it on a router as well. Therefore, it's safe to assume that you'll get to protect your entire household while getting to use NordVPN on the go as well.
Does NordVPN Have a Kill Switch?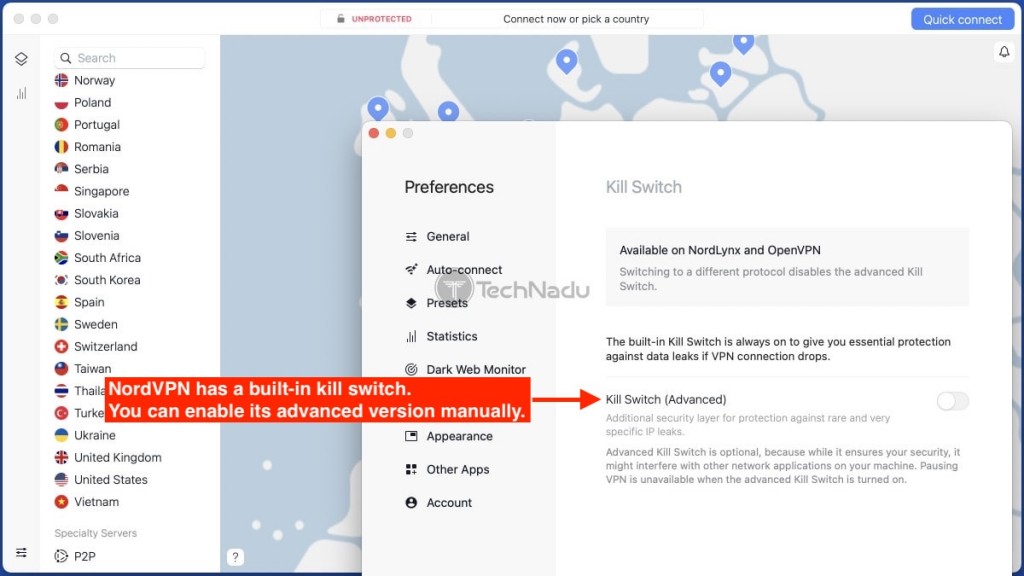 Yes, NordVPN offers a kill switch on Windows, macOS, Linux, Android, and iOS.
This feature comes built-in, which means it's fully automated. NordVPN's kill switch kicks in when your VPN connection drops, for whatever reason. It makes sure no data leaks happen by preventing your device's Web connectivity. With that said, know you don't have to enable this feature, as it comes already built-in and active by default.
The most recent version of NordVPN also introduces an advanced kill switch, which needs to be enabled manually. As the VPN explains, this is an additional security layer for protection against rare and specific IP leaks. It's optional because it might interfere with other network applications on your device.
To enable NordVPN's advanced kill switch (available on Windows and macOS for now), visit its settings (through an icon found in the bottom-left corner of the VPNs interface). Then, navigate to 'Kill Switch' and move the switch next to 'Kill Switch (Advanced).'
We'd like to add that if you encounter any issues with NordVPN's kill-switch, we offer a guide to resolving those problems. Use the provided link to learn more.
Does NordVPN Offer Split-Tunneling?
Yes, NordVPN offers split-tunneling - but only on Android and Windows.
For the longest time, NordVPN refused to bring split-tunneling to its desktop apps (focusing on its Android app only). However, this VPN introduced that feature on Windows not too long ago. That means we're now waiting to see if split tunneling will arrive on macOS and Linux.
When it comes to split tunneling on Android and Windows, we have to say that this feature works quite well. You can easily set your 'trusted' apps. And then, you'll also see the list of other apps that are only set to use NordVPN's tunnel. Quite simple yet very effective.
How to Enable NordVPN's Split-Tunneling on Windows
Launch NordVPN's app and click on the cogwheel icon in the top-right corner.
Pick 'Split Tunneling' on the left.
On the right, enable split tunneling.
Then, exclude the apps you want from NordVPN's protection.
Also, you can enable VPN protection for specific apps only (inverse split tunneling).
How to Enable NordVPN's Split-Tunneling on Android
Tap on the cogwheel icon in the top-left corner (from NordVPN's home screen).
Scroll down and tap on 'Split Tunneling.'
You can now select your trusted apps by tapping on '+' next to their name.
The apps you select will be excluded from your VPN connection.
Does NordVPN Offer a Static/Dedicated IP Address?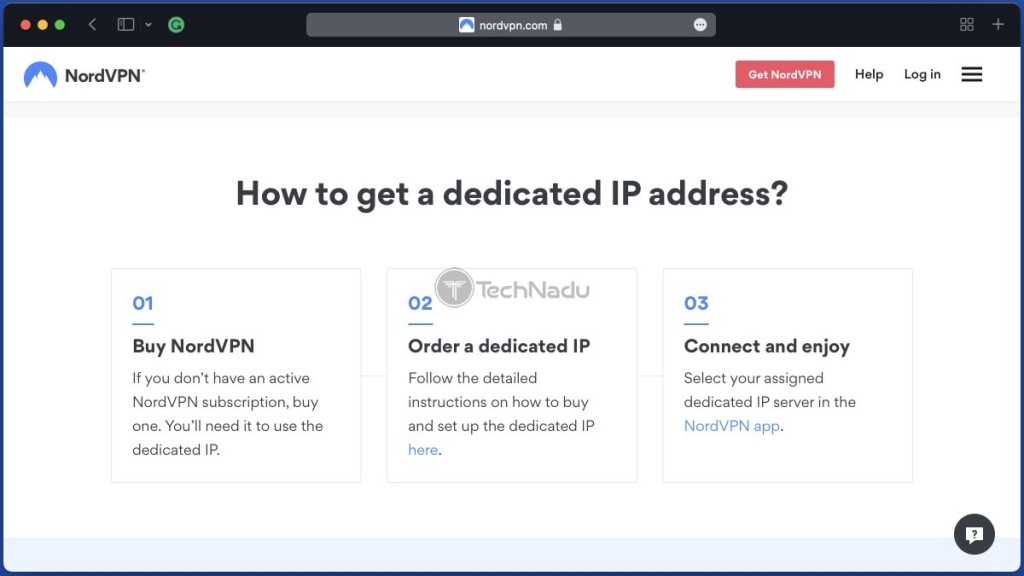 Yes, NordVPN offers dedicated IP addresses that can be "tied" to one of the following countries: the United States, the United Kingdom, Germany, France, and the Netherlands.
Keep in mind that NordVPN's dedicated IPs are priced at $89.00 per year. Also, they can be bought and activated after your sign-up for the VPN. This is done by logging into your account on NordVPN's website and requesting a dedicated IP from your account's dashboard.
Once your request is processed, your dedicated IP will appear in the NordVPN app. In other words, you'll get to use your IP and its designated server from within NordVPN's interface.
Does NordVPN Have an Ad-Blocker?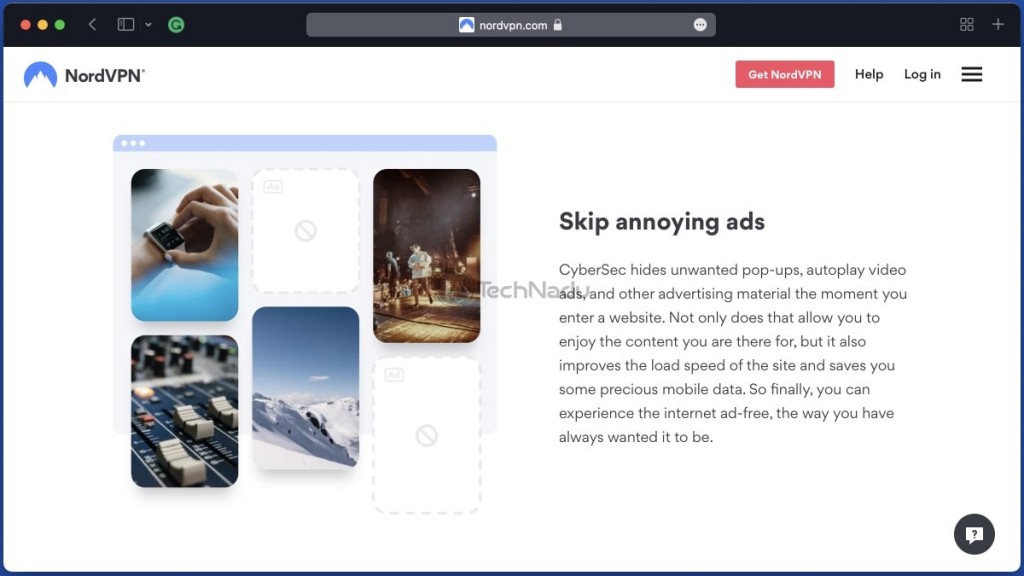 Yes, NordVPN comes with a built-in tool that blocks ads, called 'Threat Protection.'
It's worth mentioning that 'Threat Protection' is more than an ad-blocker. It prevents you from visiting websites known to host malware and phishing scams, while also ensuring malware never reaches your device (by actively scanning the files you download). Also, by removing ads, you'll get to browse the Web in a speedier manner.
On desktop platforms, such as Windows and macOS, NordVPN gets rid of ads and malware. On mobile platforms, like Android and iOS, you'll get the 'Lite' version of 'Threat Protection,' which focused on two things only - blocking ads and detecting malicious websites. You can enable 'Treat Protection' by going to NordVPN's settings.
What Features Are Missing on Android & iOS (Compared to Desktop Apps)?
We have to note that NordVPN has done a wonderful job of creating a uniform set of features across all of its apps. With that said, you'll encounter pretty much the same features, no matter if you use NordVPN on desktop or mobile platforms (or both).
In terms of what's missing, we need to mention that split-tunneling is available on Android and Windows only. You won't find it on iOS, Linux, or macOS. Aside from that feature, everything else is present across the board - including NordVPN's kill-switch, Threat Protection, an array of protocols and servers, and more.
Server Count & Infrastructure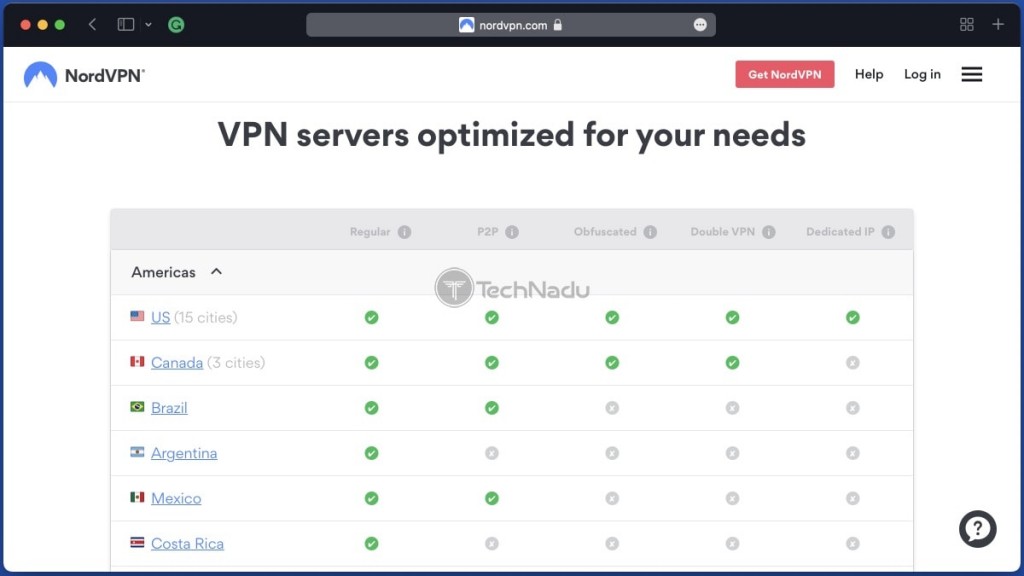 NordVPN comes with a trove of servers spread across the entire planet - and it often expands that network in a rapid manner. Our Score: 10/10
NordVPN is one of the VPNs with the most significant number of servers. To discover more information, check out the table found below.
Server Count Info
| | |
| --- | --- |
| Number of Servers | 5,300+ |
| Number of Locations | N/A |
| Number of Countries | 60 |
| Specific Cities Selection | NO |
| Unlimited Switching | YES |
As you can tell, the number of secure servers that NordVPN offers is astounding. Having more than 5,300 servers (which can go up to 5,500 at times), NordVPN is among the VPNs with the highest number of servers. However, we don't actually have precise information on where those servers are located, nor can we pick a specific city to connect to. The only option where that is present is among NordVPN's servers from the USA.
Having this many servers is a good thing. In theory, this means you'll hardly connect to an overcrowded server that throttles the speed of your Web connection. However, this doesn't mean that VPNs with 500 or 1,000 servers won't perform as fluidly as NordVPN.
What we're saying is – even though having plenty of servers is a nice thing, this shouldn't be the most important aspect of choosing a VPN.
Does NordVPN Use Virtual Server Locations?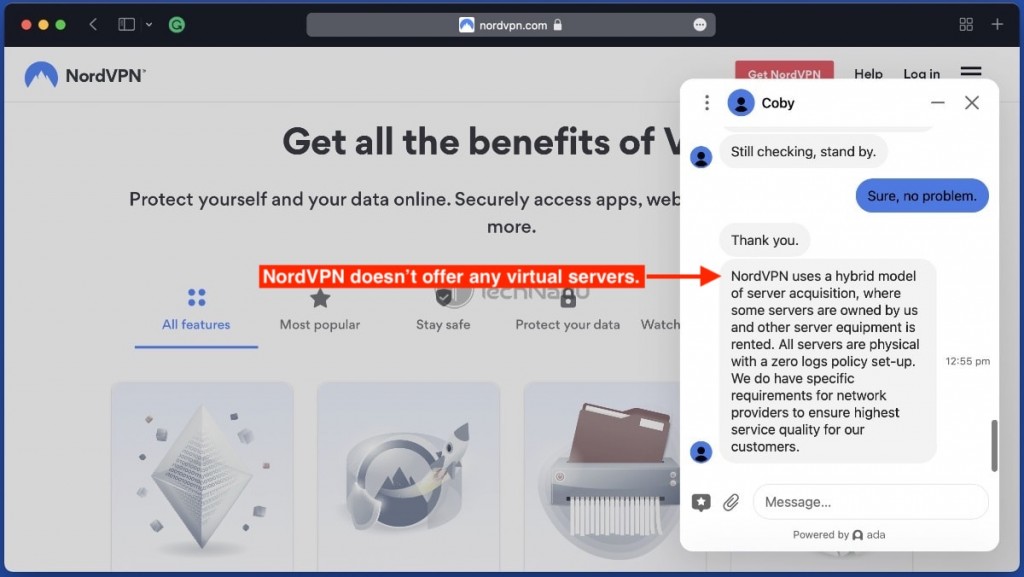 No, NordVPN doesn't use virtual servers. In other words, this VPN's entire server network is based on physical servers spread across the entire world.
In general, having virtual VPN locations at your disposal isn't a major downside. This especially goes for VPNs that are transparent about their server networks. Still, NordVPN is one step ahead by ensuring that its servers are actually found in the "end" locations.
Also, we've mentioned NordVPN's colocated server network at the beginning of this review. Soon enough, this VPN will own its entire server network as opposed to renting individual servers. This is a major benefit (especially when compared to its competitors) as that gives NordVPN a better chance of creating an incredibly safe and privacy-respecting environment.
UI/UX Design & Ease of Use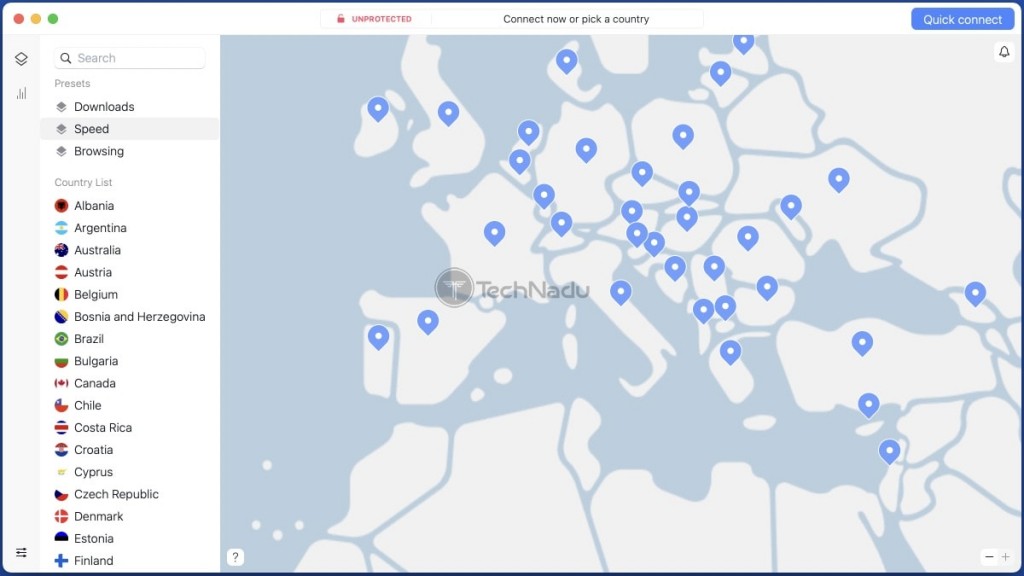 Despite a few awkward things, NordVPN is generally very easy to use. It comes with a user-centric UI across all of its apps. Our Score: 9.5/10
In this segment of our NordVPN review, we'll take a look at the VPN's apps for desktop and mobile platforms. And since Web browser extensions are on offer as well, we'll explain what you can expect from NordVPN in that aspect as well.
How Well Does NordVPN Work on Desktop Platforms?
As you can see from the images in this segment, NordVPN is actually a very simple application. The home screen consists of a large interactive map, which you can use to quickly connect to any NordVPN server.
Alternatively, you can check the left-hand side of NordVPN's UI. This is where you'll find the full list of servers, including NordVPN's specialized servers such as - Dedicated IP, Double VPN, Obfuscated, Onion Over VPN, and P2P. Keep in mind the full list of specialized servers appears only when using the OpenVPN protocol.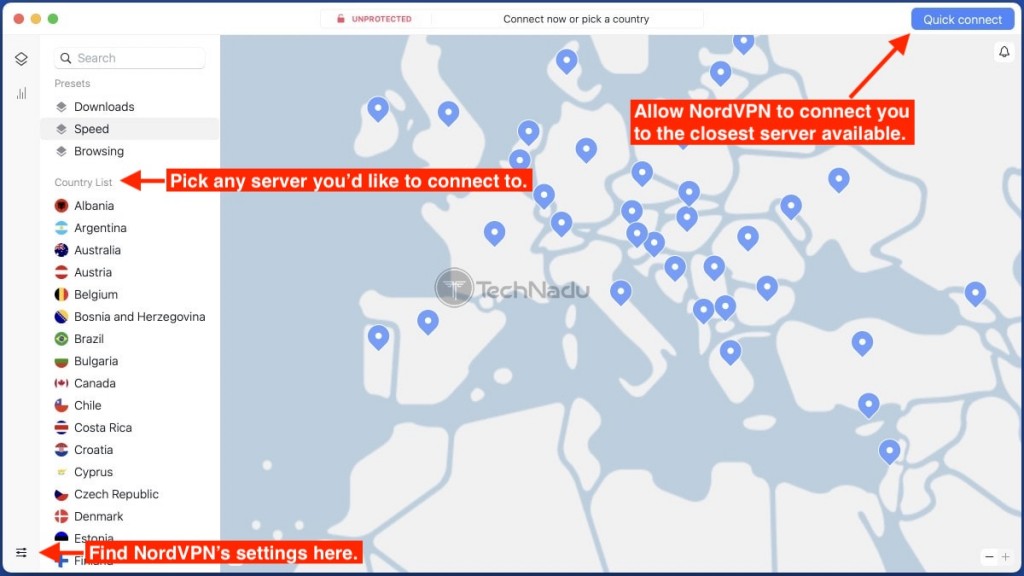 Before you click on any country's name from the left-placed list, you can take your time to pick a server manually. Hover over any country's name, and you'll see a 'three dots' icon on the right. Click on that icon, and a menu will appear. Then, pick a server from this menu and connect to it.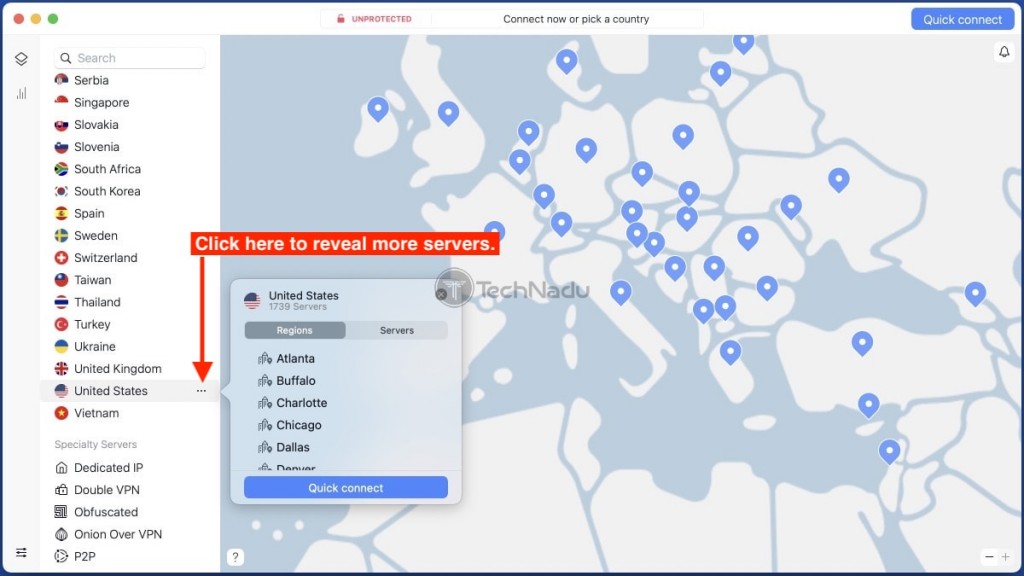 To dive deeper into what NordVPN offers, you can check its settings. To access that side of the VPN, click on the 'Settings' icon, visible in the bottom-left corner. We've tested NordVPN on a macOS computer, so here's what the VPN allowed us to customize:
General: This is where you can instruct NordVPN to auto-launch on system startup. Other than that, you can choose a different VPN protocol and decide whether to send crash reports.
Auto-Connect: NordVPN lets you set how the VPN behaves when connecting to trusted and untrusted Wi-Fi networks. This is how you can set the VPN to auto-connect on public Wi-Fi networks.
Presets: NordVPN gives you three customizable presets (you can add more), accessible via its home screen. You can set a custom protocol and pick a server. That way, you can optimize NordVPN for speed, downloading files, or Web browsing.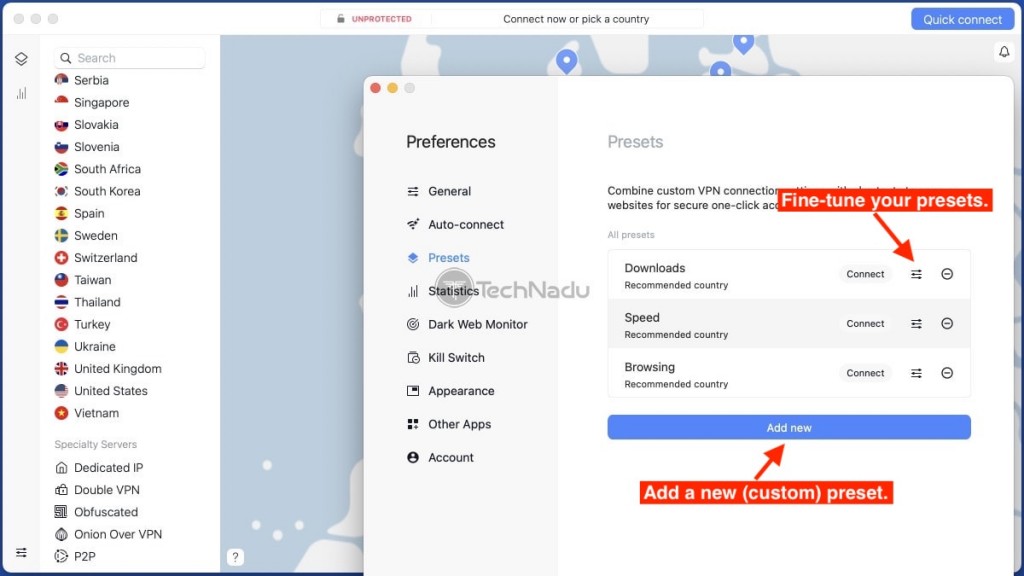 Threat Protection: As mentioned previously, NordVPN's Threat Protection helps you to block ads and trackers. It also scans the files you download, acting as an anti-virus.
Statistics: As you start to use NordVPN, the application will collect information about how much time you've spent connected to its servers (this is locally stored information). You can check the status of your active session, your "streak," and similar types of information.
Dark Web Monitor: Yes, you read that right! NordVPN checks you email address for leaks that might have happened on the Dark Web. In general, this seems like a handy feature to have.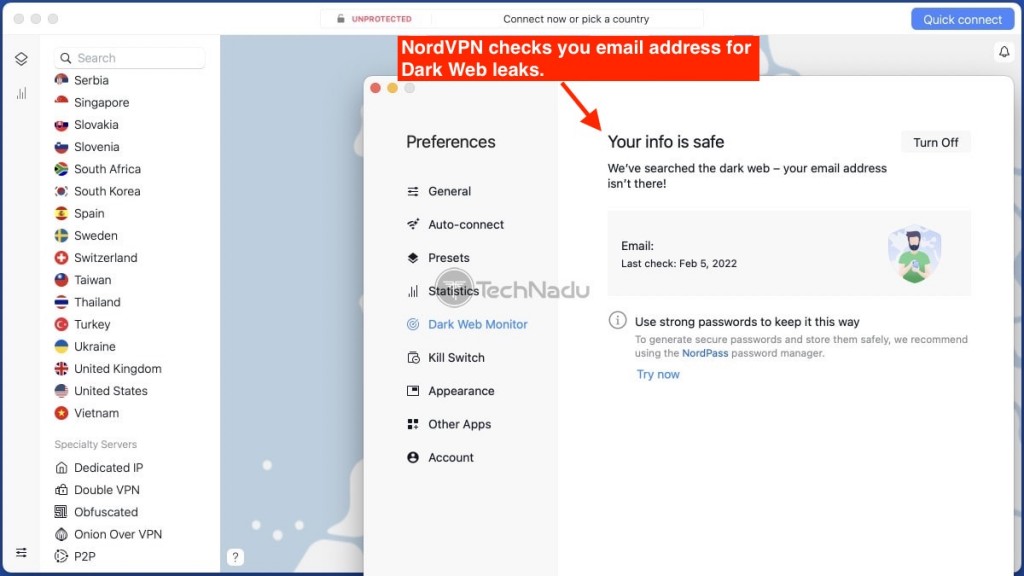 Kill Switch: In case NordVPN's secure connection drops, you can set a list of apps that will be shut down automatically. This is how you can prevent your data from leaking.
Appearance: Since recently, this VPN offers a dark version of its interface, which is a welcome thing to see. You can also decide where to see NordVPN's icon (in your dock or menu bar).
Other Apps: This is a marketing-related tab. Here, you'll find a selection of NordVPN's siblings, letting you learn more about apps such as NordPass, NordLocker, and NordLayer.
Account: And finally, this is where you can review your account's details, your active services, check when your subscription is due to expire, and similar.
How Well Does NordVPN Work on Mobile Platforms?
As mentioned earlier, NordVPN has done a wonderful job of creating a uniform user experience. That means you can count on the same set of UI design principles across all of its apps. This is something we don't often see these days, and it puts NordVPN ahead of its competition.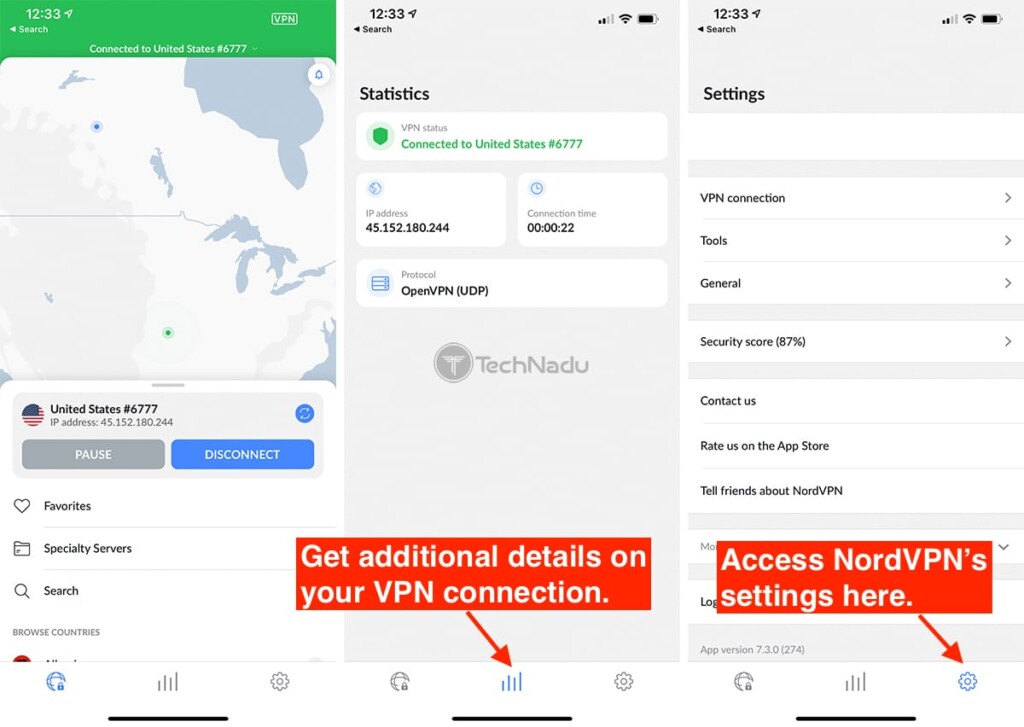 On iOS, the NordVPN app is a joy to use. The app's home screen shows a list of servers, along with an interactive map. Tap on any country using this map, or select a server manually - and you'll be connected in an instant.
At the bottom of the screen, you can check detailed information about the currently active VPN session, along with a button that takes you to the app's settings (where you can change the VPN protocol and more).
When it comes to Android, you'll see practically the same home screen as on iOS. This includes an interactive map, along with a list of all NordVPN's servers below (including specialty servers as well). The 'Settings' icon is found in the top-left corner, acting as a gateway to plenty of options - which includes enabling 'Threat Protection,' choosing a different protocol, and more.
Speaking of NordVPN's settings on iOS and Android, know that there's plenty to fine-tune. So, here's an overview of what to expect.
Threat Protection - Lite (Android & iOS): As mentioned earlier, this is NordVPN's ad-blocking and anti-malware tool. This is where you can enable it, making your private data safer online.
Allow Local Network Discovery (Android): If you'd like to allow your local devices to be easily discoverable (like your TV or printer), this is where you can enable that option.
Split Tunneling (Android): NordVPN offers split tunneling on Android, allowing you to set the apps that will continue to use your "regular" Internet connection.
Auto-Connect (Android & iOS): You can set NordVPN to auto-connect to a server on all Wi-Fi networks or only on specific networks. This feature can be disabled as well.
VPN Protocol (Android & iOS): On Android and iOS, you can choose from OpenVPN and NordLynx. The iOS app also supports the IKEv2 protocol.
Custom DNS & "Tapjacking" Protection (Android): These features are reserved for Android only. You get to set a custom DNS server address, as well as allow NordVPN to protect you against "tapjacking." These are malicious screen overlays that trick you into triggering an unintended action.
All in all, NordVPN's Android and iOS apps are hugely polished and incredibly capable. We highly recommend using them.
How Well Do NordVPN's Web Browser Extensions Work?
NordVPN offers Web browser extensions for Chrome, Firefox, and Edge (and other related Web browsers based on Google's Chromium and Mozilla's Gecko). We're happy to report that Nord's Web browser extensions have been recently overhauled, so here's what to expect.
Once you log in to your account, NordVPN's extension will show an interface letting you connect to a server automatically or manually. If you click on 'Quick Connect,' the browser extension will pick the closest server based on your physical location, which should provide you with the fastest possible speed.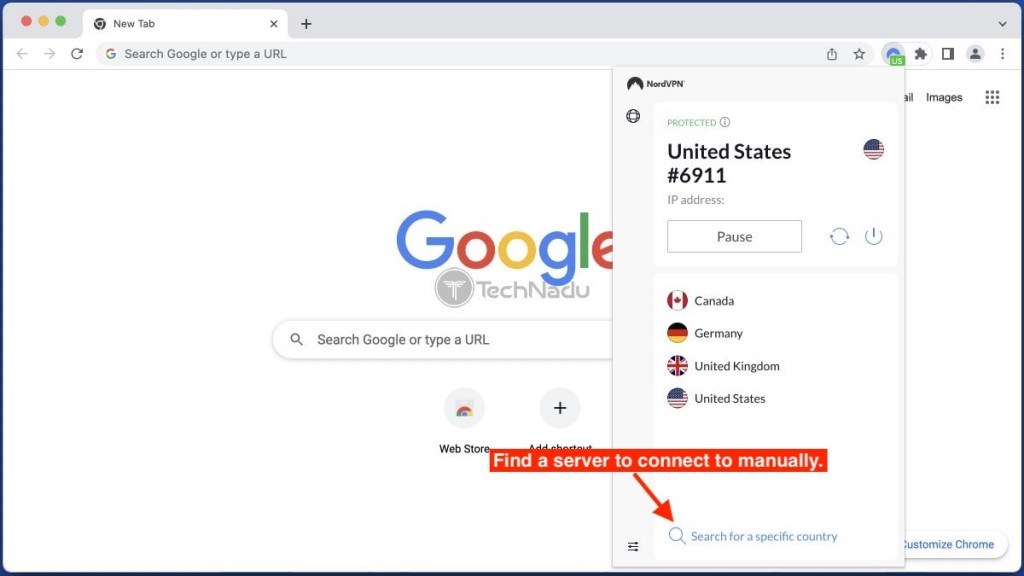 To dive deeper, click on the Settings icon in the bottom-left corner. You'll get to block WebRTC leaks, enable NordVPN's ad-blocking feature, and manage your list of websites that can bypass Nord's proxy (split-tunneling).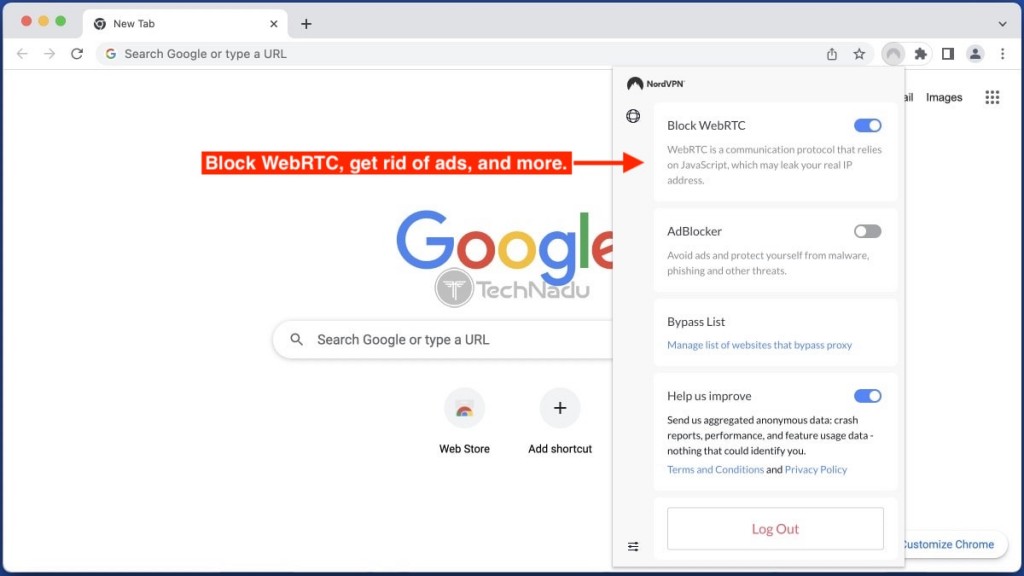 Keep in mind that NordVPN's Web browser extensions don't provide the same security level as the VPN's native apps. Using the app, you get a range of ultra-secure protocols and high-end encryption. And using the extension, your HTTPS traffic will be encrypted via the "Transport Layer Security" (TLS 1.2) protocol, which means we're talking about a proxy (not a VPN) here.
Still, it's good to know that NordVPN's extensions look and work great - especially if you need fast performance, better overall protection for your data, or to eliminate ads.
Media Streaming & Torrenting Support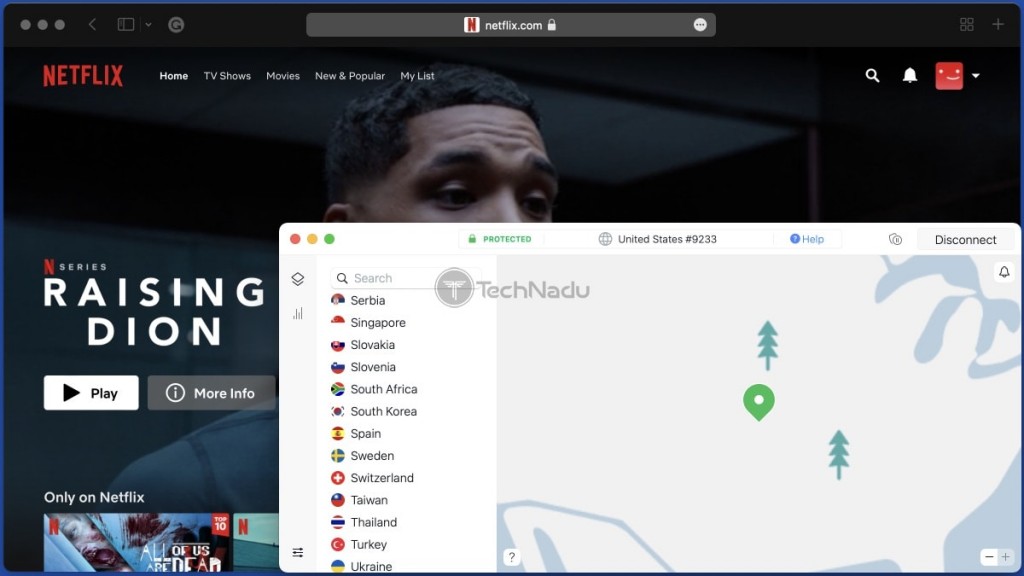 NordVPN works with just about any streaming platform out there. However, you'll often have to search for a streaming-friendly server manually. Our Score: 9/10
One of the benefits of using VPNs is the ability to unblock websites. So, it's not surprising that many are using VPNs to access the US version of Netflix, as well as other hugely popular media streaming services. So, let's take a look at which streaming services NordVPN supports.
Media Streaming u0026amp; Torrenting Support
| | |
| --- | --- |
| Netflix US | YES |
| Hulu | YES |
| Disney+ | YES |
| BBC iPlayer | YES |
| Amazon Prime Video | YES |
| Torrenting (P2P) Support | YES |
Up until a couple of months ago, NordVPN used to present a half-baked solution for streaming. Even though it worked with Netflix and similar services, you had to try your luck by connecting to a bunch of servers manually as not many of them worked for streaming.
Even though NordVPN still doesn't offer dedicated servers for media streaming, this entire process is now much smoother than before. Simply connect to a server in a specific country (based on which streaming platform you'd like to unblock), and that's about it.
As such, we can now recommend NordVPN for media streaming. It's capable of unblocking just about any platform out there. And on top of that, the process of unblocking websites has become quite streamlined. Still, we hope to see NordVPN evolve this feature in the future, perhaps by offering specialized servers for streaming, making it easier to know which services are supported from the get-go.
And lastly, know that NordVPN supports torrenting – but not via regular servers. For this purpose, you'll need to connect to a specialized P2P server. However, you'll be happy to know that NordVPN's P2P servers are spread throughout the world.
Does NordVPN Work With Netflix, Hulu, BBC iPlayer, Prime Video & Disney+?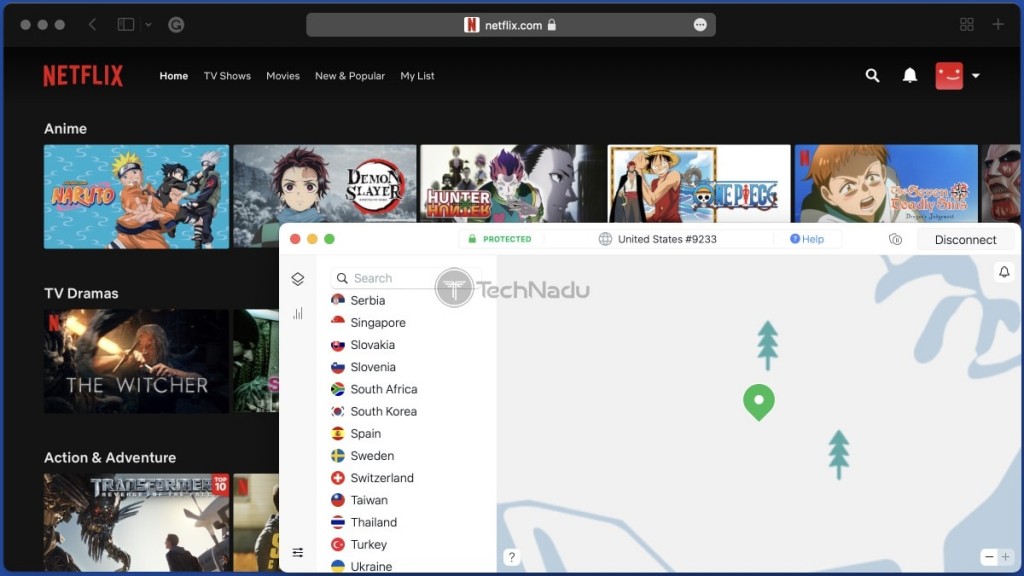 Yes, NordVPN works with pretty much every currently popular media streaming platform. This includes Netflix, Hulu, Amazon Prime Video, Disney+, BBC iPlayer, and more.
We've tested the streaming platforms mentioned above across multiple devices and NordVPN apps. Everything worked smoothly, with NordVPN's performance giving us a very pleasurable movie-watching experience.
We need to add that NordVPN has done plenty to improve its streaming-oriented features. Considering that its long-distance servers now work better than before, this creates new possibilities. If you have a fast Internet connection, streaming in 4K even via long-distance connections should not be a problem.
Which NordVPN Server Works Best for Netflix?
Based on our tests, NordVPN's 'New York' servers work best for Netflix. However, any of the servers from the 'Los Angeles' group should work great as well.
NordVPN's 'New York' servers worked great with other streaming platforms as well, such as Hulu and Disney Plus. Therefore, we recommend using those, primarily. You only need to select 'New York' in NordVPN's interface, and the app will connect you to the fastest server available.
Can You Use NordVPN With Kodi?
Yes, NordVPN is a highly useful tool for any Kodi user. In fact, there are several reasons why you'll want to use this specific VPN alongside Kodi.
First and foremost, NordVPN keeps your private data protected at all times. Thanks to a series of capable protocols (available across different platforms), you'll have plenty of options in terms of securing your data. This minimizes the risk of using unofficial Kodi addons.
And then, NordVPN works wonders for unblocking online content. With that said, you'll find it useful if you want to unblock new types of Kodi addons, allowing you to reach new types of video content.
Security & Privacy
Despite some 'risky' situations from its past, NordVPN is still a highly trustworthy VPN that respects and protects your personal data. Our Score: 9.5/10
Now, let's talk about privacy and security – perhaps the most important aspect when choosing a VPN. We're going to take a look at NordVPN's encryption and logging policy, and we'll test its claims as well.
NordVPN Protocols - Listed & Explained!
The table found below shows which protocols are found in each NordVPN app. So, we strongly recommend taking a look below before we discuss what each of those protocols brings.
| | | | | | |
| --- | --- | --- | --- | --- | --- |
| | Windows | macOS | Linux | Android | iOS |
| OpenVPN | YES | YES | YES | YES | YES |
| IKEv2 | NO | YES | NO | NO | YES |
| NordLynx | YES | YES | YES | YES | YES |
It's worth highlighting that, in some cases, you can add new VPN protocols manually. For example, this is possible with the IKEv2 protocol on Windows and Linux. By installing this protocol manually, you can take advantage of it even if it's not offered natively.
Still, there's a reason why NordVPN offers a select range of protocols in each of its apps. Even though you can overcome that "limitation," you should do that only if you really know what you're doing. Otherwise, rely on NordVPN's built-in protocols.
OpenVPN
OpenVPN is present across all of NordVPN's apps. This is a hugely powerful protocol that comes with strong encryption algorithms. NordVPN couples this protocol with AES-256-GCM (with a 4,096-bit DH key). This would mean that even if someone gets to your data, it would be impossible for them to actually "read" that data.
IKEv2
The IKEv2 protocol is found across Apple-made devices in this case, and it's used by default in NordVPN's apps for macOS and iOS. IKEv2 is considered one of the strongest protocols out there while also managing to provide reliable performance. NordVPN couples it with AES-256 encryption, which should provide the highest level of data protection.
NordLynx (WireGuard)
NordLynx is NordVPN's spin on the WireGuard protocol. This is the newest VPN protocol available, boasting high-end security while providing incredibly fast performance. After extensive testing across several platforms, NordLynx became available in April 2020.
As NordVPN highlights, NordLynx is "modern, extremely fast, and insanely lean in architecture." It consists of only 4,000 lines of code, which makes it incredibly lightweight and flexible. Therefore, you get both protection and performance.
Does NordVPN Log Private Data?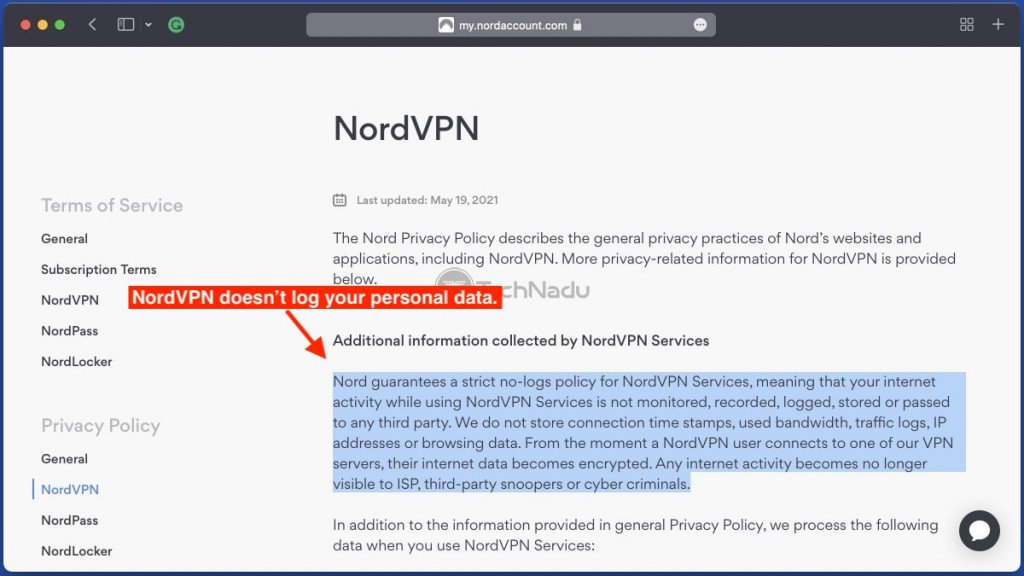 NordVPN has come up with a strict no-logs policy. This VPN does not collect your private data, online activity, or your Internet browsing history.
In other words, none of your personal information is stored on any of NordVPN's thousands of servers. And to prove this, NordVPN went through many independent audits.
However, it's worth noting that NordVPN does collect some data. We're talking here about diagnostic files, anonymized telemetry data, your device's information, and device identifiers.
Even though all of those technical terms sound intimidating, there's nothing to be worried about. NordVPN collects anonymized data only, which helps the VPN service run better and resolve technical problems.
Does NordVPN Leak/Expose Your Personal Data?
To check for any data leaks, we've made several VPN connections using NordVPN and tested those VPN tunnels. As you can see from the images in this segment, no leaks were detected. Our 'true' IP address remained hidden and replaced by NordVPN's 'virtual' information.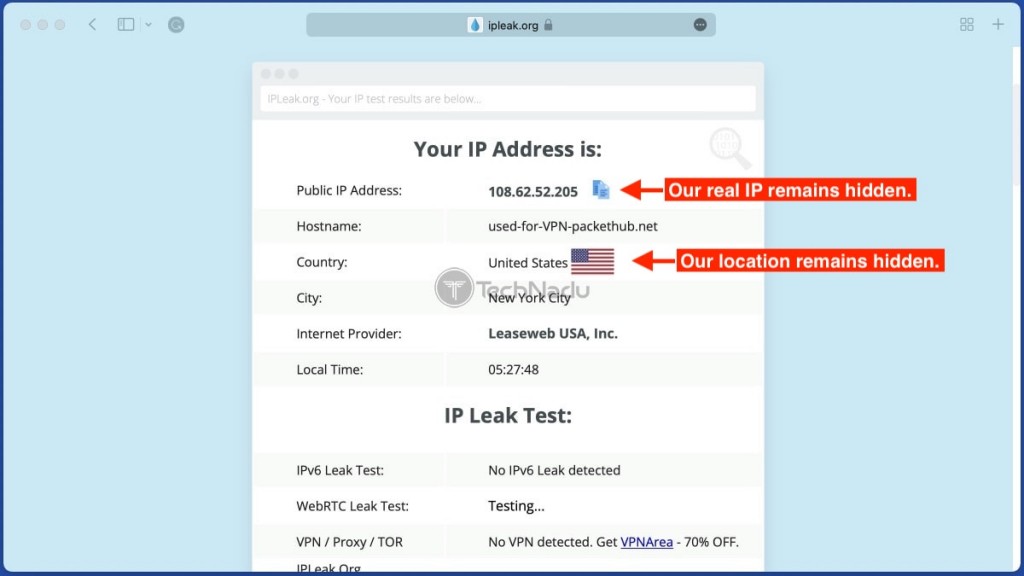 Keep in mind that we've done extensive data leak tests, covering IP, DNS, WebRTC, and geo-location data leaks. All of our data never left NordVPN's tunnel, and no leaks were detected. Therefore, we conclude that this VPN will keep you safe and protected online.
Speed & Performance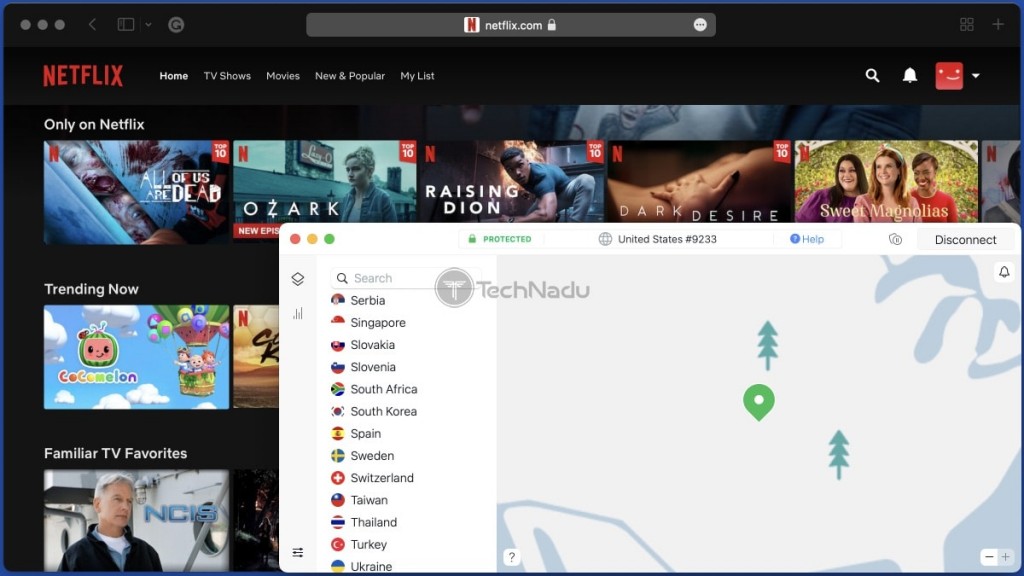 As per our tests, NordVPN performs quite well. Even streaming in 4K or downloading large files should not be a problem - if you have a fast Web connection. Our Score: 9/10
There are no VPNs that will let you retain the full speed of your Web connection. In other words, you can always expect some throttling. With that said, here's what you need to know about NordVPN's performance (which is excellent, by the way).
NordVPN Speed Test
When testing VPNs, we test both local and long-distance connections. However, this process starts by discovering our baseline data. So, our first test shows our Internet connection's download and uploads speeds without having NordVPN enabled in the background.

As you can see from the screenshot above, we got 489.70 Mbps for downloads and 48.47 Mbps for uploads. We'll use those numbers to discover whether NordVPN slows us down and by how much.
Local Speed Tests
When it comes to testing "local" servers, keep in mind that we're located in Europe. For comparative purposes, we always test VPN servers in Italy and the UK.

A NordVPN's server in Italy gave us 415.75 Mbps for downloads and 46.40 Mbps for uploads. All in all, not a bad result. In fact, we think this first round of tests shows a lot of promise.

Next, we tried a NordVPN server found in the United Kingdom. As you can see above, that server gave us 318.11 Mbps for downloads and 41.01 for uploads. So, not as fast as the previous round of testing, but still good enough.
Long-Distance Speed Tests
In terms of testing long-distance VPN servers, we typically connect to servers in the USA, Canada, India, and Australia. We've done the same with NordVPN, so here are the results.
One of NordVPN's servers on the East Coast of the United States provided us with 340.89 Mbps for downloads and 20.87 Mbps for uploads. Overall, better than what we expected since this is a remote server, in relation to our physical location.
Then, a server in Canada performed as expected. We managed to get 307.85 Mbps for downloads and 12.50 Mbps for uploads. We have to note that the upload speed has dropped, as expected from overly remote servers.

Once connected to a server in India, our speed test results gave us the following numbers: 262.07 Mbps for downloads and 11.68 Mbps for uploads. Once again, an excellent result!

And lastly, we also tested a server in Australia (which is on the opposite side of the world in relation to our physical location). We got 209.75 Mbps for downloads and 13.30 Mbps for uploads.
So, How Well Does NordVPN Perform?
We're sure you'll need some help making sense of the numbers found above. For that purpose, we've created the following table, so check it out.
| | | | |
| --- | --- | --- | --- |
| | Download Speed | Upload Speed | Speed Reduction |
| Baseline Data | 489.70 Mbps | 48.47 Mbps | 0% |
| Italy | 415.75 Mbps | 46.40 Mbps | 15.1% |
| UK | 318.11 Mbps | 41.01 Mbps | 35.0% |
| USA | 340.89 Mbps | 20.87 Mbps | 30.3% |
| Canada | 307.85 Mbps | 12.50 Mbps | 37.1% |
| India | 262.07 Mbps | 11.68 Mbps | 46.4% |
| Australia | 209.75 Mbps | 13.30 Mbps | 57.1% |
We conclude that NordVPN made our Web connection slower by 36.8% on average. In general, this is somewhat better than what you can expect out of any reputable VPN out there. However, we have to note that we were very pleased with NordVPN's long-distance performance (for the most part).
What Kind of Performance Can You Expect? - Keep in mind that it's impossible to predict what kind of performance you can expect. That's because that depends on your physical location, your proximity to the nearest server, and more.
As you can see above, NordVPN's performance never dropped below ~210 Mbps in our case, which is still more than enough to stream 4K videos on multiple devices at the same time. With that said, if you have a fast-enough Web connection, NordVPN will meet your needs.
Lastly, know that there's plenty to speed up your VPN connection. Click on the provided link to learn how to get the most out of your VPN.
Is NordVPN Good for Torrenting (P2P)?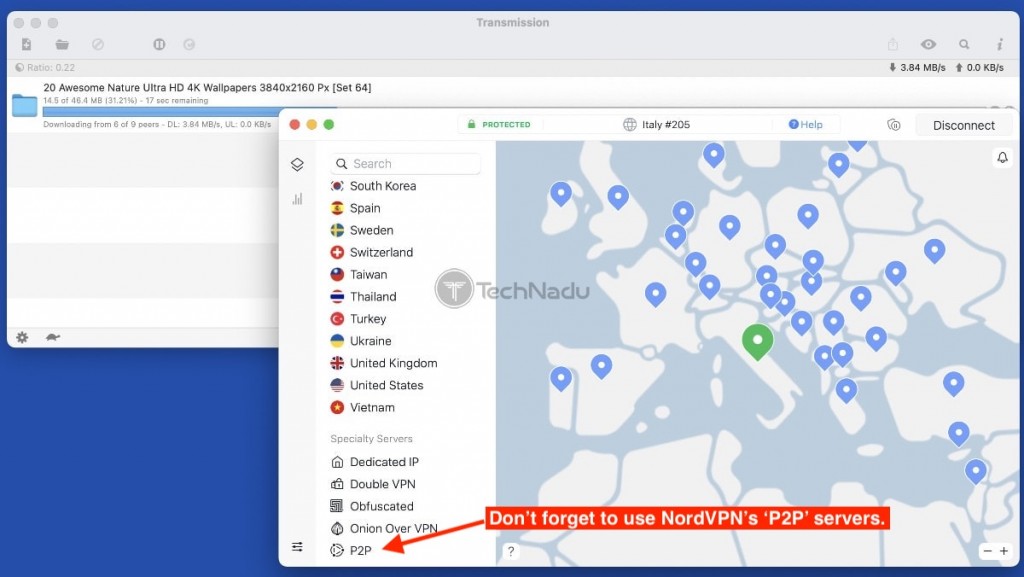 Yes, we recommend NordVPN for P2P-related purposes. That's because this VPN offers an army of servers optimized for P2P traffic.
Aside from expecting a wide range of P2P servers (spread evenly across the world), you can also expect a range of P2P-friendly VPN protocols. By trying different servers and VPN protocols, you can find a combination that leads to fast data transfer speeds.
Is NordVPN Good for Gaming?
Yes, we believe that NordVPN can be an excellent VPN for (online) gaming.
That's because NordVPN comes with an army of servers spread all across the world. Also, it's available on pretty much any device or platform. You also get a whole range of protocols and other options to fine-tune your VPN connection.
With that said, know that NordVPN offers plenty of freedom - which is crucial for gaming. This helps you find fast-performing servers worldwide, secure your Web connection and maximize your gaming experience.
Customer Support
NordVPN offers a complete range of customer support channels - so you can have all your questions answered promptly. Our Score: 10/10
If you take a look at older reviews of NordVPN still found online, you'll see that many were complaining about this company's lack of live chat and other types of customer support.
Well, that is no longer the case. NordVPN has upgraded its customer support system, and you can expect the following types of resources:
Live Chat Support: You can talk to a real person via live chat from any page of NordVPN's website. We've tried this option a few times and managed to get someone to talk to us in a matter of minutes. The company's representatives were quite helpful and polite.
Email Correspondence: In case live-chat is unavailable, you can send an email to the company. However, you can expect a reply to come within 48 hours. Therefore, live chat should always be your first choice, especially if you're in a rush to resolve your problem.
Support Center: NordVPN has a dedicated support page on its website that acts as a troubleshooter. You can check out several support-related categories or use the built-in search option to find an answer to your problems.
Tutorials: Lastly, there are comprehensive installation tutorials that take you through installing and using NordVPN on all of its supported platforms and devices.
Pricing
NordVPN is a high-priced VPN, but it becomes much more affordable via its long-term plans. You'll also find highly attractive deals (with one being available right now). Our Score: 9/10
How Much Does NordVPN Cost?
Here's a handy table where you can check NordVPN's current offer:
By choosing the 2-year plan, you'll save the most. With that said, you can sign up for NordVPN and pay $3.71 per month if you go for its 2-year plan (saving 68% in the process). And if you can't see that price - make sure to use your Web browser's 'Incognito' or 'Private' mode.
Also, make sure to read the fine print as well. When subscribing to NordVPN, the price you pay will be the price for the first term of your subscription. After your first billing period, your account will renew annually (based on the price of NordVPN's annual plan at that moment).
Next, you must be wondering what will happen to NordVPN in two years and if spending your money in this way is a good idea? Let's answer that question!
Well, you should first know that NordVPN has been on the market since 2012. It never suffered an exposing data leak, and it's been one of the best VPNs constantly and consistently.
We also shouldn't forget to mention that NordVPN's 2-year plan comes at a very affordable price – much lower than what you'll find at its competitors. You can also pay via credit cards and crypto-currencies (if you're after complete anonymity).
Lastly, NordVPN offers a 30-day money-back guarantee. In case you're unhappy with the product, or if you're experiencing any issues, you can cancel the subscription and ask to have your money returned, no questions asked.
NordVPN's 30-Day Money-Back Guarantee - Will You Get Your Money Back?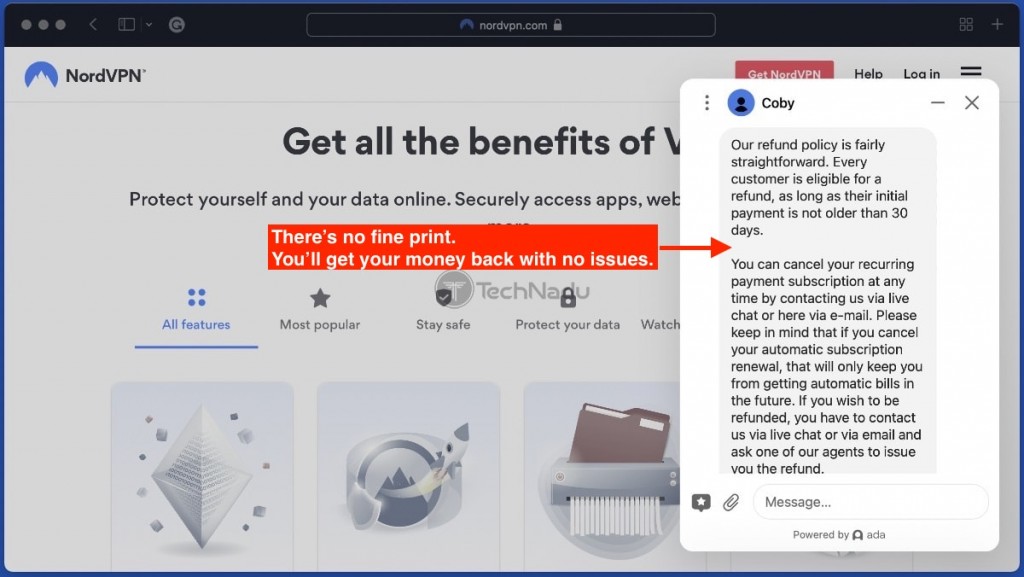 Yes, you will get your money back as NordVPN offers a no-questions-asked money-back guarantee - but only if you've purchased this VPN via its official website.
More precisely, NordVPN gives you 30 days to change your mind, which sounds generous. The only requirement you need to meet is to ask for your money back within those first 30 days. You don't need a specific reason for your decision, as NordVPN won't question it.
With that said, it's clear that NordVPN has nothing to hide. You'll have plenty of time to test this VPN, including all of its apps, tools, and functions. If NordVPN's offer is not to your liking, ask for your money back and find an alternative.
Keep in mind that NordVPN isn't responsible for refunds if you buy your subscription from Google's or Apple's app stores. Instead, you will need to turn to Google or Apple to get a refund. That's why NordVPN doesn't grant refunds if you've used those payment channels.
Is There a Way to Get NordVPN for Free?
No, there's no way to use NordVPN for free. That's because this VPN has never offered a free tier, and we don't expect that to change in the future.
Technically speaking, you can use NordVPN for free via its 7-day trial (on Android only). That's because you will be charged only after the trial ends. Of course, this isn't a free tier, per se. However, it allows you to test-drive NordVPN without spending a single dollar.
NordVPN's Free Trial - Duration, Price & Availability
NordVPN offers a free 7-day trial. However, that option is only available on Android.
If you decide to try NordVPN on a smartphone, you'll need to pick a subscription plan first. This means once your 7-day trial ends, you'll be charged based on the subscription you've picked.
If you cancel your subscription on time, you won't be charged. To learn more about NordVPN's free trial (and how it's different from paid plans), use the provided link.
Lastly, it's interesting to note that NordVPN used to offer a 7-day trial on all of its supported platforms. However, due to widespread abuse, this option has been discontinued. And in terms of NordVPN's competitors, the situation is practically the same.
NordVPN Comparisons & Additional Research Findings
Before we conclude our NordVPN review, we'd like to provide additional information to help you decide whether this VPN is the right pick for you. With that said, make sure to read the following segments carefully.
NordVPN vs. ExpressVPN vs. CyberGhost VPN (Side-By-Side Comparison)
We've spent quite some time testing NordVPN, ExpressVPN, and CyberGhost. Therefore, we'd like to present a quick comparison of these three VPNs.
| | | | |
| --- | --- | --- | --- |
| | NordVPN | ExpressVPN | CyberGhost VPN |
| Jurisdiction | SAFE | SAFE | SAFE |
| Data Logging | NO | NO | NO |
| Encryption | AES-256 | AES-256 | AES-256 |
| Number of Servers | 5,300+ | 3,000+ | 7,500+ |
| Number of Countries | 60 | 90+ | 90+ |
| Number of Connections | 6 | 5 | 7 |
| Speed/Performance | FAST | ULTRA FAST | FAST |
| Kill Switch | YES | YES | YES |
| Split Tunneling | YES | YES | YES |
| Netflix Support | YES | YES | YES |
| Hulu Support | YES | YES | YES |
| Prime Video Support | YES | YES | YES |
| Disney+ Support | YES | YES | YES |
| Live Chat | YES | YES | YES |
| Free Trial | YES | YES | YES |
| Price (Monthly) | $3.71/month | $6.67/month | $2.15/month |
Choosing between NordVPN, ExpressVPN, and CyberGhost VPN is hard because these VPNs are the best VPNs on the market today. They're all capable of protecting your privacy using innovative technologies while bringing many other benefits as well.
When comparing NordVPN and ExpressVPN, we can see subtle differences throughout. For example, NordVPN brings an ad-blocker and offers the ability to use multiple servers at once. It also offers a couple of unique features, like its Dark Web Monitor and Presets.
When comparing it to CyberGhost VPN, we can see that NordVPN offers fewer servers and simultaneous connections. However, it also comes with plenty of extras, including features like Threat Protection, which CyberGhost doesn't offer (even though it does offer a standalone anti-virus). Therefore, we are talking about subtleties here.
With that said, NordVPN has positioned itself as a hugely capable and competitive VPN service. Thanks to its affordable price and a huge number of capable features, there are several reasons to pick NordVPN over ExpressVPN and CyberGhost VPN.
Does NordVPN Work in China?
Yes, NordVPN works in China. It's actually one of the best options in terms of VPNs capable of going around the Great Firewall of China.
If you're traveling to this country, we highly recommend signing up for NordVPN before you arrive in China. That's because NordVPN's website isn't available in the country, even though you can always search Google for mirror URLs.
Of course, you can always rely on NordVPN's support for any questions. The VPN's team will be happy to offer detailed installation guides, provide installation files, and provide you with anything else you might need to make this VPN work in China.
So, in case you're not able to visit NordVPN's website, send an email to support@nordvpn.com.
What's NordVPN Missing?
In all honesty, there's not much missing here. Overall, NordVPN is a well-rounded VPN service that caters both to beginners and advanced users. However, certain aspects can be improved.
Split tunneling is a highly useful feature that gives you numerous benefits. However, NordVPN offers this option only on Android and Windows, with no official statements whether we'll see it expand to other platforms in the future.
And if we were to nitpick, we could say that NordVPN doesn't have a dedicated router app. This means you'll need to rely on configuring NordVPN on your router manually, which can be an overly complex process. VPNs such as ExpressVPN offer router apps, making it easier to get started.
NordVPN Pros & Cons - Here's the Bottom Line!
Lastly, it's time to check NordVPN's pros and cons after spending plenty of time testing this VPN. With that said, here's the bottom line.
NordVPN Pros
Incredibly polished UI and UX design.
An army of servers - evenly spread across the world.
High-end VPN protocols (coupled with capable encryption).
No personal data logging - independently audited.
Supports numerous media streaming platforms.
Suitable for P2P traffic and online gaming.
Affordable long-term plans.
Incredibly helpful customer support.
Customer-friendly money-back policy.
NordVPN Cons
Split tunneling available on Android and Windows only.
Doesn't offer a dedicated router app.
High-priced monthly subscription.
So, Do We Recommend NordVPN?
NordVPN does indeed have a few quirks. However, the same could be said for any VPN service out there. The most important thing is that, at its core, this is a rock-solid VPN that truly takes care of your privacy and makes sure your sensitive data doesn't leak on the Internet.
NordVPN is beloved by millions of users around the world, and we can easily see why. It allows you to browse the Web, stream media, and even download torrents – all while being 100% safe online.
You can see why it's easy to recommend NordVPN to those looking for a trustworthy VPN solution. So, go ahead and check out NordVPN for yourself!