As our overview of the best Tomato routers will tell you, these routers come with a competent set of VPN-friendly features. So, if you have one – you'll want to know how to set up and use ExpressVPN on your Tomato router. That's precisely what this guide will show you.
Note
In theory, ExpressVPN should work on any Tomato router. Still, as per this VPN's documentation, ExpressVPN has been tested on 'AdvancedTomato' version 3.5-140. To see the supported devices, here's the list of AdvancedTomato supported routers. 
1. Start this procedure by sign up for an ExpressVPN subscription. 
2. You'll land on the VPN's website, where you need to click on 'Get ExpressVPN.'
3. Then, pick a subscription. Keep in mind that long-term plans have the biggest savings.
4. Provide your email address and finalize this process by paying for your subscription. 
5. As soon as you're done, you'll receive a confirmation email from ExpressVPN. 
6. Now, feel free to return to ExpressVPN's site. Start from its home page. 
7. Using the website's main menu (in the top-right corner), pick 'My Account.'

8. Input your email address and password, and then select 'Sign In.'
9. You'll be asked for a verification code as well, which you can copy from your inbox. 
10. Once you access your account dashboard, click on 'Set Up Other Devices.'

11. A new page will open, where you need to select 'Manual Configuration' on the left. 
12. On the right side, make sure to click on the 'OpenVPN' button. 
13. This is when you'll see your OpenVPN username and password.
14. Just below, you'll also find OVPN files that correspond to each ExpressVPN server. 
15. Make a note of your username/password, and download any OVPN file. 
16. Also, keep that page open in the background to easily copy the required data.
17. Now, access your router by using its default IP address.
Tip
If you're not sure about your router's IP address, we have handy guides that can help you. Here's how to find your router's IP on Windows, Mac, Android, and on iPhones and iPads.
18. Then, provide your router's credentials (by default, these should be 'root' and 'admin'). 
19. At this point, you should be looking at your router's admin panel. 
20. Using the left-placed sidebar, navigate to VPN > OpenVPN Client. 
21. First, fill out the required information in the 'Basic' tab, as explained below. 
Start with WAN: Feel free to check this box. 
Interface Type: Select 'TUN.'
Protocol: Pick 'UDP.'
Server Address/Port: You can find this information in the OVPN file you downloaded moments ago. Open it using any text editor. For the 'Server Address' field, copy the server address between the word 'remote' and the four-digit number in that same line. And that four-digit number is your 'port' number. 
Firewall: Pick 'Automatic.'
Authorization Mode: Select 'TLS.'
Username/Password Authentication: Make sure to enable this box. 
Username: Copy your username from your ExpressVPN account dashboard. 
Password: Copy your password from your ExpressVPN account dashboard. 
Username Authen. Only: Feel free to leave this field unchecked. 
Extra HAMC Authorization: Pick 'Ongoing (1).'
Create NAT on Tunnel: Select this box.
22. Double-check if you typed in everything correctly, and then click 'Save.'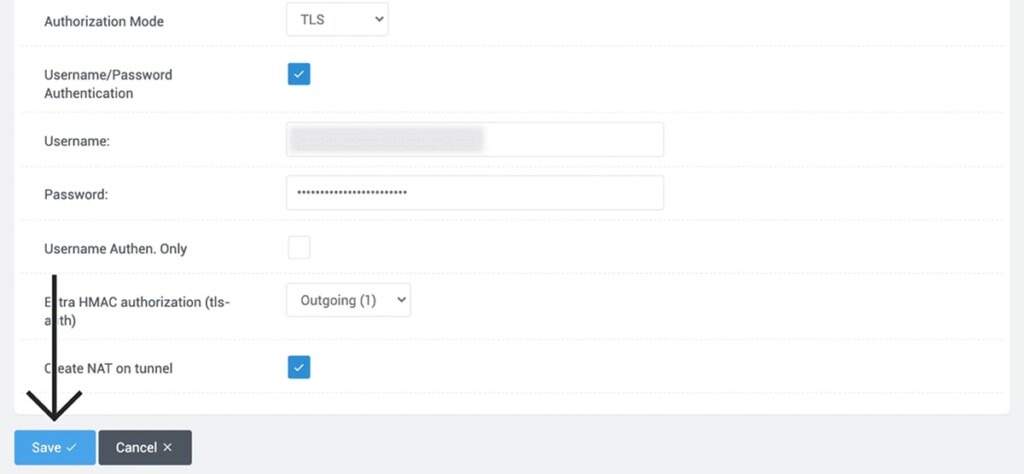 23. Next, you need to fill out the information in the 'Advanced' tab. 
24. Make sure to click on 'Advanced' and then use the information found just below. 
Poll Interval: Don't change anything here. 
Redirect Internet Traffic: Select this box to enable this option. 
Accept DNS Configuration: Pick 'Exclusive.'
Encryption Cipher: Make sure to pick 'AES-256 CBC.'
Compression: Pick 'Adaptive.'
TLS Renegotiation Time: Enter '-1' here. 
Connection Retry: Enter '-1' here as well.
Verify Server Certificate: Feel free to uncheck this box. 
Custom Configuration: Open the OVPN file you downloaded earlier – and make sure to open it using a text editor. Then, copy the values from the following fields: tun-mtu, fragment, mssfix, keysize, auth, sndbuf, rcvbuf. Check the screenshot below of how that should look like (when pasted to your router's VPN setup fields). 
25. Again, recheck if you've entered everything correctly and hit 'Save.'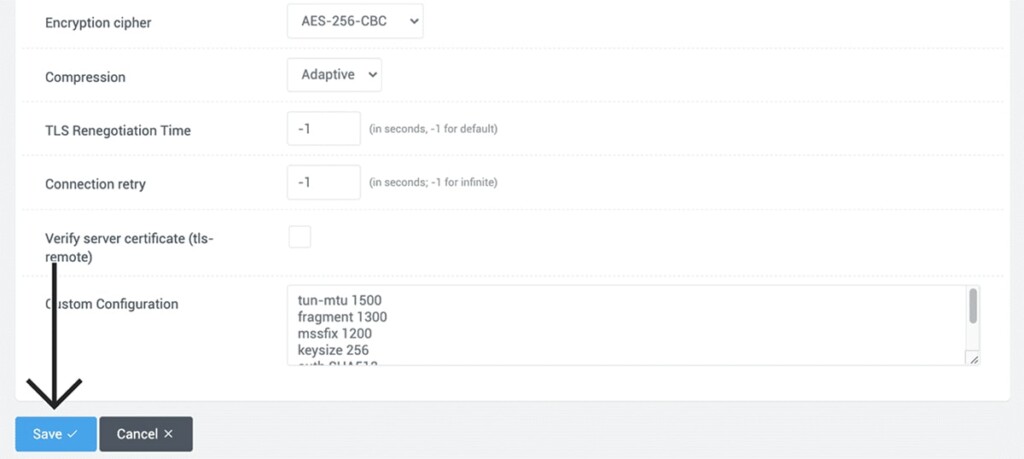 26. Then, locate the 'Keys' tab at the top. 
27. Open the OVPN file again (using a text editor). 
28. Check below how to find your keys, and then copy them into the appropriate fields.
Static Key: Copy everything between the <tls-auth> and </tls-auth> tags in the OVPN file. Then, paste that information into the 'Static Key' field. 
Certificate Authority: Copy everything between the <ca> and </ca> tags in the OVPN file, and paste that chunk of that text into the 'Certificate Authority' field. 
Client Certificate: Copy the text between the <cert> and </cert> tags. 
Client Key: Copy the text between the <key> and </key> tags. 
29. Once you paste the required data into all four fields, click on 'Save.'
30. You'll now want to test your connection. So, at the top, make sure to pick 'Status.'
31. Identify your VPN connection. Press the 'Play' icon on the right-hand side. 
32. If everything goes correctly, you should see a note saying 'Running' on the left. 

33. We also recommend using ExpressVPN's IP checker to check for any leaks.
34. If you want to disconnect at any point, go to VPN > OpenVPN Client. 
35. Then, pick 'Status' at the top. This time, click on the 'Stop' icon on the right. 
That would be all on how to set up and use ExpressVPN on a Tomato router. We know this procedure can be somewhat confusing, so make sure to post any questions just below (using the comments section). And lastly, thank you for reading!