Sabai routers are made for more advanced users, willing to customize everything about their Web connection. With that said, we will show you how to set up and use ExpressVPN on your Sabai router, letting you encrypt and protect your data. Here's our step-by-step guide. 
Note
ExpressVPN should work with any Sabai router, as long as it supports OpenVPN connections. Even though ExpressVPN doesn't offer custom firmware for Sabai routers, you can still get the same result by configuring an OpenVPN connection manually - as explained below.
1. Start this process by getting your ExpressVPN subscription. 
2. You'll land on ExpressVPN's site, where you need to click on 'Get ExpressVPN.'
3. First, pick a subscription (long-term ones come with the biggest savings). 
4. Once you enter your email address, proceed to pay for your new subscription. 
5. Expect to receive a confirmation email from ExpressVPN's team once done. 
6. This is when you can return to ExpressVPN's site (start from its home page). 
7. Select 'My Account,' visible in the top-right corner (on the main menu). 

8. Provide your account's email address and password and click on 'Sign In.'
9. You'll be asked for a verification code, which you'll receive via an email message. 
10. Once you access your account's online dashboard, click on 'Set Up Other Devices.'
11. On the left-hand side, pick 'Manual Configuration.' 

12. On the right-hand side, make sure to select 'OpenVPN.'
13. Take a look to the right, and you'll see your OpenVPN username and password. 
14. Just below, you will also see individual servers and their corresponding OVPN files. 
15. Download any OVPN file and make a note of your username and password. 
16. Access your router's admin panel by entering 192.168.199.1 in the Address bar. 
17. You will now be asked for your router's username and password. 
18. By default, these are 'admin' and 'sabaipass123.'
19. If you haven't activated your router before, make sure to do so now. 
20. Then, click on 'Network' using the left-placed sidebar. After that, select 'OpenVPN.'
21. On the right, select 'Choose File,' and a new window should open.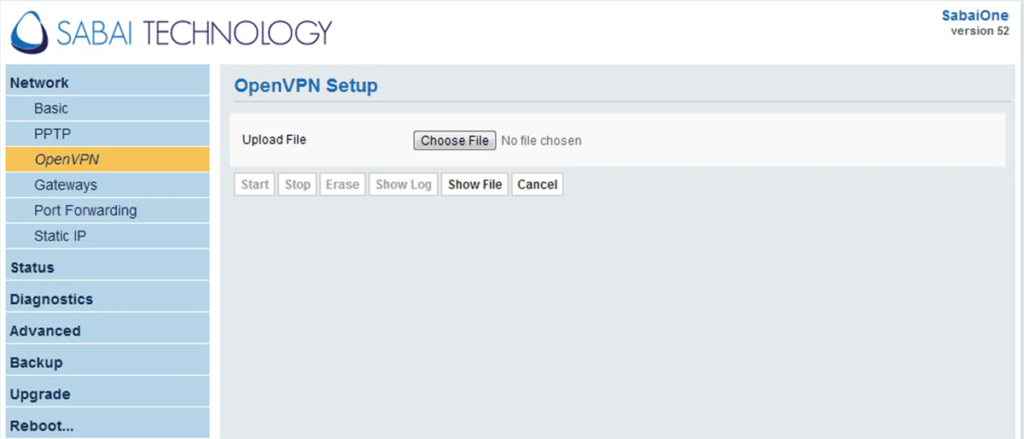 22. Navigate to the OVPN file you downloaded moments ago and select it.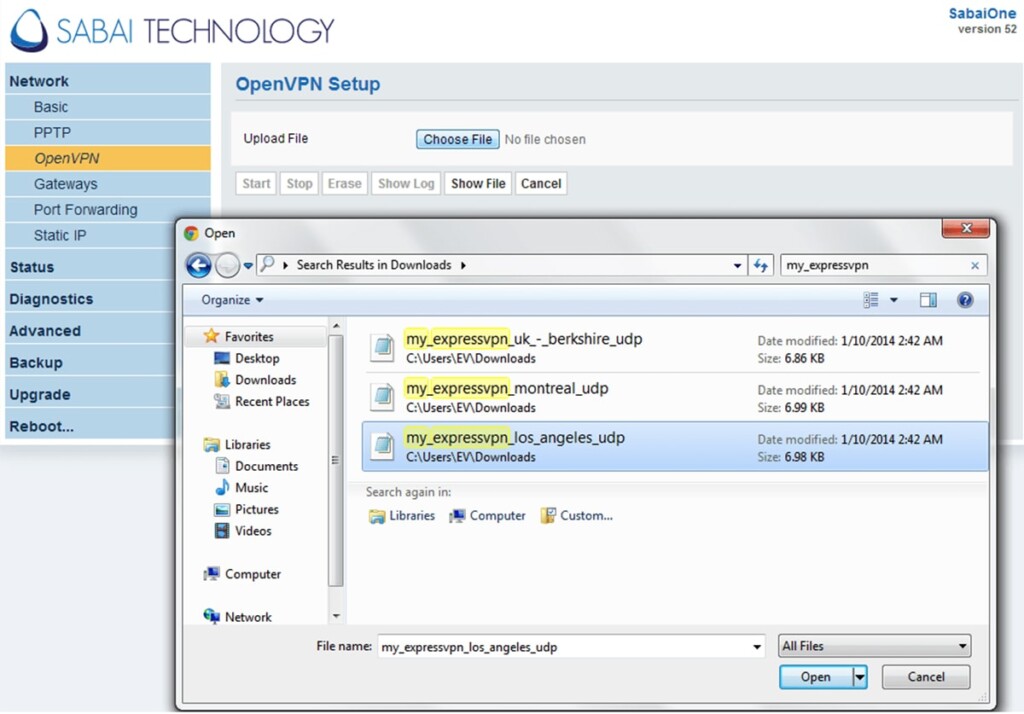 23. Once you upload the OVPN file, click on the 'Show File' button. 
24. You will see two fields now, labeled 'Username' and 'Password.' 
25. Copy your username and password from your ExpressVPN account dashboard. 
26. Then, click on 'Start' to initialize your OpenVPN connection. 
27. Wait up to 30 seconds. You should see a confirmation in the top-right corner. 

28. Then, check for any leaks using ExpressVPN's IP address checker.  
29. The location you'll see there should not correspond to your actual location. 
30. From this moment on, your Web data will be routed through ExpressVPN's servers. 
31. To disconnect (and return to your 'regular' connection), press the 'Stop' button. 
32. You can also connect to a different server by going to Network > OpenVPN. 

33. Click on 'Erase' - and confirm your decision. You can only have one connection active.
34. Upload a different OVPN file and make sure to enter your OpenVPN credentials. 
35. Click on 'Start' to re-establish your VPN connection. 
That would be all on how to set up and use ExpressVPN on a Sabai router. In case you have any questions or doubts, make sure to post your comment just below. And lastly, thank you for reading!