Freebox devices let you access a wide range of online content, which you can further enhance using a VPN service. Trust us; you're only minutes away from unlocking the full potential of your device. With that said, let's show you how to set up and use ExpressVPN on your Freebox. 
ExpressVPN doesn't provide a list of supported Freebox devices. However, the VPN has been tested on the Freebox Revolution line of devices. Apart from those, you should be able to use ExpressVPN with any Freebox device that supports the OpenVPN protocol.
Keep in mind that ExpressVPN doesn't extend its VPN protection to any devices connected to Freebox. In other words, only your Freebox will be covered by the VPN as well as its integrated "seedbox" (along with downloads initiated through the seedbox). 
1. Begin this procedure by getting your ExpressVPN subscription.
2. You'll end up on ExpressVPN's site, so go ahead and click on 'Get ExpressVPN.'
3. Now, pick a subscription (go for a long-term one if you're after savings). 
4. Provide your email address and then finalize the sign-up procedure.
5. Once done, expect to see an email from ExpressVPN, so make sure to check your inbox.
6. This is when you can return to ExpressVPN's website (go to its home page). 
7. Select 'My Account' using the website's main menu, visible in the top-right corner. 

8. Then, input your email and password and click on 'Sign In.'
9. When asked for a verification code, copy it from your email inbox. 
10. At this moment, you should be looking at your ExpressVPN online dashboard. 
11. Select 'Set Up Other Devices,' which is a button visible at the top of that page. 
12. On the left-hand side, click on 'Manual Configuration.'
13. On the right-hand side, pick 'OpenVPN' and take a good look at that section. 
14. Make a note of your OpenVPN username and password (you'll need those soon). 
15. Just below, pick any server you'd like to use – and download its OVPN file. 
16. We recommend leaving that page open in the background.
17. Now, access your Freebox dashboard via http://mafreebox.freebox.fr.
18. If asked for credentials, supply them and then access your Freebox device.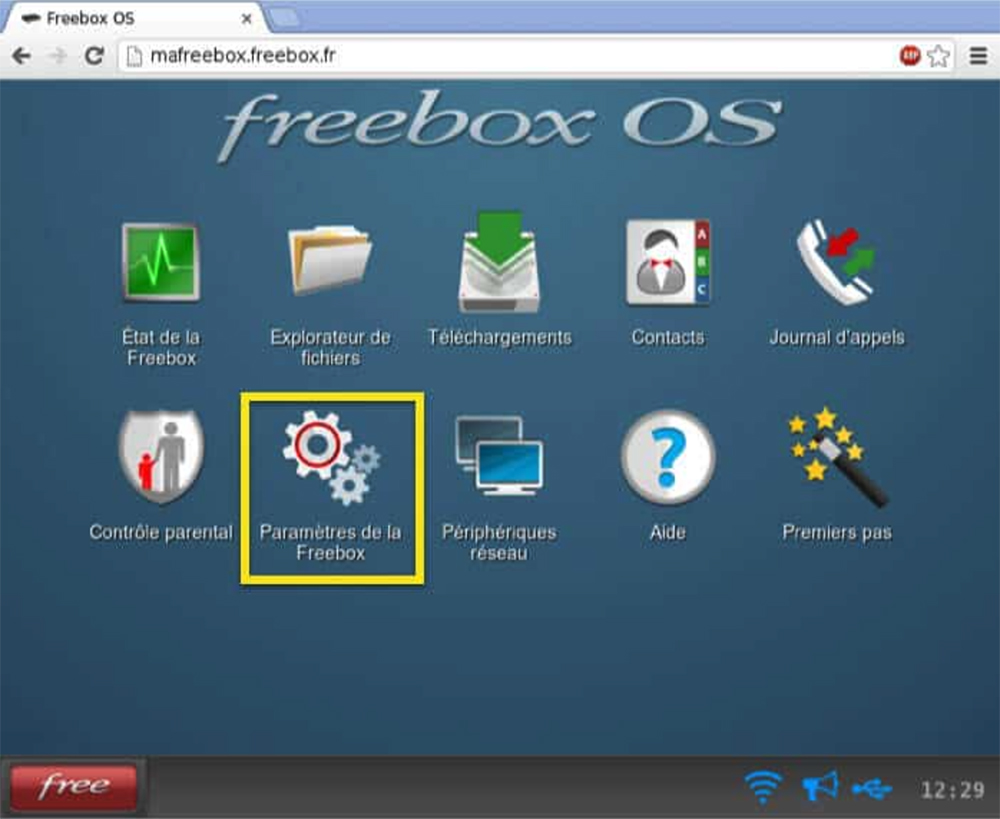 19. Now, click on 'Paramètres de la Freebox.'
20. Then, select the 'Mode Avancé' tab and proceed to click on 'Client VPN.'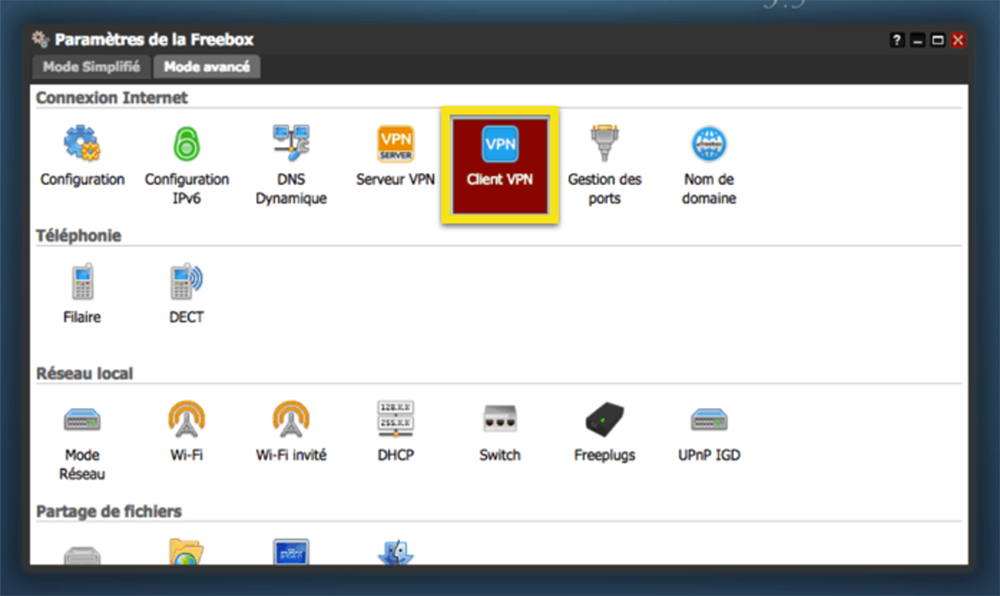 21. Now, select the 'Configuration VPN' tab and click on the plus (+) icon on the right.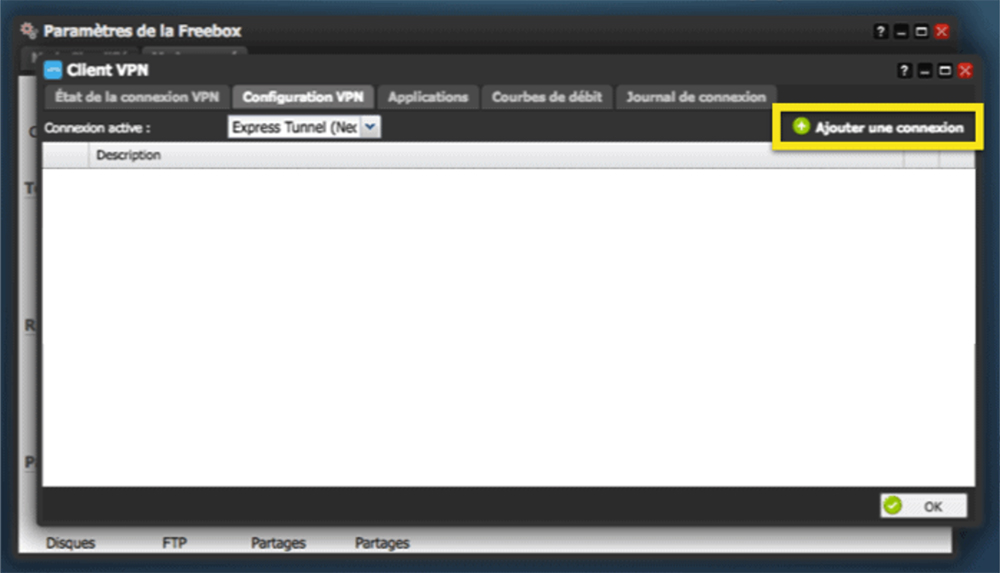 22. You'll see a series of fields, so fill them out based on the following. 
Description: Pick any name for your connection (easy to remember).
Type de serveur VPN: Select 'OpenVPN.'
Nom d'utilisateur: Copy your OpenVPN username (from your dashboard).
Mot de passe: Copy your OpenVPN password (from your dashboard). 
23. Then, select the 'Parcourir' button and upload the OVPN file from your computer. 
24. Once done, select 'Sauvegarder' to save your new VPN connection's parameters.
25. Using the 'Client VPN' window, click on 'État de la connexion VPN.'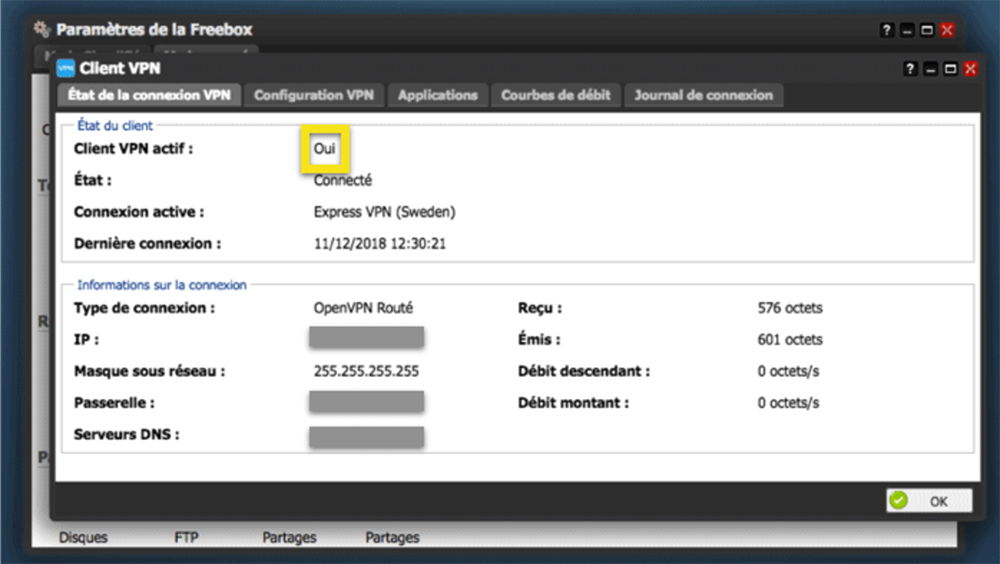 26. At the top, check the status of your VPN connection next to 'Client VPN actif.'
27. Finally, select the 'Applications' tab (in the 'Client VPN' window).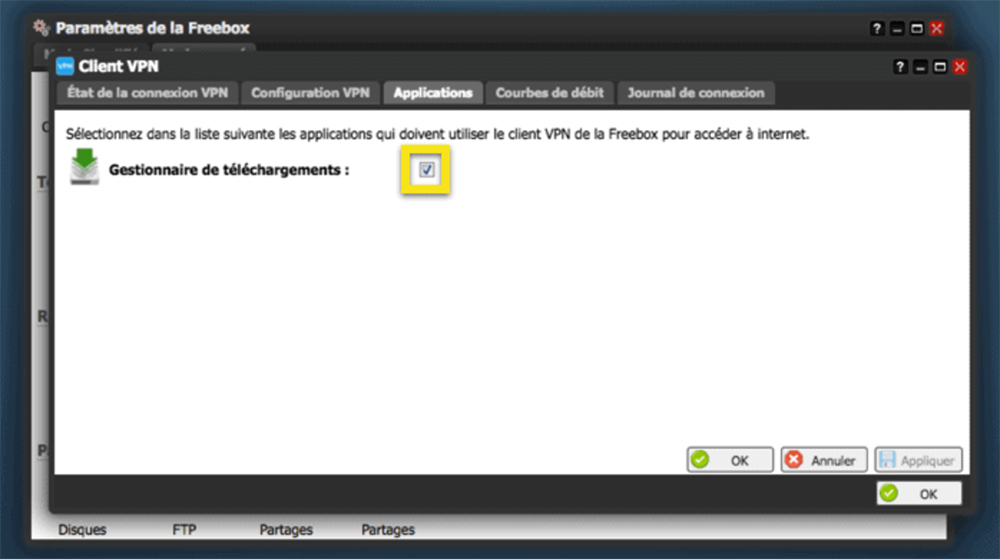 28. You will see a single box there, which needs to be checked. That's it!
That would be all on how to set up ExpressVPN on a Freebox device. In case you have any questions, know that we're here to assist. So, make sure to post your comment below. And lastly, thanks for reading!