Xbox consoles can't run VPN applications. So, if you wish to set up ExpressVPN on your Xbox, you'll need to use a workaround. That said, you have 3 options available right now.
You can use ExpressVPN's MediaStreamer, using which you can unblock streaming services on your Xbox. You won't get encryption or DDoS protection that way. So, if you want those VPN features, you can set up ExpressVPN on a router or share ExpressVPN from your computer.
No matter which method you pick, we recommend updating your Xbox first. So, go to Settings > System > Updates and download the latest software version. After that, keep reading to learn more about setting up ExpressVPN on your Xbox One or Xbox Series X|S.
How to Set Up ExpressVPN on Xbox
As mentioned briefly above, there are 3 ways to get ExpressVPN to work on your Xbox console. These are your options available at the moment:
Method #1: Use ExpressVPN's MediaStreamer Feature
Setting up ExpressVPN on an Xbox through its MediaStreamer feature lets you unblock streaming services (those available in the US). Here's what you need to do:
1. Sign up for ExpressVPN using a computer and any Web browser.  
2. After you subscribe, click "My Account" using the top-placed main menu on ExpressVPN's site. Provide your credentials and access your ExpressVPN dashboard.

3. Select "DNS Settings" on the left-hand side. Click the "Register My IP Address" button. Also, flip the switch next to "Automatically Register My IP Address."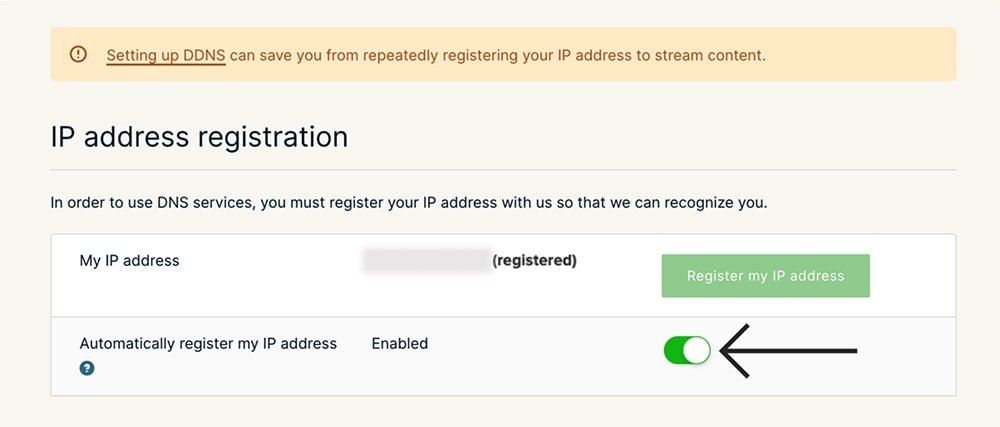 4. Return to your ExpressVPN dashboard and go to Set Up Other Devices > MediaStreamer. Make a note of your MediaStreamer IP addresses on the right.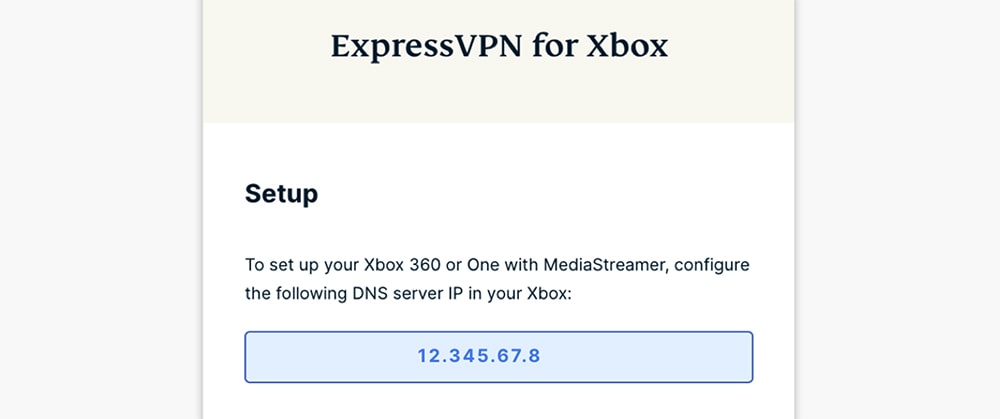 5. Now, return to your Xbox console and navigate to Settings > General > Network Settings.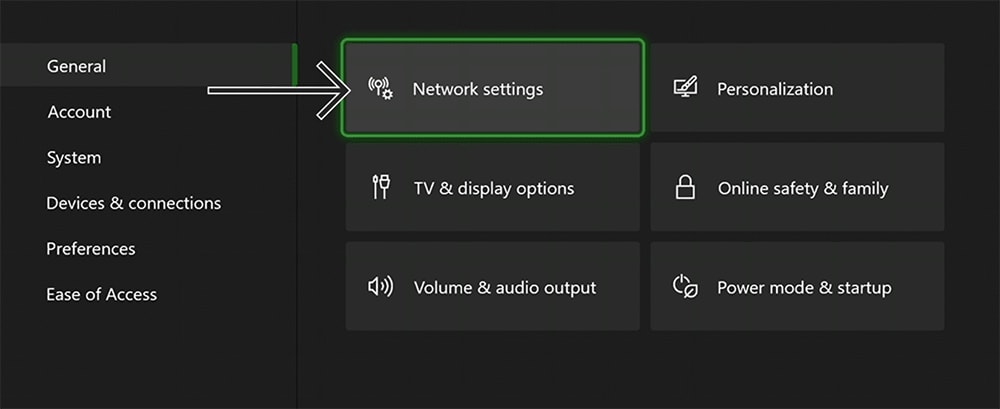 6. Under "Set up Wireless Network," select "Advanced Settings."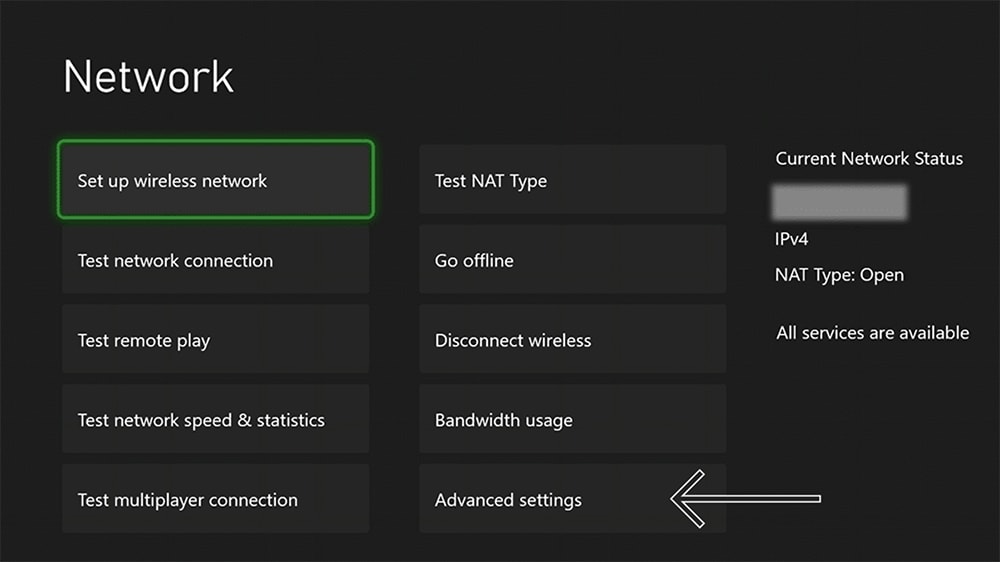 7. Once you pick "DNS Settings," select "Manual."

8. You'll now need to input your DNS address from ExpressVPN's dashboard. 

9. Once you input the numbers, press the menu button (≡) to proceed. Input the secondary DNS address as well from your ExpressVPN dashboard. Save your changes. That's it!

To force your Xbox to use the newly added DNS server, you need to restart your console. The next time it connects to the Web, your Xbox will send your traffic through ExpressVPN's DNS server, which means you'll be using its MediaStreamer feature.
Method #2: Set Up ExpressVPN on Your Router
By setting up ExpressVPN on a router, you can change your Xbox location and gets a plethora of VPN-related features. That means your router will encrypt your data, protect you against DDoS attacks, hide your IP address, and plenty more.
Of course, that also means you need a router that can run VPN connections. If you don't have one, here are the best VPN routers available right now. You can also read about how to choose a VPN router, helping you find a product suitable for your needs.
Then, check our guide on how to set up ExpressVPN on a router. That's where you'll find more info on the supported devices, as well as guides for individual router brands.
Method #3: Share ExpressVPN from Your Computer
Another way to use ExpressVPN on Xbox is to share it from your computer. That way, you don't need a dedicated VPN router. Instead, you'll turn your computer into a router.
As you can already guess, you'll create a virtual Wi-Fi network that way. That means you can connect your Xbox to that network and get encryption, DDoS protection, and more.
To learn what exactly you need to do, here's how to share ExpressVPN's connection on Windows and share ExpressVPN's connection on a Mac.
If Xbox is connected to your local network via ethernet then you can share your VPN connection over ethernet from a windows PC.
Final Thoughts
All in all, ExpressVPN is the best option for Xbox One & Series X|S because it gives you multiple options. You can use ExpressVPN's MediaStreamer if you only want to stream media. However, other ways to connect ExpressVPN on your Xbox (or, better said - workarounds) let you take full advantage of the VPN's power and its 3,000+ servers.
To check how to cover more devices with this VPN's protection, here's how to install ExpressVPN on all its supported devices. And if you want more options, our guide to the best VPN for Xbox will show you what else is out there.
FAQ
Can I Use ExpressVPN on Xbox?
Yes, you can use ExpressVPN on your Xbox Series X|S or One consoles via its MediaStreamer feature. That's a SmartDNS service that lets you unblock streaming apps available in the US.
Other workarounds also exist, such as installing ExpressVPN on a router or sharing the VPN from your Windows/macOS computer.
Does ExpressVPN Work with Netflix on Xbox?
Yes, ExpressVPN works with Netflix on Xbox consoles. More precisely, it helps you reach the American version of Netflix from any country in the world.
That would be all on how to set up and use ExpressVPN on an Xbox console. If you have any questions, let us know by posting a comment below. Lastly, thank you for reading!