ExpressVPN offers a highly advanced Google Chrome extension that works in a unique way. Instead of being a proxy, as practically all other VPN extensions are, the ExpressVPN Chrome extension is a gateway to ExpressVPN's native application. You can install it in a matter of seconds and gain access to high-end protocols, solid encryption, and over 3,000 servers.
The only requirement is to install ExpressVPN on Windows, macOS, or Linux first. Use the provided links to learn how that's done, and don't forget to activate your VPN. That means you must install the app, open it, and log in to your account.
How to Set Up ExpressVPN Chrome Extension
As mentioned above, installing the ExpressVPN Chrome extension requires you to have its native app installed. These are the steps you need to take:
1. Sign up for ExpressVPN using your computer and any Web browser.
2. Then, click "My Account" using the top-placed main menu on ExpressVPN's website. Provide your credentials and access your ExpressVPN account dashboard.

3. Click "Set Up Other Devices." Then, pick "Windows," "Mac," or "Linux" to download the VPN. Install it like you'd install any other software on your computer.

4. Launch the application and select "Sign In." Copy your ExpressVPN activation code.  If asked to install a VPN profile or configuration, go ahead with "Yes" or "Allow."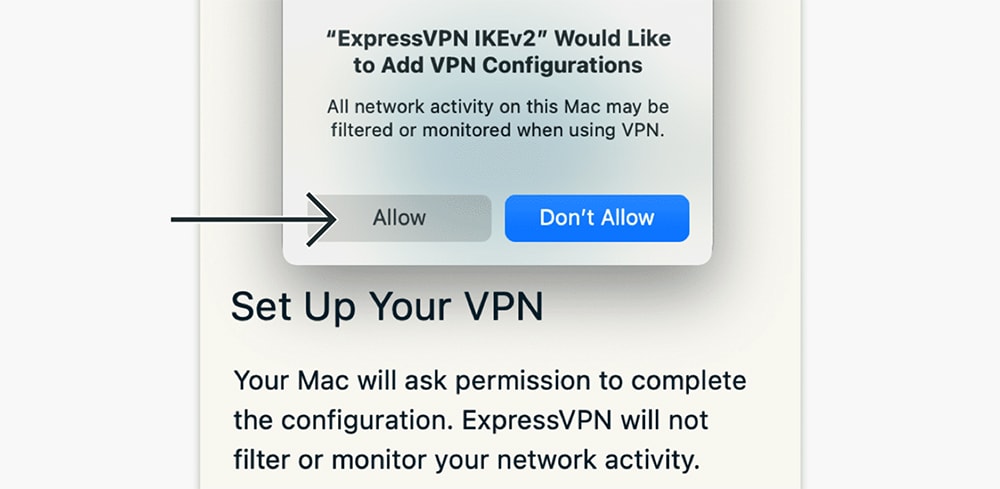 5. The VPN will ask you to start it up on system startup. Pick "OK" or "No, Thanks." Also, pick "OK" or "No, Thanks" when asked about anonymous data logging.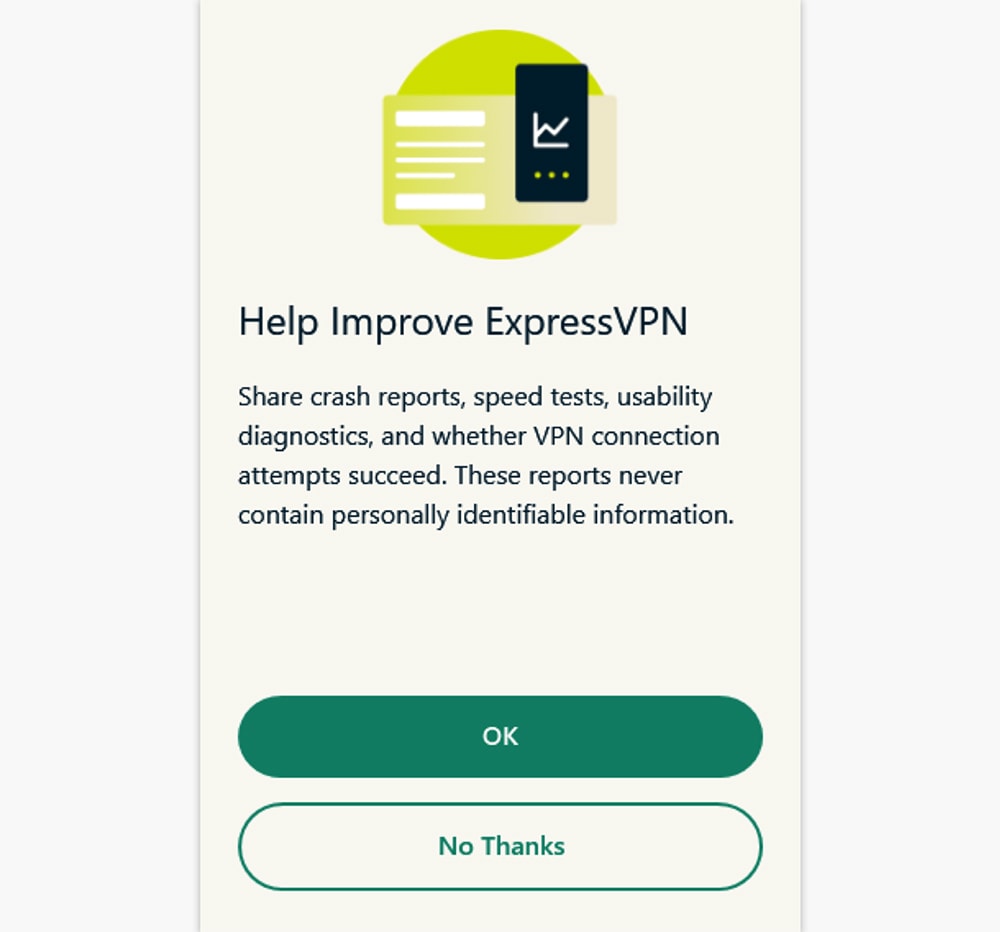 6. You should now see ExpressVPN's home screen. Let's set it up on Chrome now. Using your Google Chrome browser, visit ExpressVPN's Chrome Web Store listing.

7. Select the "Add to Chrome" button and confirm your decision when asked. You'll now download ExpressVPN for Chrome, which will also install automatically.
8. To access the extension, click the "Extensions" button in the top-right corner. Press "Continue" several times to go through ExpressVPN's setup guide.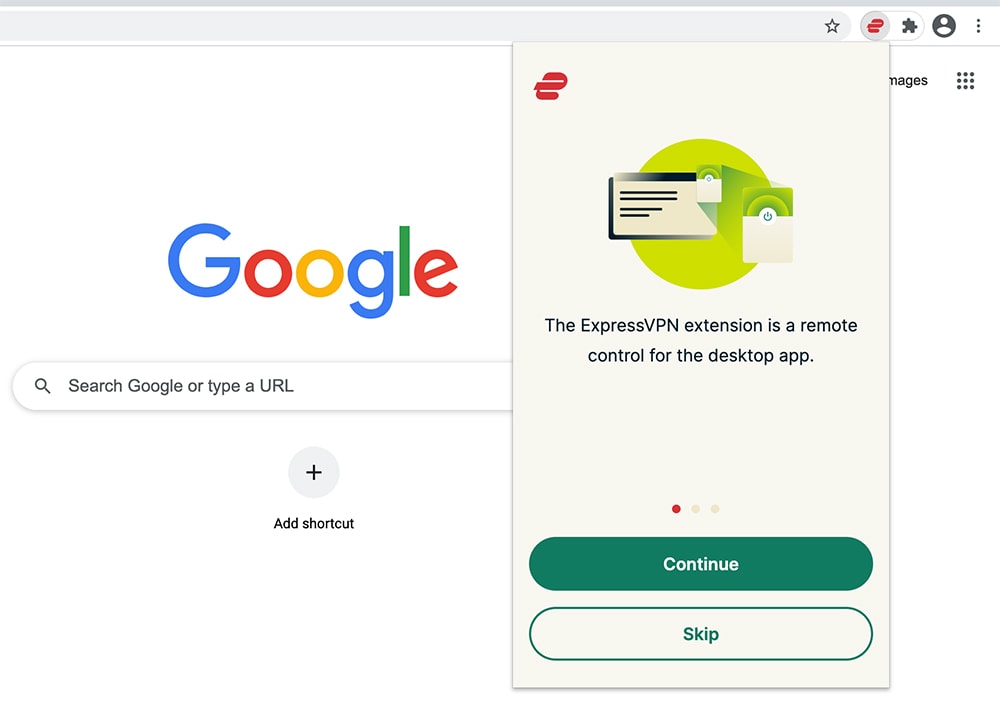 9. If you haven't logged in to ExpressVPN, you will need to do that now. 
10. To connect to the nearest server, press the ON/OFF button (the UI will turn green).
11. To end your VPN session, press the ON/OFF button again (the UI will turn red). 
12. You can pick a server manually using the button below the ON/OFF switch. Select any country or server name, and ExpressVPN will connect you automatically. That's it!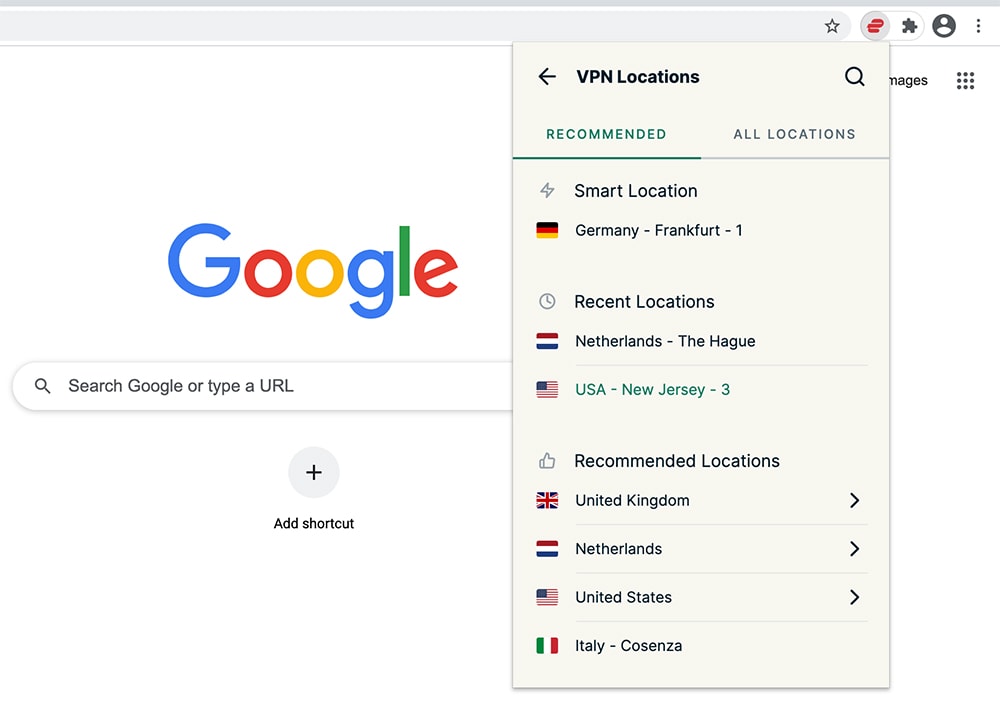 Final Thoughts
The ExpressVPN Chrome extension allows you to remote-control the ExpressVPN application. That means you'll protect your browser's data using highly sophisticated encryption, allowing you to secure your privacy, unblock websites, reach new streaming services, and more.
Also, you can use the ExpressVPN extension for Chrome on any Chromium-based browser (like Edge or Vivaldi, for example). And aside from that, you can set up ExpressVPN on over 60 devices and platforms. Use the provided link to learn more.
FAQ
What Is the ExpressVPN Chrome Extension?
The ExpressVPN Chrome extension is a remote control for your ExpressVPN app. You can use it to connect to any of its 3,000 servers in 90+ countries, safeguard your privacy, unblock sites, and ensure no one knows what you do on the Internet.
Does ExpressVPN Work on Chrome?
Yes, ExpressVPN works on Google Chrome. It actually works much better than most other VPNs. That's because the ExpressVPN extension for Chrome isn't a proxy. It's a fully-featured VPN extension with unbreakable encryption.
Is ExpressVPN Chrome Extension Free?
Yes, you can download ExpressVPN for Chrome without paying anything. However, you'll be asked to log in, which means you need to be a paying subscriber to ExpressVPN.
Is ExpressVPN Chrome Extension Safe?
Yes, it's more than safe to use ExpressVPN for Google Chrome. This VPN extension uses protocols like OpenVPN and Lightway, coupled with AES-256 encryption. There's no data logging involved, so it's perfectly safe to use.
How Do You Add ExpressVPN to Chrome?
To add ExpressVPN to Chrome, navigate to Chrome's Web Store, search for ExpressVPN, and click "Add to Chrome." Then, activate the extension by clicking on its icon.
That would be all regarding how to install the ExpressVPN Chrome extension. If you have any doubts or questions, we're here to help – so make sure to post your comment below. Lastly, thank you for reading!