Synology NAS devices are the most popular for storing user data safely. But, you must use a VPN with it to ensure zero interruption from third parties while transferring the data. NAS devices support the OpenVPN client of NordVPN and enable you to enjoy online security. Here is how to configure and use NordVPN on Synology 6.1. Have a look. 
1. First, visit the NordVPN official website.
2. Next, click the Grab the Deal button and choose a VPN subscription on the following page.
3. Now, enter the required details to complete your purchase.
4. Once done, you'll get a confirmation on your subscription.
5. Now, log into your Synology device and visit the Control Panel.
6. Navigate to Network next and follow this path- Network Interface> Create> Create VPN Profile.
7. After that, check the option OpenVPN (via importing a .ovpn file) and click the Next button.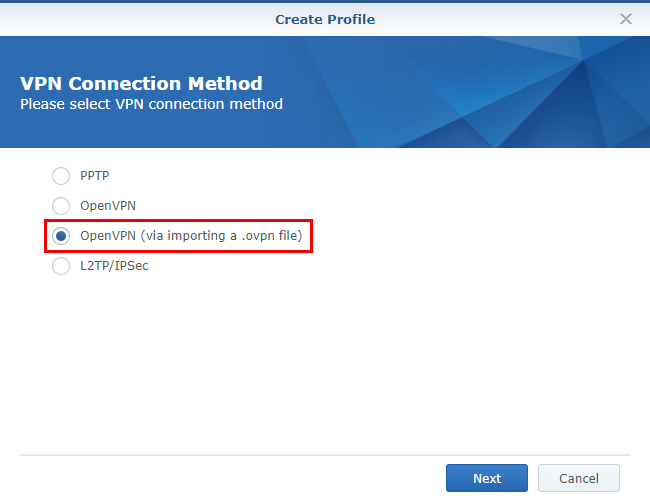 8. You need to download the .ovpn server configuration file next; first, click here for that and download the Config files under the Show available protocols option. 
9. Now, fill in the fields mentioned below: 
Profile name: Any name.
Username: NordVPN service credentials.
Password: NordVPN service credentials.
You can find your NordVPN service credentials in your online account dashboard under the Advanced configuration tab.
Import .ovpn file: The .ovpn file you have downloaded earlier.
CA certificate: For this, click here first and find the suitable certificate for the NordVPN server you're choosing. Download it next and click the Browse button on the right side of the CA certificate field and upload the right ca.crt file. 
10. On the Create Profile screen, check all the boxes under Advanced Settings and click Apply.
11. Now, choose the just-created profile and click Connect. 
12. The status of this profile will turn Connected as soon as the VPN connection is established. 
13. In case you face any issues while establishing the connection, open the .ovpn configuration file on your PC and add the below line- 
log-append /var/log/NordVPN.log
14. Next, import the edited .ovpn file again into your Synology NAS device and connect again. 
15. If it doesn't help, reach the support team of NordVPN and send them the log file from the below directory for a resolution. 
That's all! Now you know how to configure and use NordVPN on Synology NAS 6.1. For further queries, please drop us a comment through the below button. Thanks for reading!