NordVPN works on Synology devices through manual configuration. In other words, you'll get to pick any of the VPN's 5,000+ servers and configure an OpenVPN connection on your Synology NAS to a specific server, encrypting your incoming and outgoing traffic.
We'll note that NordVPN mentions Synology 5.x and 6.x software versions on its website, which are the most widely used versions at the moment. However, there's no official list of supported Synology NAS devices. That said, as long as your NAS supports VPNs, you should be able to configure NordVPN just fine.
How to Configure NordVPN on Synology
To configure NordVPN on Synology, you need to gather your chosen server's information from the VPN's website. Then, access Synology and configure your connection manually. Here's more detailed information on setting up NordVPN on Synology 5.1 and 6.1.
How to Configure NordVPN on Synology 5.1
If your Synology NAS device runs DiskStation Manager 5.1 version, you can easily configure the OpenVPN client of NordVPN on it. Here, we've provided a step-by-step guide on how to configure and use NordVPN on Synology 5.1. Have a look. 
1. Sign up for NordVPN using a computer and your favorite Web browser.
2. Log in to your Synology NAS and choose the "Control Panel" option.
3. Move on to the "Network" option.
4. On the upcoming screen, create a new VPN profile.
5. Select the "OpenVPN" option in the pop-up window and click "Next." 
6. Now, click here to download the suitable NordVPN CA certificates for further steps.
7. After that, enter the following information:
Profile Name – Any name you want (use something memorable).
Server Address – Enter the NordVPN server hostname or IP address for the VPN server in your preferred location (find a NordVPN server here).
User name – NordVPN service username (from your NordVPN Account dashboard).
Password – NordVPN service password (from your NordVPN Account dashboard).
Port – 1194 (recommended).
Protocol – UDP (recommended).
Certificate – Upload the CA certificate for the server you've picked.
8. Click "Next" once done. Then, the Advanced Settings screen will pop up; check all the boxes available and hit "Apply."
9. At this point, if you want to connect your recently created VPN profile, you'll receive an error message. To avoid that, you have to edit your OpenVPN profile. 
10. For that, you need to SSH as root and enable SSH from the Terminal & SNMP option.
11. Open a terminal window on the device you're using and enter the below command (the root password will be the one you're using to get administrative access to your NAS device):
12. After that, change directories by typing in the below command:
13. You'll get three files now, i.e., ca.cert, client_, and ovpnclient.conf. You need to add another file in this section that will contain the tls-auth key. For that, type in the below command and replace the connection_id with your one: 
14. Return to the directory where the extracted CA certificates are stored; you'll get the tls-auth.key files there. Select the one key file corresponding to the VPN server you're going to use; open it in a text editor and copy the content.
15. Now, open a terminal window and press A; then paste the content you've copied earlier within the terminal window.
16. Next, press the Escape button and type in :wq.
17. If you're using the ls -al command instead, you'll get a different output like the image below.
18. After that, finish the client_(connection_id) file. You've to open the file first with vi and then paste the below content; don't forget to replace the tls-auth.key with the name of the key file you've created before. 
19. Now, save the file by pressing the Escape button and typing :wq.
20. You've to return to your web browser window and click "Connect." You'll see your status soon to be turning into "Connecting."
21. Now, NordVPN will be connected to your Synology NAS. To disconnect, simply click the "Disconnect" button on the Synology Network list.
How to Configure NordVPN on Synology 6.1
To configure NordVPN on Synology 6.1 or later, you'll need to download an OpenVPN file from NordVPN's website. Then, you'll upload that file to your Synology NAS. Just follow these steps:
1. Sign up for NordVPN using a computer and any Web browser.
2. Now, log into your Synology device and visit the Control Panel.
3. Navigate to Network and follow this path: Network Interface > Create > Create VPN Profile.
4. Check the option "OpenVPN (via importing a .ovpn file)" and click the Next button.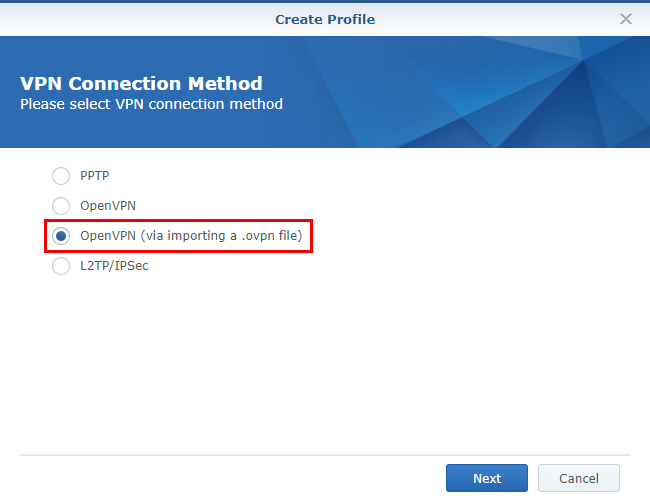 5. You need to download the .ovpn server configuration file next; first, click here for that and download the Config files under the "Show available protocols" option. 
6. Now, fill in the fields mentioned below: 
Profile name: Any name.
Username: NordVPN service credentials (from your Nord Account dashboard).
Password: NordVPN service credentials (from your Nord Account dashboard).
Import .ovpn file: The .ovpn file you downloaded earlier.
CA certificate: For this, click here first and find the suitable certificate for the NordVPN server you're choosing. Download it next, click the Browse button on the right side of the CA certificate field, and upload the right ca.crt file. 
7. On the Create Profile screen, check all the boxes under Advanced Settings and click "Apply."
8. Pick the just-created profile and click "Connect." The status of this profile will turn Connected as soon as the VPN connection is established. 
9. In case you face any issues while establishing the connection, open the .ovpn configuration file on your PC and add the below line: 
10. Next, import the edited .ovpn file again into your Synology NAS device and connect again. If it doesn't help, reach the support team of NordVPN and send them the log file from the below directory for a resolution. 
Final Thoughts
Even though it takes some time to configure NordVPN on a Synology NAS device, you'll end up with a highly secure connection on your file-sharing device. NordVPN has made it easy to gather the required information thanks to its nicely organized website, making this complex procedure as simple as it can possibly be.
Remember that NordVPN gives you 6 simultaneous connections, so why not use it on more devices (especially those you use on the go)? Our central guide on how to set up NordVPN will provide more information on how to make that happen.
That's all! Now you know how to set up and use NordVPN on Synology NAS devices. If you have any extra questions, drop us a comment below. Thanks for reading!