NordVPN works on Windows 7, 8, 10, and Windows 11, and it offers both 32-bit and 64-bit native applications. To get started with NordVPN, you need to download its app, install it, log in, and you'll gain access to its server network. As easy as that.
There's also an alternative way to use NordVPN on Windows, done by setting up a manual OpenVPN connection. In this guide, we'll explain both how to install NordVPN on Windows using its app as well as using the OpenVPN manual setup method.
We'll also note that NordVPN offers Web browser extensions that run on Windows, but those are just proxies, not fully featured apps. So, our strong recommendation is to use NordVPN's native software, which will protect not only your browser but all your Web-connected apps.
How to Download and Install NordVPN on Windows PC
As explained above, there are two ways to install or set up NordVPN on a Windows PC. These are the available options right now:
Method #1: Install NordVPN's Native App for Windows
If you want access to everything NordVPN offers, you need to go install NordVPN on Windows using its native software. This is what you need to do:
1. Subscribe to NordVPN using your Windows PC and any Web browser.
2. Return to NordVPN's home page and click 'Log In' using the website's main menu. Provide your username and password and access your Nord Account dashboard.
3. Once you're in, click "Download apps" on the right side of the dashboard. Alternatively, you can click "Downloads," using the left-placed main menu.  
4. Next, NordVPN will suggest a suitable version of the client app for your device, at the top. Click the "Download app" button.
5. Double-click on the freshly downloaded .exe package to start the installation process. The setup window should now appear.
6. Choose the path for the location where you want NordVPN to get installed.
7. Next, the NordVPN installer will start up; give it a few seconds to start the installation.
8. Choose where you want to keep the NordVPN shortcut, and hit Next.
9. On the Ready to Install screen, click the "Install" button to continue with the installation.
10. When done, click Finish to exit Setup.
11. Now, the NordVPN app will launch. Click 'Log in.' 
12. You'll be redirected to the NordVPN website; choose the account you want to continue with.
13. Once you log in, you'll see a browser prompt asking permission to open the NordVPN app.
14. When you can access the app, choose a server under "All Countries" and double-click on any of the available VPN servers to connect. 
21. Your connection status will soon turn into PROTECTED, and you're all set to browse safely.
Method #2: Set Up NordVPN Manually via OpenVPN
If you don't wish to use NordVPN on Windows via its native app, you can set up an OpenVPN connection to a specific server. Here's how that's done:
1. Sign up for NordVPN using any Web browser on your Windows PC.
2. Download the OpenVPN client for Windows from its official website. Then, install the client like you would install any other application (double-click on its installer file).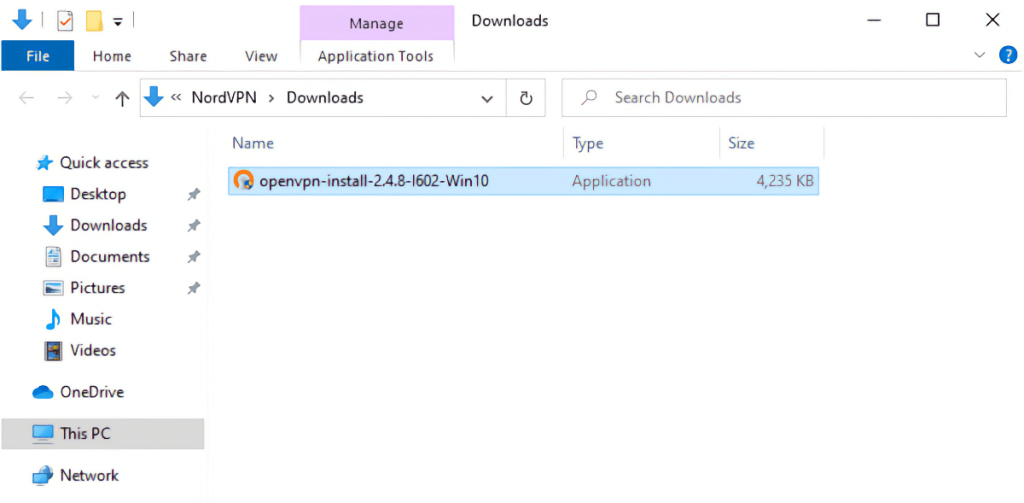 3. Go to NordVPN's website and click 'Servers' using the top-placed main menu. Then, use the 'Recommended Server' button.
4. Pick a country using the 'Select Country' dropdown menu. On the left, click 'Show Available Protocols' using your chosen VPN server's name. Pick 'Download Config.'
5. Navigate to C:Program FilesOpenVPNconfig on your Windows PC and paste the config files that you downloaded in the previous step. Pick 'Continue' if asked for permission.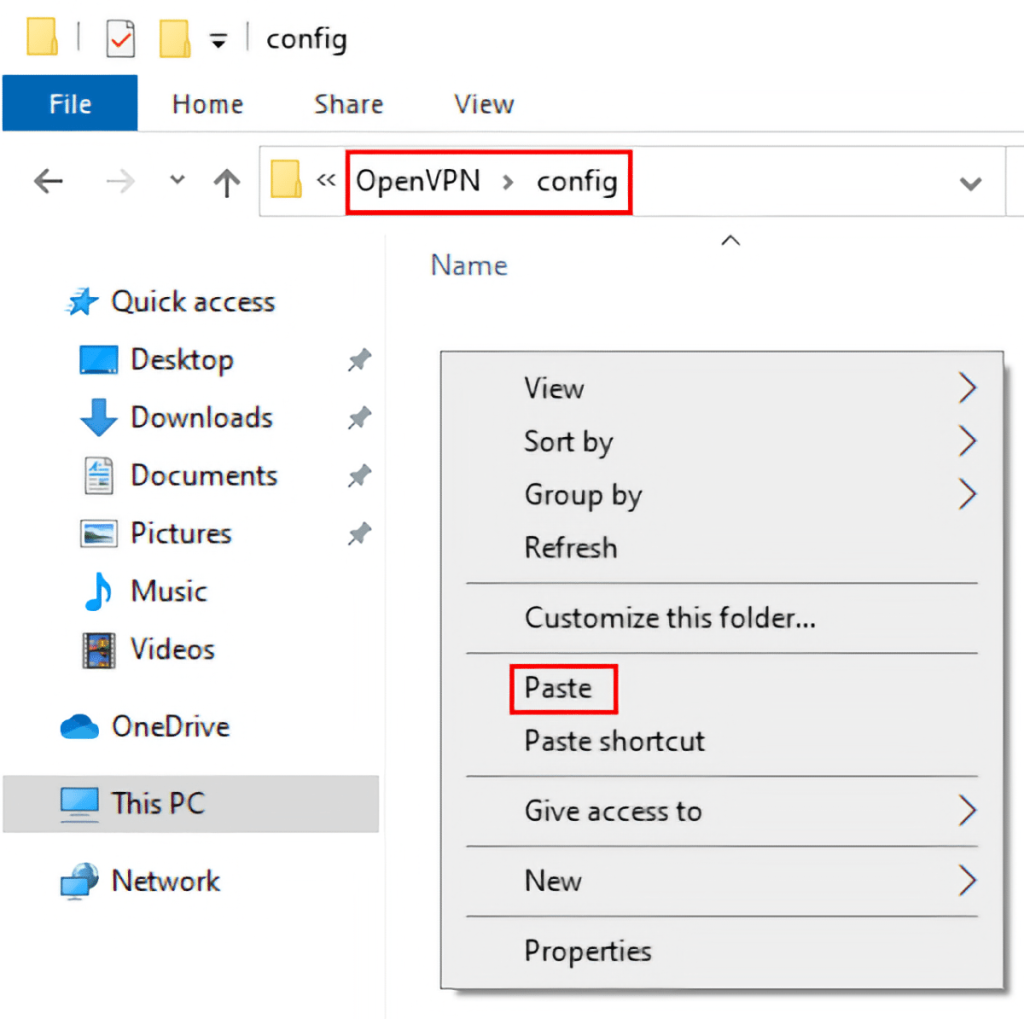 If you use Windows 10, you need to open the config file using any text editor. Then, paste the following line: block-outside-dns. Save the file before you proceed with the next step.
6. Open the OpenVPN GUI application by double-clicking on its icon on your desktop. If asked to confirm whether to allow the app to run, click 'Yes.'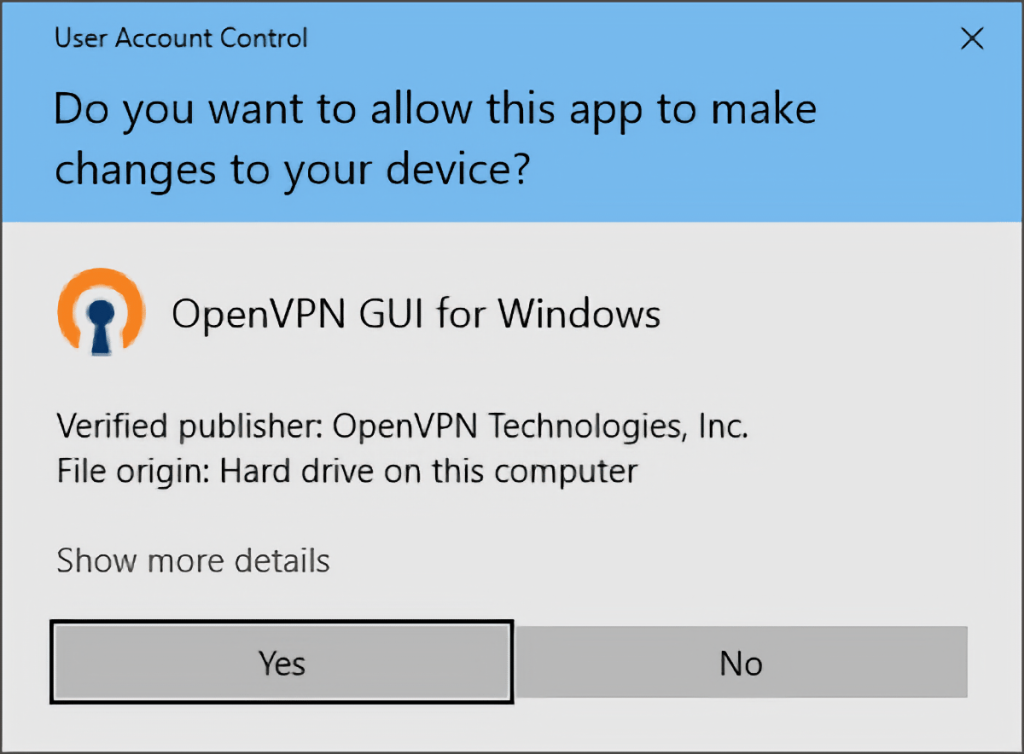 7. If you can't see the application, take a look at your system tray. Right-click on its icon (next to your device's clock) and select 'Connect.'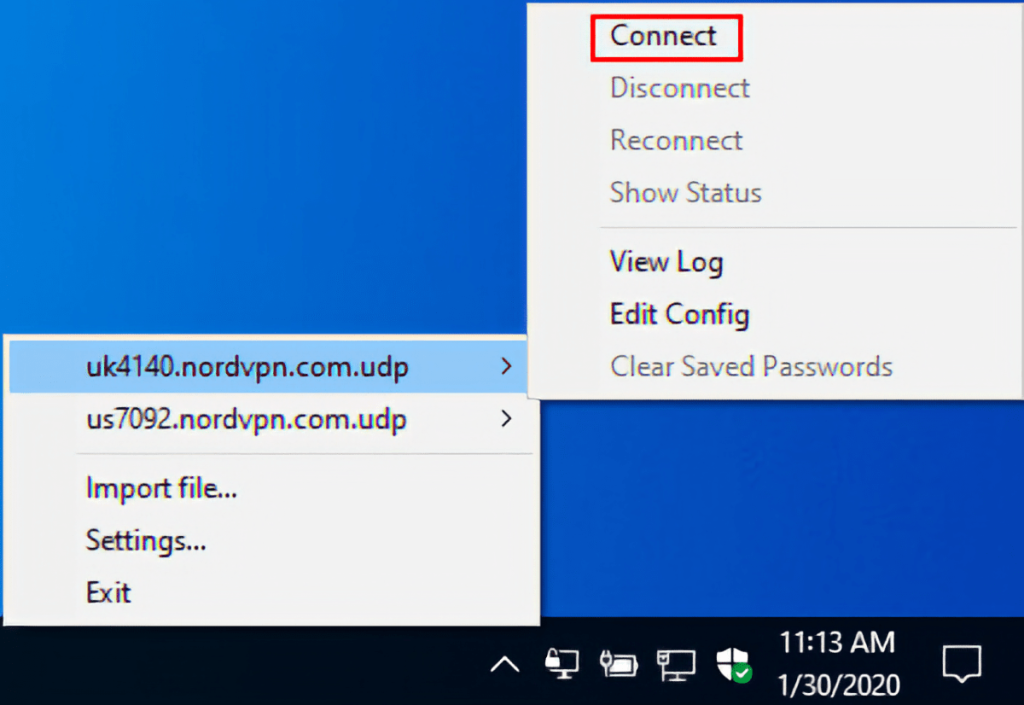 8. You'll be asked for your NordVPN username and password. To find it, open the NordVPN site and click 'Log In' using the main menu. Once you log in, go to NordVPN > Set Up NordVPN manually. Verify your email and then copy and paste your credentials.
9. After entering your credentials, click 'OK.' The OpenVPN GUI app will now establish your VPN session, and its system tray icon will turn green. That's it!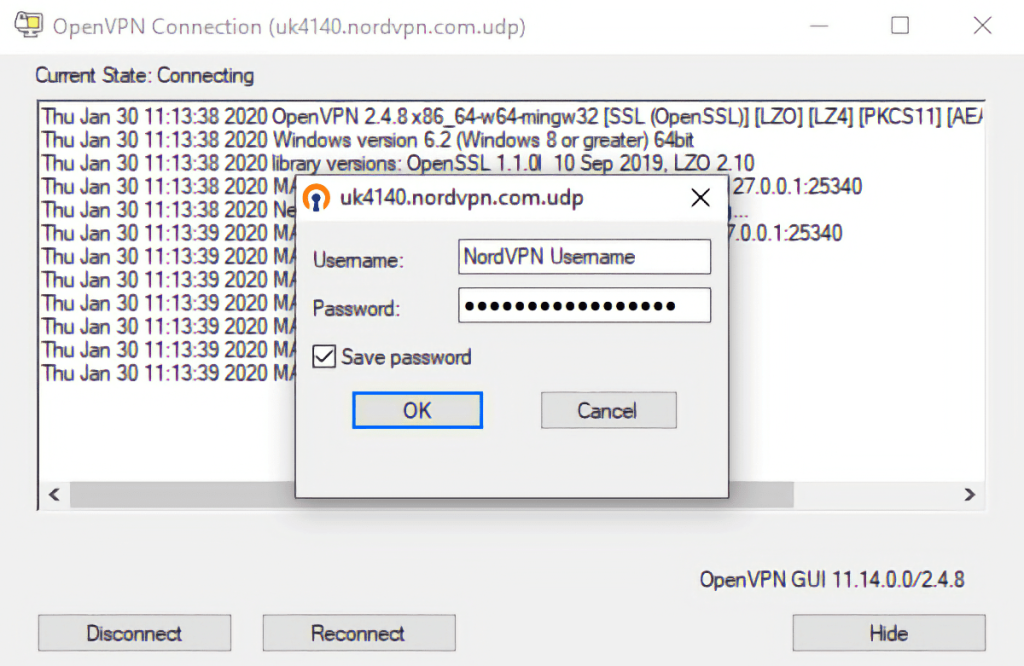 Final Thoughts
If you want the full power of NordVPN on Windows, you should prioritize its native software. Still, if you'd like to stick to OpenVPN, you can configure a connection manually. As said in the introduction, we don't recommend NordVPN's browser extensions, as those are just proxies.
Remember that NordVPN gives you 6 simultaneous connections, so why not protect your other devices as well - especially those that you use on the go? That said, your next Web destination should be our central guide on how to set up NordVPN, covering dozens of devices.
FAQ
Does NordVPN Work on Windows?
Yes, NordVPN works on Windows. You can run this VPN application on Windows 7, 8, 10, and 11, on both 32-bit and 64-bit Windows PCs.
Can You Get NordVPN on Windows?
Yes, you can get NordVPN on Windows in two different ways. You can use its native app, which is the preferred way. Or, you can set up an OpenVPN connection manually.
Is NordVPN Free on Windows?
NordVPN is free to download and install on Windows, but it's not free to use. You need to get a subscription to NordVPN before you can connect to its servers.
That's all! Now you know how to download, install and use NordVPN on Windows. If you have further queries, drop us a comment through the below button. Thanks for reading!