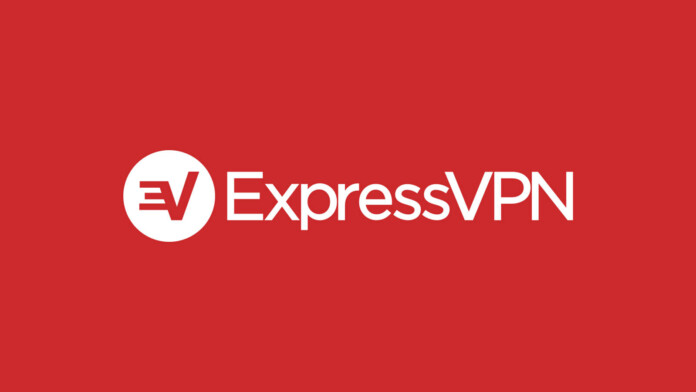 ExpressVPN is often found on the lists and overviews of the best VPNs worldwide. Thanks to a clever combination of ingenious marketing techniques and raving reviews that you can read online, ExpressVPN seems like the best VPN you can get in 2020. However, we are going to test this VPN provider for ourselves and check all those claims. We'll see whether ExpressVPN can truly unblock websites, stream the American version of Netflix, and if it really brings such amazing speeds and security-related features, as advertised. With this said, welcome to our hands-on ExpressVPN review!
First and foremost, let's take a look at the basic set of information regarding this VPN service. The following table will give you a glimpse of what to expect, and it can be a good starting point for comparing this provider to its competitors.
Quick Facts
Jurisdiction
The British Virgin Islands
Logs
No activity logs & no connection logs.
Number of Servers
94 countries, 3,000+ servers.
Parallel Connections
5
Encryption Standards
AES-256; OpenVPN (UDP/TCP), L2TP/IPSec, PPTP.
Speed Reduction
19%, on average.
P2P Support
YES
Live Chat Support
YES
Supported Platforms
Windows, macOS, Linux, iOS, Android, Web Browsers & compatible routers.
Price
Starts at $6.67/month.
One of the most popular reasons why many individuals use VPNs is to unblock media streaming websites. As we understand that this might be important, we'll tell you what to expect from the get-go. Therefore, the following table contains our findings after testing ExpressVPN with the world's most popular media streaming services.
Media Streaming Support
American Netflix
YES
Hulu
YES
BBC iPlayer
YES
Amazon Prime Video
YES
Kodi
YES
And also, we're sure that some of you don't have the time to read this entire article. So, we're going to present our findings in a convenient matter.
The Bottom Line
Pros
Incredibly simple to set up; Intuitive UI; Strong security features; No activity logs; Unblocks websites; Allows torrenting; Helpful customer support.
Cons
A somewhat high-priced monthly subscription.
The Final Verdict
If your goal is to be fully anonymous online, unblock websites, and download torrents, you can't find a better option than ExpressVPN right now.
Our Score
9.6/10
Finally, we are ready to present our hands-on review, where we'll talk about the most important aspects of this VPN provider. So, keep on reading to learn all you need to know about ExpressVPN in 2020.
ExpressVPN Reviewed By TechNadu Experts in 2020 – Find Out What We Discovered!
What follows is our hands-on review of this popular VPN provider, based on our extensive testing that benchmark the service according to our uniform set of criteria. To learn more about how we review VPNs, please use the provided link.
Background, Jurisdiction & Reputation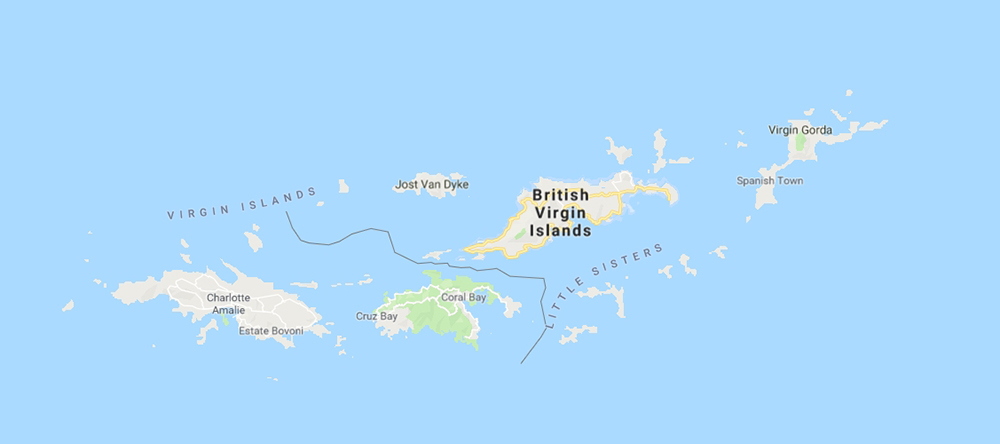 ExpressVPN is out of the jurisdiction of the '14 Eyes' Alliance and comes with an impeccable reputation for not storing any personal files, whatsoever. Our Score: 10/10.
The main purpose of any VPN is to hide your real location and help you preserve your online anonymity. However, this also means that not every VPN will do the job. More precisely, you need to be very careful about letting someone access your private data – and making sure no takes advantage of that access.
With this said, we will provide a report on two important aspects of ExpressVPN. First, we will tell you about the company behind this product (which also includes the information regarding this VPN's jurisdiction). Then, we'll take one additional step and check its reputation (differently said, we'll check this VPN for any previous data leaks).
Jurisdiction & Applicable Laws
As you already know, every company needs to regulate its operations based on their home country's laws. And this is where the story about the 14 Eyes Alliance comes into play. These countries have aggressive data collection laws and they work together on sharing data and information. This automatically puts VPNs from the USA, UK, and Australia (among other countries) in a problematic position.
First of all, you should know that ExpressVPN comes from the British Virgin Islands. This exotic location is a good choice since this is a territory of the United Kingdom with self-governing laws. As this territory doesn't have any laws connecting it to the UK, legislature and courts are completely independent. To put this in a different way – ExpressVPN is out of any surveillance agreements.
If you set out to find ExpressVPN's real address or telephone number, you'll be out of luck. There's no easy way of knowing where this company is actually located, or from where it operates from. However, this is something to expect from a VPN provider – where secrecy is imperative. Knowing that it's registered in the BVI should be enough to keep you at ease.
Previous Data Leaks
ExpressVPN came under the spotlight in January 2017, when its Turkey-based servers were seized. This happened during the investigation of the assassination of Andrei Karlov, who was the Russian ambassador in Turkey at that time. This was an opportunity for the company to truly prove its claims that it doesn't collect any data. As it turned out, these claims were true. The authorities were not able to extract any information from the seized servers. This has also proven the fact that ExpressVPN doesn't have any 'backdoors' built into their applications.
In December 2017, ExpressVPN launched a project called 'Privacy Research Lab'. The main goal of this was to provide online tools for checking data leaks. In the latest version of this VPN application, you can find three useful tools that came as a result of this initiative. You can check your real IP address, DNS and WebRTC leaks.
Supported Platforms & Devices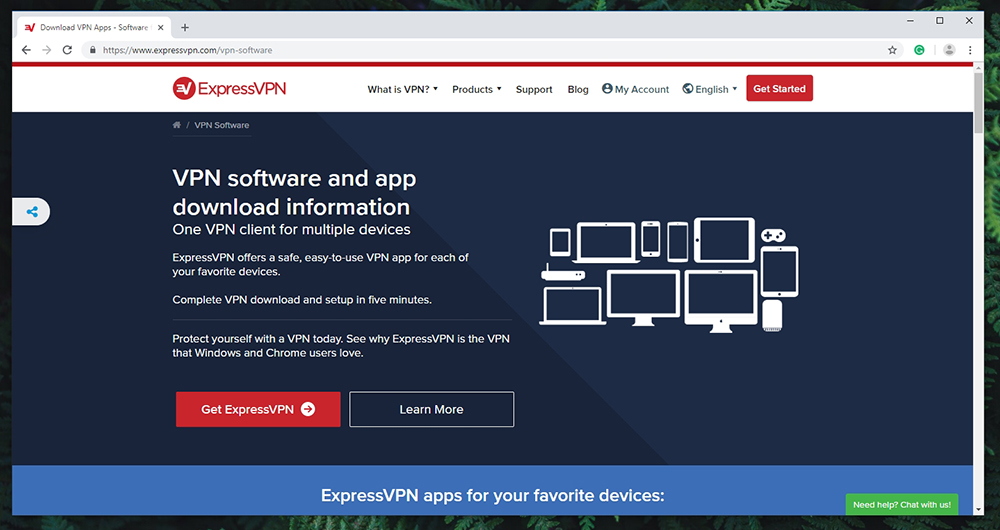 ExpressVPN has done a fantastic job of offering apps for desktop and mobile platforms. Furthermore, you can use it on up to 5 devices at the same time. Our Score: 10/10.
Every reliable and capable VPN provider has a range of native apps for all popular platforms and devices. After all, you want to cover all your devices – since even a single unprotected device can reduce your efforts of keeping your private data to yourself.
Platform Compatibility
Desktop Platforms
Windows, macOS, Linux, Chromebooks.
Mobile Platforms
Android, iOS, Amazon Kindle Fire, Nook HD.
Web Browsers
Google Chrome, Mozilla Firefox, Apple Safari.
Routers
DD-WRT and Tomato-compatible routers.
Other Devices
Amazon Fire TV, Apple TV, PlayStation 3 & 4, Roku, Xbox One & 360, Boxee Box, and WD TV Live.
As you can see from the table above, ExpressVPN runs on a wide range of devices. In fact, the chances are that no matter what kind of Web-connected devices you have, there's an official app made by this provider.
What needs to be highlighted is that ExpressVPN comes without complicated manual configuration, in most of the cases. This especially applies to desktop and mobile platforms. Some devices, such as gaming consoles, are supported by ExpressVPN via different workarounds. In this case, your best bet is to install ExpressVPN on a router and keep all your Web-connected devices protected at once.
Update (June 2019) – It's worth noting that you can install this VPN on an unlimited number of devices. However, you can use it on up to 5 devices at the same time. Until recently, this limit was set to 3 devices, which was perhaps the biggest obstacle to using ExpressVPN. Therefore, we're more than happy that this VPN's management team has decided to increase that limit, which also increases the overall value of ExpressVPN.
Update (October 2019) – ExpressVPN has just announced an interesting partnership with HP (Hewlett-Packard). More precisely, this VPN now comes pre-installed on the newly released HP Spectre X360 13, offering a 30-day free trial. Owners of the new notebook will see ExpressVPN on their Windows taskbar, with the VPN being automatically launched when connecting to unsecured Wi-Fi networks. It's expected that ExpressVPN will become available as a default VPN option on other HP notebooks in the future.
Update (January 2020) – ExpressVPN continues to form cybersecurity partnerships by striking a deal with Dynabook (formerly Toshiba). The VPN will now come preinstalled on Dynabook's Windows laptops, offering a free 30-day trial. The first model to have received this functionality is the recently introduced Satellite Pro L50, with future Dynabook laptops to follow.
Installation & Initial Configuration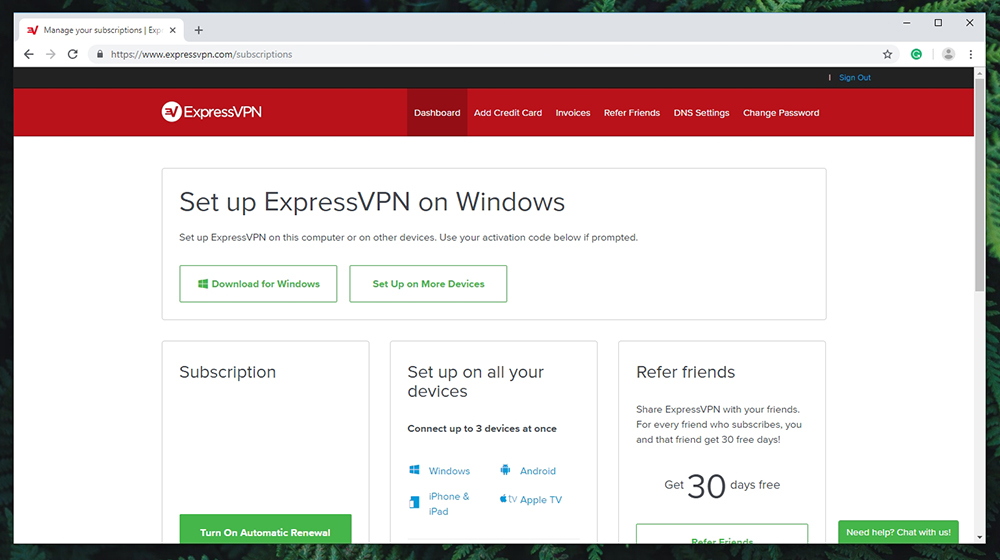 This VPN provider has come up with an effortless installation method. Even complete beginners won't have problems installing and configuring this VPN. Our Score: 10/10.
You can get started with using this VPN by visiting its official website. First and foremost, you need to get your ExpressVPN subscription before you do anything else. You can choose a suitable subscription plan, and you'll get your username and password afterward. Once you log in using your new credentials, ExpressVPN will offer assistance by detecting your system and offering a suitable application.
As you can see, downloading ExpressVPN's installer is done via a single click of your mouse. Of course, you can also go with 'Set Up on All Your Devices' (found after you log-in to your account on the ExpressVPN website) and from there download different versions of this VPN. When it comes to mobile apps, all you need to do is to download them from their respective app stores.
The actual process of installing this VPN is very simple. There aren't any unusual offers or bundled software. After a few steps, ExpressVPN will install and launch. At this moment, you will see a handy trick. Instead of using your username and password, you can easily copy an activation link from your ExpressVPN account dashboard (on the official website).
Before you can start using the software, you will be asked to allow ExpressVPN to be launched during startup, and you can decide to send anonymous analytic data. It's up to you to enable or disable these options (and the same can be done later).
Prominent Features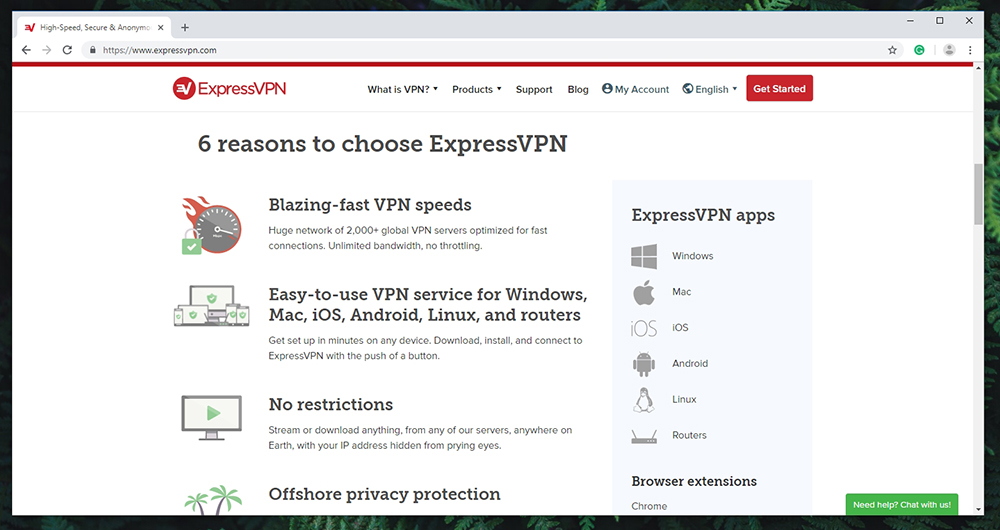 Even though this VPN comes with numerous advanced features, it's missing one thing and that's an ad-blocker. Our Score: 9.5/10.
When it comes to VPNs, there are certain features that we think are essential. And then, there are some additional features that make VPNs stand out in the crowd. To make it easy for you to compare different VPNs, here's a table of some useful features and whether you'll find them incorporated into ExpressVPN.
VPN Features Checklist
DNS Leak Protection
YES
IPv6 Leak Protection
YES
Kill-Switch
YES
Ad-Blocker, Anti-Malware
NO
Unlimited Server Switches
YES
Unlimited Bandwidth
YES
Unlimited Data
YES
As you can see, ExpressVPN covers the basics quite well. For its price, it brings unlimited experience where you can switch between servers with no restrictions. The only thing that's missing is a built-in ad blocker, which would improve the overall experience of browsing the Web (and eliminating ads that can track what you do online).
It's also worth noting that ExpressVPN comes with a powerful kill switch – which means that you're safe even if your VPN connection drops. And there's split tunneling support. This means that you can set certain apps to use your VPN connection, while others will use your regular Web connection.
Let's also not forget to mention a feature that's been recently released. Called TrustedServer, this technology has eliminated the use of hard drives from ExpressVPN's data centers. Instead of handing your data via hard drives, this VPN now uses RAM memory. Each time a server is restarted, all your personal data is wiped. This means that even if this VPN's servers get seized, no one will be able to retrieve your data.
Also, let's not forget to add that ExpressVPN has a built-in speed tester. This allows you to easily test all of its 3,000+ servers and see which ones will give you the best speeds before you make your VPN connection. This is also the reason why ExpressVPN is one of the best VPNs for gaming.
Server Count
With 3,000+ servers available, you can connect to any part of the world. However, you should know that some VPNs come with 5,500+ servers. Our Score: 8.5/10.
In general, you need a VPN with plenty of servers. On the one hand, this lets you connect to a large number of countries and get a wide range of IP addresses. On the other hand, VPNs can achieve fast performance by offering plenty of servers for all of their customers.
Server Count Info
Number of Servers
3,000+
Number of Locations
160
Number of Countries
94
Specific Cities Selection
YES
Unlimited Switching
YES
You should know that this VPN service is on our list of VPNs with the highest server count in 2020. However, some of its direct competitors offer over 5,500 servers. This sounds amazing in theory, but this doesn't mean that you'll get better performance by choosing a VPN with a larger number of servers.
By default, ExpressVPN will present you with an 'optimal' server that should bring the best possible performance. In general, this is a nearby server that might even be located in your country. However, you have full freedom to connect to any of the 3,000 servers offered by this provider. There's a search option letting you find a specific country or even a city.
As noted earlier, ExpressVPN doesn't impose any restrictions. This means that you're free to switch between servers as many times as you'd like. Disconnect and connecting to another server takes only a few seconds, and the overall experience is quite fluid.
Ease of Use
ExpressVPN comes with a simple UI design. Even if this is your first time encountering a VPN application, you shouldn't have any problems understanding it. Our Score: 10/10.
Forget about the days when VPNs were designed for tech enthusiasts. Today's VPN providers offer incredibly simple and highly intuitive apps. In terms of ease of use, it could be said that ExpressVPN leads the pack, and here's why.
To explain what to expect from this provider, we'll give you a brief tour of its UI design. So, we'll start with the main screen where the biggest portion is reserved for a prominent ON/OFF button (take a look at the image above). When you connect to a secure server, it will go green – clearly indicating that the VPN is enabled. And at the bottom, you'll see your currently selected server. To pick another, click on 'Choose Location'.
In the top-left corner, there's a simple 'hamburger' button (three vertical lines). The first option here is titled 'VPN Locations' and this is the same thing you'll get as you would by clicking on 'Choose Location' on the home screen. As you can expect, this is where you can check out the available servers. If you click on a server once, it will instruct ExpressVPN to connect to it the next time you enable this VPN. If you double-click on any server, the application will automatically connect straight away.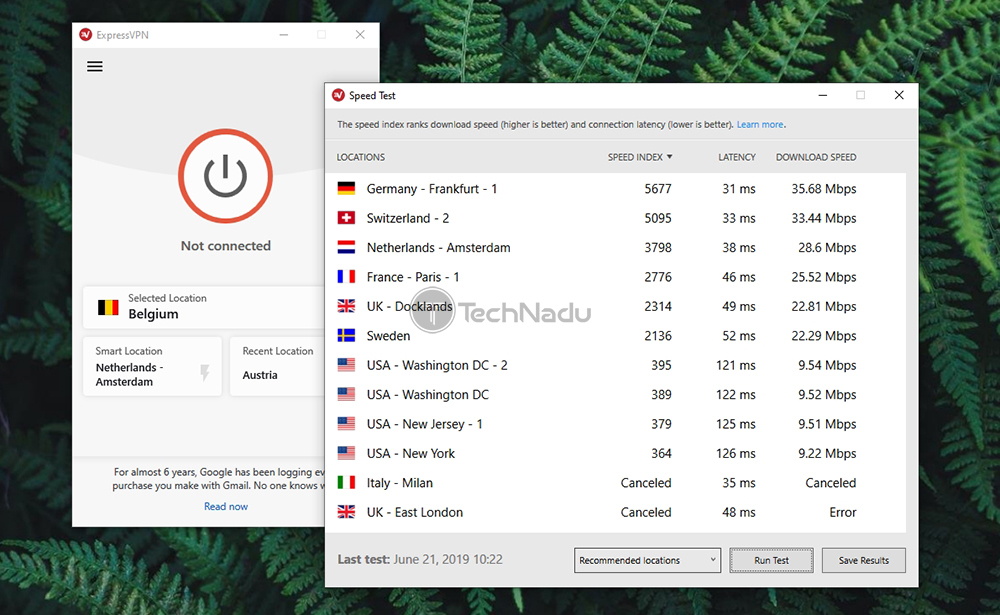 The next item in the 'hamburger' menu is called 'Speed Test'. Using this tool, you can let ExpressVPN test its servers based on your real location. This way, you will get three pieces of information: speed index, latency, and download speed. In case you find a highly suitable server, you can always mark it as your favorite by clicking on the star-shaped icon.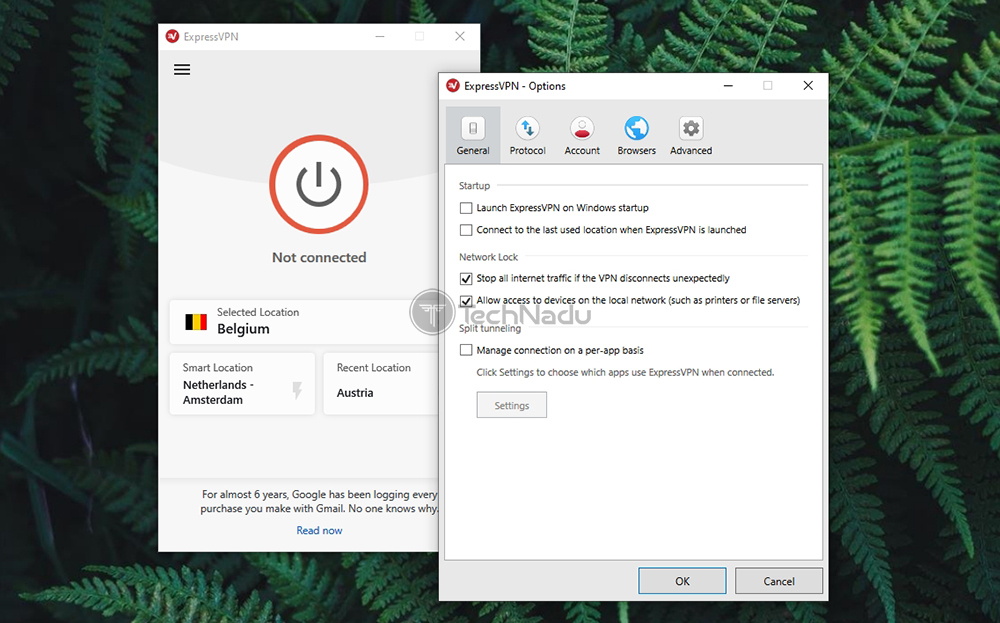 Now, we'll check the term item called 'Options'. This is where you'll find five tabs, each bringing a distinct set of options. Here's a quick overview of what to expect here:
General: The first tab lets you set ExpressVPN to launch every time you power on your computer, and you can set the VPN to automatically connect to a server. Then, you can decide whether you'd like to use a 'Network Lock' which is another name for a kill-switch. And lastly, you can fine-tune your split-tunneling options.
Protocol: ExpressVPN supports a nice range of encryption protocols, where each comes with its own set of benefits and downsides. So, this is where you can easily choose which one to use.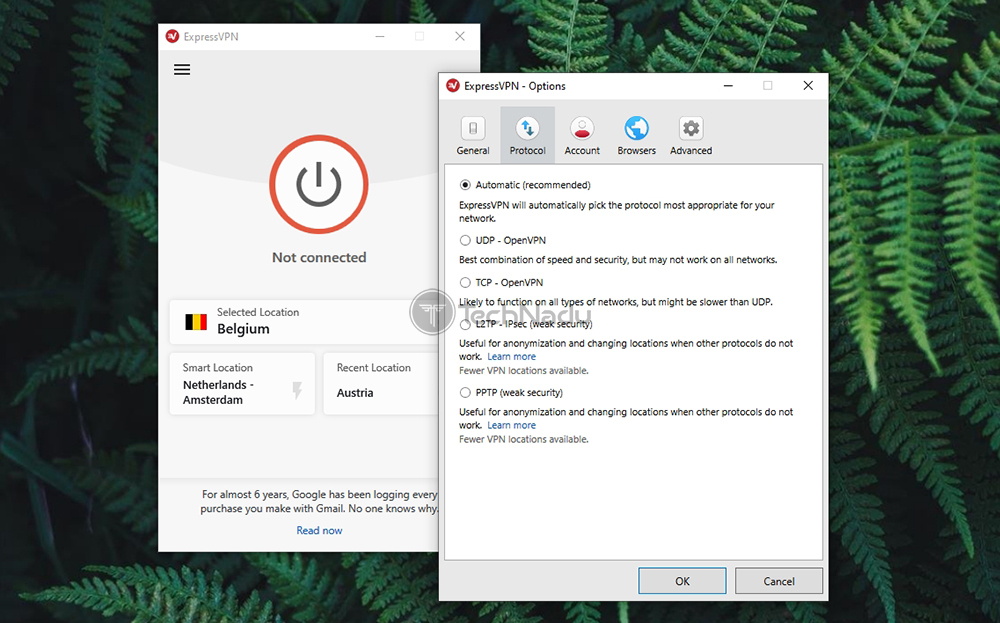 Account: This tab lets you check the status of your account. You can see when it's due to expire and you refer friends to get 30 additional days of use, free of charge.
Browsers: In case you'd like to find out how to install Web browser extensions, this is where you can take a look. However, using a native app will protect all your incoming and outgoing traffic, which beats any extension with ease.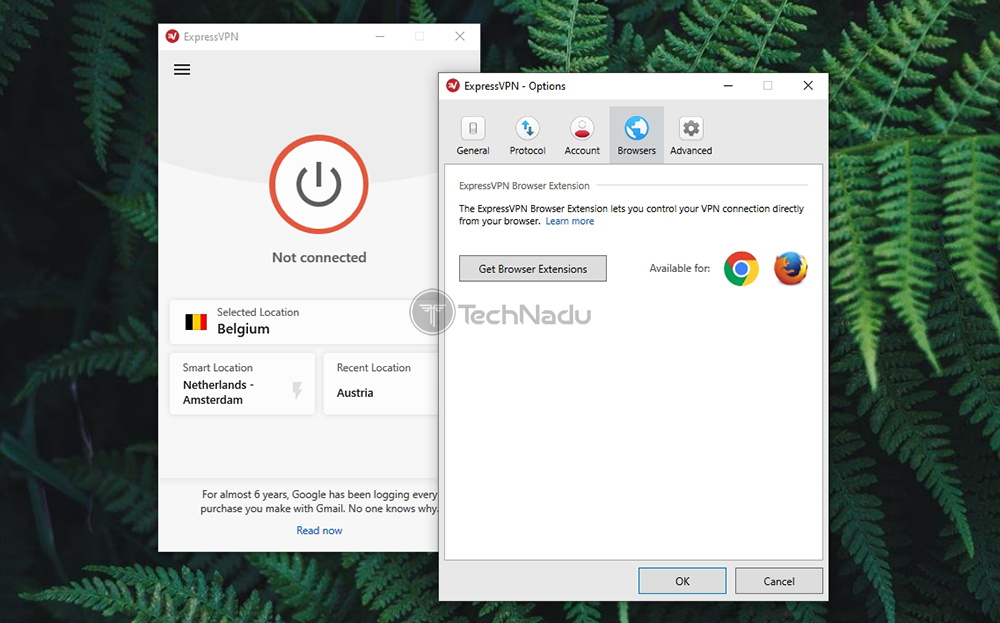 Advanced: The final tab lets you fine-tune some advanced options that seem to be optimized by default. You can prevent IPv6 detection and let ExpressVPN optimize your Windows environment for better performance.
The rest of the options in the 'hamburger' menu are pretty self-explanatory. You can find support documentation, see how to install ExpressVPN on other devices, refer friends, and more. All of these options are actually links to the VPN's official website.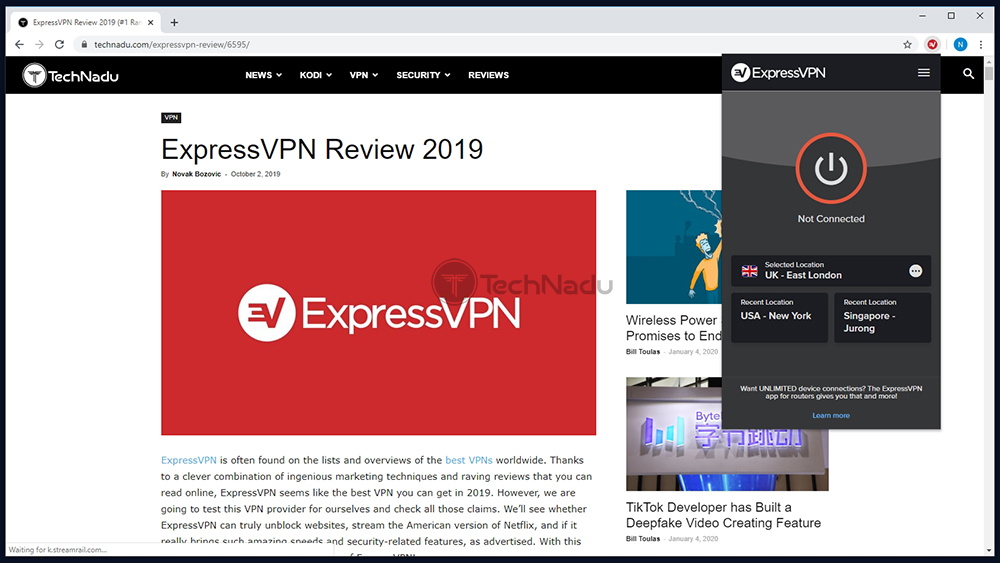 Update (January 2020) – ExpressVPN proves that it follows the latest UI trends by implementing the dark mode across its Web browser extensions. This welcome feature is now available for Google Chrome and Mozilla Firefox users. The rest of ExpressVPN's applications are expected to follow this trend throughout 2020.
Media Streaming & Torrenting Support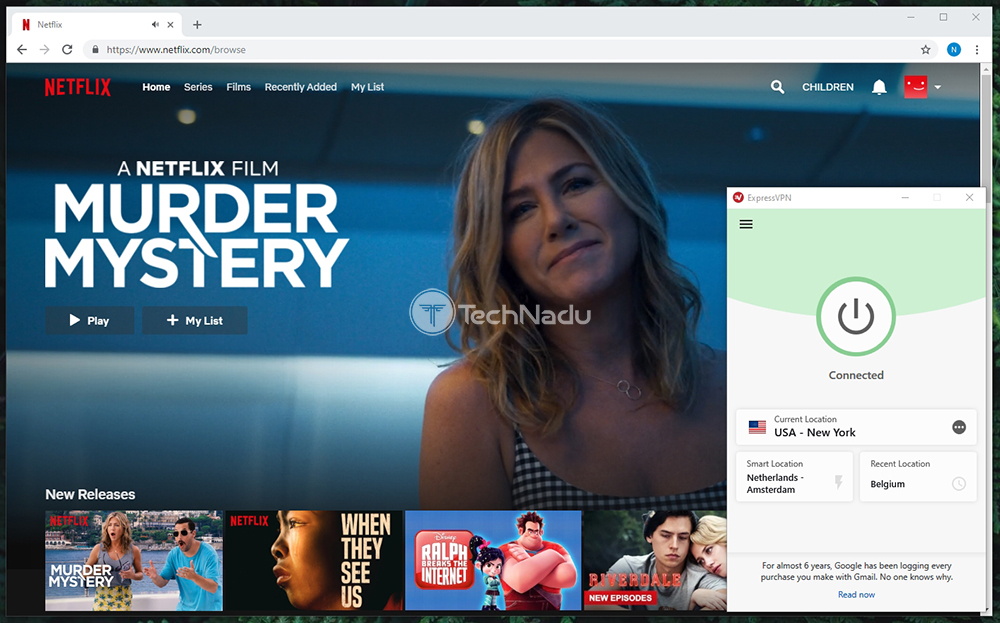 ExpressVPN can easily unblock a huge number of media streaming services, with Netflix US included. Plus, it fully supports P2P traffic, with no limitations involved. Our Score: 10/10.
Since VPNs give you a new 'virtual' IP address, you can easily overcome geographical obstacles. This means that you can visit websites and use online services not available in your country otherwise. So, let's check out if ExpressVPN works with the world's most popular streaming services.
Media Streaming & Torrenting Support
Netflix US
YES
Hulu
YES
BBC iPlayer
YES
Amazon Prime Video
YES
Torrenting (P2P) Support
YES
Finding a VPN that supports and fully unblocks all of the currently popular streaming services is a tough task. However, we are more than pleased to say that ExpressVPN comes with this ability. This means that days of seeing the famous Netflix proxy error are in the past.
We have tested ExpressVPN with Netflix US, Hulu, BBC iPlayer, and Amazon Prime Video. The application fully supports all of those, and you can use these services without any restrictions. It's also worth noting that you can unblock some country-specific versions of Netflix (Canada, Japan, and the UK). The same could be said about Amazon Prime Video. Connect to a server in India, and you'll get a whole slate of Bollywood movies and TV shows.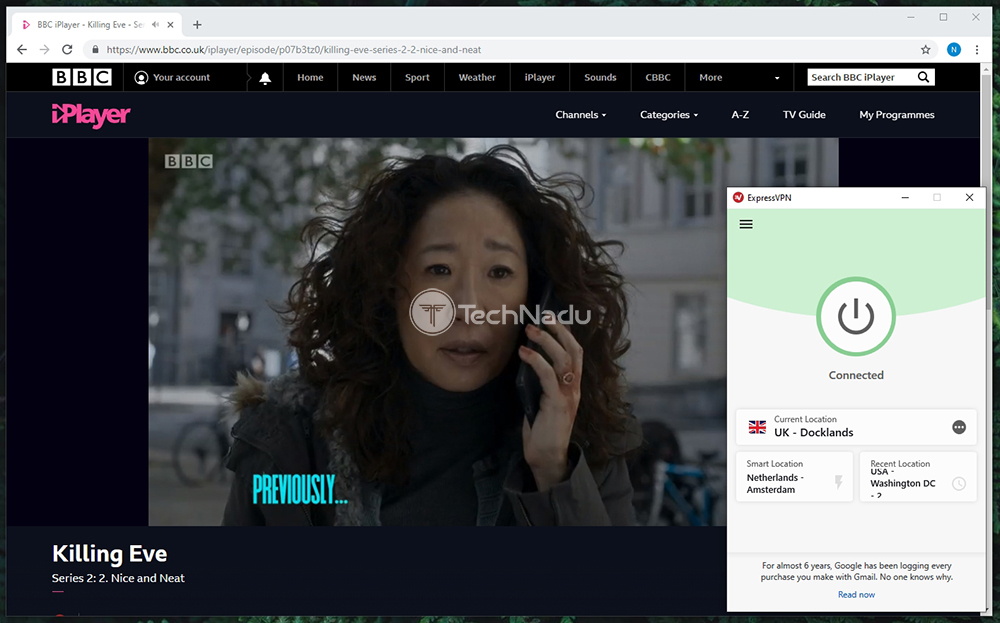 Lastly, let's not forget about fans of torrenting. ExpressVPN fully supports torrenting and it doesn't come with any bandwidth limitations or data caps. However, keep in mind that connecting to a server that's near you should get you the best possible download speeds. This means that you can anonymously download torrents and even fight against ISP-imposed throttling.
Security & Privacy
After taking a very close look at its privacy policy and running a DNS leak test, we conclude that ExpressVPN brings the best possible protection of private data. Our Score: 10/10.
To find out if you should really trust ExpressVPN with your data, we will take a look at three aspects: encryption standards, logging policy, and DNS leaks. This should give us plenty of information about the way your personal data is used.
Supported Encryption Protocols
Depending on your needs, you can choose from several VPN protocols. The most secure one is OpenVPN, and ExpressVPN lets you choose OpenVPN with TCP or UDP. Combined with the company's AES-256 encryption – you can rest assured that one will be able to see or make sense of your data.
Then, protocols such as L2TP/IPSec, and PPTP are included as well. These aren't as secure as OpenVPN, but they usually work with minimal throttling of your Web speed. In other words, you can use them if you want to unblock websites and if you don't care about someone seeing what you do online.
Logging Policy
After taking a very close look at ExpressVPN's logging policy, we can say that this provider doesn't collect your personal and identifiable information. However, you should know that ExpressVPN does collect some information. We are talking about the timestamp of the VPN connection, the server used, as well as the amount of data transferred. However, this information can't be connected to your name and it's used for diagnostic purposes.
Aside from this VPN's TrustedServer technology, ExpressVPN also went through an independent audit. All of this means that ExpressVPN truly deserves your trust.
DNS Leak Test
Next, we have tested ExpressVPN for DNS leaks. This test is the best way to show if this provider can truly safeguard your real identity online. So, let's take a look at the results.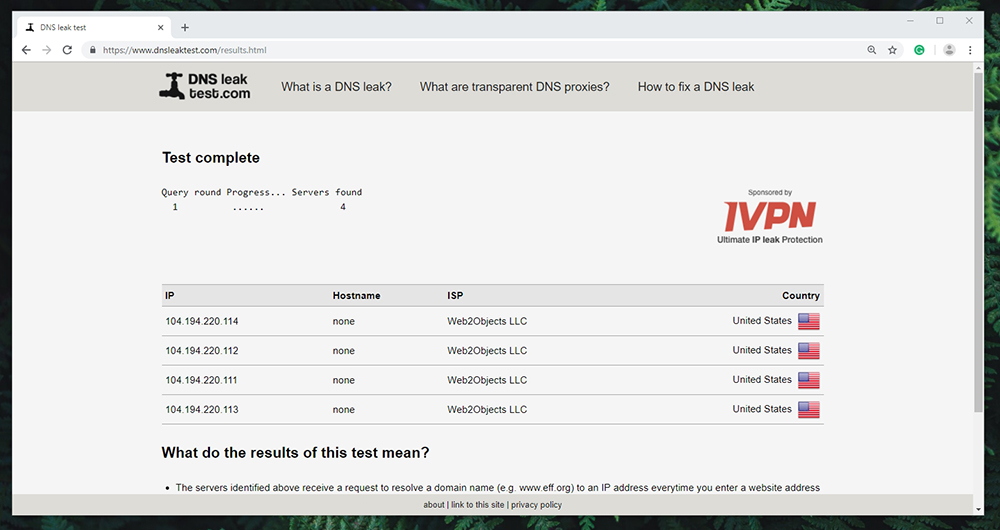 As you can see, our real identity remains hidden. ExpressVPN doesn't allow websites to see our real IP and address, as it instead shows our virtual IP and a fake address (based on the server we're connected to). With this said, we can conclude that ExpressVPN is airtight when it comes to keeping private data from leaking in any form.
Speed & Performance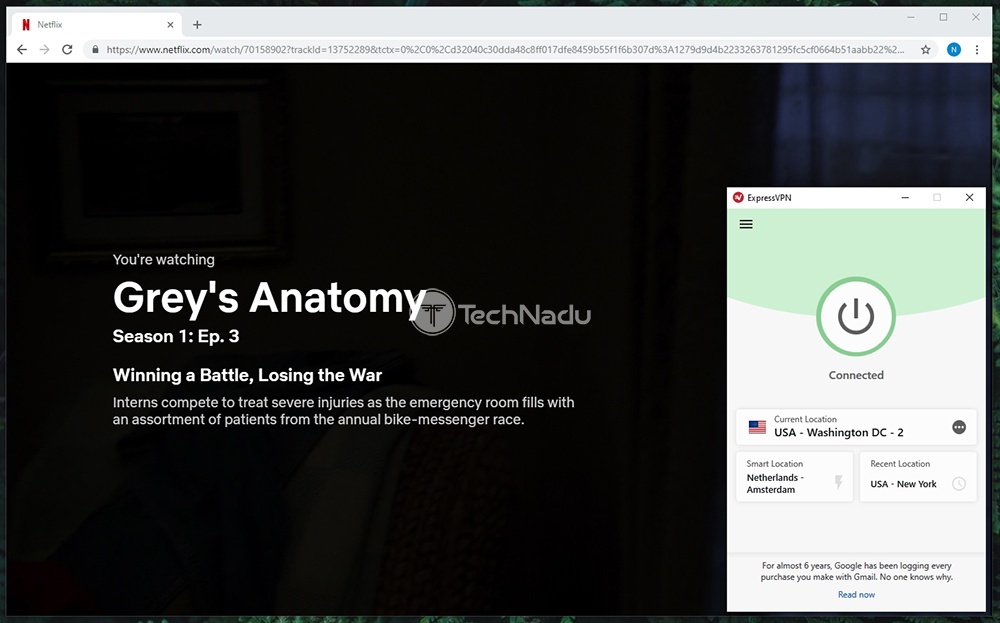 ExpressVPN provides reliable performance with around 19% reduction – which is quite an achievement for any VPN provider. Our Score: 9/10.
Finally, it's time to check how fast ExpressVPN performs in 2020. First, we are going to check the speed of our 'naked' connection, without a VPN. Then, we'll proceed to connect to a nearby VPN server first, and then we'll connect to a remote server. So, here are the results.

As you can see on the image above, the speed of our 'naked' Web connection according to Ookla's speed test is 148.87 Mbps for downloads and 9.67 Mbps for uploads. This gives us the baseline data that we'll use to check whether ExpressVPN throttles the speed of our Web connection.
After allowing ExpressVPN to connect us to the most optimal server, here are the results we got. Ookla's test shows that now we have 124.03 Mbps for downloads and 8.52 Mbps for uploads. So, there is some throttling which is something to expect from any VPN. Still, you need to know that this is an amazing result.

Finally, we've tried a remote server – based in the USA. This server is quite far from us, geographically, so we expect a noticeable slowdown to happen. According to our tests, we got 116.87 Mbps for downloads and 6.11 Mbps for uploads. As predicted, ExpressVPN made our connection slower – however, not by much.
| | | | |
| --- | --- | --- | --- |
| | Download Speed | Upload Speed | Speed Reduction |
| Baseline Speed | 148.87 Mbps | 9.67 Mbps | 0% |
| Paris, France | 124.03 Mbps | 8.52 Mbps | 16.7% |
| New York, USA | 116.87 Mbps | 6.11 Mbps | 21.5% |
As you can see, we've put all of the results into a table. On average, ExpressVPN made our Web connection speed slower around 19%. This is on par with other highly capable VPN providers.
Customer Support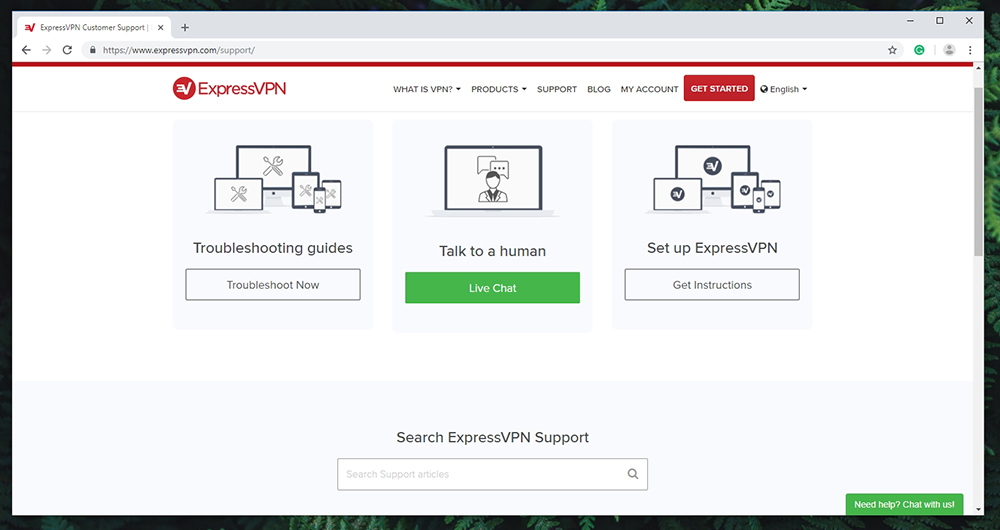 ExpressVPN offers a comprehensive support section, with plenty of material to research. At any moment, you'll find someone from the company to assist you. Our Score: 10/10.
There really are numerous ways to get help with ExpressVPN. So, let's give you an overview of what to expect if you decide to become an ExpressVPN subscriber:
Live Chat Support: First and foremost, there's a live chat option on the website, open for anyone who visits it. We've contacted the support via live-chat several times now, and we managed to get a response within seconds. This means that there no long queues and you can get help around the clock.
Setup Instructions: ExpressVPN offers comprehensive setup instructions for each of the devices that it supports. There are also in-depth guides on how to get the most out of this VPN for watching videos, using it with NAS setups, and more.
Troubleshooting Guides: In case of technical questions, you can find troubleshooting guides related to your account information and payments, connectivity problems, different kind of log file errors, and more.
Email & Support Ticket: In case you'd like to ask for help directly from ExpressVPN, there's a convenient way to open a support ticket or send an email. However, we suggest you go with the live chat option first.
ExpressVPN has been on the market for a while now, and it knows how to create a useful support system. There are multiple communication channels you can use, and plenty of support documentation.
Pricing
ExpressVPN certainly isn't the most affordable VPN out there. However, we think it offers an amazing deal considering the value it brings. Our Score: 9/10.
ExpressVPN currently offers three subscription plans, catering to different types of users. As you can expect, you can save quite a lot if you go for one of its long-term plans. Here's a handy overview of ExpressVPN's pricing structure.
| | | | |
| --- | --- | --- | --- |
| Subscription Duration | Total Price | Per Month | Savings |
| 1 Month | $12.95 | $12.95 | 0% |
| 6 Months | $59.95 | $9.99 | 23% |
| 12 Months | $99.95 | $6.67 | 49% |
As you can see, the biggest savings can be found in ExpressVPN's annual plan. This is where you can find the price of $6.67 per month, which seems like an amazing deal considering the value this VPN provider brings. As such, we highly recommend it as this VPN has a proven track record of offering a reliable service, which makes investing in its long-term plan a good idea. Make sure to keep that mind when subscribing to ExpressVPN.
Next, you also need to know that ExpressVPN supports the following payment options: various credit cards (including Visa, Mastercard, American Express, Discover, and more), PayPal, Bitcoin, as well as other payment methods including Alipay, UnionPay, Yandex Money, and more.
All of ExpressVPN's subscription plans include 30-day money-back guarantees. If you change your mind for some reason, you can expect your money to be returned with no questions asked.
Do We Recommend ExpressVPN?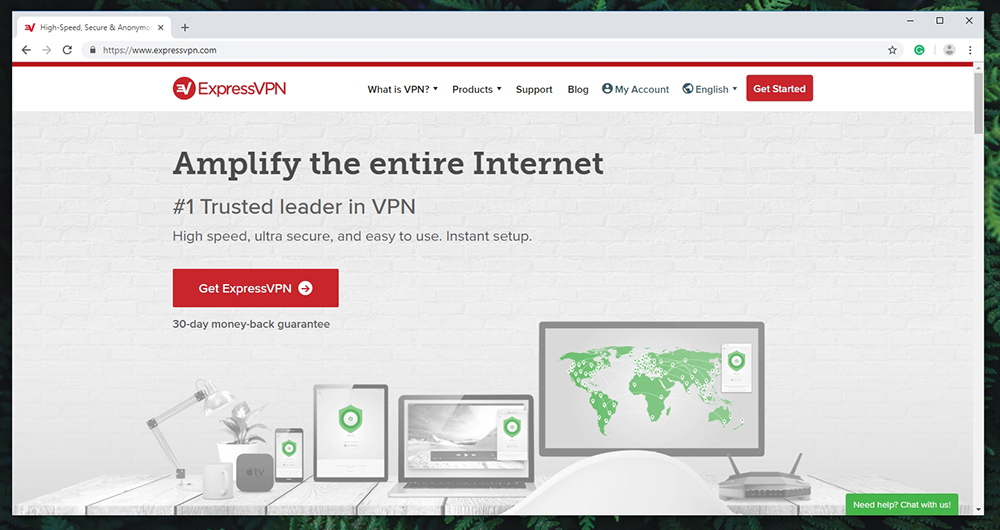 Without any doubt, ExpressVPN is one of the best VPN providers today (if not the best). It's very easy to use, present on numerous devices, and makes sure you're 100% safe on the Web. On top of that, it unblocks websites and even allows torrenting. So, what's not to like here?
PROS: Wide platform/device compatibility; Easy to install; Fully automated solution; Doesn't collect activity logs; High-end encryption; Supports all popular VPN protocols; Amazing support.
CONS: Not the most affordable monthly plan (but still worth the money).
OUR SCORE: 9.6 out of 10!
The bottom line is that ExpressVPN could be the perfect choice for the majority of VPN users in 2020. So, make sure to get an ExpressVPN subscription today and browse the Web without any worries!
Lastly, we'd like to ask you to share this review online. And don't forget to follow TechNadu via our Facebook and Twitter pages. Thanks!