Right off the bat, we'll say that ExpressVPN is among the most capable VPNs available on the global market today. What sets it apart? For starters, it doesn't collect user logs, keeping your digital footprint clean and private. Plus, this VPN operates from the British Virgin Islands, which isn't part of any international snooping alliances. And with a spotless track record of no past data leaks, you can trust it for a safe online journey.
But that's not all. ExpressVPN is your go-to companion for seamless streaming, lightning-fast torrenting, and lag-free gaming. It's also packed with a robust arsenal when it comes to privacy and security features. No wonder it tops our list of the best VPN services. It's a true example of how a commercial VPN should work in every imaginable aspect.
However, before going any deeper, our ExpressVPN review will introduce you to this VPN by listing its most prominent characteristics. Check the table you'll see just below.
| | |
| --- | --- |
| Jurisdiction | British Virgin Islands. |
| Logs | No logging - independently audited. |
| Servers | 3,000+ in 94 countries. |
| Simultaneous Connections | 5. |
| Supported Devices | Windows, macOS, Linux, Android, iOS, routers, and more. |
| Features | Kill switch, split tunneling, private DNS, anti-tracking, and more. |
| Protocols | OpenVPN, Lightway, L2TP/IPsec, IKEv2. |
| Supports | Torrenting, Gaming, Netflix, Hulu, Disney+, and more. |
| Customer Support | 24/7 live chat, email support, and more. |
| Price | From $6.67/month. |
| Live Deal | Save 49% OFF - Get 3 Extra Months FREE |
| Our Score | 9.5 out of 10. |
In this in-depth ExpressVPN review, we'll closely examine every aspect of this VPN, such as country of origin, supported platforms, UI design, features, VPN server network, performance, and more. To learn about our approach to testing VPN services (and yes, we always test them hands-on), here's our guide on how we review VPNs.
Also, know that we're keeping this review up-to-date at all times, so you'll stay informed on what's new in ExpressVPN. Our goal is to make it easy for you to understand today's position of ExpressVPN in the global VPN market.
Background, Jurisdiction & Reputation
Despite the recent shift in ExpressVPN's ownership, our team believes ExpressVPN still deserves your trust due to its years-long commitment to privacy, no-logs policy, numerous audits, open-source software, and involvement with cyber-sec alliances. Our Score: 9/10
The primary purpose of any VPN is to hide your IP address (and, therefore, your location) and help you stay anonymous online. However, this also means not every VPN will do its job in the best way possible. With that said, here's what to expect from ExpressVPN.
Where Is ExpressVPN Based?
ExpressVPN is based in the British Virgin Islands and is a non-member of the 5/9/14 Eyes Alliance. This location is an excellent choice from a legal standpoint since this United Kingdom territory has self-governing laws.
However, it's crucial to note that ExpressVPN is no longer an independent company, as Kape Technologies acquired ExpressVPN in September 2021. Kape Technologies is a massive company that runs a wide range of businesses.
However, it's interesting to note that Kape also owns CyberGhost VPN, ZenMate VPN, and Private Internet Access (PIA) (here's more information about the VPNs owned by Kape Technologies). Despite ExpressVPN being under the same parent company, these VPN services maintain their unique identities and adhere to their individual privacy policies.
Furthermore, know that Kape's most prominent shareholder (~55%) is Unikmind Holdings, owned by the same people as Kape Technologies. Both Unikmind and Kape come from the Isle of Man, part of the United Kingdom. However, when it comes to any potential legal requests, they're based on the jurisdiction of the VPN service (the British Virgin Islands).
To clear any confusion about ExpressVPN's recent acquisition, TechNadu's team approached the VPN provider with a series of questions. We were reassured that ExpressVPN would remain loyal to its no-logs policy. Here's our full interview with ExpressVPN's vice president.
Lastly, ExpressVPN remains a part of the 'VPN Trust Initiative' and' ioXt Alliance', alongside pioneering several transparency initiatives. With all that said, we believe that ExpressVPN's recent merger with Kape shouldn't be a reason for concern. Of course, we'll make sure to update this article in case anything of interest comes up.
Did ExpressVPN Leak Private Data in the Past?
No, ExpressVPN didn't leak private data in the past. It came under the spotlight in January 2017 when its Turkey-based servers were seized by the country's authorities. That was an opportunity for the VPN to prove its claims of not collecting data, and that's what happened.
As it turned out, those (no-logs) claims were proven to be true. The authorities were not able to extract any information from the seized servers. That has also demonstrated the fact that the VPN doesn't have any backdoors built into its applications.
Speaking of backdoors, this is where we should mention ExpressVPN's CIO, Daniel Gericke, who turned out to also be a mercenary hacker for the United Arab Emirates. As reported by Reuters, Gericke worked on 'Project Raven' in the past, a surveillance operation focusing on exploiting zero-day flaws and taking over devices without any user interaction.
Everything said above about Gericke might seem in contrast to ExpressVPN's mission. However, the VPN defended its decision to hire Gericke, saying that his extensive knowledge has helped ExpressVPN create a bulletproof security and privacy-protecting system. More precisely, Gericke helped develop a 'Security Operations Center' while working on improving risk assessments and mitigation through red teaming.
Gericke continues to be employed by ExpressVPN, as he's seen as a highly valuable asset. And considering that ExpressVPN is one of the rare VPNs that has never had a data leak, we believe that their systems are more than well-equipped to preserve your digital privacy.
Lastly, in December 2017, ExpressVPN launched a project called 'Digital Research Lab.' The main goal of that action was to provide online tools for checking VPN data leaks. In the latest version of the VPN's software, you can find a set of useful tools that are the result of this initiative (once you dive into ExpressVPN's main menu).
Is ExpressVPN Safe?
Yes, ExpressVPN is one of the safest VPNs available. It uses AES-256 encryption, which means your data is 100% safe from tracking and any kind of malicious manipulation.
Also, ExpressVPN is capable of creating an ultra-secure VPN tunnel. It comes with a bulletproof way to hide your IP address, which is what makes you safer online. By hiding your IP, you'll hide your location, protect your identity, and open up the Web.
Most importantly, ExpressVPN undergoes regular third-party audits, solidifying its position as one of the most transparent providers in the industry.
Supported Platforms & Devices
ExpressVPN has done a fantastic job of offering apps for desktop and mobile platforms. Furthermore, you can use it on up to eight devices at the same time. Our Score: 10/10
The following table gives you an overview of ExpressVPN's presence on multiple devices. Take a quick look below, and then we'll expand this topic with helpful information.
| | |
| --- | --- |
| Desktop Platforms | Windows, macOS, Linux, Chrome OS. |
| Mobile Platforms | Android, iOS, Amazon Kindle, Blackberry, NOOK eReaders. |
| Web Browsers | Google Chrome, Mozilla Firefox, Microsoft Edge, Safari. |
| Routers | Aircove, DD-WRT, Tomato, TP-Link, D-Link, ASUS, Linksys, NETGEAR, Huawei. |
| Other Devices | Amazon Fire TV, Apple TV, PlayStation, Roku, Xbox, Nintendo Switch. |
What needs to be highlighted is that ExpressVPN doesn't require manual configuration. Still, if you decide to go the manual route, the VPN is there to support you.
Some devices, such as game consoles, support ExpressVPN via different workarounds. In that case, your best bet is to set up ExpressVPN on a router and keep all your devices protected at once. That doesn't apply only to ExpressVPN but to all VPNs out there, as devices such as game consoles don't support VPN apps natively.
Just recently, this VPN introduced its very own hardware product, called "Aircove." It's a high-end Wi-Fi 6 router that comes with built-in VPN support. You can order Aircove from Amazon for $189.90, and it's available in the US for now. For more info, head over to our central ExpressVPN Aircove guide.
ExpressVPN is also quick to adopt the latest technologies. Just recently, this VPN provider overhauled its macOS application and now supports Apple's M1 and M2 chips natively. That transition brought a noticeable improvement in performance while lowering the application's power consumption.
We'll also add that you can install ExpressVPN on as many devices as you like. However, there's a device limit for simultaneous connections if you have a 6- or 12-month subscription plan. With these plans, you can connect eight devices to the VPN at a time. With a monthly plan, you're limited to five simultaneous devices. You'll find our guide on how to install ExpressVPN on multiple devices helpful.
Installation & Initial Configuration
This VPN service offers a straightforward way to install and setup ExpressVPN. Even those who are new to VPNs won't encounter any issues and will find the installation method easy. Our Score: 10/10
In this section of our hands-on ExpressVPN review, we'll guide you on how to download ExpressVPN, including how to install and configure it. As you're about to see, you're in for a very simple procedure.
How to Download and Use ExpressVPN?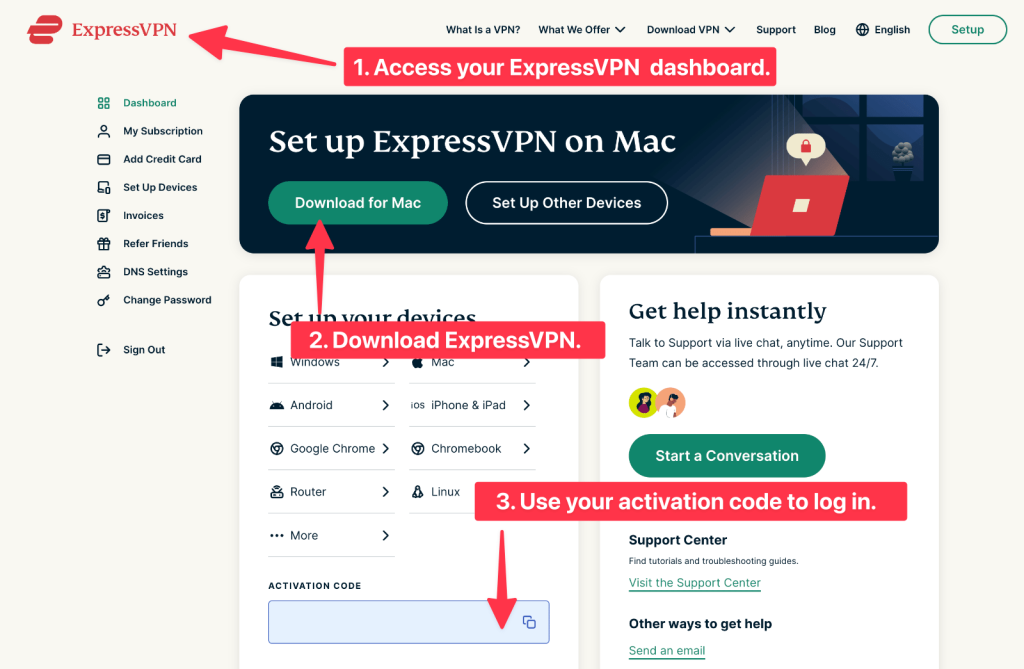 To download and start using this VPN, you need to subscribe, get its installation file, and install ExpressVPN on your device. This whole process takes only a few minutes, and here's what you need to do:
Subscribe to ExpressVPN using any Web browser.
Return to ExpressVPN's website and click "My Account" using the site's main menu.
Provide your credentials to access your ExpressVPN dashboard.
Download the installation file using the top-placed banner.
Find the installation file and double-click to open it.
Go through ExpressVPN's installation procedure.
Launch the VPN and log in using your ExpressVPN activation code.
To choose a location, click the hamburger button and pick "VPN Locations."
Double-click on any server, and ExpressVPN will connect you. That's it!
ExpressVPN comes equipped to protect your privacy from the get-go. However, we recommend activating its kill switch (Hamburger Button > Preferences/Settings > General > Network Lock), preventing data leaks even if something unexpected happens.
Also, the ExpressVPN app has a helpful "Threat Manager" feature to block even the most advanced trackers (Hamburger Button > Preferences/Settings > Threat Manager), which we highly recommend activating as soon as you install the VPN.
To learn more about getting started with this VPN on various different platforms, we've prepared a handy guide that covers 60+ devices. So, here's how to set up ExpressVPN.
Prominent Features
ExpressVPN is managing to bring an excellent selection of basic/standard tools (all of which work great). It also caters to more advanced users via more complex features, which means that every potential user of this VPN should be covered well. Our Score: 9/10
ExpressVPN is among the most feature-rich VPN services. You get complete protection for your digital privacy, a leak-free tunnel for your data, as well as a plethora of advanced features.
Here's what to expect from ExpressVPN in terms of its features:
Full Data Leak Protection: Without any surprise, ExpressVPN is capable of creating an ultra-tough VPN tunnel. That means you won't have to worry about DNS or IP leaks, so no one will know what you do online. Just like its direct competitors, ExpressVPN can protect you from both IPv4 and IPv6 leaks.
High-End Data Encryption: ExpressVPN relies on AES-256 to encrypt your data, which is considered incredibly safe and secure. If you go with the VPN's Lightway protocol, you'll get a combination of AES-256-GCM and ChaCha20/Poly1305, switching between either of those types of encryption on the fly. That's one of the reasons why ExpressVPN's Lightway is among the fastest VPN protocols currently available.
Private DNS: To ensure the safety of your data, ExpressVPN uses its own private, encrypted DNS on every VPN server. That means your Web traffic is handled directly by the VPN, with no third parties involved. So, you won't have to worry about DNS hijacking or DNS blocking, giving you unrestricted access to practically any website out there.
TrustedServer Technology: This is one of the first VPN services to have switched to RAM-only servers, which means it doesn't use hard drives. In other words, even if your data gets to ExpressVPN's servers (which is close to impossible to happen), there won't be a way for the VPN to store that data as there are no hard drives in use.
Kill Switch (Network Lock): ExpressVPN's kill switch shuts down your Web connection if your VPN session gets interrupted by accident. That way, your data won't leak, no matter what happens. Unlike its competitors, ExpressVPN's kill switch (called "Network Lock" in this case) is available on Windows, macOS, Linux, and routers. On top of that, it's also available on Android and even iOS - since recently.
Split Tunneling: This feature allows you to select applications that route their traffic through ExpressVPN's servers and which ones stick to your regular Internet connection. So, if you have applications that don't work with VPNs, you can use them without interruption. This feature is available on Windows, Android, and routers. It also works on macOS except for macOS 11 and above.
Threat Manager: ExpressVPN's Threat Manager prevents your device from communicating with servers known for hosting/using trackers and malware. This is a DNS-level solution for filtering your traffic, which means it works on websites and apps. You'll need to use the Lightway protocol and enable this feature manually. It's available on macOS, iOS, and Linux, with support for Windows and Android coming soon.
Parallel Connections: Less powerful VPNs can take a while to establish a connection, often trying a series of servers before your session becomes active. However, thanks to a feature called Parallel Connections, ExpressVPN can connect to a server in under one second. Even if you're in a country with rigorous Internet blocks, this VPN will help you establish a secure connection in no time.
ExpressVPN Keys: This VPN comes with a premium-level password manager, available without any additional costs. Called ExpressVPN Keys, this password manager helps you keep your credentials safe, sign in to websites instantly, generate strong passwords, and fix weak passwords. It's available on iOS and Android, and it also comes as an extension for Chrome. This feature is in beta at the moment, expected to be rolled out gradually.
Server Count & Infrastructure
With 3,000+ servers available, you can connect to any part of the world. ExpressVPN's server network isn't the biggest out there - but it's more than what you'll need. Our Score: 8.5/10
In general, you'll want a VPN with plenty of servers. On the one hand, that lets you connect to a large number of countries and gets you a wide range of IP addresses. On the other hand, VPNs can achieve fast performance by offering plenty of servers for all their customers.
| | |
| --- | --- |
| Number of Servers | 3,000+ |
| Number of Locations | 160 |
| Number of Countries | 94 |
| Specific Cities Selection | YES |
| Unlimited Switching | YES |
You should know that this VPN is on our list of VPNs with the most servers. However, some of its direct competitors offer 7,500+ servers. That sounds amazing in theory, but that doesn't mean you'll get faster performance by choosing a VPN with a larger number of servers.
By default, ExpressVPN presents you with an 'optimal' server bringing the best possible performance. In general, this is a nearby server that might even be located in your country.
However, you also have full freedom to change locations and connect to any of the 3,000 servers offered by this VPN. There's a search option letting you find specific ExpressVPN countries or even a city.
Just recently, ExpressVPN started upgrading its server network by replacing 1Gbps servers with 10Gbps servers. That means you can now expect faster speeds, more reliable connections, and more frequent updates to the VPN's server network.
ExpressVPN servers are available in 20+ in-demand countries (check the full list below), which means that 70% of its global bandwidth now goes through the new servers.
ExpressVPN 10Gbps Servers - Full List of Servers / Locations
| | | | |
| --- | --- | --- | --- |
| Australia – Sydney – 2 | Italy – Cosenza | Taiwan – 3 | USA – Miami – 2 |
| Austria | Japan – Shibuya | Thailand | USA – New Jersey – 1 |
| Canada - Toronto | Japan – Tokyo | Turkey | USA – New Jersey – 3 |
| Czech Republic | Malaysia | UK – Docklands | USA – New York |
| France - Marseille | Netherlands – Amsterdam | UK – East London | USA – Phoenix |
| France - Paris - 2 | Netherlands – Rotterdam | UK – London | USA – San Francisco |
| Germany - Frankfurt – 1 | Netherlands – The Hague | Ukraine | USA – Seattle |
| Germany – Frankfurt – 3 | Poland | USA – Atlanta | USA – Washington DC |
| Germany – Nuremberg | Singapore – CBD | USA – Dallas | |
| Hong Kong – 1 | Singapore – Jurong | USA – Los Angeles – 1 | |
| Hong Kong – 2 | Spain – Madrid | USA – Los Angeles – 2 | |
| India (via UK) | Sweden | USA – Los Angeles – 3 | |
| Indonesia | Switzerland | USA – Miami | |
As noted earlier, ExpressVPN doesn't impose any restrictions, so you're free to switch between servers as many times as you like. Disconnecting and connecting to ExpressVPN locations takes only a few seconds, and the overall experience is quite fluid. Moreover, all ExpressVPN server locations have built-in obfuscation as long as your protocol is set to 'Automatic'.
We'll also mention that, just like other VPNs, ExpressVPN implements modifications to its server network from time to time. For example, the VPN recently removed India-based servers as a way to protect the privacy of its users before India's privacy-invading data law had come into effect.
However, the VPN didn't just remove its India-based servers. It removed those previously found physically in India. Instead of those, it now offers two virtual locations (learn more about that just below) in the UK and Singapore, letting its users obtain Indian IP addresses.
Does ExpressVPN Use Virtual Server Locations?
Yes, ExpressVPN uses a small number of VPN virtual locations. More precisely, less than 3% of ExpressVPN's servers aren't physically located in their "end country."
To understand how ExpressVPN's virtual servers work, we'll give you an example. Let's say that you want to connect to a server in Argentina. For this country, the VPN uses servers located in Brazil. That means your Internet traffic will be routed through servers in Brazil, while you'll be assigned an Argentian IP so that your Web traffic appears to originate from that country.
In terms of virtual servers, ExpressVPN is front of its competitors. With only 3% of its servers being virtual, 97% of its servers are bare-metal servers owned by ExpressVPN.
ExpressVPN's Virtual Server Locations - Full List
| | | | |
| --- | --- | --- | --- |
| Algeria (via the Netherlands) | Colombia (via Brazil) | Macau (via Singapore) | Sri Lanka (via Singapore) |
| Andorra (via the Netherlands) | Ecuador (via Brazil) | Malta (via the Netherlands) | Taiwan (via Hong Kong) |
| Argentina (via Brazil) | Egypt (via the Netherlands) | Monaco (via the Netherlands) | Thailand (via Singapore) |
| Armenia (via the Netherlands) | Guatemala (via Brazil) | Mongolia (via Singapore) | Turkey (via the Netherlands) |
| Bahamas (via the U.S.) | India (via the UK) | Montenegro (via the Netherlands) | Ukraine (via Poland) |
| Bangladesh (via Singapore) | India (via Singapore) | Myanmar (via Singapore) | Uruguay (via Brazil) |
| Belarus (via the Netherlands) | Indonesia (via Singapore) | Nepal (via Singapore) | Uzbekistan (via the Netherlands) |
| Bhutan (via Singapore) | Isle of Man (via the Netherlands) | North Macedonia (via the Netherlands) | Venezuela (via Brazil) |
| Bolivia (via Brazil) | Jersey (via the Netherlands) | Pakistan (via Singapore) | Vietnam (via Singapore) |
| Bosnia and Herzegovina (via the Netherlands) | Kazakhstan (via Singapore) | Panama (via Brazil) | |
| Brunei (via Singapore) | Laos (via Singapore) | Peru (via Brazil) | |
| Cambodia (via Singapore) | Liechtenstein (via the Netherlands) | Philippines (via Singapore) | |
| Chile (via Brazil) | Malaysia (via Singapore) | Slovenia (via the Netherlands) | |
UI/UX Design & Ease of Use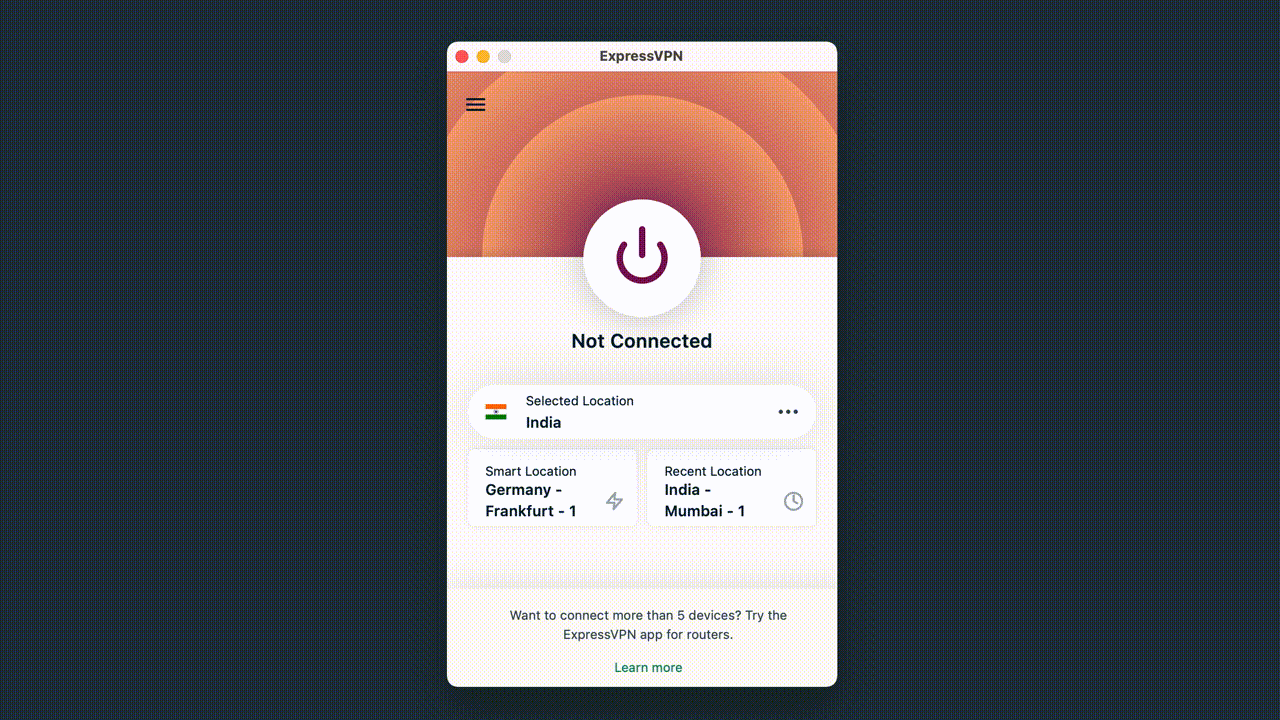 ExpressVPN comes with a simple UI. Even if this is your first time encountering a VPN application, you shouldn't have a problem using it. Our Score: 10/10
In this segment, we'll explore ExpressVPN on desktop and mobile platforms. And considering that this VPN offers a Web browser extension, why not check that as well? With that said, keep on reading our hands-on ExpressVPN review.
How Well Does ExpressVPN Work on Desktop Platforms?
ExpressVPN works exceptionally well on desktop platforms. We'll start with the main screen of the ExpressVPN app, whose biggest portion is reserved for a prominent ON/OFF button. When you login and connect to a server, it will go green (along with its colorful background) – indicating that the VPN is active. Otherwise, the button stays red.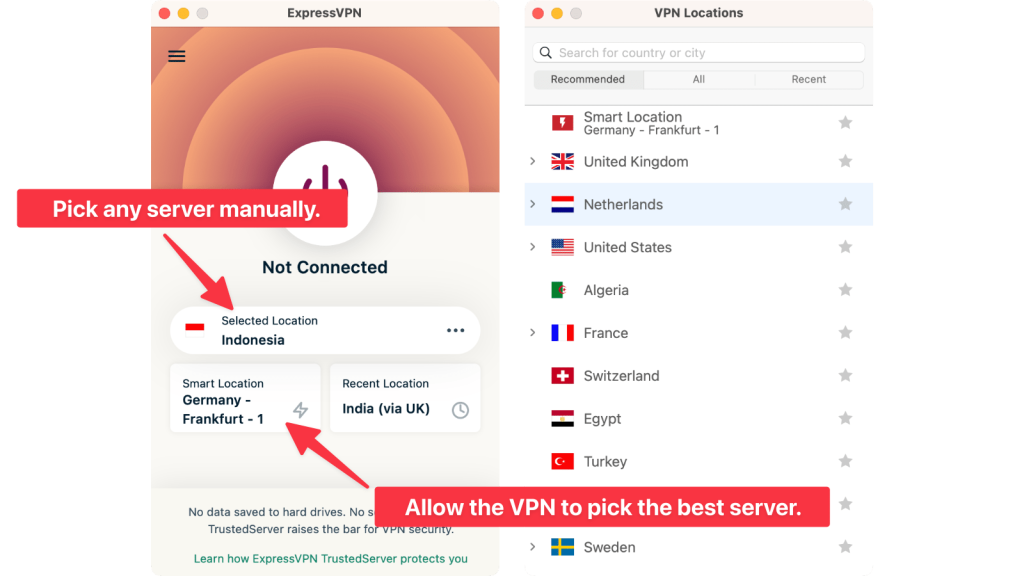 Underneath this button, you'll see your currently selected server. To change a VPN location in ExpressVPN, click on 'Selected Location.' Then, you will also see two additional suggestions, a recommended server ('Smart Location'), as well as your previously used server ('Recent location').
In the top-left corner, there's a hamburger button (three vertical lines). The first option here is called 'VPN Locations,' and as you can expect, this is where you can check out the available servers (as you can see in the image above). ExpressVPN presents a list of recommended servers, but you're also free to review its entire server network and more.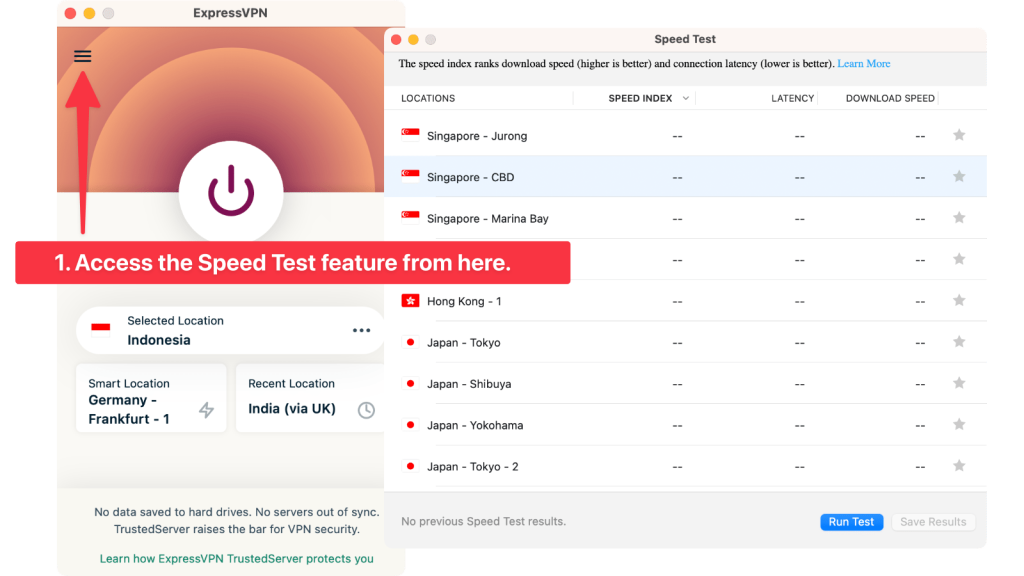 The next item in the hamburger menu is called 'Speed Test.' Using this tool, you can instruct ExpressVPN to test its servers (based on your physical location). This way, you will get three pieces of information: speed index, latency, and download speed. Once you do a speed test, you can double-click on any server's name, and ExpressVPN will connect you immediately.
Now, we'll check another item from this menu, called 'Preferences.' This is where you'll find six tabs, each bringing a distinct set of options. Here's a quick overview:
General: This tab lets you set the VPN to launch every time you power on your computer, and you can let the app connect to a specific server automatically. You can also decide if you'd like to use the 'Network Lock' feature, which acts as a kill switch. Lastly, you can fine-tune your split-tunneling options (if available on your system).
Protocol: ExpressVPN supports an extensive range of protocols, where each comes with its own set of benefits and downsides. So, this is where you can easily choose which one to use. You can choose from OpenVPN (UDP/TCP), Lightway, IKEv2, and L2TP/IPsec on macOS and Windows.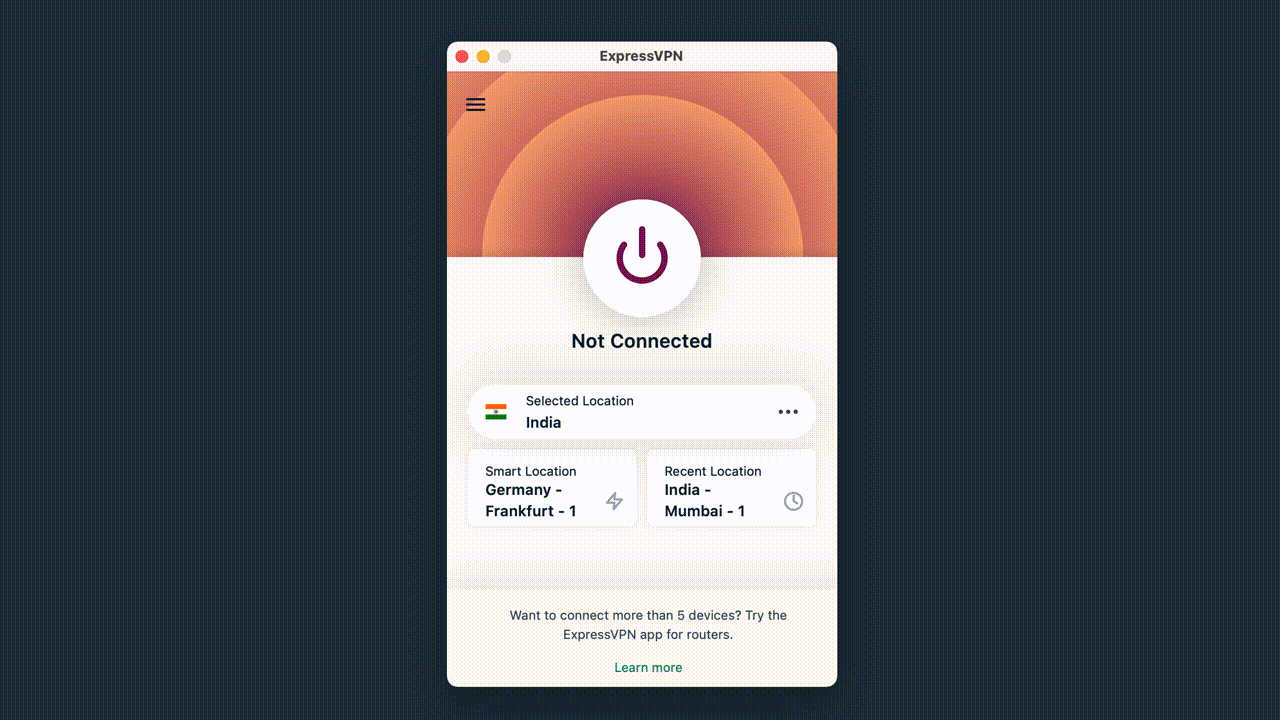 Account: This tab lets you check the status of your account. You can see when it's due to expire, and you can refer friends to get another free 30 days of use.
Shortcuts: Once you connect to a secure server, ExpressVPN provides a series of shortcuts to various apps on your computer/smartphone. So, let's say that you use Netflix often. This means you can set a shortcut to Netflix here, so you can easily access this streaming platform right from ExpressVPN's UI.
Browsers: In case you'd like to find out how to install Web browser extensions, this is where you can take a look. However, using a native app will protect all incoming and outgoing traffic using the highest possible encryption, which beats any Web browser extension with ease.
Threat Manager: ExpressVPN comes with a DNS-based blocker that works against trackers used by websites and apps. As such, 'Threat Manager' works only while you're connected to a VPN server. This tab allows you to enable that feature.
Advanced: The final tab lets you fine-tune advanced options that seem to be optimized by default. You can prevent IPv6 detection, enroll in sending anonymous usage data back to ExpressVPN, and more.
The rest of the options within the hamburger menu are pretty self-explanatory. You can find support documentation, check how to install ExpressVPN on other devices, refer friends, and more. All of these options are actually links to the VPN's official website.
How Well Does ExpressVPN Work on Mobile Platforms?
ExpressVPN works well on mobile platforms. The ExpressVPN app also looks and feels the same across all the devices it supports. With that said, know that ExpressVPN on mobile apps (Android and iOS) is incredibly simple to use and comes highly polished. Let's take a closer look at those.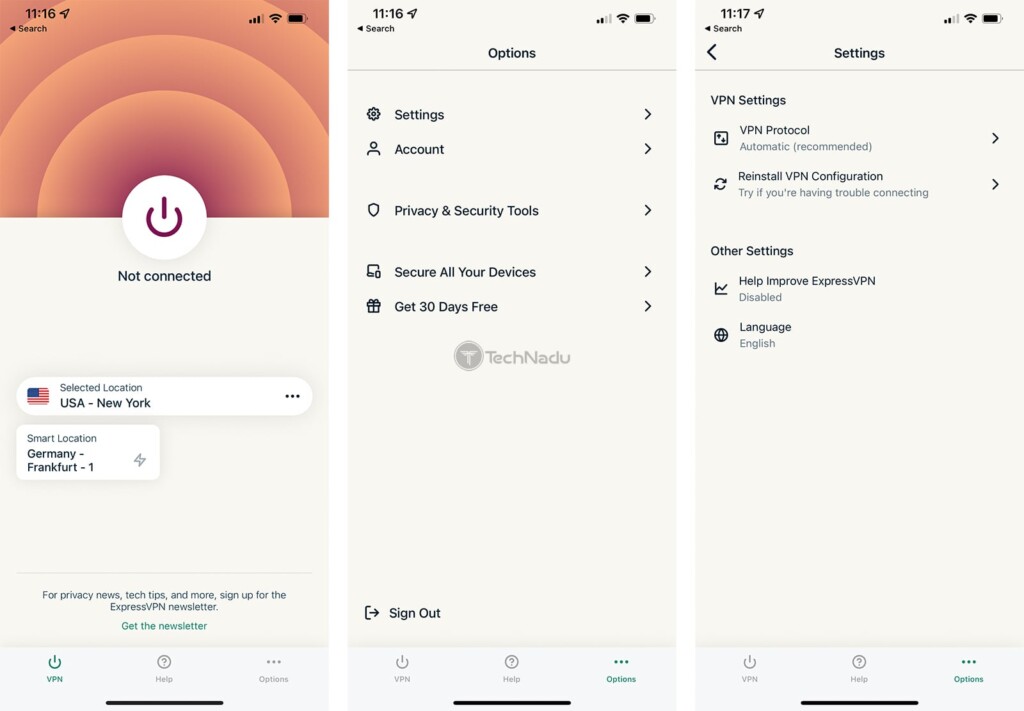 For the most part, ExpressVPN's Android and iOS apps share a similar login process and appearance. On their home screens, you'll find a prominent ON/OFF button used to connect to a server (and later on, disconnect). You can tap on the 'three dots' icon (next to the name of your previously used server) to reveal all of ExpressVPN's locations, where you'll get to see recommended locations, the entire list of the VPN's servers, or your favorites.
To dive deeper, you can tap on the 'Options' tab, found at the bottom of ExpressVPN's UI. This is where you can access the app's settings, letting you switch between different VPN protocols. You can also access your account information, as well as use ExpressVPN's digital tools for checking for any IP, DNS, and WebRTC leaks.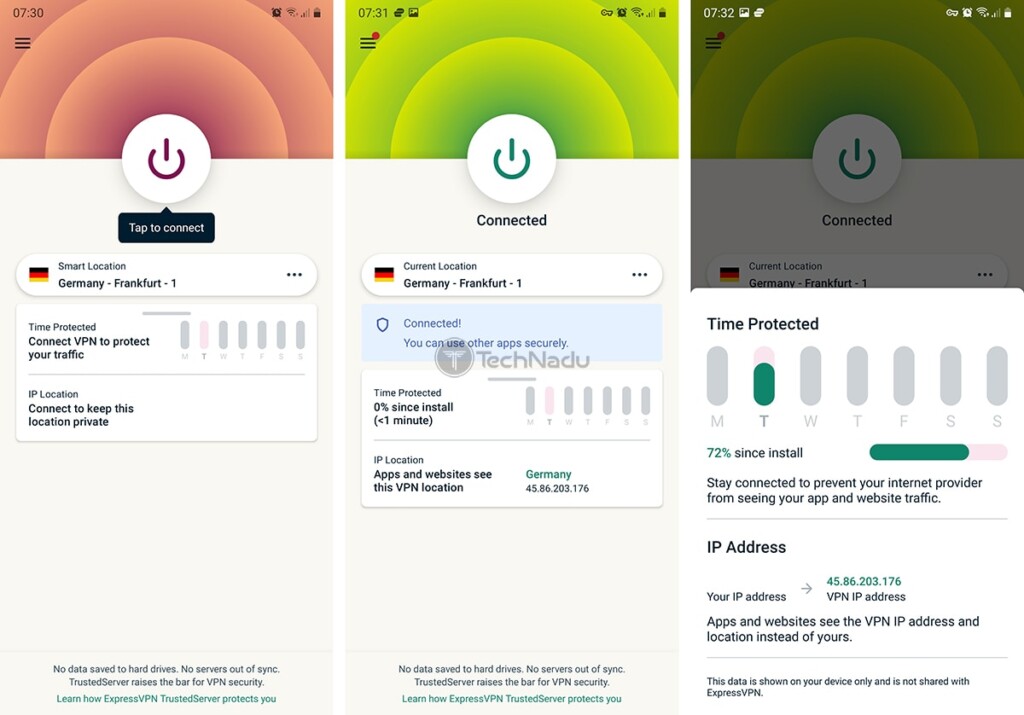 Speaking of ExpressVPN's settings on mobile devices, here's what you can expect to tweak.
Auto-Connect (Android & iOS): Don't confuse this option with a kill switch. ExpressVPN's 'auto-connect' reconnects you to the previously chosen server if something unexpected happens. On Android, you can also decide to start ExpressVPN once Android starts up.
Network Protection (Android): This is where you'll find ExpressVPN's kill switch. It can be auto-activated when ExpressVPN is unable to connect (or switch) to a server.
Split Tunneling (Android): Then, another Android-only feature. Using split tunneling, you get to decide which apps can use the VPN's secure tunnel (and vice versa).
VPN Protocol (Android & iOS): This is where you can switch to a different protocol.
All in all, ExpressVPN is a joy to use - no matter if you have an Android or iOS device. In terms of the VPN's performance, both of those apps are doing an excellent job. ExpressVPN feels smooth, even when used on older Android/iOS phones.
How Well Do ExpressVPN's Web Browser Extensions Work?
ExpressVPN's Web browser extensions deliver efficient performance. It offers extensions for Google's Chrome, Microsoft's Edge, and Mozilla's Firefox. You can also use those on Brave and Vivaldi browsers. All of those are basically the same, in the sense that they bring the same set of features.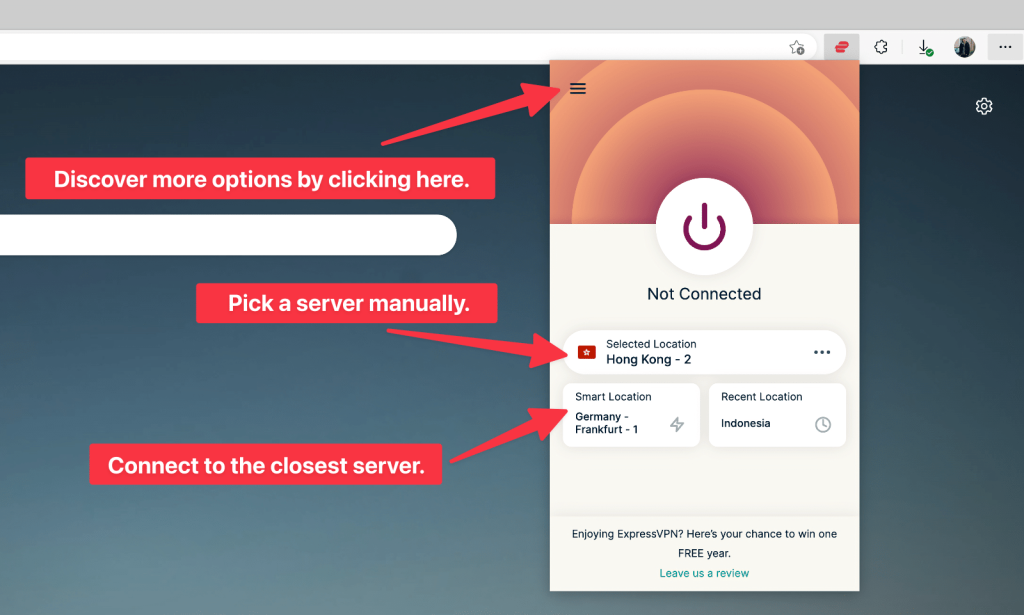 ExpressVPN's Web browser extensions are unique when compared to what other VPNs offer. To use them, you also need to install ExpressVPN's desktop app. Therefore, these extensions act as a remote control for the app, giving you access to all 3,000+ of ExpressVPN's servers.
As soon as you download and install one of ExpressVPN's extensions, you'll be greeted by a familiar UI. Using the home screen, you can connect to a 'smart location' or pick from a recently used server. You can also connect to any server manually.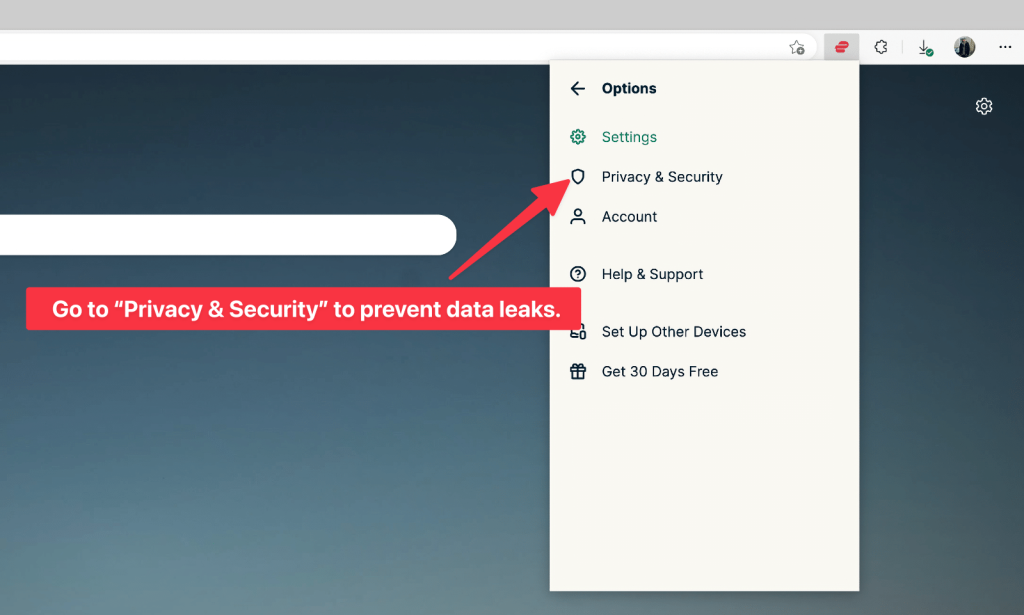 If you click on the hamburger button in the top-left corner, this will reveal additional options, as explained below.
Settings: You can set ExpressVPN's extensions to connect at launch, show desktop notifications, and send anonymous reports to the VPN (for diagnostic purposes).
Privacy & Security: This is where you can enable WebRTC leak protection, hide your location by stopping HTML5 geolocation services, and automatically switch to HTTPS addresses.
Account: Using this tab, you can review the status of your account, when it's due to expire, and manage your account's details.
All in all, we really like ExpressVPN's approach to Web browser extensions. Instead of offering a half-baked solution, you get the best possible protection for your data, in addition to ExpressVPN's entire army of servers.
Media Streaming, Torrenting, and Gaming Support
ExpressVPN can easily unblock a huge number of media streaming services, with Netflix US included. Plus, it fully supports P2P traffic, with no limitations involved. Our Score: 10/10
VPNs are often used to enjoy online content, be it streaming, torrenting, or gaming. However, not all VPN services provide a seamless experience for these activities. Let's examine how ExpressVPN performs in these aspects.
Is ExpressVPN Good for Streaming?
Yes, ExpressVPN is an excellent option for streaming. Based on our tests, it's the best VPN for streaming available today, as it brings ultra-fast performance and can unblock any site.
Speaking of US-based streaming platforms, ExpressVPN works with any platform that offers on-demand movies and TV shows, as well as with live TV streaming services. Without surprise, it's an amazing pick for Netflix because you can use ExpressVPN with Netflix to unblock more than a dozen different country-based streaming libraries.
Here are some of the most notable US-based streaming platforms this VPN unblocks.
| | | |
| --- | --- | --- |
| Netflix | Disney+ | HBO Max |
| Hulu | Discovery+ | Paramount+ |
| Apple TV+ | ESPN+ | DAZN |
| Sling TV | Fubo TV | DirectTV Stream |
Regarding international and non-US streaming platforms, ExpressVPN again shows dominance over other VPNs. Here's a taste of what to expect in that sense.
| | | |
| --- | --- | --- |
| BBC iPlayer (UK) | ITVX (UK) | NOW TV (UK) |
| Channel 4 (UK) | CBC (Canada) | RaiPlay (Italy) |
| 9NOW Live (Australia) | CTV Live (Canada) | GloboPlay (Brazil) |
| DSTV (S. Africa) | RTE (Spain) | Zattoo (Germany) |
All ExpressVPN servers are optimized for streaming, simplifying the process of unblocking sites. Also, you have access to unlimited bandwidth, which is crucial in this case. So, just connect to a server in a specific country, and all streaming services from that country will become accessible.
Let's not forget that ExpressVPN has something called "MediaStreamer," which is a Smart DNS service. You can set it up on devices that don't work with VPNs, such as smart TVs and gaming consoles, letting you unblock US platforms like Netflix.
Is ExpressVPN Good for Torrenting?
Yes, ExpressVPN is more than good for torrenting - it's our preferred solution for protecting P2P traffic. Above all, ExpressVPN is the VPN you can trust to keep you safe online.
So, what exactly makes ExpressVPN suitable for torrenting? Well, a lot. You get a range of powerful protocols led by Lightway and OpenVPN. Then, you get a massive range of servers in 90+ countries. That means you get plenty of options to secure your traffic, hide your P2P traffic, and download torrents as fast as your Web connection allows.
The only downside is that ExpressVPN doesn't support port forwarding. However, we can't say that's a dealbreaker as long as you make an effort to find healthy files with plenty of seeders.
You can learn more by reading our guide on how to set up and torrent with ExpressVPN. And if you need more options, here's our article on the best VPN for torrenting.
Is ExpressVPN Good for Gaming?
Yes, ExpressVPN is a great VPN for gaming. That's because it allows you to re-route your data, lower your ping, and improve your latency. So, you'll end up with an amazing gaming session.
When it comes to using a VPN for gaming, you must ensure that you get a VPN with plenty of servers, specific gaming-related performance optimizations, and fast speeds.
Considering it has over 3,000 servers, ExpressVPN gives you plenty of freedom when choosing an optimal server based on your gaming needs. Still, keep in mind that ExpressVPN will slow you down a bit, so it's crucial to have a fast Web connection.
ExpressVPN doesn't have gaming-optimized servers. Instead, you can use any of its servers. In addition to that, you can choose from a wide range of protocols. This allows you to reduce lag and increase performance in terms of gaming - on both local and long-distance connections.
To check what other features you can use to optimize your gameplay session (as well as how to keep your ping under control), here's our complete guide on using ExpressVPN for gaming.
Security & Privacy
ExpressVPN won't leak your data. Also, it won't track what you do online. With that said, we believe that ExpressVPN is a great tool for preserving your privacy. Our Score: 9.5/10
To find out if we should really trust ExpressVPN with your data, we will take a look at three aspects: VPN protocols, logging policy, and IP/DNS leaks. This should give us plenty of information about the way our personal data is used.
ExpressVPN Protocols
ExpressVPN offers a range of VPN protocols. However, some of those are available on specific devices only. First, let's give you an overview of what VPN protocols to expect.
| | | | | |
| --- | --- | --- | --- | --- |
| | OpenVPN | Lightway | IKEv2 | L2TP/IPsec |
| Windows | YES | YES | YES | YES |
| macOS | YES | YES | YES | NO |
| Linux | YES | YES | NO | NO |
| iOS | NO | YES | YES | NO |
| Android | YES | YES | NO | NO |
OpenVPN: ExpressVPN offers two variants of the OpenVPN protocol - UDP and TCP. The UDP variant comes optimized for speed, while the TCP variant is optimized for connection reliability. You can jump between those by opening the VPN's settings panel (hiding behind the hamburger button on the VPN's home screen).
Lightway: As per the VPN's explanation, Lightway is incredibly lightweight and incredibly powerful at the same time. This means you can count on instantaneous VPN connectivity and high-end protection. On top of that, Lightway is open-sourced, which means anyone can inspect its integrity and the way it functions.
IKEv2: This is a relatively new protocol known for its performance and speed. In general, it's best used on mobile devices, especially if you want to stream online media. However, this protocol isn't available on Linux, and you can't really customize it. ExpressVPN offers IKEv2 on Windows, macOS, and iOS.
L2TP/IPsec: L2TP has also been used for many years now. However, due to its age, it's not as secure as other protocols. ExpressVPN offers this protocol on Windows, paired with AES-256 encryption. As such, it could be a viable alternative to OpenVPN in certain cases.
Does ExpressVPN Keep Logs?
No, ExpressVPN doesn't keep logs. However, despite its no logs policy, know that this VPN provider does collect some information nonetheless, which is the case with practically any other VPN out there.
ExpressVPN collects app diagnostic data, including crash reports, usability diagnostics, and VPN connection diagnostics. Also, information regarding the total sum of data transferred is collected to improve ExpressVPN's performance. None of the previously mentioned data types is connected to your username.
In other words, ExpressVPN adheres to a strict no logs policy and will never collect your IP address (source or VPN), browsing history, traffic destination or metadata, or your DNS queries. That said, this VPN can never be compelled to provide any type of sensitive data, as such data doesn't exist on the VPN's servers.
Then, we already told you about ExpressVPN's TrustedServer technology. By having data centers not relying on hard drives - the VPN avoids logging any information. We're talking about RAM in this case, which means that even anonymized data is perfectly safe.
We should also mention ExpressVPN's audits, the last of which focused on the Lightway protocol (done by Cure53). Per that audit's findings, ExpressVPN's Lightway is a highly secure protocol designed to keep your personal information away from anyone's eyes.
There was also an audit of ExpressVPN's Windows, macOS, and Linux apps. Those were 3 independent audits done by F-Secure and Cure53, proving that ExpressVPN comes free of vulnerabilities. Therefore, no matter which of those desktop apps you use, you can be 100% sure that your IP address and your sensitive information will never leak.
There was also an audit done by KPMG and Cure53, focusing on the VPN's data logging practices. As per those audits, ExpressVPN doesn't collect any personally identifiable information. And even if someone asks for your data, ExpressVPN won't be able to provide anything - as it has no data on its servers.
That said, ExpressVPN is ahead of its competition in terms of transparency. This VPN goes through regular audits to prove that its systems are built from the ground up to preserve and protect your privacy on the Internet.
Will ExpressVPN Leak/Expose Your Private Data?
As you can see from the screenshot below, ExpressVPN has managed to hide our IP address. Besides, DNS addresses point to ExpressVPN's servers only.
Once we checked our geolocation data, it pointed to a location in the USA - which is great since we've used a US-located server.
As you can see, our real identity remained hidden. The VPN didn't allow websites to see our real IP address, as it instead showed our virtual IP address. With this said, we conclude that ExpressVPN is airtight when it comes to keeping private data from leaking.
Speed & Performance
ExpressVPN is an excellent choice for media streaming and downloading files. It comes with extra-fast performance, even when using highly remote servers. Our Score: 9.5/10
To test this VPN's performance, we'll compare the speed of our Web connection with and without using the VPN in the background. We'll start with our "bare" connection - that is, without a VPN session active.
Our baseline speed test gave us 244.42 Mbps for downloads and 244.69 Mbps for uploads. We expect from any VPN to slow down our Web speed a bit because they make connections that take longer routes. So, let's see how ExpressVPN performs:
USA Server: This server was far away from our physical location, but ExpressVPN still managed to provide a speedy connection. We had a 19% speed reduction, which is acceptable for such a long distance. Our download speed was 199.05 Mbps, and our upload speed was 179.40 Mbps.
UK Server: This server was relatively close to us, and it showed a similar result to the Italy server (below). We experienced a 14% speed reduction. Our download speed was 209.37 Mbps, and our upload speed was 202.03 Mbps, both very fast.
Canada Server: This server was also quite far from us, and it performed similarly to ExpressVPN's USA server. We had a 20% speed reduction. Our download speed was 194.46 Mbps, and our upload speed was 188.66 Mbps, both decent.
India (via UK) Server: ExpressVPN no longer offers servers in India due to the country's new laws that force VPNs to collect sensitive information. Therefore, we connected to a UK server that routes our traffic to India. We had a 15% speed reduction, which is surprisingly low for such a complex connection. Our download speed was 207.67 Mbps, and our upload speed was 181.09 Mbps, both very good.
Australia Server: This server was the farthest from us, and we expected a significant drop in speed. However, ExpressVPN surprised us again with its performance. We had a 20% speed reduction, which is amazing for such a remote location. Our download speed was 194.44 Mbps, and our upload speed was 188.14 Mbps, both excellent.
Italy Server: This server was the closest server to our location, so we expected fast performance. ExpressVPN delivered a fast and stable connection, with only a 20% speed reduction. We got 195.47 Mbps for downloads and 199.70 Mbps for uploads, which is impressive.
| | | | |
| --- | --- | --- | --- |
| | Download Speed | Upload Speed | Speed Reduction |
| Baseline Speed | 244.42 Mbps | 244.69 Mbps | 0% |
| USA (New York) | 199.05 Mbps | 179.40 Mbps | 19% |
| UK (London) | 209.37 Mbps | 202.03 Mbps | 14% |
| Canada (Toronto) | 194.46 Mbps | 188.66 Mbps | 20% |
| India (via the UK) | 207.67 Mbps | 181.09 Mbps | 15% |
| Australia (Melbourne) | 194.44 Mbps | 188.14 Mbps | 20% |
| Italy (Cosenza) | 195.47 Mbps | 199.70 Mbps | 20% |
The table above shows that ExpressVPN only slowed us down by 18% on average. This is an amazing result, proving that ExpressVPN is one of the fastest VPNs you can get right now (and it still uses incredibly strong protocols).
We also liked how ExpressVPN handled long-distance connections. If you're far from the USA and want to access services only available there, this VPN is a great option.
Customer Support
ExpressVPN offers a comprehensive customer support section with plenty of useful material. At any moment, you'll find someone from the company to assist you. Our Score: 10/10
There really are numerous ways to get help with ExpressVPN. So, let's give you an overview of what to expect if you decide to become a subscriber:
Live Chat Support: First and foremost, there's a live chat option on the ExpressVPN site, available for anyone (not just subscribers). You won't find long queues, and ExpressVPN's team will assist you in a very friendly manner. Also, this option is available 24/7.
Setup Instructions: ExpressVPN offers comprehensive set-up instructions for each of the devices that it supports. There are also in-depth guides on how to get the most out of this VPN for watching videos, using it with NAS devices, and more.
Troubleshooting Guides: If you have technical questions, you can find guides related to your account and payments, connectivity problems, log file errors, and more.
Email & Support Ticket: If you'd like to ask for help directly from ExpressVPN, there's a convenient way to open a support ticket or send an email. However, we suggest you go with the live chat option first, as that's definitely the quickest way to resolve any issues.
We'll also mention that ExpressVPN has an often-updated blog filled with highly interesting and useful information. You can follow it to learn about the latest ExpressVPN features and global events that affect your privacy.
Lastly, ExpressVPN also offers a Udemy course, teaching you how to protect your online security and privacy. It's available free of charge, has 28 lectures, and lasts about 1 hour. You don't have to be an ExpressVPN subscriber to enroll.
Pricing
ExpressVPN is a high-priced VPN. However, considering its overall value and especially if you want to invest in a long-term plan, this VPN's price seems like a great deal. Our Score: 9/10
ExpressVPN currently offers three subscription plans. As you can expect, you can save some money if you go for one of its long-term plans. Here's what you need to know.
How Much Does ExpressVPN Cost?
ExpressVPN starts at $6.67/month if you pick its long-term plan. However, the cost per month for this VPN is $12.95 if you wish to pay monthly.
All ExpressVPN plans have the same set of features. That means they all come with ultra-tough privacy protection, the ability to unblock any website, 5 simultaneous connections, and you'll be covered by a 30-day money-back policy. The only difference lies in their pricing.
Here's how much you'll need to pay for ExpressVPN based on its currently available plans:
1-Month Plan: This subscription plan allows you to pay each month and comes priced at $12.95. You'll be charged $12.95 every single month - for as long as your account is active. Since you'll be covered by ExpressVPN's 30-day money-back policy, this plan can serve as a trial, as it allows you to get your money back (if you change your mind).
6-Month Plan: The price of this plan comes down to $9.99 per month, which means you'll be billed $59.95 every 6 months. In comparison to ExpressVPN's monthly plan, you'll save 23%, but you'll need to pay upfront.
12-Month Plan (+3 Free Months): The cost per year of this plan comes down to 6.67/month, which means you'll save 49% compared to the VPN's monthly plan. You'll be billed $99.95 every 12 months. However, your first billing period will last 15 months in total, as ExpressVPN will give you 3 extra months. This is also the longest plan you can get, as there's no ExpressVPN lifetime subscription.
You can find more information about how much is ExpressVPN via our dedicated guide, where we explain what exactly you get for your money. We also offer a separate explanation about ExpressVPN's payment methods. Use the provided links to learn more.
Is ExpressVPN Free?
No, ExpressVPN isn't free - it's a commercial VPN service without a free tier. However, this VPN comes with a 30-day money-back guarantee, which means you can try it risk-free.
As explained in our guide on the ExpressVPN free trial, your purchase comes protected by the VPN's no-questions-asked 30-day money-back refund policy. However, that only applies to those who pay for ExpressVPN via its website.
ExpressVPN offers a 7-day free trial on iOS and Android. However, your Apple ID or Google Account must be associated with a payment method. You won't be charged immediately, but you'll be charged unless you cancel before your 7-day trial ends.
We'll also note that getting a refund from ExpressVPN is a no-hassle procedure. Learn more about that in our guide on how to cancel an ExpressVPN subscription.
ExpressVPN Comparison with Other VPN Providers
In general, ExpressVPN is miles ahead of its competitors, even though it does have a couple of minor downsides. To give you a better idea, we'll compare ExpressVPN to NordVPN, Surfshark, Private Internet Access, CyberGhost VPN, and IPVanish.
Final Thoughts - Is ExpressVPN Good?
Yes, we believe that ExpressVPN is more than good - it's the best VPN available right now. It checks all the right boxes, catering to the needs of beginners and highly advanced VPN users, leaving no stone unturned regarding your digital privacy.
As per our tests, ExpressVPN is highly secure and one of the fastest VPNs. That makes it a great option for privacy protection, media streaming, gaming, torrenting, and more.
It works out of the box without you having to tinker with its settings. Just install the VPN, launch it, and connect to a VPN server - and you'll be on your way toward a safer and more open Web.
That said, we highly recommend subscribing to ExpressVPN. In any case, you can count on its 30-day money-back policy, which means it comes as a 100% risk-free investment.
PROS
No data logging (regularly audited).
Incredibly polished interface.
Top-notch data encryption.
High-end VPN protocols.
RAM-only VPN servers.
Up to 8 simultaneous connections.
3,000+ servers (but in 90+ countries).
Great for torrenting.
Great for online gaming.
Great for media streaming.
Works on any device.
24/7 live chat support.
CONS
Owned by a corporation.
Pricier than its competitors.
FAQ
What Is ExpressVPN?
ExpressVPN is a Virtual Private Network provider, registered as ExpressVPN Technologies Ltd, owned by Kape Technologies since 2021, and based in the British Virgin Islands.
Launched in 2009, this is a long-standing and highly respectable VPN brand, one of the founders of the VPN Trust Initiative, featuring a range of technologies to protect your privacy, bypass censorship, and access restricted websites.
Is ExpressVPN Legit?
Yes, ExpressVPN is a legit VPN service. It has a reputation for preserving the privacy of its users without making any compromises. It's one of the most reputable VPNs available.
How Does ExpressVPN Work?
ExpressVPN works by routing your Web traffic through its servers. During that process, your IP address gets hidden, which means no one gets to track you online.
You can also use ExpressVPN to access restricted websites, download torrents safely, and optimize your Web connection for online gaming - among other things.
What Is ExpressVPN Used For?
ExpressVPN is used for protecting privacy on the Web, bypassing censorship, fighting against Internet trackers, and unblocking websites. You can also use it to get more content from the streaming platforms you already use, as well as to optimize your gaming sessions.
Who Owns ExpressVPN?
Kape Technologies owns ExpressVPN as of September 2021. It's one of the most significant companies in today's global VPN market and owns a number of widely used VPN services, such as ZenMate VPN, CyberGhost VPN, and Private Internet Access.
What Does ExpressVPN Do?
ExpressVPN keeps you safe online by preventing anyone from tracking you. It's also used to unblock websites, download torrents, as well as to play online games.
Is ExpressVPN Worth It?
Yes, ExpressVPN is definitely worth it. It's the best VPN on today's global market, coming from a trustworthy brand with expertise in cyber-security. Overall, it provides plenty of value, making it quite easy to recommend.
Does ExpressVPN Work in China?
Yes, ExpressVPN works in China. In fact, this has been one of the most popular VPNs for Internet users in China for many years now.
Is ExpressVPN Owned by China?
No, ExpressVPN isn't owned by any business entity originating in China. 
Does ExpressVPN Work with Netflix?
Is ExpressVPN Legal in the US?
Yes, ExpressVPN is legal in the US. The United States doesn't have specific laws that prohibit the use of VPNs, so you can use ExpressVPN without any legal concerns.
Does ExpressVPN Slow Down the Internet?
Yes, ExpressVPN may slow down your Internet speed, like all VPNs. However, it's known for providing one of the fastest speeds among VPN services. So, while there may be some reduction in speed, it's minimal compared to many other VPNs on the market.
Can You Use ExpressVPN on Multiple Devices?
Yes, you can use ExpressVPN on as many devices as you want. However, the number of simultaneous connections depends on your subscription. With a 6- or 12-month plan, you can connect up to 8 devices simultaneously. For a monthly plan, it allows up to 5 simultaneous connections.