ExpressVPN offers a native app for Amazon's Fire OS, providing the most streamlined user experience possible. On the other hand, If you have an Downloader app on your Firestick, you can use it to download ExpressVPN too. With that said, let's show you how to set up and use ExpressVPN on your Amazon Firestick and Fire TV. 
It's crucial to know which Fire OS devices are compatible with ExpressVPN. With that said, take a close look at the following bullet points:
Fire OS Devices Compatible With ExpressVPN: Fire TV (all versions); Fire TV Stick (2nd generation and newer); Fire TV Stick 4K, Fire TV Stick Lite; Fire TV Cube (all versions).
Fire OS Devices NOT Compatible With ExpressVPN: Fire TV Stick (1st gen) - including devices made in 2014 and before.
Both ExpressVPN and Fire OS are in the process of bringing redesigned interfaces to all of their supported devices. So, even if you see a bit different interface than what's shown below, know that the following instructions are still valid. 
Method 1: How to Install ExpressVPN on Firestick Using the Fire OS (Amazon) App Store
If you have a Fire TV Stick or Fire TV Stick 4K or Fire TV Stick Lite or Fire TV Cube with the App Store preloaded, you can rely on it to install and keep ExpressVPN updated. So, here's our step-by-step guide.
1. First, go ahead and get your ExpressVPN subscription (use the provided link).
2. Click on any of the green-colored 'Get ExpressVPN' buttons you'll see there. 
3. Pick a subscription plan, and then enter your email address and your payment info.
4. Once you finish signing-up, expect to receive a confirmation email from ExpressVPN. 
5. Then, turn to your Firestick or Fire TV device for the rest of this procedure. 
6. Using the 'Search' function on your media streamer, look up 'ExpressVPN.' 

7. You should see the app among the search results. Navigate to its icon and select it. 
If ExpressVPN isn't showing up at this stage, perhaps you don't have access to Amazon's App Store. In that case, you can set up ExpressVPN manually by downloading and installing its Android APK file. Use the provided link to learn more.
8. At this moment, you should see ExpressVPN's overview. Select 'Download.'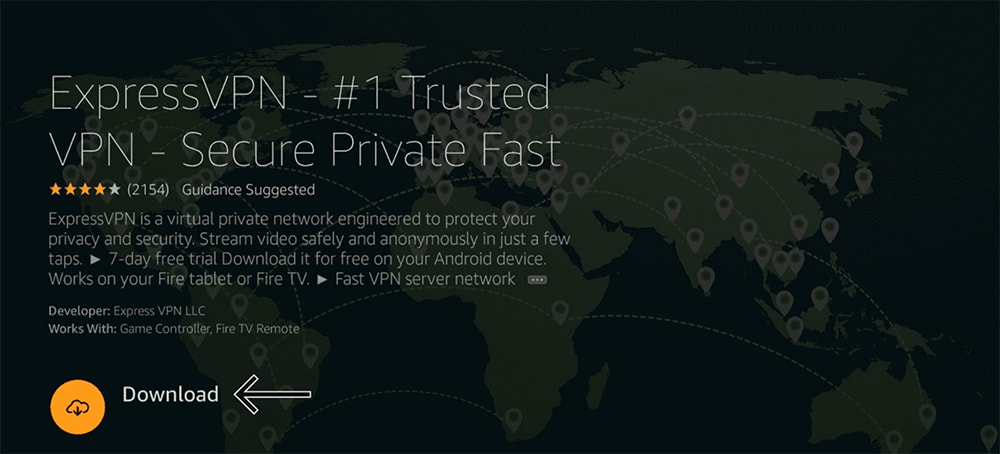 9. The application will now download and install on its own. Go ahead and launch it. 
10. Using your remote controller, select 'Sign In' on ExpressVPN's launch screen.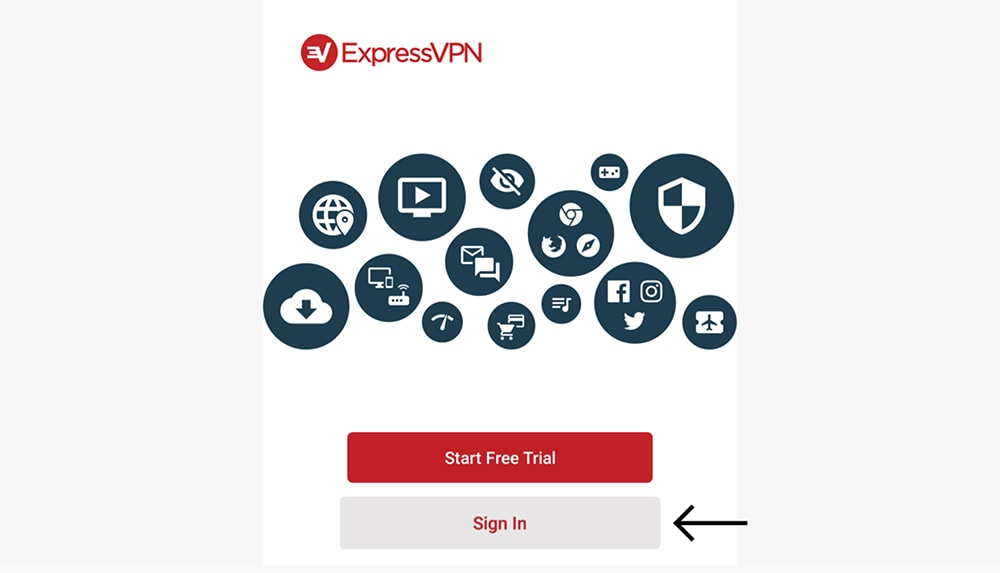 11. Then, provide your email address and password, and select 'Sign In' again.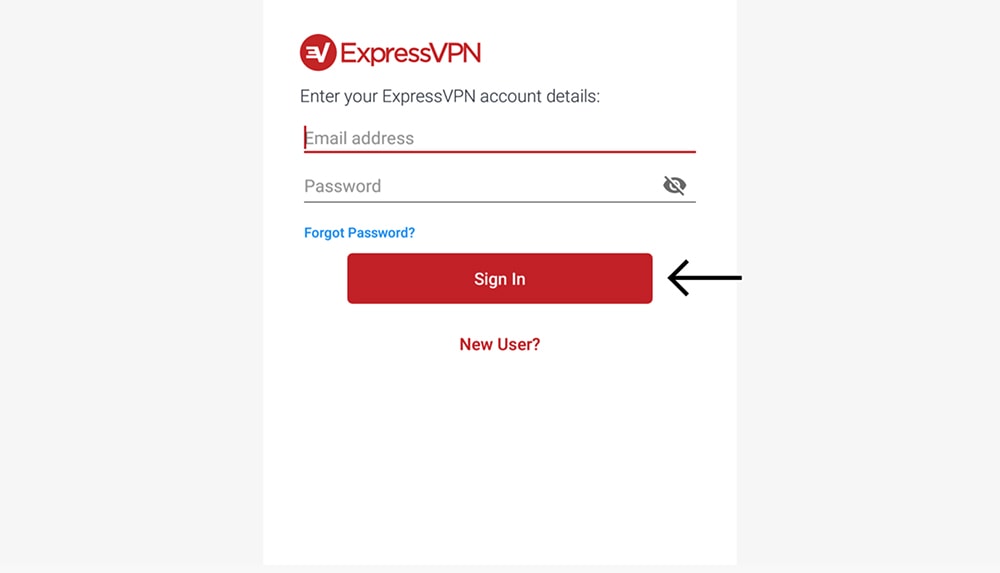 12. The app will ask you to collect anonymous data. Go with 'OK' or 'No, Thanks.'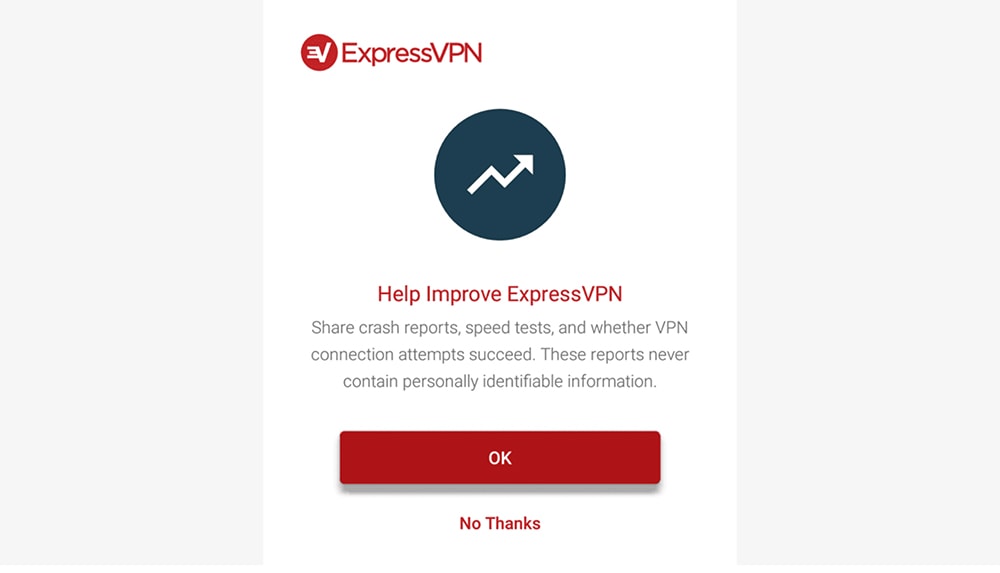 13. Select 'OK' when asked to set up the VPN. 
14. Fire OS will ask you to allow ExpressVPN's connection requests. Select 'OK.'
15. At this moment, you should see ExpressVPN's home screen, ready to be used. 
If you want to unblock media content from a specific country, keep in mind that your VPN server location must match the country set in your Amazon account (this applies to Amazon Prime only). You can change your Amazon country setting by navigating to Your Account > Your Content and Devices > Preferences > Country/Region. 
16. Select the ON/OFF switch to connect to the nearest server.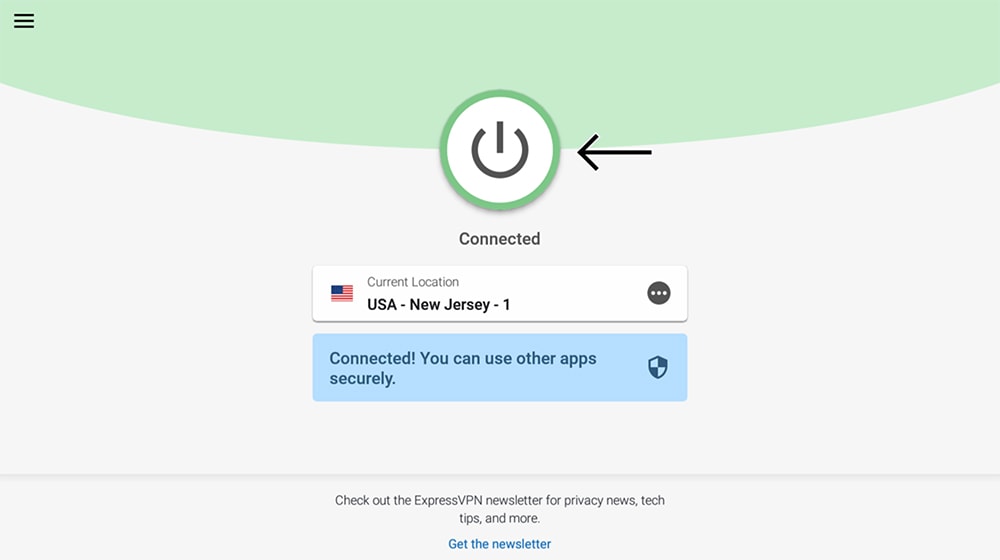 17. The app will check your physical location, connect you, and its UI will turn green. 
18. To disconnect at any moment, press the ON/OFF switch again (the UI will turn red).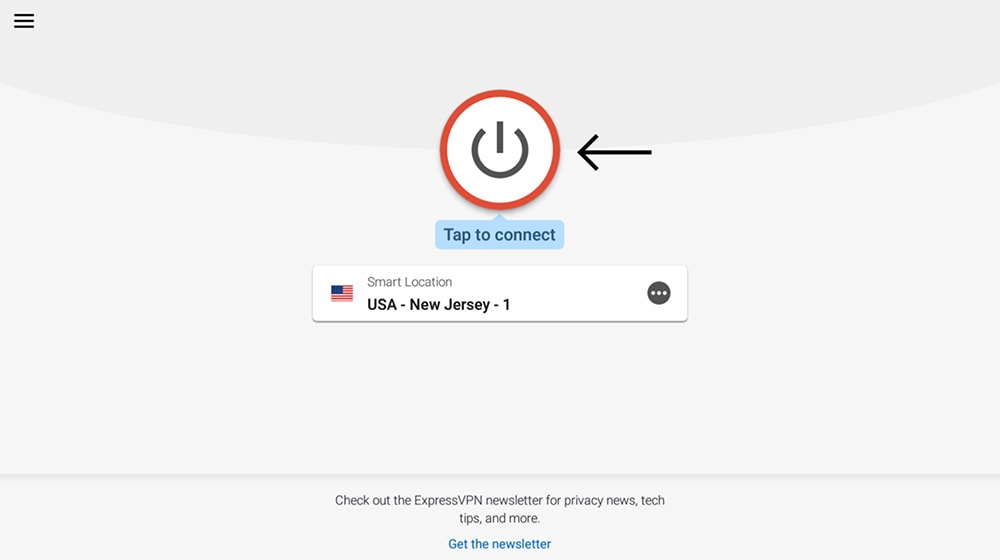 19. To connect to a specific server, press the button just below the ON/OFF switch.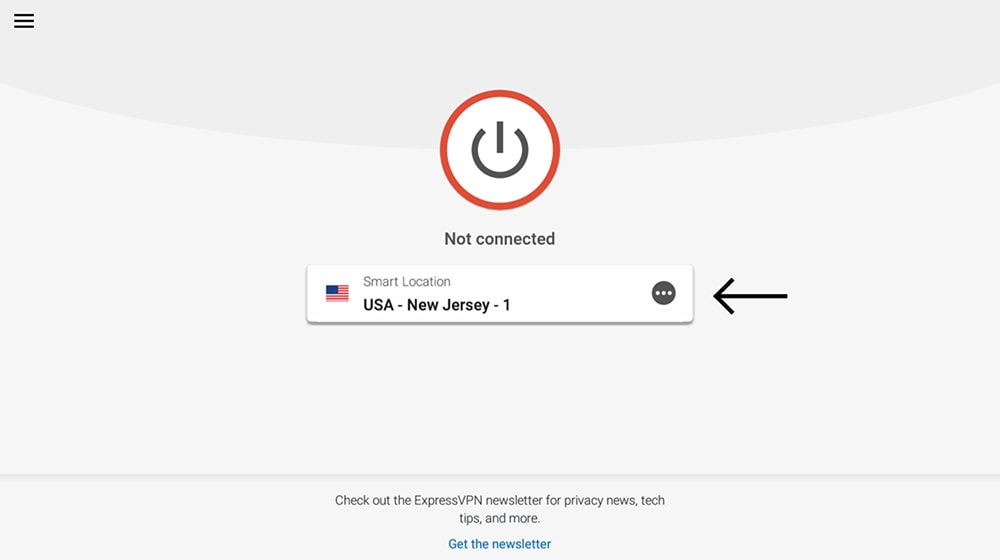 20. Check the two tabs at the top of the screen – 'Recommended' and 'All Locations.'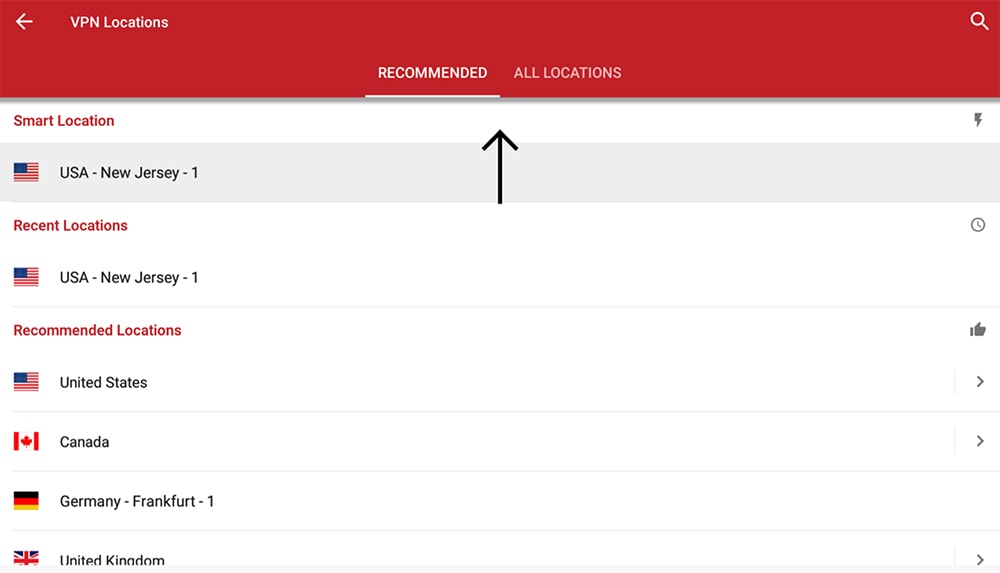 21. Pick any server by selecting any country or server name.
22. Upon selecting a server, check if ExpressVPN has connected you automatically. 
23. If you're not connected automatically, use the ON/OFF switch. That's it!
ExpressVPN already comes set up properly. However, you can still fine-tune this application by clicking on the "hamburger" button (three horizontal lines in the top-left corner). Make sure to check the app's settings to ensure that ExpressVPN works just the way you want. 
Method 2: How to Install ExpressVPN on Firestick Using Downloader App
If you don't have access to the App Store, or perhaps if you'd like to bypass it, ExpressVPN provides another installation method. Here's how to sideload ExpressVPN on Fire OS.
1. First, get your ExpressVPN subscription (use the provided link).
2. Navigate to Settings > My Fire TV > Developer Options (on your Firestick).
3. Select 'Apps From Unknown Sources' and switch to 'ON.'
4. Now, return to your device's home screen.
5. Go all the way to the top, and then to the left. Select the magnifying glass icon.
6. Using the virtual keyboard, type in 'Downloader' and download the app.
7. Open the newly installed app, and grant any permissions needed.
8. Now, contact ExpressVPN's support (via live chat, on the VPN's website), and ask for the latest URL of the latest version of ExpressVPN's APK file.
9. Input that URL back into the Downloader app, from its home screen.
10. ExpressVPN's APK installation file should now download to your Fire OS.
11. Once done, open the file and follow the on-screen instructions. You'll need to confirm your decision to install ExpressVPN, a process that should take a couple of seconds.
12. Finally, launch ExpressVPN and log-in using your email and password.
13. Decide whether to allow ExpressVPN to collect anonymous information, grant any permissions needed, and that's it.
You can now use ExpressVPN to connect to any server. Once you connect, return to Fire OS' Home Screen, and use your media streamer as you normally would.
How to Use ExpressVPN on Firestick Streamers?
Once you set up ExpressVPN on your media streamer, you'll be free to connect to any of its servers. So, here's how to use ExpressVPN on a Firestick:
Click on the 'three dots' icon found on ExpressVPN's home screen.
This will now open the Location Picker, showing all of the available servers.
You can choose from two tabs – 'Recommended' and 'All Locations.'
To connect to any location, select it using your remote.
To disconnect, you can use the ON/OFF switch found on ExpressVPN's home screen.
How to Update ExpressVPN on a Fire TV Stick?
This depends on how you installed the VPN, in the first place. If you've installed it from the App Store, it will be automatically updated. To check whether this option is enabled, go through the following steps:
From Fire OS's home screen, scroll all the way to the top.
Then, scroll to the right and select 'Settings.'
Now, select 'Applications,' followed by 'App Store.'
Make sure that it says 'ON' underneath 'Automatic Updates.'
In case you've sideloaded ExpressVPN, you need to repeat the same procedure to update it. Basically, you install a new version over the existing one. For more information, and to get an up-to-date URL for ExpressVPN's APK file, contact the VPN's support team.
How to Tell if ExpressVPN is Working on a Firestick?
For this procedure, you need any Web browser installed on your Firestick. For example, this could be Firefox, available on the Fire OS App Store. Here are the steps:
Visit the App Store on your Fire OS device and download Firefox.
Then, launch ExpressVPN and connect to any server.
Exit the VPN and then launch Firefox (or any other Web browser).
Visit this URL: https://www.expressvpn.com/what-is-my-ip.
The page will automatically check your IP, which should be a virtual one.
So, if you see a location that doesn't correspond to your physical location, this means that ExpressVPN is working properly (it has changed your IP address).
How to Uninstall ExpressVPN from Your Firestick?
Here are the steps to uninstall ExpressVPN from your Fire OS device:
Go to Settings > Applications > Manage Installed Applications.
Now, scroll down until you find ExpressVPN.
Lastly, select 'Uninstall' and then confirm your decision.
FAQ
Do You Need a VPN for a Fire TV Stick?
Fire TV Stick devices are media streamers. And there's no better way to unblock a whole new world of media streaming apps than by using a VPN. With this said, ExpressVPN unblocks the biggest number of streaming apps, so we highly recommend it.
However, VPNs do more than just unblock geo-restricted apps. To learn more, read our guides on what are VPNs as well as how VPNs work. And finally, make sure to know how VPNs actually boost your online privacy.
Does ExpressVPN Work on Fire OS Natively?
Yes – ExpressVPN works natively on all Fire OS devices produced in the last couple of years. The only Fire OS device that doesn't support VPNs is the first-gen Fire TV Stick.
Can You Use ExpressVPN's MediaStreamer on Fire OS?
ExpressVPN's MediaStreamer is a DNS service that acts as a proxy. As such, it allows you to unblock media streaming services, which can be very useful on Fire OS. However, keep in mind that you won't get all the benefits that this VPN offers – which you would get by installing its app.
Once you subscribe to ExpressVPN, we recommend contacting the VPN's support. Make sure to inquire about the MediaStreamer functionality based on the Fire Stick model that you own. ExpressVPN team will send you detailed instructions based on your exact device model and possible use cases.
Can ExpressVPN Unblock Netflix on a Fire Stick?
You can easily watch Netflix US via ExpressVPN on any device – and this includes Amazon's Fire Stick devices. Aside from the US version of Netflix, this VPN can access other countries' libraries, including the UK, Canada, France, Germany, and Italy.
Can You Sideload ExpressVPN on Fire OS Devices?
Yes, you can sideload ExpressVPN on Fire OS. This is done by using the VPN's APK file. Even though this method of installing ExpressVPN isn't the quickest, it comes in handy when you can't access Amazon's App Store, for any reason.
This installation method has been described above. For additional information, you can turn to our article on installing a VPN on Firestick devices.
What's the URL of the ExpressVPN APK Installer?
ExpressVPN releases new versions periodically to fix bugs, so we recommend contacting ExpressVPN's support via the live-chat functionality on its website. They'll be happy to provide you with the latest URL.
This is where we conclude our guide on how to download, install, and use ExpressVPN on Amazon Firestick and Fire TV devices. In case you have any questions, know that we're always happy to assist. So, make sure to post your comment below. And lastly, thanks for reading!