In this article, we'll tell you all about ExpressVPN's plans, including their pricing structure and the services you'll receive with each option. So, if you are wondering how much ExpressVPN costs and what kind of value it offers, you've come to the right place.
Without further ado, let's begin!
ExpressVPN Plans & Pricing: How Much Is ExpressVPN?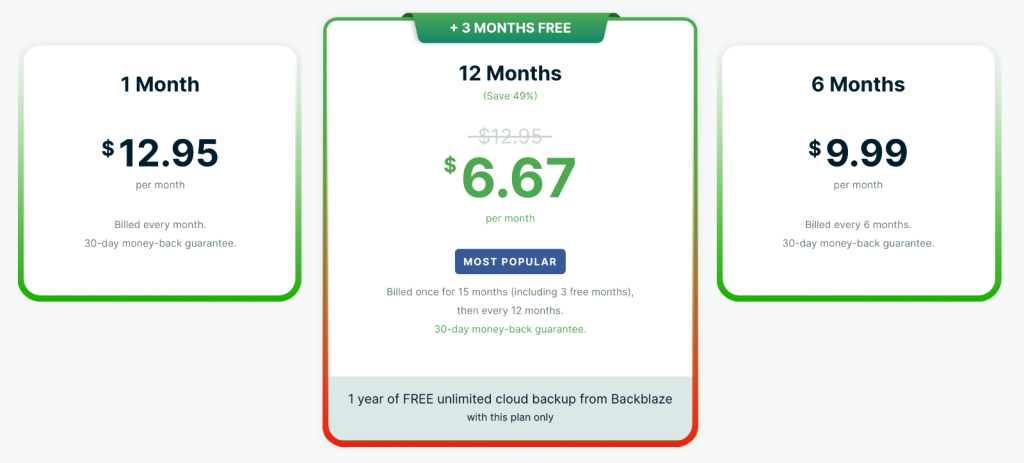 There are 3 ExpressVPN plans you can choose from: a monthly plan ($12.95), a 6-month plan ($9.99/month), and a 12-month plan ($6.67/month).
Each plan includes a 30-day money-back guarantee, a built-in password manager (ExpressVPN Keys), 24/7 customer support, lightning-fast servers in 94 countries, compatibility with many devices, military-grade AES-256 encryption, and more. 
There are no differences in features between the plans—the benefit of subscribing to a lengthier plan is cost-based. The longer the plan you sign up for, the more of a discount you'll receive. That said, there is a bonus offered with the 12-month plan, which we will discuss below in more detail.
| | | | |
| --- | --- | --- | --- |
|   | Per Month | Total Price | Save |
| 1 Month | $12.95 | $12.95 | 0% |
| 6 Months | $9.99 | $59.95 | 23% |
| 12 Months (+3 Months Free) | $6.67 | $99.95 | 49% |
1-Month Plan – This plan costs $12.95 and is billed every month. It is subject to ExpressVPN's 30-day money-back guarantee, meaning you can use it as a risk-free trial. However, there are no discounts with this plan.
6-Month Plan – This plan costs $9.99 per month, which amounts to $59.95 in total. If you choose this option, you'll be billed $59.95 every 6 months. The 6-month plan is also subject to ExpressVPN's 30-day money-back guarantee and saves you 23% off the total price. Just keep in mind that you'll have to pay for the whole 6 months up front.
12-Month Plan (+3 Months Free) – This plan comes with the most significant discount of 49% and costs $6.67 per month, amounting to $99.95 in total. You will pay up front for the whole year. During your first year of the plan, you'll receive an additional 3 free months of ExpressVPN's services plus free unlimited cloud backup from Backblaze (note: this applies to new Backblaze customers only). After the initial 15 months, you'll be billed every 12 months, and you'll still get the 49% discount. And like the other plans, the 12-month plan is also subject to ExpressVPN's 30-day money-back guarantee. 
How to Buy an ExpressVPN Subscription Plan
To buy an ExpressVPN subscription plan, you'll need to go to the official ExpressVPN website and choose the ExpressVPN plan that best suits your budget and needs. Here's how to subscribe:
Access ExpressVPN's order page on their official website. 
Choose the ExpressVPN pricing plan that suits you best.
Provide your email address.
Choose your payment method and fill out the necessary information.
Click "Join Now" to confirm your purchase.
After you complete all those steps to purchase your ExpressVPN plan, you'll need to download and install ExpressVPN on your devices. Then you must use the activation code to activate your ExpressVPN plan. Once completed, you'll be able to enjoy all the services the provider offers. 
What Do You Get with an ExpressVPN Subscription?
With an ExpressVPN subscription, you'll get top-notch VPN services and access to 3,000+ servers in 94 countries. You'll also get military-grade encryption, a 30-day money-back policy, and 24/7 live chat support. But that's not all. Here's a comprehensive breakdown of what all plans offer:
Ultra-Fast Servers – ExpressVPN's servers offer lightning-fast speeds. The company has already upgraded over 80% of its servers and plans to upgrade the remainder. To determine whether ExpressVPN's servers really are as fast as they claim, we conducted a speed test that confirmed ExpressVPN is the fastest VPN on the market. You'll get access to all ExpressVPN's servers with a subscription. 
Unlimited Bandwidth – You'll get unlimited bandwidth no matter which ExpressVPN plan you buy. That means you won't have any download limits, and you'll be able to game, stream, torrent, and browse as much as you want. Better yet, if your ISP limits how much data you can use monthly, you can bypass this restriction with ExpressVPN.
Protocols – Protocols are the methods your devices use to connect to ExpressVPN's servers. They perform two basic functions: encryption and authentication. ExpressVPN supports all the most popular and powerful protocols, including L2TP/IPsec, OpenVPN (both TCP and UDP), IKEv2, PPTP, WireGuard, SSTP, and more. It also has its own protocol called Lightway, which provides a smooth and secure experience and consumes less battery than the other protocols.
TrustedServer Technology – ExpressVPN's TrustedServer technology is a feature that ensures high-end privacy and security. It is independently audited, further ensuring that you are protected, and ExpressVPN won't log your data. With this technology, their servers run on RAM only, so all their data is wiped with every reboot. Since the servers never record data to a hard drive, nothing is stored, providing a deeper layer of security than traditional servers can offer. 
Private DNS – ExpressVPN runs its encrypted DNS on every server, which takes the protection of your Internet traffic to the next level. It collects no activity or connection logs; performs no DNS blocking, hijacking, or filtering; and offers military-grade 256-bit encryption and faster DNS queries. These features ensure that no one can see what you're doing online, steal your data, or limit your freedom to access whichever sites and platforms you want. 
Best-in-Class Encryption – ExpressVPN uses Advanced Encryption Standard with 256-bit keys (AES-256) encryption. This type of encryption is trusted by security experts worldwide and is used by the US government. Thus, with every ExpressVPN plan, you can rest assured that your traffic will be well-encrypted and secured.
Kill Switch – Network Lock is ExpressVPN's kill switch that will keep your data safe even if your VPN connection drops. It will block all Internet traffic until your VPN connection is restored and your traffic can be secured. You can use the kill switch on Windows, macOS, Linux, and routers. It is turned on by default, so you won't have to activate it yourself.
Split Tunneling – Split tunneling is a feature that lets you route some of your traffic through the encrypted VPN tunnel while the rest directly routes to the Internet. For example, you can access the Internet directly on your phone while the traffic on your PC is routed through the VPN. This allows you to choose which traffic to protect and which not to. You can use split tunneling on Windows, macOS, Android, and routers.
Threat Manager – ExpressVPN's Threat Manager can block ads and prevent all sites and apps on your device from communicating with third parties that track your activity. This restricts third-party companies from using your data to produce targeted ads and spam. Threat Manager is currently available for iOS, Linux, and macOS, and it's included in all plans.
24/7 Customer Support – ExpressVPN provides 24/7 customer support via live chat with all its plans. You can access the live chat from every page on ExpressVPN's website. The provider also has hundreds of how-to articles and guides that show you how to set everything up and troubleshoot numerous issues. You can also reach ExpressVPN's customer support via email. 
Unlimited Device Installation – ExpressVPN's app is available for various devices, platforms, and operating systems, including Windows, macOS, and Linux; Android and iOS; Chromebook; routers; Kindle Fire; browsers such as Chrome, Firefox, Edge, and more; smart TV systems like Roku, Apple TV, Samsung Smart TV, NVIDIA Shield, and more; and game consoles such as PlayStation, Xbox, and Nintendo Switch.
5 Simultaneous Connections – With an ExpressVPN subscription, you can connect up to 5 devices simultaneously. You can use your single subscription to connect as many devices to your ExpressVPN account as you want. However, only 5 of them can be actively connected at the same time. 
ExpressVPN Keys (Password Manager) – ExpressVPN Keys is ExpressVPN's password manager that allows you to store all your passwords safely across all your devices. There is no limit to the number of passwords or devices you can store. You'll get this feature for free no matter which ExpressVPN plan you purchase.
30-Day Money Back Guarantee – Every ExpressVPN plan is subject to the provider's 30-day money-back guarantee. This means you can try out ExpressVPN risk free and get a full refund within 30 days of your subscription if you don't like what the provider offers. You can request a full refund via ExpressVPN's live chat or email. 
Final Thoughts
ExpressVPN's price structure for its plans might seem high, but once you see all the features and services you'll get for the cost, it's clear that ExpressVPN is definitely worth the money. It offers 3,000+ servers across 94 countries and is the fastest VPN provider on the market, making it perfect for streaming, torrenting, and gaming. 
We strongly recommend ExpressVPN to everyone looking for a powerful VPN that will keep them safe online and allow them to unlock all kinds of content. We also suggest subscribing to one of their longer plans so you can take advantage of the discounts they offer. 
FAQ
What Payment Methods Does ExpressVPN Accept?
ExpressVPN accepts numerous payment methods, including credit cards, direct credit card payment processors (like PayPal, Qiwi Wallet, Yandex Money, WebMoney, and Apple Pay), debit cards, Bitcoin, online transfers, and many other local and international options.
How Much Is ExpressVPN Per Month?
ExpressVPN costs $12.95 per month with its 1-month plan, $9.99 per month with the 6-month plan, and $6.67 per month with the 12-month plan. Keep in mind that the 6- and 12-month plans are billed up front.
How Much Does ExpressVPN Cost Per Year?
ExpressVPN costs $99.95 per year with its 12-month plan. By paying up front for the whole year, you'll save 49% of what you'd pay for a full year of the 1-month plan. 
Does ExpressVPN Have a Lifetime Subscription?
Does ExpressVPN Have a Free Trial?
Yes, ExpressVPN has a free trial. You can sign up for the 7-day ExpressVPN free trial on iOS or Android. Alternatively, you can use ExpressVPN's 30-day money-back guarantee as a risk-free trial. 
That's it for our ExpressVPN price guide. If you have any additional questions or remarks, feel free to share them via the comments section below. Thanks for reading!